New Age Islam News Bureau
29 Sept 2018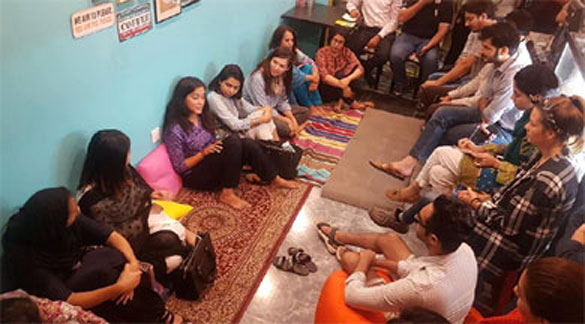 Aneeqa from The Mad Hatters hosted a meet and greet on World Tourism Day with Alex, solo traveller and blogger of Lost with Purpose at female-run café and cultural space,
------
• Indian Courts Had Settled Triple Talaq Issue Decades Ago: Women's Rights Lawyer
• Saudi Woman Honoured At Technology Conference
• Breaking Western Myths: Western Female Travellers Talk Of Pakistan
• MURIC Wants FRSC to Include Muslim Women in Recruitment Exercise
• Iraqi Instagram Model Murdered At Wheel of Porsche in Baghdad
• You Can't Stop Pakistani Women from Thinking, Dreaming: Author Taha Kehar
• Arrests of Women Continue In Iran As A Sign Of Intensifying Crackdown
• 125 Years Of The Egyptian Women's Movement
Compiled by New Age Islam News Bureau
URL: https://www.newageislam.com/islam-women-feminism/girls-marrying-14-madness—crown-prince/d/116523
--------
Girls Marrying At 14 Is 'Madness'—Crown Prince of Johor
September 29, 2018
His Royal Highness, Crown Prince of Johor Tunku Ismail Sultan Ibrahim made use of social media to express his horror at child marriage. In a tweet dated 22 Sept, the prince wrote, "Making legal age of marriage for girls to 14? What the hell is happening to this country? Absolute madness!"
The tweet was apparently in response to a cleric in Sabah, who said that young girls of 14 could be legally married. The cleric, Sabah Mufti Datuk Bungsu, is calling for the legal age for marriage to be lowered in order to follow Shariah law. This would mean boys could be married at 16 years old, and girls at 14 years old.
This year, because of continuous controversies concerning child marriages, the federal government of Malaysia plans to standardize the age citizens are allowed to get married to 18 years old for both males and females.
For non-Muslims in the country, males and females must already follow the minimum marriageable age of 18. However, a 16-year old female who is not Muslim may be allowed to marry with permission from the mentri besar or chief minister, the state's head of government.
No minimum age exists for Muslims who wish to marry. But under state Islamic laws, males have to be 18 and females 16 in order to be allowed to wed. Shariah courts, however, possess authority to grant permission for underage males and females to get married.
His constituents urged him to take action.
http://theindependent.sg/girls-marrying-at-14-is-madness-crown-prince-of-johor/
--------
Indian Courts Had Settled Triple Talaq Issue Decades Ago: Women's Rights Lawyer
September 28, 2018
Mumbai: Noted women's rights lawyer, writer and author Flavia Agnes, while hinting that all the hullabaloo seen today in the name of instant Triple Talaq is no more than politics, said that the issue was actually settled by the Indian courts decades ago but it was not highlighted.
"In the Shamim Ara case in 2002, the Supreme Court laid down the correct procedure for pronouncing talaq. Even earlier there were judgements of Justice Barul Islam of the Guwahati High Court in 1981 where the procedure for pronouncing talaq was laid down", Flavia Agnes, co-founder of Majlis, a legal and cultural resource centre that campaigns for and provides legal representation to women and children, said in reply to a question in an interview with IndiaSpend.
"Since 1981 to 2002 various High Courts had followed the Guwahati judgement. So the issue that arbitrary triple talaq is invalid was already settled. But these judgements were not highlighted in the media", she said.
"Similarly in another important judgement, Danial Latifi vs Union of India in 2001, the Supreme Court held that a divorced Muslim woman is entitled to a fair and reasonable settlement for her entire life. But no one bothered to highlight this historic judgement and media continued to project that after divorce a Muslim woman is devoid of rights", Agnes said.
"Also the fact that Muslim women are entitled to relief under the Domestic Violence Act has not been sufficiently highlighted in the media. So every time we have approached the magistrate's court to protect a Muslim woman under this Act, the other side have argued that a Muslim woman is not entitled to claim relief under this Act and this is simply because media had not highlighted this issue enough", she added.
Agnes also said that the issue of triple talaq was not before the Supreme Court even then a Constitution bench was set up to examine the matter.
"A bench of the Supreme Court while denying a Hindu woman right to ancestral property, totally out of context, then made a reference that a Constitution Bench be set up to examine the lack of rights of Muslim women though this was not an issue before the court", she said.
In the same interview, Flavia Agnes rejected the objections raised by right wing Hindu organisations and people associated with the ruling dispensation, about Darul Qazas being run by All India Muslim Personal Law Board (AIMPLB) saying they are similar to Church Tribunals and Village Panchayats.
"Even among Christians and Hindus such alternatives are available. Christians have their own Church Tribunals and many lower caste Hindus approach their Caste Panchayats or Village Panchayats to resolve family disputes", Flavia Agnes said in reply to a question.
A Darul Qaza is in reality dispute resolution centres arbitrated by religious law experts. But it is wrongly attributed as Shariah Court or a parallel system opposing or undermining the country's judiciary.
"An impression seems to have been created that this move to set up Darul Qazas in every district is driven by an objective to undermine the impact of the recent constitutional bench ruling in the triple talaq (Shayara Bano vs Union of India) case, which had declared triple talaq invalid last August. But this premise has no basis since darul qazas have been functioning in India for a long time", she said in reply to another question.
Agnes also said that Darul Qazas, like Village Panchayats and Church Tribunals, are actually helping the judiciary and sharing its burden by resolving family disputes at their level.
"Today our judiciary is clogged and cases drag on for a very long time. So actually solving disputes through alternative dispute resolution mechanisms like Lok Adalats (People's Courts), mediation centres etc. are encouraged", Agnes, said.
http://www.ummid.com/news/2018/September/28.09.2018/indian-courts-had-settled-triple-talaq-issue-decades-ago-womens-rights-lawyer.html
--------
Saudi Woman Honoured At Technology Conference
September 29, 2018
JEDDAH: A Saudi woman has been honored by a regional innovators initiative launched last July by Sheikh Hamdan bin Mohammed Al-Maktoum, the crown prince of Dubai and chairman of the board of trustees of Dubai Future Foundation.
Sadeem Rashed Al-Marri was a winner in the Innovators Under 35 competition at the EmTech MENA emerging technology conference. With her partners, she used 3D-printing technology to create a mechanical hand that can translate Arabic text entered in a specially designed mobile application into sign language. The device has the potential to help millions of deaf people in the Arab world and can also be used to help teach sign language.
EmTech, a leading international event dedicated to emerging technologies, was founded in 1999 and the regional edition was held in Dubai for the first time on Sept. 23 and 24, hosted by the Dubai Future Foundation in cooperation with Haykal Media. It attracted 300 participants, including scientists, researchers, industry experts, spokespersons and specialists in a variety of emerging technologies from around the world.
The Innovators Under 35 winners also included Taki Hinai and Issa Basaid from the United Arab Emirates, Munther Abu Rumaila and Abdul Mohsin Al-Husseini from Jordan, Marwan Abu Deeb from Lebanon, Abdelkader Nasr El-Din Belkacem from Algeria, Feras Khalifa from Syria, Emad Masoudi from Yemen and Derya Baran from Turkey.
The conference showcased the winners in interactive sessions during which they presented their inventions and shared their stories, visions and future aspirations. They have achieved excellence in a range of fields, including biomedicine, computing, energy, communication, software development, infrastructure, and the internet, all of which help contribute to the development of smart cities. The young entrepreneurs will now have a chance to present their innovative ideas to officials, decision-makers and corporate leaders in the region.
EmTech and the Innovators Under 35 contest are organized globally by American magazine the MIT Technology Review. The regional edition of the contest received more than 400 nominations, from which 54 were shortlisted and judged by a jury of officials and experts.
The first Innovators Under 35 list was published in 1999 in the MIT Technology Review, featuring young innovators making contributions that were expected to play important roles in the development of smart cities. The first day of the Dubai conference featured the launch of an Arabic version of the journal, aimed at those interested in emerging technologies in the Middle East and North Africa region.
EmTech is one of the most important annual international technology events, with a number of regional editions around the world that showcase the latest inventions and developments. They bring together technology pioneers and businesses to network, share their experiences, learn about innovative technologies and discuss how they might affect communities in the future.
Al-Marri told Arab News that the invention was part of four students' graduation project at the College of Computer Information and Sciences in the Imam Mohammed Ibn Saudi Islamic University. She said that the title of the project was "Designing a Robotic Hand for Arabic Sign Language Teaching and Translation."
The participants in the project were Ebtsam Aqeel Al-Shammari, Faten Abdulmajeed Al-Sunaid, Hessa Saad Al-Monif and Sadeem Al-Marri. The project was supervised by Dr. Maha Sulaiman Al-Rabiah
Describing the project, Al-Marri said that deaf and deaf-blind persons face many challenges in communicating with others and understanding the world surrounding them.
"Although they use sign language or tactile sign language in an attempt to overcome their isolation, they experience difficulties connecting with their community because not all individuals are familiar with sign language or are comfortable with the tactile approach," Al-Marri said.
She added that they attempted, in that project, to solve this problem by designing and building a robotic hand that translates Arabic texts entered in the mobile application into the equivalent Arabic sign language alphabet gestures, that acts as a mean of communication between the deaf/deaf-blind person and the world.
Al-Marri told Arab News that a TV interview was the spark that ignited their invention.
"A deaf-blind person introduced the challenges that he was facing while communicating with others and understanding the people around him. During that interview, he said that although he used tactile sign language in an attempt to overcome his isolation, he experienced difficulties connecting with his community because not all individuals are familiar with sign language or are comfortable with the tactile approach," she recalled.
Explaining how their invention. works, Al-Marri said that the robotic hand parts are printed using a 3D printer and are connected with servo-motors that act as joints of the hand and attached with strings that act like tendons. "When a user enters a word in the mobile application, a microprocessor sends the appropriate command to the servo-motors causing them to move to pull the attached strings and performing the corresponding sign language gesture," she said.
Al-Marri believes what makes their invention special is that their robotic hand is the first robotic hand that has been used in translating and teaching Arabic Sign Language. "It can be used as an effective 3-dimensional educational tool to teach Arabic Sign Language either for deaf or non-deaf people," she said.
Al-Marri added that in the future they would focus on enhancing the system by making it consist of left and right hands to be able to perform the Arabic Sign Language words. Moreover, she said, the robot can be developed to adapt to any other language.
Al-Marri said that she is proud to be one of the young active members of her community in education, technology, and business, where she was chosen by Google to work as a liaison between Google and her university and other organizations.
"Furthermore, I was a member of different initiatives that targeted youth technology; in addition, I played a role in startups that worked in innovation and the manufacturing industry and I started my startup in the field of e-learning to contribute to raising student achievement and scientific performance to reach the highest level of his/her aspiring career position using the latest methods in education," she concluded.
http://www.arabnews.com/node/1379501/saudi-arabia
--------
Breaking Western Myths: Western Female Travellers Talk Of Pakistan
September 29, 2018
LAHORE: The discussion centered on public space reclamation of women as Aneeqa from The Mad Hatters hosted a meet and greet on World Tourism Day with Alex, solo traveller and blogger of Lost with Purpose at female-run café and cultural space, A piece of cake.
Polish traveller and vlogger Eva zu Beck, who earlier made news in Pakistan for her Kiki challenge video, also stopped by.
Alex is currently visiting Pakistan for the fourth time. She is notorious for never having a plan because she claims her plans never work out anyway.
"Mostly I just start searching on my phone as I'm en route to someplace."
TOILS OF TRAVELLING IN PAKISTAN:
When asked about how they felt travelling alone in Pakistan, the travel bloggers had a lot to say.
"I'll be honest. Pakistan is a very difficult country to travel in as a woman. People can be downright creepy. They may follow you in the streets, stare you to death. But people here are also very hospitable and welcoming," said Alex.
"It takes a while before you are able to culturally navigate the country and know how to main a protective distance."
"You need to learn how to keep a straight face, which admittedly, I am very bad at," she quipped.
Talking to Pakistan Today, she said travelling alone as compared to travelling with someone had the perk that she could go wherever she wanted without any resistance or conflict.
"But when something bad happens, the impact is also much worse with no one there to support you."
Unlike Alex, Eva doesn't travel alone. She has tour guides and a film crew coming along on her travels.
"I don't really think I have had any bad experiences. Of course, there's an intrusion of privacy. But that's not exclusive to Pakistan. It happens in a lot of other countries as well."
"The one bad thing I'd say is being asked for selfies." She laughed at the recollection.
CULTURAL ASSIMILATION:
Alex finds it important to adapt to the local culture and adopting the local dress code and values when she travels.
"A lot of people will disagree with me on this but I find it important to adapt to the local culture. You need to have people accept you and interact with you and it is harder to do that if you look like an outsider. This way, the conversation can be about what you're doing and not what you're wearing."
"It is also a sign of respect for the local culture."
"Just yesterday, I went to a party in Karachi. Well, I was the only one there in shalwar kameez. So, I thought, this is awkward," she laughed.
WHAT WILL PEOPLE SAY?
After her fourth time in Pakistan, Alex's mother seems to be coming around but the rest of her family still think she's "insane".
"The first time I came here, my parents texted every day begging me to come back. Of course, I ignored those texts."
A day earlier, Alex rode a motorbike from Mardan to Peshawar. She laughs as she remembers a scandalised rickshaw driver who was on her heels, screaming something in Pushto
"I think the tiny, mundane things can be the most rewarding."
UNNEEDED 'PROTECTION':
In 2017, Alex visited Kumrat valley after a tiresome journey. When she and her companions reached there, the guards were incredulous that she intended to camp in the area.
"You can't stay here."
"Why?"
"The men will feel thirsty."
For Alex, the most frustrating thing is when people tell her, "Oh you can't do that because girls just don't do that."
"I think what made my resentment more emphatic was that just a week later, I had a male friend who visited the same area. And of course, he didn't need any protection."
Her status as a woman becomes ever more precarious in Pakistan because she's a foreigner.
"I have to say, I am very bitter about security here. I hate it when I'm given unneeded protocol. How am I supposed to relax in a beautiful green valley if there are men in Kalashnikovs standing next to me?"
She thinks the biggest fabrication in Pakistan is when she's told she needs protection as a woman and a foreigner.
"What is this for?
"For protection."
"From what?!"
DIGITAL NOMADISM:
When asked how she funded her travels, Alex laughed: "I have a lot of sugar daddies."
"No, actually, I live on a pretty tight budget. Sometimes I eat daal chawal every day for weeks, which works out for me because I love it. I couchsurf and stay at cheap places instead of going to fancy hotels."
Alex lives on a budget of RS2000 per day in Pakistan. She works as a freelance writer and graphic designer when she gets the time. Mostly, she depends on her savings and the revenue generated from her blog to fund her travels.
"When I am not on a nocturnal Lahori schedule, I tend to wake up early to capture a few shots of the sunrise. I also write articles when I am travelling on buses."
WESTERN GAZE:
The travellers related some misconceptions about Pakistan prevalent in Western media and their home countries. Alex shared how her relatives equate Pakistan for the Middle-East.
"Even now, when I go back, people ask me: how's the Middle East?"
Eva had something similar to share.
"Before coming to Pakistan, I thought it was a desert. No, literally! I thought there were no roads and everyone spoke Arabic."
"If you go by western media, you expect Pakistan to be similar to Afghanistan when it comes to landscape and to Saudi Arabia when it comes to women's rights."
"It helps that I think Western media is just awful. So when I came here, there was not so much any unlearning but an instant wave of warmth and curiosity that enveloped me," she stressed.
When asked why she keeps on returning to Pakistan, Alex said:
"It's really hard to find the same level of hospitality anywhere else."
"What is your favourite city in Pakistan?
"Lahore."
To audience laughter, she responded. "No, I did not say Karachi when I was asked that there."
https://www.pakistantoday.com.pk/2018/09/29/breaking-western-myths-western-female-travelers-talk-of-pakistan/
--------
MURIC Wants FRSC to Include Muslim Women in Recruitment Exercise
29 September 2018
The Muslim Rights Concern (MURIC) has reacted to the recent nationwide recruitment exercise conducted by the Federal Road Safety Corps (FRSC). FRSC had directed applicants to appear in white shorts, white round neck T-shirts, canvass and socks, which did not go down well with MURIC. Expressing their displeasure in a statement signed by its director and founder, Professor Ishaq Akintola, described it as a deliberate exercise to marginalise and discriminate against Muslim women. He also wondered why FRSC would issue such a directive to exclude a section of Nigerian citizens.
Akintola said: "The whole world knows that Muslim women do not wear shorts. It is, therefore, strange to hear the FRSC requesting applicants of both sexes to appear in shorts. FRSC is a federal road safety concern and its recruitment exercise should be inclusive.
"Or is FRSC telling us that it only recognises Christian women alone? Is FRSC telling us that it cannot tolerate the sight of Muslim women? Is this federal agency only interested in giving jobs to Christian women to the disadvantage of their Muslim counterparts? Is FRSC unaware of the economic implication of this among the Nigerian Muslim population? Is this not a deliberate attempt to empower Christians and continuously impoverish Muslims?"
Lamenting that Muslims are shortchanged, the group noted: "We are disappointed that FRSC has joined the clique of anti-Muslim institutions that claim secularism in order to shortchange Muslims. Muslims are being shut out of the economy of this country. Muslims are being dragged to the bottom of the pyramid of poverty in Nigeria. Instructions, which make it impossible for Muslims to participate in nation-building are being rolled out on a daily basis in public and private sectors.
"We remind FRSC that the marginalisation of any section of the Nigerian population by any agency is a violation of Section 14(4) of the 1999 Constitution of the Federal Republic of Nigeria, which stipulates that 'The composition of the Government of the Federation, a State, a local government council, or any of the agencies of such Government or council, and the conduct of the affairs of the Government or council or such agencies shall be carried out in such manner as to recognise the diversity of the people within its area of authority and the need to promote a sense of belonging and loyalty among all the people of the Federation."
MURIC said they rejected the FRSC recruitment exercise, because it failed to recognise the diversity of nation's population."MURIC, therefore, rejects the FRSC recruitment exercise for failing to recognise the diversity of our population. It is illegal, unlawful and unconstitutional to issue directives, which are designed to exclude any section of the country. The exercise can best be described as incomplete, sectional and discriminatory.
"To complete the exercise, FRSC authorities must give Muslim women their own opportunity to participate. A new date must be fixed for the recruitment of Muslim women in the next few weeks. Nigeria belongs to us all. MURIC will not fold its hands while our common patrimony is shared out among Christians alone. We advise FRSC and all uniformed formations to take note of this observation in order to correct the anomaly in future exercises," the group said.
https://guardian.ng/news/muric-wants-frsc-to-include-muslim-women-in-recruitment-exercise/
--------
Iraqi Instagram Model Murdered At Wheel of Porsche in Baghdad
28 September 2018
BAGHDAD — Iraqi model and Instagram starlet Tara Fares has been shot dead at the wheel of her Porsche convertible in central Baghdad, sending ripples through social media circles.
The interior ministry opened a probe into Thursday's murder of the 22-year-old who suffered "three fatal bullet wounds" as she drove through the capital's Camp Sarah district.
Fares, a fashionista with 2.7 million followers on Instagram for her pictures sporting tattoos, different hair colours and adventurous clothes, was a victim of her fame and targeted because of her lifestyle, Twitter users wrote.
"I am beyond disappointed and hurt after hearing about another tragic loss in Iraq. Tara Fares, a model and social media influencer was gunned down in broad daylight in #Baghdad," one said.
"A young Iraq model was simply enjoying & loving life like other pretty girls. Unfortunately she got shooted & killed by few militants. I am truly heart broken & saddened by such a tragic news," another wrote.
"This Thursday it was Tara… Next Thursday, who will it be?" a third tweeted.
Ahmad al-Basheer, an Iraqi satirist who lives in exile in Jordan after having faced death threats, condemned the murder of Fares, who was based in Iraqi Kurdistan and rarely traveled to her native Baghdad.
"Anyone who finds excuses for those who kill a girl just because she had decided to live like most other girls on the planet is an accomplice to her murder," he wrote.
https://www.timesofisrael.com/instagram-model-murdered-at-wheel-of-porsche-in-baghdad/
--------
You Can't Stop Pakistani Women from Thinking, Dreaming: Author Taha Kehar
September 29, 2018
Meet Tanya, the protagonist of a new quick-read from Pakistan, who has "got a pretty good life, working for a Karachi newspaper and smoking-drinking-flirting her way through minor romantic escapades". The author, Taha Kehar, says that her character is his attempt to cultivate a narrative about what it means to be a woman in Karachi. But are there really many "politically opinionated, liberal, urban women that are both feisty and fearless", as Tanya is, in Pakistan today?
Kehar, the author of "Typically Tanya", said that it wasn't entirely necessary for women in Pakistan (or anywhere else in the world for that matter) to be "liberal" or "urban" in order to have "bold political opinions or take on a fearless, feisty approach to life".
"Although Pakistan is an inherently patriarchal society where women are subjected to restrictions and excessive surveillance, no measure of constraints can stop them from thinking, dreaming and forging their way in the world. Women in Pakistan have entered the public domain and are reclaiming it by negotiating gender confrontations and challenging archaic norms," Kehar told IANS in an email interview from Karachi, describing his frame of mind as he shaped Tanya's character.
He shared that Tanya may epitomise the struggle of Pakistani women, but she belongs to "a privileged segment of Karachi's elite" that "can operate within a bubble and turn a blind eye to the ground realities".
"By virtue of her social status, she manages to evade some patriarchal demands and has the freedom to ignore the restrictions imposed by the public sphere. But even then, it would be flawed to assume that she isn't influenced by patriarchy in her everyday life. While writing 'Typically Tanya', I had to remain mindful of these subtle nuances," he said.
Kehar, himself a journalist, said that he wanted to break away from Western ideas of Karachi as "a battle-hardened, conflict-riddled city" and understand it from the perspective of its citizens.
He also admitted that the male gaze could claw its way into the narrative and possibly even shrink the space for the female perspective. "The primary challenge was to elbow away all male-centric notions to prevent them from distorting Tanya's perspective," he said, adding that he discussed his protagonist's traits with some of his female friends, who spent their days cooped up in newsrooms like Tanya does in the novel.
Maintaining that Tanya's experiences may not be "entirely representative" of all independent and modern Pakistani women, Kehar, however, asserted that like most of them, Tanya recognises "the importance of making her own choices" and "taking charge of her own life".
The author, published in both Indian and Pakistani media, said that Indian readers might enjoy Tanya's humour, her friendship with Inder, an Indian journalist who is reporting from Pakistan. The book might also interest some readers who enjoy political polemics.
Asked to describe his novel for Indian readers, the author obliged, saying: "'Typically Tanya' is about Karachi, journalism and relationships between misfits. It is about a woman's journey in negotiating these minefields. The protagonist isn't obsessed with marriage and is unwilling to compromise her own dignity at the altar of a groom chosen by a rishta aunty."
Kehar has previously published a collection of poems and "Typically Tanya" is his debut novel. Published by HarperCollins India, it is priced at Rs 299.
https://www.business-standard.com/article/news-ians/you-can-t-stop-pakistani-women-from-thinking-dreaming-author-taha-kehar-118092900191_1.html
--------
Arrests of Women Continue In Iran As A Sign Of Intensifying Crackdown
29 September 2018
Arrests of women continue in Iran. Afsaneh Khorsandi and Maryam Azad were arrested on Wednesday, September 26, 2018, in Mahabad of Iranian Kurdistan, and in Tehran.
Intelligence agents in Mahabad raided the residence of Afsaneh Khorsandi on September 26, 2018, arresting and transferring her to an unknown location. It is not clear why she was arrested and where she has been taken to.
Afsaneh Khorsandi is the sister of Aram Khorsandi who had been arrested a day earlier by security forces and transferred to an unknown location.
A new wave of arrests of women civil activists and Kurdish activists has been launched by the Revolutionary Guard Corps to intensify the atmosphere of fear and terror in the areas inhabited by Kurds.
At the same time, Maryam Azad, another women's rights activist from Shiraz, was arrested by security forces. Maryam Azad was arrested at a Tehran Airport as she was leaving the country for Turkey.
An associate of Ms. Azad said she had been arrested by security forces without being informed of her charges. Her arrest took place after she had passed the gate and boarded the plane.
Maryam Azad, 31 and a graduate of Dramatic Arts, was very much interested in performing in plays but was not able to continue in this profession due to the illness she is being treated for.
Earlier, women's rights activists and advocates, Hoda Amid, Najmeh Vahedi and Rezvaneh Mohammadi were apprehended in the wave of arrests of women activists and lawyers. After nearly one month, they are still detained under undetermined status, denied access to legal counsel and bascially deprived of having family visits.
Amnesty International issued a statement on September 3, 2018, warning against the arrests of women including lawyers and women's rights activists in Iran, saying it signaled intensifying crackdown on civil society in Iran.
https://women.ncr-iran.org/iran-women-news/5494-arrests-of-women-continue-in-iran-as-a-sign-of-intensifying-crackdown
--------
125 Years Of The Egyptian Women's Movement
25 Sep 2018
The Egyptian women's movement is the oldest women's movement in the Arab world. It first emerged in the last quarter of the 19th century and evolved in tandem with a century and a quarter of social and political developments.
However, in recent years the movement has undergone what might be termed a historic ebb as it has become caught between funding-related charges brought against some of its leading organisations, the outmoded and unwieldy bureaucracies governing some long-established women's institutions, and stiff competition from little-known feminist pioneers who have forayed into cyberspace with individual or collective initiatives.
Although feminist leaders in the institutionally established women's movement understand the need for internal reform to shed cumbersome bureaucracy and develop more efficient modes of operation, they also realise that the new virtual women's movement does not have the wherewithal on its own to promote change. As one leading feminist activist put it, "there's a big difference between a 'loud voice' and 'effective influence'."
How is the Egyptian women's movement faring at present? Has the conventional movement succumbed to stagnation preparatory to finding new ways ahead? And have social-media initiatives swept the rug out from under established entities and official organisations? Al-Ahram Weekly put such questions to leading figures in the established women's movement in Egypt, also taking a look at some of its rivals in virtual space.
Five years ago, the widest circulating hashtag in Egyptian cyberspace was #I saw harassment. Eventually this found its embodiment in the concrete world in teams of people patrolling the streets during holidays and at other times when rates of harassment are high in order to stamp out this problem.
The people running the programme, independent from NGOs and other civil-society organisations, managed to turn the fight against female harassment into a popular cause, to the degree that the government felt compelled to adopt it and create anti-harassment units consisting of female police officers.
Hala Mustafa, one of the leaders of the group that spearheaded the #I saw harassment movement, relates how it started. "We were just a group of friends disturbed by the violence to which women and girls were exposed, especially on public occasions and specifically following the 25 January Revolution. We saw this as a reflection of the mounting violence in society as a whole and of the attitudes among certain parts of society toward the participation of women in the revolution and after it. We did not have any particular political agenda, and none of us were connected with any political bodies or organisations. Instead, we began our campaign on social-networking sites in November 2012, and before long our Facebook page had more than 60,000 followers," Mustafa said.
"The decision to take our idea to the streets was not as easy as some might imagine, even though we had a reasonable number of volunteers. We were about 30 volunteers who patrolled the Downtown Cairo area, particularly between Maspero and the Corniche which are areas where harassment is most frequent during the holiday seasons. At one point, we turned in an unofficial capacity to an NGO called ACT that offered us logistical support. We set ourselves three main objectives: monitoring and identifying harassment hotspots; documenting incidents of harassment including details regarding perpetrators and victims; and awareness-raising. We performed the latter in universities, in the Cairo Metro and in gathering places for young people."
"With regard to the first two objectives, we relayed the information we acquired to the relevant authorities, specifically the Interior Ministry, to help them combat the phenomenon. I think that this was an important contribution to the government's handling of the problem. Also, our presence and our efficacy gave us the opportunity to take part in the committees formed to draft the anti-harassment law. The committee sessions were organised by the National Council for Women (NCW). Our group has now begun a new campaign seeking stiffer penalties in order to prevent violence and harassment against women," she added.
According to Mustafa, her group's Facebook campaign included a page dedicated to documenting the testimonies of victims of harassment and violence, but it was not the only one in cyberspace.
The global #me too hashtag also triggered a surprisingly large response in Egypt, one which probably even the most long-serving women's rights activists had not anticipated.
A more recent phenomenon has been the hashtag #Diala's Right involving a child, Diala, and a paternity suit involving a young female journalist and a well-known visual artist.
As a number of media outlets have joined the cause, the hashtag continues to be one of the most widely followed and influential movements in Egypt.
Some claim this case holds up a mirror to the current state of the more traditional women's organisations in the country and how weak their influence is today when compared with how influential they were in a similar case 16 years ago involving Egyptian actor Ahmed Al-Fishawi and Hind Al-Hinnawi who succeeded with the help of civil society and women's organisations to compel Al-Fishawi to admit that he had fathered her daughter.
Virtual reality: Lamia Lotfi, a long-established lawyer currently working with a women's legal rights centre, is representing Diala's journalist mother in the recent hashtag case.
Lotfi has no doubt that the feminist establishment, what she terms the institutionalised movement as embodied in governmental organisations and official NGOs, is miles behind the virtual entities on social networking sites.
"The women's organisations that began to emerge in the mid-1980s are like government agencies. They are just as encumbered in bureaucratic red tape and just as sluggish," Lotfi said. "They change their identity in accordance with the person directing them, and their involvement in issues never goes beyond the theoretical level. There is no genuine contact with the people and their needs which, of course, change with the times."
"However, we cannot deny the accomplishments of the older generations of female activists in the causes for which they fought long and hard, such as the fight to end female circumcision (female genital mutilation). When they first began work on this at the outset of the 1990s, the rate of female genital mutilation was 97 per cent. By the time we began to deal with it, as a case of violence against women, it had been criminalised and the rate has now dropped to around 60 per cent. This is significant progress in a difficult society such as ours," Lotfi said.
"Sometimes I liken women's rights work in our society to drops of water falling on stone. Perhaps part of our problem is that we don't realise this and we lose patience."
"The government deals with women's issues as part of development issues more generally in which women are supposed to be partners. It accepts women as participants in development work, but it objects to them fighting openly for certain causes. To be frank, most of the recent gains for women have come from the top down, and with only a few exceptions this has characterised the Egyptian women's movement from the outset," Lotfi said.
"As the role of the state recedes today, there has emerged the powerful influence of single issue initiatives that suddenly surface, like the fight against harassment. This and other causes have taken the women's struggle into the virtual world, which has the advantages of speed and impact, as well as new blood. Perhaps in a year or two, the single-cause women activists we see today will be replaced by new faces that will at least guarantee the continuity of the struggle, even if only in the form of temporary initiatives. This is much better than the stagnation that characterises the establishment women's movement today," she added.
According to reports on women's rights associations, only seven such associations or organisations are still active today. Foremost among them is the NCW, which in spite of its nominal independence is classed as an official entity because of its funding and leadership mechanisms.
The Arab Women's Organisation (AWO), which falls under the Arab League, is little different. Both organisations were established in 2000.
There are also five independent NGOs dealing with women's issues: the Al-Nadim Centre, which offers psychological and legal support to the victims of violence; the New Woman Foundation, which was founded in 1995 and officially registered in 2003 as a foundation dedicated to women's legal issues and providing support to women; the Women and Memory Forum, which was established in 1995; the Association for the Development and Enhancement of Women, which, founded in 1987, is the oldest women's organisation still in operation; and the Nazra Feminist Studies Centre, which is one of the best-known women's centres in spite of its relatively recent creation about a decade ago. The Nazra Centre was unfortunately recently shuttered by court order.
Egypt is not Tunisia: "I admit that the organised women's movement is going through a decline," said Mazen Hassan, one of the most active of the new generation of feminist activists.
"But at the same time we are in the midst of a rough time organisationally and operationally. I believe that the whole of civil society in Egypt is suffering from constraints on its activities and difficulties in finding sufficient funds. We're supposed to be non-profit organisations depending on grants and donations to finance our activities, but now we're legally threatened because of this. It is a true dilemma for our Centre [the Nazra Feminist Studies Centre], which has now been closed down forcing us to continue our activities on the Internet," Hassan said.
"We recognise some of the accomplishments achieved on the ground, however, especially in the fight against violence against women. There has been the creation of the anti-violence committee in the interior ministry and the legal amendment criminalising harassment. A specific strategy has been formulated to deal with the question of violence, though no one discussed it with us. It's very important for there to be channels of communication between civil society organisations and individual activists and the government in order to produce real change," she added.
"The situation in Tunisia, often seen as a model for women's ability to win their rights in the Arab world, is also not just the product of the present day or the years since the 2011 Revolution. It is the product of more than 50 years of feminist work through mechanisms in which the state worked with civil society and feminist activists. The Tunisians also had a clear agenda which was put into effect immediately after the revolution. Unfortunately, even though we preceded them chronologically, we are lagging quite a bit behind them organisationally and operationally," Hassan said.
Although she faults the state for abandoning its support for the women's cause in recent years, she does not deny flaws in the feminist movement itself. "Unfortunately, the women's movement in Egypt has come to resemble many of the state bureaucracies. This applies in particular to the performance of the older generations of feminists who are generally not open to change or to criticism from the younger generations. If we are to succeed in effecting change, we have to accept the need to change ourselves and the ways in which we work. For example, I disagree that there has to be a unified agenda for the whole movement. It is unacceptable to insist that we all have to rally around a single cause."
"Each feminist organisation or entity should have the freedom to choose the causes it wants to espouse and to press for necessary changes. All we should be asked to do is to support one another. There is another important point here concerning interaction with the governmental women's agencies. I am not totally opposed to working with them. But I find it hard to see them as a genuine part of the feminist movement because in the end they are governed by the political agenda of the regime," Hassan said.
"On the other hand, I think it's possible to take advantage of their presence as a national mechanism for lobbying and realising our demands. We complement the system; we're not competing with it. We need a multiplicity of entities. At the same time, we shouldn't snub the younger groups, especially those operating through the Internet. In fact, we should utilise whatever resources we have to work with them through training, support, or joint efforts them. We must acknowledge that the initiatives and hashtags on social media have had a genuine impact," she added.
Four waves of feminism: Hala Kamal in her history of the feminist movement in Egypt, A Century of Egyptian Women's Demands, divides the movement into four waves.
The beginning of the first in the late 19th century was marked by the publication of the first women's newspaper in Egypt, Al-Fatah (The Young Woman), in 1892. Founded by Hind Nofal, Al-Fatah became the mouthpiece of the nascent Egyptian feminist movement which emerged about a decade later.
There then followed other periodicals such as Anis Al-Jalees in 1898, Fatat Al-Sharq in 1906, and Al-Jins Al-Lateef in 1908, all of which advocated women's rights and sought to express women's points of view.
It was during this phase, largely dependent on the press, a new media at the time, that Egyptians became acquainted with the names of the first generation of Egyptian feminists, such as Malak Hifni Nassef and Aisha Taimour.
Then the baton was passed to the generation of the 1919 Revolution, when discussions revolved around questions of marriage, divorce, polygamy, the veil and domestic life.
Thanks to the efforts of the pioneers of the Egyptian feminist movement, the first wave, which lasted until 1952, achieved major inroads in improving women's rights.
One of the most significant achievements was equality in the right to education at all levels, and the first class of Egyptian female university students graduated in 1933. This wave also brought the first women's party in Egypt and the Arab region in the shape of the Egyptian Women's Party founded in 1942.
The second wave, lasting from the 1952 Revolution to the beginning of the 1980s, was characterised by the Nasserist regime's determination to contain and co-opt the feminist movement and was consistent with its rejection of independent political parties or other entities.
Nevertheless, according to Kamal women achieved important successes at this time, the most important being Article 31 of the 1956 constitution which stated that all Egyptians were equal before the law in rights and duties and which for the first time gave women the right to vote and stand in legislative elections.
However, the state remained resistant to women's demands on questions concerning family law and personal status law.
In the third wave, which began with the beginning of the Hosni Mubarak era, the government began to relax its grip on civil-society activity, making it possible for independent feminist entities to re-emerge.
Egypt also ratified the UN Convention on the Elimination of all Forms of Discrimination Against Women (CEDAW). This was the period in which Cairo hosted the International Conference on Population and Development (1994), which Kamal describes as "a milestone in placing women's rights on the national agenda".
Kamal dates the fourth wave of Egyptian feminism from the outbreak of the 25 January Revolution, in which there was a massive turnout of women in all its activities.
However, she observes that as spectacular as the women's presence was in the Revolution, they were also exposed to unprecedented levels of physical violence. The sexual harassment crisis they encountered was fed by a combination of political, religious and social motives.
This was also a period that saw the ebb of the organised feminist movement and the remarkable rise of feminist Internet activists, although it should be borne in mind that established feminists continued to make important contributions to the drafting of the new constitution and other political activities.
Nola Darwish, a prominent figure in the Egyptian feminist movement for more than 30 years, explained what she sees as the positive and negative aspects of the Egyptian women's movement.
"The movement in Egypt has tended to focus on women's issues from either a philanthropic or a developmental perspective. Feminist demands were voiced alongside or beneath the umbrella of philanthropic work, and this obscured the feminist cause and rendered it incapable of direct confrontation. Successive regimes in Egypt worked to promote this, and they greatly obstructed genuine efforts on the part of rights organisations," she said.
On the history of the movement, Darwish said that "I do not date the beginning of the feminist movement in Egypt to the beginning of the 20th century as some still do. The pioneers of the movement were more concerned with the national independence struggle and felt themselves to be part of that general movement.
Perhaps the feminist movement as an independent movement had its start following the promulgation of the 1923 constitution. But political conditions in Egypt were never encouraging for feminists.
Even though the movement came to the fore during the 25 January Revolution, that did not last long in the face of the tyranny of the Islamist movement and the male-oriented culture of our society," she said.
"We are always seen as guilty when we bring up subjects men don't like. We're either accused of undermining religion or of implementing foreign ideological agendas. I'll never forget the ferocious attacks we encountered in the 1970s when we first began to speak out against violence against women. Nevertheless, we continued to fight until the term took hold and the problem was recognised. This is a crucial prerequisite of the feminist movement: it has to continue for years to attain its goals. Its demands cannot be realised in a day. The effort might take decades."
If Darwish is an exponent of a vanguard generation of activists, Salma Al-Naqqash is a representative of the rising generation. While she acknowledges the achievements of the older generations, she believes that the feminist movement in Egypt today lags a step or two behind its counterparts in a number of other Arab countries, notably Tunisia.
For example, whereas now there is gender equality in inheritance rights in Tunisia, a large number of women in Upper Egypt are still not allowed to inherit at all. "Even the judiciary, which boasts of granting women the right to work, doesn't allow women to work in the Council of State, which is one of the most important judicial bodies in Egypt," Al-Naqqash said.
"In general, we need to understand that the feminist movement in Egypt is not just a bunch of causes that we push for from time to time. It is a social advocacy movement in which we try to avail ourselves of all the means at our disposal. Those who accuse the feminist movement in Egypt of laxity have no idea about the magnitude of the difficulties we face, whether in terms of the prevalent social culture or the prevalent political regime and the extent to which it is interested in supporting women's rights," she said.
The Egyptian Women's Party
Egypt may be the only country in the Arab world to have given birth to a women's political party officially recognised by the state. Founded in 1942, the Egyptian Women's Party was headed by Fatma Neamat Rashed, and its charter outlined goals and demands that were very progressive by the standards of the time, such as gender equality, full entitlement to political and social rights as equal citizens, and the right of women to serve in government offices, including in the judiciary.
The party also called for amendments to the laws governing marriage, polygamy, divorce, alimony and child custody. It gave Egypt some of its celebrated feminists, but the party was dissolved soon after the 1952 Revolution.
http://english.ahram.org.eg/NewsContent/1/64/312392/Egypt/Politics-/-years-of-the-Egyptian-women%E2%80%99s-movement.aspx
--------
URL: https://www.newageislam.com/islam-women-feminism/girls-marrying-14-madness—crown-prince/d/116523
New Age Islam, Islam Online, Islamic Website, African Muslim News, Arab World News, South Asia News, Indian Muslim News, World Muslim News, Women in Islam, Islamic Feminism, Arab Women, Women In Arab, Islamophobia in America, Muslim Women in West, Islam Women and Feminism