New Age Islam News Bureau
14 Dec 2012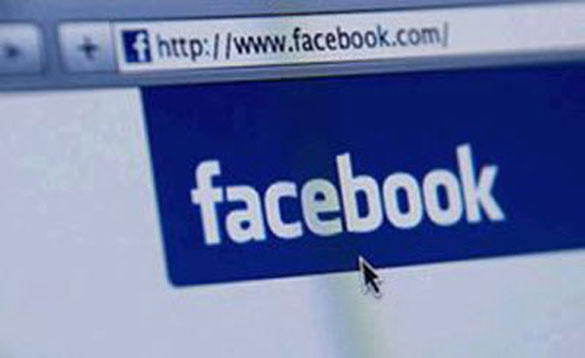 • 59% of Saudi High School Girls Use Facebook: Study
• UAE Praised For Efforts to Combat Online Child Abuse
• Raped Hindu girl in Sindh finds support From Civil society activists of Pakistan
• Libyan Women in a State Of Denial of Their Rights
• Two Women Ministers in Kuwait's New Cabinet
• Nigerian First Lady Pledges Increased Advocacy for Women's Health
• Afghanistan Women Prison Eyed Amid Rising Violence
• Afghanistan sees more reports of violence against women
• Iran hosts Intl. Conference on Muslim Women Scholars
• Women's rights groups call for delay of constitution referendum
• Kuwait Participates in Jakarta Charity Bazaar, Organized By International Women's Club
• Afghan Women Post-American Occupation and the Saviour Discourse
• Police Arrest Suspect in Killing of Teen for a Mobile
• 'I Overcame My Inner Turmoil to Embrace Islam': Maryam Jemeelah
• Iranian woman wins gold in West Asian Athletics Championship
Compiled by New Age Islam News Bureau
Photo: 59% of Saudi High School Girls Use Facebook
URL: https://newageislam.com/islam-women-feminism/girls-embroiled-facebook-controversy-invited/d/9678
------------
Girls embroiled in Facebook controversy invited by IIM Ahmedabad
Dec 13, 2012
MUMBAI: Shaheen Dhada and her friend Renu, who were at the centre of a controversy related to their Facebook post after Shiv Sena chief Bal Thackeray's death, have been invited by the prestigious IIM-A to interact with students.
"Shaheen and Renu have been invited to interact with the students and teachers of the Indian Institute of Management in Ahmedabad, Gujarat. They will be meeting with the professors and students of the institute Dec 21 and 22," Shaheen's father Farooq Dhada told IANS Thursday.
On Nov 18, police arrested Shaheen, who posted a comment on her Facebook questioning the shutdown after Thackeray's death Nov 17 and when he was given a public cremation the next day. Her friend Renu, who had 'liked' the Facebook comment, was also arrested.
"I am glad that I will be able to interact with students and teachers of the top B-school. Professor Anil Gupta emailed us and then spoke to us over the phone. He invited us to meet the students of IIM so that we could share our experiences over the controversy," Shaheen said.
On Nov 29, Mahrashtra DGP Sanjeev Dayal had said that a closure report will be filed in the case. However, it has not been filed yet.
http://timesofindia.indiatimes.com/india/Girls-embroiled-in-Facebook-controversy-invited-by-IIM-Ahmedabad/articleshow/17601279.cms
------------
59% of Saudi high school girls use Facebook: Study
By Habib Toumi
December 13, 2012
Manama: Facebook, the social network, is used by 59 per cent of high school girls in Saudi Arabia, a country ranked 33rd in the world for Facebook use thanks to its 5,906,220 users, a survey has revealed.
According to the study prepared by researcher Fawzia Al Harbi, social issues dominated the chat and posts, while politics and sports were of the least interest.
Internet blackmailing, a growing phenomenon in the Arab world, did not receive a high rating and received little attention by the teenagers mostly aged between 16 and 18, Saudi Arabic daily Al Riyadh reported on Thursday.
According to the research, 62 per cent of the sample of 500 students, from government and private schools in the Saudi capital Riyadh, said that they used the social network to chat with friends while only 2 per cent said they used it to communicate with their teachers.
The findings prompted the researcher to call upon education officials to work on improving the rate for the sake of better learning and teaching standards.
According to the research, less than half of the users (44 per cent) said that they used Facebook to chat with people they did not really know.
Personal gratifications from the use of the social network included achieving better social integration and a more enhanced personal communication, acquiring more knowledge, improving educational levels, reaching a greater awareness of issues and enjoying more entertainment opportunities, the study said.
The students said that the social network enabled them to achieve social satisfactions they could not have reached through the more traditional media.
Al Harbi said that the study, which lasted several months, indicated that Facebook presented to Saudi girls a unique platform where they could speak freely and where they could reject whatever they saw as "inadequate."
The researcher highlighted that the large number of Saudi teenagers who speak freely on Facebook was related to the ability to sign in under different names and avoid revealing their true identity.
According to the study, Saudi high school girls used Facebook to display creative writing and art talents, tell of their travels and fancy purchases and talk about potential husbands.
More serious chat covered views and opinions on social issues, campaigning for social causes and demanding for more rights.
Ways to improve self-confidence and character-building are also mentioned as issues taken up by Saudi girls in their use of Facebook, the study said.
http://gulfnews.com/news/gulf/saudi-arabia/59-of-saudi-high-school-girls-use-facebook-study-1.1118209
------------
UAE praised for efforts to combat online child abuse
By Nada AlTaher
December 13, 2012
UAE taking pre-emptive strike against online child exploitation, experts say
Abu Dhabi: The UAE has been hailed for its pre-emptive strike in the fight against online child exploitation, as the only Arab country signed up to a global taskforce to combat the problem.
A major international summit on internet child abuse, hosting experts and crimefighters from across the globe, came to a close in Abu Dhabi on Thursday.
Praising UAE efforts to tackle the issue, experts at the Virtual Global Taskforce (VGT) conference described the UAE's membership of the VGT, and hosting of the event, as a "pre-emptive strike" on sexual crimes against children online.
It was also pointed out that the phenomenon has not yet surfaced in the UAE.
Interpol Criminal Intelligence Officer, at the Trafficking in Human Beings Sub-Directorate, Bjorn-Erik Ludvigsen, said: "One thing I was glad to see here, is that the UAE has a stop page which says that the website has been blocked because it goes against UAE laws and ethics.
"This is a very important step in making internet users aware that content is unavailable for a reason, and is a much better approach than simply hiding content behind an error page like some internet service providers would do.
"There is a huge lobby against blocking websites. Yet, preventive policing is better and cheaper for many of the authorities involved.
"It also protects victims' rights, prevents criminal access, posession and distribution of unlawful material and prevents harmful exposure to such content," Ludvigsen said.
The Interpol official highlighted the industrial aspect of child pornography and stated that if obtaining material pertaining to sexual abuse of chlidren was made difficult, there would be a reduction in crimes.
Ludvigsen said: "Cyber crimes are every country's issue because the internet is not bound by geography and if some material is accessible to a person in a certain location, then his or her nation is reponsible to prevent others from having the same access to the illegal content."
Vice President of Regulatory Operations at Etisalat, Rayyan Al Hashmi, urged UAE residents to come forward and report to them any concerns that might arise while online.
Al Hashmi said: "If any internet users within the UAE would like to report a website which they believe is inappropriate, they can fill a form on the Etisalat website which allows them to file a report on the website.
"Whereas if users wish that a website gets unblocked, they could click on a link on the website's stop-page where they can file their request to be examined."
The three day conference saw lectures, discussions and examinations of case studies and statistics as Interpol, crime fighting agencies, international experts and local agencies came together to tackle the vital issue.
http://gulfnews.com/news/gulf/uae/crime/uae-praised-for-efforts-to-combat-online-child-abuse-1.1118473
------------
Raped Hindu girl in Sindh finds support From Civil society activists of Pakistan
ANITA JOSHUA
Dec 14 2012
Civil society activists of Pakistan are rallying to secure justice for the six-year-old Hindu girl from the Meghwar community who was raped in the Umerkot district of Sindh last week.
The girl was found raped and tortured on a street. Her case did not get much media attention after two local journalists who reported about it were threatened by the alleged perpetrators. The Class I student was shifted from the local hospital to a larger one in Lyari on the intervention of the Deputy Speaker of Sindh Assembly.
Meanwhile, activists have started an online petition to draw attention to her case in particular and the condition of the Hindu community in general.
In a related development, a Hindu doctor was shot dead in the Mastung area of Balochistan while on his way home.
http://www.thehindu.com/news/international/raped-hindu-girl-in-sindh-finds-support/article4196626.ece
------------
Libyan Women in a State Of Denial of Their Rights
By Libyan Magdulien Z Abaida.
13 December 2012
The first thing women's rights activists in Libya mention about women's rights in Libya now, is that having 33 women in the parliament, means women's rights in Libya is a big success and that it is somehow a measure of the "positive steps" towards women rights in Libya, but is that real?
Here are some facts about women's rights in Libya under the previous regime:
In theory, women and men are equal according to the Constitutional Declaration published in 1969; as well as in Gaddafi's Green Book which was considered to be Libya's Constitution back then, stating that "Women and men are equal, and to differentiate between women and men is a flagrant injustice and it is not justified." However, the text also emphasizes the biological differences between men and women and then stating that "it's impossible for woman and men to be equal."
But this did not stop Libyan women from demanding their rights under an authoritarian regime, and in 1996 a charter was published regarding the Rights and Duties of women in Libyan society, which stated clearly that women are equal to men and have the right to financial independence, along with women's duty to protect and defend their country as well as their right to be in leadership positions.
The Penal Code and the Criminal Code are applied equally on women and men, however; according to the article No. 375 of the Penal code, it minimizes the punishment for a man who kills a female family member in an honour crime; whilst if a man sexually abuses a female family member , the punishment will not exceed two years in jail! However most of these horrific crimes are not reported to the police due to the familial pressure of custom and tradition, (this law is still applicable). In addition, there are no laws to protect women from domestic violence or street harassment.
Although Libya signed in 1989 the CEDAW (Convention on the Elimination of All Forms of Discrimination against Womem) agreement, it did not approve Article No. 2.
This stated that the states parties of CEDAW agreement shall embody the principle of the equality of men and women in their national constitutions and, adopt appropriate legislative and other measures, including sanctions where appropriate, prohibiting all discrimination against women.
It also stated the need to establish legal protection of the rights of women on an equal basis with men as well as Article No 16, points (b &C), which (stating (b) says that they have the same right to freely choose a spouse and to enter into marriage only with their free and full consent; and c) Tthe same rights and responsibilities during marriage and at its dissolution; justifying their rejection on the bases that these articles are against Islamic Sharia.
However, not one of the CEDAW Articles has been implemented in Libyan law up to this date, and it is interesting to note that Libya has delivered two reports to CEDAW in 1991 and 2008 regarding women's rights in Libya and to answer CEDAW committee questions in regards to women's rights in Libya – which is available on line at www.ohchr.org .
For example, orphaned women in Libya are living as if they are in a jail. Hakki Organization ("My right") visited their building in Tripoli on the International Women's Day on 8th of March 2012. They faced security problems and needed to get permission to visit and eventually only got to meet the Director at the orphanage, Ms. Zainab H.
She said, "I cannot let you see the girls and their rooms, I will be in big trouble if I do." We discovered after that she had to resign after she was conveniently accused of being Pro-Gaddafi. As far as we know, nothing has changed in this orphanage to date.
Divorce in Libya is a big issue. Although Libyan law made it easier for women to get divorced, the law has several limitations. For example, if a woman fails to give a "reasonable reason" for asking for a divorce, she not only has to give up her financial rights, but also she must give up the custody of her own children, sometimes having to pay the man financial reimbursement for the "damage" of divorcing him.
In case the women does succeed in giving a "reasonable reason," she can keep her children and the ex-husband is held responsible for their financial needs. However, most men avoid this responsibility after telling the judge they are not capable of paying the amount although it doesn't usually exceed 80LYD which is equal to around 40GBP per month.
However, if the woman decides to get married again, the ex-husband has the right to take her children away. It is for these reasons many women would rather suffer for the sake of their children rather than getting a divorce and adding to their hardship. There is also pressure from the woman's family which often prevents her from getting divorced.
The Hakki Organization, of which I am a founding member, have interviewed one woman who got divorced. She had to give up her children and had to pay 1000LYD to her ex-husband just so that he would agree to divorce her, after he destroyed her reputation in a conservative society.
It is important to mention that when she stood in front of the judge and told him "My husband beats me and rapes me every day, I don't want to live with him anymore," the judge said to her "Huuuuush lower your voice, how can you say your husband rapes you, he is your husband?!" Rape by marriage, is not recognized as a rape crime in Libyan law.
It is also worth mentioning that the legal age of marriage in Libya is 20 years old for women although she can get married before that if the court gives her permission. This law was set to prevent the early marriage of women due to family pressure. There is a concern by some women's rights activist that this law could be changed in the new Libya after justifying that it is not according to Islamic Sharia Law.
Under current Libyan law, women and men are free to travel within or outside the country. Women do not need any kind of permission to travel outside the country. This is another worrying point that women's rights activist, including myself, are afraid could be changed. This is especially so after the remarks that were made by Mustafa Abdul Jalil, the former NTC head, during Libyan Liberation Day. In that famous speach he stated that "all laws shall be reviewed and any law against Islamic Shari'a shall be a question of discussion."
Rape is a very complicated crime, and Libyan law forces the rapist to marry the victim, in order to save her "honour." Most women end up getting married to their rapist, at least for couple of months, in order to justify her loss of virginity with a divorce paper. Virginity itself is a big issue in an Islamic culture.
In the beginning of the 1990s, women in Libya were allowed to participate in the judiciary, and it has become possible for a woman to be a Judge and the General Attorney. This may change if Libya applies the full extent of Shari'a Law.
In 2003, women were allowed for the first time to be part of the traffic police, as well as join the military and there were female-only military and police colleges, which have been occupied since the Liberation day by militias, and we don't know what has happened to the students who were studying there.
So in summary, up to this date there has been no change to Libyan laws concerning women, but this doesn't mean we shouldn't be speaking up about it. We are worried that the rights of Libyan women, after fighting for the gains we have made, will be changed under the name of Sharia Law.
To say that women's rights are better now just because we have 33 women in the GNC (Parliament) does not really mean women are enjoying their rights. If it wasn't for the election law which required that women had to be on the party lists, we would only have one women in the parliament by now - Amina Mahmoud Takhtakh who ran as an individual candidate and won because people voted for her.
She represents Bani Walid however, and it is important to note that this MP is unable to attend the General National Congress meetings as she is in hiding from the militias, after speaking out against the attack on Bani Walid which took place last September.
After all of this, I can say Women's rights activists are seriously living in a state of denial about women rights in Libya, if they think anything so far has really been "gained." There is a very long way to go before women are truly equal to and free from men in Libya.
Magdulien Z. Abaida lives in the UK and is a human rights activist and a founding member of the Hakki Organization.
http://www.libyaherald.com/2012/12/13/opinion-women-in-libya-are-in-a-state-of-denial-regarding-womens-rights-in-libya/
------------
Two Women Ministers in Kuwait's New Cabinet
By Habib Toumi
December 12, 2012
Manama: Kuwait's Emir Shaikh Sabah Al Ahmad Al Sabah has endorsed the new government formed by the prime minister.
The cabinet in which nine ministers in the previous formation kept their posts, includes two women, Dhikra Al Rashidi, one of three women who won seats in the December 1 elections, as minister of social affairs and labour, and Rola Dashti, who kept the portfolios of development and parliament affairs. The previous government had only one woman.
Full report at:
http://gulfnews.com/news/gulf/kuwait/two-women-ministers-in-kuwait-s-new-cabinet-1.1117651
------------
Nigeria: First Lady Pledges Increased Advocacy for Women's Health
BY WINIFRED OGBEBO AND UGOCHI AMADI
13 DECEMBER 2012
The First Lady, Mrs. Patience Jonathan, has pledged to increase advocacy and not to relent in efforts to promote the wellbeing of Nigerian women.
The First Lady made the pledge during the launch of a book, "Health Journalism: A Journey With Moji Makanjuola," authored by Mrs. Moji Makanjuola, a broadcast journalist.
Mrs. Jonathan advised policy makers to initiate policies that would enhance the living conditions of the Nigerian woman.
Full report at:
http://allafrica.com/stories/201212130146.html
------------
Afghanistan Women Prison Eyed Amid Rising Violence
12/13/2012
By Shirin Barghi
When 23-year-old Soheila was forced by her father to marry an older Afghan man, she ran away and married the man she loved. Her father tracked her down and dragged her back to Kabul where she was sentenced to six years in the women's prison – all despite being pregnant.
"Here I don't have a life. My child does not have a future. Life in prison is difficult. But if I go to be with my husband, my father will kill me," Soheila told filmmakers of the Centre for Investigative Reporting (CIR).
Full report at:
http://www.huffingtonpost.com/2012/12/13/afghanistan-violence-wome_n_2295630.html?utm_hp_ref=world
------------
Afghanistan sees more reports of violence against women
14 December 2012
Some progress is being made in using the law to protect women against violence in Afghanistan. That's the conclusion of a new report by the United Nation's mission in the country.Afghanistan is a male dominated society and very few men are convicted of crimes of violence against women. the exit of the Taleban has meant more women can work and get an education - so-called honour-killings, mutilation, and beatings are still widespread.Georgette Gagnon, UNAMA's Director of Human Rights in Kabul, talks on the issue.
Full report at:
http://english.ruvr.ru/2012_12_12/Afghanistan-sees-more-reports-of-violence-against-women/
------------
Iran hosts Intl. Conference on Muslim Women Scholars
14 December 2012
Iran has held the International Conference on Muslim Women Scholars, hosting researchers from different countries in the capital city of Tehran, Press TV reports.
Scholars from Europe, Africa and Asia have participated in the event to discuss the role of women in science and technology, management and employment, education and mental health.
Full report at:
http://presstv.com/detail/2012/12/13/277880/iran-holds-muslim-women-scholar-confab/
------------
Egypt: Women's rights groups call for delay of constitution referendum
14 December 2012
Mohammed Morsi to delay a popular referendum – Equality Now, a global women's rights organisation, Wednesday made an urgent appeal to Egyptian President Mohammed Morsi to delay a popular referendum on the draft of the new Egyptian Constitution, scheduled for Saturday, in order to allow for proper consultation.
If the draft constitution is approved, it could "restrict and severely undermine women's and girls' rights", the rights organisation said, noting the references made to the supremacy of Islamic (Sharia) law.
Full report at:
http://www.afriquejet.com/index.php?option=com_content&view=article&id=3191:egypt-women-s-rights-groups-call-for-delay-of-constitution-referendum&catid=2:news&Itemid=111
------------
Kuwait Participates in Jakarta Charity Bazaar, Organized By International Women's Club
2012/12/14
KUALA LUMPUR: The Kuwaiti diplomatic mission to Indonesia participated in the annual bazaar, a charitable event organized by the 40- state International Women's Club. It was attended by eminent Kuwaiti personality Sheikha Hussa Saad Al-Abdullah Al-Salem Al- Sabah. Indonesia's first lady Kristiani Herawati Yudhoyono inaugurated the charitable event in the presence of the Kuwaiti ambassador to the Asian nation Nasser Bareh Al-Enezi and the deputy chair of Kuwait's Women's Affairs Committee Sheikha Hussa who was invited by Yudhoyono, according to a statement released by the Kuwaiti embassy in Jakarta yesterday.
Full report at:
http://news.kuwaittimes.net/2012/12/13/kuwait-participates-in-jakarta-charity-bazaar-sheikha-hussa-among-the-attendees/
------------
Afghan Women Post-American Occupation and the Saviour Discourse
December 13, 2012
After the almost 12-year American occupation, there has been a lot of speculation on the future of Afghanistan. While some have deemed the war "unwinnable", others have talked about responsibility specifically in terms of Afghan women. Upon the close withdrawal of American forces (if they do not delay it again), Canadian and American media articles continue to inquire on the future of Afghanistan without Western guidance.
Full report at:
http://www.patheos.com/blogs/mmw/2012/12/afghan-women-post-american-occupation-and-the-saviour-discourse/#more-12232
------------
Police Arrest Suspect in Killing of Teen for a Mobile
Bayu Marhaenjati | December 14, 2012
Police have apprehended the suspected murderer of a 14-year-old girl whose body was found decaying in a vacant plot of land in Kampung Buaran, Pamulang, South Tangerang.
"We managed to arrest the main suspect in the murder of Dwi [Saputra] after conducting an investigation. The suspect's initials are I.L. and it is believed he dropped out of elementary school and has no steady job," South Jakarta Police chief of detectives Adj. Sr. Comr. Full report at:
http://www.thejakartaglobe.com/home/police-arrest-suspect-in-killing-of-south-tangerang-teen/561552
------------
'I Overcame My Inner Turmoil to Embrace Islam': Maryam Jemeelah
14 December 2012
Maryam Jemeelah, a New York-based Jewish woman who reverted to Islam at the age of 27, passed away recently in Lahore. She was 78. Below is the third part of her interview which she had given to Islamic Bulletin, a few years back:
Zenita and I would eat our meals in Syrian restaurants where I acquired a keen taste for this tasty cooking. When we had money to spend, we would order Couscous, roast lamb with rice or a whole soup plate of delicious little meatballs swimming in gravy scooped up with loaves of unleavened Arabic bread. And when we had little to spend, we would eat lentils and rice, Arabic style, or the Egyptian national dish of black broad beans with plenty of garlic and onions called "Ful."
Full report at:
http://tehrantimes.com/sports/104014-iranian-woman-wins-gold-in-west-asian-athletics-championship
------------
Iranian woman wins gold in West Asian Athletics Championship
13 December 2012
Iran's Javaher Zamani claimed the gold medal in the women's triple jump in the 2nd West Asian Athletics Championship on Wednesday.
Zamani seized the gold with a jump of 12.03 meters. Her compatriot Samaneh Koohkan claimed silver with 11.38 meters.
Full report at:
http://tehrantimes.com/sports/104014-iranian-woman-wins-gold-in-west-asian-athletics-championship
------------
URL: https://newageislam.com/islam-women-feminism/girls-embroiled-facebook-controversy-invited/d/9678