04 September 2022
• 'Girls Belong in School' Says UN Chief, Calling Closure of Afghan Girls' Schools 'Unjustifiable'
• Tamil Nadu Woman, Subiksha Subramani, Marries Bangladeshi Girl, Tina Das, In Chennai
• Saudi Female Philanthropist, Ibtisam Fadel Al-Enezi, Wins Excellence Award for Arab Youth
• Pizza Hut Opens Its First All-Women Operated Store In Bangladesh
• Female Police Councils Established To Empower Female Officers in Pakistan
• Banned Bangladeshi Islamic Organizations Influencing Islamists To Trap, And Convert Hindu Women
• Red Sea International Film Festival Celebrates Women From Arab Film Industry In Venice
• Saudi Arabia Investigates Video Of Men Attacking Orphaned Women And Girls
• Over 47,000 Pregnant Women In Shelter Camps Across Sindh: Provincial Health Minister
Compiled by New Age Islam News Bureau
URL: https://newageislam.com/islam-women-feminism/school-girls-un-afghan/d/127872
--------
'Girls Belong in School' Says UN Chief, Calling Closure of Afghan Girls' Schools 'Unjustifiable'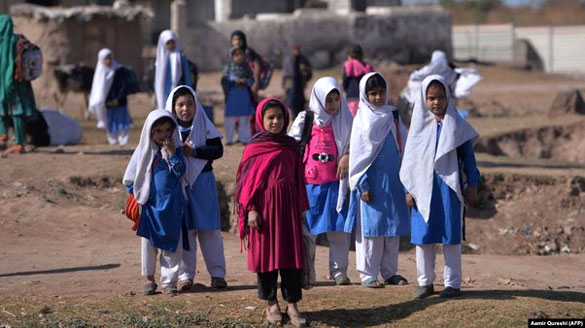 Photo: Tolo News
----
By Saqalain Eqbal
03 Sep 2022
The UN chief, Guterres, raised alarm over the closure of the schools for Afghan girls, stating that the girl's inability to access education would be detrimental to the country and its future.
Afghan girls locked out of the classroom is a breach of equal rights, which in the opinion of Guterres "damages" the entire country.
Earlier, the officials from the Ministry of Education of the Taliban administration claimed that the group is working on a plan to reopen the schools.
According to the spokesperson for the Taliban Ministry of Education, the ministry has made "adequate" efforts in this area, but some procedures take years to complete and the issue with schools cannot be resolved quickly.
Despite the Taliban's commitment to reopen schools for girls, since the group took control of Afghanistan in August of last year, Afghan girls are still not permitted to attend school past the sixth grade.
Source: khaama Press
https://www.khaama.com/girls-belong-in-school-says-un-chief-calling-closure-of-afghan-girls-schools-unjustifiable-46575/
-----
Tamil Nadu Woman, Subiksha Subramani, Marries Bangladeshi Girl, Tina Das, In Chennai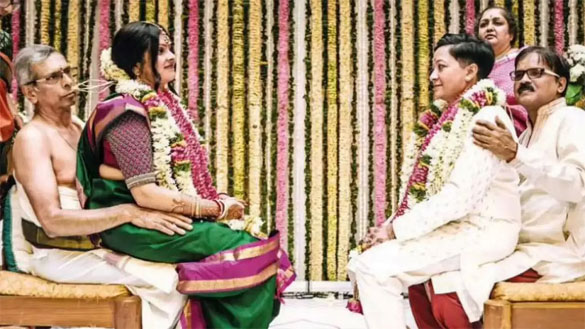 Subiksha Subramani (L) and Tina Das during their wedding in Chennai. Photos by Picturemakers
----
04 September, 2022
A Tamil Nadu woman, Subiksha Subramani, married a Bangladeshi woman, Tina Das, in a traditional wedding ceremony in Chennai on Wednesday (31 August).
Tina hails from a conservative Hindu family in Bangladesh and Subiksha belongs to a Tamil Brahmin family settled in Canada. Both of them are settled in Calgary, Canada.
On her wedding day, Subiksha sat on her father's lap in true Tamil Brahmin style, and exchanged garlands with Tina, the love of her life. And after a 'traditional' wedding ceremony, they walked hand in hand -- as wife and wife.
"After years of soldiering through, we had our loved ones standing by us, cheering for us and fulfilling every ritual as per our respective customs – just how we've always wished," says Subiksha. "We are blessed."
The 29-year-old works as a chartered accountant in Deloitte and identifies as bisexual. She opened up to her parents when she was 19 years old.
"I grew up in Madurai and later lived in Qatar. It was only after moving to Canada that we even learned about the queer community, says Subiskha's mum Poornapushkala Subramani, who runs a playschool in Calgary.
"Our first and immediate fear was that our extended family in India would cut ties with us and our daughter. Our next fear was how Subiksha would be treated in society and manage prospects of motherhood," she added.
Subiksha countered every 'why' from her parents with 'why not', and didn't stop until they saw where she was coming from. When they ran out of answers, the parents turned to counselling where their worldview gradually changed.
"We were like, what does our family's solidarity or societal validation mean in a future where our daughter is not going to be happy," says Poornapushkala.
"I grew up in Moulvibazar, a small town in north-eastern Bangladesh. My parents and I came to Montreal in 2003, hosted by my sister who was living here post marriage," she says.
"My parents had no exposure to the LGBTQIA+ community; they believed I had a disease and got me married when I was 19, hoping that would set it right," says Tina, a working lead at Patient Care at Foothills Medical Centre, Calgary.
Around four years into dating Subiksha, Tina's eldest sister cut all communication with her, and her family kept their distance. But as she healed and stood her ground, so did they warm up to Subiksha a little more, and on the day of the wedding, her cousin brother was by her side, as Sanskrit scholar and teacher, Saurabh Bondre presided over the rituals.
Saurabh, who studied Vedic literature as part of its his Masters in Sanskrit from the University of Mumbai, says this is the fourth LGBT wedding he is conducting, and yet, one-of-its-kind in the solidarity for the cause and camaraderie among family members, who hosted a traditional nitchiyathatram (engagement ceremony), followed by all the customs of a traditional Hindu wedding.
"But from a business perspective, priests work out of a closely knit community, which is also their networking space. As a result, although willing, the risk of being ostracised or losing work is high when they sign up for these ceremonies," he says.
"Head priests of well-known temples and scholars with a strong following can initiate change by sensitising others in the community. But this has to be a choice."
Subhi and Tina's wedding has opened a tiny but exciting window in Chennai for creative departments involved in weddings to explore new prospects too - be it their wedding planner Krishna Bezawada or photography and film company Picturemakers.
"Customary family and ritual shots are the staples, but at every wedding, we keep an eye out for honest human interactions," says Praveen Padmanabhan of Picturemakers.
"We found our story unravel quite organically in this case, in the sheer honesty and joy with which the family celebrated the couple's union. That it was a hard earned victory after a long struggle for identity and love, was undeniable in every moment we captured."
Their allies include Subiksha's 84-year-old grandmother S Padmavathy, who can't stop beaming about the new daughter-in-law, after months of communicating with her with "a little Hindi here, and some English there." "When in doubt, choose love," says the grandma. "We chose to have our children happy and here by our side, rather than disheartened and away."
The couple, who registered their marriage in Canada, is now set to travel across Southeast Asia, before flying back to Calgary.
Source: Tbs News
https://www.tbsnews.net/world/south-asia/tamil-nadu-woman-marries-bangladeshi-girl-chennai-489950
-----
Saudi Female Philanthropist, Ibtisam Fadel Al-Enezi, Wins Excellence Award for Arab Youth
04-09-2022
"An Hour For Your Health", this is the initiative that got Ibtisam Fadel Al-Enezi an award for her community work. Al-Enezi comes from Arar, north of Saudi Arabia and throughout her years she has always been passionate about working for her community, and specially in sports since 2018.
Among her accomplishments were establishing and chairing the first not for profit sports body in the Northern Borders province. She also set up two female sports team titled "An Hour For Your health" and "I Walk". Al-Enezi has also won an award back in 2014 from the Saudi Ministry of Education, in 2019 a merit from Prince Reema bint Bandar Al-Saud, KSA's ambassador to the US, and the past year she has been awarded the first place in the Kafu Awards.
In 2022, she was awarded third place in the Excellence Award for Arab youth for her youth volunteer work, and the amazing thing is that she was the only Saudi Arabian in the competition and the first Saudi Arabia women to win this award.
Ibtisam Fadel Al-Enezi shared a moving statement to Arab news: "The moment my name was announced as a winner gave me a beautiful feeling, indeed reaping the fruits of one's labor can be literal," she told Arab News. "I feel proud and honored to be one of the honorees in this award, and I am happy to represent my beloved country, the Kingdom of Saudi Arabia."
This award's objective is to create healthy competition among young Arab people in order to push more creative ideas, empower their initiatives and efforts. It was founded by the Minister of Youth and Sports in Egypt to help rally the efforts of young Arab people everywhere and specifically in sports.
The young sports philanthropist stands as inspiration to many young Saudi women around her as she participates in several committees in the Northern Border, including prestigious names like The Saudi Red Crescent. Her passion for the sports and helping her community has truly made her stand out, as she and several women like her continue to break glass ceilings and participate in the volunteering and non-profit sector.
Source: Abouther
https://www.abouther.com/node/52206/people/leading-ladies/saudi-female-philanthropist-wins-excellence-award-arab-youth
-----
Pizza Hut opens its first all-women operated store in Bangladesh
Sep 3, 2022
Pizza Hut, Bangladesh's most loved and trusted pizza brand, has opened its first all-women operated store in Bangladesh, located at Jamuna Future Park, furthering its commitment to induct and empower more women in the workforce and ensure an Equal Slice for Everyone.
In the store handover ceremony, Amit Thapa, CEO of Transcom Foods Limited, said, "Last 2 years has been a challenging year for Pizza Hut due to the pandemic. This year with opening our 20th store at Gulshan 2, we are on a steady growth trajectory and plan to enter several new areas by the end of 2022. Today, we are proud to step in a new chapter and create history by opening our first all-women store in Bangladesh that puts women at the front and centre of action. The store will have all women staff, where they will handle all aspects of the restaurant, right from customer service, managing the store, day to day administration to food preparation.
We are truly humbled and grateful for the unwavering love and trust of our customers and thank them for this momentous achievement. Pizza Hut is a continuously growing brand, and as we plan to open numerous stores in the coming days, we look forward to continuing this initiative of having a greater number of stores be all-women operated. My best wishes to the team and kudos for the example they are setting by breaking boundaries and inspiring other women."
Transcom Foods Limited continues the global Pizza Hut initiatives in Bangladesh to champion greater gender equality, diversity, and inclusion. With 20 outlets across the country servicing for Dine-In, Take-Away, and Delivery, Pizza Hut has the largest footprint amongst all pizza chains in Bangladesh. Pizza Hut in Bangladesh has spread the love for pizzas by making them more accessible to all customers by offering unbeatable value and continuously opening new stores. The Pizza Hut brand experience resonates generosity, friendship and fun making it stand for much more than pizza.
Source: The Daily Star
https://www.thedailystar.net/lifestyle/news/pizza-hut-opens-its-first-all-women-operated-store-bangladesh-3109956
-----
Female Police Councils Established To Empower Female Officers in Pakistan
Ikram Junaidi
September 4, 2022
ISLAMABAD: Female police councils in all provinces of the country have been established in order to create a more inclusive working environment for women in the police force by training them so they are given equal opportunities like male officers.
This declaration was issued at the end of the three-day National Fellowship for Women Police Council 2022 conference in Islamabad. The conference was organised by the Parliamentary Commission for Human Rights and Police Awam Sath Sath in Bhurban.
The purpose of the three-day programme was to train members of police councils nominated by the department and to prepare the annual plan of the councils. The councils will work for the welfare and professional capacity building of female police officers, and the supply of equal resources and opportunities along with proactive efforts for the maximum induction of women in police.
Inspector General of Police Punjab Faisal Shahkar said he wished that female police officials would get promotions and their inclusion should be mandatory in policy making.
Aamir Zulfiqar of the Anti-Narcotics Force said that women had been facing drastic issues while performing their professional responsibilities in the police force. He said change would be visible in the performance of female officers once their issues are addressed. IGP Azad Jammu and Kashmir Amir Ahmed Sheikh said that it was the need of the hour to establish these councils. Furthermore, he said, women are half of the country's population and without figuring out their issues the country would not be able to progress.
Senior PTI leader Riaz Fatyana said it is the requirement of the contemporary scenario to rethink things for effective management and persistent reliability. In the past, many initiatives were shelved.
Another speaker, Mohammad Shafique Chaudhary said that senior police officials and representatives of the civil society contributed tremendously towards the establishment of these councils. He stressed that crime rate would decrease and proper investigation report of women centric cases would be logged before the judiciary after this initiative.
Dr Adnan Rafique said that the speed of change is slow but we are going in the right direction and establishment of these police councils is the first step towards it. In addition to this, he said that recommendations will also be taken for further progress.
Senior leader of the PML-N Shaista Pervez Malik said that the impression that women are providing their services in the police department under compulsion must be dissolved. Kashmala Khan, federal ombudsman for protection against harassment, advised participants that women should not remain silent about any kind of injustice because times have changed now and women must fight for their own rights bravely.
Addressing participants of the conference, former judge of Lahore High Court Justice Nasira Javed Malik appreciated establishment of the councils and expressed hope that through these councils will help in resolving complex problems of women in the country.
Director General Legal and Justice Authority Dr Rahim Awan said that women have set examples of being great governors in the history of both Islam and the subcontinent. Our police officers should also be aware of their constitutional and legal rights which will help in empowering them, he said, adding after establishment of the councils, female citizens coming to police stations during investigation will feel safe.
Source: Dawn
https://www.dawn.com/news/1708269/police-councils-established-to-empower-female-officers
-----
Banned Bangladeshi Islamic Organizations Influencing Islamists To Trap, And Convert Hindu Women
3 September, 2022
Days after the arrest of the second accused named Naeem Ansari in the murder case involving a minor, the Jharkhand police have made shocking revelations about the accused. The investigating officer in the case said that Naeem was highly influenced by a banned Islamic Jihadi organization from Bangladesh named Ansar-ul-Bangla.
According to the reports, the Police confiscated the mobile phone of the accused and traced the suspected contacts from his phone list. The Police, after checking Naeem's phone, said that he often used to watch the activities of Ansar-ul-Bangla on his mobile. Naeem is a resident of Jaruwadih Mohalla of Dumka and works as a painter.
He used to watch the jihadi activities of the banned Bangladeshi organization and was highly influenced by their content. Reports mention that the main objective of the banned organisation is to incite Islamic men to trap non-Islamic women in a love affair, marry them, and further force them to convert to Islam.
Team Dainik Bhasker conducted an exclusive investigation in the case to learn that there are many non-Islamic girls in several areas of Dumka, Jharkhand including Pakuda, Godda, Dangalpada, Saanidangal, Jaruvaadih, and Banderjodi who have been duped by the Islamists. These women were further forced by Islamic men to marry and convert to Islam.
One of the victim women residing in the Saanidangal area of Dumka talked to team Dainik Bhasker. She said that she fell in love with a man, later she learned that the man she loved was an Islamist. "He forced me to marry him. I was left with no other option. Now, it's been 10 years that we are married. Our children have also started going to school", she said.
The father of another victim lady residing in the Gandhi Nagar area of Dumka said that his daughter was similarly cheated by an Islamist. "She fell in love with the man and left us to marry him. This happened 8 years ago. Later she came to know that he belonged to some other religion, but by then she was left with no option but to marry the man", he added.
Reports mention that many Islamists residing in the area are influenced by Jamaat-ul-Mujahideen Bangladesh. Popular Front of India, and Ansar-ul-Bangla. The Jharkhand Home Department took cognizance of this and discovered that illegal Bangladeshi migrants were residing in the areas like Shaibganj and Pakur and they possessed fake identity cards including voter ID, Aadhaar cards, and driving licenses.
Advocate Priya Dutta Singh from Dumka confirmed that there is an organized gang involving illegal migrants who trap minor girls from Dumka in love affairs and force them to convert to Islam. "This happens more in Dangalpara, Dudhani, Bandarjodi and Jaruwadiha of Dumka. I am sure if the police conduct a proper investigation in the case, they'll discover shocking facts", she added.
The 15-year-old minor was a resident of Dumka and was burnt alive by two accused named Shahrukh and Naeem. The accused allegedly poured petrol on her from the window of her bedroom when she was fast asleep. She was taken to the hospital shortly after the incident and on August 28, she succumbed to her burn injuries.
Earlier, Naeem, the second accused in the case had confessed to the Police that he was supporting prime accused Shahrukh at every step in his harassment of the now deceased minor. During the interrogation of Naeem, he stated that Shahrukh was his best friend and that they both had met on the evening of August 22 (hours before the attack). He said that Shahrukh was upset as the girl was not responding positively to his (Shahrukh) friendship.
"Shahrukh told me that he would burn her if she refuses to talk to him", Naeem had said during the interrogation. He further confessed that he supported Shahrukh's idea saying that it was the only punishment she deserved.
The Police have arrested both the accused and have also collected evidence against them. The Police confirmed that the accused Shahrukh knew the girl for a long time and used to harass her frequently.
Meanwhile, condemning the murder, the Dumka District Advocates Association has decided not to fight the case of both the accused. President Vijay Kumar Singh said that the union has decided not to take the case of the accused. A condolence meeting will be held on September 3 at 3 pm to pay tribute to the girl.
Source: Op India
https://www.opindia.com/2022/09/banned-bangladeshi-organizations-influencing-islamists-trap-convert-hindu-women-in-dumka/
-----
Red Sea International Film Festival celebrates women from Arab film industry in Venice
ARAB NEWS
September 03, 2022
DUBAI: Six women from the Arab film industry have been jointly honored by the Red Sea International Film festival and Vanity Fair to "celebrate visionary female talent both on and behind the camera."
At a gala event hosted alongside the 79th Venice International Film Festival at the Palazzo Rocca, the RSIFF and Vanity Fair first shone the spotlight on a trio of trailblazers from Saudi Arabia, including filmmaker Haifaa al-Mansour ("Wadjda," "Perfect Candidate"), award-winning actress and filmmaker Ahd Kamel ("Collateral," "Honour") and actress Sumaya Rida ("Rupture," "Rashash"). They were joined by three Tunisian stalwarts: Oscar nominee Kaouther Ben Hania ("The Man Who Sold His Skin"), actress Hend Sabry ("Finding Ola," "Noura's Dream") and Dorra Zarrouk ("Walls," "Zombie Goes Zombie").
About the recognition, Al-Mansour said: "I am incredibly honored to return to Venice Film Festival for the Women in Cinema Gala. I am very thankful to Vanity Fair for including me in this incredible event with all of these extraordinary women. Venice has been my 'home' festival since the launch of my first film 'Wadjda' here 10 years ago. I was overjoyed to return to Venice for my follow-up Saudi film, 'The Perfect Candidate,' and hope to return with another Saudi film very soon!"
Source: Arab News
https://www.arabnews.com/node/2155601/lifestyle
-----
Saudi Arabia investigates video of men attacking orphaned women and girls
By Leila Sackur
Sept. 3, 2022
Authorities in Saudi Arabia have launched an investigation into a video that showed a group of men beating women with belts and dragging them by their hair at a residential facility.
The footage which began circulating on Wednesday shows a group of men, some of whom appear to be in uniform, chasing women into the courtyard of the facility in the southwestern Asir region of the country.
At several points, men can be seen grabbing women by the hair before their feet and hands are forcibly cuffed. At other points, men wielding what appear to be belts lash out at some of the women, most of whom are wearing black abayas and niqabs which cover the body and face. NBC News was unable to verify the ages or identities of women in the video which was widely circulated on social media.
ALQST, a British-based rights group which focuses on Saudi Arabia, said in a statement that the attack was a retaliation against women staging a sit-in and strike over living conditions inside the facility.
"According to the person posting the video material, the attack on the women came after they staged a sit-in and strike in protest over poor living conditions and the various ways in which the rights of young women kept in the home even on reaching adulthood are violated," the statement said.
The state-run social care facilities are functionally no different from prisons for women who "disobey" male guardians, the statement added.
Prince Turki bin Talal bin Abdulaziz, governor of the Asir region said in a statement Wednesday that he had authorized the formation of a committee to "investigate with all parties, and refer the case to the competent authority."
Social education houses are used as orphanages for women and girls who do not have families or husbands, victims of domestic violence, or for people expelled from their homes by male family members.
Duaa Dhainy, a spokesperson for the European Saudi Organization on Human Rights (ESOHR) told NBC News that she had "concerns" for the girls who filmed the incident "and for the protesters."
Source: Nbc News
https://www.nbcnews.com/news/world/video-saudi-arabia-women-beaten-attacked-handcuffed-orphanage-men-rcna46055
-----
Over 47,000 pregnant women in shelter camps across Sindh: provincial health minister
Nadir Guramani
September 4, 2022
Sindh Health Minister Dr Azra Pechuho has shared alarming statistics of women affected by the unprecedented floods, saying at least 47,000 women were pregnant in shelter camps in the province.
Several districts in Sindh are facing massive devastation, misery and pain. Monsoon rains have affected millions. But thousands of peasants, including women and children, are the worst hit and homeless.
On Aug 30, the United Nations Population Fund (UNFPA), a sexual and reproductive health agency, said that at least 650,000 pregnant women, of whom 73,000 were expected to deliver this month across the country, in the flood-affected areas were in dire need of maternal health service.
The UN agency had also warned that many women and girls were at an incre­a­­sed risk of gender-based violence (GBV) as almost one million hou­ses were dama­g­­ed in the floods that spelled suff­ering for millions across Pakistan.
"Up to 73,000 women expected to deliver in September will need skilled birth attendants, newborn care, and support," the agency had said, adding that pregnancies and childbirth cannot wait for emergencies or natural disasters to be over as this is when a woman and baby are vulnerable and need the most care.
The government had on Aug 25 officially declared a "national emergency" in light of the rain-induced floods which have killed more than 1,200 people.
Source: Dawn
https://www.dawn.com/news/1708370/over-47000-pregnant-women-in-shelter-camps-across-sindh-provincial-health-minister
-----
URL: https://newageislam.com/islam-women-feminism/school-girls-un-afghan/d/127872
New Age Islam, Islam Online, Islamic Website, African Muslim News, Arab World News, South Asia News, Indian Muslim News, World Muslim News, Women in Islam, Islamic Feminism, Arab Women, Women In Arab, Islamophobia in America, Muslim Women in West, Islam Women and Feminism