New Age Islam News Bureau
27 May 2014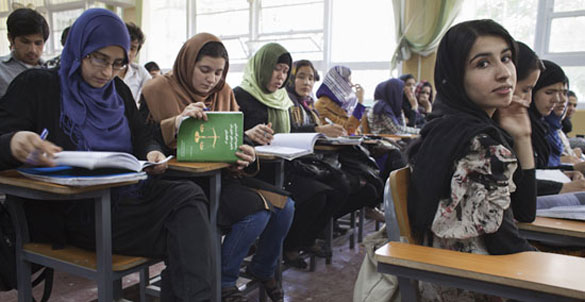 According to Oxfam's 2014 figures, the number of women enrolled in universities in Afghanistan has risen by more than 40 percent since 2007
-----------
• Facebook Campaign to Punish Immodest Iranian Women Vanishes
• Social Stigma, Religious Culture Hinder Women's Sexual Health, Says Hope for Women
• Afghanistan's Women Emerge
• Nigeria: Al-Habibiyah Women Wing Tasks Govt on Security
• Quota for Women on Boards of Family Businesses Urged
• Divorcees Complain Of Legal Costs
• Paid Nursing Time for Mothers of Newborns under Study
• '57% of Women in Arab World Motivated At Work'
• Sudanese Woman Sentenced To Death for Apostasy Gives Birth
• Textbooks Must Reflect Appropriate Values In Child's Mind
Compiled by New Age Islam News Bureau
URL: https://newageislam.com/islam-women-feminism/girl-stoned-death-outside-lahore/d/87220
----------
Girl Stoned To Death outside Lahore High Court for Love Marriage
May 27, 2014
LAHORE- A 25-year-old woman was stoned to death by her family outside Lahore High Court on Tuesday in an "honour" killing for marrying the man she loved, police said.
Farzana Iqbal was waiting for the High Court to open when a group of around dozen men began attacking her with bricks, said Umer Cheema, a senior police officer.
Her father, two brothers and former fiancé were among the attackers, he said. Iqbal suffered severe head injuries and was pronounced dead in hospital, police said.
All the suspects except her father escaped. He admitted killing his daughter, Cheema said, and explained it was a matter of honour. Many Pakistani families think a woman marrying her own choice of man brings dishonour on the family.
Iqbal had been engaged to her cousin but married another man, Cheema said. Her family registered a kidnapping case against him but Iqbal had come to court to argue that she had married of her own free will, he said.
Around 1,000 Pakistani women are killed every year by their families in honour killings, according to Pakistani rights group the Aurat Foundation.
The true figure is probably many times higher since the Aurat Foundation only compiles figures from newspaper reports. The government does not compile national statistics.
Campaigners say few cases come to court, and those that do can take years to be heard. No one tracks how many cases are successfully prosecuted.
Even those that do result in a conviction may end with the killers walking free. Pakistani law allows a victim's family to forgive their killer.
But, in honour killings, most of the time the women's killers are her family said Wasim Wagha of the Aurat Foundation. The law allows them to nominate someone to do the murder, then forgive him.
"This is a huge flaw in the law," he said. "We are really struggling on this issue."
http://www.pakistantoday.com.pk/2014/05/27/city/lahore/girl-stoned-to-death-outside-lahore-high-court-for-love-marriage/
-----------
Facebook campaign to punish immodest Iranian women vanishes
27 May 2014
A Facebook campaign seeking to punish Iranian women who posted photographs of themselves without headscarves on the same website seems to have been squashed.
On Monday, Bloomberg and other media outlets reported that an anonymous page, titled "Identify Advocates of Debauchery in Cyber Space," was asking viewers to identify women in pictures posted on "Stealthy Freedoms of Iranian Women," a Facebook campaign inviting women to send photos of themselves with uncovered hair.
However, the Facebook page, which advocated lashes imprisonment for the offending women, was gone by Tuesday morning Israel time.
Masih Alinejad, a London-based Iranian activist and journalist, launched "My Stealthy Freedom" on May 3. The site already has over 375,000 likes.
A parody of the women's site, "Men's Stealthy Freedoms," portrays various men wearing head coverings.
According to a report by human rights organization Justice For Iran in March, the Tehran government has enforced hijab laws since the early days of the Islamic revolution in 1979, reprimanding, arresting and prosecuting thousands of women a year. Iranian authorities made over 5,000 arrests and issued 50,000 warnings in three provinces alone, the report stated.
Last week, Iranian police released six people they had arrested for appearing in a video singing along to the American pop song "Happy," one day after detaining them. The police called their behavior "obscene," one of the participants in the video said in an online posting.
http://www.haaretz.com/news/middle-east/1.595532
----------
"Social Stigma, Religious Culture" Hinder Women's Sexual Health, Says Hope for Women
27 May 2014
Young women's sexual health is being compromised by "social stigma, religious and social culture," argues Fathmath Nazeefa, Advocacy Officer at local NGO Hope for Women.
According to Nazeefa, many young Maldivians refrain from accessing the limited sexual health services due to these societal pressures.
"It is apparent in many cases we are lacking information in the family-planning area, early sexual engagements, and in gender stereotyping, which actually makes women to go ahead with child bearing practices even though that is not in their best practice," Nazeefa told Minivan News.
Her comments came after the body of a new-born baby was discovered in a house in Maafanu yesterday. After local media reported that an 18-year-old committed infanticide after having hidden her pregnancy, police have today confirmed the girl in question was arrested this afternoon.
After being taken into custody at around 2:20pm, the girl's will be detained for up to fifteen days pending a court appearance.
Nazeefa expressed particular concern over a lack of sexual health education for young women which prevents them from making informed choices.
"To prevent this, we need to educate the young minds starting from adolescents on human anatomy, reproductive health, and build their capacity to protect themselves from being sexually exploited."
A lack of sexual education, argues Nazeefa, is "depriving [women] of their sexual rights and human rights as well."
"The ultimate objective has to be the empowerment of girls and women so that they make the right choices," she concluded.
Rise in Infanticide – DNP reports
Yesterday's news of the abandoned baby girl - discovered after the mother was forced to seek medical treatment by her family – has brought attention to the issues surrounding sexual health services available to young women.
Local media reported yesterday that the 18 year-old gave birth on her own in the family bathroom, with family members unaware of her pregnancy.
According to one family member, the girl didn't admit to giving birth – even during a doctors appointment arranged by her family.
"However, doctors kept questioning her about her marital status," a young female member of the family told local newspaper Haveeru.
According to Maldivian law, the repercussions for fornication out of wedlock is flogging for both the man and the woman involved.
The Maldives is a 100 percent Muslim country, and its justice system is based on a hybrid of common law and Islamic Sharia.
Some critics of the justice system have also highlighted the lack of accountability for men in cases of extra marital fornication.
"These women are tainted for life and forever looked down upon. There were a couple of men too, but the islanders did not react in the same way against the men. They seem to be more easily accepted back into society, their sins are generally forgiven or forgotten in time," a former court official, who wished to remain anonymous, had previously told Minivan News.
Issues regarding a lack of support services for women with unwanted pregnancies in the Maldives have been well-documented in the past.
A report entitled 'Maldives Operational Review for the ICPD Beyond 2014', carried out by the Department of National Planning (DNP), claimed that incidents of infanticide and unsafe abortions are symptoms of a lack of sexual education in young Maldivians.
The report identified, "clear indicators of the imperative need to provide access to information on sexual reproductive health and reproductive health services to the sexually active adolescents and youth population."
Infanticide also appears to be increasing, as demonstrated by media reports cited in the study, which included several new born babies and few premature babies abandoned in parks, buried in secluded places, or thrown into the sea.
"These are clear indications for the need of life skills programmes and reproductive health education," the study suggested. "Access and utilisation of contraceptives to avoid unwanted pregnancies must also be advocated to minimise these issues."
http://minivannews.com/society/%E2%80%9Csocial-stigma-religious-and-social-culture%E2%80%9D-hinder-women%E2%80%99s-sexual-health-says-hope-for-women-85695
----------
Afghanistan's Women Emerge
27 May 2014
Afghanistan's next president will most certainly be male, but its future will be written at least in part by the country's women.
Since the Taliban were ejected 12 years ago, women have taken an active part in Afghanistan's government and civil society. Women are parliamentarians, lawyers, athletes, businesswomen, musicians, and more than ever before, they are role models for a younger generation of girls. Presidential candidate Zalmai Rassoul's second running mate was Ms. Habiba Sarabi, who stepped down as governor of Bamiyan province to run for office.
While the situation for many women is often abysmal, not all Afghan women can be viewed as powerless victims. Women in Afghanistan are attaining leadership and power positions, despite being harassed and threatened for challenging fixed gender roles in a traditional society. During this transitional year for Afghanistan, women are appearing in public office and at the negotiating table. They will be a vital part of the peace-building process when negotiations with the Taliban commence. Despite challenges, risks, and targeted attacks, one thing remains clear: none of these women leaders is willing to give up what she has achieved.
http://thediplomat.com/2014/05/afghanistans-women-emerge/
----------
Nigeria: Al-Habibiyyah Women Wing Tasks Govt on Security
27 May 2014
The women wing of Al-Habibiyyah Islamic Society, Saturday, held its 6th annual women forum with a call on government at all levels to pay greater attention to the security of the people of the country.
The co-coordinator of the society's women wing, Hajiya Rekiya Momoh Abaji, who made the call at the forum, also called on Muslims to re-dedicate themselves to the course of things that will enhance Islam and its practices.
Rekiya, who also represented the Amira of the society at the occasion, prayed for the quick release of the abducted Chibok girls and other girls in violent captivity all over the world.
Earlier, the wife of the Vice President, Hajiya Amina Namadi Sambo, hailed the activities of the society, citing its Ramadan Food Bank, Zakat Foundation and four-month Read the Quran Programme as exemplary.
Represented by Hajiya Sameeyah Shamsudeen Usman, the wife of the Vice President condemned the abduction of the schoolgirls, an act which, she said, has no place in Islam.
She urged Nigerians to join hands with government to combat terrorism.
The chairperson of the occasion, Dr. Sefiya Ajayi, stressed the importance of women in the society, stressing that their dignity must always be protected against any form of violence.
A former Minister of Women Affairs, Hajiya Hajo Sani, urged women to always speak out on issues that affect their families, adding that the society should discuss all negative issues affecting women and the girl child.
NASFAT's FCT women leader, Hajiya Babaita Suleiman, implored women to always read the Glorious Quran and strive to understand its meaning and practice them.
The National Imam of the society, Imam Fuad Ademola Adeyemi, decried the rising cases of violence against women world-wide, nothing that rape cases, women battery, forced marriages and depriving girl-child of going to school are rampant among uninformed people.
While condemning the abduction of the Chibok schoolgirls, Imam Fuad urged Muslims and Christians to join hands to fight the common enemy by supporting government's efforts against what he called the enemy of the nation.
The theme of this year's forum is 'Violence Against Women: The Islamic Solutions, (Quranic Teaching and Sunnah)' with a sub-theme as 'Violence Against Women: Gender based perspective,(Causes, Types, Effects and Management)'.
Malam Bashir Yusuf Mundi and Hajiya Munirat Ogunlayi delivered lectures at the event.
http://allafrica.com/stories/201405261335.html
----------
Quota for women on boards of family businesses urged
27 May 2014
JEDDAH — A number of women have called to include more women in the board of family companies. Up till now the participation of women in these companies in Saudi Arabia do not exceed 5 percent.
According to Maha Fitaihi, a board member at Fitaihi Holding Company, the family businesses constitute 95 percent of private businesses in the Kingdom, taking over 25 percent of the market value with a total of SR350 billion.
Noting that females constitute 49 percent of the population, only 15 percent of which are working, Fitaihi said the high unemployment rate can be reduced by employing women in different departments of family businesses.
She added that the presence of women in family businesses and raising their effective role can happen only if the founder of the business is believing in the role of women in running the business. Further to that, the culture of eliminating the role of the women in business could be changed through education.
Fitaihi called on setting a quota for women to be able to be present at boards of family corporations as well as playing an effective role in these companies.
She was speaking at a session moderated by Fatin Al-Yafi, Senior Executive Director at Safola. The session devoted for woman participation in family businesses is part of a three-day event entitled the "Family Corporate Governance Forum"
Fitaihi noted that the fourth generation in every family business is characterized by becoming careless about the business and are spending more cash on entertainment. Therefore, she recommended that children between the age of 12 and 16 should be given tasks at their family companies to be able to learn at early stage.
Among the main reasons behind the success of family businesses is the diversification of the experiences by including women and also the trustworthy experts, said Nashwa Tahir, chairman of the board of Alsiraj United Holding. "We are not talking here about equality between men and women, rather we are talking about justice." Women own segments of family businesses and have the right to manage them. She described those against the participation of women as having "psychic disorders."
To pave the way for women to become effective members in family businesses, equality should be provided at home when first raising children. Further to that, the same education opportunities must be given to children regardless of their gender, said Tahir.
Sarah Bugdadi, a businesswoman and a specialist in strategic communication and public relations, called on the creation of a mentorship program that can provide online training and consultations to members of family businesses. Intensive courses, she said, must be given to board members and businesswomen. She added each chamber of commerce in Saudi Arabia must have a center for family companies.
A comment from the female section said the courts still receive number of disputes regarding family businesses where women are being asked by men in their families to give away their shares in return of specified amounts. The woman raising the point noted that women must be advised and educated so as not to give away their fortune by force or out of ignorance.
Bugdadi said some women tend to give away their fortunes because they are not aware of the nature of the business and prefer to start their new businesses in a field of their choice, therefore they do this after agreeing on getting in a specific amount.
The JCCI, she added, has Tawfiq Center which looks into these cases and tend to evaluate the fortune and divide it among the family members, "by consulting the center the woman will be reassured that she is getting her right."
Responding to a man who recommended that women should devote their time to raise children and take care of the home and leave the work and labor to men, Fitaihi said: "We agree that the first role of a woman is her house and children, but we shall also take into consideration to condition of the Khadija bint Kouwilid – wife of prophet Mohammad – who was running here own business." She added that women here are standing in their businesses and wealth side by side with their fathers and other members of the family.
Another comment from the men section raised that the participation of women in leading positions at companies should be achieved through "force." However Tahir objected to that, saying stating that it will only increase the number of disputes and added, "the participation of women shall be based on agreement other board members."
http://www.saudigazette.com.sa/index.cfm?method=home.regcon&contentid=20140527206444
----------
Divorcees complain of legal costs
27 May 2014
MADINAH – A number of widows and divorcées have called upon authorities to provide lawyers who take their cases pro bono because they cannot afford to pay exorbitant fees for legal consultations.
Umm Muhammad, a government employee, is a widow and mother of five children. She filed a case against her husband's family over inheritance issues. When the case dragged on for months and nothing happened, she decided to use the services a lawyer to help her expedite the process.
"The lawyer asked me to pay him SR5,000 for each consultation and SR70,000 if I win the case. I don't have a quarter of this amount. How am I going to pay him?" she asked. She called on the authorities to provide lawyers for women like her who cannot afford legal fees.
Umm Anmar had problems with her husband, who abused her, and she wanted a divorce. She brought a case against him before the court. She cannot use the services of a lawyer or a legal representative because they charge a lot of money and she is worried that her case might drag on for years with no results.
Okaz/Saudi Gazette contacted a lawyer to ask him about his consultation fees. He said he charged SR10,000 for a consultation and SR40,000 to take on a divorce case. He attributed the high fees to growing living costs and the effort he will exert to win the case.
http://www.saudigazette.com.sa/index.cfm?method=home.regcon&contentid=20140526206420
----------
'57% of women in Arab world motivated at work'
May 27, 2014
DUBAI – While women in the Middle East and North Africa (MENA) are mostly content within their workplace, Bayt.com reveals that there are several factors that can increase levels of motivation – and that can reduce the levels of stress that are felt by a significant proportion of the region's female employees.
Women across the MENA region are, for the most part, satisfied with their life, though they are torn when it comes to job satisfaction: while four in 10 say they are happy with their job on an overall level, an equal four in 10 feel the complete opposite.
Despite this, levels of motivation within the workplace are high, with 57% claiming to be 'motivated' or 'highly motivated' as compared to 23% who are either 'not so' or 'not at all motivated'.
More than a third of women in the region (37%) are unhappy with their current degree of financial independence, and 46% are unhappy with the remuneration they currently receive, making money a major motivational factor. Beyond this, though, having their work and achievements recognised is a major boon for half of MENA women (49%).
Training and development opportunities, and the potential for career advancement is also of high importance, particularly the latter as 56% of women feel dissatisfied with the prospect of future promotions.
Personal fulfilment, and the feeling that their work has an impact, are also important factors, as are monetary incentives, certificates and rewards of time off in recognition of achievements.
The ability to maintain a good work-life balance is a strong motivational factor for 97% of women, with six in 10 (58%) claiming that their current employer supports a healthy balance.
This is likely a contributing factor for 80% of women to feel satisfied with their familial relationships, while 62% are happy with their ability to maintain healthy personal relationships with family and friends.
Despite the level of contentment with being able to balance work and life, 58% of women take work home or work overtime. Four in 10 (39%) consider it to be part of their job requirements, though 34% do so because they like to finish projects they are working on early. For 33%, putting in extra hours is the only way they can meet their work deadlines.
Four in 10 (41%) women want to stay with their current employer for at least the next 12 months, though 73% of all employed women in MENA are either actively looking for a new position, or are willing to leave if the right job offer comes up.
The perceived lack of employment opportunities across the region is likely affecting employees' ability to change company; 69% of women are either 'somewhat' or 'extremely dissatisfied' with employment opportunities where they live.
Three quarters (76%) of women would recommend their current organisation to family, friends and associates, likely influenced by the fact that seven in 10 feel that their job gives them a strong sense of personal and professional achievement.
There is a high degree of positive sentiment in regards to the perception of job significance: 81% of women believe that their job is significant to their colleagues, customers and business partners, and 88% believe that the work they do is significant and important to their company. Seven in 10 feel that their job is significant to society and their country of residence.
On the whole, women are satisfied with the majority of elements in their workplace, such as physical working conditions and space, professionalism and knowledge level of colleagues, and interpersonal relationships with their fellow workers. They are content with the flexibility of their work timings, the levels of recognition and appreciation received for good work, personal and professional growth, and job security.
http://www.saudigazette.com.sa/index.cfm?method=home.regcon&contentid=20140527206505
----------
Sudanese woman sentenced to death for apostasy gives birth
27 May 2014
The Sudanese woman who has been sentenced to hang on charges of alleged apostasy has given birth to a baby girl, her lawyers told The Telegraph.
"Meriam Ibrahim, 27, gave birth to the girl – her second child – in the early hours of Tuesday morning, in the hospital wing of the prison," the newspaper reported.
Her case attracted worldwide condemnation after she was sentenced to death on May 15 in Khartoum for refusing to renounce her religion, Christianity.
The court did not recognize her 2011 marriage to her Christian husband. She has denied the charges of apostasy and adultery.
She says her Muslim father abandoned the family and she was raised a Christian.
"Her son, 20-month-old Martin, has been with her inside the cell since she was first charged in February. Ms Ibrahim's husband, Daniel Wani, who is in a wheelchair, said last week that she was being kept shackled by the ankles in her cell," the newspaper added.
http://english.alarabiya.net/en/News/africa/2014/05/27/Sudanese-woman-sentenced-to-death-for-apostasy-gives-birth.html
----------
Textbooks must reflect appropriate values in child's mind
May 27, 2014
Regarding the contents of school text books and the need to get these reevaluated Sachar Committee has said that the text book should not only reflect reality but also help in creating appropriate values. Since the children tend to read their text books several times, their familiarity with the text is significant and acts to reinforce the values being suggested in the text. If the texts do not reflect diversity or are derogatory with respect to specific communities, they can alienate children of those communities from the wider society. Simple things in the text books can sow the seeds for religious intolerance, create caste bias and/or reduce sensitivity to gender differences, while the intent and purpose of texts should be to do just the opposite. The Committee recommends that a process of evaluating the content of the school text books needs to be initiated to purge them of explicit and implicit content that may impart inappropriate social values, especially religious intolerance. The Committee had noted that a very systematic effort of this kind was done by Samaan, a Kolkata based NGO, for the state board text books (Class 7-10) in West Bengal.
However, as per information available, such revaluation work could not be taken up during the seven years of the UPA Govt after the Sachar Report was presented.
Now, rather than the revaluation recommended by Sachar Committee being taken forward, Shiksha Sanskriti Uthan Nyas (SSUN) has demanded total change in education complete with new text books and a new pedagogy. RSS pracharak Sri Dinanath Batra of SSUN is reportedly going to meet the new PM to whom he has already sent his demands. After the political change there should be total revamp of education, he said. His recipe includes creation of a new mortal universe. Sri Batra had played a vital role in bringing about a saffron-oriented kaleidoscopic change in education during the earlier NDA regime.
Its time for the patriotic civil vigilante individuals and groups, the judiciary and the media to keep a close watch on how the matter proceeds and to intervene, insist and ensure that the text books not only reflect reality but also help in creating appropriate values in the child's mind.
http://twocircles.net/2014may26/textbooks_must_reflect_appropriate_values_childs_mind.html?utm_source=feedburner&utm_medium=email&utm_campaign=Feed%3A+Twocirclesnet-IndianMuslim+%28TwoCircles.net+-+Indian+Muslim+News%29#.U4RzoHJdU4U
-------------
URL: https://newageislam.com/islam-women-feminism/girl-stoned-death-outside-lahore/d/87220