New Age Islam News Bureau
14 Jun 2019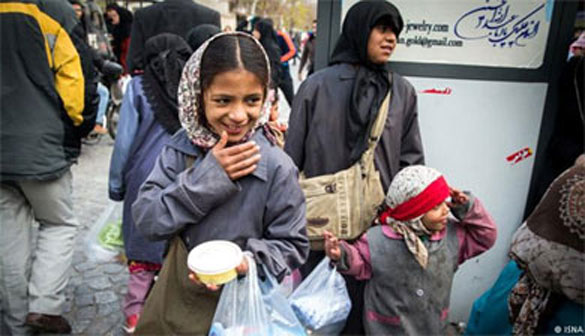 June 12 marks the World Day Against Child Labor. At least a quarter of Iran's students are forced to quit school every year with a large number of them joining the estimated 3 to 7 million child laborers in Iran
-----
• The Rise of Female Sharia Judges (Qazis) in India
• Muslim Women of Karnataka Pray To Hanuman Seeking Good Rain
• Saudi Arabia Opens Applications For Recruitment Of Female Soldiers, Immigration Officers
• Muslim Women Say Islamophobia Worse after Christchurch Mosque Attack
• There Is a Dip in Oral Triple Talaq Complaints: Bhartiya Muslim Mahila Andolan
• Egypt Reiterates Calls to Eliminate FGM Locally, Protect Women
• Jakarta Administration Cans Meeting With Women's Wing of HTI and 'Indonesia without Feminists'
• Congress to Oppose Bill on Triple Talaq; Raises Fundamental Points
• Girl Students and Other Strata Of Women In Iran Continue Their Protests
Compiled by New Age Islam News Bureau
URL: https://www.newageislam.com/islam-women-feminism/girl-child-labourers-among-most/d/118885
--------
Girl Child Labourers among the Most Innocent Victims of Mullahs in Iran
Jun 12, 2019
June 12 marks the World Day against Child Labour. At least a quarter of Iran's students are forced to quit school every year with a large number of them joining the estimated 3 to 7 million child labourers in Iran.[1] This is mainly because of pervasive poverty and lack of social support for destitute families in Iran while education is neither free nor mandatory.[2] A large number of these children are girl child laborers.
A recent video clip produced in February 2019 on the situation of child laborers featured interviews with these children who spoke of being abused in various ways by municipality agents.
A girl child labourer said, "Me and my two brothers were doing our homework and at the same time selling walnuts when municipal agents came and caught my two brothers. I told them, 'what do you want to do with them?' Then they caught me, too… They took off my older brother's clothes and started beating him by sticks. My younger brother started crying. Simultaneously, they told me to polish their shoes, I said I won't. Then they rubbed black polish on my face."
A social worker said the girl child labourers are sexually abused in addition to being brutalized. "Two of the girl child labourer who work on the intersection, were forced into a car by municipal agents. One of the agents told one of the girls to unbutton her clothes. This girl even told us that when she was taken to the police station, she was separated from other kids and forced to take off her clothes."
Another girl child labourer talked about sexual abuse of her friend by municipal agents. She said, "One day, when I saw Sara, I asked her, 'Why are you upset?' She said municipal agents caught me and mistreated me… They pulled my scarf, and touched me. When I screamed, they stepped away. But when I went to the office of the municipality and told my story, they did not believe me. They said I was making up the story so that they would let me go."
A girl child laborer by the name of Maryam recounted, "I don't remember the exact location, but it was me and my cousin. We were selling walnuts. Then all of sudden a municipality agent came and took my hand. He didn't want me, but he caught my cousin. He beat him so hard. Then he asked me, "How much money have you earned?" I said, "We earned nothing." Then he said, "I must check your purse." I didn't give him my purse. Then he hit me in the back with a stick and punched me in the arm. Then he snatched my purse, and I ran away from him…"
Earlier, in November 2017, following a research done on 400 child laborers, it was revealed by an official of Social Services in Tehran's Municipality that some 90% of child laborers are sexually abused. "We are going to prove that 90 per cent of child laborers get raped."[3]
The state-run Salamatnews.com published a report run by the official Iran newspaper which included some painful examples of sexual assault on deprived girl children and child laborers. The same story was also reported by the state-run Rokna.ir website.
The report narrated the stories of girl child laborers who are assaulted and raped since very young age due to poverty and addiction of their parents.
One of the characters in this report was Rana, 19, who had been engaged in dangerous and harmful jobs such as making spare parts for cars and working with acid since she was 11. Rana's father is an addict and used to sexually assault her four daughters. The girls were also victimized by other men in the community.[4]
Elham Fakhari, member of Tehran's City Council, was cited in the report as saying that "sexual abuse is the greatest ailment among young scavenger children."
Girl children in Iran are the most innocent victims of the mullahs' medieval regime.
On March 17, 2019, on the eve of the New Persian Year, a girl child laborer died under the rubble of her home in South Tehran, in the farmlands near Shahr-e Rey.
A 9-year-old girl child laborer by the name of Sadouri and her brother, Rashid, 11, died under the debris when their home was destroyed under heavy rain. The 11-year-old Rashid used to farm as his sister, Sadouri, was a girl child laborer peddling on the streets to help their family earn their living.
After the heavy rain, their home collapsed. Their mother and siblings ran out, but the girl child laborer, Sadouri, and her brother remained under the rubbles.[5]
More than 200 families live in the desert-like area surrounding these farmlands for over 30 years. The houses built in this area are made of mud and wood and are not resistant to rain and snow. The children who live in these homes are essentially child laborers and earn living by pan handling or peddling on the streets.
The Iranian regime's officials have admitted that at least 42 million of the 80-million strong population of Iran live below the poverty line and 30 million are hungry. 80 per cent of wage earners live under the poverty line. The growing number of child laborers, prostitution and addiction, as well as sexual abuse of children are but part of the consequences of the policies of the mullahs' religious dictatorship that spends Iranian people's wealth on domestic suppression and on belligerence and meddling in other countries.
[1] Nahid Tajeddin, member of the board of directors of the Social Commission of the Majlis, the state-run Salamat news, September 27, 2017
[2] Ali Bagherzadeh, deputy Minister of Education and head of the Literacy Movement Organization, the state-run Salamatnews.com, April 25, 2018
[3] The executive director of the Organization of Social Services in Tehran's Municipality, the state-run Salamatnews.com – November 8, 2017
[4] Ibid.
[5] The state-run ROKNA news agency – March 18, 2019
https://women.ncr-iran.org/2019/06/12/girl-child-laborers-among-the-most-innocent-victims-of-mullahs-in-iran/
--------
The Rise of Female Sharia Judges (Qazis) in India
By Payal Mohta
June 14, 2019
Mumbai, India - Earlier this year, Maya Rachel McManus, a British Muslim, walked down the aisle in Kolkata on her wedding day and exchanged garlands with her partner in a traditional Hindu ceremony.
Later, her marriage was solemnised by female Qazis, or judges, who govern Islamic law.
"Maybe my multicultural wedding would have been frowned upon if the Qazis were men," McManus told Al Jazeera.
"The ones my husband and I had spoken to had problems with some of my basic rights; like keeping my maiden name and my British passport after marriage."
She insisted that women perform her wedding rites.
"This was the first time one of our qazis solemnised a marriage," said Noorjehan Safia Niwaz, cofounder of Bhartiya Mahila Muslim Andolan (BMMA), an organisation that launched in 2007 in India advocating for secular rights.
In 2016, BMMA began training Muslim women to become qazis, a role traditionally held by men.
To McManus, and many of India's millions of Muslims, the recent rise of female qazis means fewer compromises and a chance at more justice for women.
"What is common between all versions of Sharia or Islamic law that is followed today is that it is extremely patriarchal," said Niwaz, who is also a Qazi.
"Women continue to suffer. They become victims of Nikah Halala (a practise in Islam where a woman once divorced by her husband must consummate her marriage with another man if she wants to remarry her first husband), polygamous marriages and unilateral divorces."
To replace what Niwas describes as a "misogynistic syllabus" designed for male qazis, BMMA drafted its own curriculum in which women study the Quran from a feminist perspective and examine the Indian constitution so they can make decisions, keeping in mind the law of the land.
"The practice of female [qazis] is novel in India, but the idea is not novel," says Ebrahim Moosa, a professor of Islamic studies at Indiana's University of Notre Dame. "Muslims in North India followed the Hanafi School of law for centuries that allows women to be judges."
According to BMMA, which is funded by private donors and charities, there are 15 female qazis spread across India including West Bengal, Maharashtra, Karnataka, Rajasthan, Tamil Nadu, and Orissa.
"We have over 150 cases in our centre alone," said 47-year-old Hina Siddiqui, a qazi from Bandra, a western Mumbai suburb. "Though unlike male qazis, in each case we summon both the man and the woman involved. We don't hear just one side of the story."
Since triple Talaq, or instant divorce, led by Muslim men was criminalised in India, carrying a possible jail sentence, Siddiqui and her colleagues have seen an increase in the number of distressed women in their offices.
"The men are now scared to give triple Talaq," said 60-year-old Zubeda Khatoon, another qazi in Bandra.
"So they abuse their wives both physically and emotionally, hoping that the woman will leave them instead. Another way this works in the man's favour is that according to Sharia law if a woman asks for a divorce, her husband owes her no liabilities. "
This is where female qazis step in and attempt to ensure that women receive their legal rights during including receiving her mehr - a sum of money given to the bride on her wedding day, alimony and the belongings she contributed to the home after marriage.
For couples who wish to be married by a female qazi, there is a rigorous process.
Through a period of one month, the judges verify the bride and groom's details - including their identity, economic status, marital status and even their marzi, or personal reasons for wedlock. This is to reduce the rate of fraudulent marriages.
"They [the female qazis] explained the various aspects of the nikah [wedding] procedure to me. They were extremely helpful," said McManus. "This kind of support was not forthcoming from the male qazis I had approached earlier."
'No such thing as women qazis'
But not everybody agrees that female qazis can better safeguard the interests of Muslim women.
"There is no such thing as women qazis in Islam. It is just a new-age thing," Muslim leader Syed Moinuddin Ashraf, from Sunni Jama Mosque in Mumbai, told The Hindustan Times.
Moosa, the professor in Indiana, said while some schools of Islamic thought such as Shafiʿi, Ahl-e Hadis, and Salafi, prevent women from becoming qazis, it remains religiously permissible.
"There are no teachings in either the Quran or the prophetic tradition that prohibits women from being qazis," he said. "Even the wife of the Prophet Muhammad, known as Sayyida Aisha, performed and solemnised the nikah of several [people]."
In the two years that Siddiqui and Khatoon have been practising as qazis in Mumbai, they have presided over only one mutually consenting divorce.
"In that case, we were able to get the woman two lakhs ($2,874) as maintenance from her husband," said Khatoon. "But most people still prefer to have their divorce issued on the letterhead of male qazis."
According to Niwaz, 30 more women eager to enrol in the second batch of qazi training by BMMA.
"Maya's wedding [McManus's] went through without any objections," she says. "We haven't had any fatwas issued for the work we [female qazis] are doing. We exist. That in itself is a positive thing."
https://www.aljazeera.com/indepth/features/rise-female-sharia-judges-india-190612095432500.html
--------
Muslim Women of Karnataka Pray To Hanuman Seeking Good Rain
14th June 2019
GADAG: Residents of Ron in Gadag district are known to perform a wide variety of rituals to please the rain Gods each summer to quench their thirst. This year, a group of Muslim women in Srinagar locality performed anointment rituals for the Hanuman idol at the Maruti Temple to appease the rain Gods.
The event happened last week, but it came to the light after the photo became viral on social media three days later. The residents of Srinagar came to Maruti temple on Saturday saying that they have come to worship God for better rain in the coming days. Other residents welcomed their move and joined them in the worship.
Ramzanabhi Badin, a resident said, "We have not received good rains for the last 4-5 years. Earlier, people used to live in harmony and they had respect for each others' rituals and traditions. Now, the generation is moving away from these traditions. If we maintain communal harmony, God will bless us ... so we visited Maruti temple and performed poojas."
Another resident, Katunabhi Mugali said, "We also want to give a message that all Gods are same and we are here to perform rituals not only to the idol but also to the whole temple premises."Another resident Meenakshi Shivashimpi said, "When they expressed their wish to worship in the Hanuman temple, we were happy and took them to the temple and performed a special pooja. Such new steps will be a catalyst for the betterment of society and now we are happy that the news has gone viral."
http://www.newindianexpress.com/states/karnataka/2019/jun/14/here-muslim-women-pray-to-hanuman-seeking-good-rain-1989924.html
--------
Saudi Arabia Opens Applications For Recruitment Of Female Soldiers, Immigration Officers
June 13, 2019
RIYADH: The Saudi Interior Ministry's undersecretariat for military affairs opened the application window for the recruitment of female soldiers, to ensure the security of female civil status offices across the Kingdom, on Thursday.
It noted that applications would be received through the website www.jobs.sa from 10 a.m. on June 17 to 10 a.m. on June 20.
The ministry also announced the opening of the registration process for female jobs at the Passports Directorate. New recruits will be given military ranks and will be assigned to serve at airports and land border checks.
It added that the women can now enlist at the rank of private at the Women's Security Training Institute at King Fahd Security College.
Applicants must be born and raised in Saudi Arabia, except for those who grew up with their father while serving the state outside the Kingdom. They should have a good reputation and character, with no criminal convictions.
http://www.arabnews.com/node/1510551/saudi-arabia
--------
Muslim Women Say Islamophobia Worse after Christchurch Mosque Attack
June 14, 2019
Muslim women at a trans-Tasman conference in Auckland on Friday say Islamophobia is worse now than it was before the Christchurch terror attack.
The conference, titled 'Let's deal with it', is a frank discussion about the experience of some minority groups in our country.
Police were outside the conference, still guarding Muslims from threats to organisers three months after the March 15 attack.
But inside people were coming together to find a way to fight against racism and discrimination, which they say is a breeding ground for terrorism.
"I just feel 50 lives should not be lost. If we honour their life, we all need to come together... we need to learn to start the dialogue," said Farida Sultana, founder of Shakti New Zealand.
Pakeeza Rasheed from the Khadija Leadership is a leader in the Muslim community said she had faced several difficult situations.
"One that has stood out for me over the years is someone spitting on my face, a complete stranger but to me that really goes down the level of de-humanisation that occurs."
But Rasheed also says she's shocked that in the wake of the mosque attacks, there's not less hate directed at Muslims - there's more.
"You know there was that moment of solidarity we had as a country, but unfortunately it's dissipated as quickly as it started, so we feel that fear and that anxiety is even heightened now."
After the attacks, one young Muslim woman told Newshub her story of being sworn at and told to go back to her own country at an Auckland train station.
On Friday, she said she's saddened other Muslims are still experiencing similar abuse and it seems that very little has changed.
Organisers of the conference plan to launch a nation-wide anti-discrimination campaign. They're calling on charities, Government, councils and businesses to join them.
"Even though the gunman thought he can just divide us, but he didn't. I think he brought New Zealand together," said Sultana.
https://www.newshub.co.nz/home/new-zealand/2019/06/muslim-women-say-islamophobia-worse-after-christchurch-mosque-attack.html
--------
There Is a Dip in Oral Triple Talaq Complaints: Bhartiya Muslim Mahila Andolan
Jun 13, 2019
NEW DELHI: The number of complaints against oral triple Talaq has come down substantially, according to Muslim women's groups which had played a pivotal role in the campaigns against the practice.
According to The Indian Express reports, Bhartiya Muslim Mahila Andolan, there is evidence that the number of instances of triple Talaq complaints has dip drastically.
"There has been a dip in the number of women who have come to us complaining that they have been given triple Talaq. In that way the law seems to have been effective in putting a rein on this practice. However there are still a lot of lacunae in the existing law which need to be addressed on a priority basis for it to be more effective," BMMA co-founder Noorjehan Safia Naiz said.
BMMA's Mumbai received number of complaints on oral triple Talaq
2016 31
2017 6
2018 2
2019 1
According to senior Maharashtra Police officials, the number of cases registered under the new rule public would not be more than 30 in the past two year.
In a landmark judgment in August 2017, the Supreme Court by a 3-2 decision struck down the centuries-old practice of instant triple Talaq among Indian Muslims as unconstitutional, manifestly arbitrary and void in law.
The other three judges disagreed.
The Modi government had then brought three ordinances against triple Talaq practice to make it an offence punishable with imprisonment of up to three years and fine.
The Union cabinet on Wednesday, 13 June 2019 approved the Muslim Women (Protection of Rights on Marriage) Bill, 2019. The government will introduce a Bill in the coming session of Parliament.
The Bill will replace the ordinance promulgated in February this year.
Talking to reporters here, Information and Broadcasting Minister Prakash Javadekar said that the bill could not be passed in the Rajya Sabha earlier and an ordinance had to be brought every time. He hoped it will get the necessary support in the Upper House also.
The Bill proposes to declare the practice of triple Talaq as void and illegal and provides for payment of subsistence allowance to married Muslim women and dependent children.
The Bill also proposes to make the offence cognizable, if information relating to the commission of an offence is given to an officer in charge of a police station by the married Muslim woman upon whom Talaq is pronounced or by any person related to her by blood or marriage.
The offence is made compoundable with the permission of the Magistrate at the instance of the married Muslim woman upon whom Talaq is pronounced.
The Bill further provides for hearing the married Muslim woman upon whom Talaq is pronounced, before the accused is released on bail by the Magistrate.
https://www.siasat.com/news/there-dip-oral-triple-Talaq-complaints-bmma-1510724/
--------
Egypt Reiterates Calls to Eliminate FGM Locally, Protect Women
Jun. 13, 2019
CAIRO – 13 June 2019: On the National Anti-FGM Day, we recall the images of our girls: Bodour, Iman, Soheir, and Mayar, who lost their lives because of the circumcision, along with other girls who we do not known their names, but indeed know their pain and suffering, Maya Morsy, head of the National Council for Women said.
This comes as the National Committee of the Eradication of FGM has launched an awareness campaign against female circumcision, on the occasion of the National Anti-FGM Day which falls on June 14.
The National Committee is committed to working as a team that complements each other, focuses on the goal of protecting our girls, and mobilizes all efforts and experiences to achieve the interest of our daughters, Morsy said.
"We consider ourselves today more fortunate in facing all forms of violence and discrimination against the female child and the woman, thanks to the continuous support of the political leadership and President Abdel Fatah al-Sisi to the protection and empowerment of the Egyptian female child and woman women, and the government's commitment to enforce national legislations and international commitments, in accordance with Egypt's strategic vision," she said.
Morsy said that although the committee is already working within the framework of adequate legislation and a system of existing and effective protection mechanisms. However, "we feel that we are in need to heavy and influential awareness at all levels for every father and mother, for young men and women, and for children themselves to get freed from the captivity of female genital mutilation, which is not [endorsed by] any religious, or medical or legal document.
Ambassador Moushira Khattab, former chair of the UN Committee on the Rights of the Child, and former candidate for the post of UNESCO director-general attended the event.
Khattab referred to Egypt's efforts to help other countries including France and Italy against such act that is carried out by some of the refugees in these countries, adding that Egypt helped some African countries to enact legislations against FGM.
Today, we have a historic opportunity to finally eliminate this crime, which is not appropriate for the status of Egypt, where women have assumed the presidency of the state and the leadership of armies since thousands of years ago, Khattab said.
Azza Ashmawy, secretary general of the National Council for Childhood and Motherhood (NCCM), said "it is no longer acceptable to waste the humanity of a girl … by forcing her to be subjected to this harsh experience."
"It is painful that this is done under inherited social customs that are not based on religion and have no true health or social justification," Ashmawy said. "Despite the achievements that have been made, this crime is still very widespread," she added.
"We call upon all partners to further intensify prevention, protection and care mechanisms for the eradication of female genital mutilation," she said.
Anti-FGM efforts
FGM is carried out by some people especially in some countries in Africa, Asia and the Middle East, through cutting or removing some or all of the external female genitalia.
In statements on Wednesday, Ashmawi said the campaign is entitled "Budour Month" after the name of a 11-year-old girl who died of complications of a circumcision surgery in a private clinic in the Egyptian village of Mughagha, Minya governorate, in 2007. She asserted that NCCM has been working over the past few years on several programs to counter such practices through the various mass media means.
Ashmawi also said that in 2016, the government toughened the punishment against those involved in such practice and established the anti-FGM national committee under the chairmanship of the NCCM.
Egypt imposed a complete ban on female genital cutting — also known as female genital mutilation or circumcision — in June 2007 after Budour Shaker died of an excessive dose of anesthesia while being cut at the private clinic in Upper Egypt.
Egypt's Grand Mufti, the government's official arbiter of Islamic law, decreed during the same year that female genital cutting was forbidden by Islam, in his strongest statement yet against the practice.
FGM was criminalized by Egyptian parliament in June 2008, thus creating a paradigm shift by moving the practice from social norm to crime.
https://www.egypttoday.com/Article/1/71567/Egypt-reiterates-calls-to-eliminate-FGM-locally-protect-women
--------
Jakarta Administration Cans Meeting With Women's Wing of HTI and 'Indonesia without Feminists'
JUNE 14, 2019
Jakarta. The Jakarta administration's agency for child protection, empowerment and population control has come under fire for inviting the women's wing of the banned Hizbut Tahrir Indonesia – a hardline Islamic organization that calls for the establishment of a global Islamic caliphate based on shariah – to a meeting scheduled for Friday.
The HTI has been outlawed since July 2017, after the government officially disbanded it by presidential decree.
The agency also planned to invite the controversial anti-feminist group Indonesia Tanpa Feminis (Indonesia Without Feminists) to the meeting.
The meeting was eventually canceled after a wave of protests.
"Due to criticism of the two organizations we had invited, we have decided to cancel the meeting," Taufan Basri, head of the Jakarta administration's national and political unity division, said on Thursday.
Taufan said the meeting was canceled after communicating with the organizer, the Child Empowerment and Protection and Population Control Agency.
The agency initially planned to invite child protection and women's empowerment organizations to discuss the content of a poster calling for an end to violence against women and children displayed on the Jakarta MRT, which many claim is sexist.
"We admit there was a mistake," agency head Tuty Kusumawati said in a statement on Thursday.
Tuty said she did not study the list of invitees in detail when she signed the invitation letter, because she assumed that her staff had already done so.
"We will also carry out an internal investigation to determine the severity of the error and the sanctions against those involved in drawing up the invitation. Those involved will be suspended during the investigation," Tuty said.
https://jakartaglobe.id/context/jakarta-administration-cans-meeting-with-womens-wing-of-hti-and-indonesia-without-feminists
--------
Congress to Oppose Bill on Triple Talaq; Raises Fundamental Points
Jun 13, 2019
New Delhi: The Congress on Thursday said it will oppose the triple Talaq Bill in Parliament, saying a debate was needed on some of its provisions.
Congress Rajya Sabha member and spokesperson Abhishek Manu Singhvi said: "On triple Talaq, we have raised some fundamental points. The government has agreed on many points.
"A lot of time would have been saved if the government had agreed on our points earlier.
"Still one or two points are left… and debates are required on those points and we shall oppose it (Bill)," Singhvi added.
His remarks came a day after the government said it will introduce a Bill in the coming session of Parliament against triple Talaq to make it an offence punishable with imprisonment for up to three years with a fine.
The Union Cabinet on Wednesday approved the Muslim Women (Protection of Rights on Marriage) Bill, 2019. It will replace the ordinance promulgated in February.
The government says the Bill would ensure gender equality and gender justice. It would also help in protecting the rights of married Muslim women and prevent divorce by 'Talaq-e-biddat'.
The Bill proposes to declare the practice of triple Talaq as illegal and provides for payment of subsistence allowance to Muslim women and dependent children.
https://www.siasat.com/news/congress-oppose-bill-triple-Talaq-raises-fundamental-points-1511156/
--------
Girl Students and Other Strata Of Women In Iran Continue Their Protests
Jun 13, 2019
Girl students of Zeinabiyeh High School in Kamyaran went on strike in protest to the school's demand that they pay the price of their exam sheets.
On Sunday, June 9, 2019, before the exam starts, Zeinabiyeh High School's deputy principal lined up the girl students and told them that they have to pay 50,000 tomans each for the price of their exam sheets. But the girl students resisted and went on strike, something that forced the city's governor and the director of the Department of Education to take back their word. It was only after this retreat that the girl students went to the class and took their exams. Kamyaran is located in the western Iranian province of Kermanshah.
Defrauded investors have also held a number of protests over the past few days where women actively participated in all of them.
Defrauded clients of Azim Khodro held a protest gathering outside the Judiciary's building in Tehran on Wednesday, June 12, 2019.
On Tuesday, June 11, 2019, a group of defrauded investors of Talay-e Samen held a protest to receive their unanswered demands.
On Monday, June 10, 2019, a group of defrauded investors of Caspian financial institute and Turk activists including a large number of women held a protest gathering in support of Abbas Lessani, the Turk activist who is imprisoned in Ardabil Prison, and demanded his release.
On Monday, June 10, 2019, a group of residents of Toulian village held a protest against repeated disruption of drinking water pumping to their village. They also protested the government's water and sewage policies and their management of water distribution to the villages in the central part of the province. They held their protests outside the governor's building in Dehdasht, capital of the city of Kohgiluyeh. Toulian is located 7 kms away from Dehdasht. (The state-run Tasnim news agency – June 10, 2019)
https://women.ncr-iran.org/2019/06/13/girl-students-and-other-strata-of-women-in-iran-continue-their-protests/
--------
URL: https://www.newageislam.com/islam-women-feminism/girl-child-labourers-among-most/d/118885
New Age Islam, Islam Online, Islamic Website, African Muslim News, Arab World News, South Asia News, Indian Muslim News, World Muslim News, Women in Islam, Islamic Feminism, Arab Women, Women In Arab, Islamophobia in America, Muslim Women in West, Islam Women and Feminism