New Age Islam News Bureau
28 Feb 2020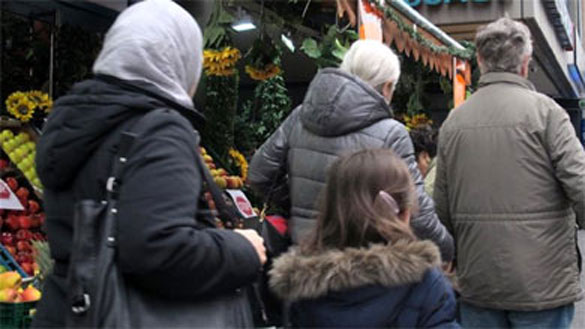 German national law bans all civil servants from covering their faces, including with Muslim niqabs and burkas [Frank Jordans/AP]
------
• 80% of Arab Women Parliamentarians Have Experienced Gendered Violence
• Turkish Women Bag Gold Medals In EU Taekwondo Championships
• Petition against 'Anti-Islam' Women's Rally in Pakistan, Court Says Freedom of Expression Can't Be Banned
• Women's Discussion Forum Calls for More Female Inclusivity in G20 Policies
• Muslim Women Used In Govt's Discredited Counter-Terrorism Policy
• Madagascar: Non-Muslim Women Bribed To Wear Burka
• Young Female Iranian Futsal Player Dies Of Coronavirus In Qom: Rokna
• U.N. Hears Plea from Women In Northwest Syria: 'We Want The Right To Live'
• UN Rights Office Calls On Saudi Arabia to Release Women Activists, Uphold Rights
• UN Chief Declares Women's Inequality 'Stupid' and A Global Shame
Compiled By New Age Islam News Bureau
URL: https://www.newageislam.com/islam-women-feminism/germany-upholds-headscarf-ban-trainee/d/121179
--------
Germany Upholds Headscarf Ban for Trainee Muslim Lawyers When Frankfurt-born German-Moroccan Legal Trainee Filed a Challenge
27 February 2020
Germany's highest court on Thursday upheld a ban on headscarves for Muslim trainee lawyers in courts, finding that the requirement of maintaining religious neutrality was justified.
The Federal Constitutional Court's ruling came after a Frankfurt-born German-Moroccan legal trainee filed a challenge to Hesse state's rules.
In the western state, trainees who keep their headscarves on are not allowed to take on tasks in which they may be seen to be acting as representatives of the judiciary or the state.
This means for instance that headscarf-wearing trainees are not allowed to sit on the judges' bench as they observe proceedings like other trainees, but would need to follow the process from the floor.
Likewise, they are not allowed to take evidence or lead hearings.
Thursday's ruling was expected to impact a wider debate on the issue in Germany, where around 4.5 million Muslims live and where rules on use of the hijab headwear differ between the 16 federal states.
German national law bans all civil servants from covering their faces, including with Muslim niqabs and burkas -- except for health and safety reasons, such as fire-fighters wearing breathing masks.
But there is no nationwide ban on civil servants wearing the hijab and many states weigh the trade-off between freedom of religion and civil servants' neutrality rules on a case-by-case basis.
A Berlin labour court in 2018 barred a teacher who wore the headscarf from teaching primary school classes, but found the she could continue teaching older vocational students in a public secondary school in the German capital.
https://www.thelocal.de/20200227/german-court-upholds-headscarf-ban-for-legal-trainees
--------
80% of Arab Women Parliamentarians Have Experienced Gendered Violence
By Morgan Hekking
Feb 27, 2020
Rabat – A study by the Network of Arab Women Parliamentarians for Equality (Ra'Edat) on the scale of violence against women parliamentarians in the Arab world found that 79.6% were exposed to one or more forms of violence.
Ra'Edat surveyed a sample of 370 current and previous Arab women parliamentarians from 15 Arab countries.
The study found that 76.2% of the women had experienced psychological violence, while 47.1% were victims of verbal abuse and gender-based harassment.
Meanwhile, 32% of Arab women parliamentarians suffered forms of physical abuse and 5.7% experienced sexual violence.
The study also found 34.3% who suffered economic violence, including assaults on their property or deprivation of employment opportunities due to their gender.
The Internet and social media produce the most violence against Arab women parliamentarians, with 32% report experiencing harassment on these platforms.
Survey respondents also experienced violence at electoral rallies and parties (16%) and in the street (15%).
The study found that 22.2% of women parliamentarians who had suffered violence did not file a complaint versus 21% who reported incidents to the police and 15% who went to court.
37.7% of women parliamentarians in the study sample said that their exposure to violence made them fearful of expressing their opinions, while 19.1% said violence made them abstain from participating in public demonstrations.
31.7% reported that violence interfered with their political activity and 12.5% felt compelled to professionally withdraw from politics.
The vice-president of the Ra'Edat Network, Fatima Gouaima Mazzi, underscored the importance of bringing awareness to this issue in a statement to the press after presenting the results of the study in Tunis on Tuesday, February 25.
"If we want to engage in development objectives and achieving equality, equity, and the involvement of women in political action and development, it is necessary to put an end to political violence against women," she declared.
"We must talk about it so that it does not become a taboo subject, put it forward, sensitize all the actors and the driving forces of the country and develop a multidimensional strategy which extends to the legislative field with the enactment of strict and binding laws."
The Ra'Edat Network is a regional parliamentary network advocating for equality and women's political participation in the Arab world.
The group aims to unite the efforts of current and former women parliamentarians to achieve equity in decision-making positions by 2030 and to encourage policies aimed at upholding equality between women and men.
https://www.moroccoworldnews.com/2020/02/294790/80-of-arab-women-parliamentarians-have-experienced-gendered-violence/
--------

Turkish Women Bag Gold Medals In EU Taekwondo Championships
February 28, 2020
Turkey won 37 medals in European Taekwondo Championships in Sweden, including 16 gold, the country's taekwondo federation said on Thursday.
On the last day of the championship in the Scandinavian city of Helsingborg, the women's and men's teams claimed four gold medals each, Turkey Taekwondo Federation said.
Sude Yaren Uzuncavdar at over 68 kilos, Aleyna Senyurt at 46, Elif Ilgin Oztabak at 49 and Ozge Ozbey at 52 bagged gold medals.
Turkish taekwondo players also won six silver and five bronze medals on the last day of the championship.
Medals tally
Turkish taekwondo team bagged 16 gold, 14 silver and seven bronze medals in the four-day championship, taking the country to the second position after Russia in the general classification.
Turkey also will participate in the 2020 Summer Paralympics with six taekwondo athletes.
With this, Turkey has become the only nation to compete in the games with the maximum quota of athletes, said Turkey Taekwondo Federation Chairman Metin Sahin.
https://www.trtworld.com/sport/turkish-women-bag-gold-medals-in-eu-taekwondo-championships-34166
--------
Petition against 'Anti-Islam' Women's Rally in Pakistan, Court Says Freedom of Expression Can't Be Banned
27th February 2020
LAHORE: Asserting that freedom of expression cannot be banned, a Pakistani court on Thursday asked the law enforcement agencies to inform it whether there is any "specific threat" to a women rally scheduled to be held on March 8.
The Lahore High Court was hearing a petition filed by Judicial Activism Council Chairman Azhar Siddique seeking a ban on the 'Aurat March', claiming that there are various anti-state parties present who are funding the rally with the sole purpose of spreading anarchy among the masses.
The petitioner termed the march "against the very norms of Islam" and that its hidden agenda is to spread "anarchy, vulgarity and hatred" in the society.
The rally, which first started in 2018, has now become an annual event held on March 8, coinciding with the International Women's Day.
The march seeks women empowerment by highlighting their rights.
The representatives of the federal and Punjab governments appeared before the high court on Thursday and submitted their reply in the case.
During the hearing, Siddique alleged that during last year's march, women were holding "vulgur" placards, which defamed the country as well as Islam.
"We want the court to ban vulgarity and un-Islamic activity in the name of 'Aurat March'," he said.
Advocate Hina Jilani, who was representing the 'Aurat March', said Pakistani women are holding the rally to highlight the importance of women in the society and their rights.
She said last year's march was held in a peaceful manner and the petition against it is filed with a malafide intention.
This year the march will be held on a Sunday, so it has no impact on business activity, Jilani said.
Adjourning the hearing till March 3, Chief Justice Mamoon Rashid Sheikh observed that freedom of expression cannot be banned and directed the police and the Federal Investigation Agency to inform it on next hearing whether the 'Aurat March' has any "specific threat" from extremists or clerics and the security measures taken by police.
According to a report in the Dawn newspaper, on March 8 last year, women across Pakistan came together to participate in the march.
However, the backlash against the march and its organisers was swift.
The backlash began with a trickle of comments on Twitter and Facebook, then escalated as people began faking and doctoring images of posters to circulate them on social media and stir up further controversy, the report said.
https://www.newindianexpress.com/world/2020/feb/27/petition-against-anti-islam-womens-rally-in-pakistan-court-says-freedom-of-expression-cant-be-b-2109356.html
--------
Women's Discussion Forum Calls for More Female Inclusivity in G20 Policies
February 28, 2020
JEDDAH: The second leg of National Dialogues on Saudi Women promoted the inclusion of gender equality and economic empowerment for women in policies and decisions made by G20 leaders.
This came in conjunction with Al-Nahda Foundation becoming president of Saudi Arabia 2020 Women (W20), an official G20 initiative.
Speeches and discussions focused on technical and economic promotion of women, inclusion in work and leadership positions and empowering more women to be entrepreneurs.
"This will help the Kingdom advance. Whether in health advancement, women's empowerment and cybersecurity, these discussions will help generations to come," said Princess Lulwah Al-Faisal, vice chair of the board of trustees and the general supervisor of Effat University during her welcoming speech.
She emphasized the importance of cooperating with countries that are less fortunate and exchanging knowledge and resources.
W20 chair, Thoraya Obaid, guided the audience through a rundown of what W20 means and how the team behind it has worked to make it meaningful and unique.
"The W20 will focus on four pillars: Financial inclusion, how to get into the financial field and facilities that are already helping women, and technical inclusion, to make sure women are part of producing technology, not just using it. It will also focus on inclusion in labor," said Obaid.
The fourth and final pillar, she explained, is usually chosen by the hosting county, through analyzing past G20 data, going through various reports relating to women's issues, and delegations with organizations like the UN and the Organization for Economic Cooperation and Development.
"Finally, we chose inclusion in decision-making: Not only to reach leadership positions, but also making those decisions," she said.
As for the G20, Obaid said that the Kingdom specifically chose to focus on human empowerment for youth and women, preserving the earth and new horizons.
During the first panel discussion, Hind Al-Zahid, undersecretary for women's empowerment at the Ministry of Human Resource and Social Development, said that the share of women in leadership positions has gone up from 1.6 percent to 2.3 percent.
She added that the ministry is aiming to reach 5 percent by the end of 2020.
Al-Zahid announced that by March 8, on International Women's Day, the ministry will be launching an initiative called Qiyadiyat (Female Leaders), acting as the first ever platform for women in leadership positions to network.
https://www.arabnews.com/node/1634271/saudi-arabia
--------
Muslim Women Used In Govt's Discredited Counter-Terrorism Policy
28th Feb 2020
Veiled Threats: Representing the Muslim Woman in Public Policy Discourses. By Naaz Rashid. Policy Press. Pp218. 2017 PB
Veiled Threats reads like a long research paper with a very specific remit. It was a bit of a cumbersome read and unless you are after a specific piece of information with regards to the counter-terrorism policies of Prevent, which part of counter-terrorism and how women's organisations that were responsible for implementing these policies operated.
This book is built upon numerous interviews with a handful of key actors in the process. There was a drawback as the community that she primarily navigated was the Pakistani British community. At no point was there an effort made to include other ethnicities in the discussion about Prevent, which clearly impacts in more than just one ethnic community.
The discredited Prevent policies are increasingly framed along the lines of Huntington's Clash of Civilisation theory that Judeo Christians will always be fighting against the Muslims, but in succumbing to the belief of this theory we fail to understand the socio-economic implications of the history of a group of people.In addition to the socio-economic hurdles, Muslim women also encounter an assumed burden of representation.
One of the interviewees, Almeena, talks about her experience as a journalist at the BBC and how every time there was a so-called honour killing or some kind of Muslim and Asian story, everyone would turn to her, but she was as clueless as they were. Rashid states, 'The spaces in which Muslim women can speak (or can be heard) is often narrowly defined and delimited externally.' (p144) It supports this idea that Muslim women are only able to comment on the issues of their community.
When in reality, what affects Muslim women also affects other BAME communities and other women too. With the establishment of Prevent, the Government has singled out the Muslim community as a target of its counter-extremism policies. It has created a climate of fear and hostility reinforcing the incompatibility of Britishness and Pakistani. (p 147)
This book does bring up a lot of underlying issues in the way that Muslim women are framed within the policy discourse; they are the mystical other that needs to be managed and to a certain extent rescued, which is a colonial paradigm that we haven't grown out of.
Rashid argues the way 'in which Muslim women are seen solely in relation to their religious affiliation. This is based on Orientalist stereotypes of the uniquely misogynist Muslim man, inflected with contemporary representations of problematic Islamic masculinity in the post 9/11 world.' (p162). Rashid's work is a huge contribution to the discussion about the controversial Prevent policy of the Government.
http://muslimnews.co.uk/newspaper/regular-columns/book-review-counter-terrorism/
--------
Madagascar: Non-Muslim Women Bribed To Wear Burka
Feb 27th, 2020
Extremists are exploiting destitute non-Muslim women by paying them to wear the burka, according to a bishop who has warned that Madagascar is being rapidly Islamised by hardliners coming in from abroad. Speaking to Aid to the Church in Need, Bishop Georges Varkey Puthiyakulangara of Port-Bergé, northern Madagascar, explained how Islamists proselytise by exploiting economic hardship.
He said: "We have learned that in the universities the young, non-Muslim female students are being paid three Euros a day to wear the burka. They are taking advantage of the poverty of the people, and especially of the students who need money. 85 percent of the people are living below the poverty threshold."
The bishop said that people "from abroad" have initiated a series of intensive building projects with the approval of the Madagascan government.
Bishop Georges said: "The number of Muslims is increasing rapidly. In the past, there were only Comorese, Pakistanis and a few Madagascans, but now people are arriving from abroad, we don't know how, and there is recruitment within the country.
"They are building mosques everywhere. In fact, there is an agreement with the government to build 2,400 mosques. In my diocese, for example, there are no Muslims, and yet many mosques are being built. At the same time they are trying to convert people, setting up Koranic schools and giving scholarships to the children who attend them."
Alongside this encroachment, Bishop Georges said the Church in Madagascar has a long-running problem with witchcraft and sorcery.
He said: "There are some villages which I am forbidden to visit on account of their belief in witchcraft. For example, one woman within my diocese went to give catechism lessons in a village that I am forbidden to enter, and her house was set on fire on two occasions."
The bishop expressed his dismay at the lawless and corrupt state of Madagascan society.
He said: "The corruption is terrible. The government is introducing plans to combat this corruption, but it is difficult because it is deeply ingrained. We are also trying to fight against "popular justice", that is to say, when people take the law into their own hands."
Bishop Georges finished by thanking ACN and its benefactors. He said: "Thanks to ACN, we were able to build a chapel in the prison where I was prison chaplain, as well as a room to be used as a library, for teaching catechism and combating illiteracy. This has given new hope to the prisoners and they can see the merciful face of the Church, which is there to help them and at the same time improve their conditions of life."
https://www.indcatholicnews.com/news/39018
--------
Young Female Iranian Futsal Player Dies Of Coronavirus In Qom: Rokna
27 February 2020
A 23-year-old Iranian female professional futsal player has died from coronavirus in the city of Qom, according to the state-run Rokna news agency.
Elham Sheikhi had been hospitalized since ten days ago and died from coronavirus on Wednesday, Rokna reported.
Sheikhi had played for Iran's women's national futsal team. Futsal is a version of football played indoors on a hard court with five players on each team.
Iran continues to suffer from an oubtreak of coronavirus, also known as COVID-19. On Thursday, the Health Ministry upped the number of people infected in Iran to 245, with 26 deaths.
High profile coronavirus cases in Iran
Sheikhi's death is the latest high profile case of coronavirus in Iran.
On Tuesday, the country's deputy minister for health was reported as infected with coronavirus, according to reports from the semi-official news agency ILNA on Tuesday.
Deputy Minister Iraj Harirchi was placed under quarantine, a spokesman for the ministry confirmed. Harirchi had held a press conference on Monday with government spokesman Ali Rabiei, he was seen sweating profusely and coughing, prompting questions as to whether he had contracted the virus.
On the same day, Iranian MP Mahmoud Sadeghi said in a tweet on Tuesday that he tested positive for coronavirus.
An outspoken MP from Tehran, Sadeghi had previously accused the government of "covering up the spread" of the virus.
He also urged health officials to "take the coronavirus seriously" and "gain public confidence by telling the truth."
Most recently, Iran's Chairman of the parliament's National Security Committee was quoted by the semi-official Fars news agency as having announced he has coronavirus on Thursday.
https://english.alarabiya.net/en/coronavirus/2020/02/27/Young-female-Iranian-futsal-player-dies-of-coronavirus-in-Qom-Rokna.html
--------
U.N. Hears Plea from Women In Northwest Syria: 'We Want The Right To Live'
Michelle Nichols
FEBRUARY 28, 2020
(Reuters) - Amid heavy fighting in northwest Syria between government forces backed by Russia and Syrian rebels supported by Turkey, the U.N. Security Council heard a plea on Thursday from women caught in the middle: "All we are asking, is for the misery to stop, for the killing to stop. We want the right to live."
The message was shared by deputy U.N. aid chief Ursula Mueller, who spoke via videolink to 14 Syrian women in Idlib and northern Aleppo last week.
"What is happening in northwest Syria, they said, is beyond imagination. It is not humanly tolerable. They told me of children so traumatized they no longer speak," Mueller said.
Syrian President Bashar al-Assad's forces, supported by Russian air power, have been fighting to retake the last large, rebel-held region in Syria after nine years of war. Turkey has sent thousands of troops and heavy military hardware into Idlib region in an unprecedented incursion to back the rebels.
Nearly a million Syrians have fled over the last three months, the biggest exodus of the conflict. A crackdown by Assad on pro-democracy protesters in 2011 led to civil war.
Mueller and Henrietta Fore, executive director of the U.N. children's agency UNICEF, told the Security Council that hospitals, schools and camps for displaced families had been hit in recent fighting.
"We've heard and read reports of children freezing to death," Fore said. "When wood runs out, families burn whatever they can find — plastic bags, garbage, discarded furniture — just to provide a flicker of heat against the cold, or a simple fire to cook whatever food they can find."
Defending Moscow's role in the conflict, Russia's U.N. Ambassador Vassily Nebenzia questioned why the United Nations and aid groups weren't more prepared to deal with millions of displaced people in Idlib during the winter.
"The humanitarian workers have plenty of resources so why hasn't this problem been resolved?" he asked.
Britain's deputy U.N. Ambassador Jonathan Allen responded: "The answer is because they're being bombed, they're being shelled, they're being attacked. It is extremely difficult indeed to provide assistance to people in those circumstances."
U.S. Ambassador to the United Nations, Kelly Craft, said that to end the humanitarian crisis in northwest Syria all efforts must be concentrated on establishing a durable and verifiable ceasefire.
"This will require Russia to ground its planes at once and tell the regime to pull back its forces," she told the council.
However, Nebenzia said: "The only long-term solution to the problem of Idlib and ... of Syria as a whole is a final and irreversible expulsion from the country of all terrorists. And please don't tell us we're exaggerating the problem."
Both Mueller and Fore appealed for action from the council, which has long been divided on how to deal with Syria. Russia had vetoed 14 draft resolutions during the war.
"Millions of Syrian children are crying tonight - from hunger and cold, from wounds and pain, from fear, loss and heartbreak," Fore said.
https://www.reuters.com/article/us-syria-security-un/un-hears-plea-from-women-in-northwest-syria-we-want-the-right-to-live-idUSKCN20L2U9
--------
UN Rights Office Calls On Saudi Arabia to Release Women Activists, Uphold Rights
27 February 2020
The United Nations human rights chief has urged Saudi Arabia to release women activists and also uphold freedom of expression and peaceful assembly, as the Arab kingdom prepares to hold the 2020 G20 Riyadh Summit in November.
Delivering a speech at the UN Human Rights Council on Thursday, the UN High Commissioner for Human Rights Michelle Bachelet called on Riyadh to also review convictions of activists, religious leaders and journalists, urging Saudi leaders to release several women activists, who are behind bars for demanding "reforms of discriminatory policies."
The ultra-conservative regime of Saudi Arabia has frequently been criticized by the UN and international rights groups for violating the rights of people, particularly those of women and activists, the high number of executions, and a sweeping crackdown on political dissidents and pro-democracy campaigners.
Riyadh came under fire in 2018 and beyond after Saudi journalist Jamal Khashoggi was killed and had his body dismembered after entering the Saudi consulate in Istanbul.
Evidence has shown that the gruesome killing had been carried out by a hit squad with close links to Saudi Crown Prince Mohammed bin Salman. Turkish officials have accused Saudi Crown Prince Mohammed bin Salman of ordering the killing.
"I also call for full transparency in the ongoing judicial proceedings, and comprehensive accountability, regarding the murder of journalist Jamal Khashoggi," Bachelet added.
Over the past years, Riyadh has redefined its anti-terrorism laws to target activism.
In January 2016, Saudi authorities executed Shia cleric Sheikh Nimr al-Nimr, who was an outspoken critic of Riyadh. Nimr had been arrested in Qatif, Eastern Province, in 2012.
Eastern Province has been the scene of peaceful demonstrations since February 2011. Protesters have been demanding reforms, freedom of expression, release of political prisoners, and an end to economic and religious discrimination against the region.
The protests have been met with a heavy-handed crackdown by the regime, with government forces increasing security measures across the province.
Elsewhere in his remarks, the UN top official called on the international community to show solidarity with the people of ethnic Asian origin who are subject to discrimination amid an outbreak of a deadly coronavirus that commenced in China late last year.
"The coronavirus epidemic has set off a disturbing wave of prejudice against people of Chinese and East Asian ethnicity, and I call on member states to do their utmost to combat this and other forms of discrimination," Bachelet further told a session of the Human Rights Council in Geneva, Switzerland.
https://www.presstv.com/Detail/2020/02/27/619649/Saudi-Arabia-UN-human-rights-Bachelet-freedoms-activists-Khashoggi-coronavirus
--------
UN Chief Declares Women's Inequality 'Stupid' and A Global Shame
Michelle Nichols
February 28, 2020
United Nations Secretary-General Antonio Guterres called women's inequality "stupid" and a cause for global shame on Thursday, as he pledged to press governments to end discriminatory laws in the face of a "strong and relentless pushback" against women's rights.
While Guterres did not name and shame, US President Donald Trump's administration has led a push at the UN against the promotion of sexual and reproductive health services for women because the administration sees that as code for abortion.
Speaking ahead of the annual meeting of the UN Commission on the Status of Women in New York next month, Guterres warned that the state of women's rights was dire and said he would seek to end "default male thinking" across the United Nations.
"Just as slavery and colonialism were a stain on previous centuries, women's inequality should shame us all in the 21st. Because it is not only unacceptable; it is stupid," Guterres said in a speech to The New School in New York.
He said legal protections against rape and domestic violence were being diluted or rolled back and that in 34 countries rape within marriage was still legal.
"There is a strong and relentless pushback against women's rights," Guterres said. "Women's sexual and reproductive rights are under threat from different sides."
Language promoting women's sexual and reproductive health is long-agreed internationally, including in resolutions adopted by the Security Council in 2009 and 2013 and several resolutions adopted annually by the 193-member General Assembly.
However, the United States under Trump has pushed to remove such language from new UN resolutions. The Trump administration also cut funding in 2017 for the UN Population Fund because it believed it was linked to an abortion program, but the UN said that was an inaccurate perception.
The US Supreme Court ruled in 1973 that women have the right to choose whether or not to have an abortion but the issue is still divisive in the United States.
"The UN should not put itself in a position of promoting or suggesting a right to abortion, whether it is humanitarian or development work," US Ambassador to the United Nations, Kelly Craft, said in October.
The United States has received support for its stance from countries including Russia, Egypt, Saudi Arabia, United Arab Emirates, Brazil, Guatemala, Nigeria, Democratic Republic of Congo, Mali, Sudan, Uganda, Poland and Hungary.
"I find it pretty strange that the United States is mobilizing so hard on this issue ... because if you look at the bigger picture is the main threat to the world today abortions? Or is it an assertive China? A Russia that is expansionist? Let's just get our focus right here," said a senior European diplomat, speaking on condition of anonymity.
Last year Washington threatened to veto a Security Council resolution if a reference was not cut citing the need for UN bodies and donors to give timely "sexual and reproductive health" assistance to survivors of sexual violence in conflict.
Guterres said on Thursday he would urge governments to achieve gender parity in senior leadership. He said he achieved gender parity among his senior leadership team - on Jan. 1, 90 women and 90 men were in the ranks of full-time senior leadership, two years ahead of the target date he set.
"Women have equaled and outperformed men in almost every sphere," he said. "It is time to stop trying to change women, and start changing the systems that prevent them from achieving their potential."
https://www.thejakartapost.com/news/2020/02/28/un-chief-declares-womens-inequality-stupid-and-a-global-shame.html
--------
URL: https://www.newageislam.com/islam-women-feminism/germany-upholds-headscarf-ban-trainee/d/121179
New Age Islam, Islam Online, Islamic Website, African Muslim News, Arab World News, South Asia News, Indian Muslim News, World Muslim News, Women in Islam, Islamic Feminism, Arab Women, Women In Arab, Islamophobia in America, Muslim Women in West, Islam Women and Feminism