New Age Islam News Bureau
23 Jul 2020
• Arab Women Festival for Creativity to Honour Saudi journalist Al-Bitar
• Afghan Girl Who Killed Taliban Gunmen 'Ready to Fight Again'
• 'Nameless' Women of Afghanistan Struggle for Rights
• UN Warns of Failure to Address Islamic State Women
• SIDF, Through W20, Strives to Enhance Women's Role in Industrial Sector
• Eid Al Adha 2020: Pakistani Woman Cattle Seller Breaks Stereotypes at Karachi Market
• Georges Calls for Greater Support During International Forum for Women and Sports
• Murder in Turkey Sparks Outrage Over Rising Violence Against Women
Compiled by New Age Islam News Bureau
URL: https://www.newageislam.com/islam-women-feminism/german-state-bans-pupils-wearing/d/122448
--------
German State Bans Pupils from Wearing Burqas and Niqabs In Schools
Nicky Harley
July 22, 2020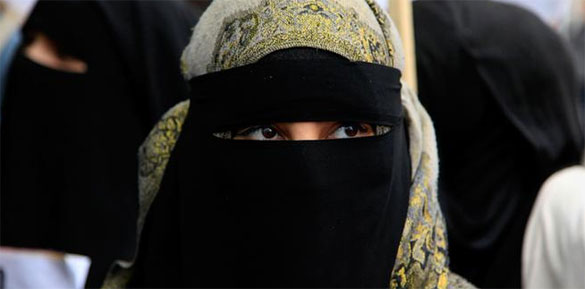 Baden-Württemberg will now ban full-face coverings for all school children.
----
Germany's third-largest state has banned full-face coverings for all schoolchildren.
Baden-Wuerttemberg, in the south-west of the country, introduced the ruling on Tuesday.
State Premier Winfried Kretschmann risked a backlash and a legal challenge after other states were prevented from imposing similar measures.
Mr Kretschmann said it was rare for pupils to wear burqas but that a ban was still required.
Germany has been debating veils in schools since February after a court in Hamburg overturned a ruling by the city's education authorities to bar a pupil from wearing one.
The ban will be in place in primary and secondary schools.
The state's Minister of Culture, Susanne Eisenmann, announced in February that she wanted to introduce a ban after the court ruling in Hamburg because it showed the need for a "legally watertight regulation" to enforce it.
"The current court decision from Hamburg makes it clear that a legal basis is required for a ban for reasons of legal certainty," Ms Eisenmann said at the time.
"For this reason, we want to quickly amend our school law.
"Religious freedom also has its limits, specifically at our schools, when teachers can literally no longer look at each other's faces. We do not tolerate full veiling at our schools."
The Hamburg court said there was "no legal basis" for the ban.
"The student can claim the unconditionally protected freedom of belief," it said.
Germany is divided over the issue, with supporters of a ban claiming it was necessary to "protect girls".
Julia Kloeckner, a member of Chancellor Angela Merkel's Christian Democrats, supports a ban.
But FilizPolat, a migration policy spokeswoman for the Greens' parliamentary group, said people being able to wear religious symbols was a feature of a democratic society.
Last year, a YouGov poll found that 54 per cent of respondents in Germany would support a ban on burqas.
Full-face veils are banned in the Netherlands, France, Denmark and Austria.
https://www.thenational.ae/world/german-state-bans-pupils-from-wearing-burqas-and-niqabs-in-schools-1.1053242
--------
Arab Women Festival for Creativity to Honour Saudi journalist Al-Bitar
July 16, 2020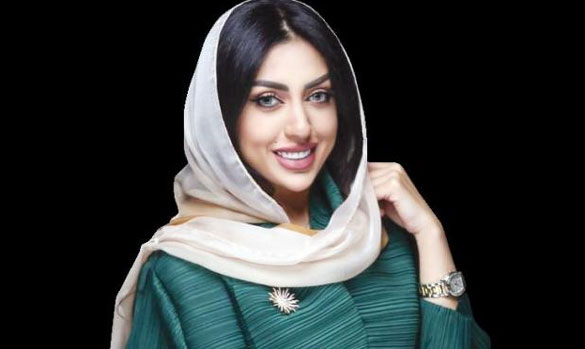 The fifth edition of Arab Women Festival for Creativity will honor next Monday famous Saudi woman news anchor Julnar Al-Bitar with the "Creative Media Award for 2020".
-----
RIYADH — The fifth edition of Arab Women Festival for Creativity will honor next Monday famous Saudi woman news anchor Julnar Al-Bitar with the "Creative Media Award for 2020".
Al-Bitar is currently working with Al-Ekhbariya TV channel as a political news anchor.
The honoring ceremony will be held in the presence of SheikhaSuhaila Al-Sabah, the guest of honor, Festival Director Dr. Amal Ibrahim, and a number of ministers, ambassadors, diplomats, academics, businessmen and businesswomen, cultural figures and media persons.
Dr. Amal said that Al-Bitar deserves it. The award is in appreciation of her outstanding contributions as one of the best female television broadcasters and professionals, and in recognition of her excellent performance in presenting news and programs.
Al-Bitar recently presented a working paper on "Digital Transformation and Media Challenges during COVID-19," she noted.
On her part, Al-Bitar said that this honor is considered as an incentive to continue her work. "This is also an appreciation for the creativity and excellence among Arab women in general and Saudi women in particular," she added.
https://saudigazette.com.sa/article/595598/SAUDI-ARABIA/Arab-Women-Festival-for-Creativity-to-honor-Saudi-journalist-Al-Bitar-
--------
Afghan girl who killed Taliban gunmen 'ready to fight again'
July 22, 2020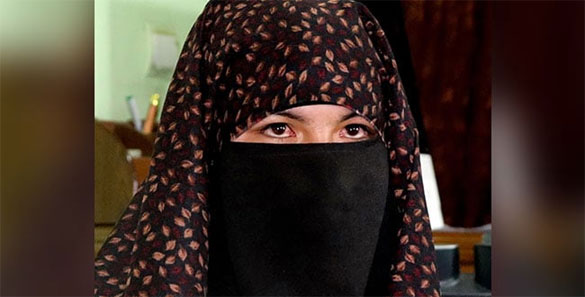 Qamar Gul regrets she was unable to say goodbye to her mother and father.
----
GHAZNI: An Afghan girl who shot dead two Taliban fighters after they gunned down her parents said Wednesday she was ready to confront any other insurgents who might try to attack her.
Qamar Gul, 15, killed the militants when they stormed her home last week in a village in the Taywara district of the central province of Ghor.
"I no longer fear them and I'm ready to fight them again," Gul told AFP by telephone from a relative's home.
It was about midnight when the Taliban arrived, Gul said, recounting the events of that night.
She was asleep in her room with her 12-year-old brother when she heard the sound of men pushing at the door of their home.
"My mother ran to stop them but by then they had already broken the door," Gul said.
"They took my father and mother outside and shot them several times. I was terrified."
But moments later, "anger took over," she said.
"I picked up the gun we had at home, went to the door and shot them."
Gul said her brother helped when one of the insurgents, who appeared to be the group's leader, tried to return fire.
"My brother took the gun from me and hit (shot) him. The fighter ran away injured, only to return later," Gul said.
By then, several villagers and pro-government militiamen had arrived at the house. The Taliban eventually fled following a lengthy firefight.
Officials said the Taliban had come to kill Gul's father, who was the village chief, because he supported the government.
The insurgents regularly kill villagers they suspect of being informers for the government or security forces.
Taywara district, where Gul's village is located, is a remote area with sporadic communication and the scene of near-daily clashes between government forces and the Taliban.
Gul said her father had taught her how to shoot an AK-47 assault rifle.
"I am proud I killed my parents' murderers," she said.
"I killed them because they killed my parents, and also because I knew they would come for me and my little brother."
Gul regrets she was unable to say goodbye to her mother and father.
"After I killed the two Taliban, I went to talk to my parents, but they were not breathing," she said.
"I feel sad, I could not talk to them one last time."
Afghans have flooded social media to praise Gul, and a photo of her wearing a headscarf and holding an AK-47 has been shared widely.
Hundreds of people have called on the government to protect Gul and her family.
"I demand that the president help transfer her to a safe place as her and her family's security is at risk," prominent women's rights activist and former lawmaker FawziaKoofi wrote on Facebook.
President Ashraf Ghani also praised Gul for "defending her family against a ruthless enemy," his spokesman SediqSediqqi told AFP.
A Taliban spokesman has confirmed an operation took place in the area of the attack, but denied any of the group's fighters had been killed by a woman.
https://www.arabnews.com/node/1708506/world
--------
'Nameless' Women Of Afghanistan Struggle For Rights
July 22, 2020
Shafi Karimi
NillyKohzad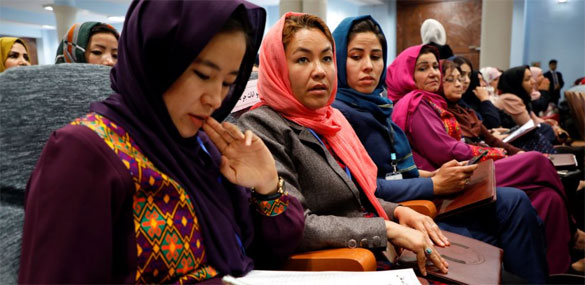 Afghan women attend a consultative grand assembly, known as a Loya Jirga, in Kabul.
-----
Ghazal Sharifi is an Afghan woman and mother of two. But she says her labor pains were nothing compared to the pain of not being able to legally represent her children.
In Afghanistan, women cannot obtain a passport for their children without the presence of the father. The mother's name isn't allowed on the child's identification card, either. Longstanding taboos and fiercely defended societal restraints deny women the agency to make important decisions for their children, their families, and themselves in a deeply patriarchal society in which men are shamed for even mentioning the names of their female relatives.
As Afghan society makes efforts to advance in regard to gender roles and norms, many women are questioning the male-dominated power structure currently in place in the country. But the issue is layered.
MawlawiHamidullahHaidary, an Islamic scholar, tells Radio Free Afghanistan that "from the point of view of Islam and Shari'a, there is no problem, but Afghan society does not accept this, they are not ready to accept this, and it's seen as shameful."
Sharifi says that when she went to the legal offices to register her child's ID, she was told she could not use her name. The officials said they would accept the name of her brother-in-law, or even that of her nephew, but not hers.
"At that moment, I felt so belittled as a mother," she told RFE/RL's Radio Free Afghanistan. "I felt that my husband's brother or nephew had more rights over my own children than I did. I got pregnant and gave birth, but unfortunately men have the authority to get IDs for their children, rather than their own mothers."
Under Afghan law, the sexism extends much further than IDs. When deciding custody rights of a child, institutions give preference to the father or grandfathers rather than the mother.
In the eyes of Sharifi and many others, this is cruel.
Yet while the issue has gained a certain amount of traction among progressive Afghans in recent years, including a 2017 campaign called Where Is My Name? that sought to eradicate long-standing taboos by generating discussion on the importance of making women's names and identities visible across all aspects of society, a larger discussion has been missing due to the powerful sway of a male-dominated society.
Haidary, the scholar, says that the Afghan government has bigger issues requiring its attention, such as widespread corruption. "Focusing on small issues like a woman's name does not solve our bigger problems," he said.
But for Naheed Farid, a member of the Afghan Parliament, the issue is an important starting point in ensuring women gain their due rights and should be a top priority for a society that is attempting to reshape itself.
"When the names of fathers and grandfathers are mentioned in ID cards and the names of mothers are not, this alone is an act of violence against women," she said. "It's important to have a meaningful presence of women in society, not just in legal documents but also for their right to work, get an education, and acquire other basic rights."
Members of the Where is My Name? campaign are encouraged that after three years of fighting for women's rights to identities, the issue has now reached the doors of the Afghan Parliament. It will be on the public agenda when the parliament reconvenes in September.
Young parliament members like Farid are ready to vote for a positive change in the constitution, paving the way for Afghan women to be recognized in official and legal documents.
Since the fall of the Taliban in 2001, Afghan women have regained many of the rights that were previously off limits to them. But despite being able to work and vote, many must still deal with the conditions of a patriarchal system that holds back on allowing them to be equal citizens.
https://gandhara.rferl.org/a/nameless-women-of-afghanistan-struggle-for-rights/30741800.html
--------
UN Warns of Failure to Address Islamic State Women
By Jeff Seldin
July 22, 2020
WASHINGTON/PENTAGON - Efforts to deliver an enduring defeat to the Islamic State may be in danger because of difficulties with bringing the terror group's members and associates who are women to justice.
New analysis from the United Nations' Counter-Terrorism Committee Executive Directorate [CTED] issued Wednesday described the situation as dire, warning too few of these IS women are being held to account, as many countries have been reluctant to repatriate them.
"Women are the demographic group with the lowest overall rate of return from the conflict zone in Iraq and the Syrian Arab Republic," according to the CTED report, based on a study of 80 U.N. member states.
"Within judicial systems, there is an urgent need for training and capacity-building on gender-sensitive approaches to investigations and prosecutions," the report added.
Exactly how many women members of IS have been prosecuted or could be charged with crimes is difficult to say.
The CTED analysis said for many U.N. member states, "accurate information on the fate of women returnees was either unavailable or only partially available."
Lack of repatriation
Many Western countries have consistently refused to take back anyone who traveled to join the Islamic State's self-declared caliphate.
Countries like Britain, Germany, Denmark, Australia and Indonesia, among others, have even gone as far as to strip nationals who traveled to join IS of their citizenship.
And repatriations of IS-linked women that have taken place have been piecemeal.
One study, by the London-based International Centre for the Study of Radicalization, estimated that by July 2019, perhaps as few as 609 women who had traveled to join IS had returned to their countries of origin.
At the same time, based on U.S. estimates, as many as 18,000 IS-affiliated women continued to languish in displaced-persons camps like the al-Hol camp in northeastern Syria, including 2,000 women who have renounced their previous citizenship.
Pleas by U.S. officials, as well as by the U.S.-backed Syrian Democratic Forces, for those women to be repatriated have largely been ignored.
Obstacles to collecting criminal evidence
And some analysts fear the longer they stay there, the harder it will be to ensure any of them answer for potential crimes.
"It becomes harder and harder to gather that evidence," said Devorah Margolin, a senior research fellow with George Washington University's Program on Extremism.
"People become less cooperative," she said. "Or memories aren't as strong as they were when incidents first happened."
And researchers like Margolin and those with CTED note that when it comes to IS, there is already a huge discrepancy in available evidence. While IS readily documented violence carried out by male fighters in its videos and other propaganda material, it rarely showed women in similar situations.
"There's a very big division of the sexes, and part of that, specifically for a group like the Islamic State, is a removal of women from images," Margolin said.
"That's not to say that under the Islamic State that there weren't atrocities also carried out by women," she added. "We know that women were part of the morality police, policing other women, and also part of the female sex trade of female slaves."
Further complicating matters, the U.N. researchers found not all countries are even willing to consider the possibility that some of the IS women need to face justice.
"The tendency to view women as passive followers of their husbands continues to prevail," the CTED analysis found. "[That], together with evidentiary challenges, contributes to low rates of conviction and/or shorter or suspended sentences."
The report found, in Western Europe and North America in particular, women linked to the terror group were likely to get more lenient sentences than IS-linked men.
Others seem to have escaped justice completely.
"In the Balkans, governments did not account for noncombatant support provided by female affiliates of the Islamic State, and most female returnees have avoided prosecution altogether," JamilleBigio, a senior fellow at the Council on Foreign Relations, told VOA in an email.
Other countries, though, like Germany and Iraq, have reacted to the difficulty in obtaining evidence by taking a much different, much harsher tack.
"There is evidence of women receiving disproportionately harsh sentences compared to men, including life sentences or the death penalty for mere 'association' with ISIL fighters," the U.N. analysis found, using another acronym for the terror group.
A return to extremism?
Yet whether IS-affiliated women entering the justice systems of various countries are treated too harshly or not harshly enough, there is concern that over the long term, the likelihood that they will cling to or return to their extremist beliefs is high.
The U.N. analysis found that with so few women being brought to their countries of origin to face justice, little has been done to develop programs that could help some of them eventually reintegrate into society once their sentences are complete.
Bigio, who served on the National Security Council under former U.S. President Barack Obama, agreed.
"Prison and rehabilitation programs designed for men fail to address the underlying causes of women's radicalization," she said, noting that women who join extremist groups have often reported that "membership provided greater freedom than could be found in traditional society."
And what many IS-affiliated women are being offered may not be a better alternative.
https://www.voanews.com/extremism-watch/un-warns-failure-address-islamic-state-women
--------
SIDF, through W20, strives to enhance women's role in industrial sector
July 22, 2020
RIYADH — The Saudi Industrial Development Fund (SIDF), represented by Riyadh's Alnahda Society, is the hosting organization of the Woman 20 (W20) summit, which aims to enhance women's participation in the Kingdom's industrial sector, the Saudi Press Agency reported.
The W20 is an official G20 engagement group focused on women's empowerment and gender equality. The W20's primary objective is to ensure that gender considerations are mainstreamed into G20 discussions and translate into the G20 Leaders' Declaration as policies and commitments that foster gender equality and women's economic empowerment.
Commenting on the sponsorship of the event, Eng. Noor Shabib, vice president of strategic planning & business development at SIDF, said, "Working together with the W20 will advance our mutual agenda on women empowerment, diversity and inclusion.
"This support stresses SIDF's commitment to Vision 2030's strategic goal of raising Saudi women's economic participation rate to 30 percent and enabling women to attain more leadership positions across the country."
She said that SIDF is considered a pioneer in workforce gender diversity within governmental entities. In less than three years, SIDF has increased the percentage of its female employees from zero percent to 15 percent of total workforce; now employing 159 female employees all of whom hold positions ranging from junior officers to top managerial posts in all departments.
"As the main financial enabler of Saudi Vision's National Industrial Development and Logistics Program (NIDLP), SIDF deploys a wide range of lending and advisory products to the private sector. SIDF applies a gender-neutral policy that ensures no discrimination between men and women with regards to access to services and opportunities," she said.
On her part, Salma Al Rashid, W20's Sherpa, said that labor inclusion and inclusive decision making are one of the W20's key priorities and we are delighted that SIDF has joined as an advocate.
"The W20 is committed to ensuring that women occupy leadership roles and engage in equal and meaningful participation in the decision making across all sectors. Through our shared agendas and joint efforts, we will be able to achieve the best positive outcomes for women in the workplace," she added.
SIDF continues to innovate new, more tailored products and services that ensure to offer the same opportunities to both men and women investors in the private sector in efforts to increase the private sector's participation in the Kingdom.
https://saudigazette.com.sa/article/595838
--------
Eid Al Adha2020: Pakistani Woman Cattle Seller Breaks Stereotypes At Karachi Market
July 22, 2020
Karachi-based Ghani's animals are also up for sale online on social media sites titled 'Desi Cows'.
In Pakistan, the business of livestock - cows, buffaloes, sheep, goats and camels reaches its boom when the whole country is filled with cattle markets with sellers piling up sacrificial animals for sale before the Eid Al Adha.
Every year, these markets are abuzz with buyers and sellers, over 95 per cent of who are men.
However, this year, the highlight of Karachi's largest cattle market is not animals. It is a young woman, who is breaking and challenging gender stereotypes by standing among the men to tend and sell the sacrificial animals.
Karachi's cattle market at Super Highway is by far the most prominent cattle market in the country, filled with hundreds of thousands of animals and it attracts buyers round the clock.
Ayesha Ghani, the 21-year-old can be seen tending and selling the sacrificial animals at the cattle market ahead of this Eid Al Adha. It may not be a take out of the ordinary. However, Ghani being a woman, is certainly shattering stereotypes as this market has not seen a woman do such tasks in the past.
Ghani is a resident of Karachi and is seen standing in the market everyday, putting at least 36 of her cows, oxen and calves on sale, with a price ranging from Rs130,000 to Rs700,000.
"I have raised these animals at home on my own. That's why I have a special affection towards them", said Ayesha Ghani.
Ghani has also brought along a new trend of online buying as her animals are also up for sale online on social media sites titled "Desi Cows".
"Most buyers are looking for animals available at economical prices, while prices have sky-rocketed this year due to inflation," she said, adding that the business has slowed down this year amid coronavirus outbreak.
"I have been an animal lover all my life. However, this is the first time that I am personally selling animals in the market," she said.
Ghani hoped that women would get encouraged to see her and get more involved in this work. However, the challenges that she faces being a woman, standing in a male-dominated market are "bound to surface at first".
"After all, girls do face a lot of difficulties in our society but I have taken the first step and hope to see more women and girls stepping forward," Ghani said.
"Today, women are second to none and they should not consider themselves inferior to anyone. We can progress in every field," she added.
https://www.khaleejtimes.com/world/pakistan/eid-al-adha-2020-pakistani-woman-cattle-seller-breaks-stereotypes-at-karachi-market
--------
Georges calls for greater support during International Forum for Women and Sports
July 22, 2020
The secretary general of French Football Federation, has urged the sports fraternity to invest in women's sports as it recovers from Covid-19.
The Late Sheikh Zayed bin Sultan Al Nahyan, Founding Father of UAE, once said that, "The woman is half of the society; any country which pursues development should not leave her in poverty or illiteracy".
Echoing those sentiments, Laura Georges, one of the top stars of international women's football and secretary general of French Football Federation, has urged the sports fraternity to invest in women's sports to strengthen the whole community as it recovers from Covid-19, according to a press release.
"Investing in women means investing in the whole family," said Georges, as she discussed the "Future of Women's Sport in Light of the Current Challenges" alongside Tunisian fencer Ines Boubakri, winner of a bronze medal at the Rio 2016 Olympic Games, during the virtual "International Forum for Women and Sports", which was organised by the Women's Sports Committee of Dubai Sports Council on Wednesday.
"When you invest in women and women's sport, you benefit the entire household and the community - you benefit her parents and her children, you benefit her spouse and her siblings, and you benefit future generations and communities.
"So, as we forge ahead, leaving these challenging times behind, I believe it is critical that we invest more in women. It will be important that men and women unite and combine their efforts in creating and achieving excellence, not just in the sports sector, but in every sphere of life."
Held on video conferencing app Zoom, the Forum boasted a panel that included SheikhaShamsabint Hasher Al Maktoum, Board Member of the UAE Volleyball Association and Member of the Board of Directors of Al Wasl Sports Club in Dubai; Sheikha Naima Al Ahmad Al Jaber Al Sabah, head of the Organising Committee for Women's Games in the Gulf Cooperation Council; Mouza Ibrahim Mohamed Al Suwaidi, Undersecretary at the UAE Ministry of Community Development; Rowdah Al Mehrizi, Chairperson of Women's Sports Committee; Nada Askar Al Naqbi, Director General of Sharjah Women's Sports Foundation; and Dr Mai Al Jaber, Board member of the UAE National Olympic Committee and the Fatima Bint Mubarak Ladies Sports Academy.
Nadia Khadim, captain of Al Wasl's women's volleyball team, was also on the list of panellists, while FouzeyaFaridoon, Manager of Dubai Sports Council's Women's Sports Development section and Manager of the Council's Women's Sports Committee, delivered the closing address.
Speaking about the impact of Covid-19 on international sports, Mouza Ibrahim Mohamed Al Suwaidi, Undersecretary at the UAE Ministry of Community Development, said: "The pandemic has affected every sector of life, in every part of the world. It has affected the sports sector as well and in the USA alone, the sports sector is estimated to have lost about $ 12 billion due to the pandemic in the last few minutes. At the world level, you can only imagine how big that number will be.
"But on the individual level - and I am not a sports expert - I believe Covid-19 has contributed towards raising awareness about sports and a physically active lifestyle. People seem to be more interested in their physical activity and healthy living now."
Nada Askar Al Naqbi, Director General of Sharjah Women's Sports Foundation, also spoke about positives and said: "Despite the circumstances and challenges we are facing, I prefer to look at this crisis as an opportunity and not as an adversity. I believe we will bounce back stronger from this phase, overcoming all the challenges and using this experience to our benefit. We will be challenged to innovate and we will see virtual events, competitions and forums becoming more commonplace.
"Of course, I believe we will need greater support and encouragement from all the government and private institutions as we work to enhance the presence of our ladies at local, regional and international sports events."
Talking about the impact of Covid-19 on her as a player, Georges added: "It was really strange to see all the sports activity come to a halt. Things were really complicated in the first few days as we were worried whether it was safe to train in these circumstances, but after studying the matter carefully, we started opening up gradually, applying safety protocols."
Boubakri, who was training for the Olympics in the USA, also found the first few days of the lockdown really confusing because of all the "conflicting information".
"I had never faced such a situation before," she said. "I never had to stop training or sit at home before. So it was difficult, but we managed to get through this phase with the help of my coach. I did not give up or allow fear to take hold of me - and that is very important as an athlete. We should never let fear overcome us. That is my advice to every woman."
https://www.khaleejtimes.com/sport/local/georges-calls-for-greater-support-during-international-forum-for-women-and-sports
--------
Murder in Turkey sparks outrage over rising violence against women
23 Jul 2020
The murder of a 27-year-old woman by an ex-boyfriend has sparked outrage in Turkey, shining a light on the country's shockingly high femicide rate and government efforts to roll back legislation designed to protect women from gender-based violence.
The remains of student PınarGültekin were discovered in woodland in the Aegean province of Muğla on Tuesday. According to Turkish media, she was beaten and then strangled to death by her former partner, CemalMetinAvci, who then burned her body in a garbage bin and covered it in concrete. The 32-year-old has been detained on homicide charges.
A vigil for Gültekin and other femicide victims was held in Istanbul's Beşiktaş neighbourhood and three other cities across the country on Tuesday night. "We are here Pınar, we will hold them accountable," women chanted while waving purple flags.
Violence against women and so-called "honour" killings are deeply rooted and prevalent issues in Turkey. According to a 2009 study on prevention strategies, 42% of Turkish women aged between 15–60 had suffered some physical or sexual violence by their husbands or partners.
Every year, the problem is getting worse: in 2019, 474 women were murdered, mostly by partners and relatives, the highest rate in a decade in which the numbers have increased year on year. The figures for 2020, affected by coronavirus lockdowns, are expected to be even higher.
Data on deaths is compiled from news reports and victims' families by campaign group We Will Stop Femicide, which began tracking murders of women after the government admitted it did not keep records. Government statistics related to violence against women that do exist are unreliable and often differ from department to department.
"Violence against women is a problem everywhere. In Turkey we have a strong women's rights movement but we also face a lot of opposition," said FidanAtaselim, We Will Stop Femicide's general secretary. "In the last 20 years society has changed a lot: more women are demanding their right to work and go to university. The more choices we have, the more intense the backlash gets."
Turkey was the first country to adopt a 2011 Council of Europe convention on gender-based violence and domestic violence, a groundbreaking legal framework designed to protect victims and effectively prosecute offenders, known as the Istanbul Convention.
Since then, however, even basic rights and protections won by Turkish women have come under threat as Recep Tayyip Erdoğan's conservative Justice and Development party (AKP) has tried to roll back legislation politicians say threaten traditional family values.
Small but powerful lobby groups have repeatedly petitioned for changes to the Istanbul convention on the grounds that it encourages divorce and "immoral lifestyles". The law's future is currently being debated by parliament.
AKP deputy chair NumanKurtulmuş said in a televised interview earlier this month that the Istanbul convention was "very wrong" and "played into the hands of LGBT and marginal elements" in Turkish society.
Other senior ministers, including Erdoğan, regularly make public statements that are degrading to women. According to the president, women are not equal to men, and those without children are deficient. Former prime minister BinaliYıldırım has told supporters that rather than physically attack women in public wearing shorts, they should verbally harass them instead.
"Comments like this from men in power legitimise these attitudes," said Selin Nakipoğlu, a solicitor specialising in family law. "Our existing laws are actually strong, they're just not enforced. On top of that, the government is trying to roll back things like child support and introduce mediation in divorce proceedings, even if there was violence in the marriage. An undercover journalist once rang the family consultation bureau and was told to pray and pacify her husband.
"Despite all of the government's efforts, divorce rates are still going up. More and more women are rejecting these ideas."
Turkey's legal system, which has been purged of perceived disloyal elements and weaponised against the government's critics since a failed coup attempt in 2016, is now even more unlikely to deliver timely justice for victims of male violence.
Men who say they acted on impulse, or who claim to be religious and dress smartly in court, are handed reduced sentences so often there is now a term for it: "tie reduction".
Avci, Gültekin's alleged killer, reportedly blamed his ex-girlfriend for his actions. "She threatened to let my wife know about the relationship. She was asking for money. I killed her in a moment of rage," Turkish media quoted him as saying in his testimony.
Meanwhile, grief and rage continue to flood Turkish social media, with hundreds of thousands of tributes to the murdered student and other women like her.
"PınarGültekin's murderer is among us, at our side, on our bed, at the bus stop, a step behind us ... They are not elsewhere, they don't fall from the sky, they don't come from space. This is why women's murders, hate murders, are political," actor Meriç Aral tweeted on Tuesday.
https://www.theguardian.com/world/2020/jul/23/turkey-outrage-rising-violence-against-women
--------
URL: https://www.newageislam.com/islam-women-feminism/german-state-bans-pupils-wearing/d/122448
New Age Islam, Islam Online, Islamic Website, African Muslim News, Arab World News, South Asia News, Indian Muslim News, World Muslim News, Women in Islam, Islamic Feminism, Arab Women, Women In Arab, Islamophobia in America, Muslim Women in West, Islam Women and Feminism