New Age Islam News Bureau
20 Jul 2017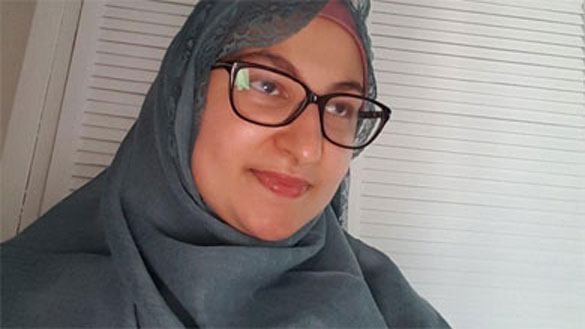 Dressed in a headscarf and a robe, 24-year-old Palestinian Nesreen Hajjaj, routinely leads people through one of the world's most significant Jewish sites in Berlin. (Supplied)
------
• Miss World Australia Becomes the Flag-Bearer for Islam as the Religion of Peace
• Saudi Snapchat 'Model in Skirt' Released Without Charge
• Iran's Latest Culture Battle: Should Women In Cars Keep Their Heads Covered?
• Water Thrown At Muslim Women in Fake Acid Attack outside UK Mosque
• Afghan, Pakistani Women Push for Role in Peace Talks
• New App Helps Saudi Women Claim Their Rights
• Sold By Daesh in Raqqa, Yazidi Female Fighters Back For Revenge
• Afghanistan Appoints Second Woman as District Governor
• Why This Palestinian-Muslim Woman Works For a Jewish Museum
• University Of Jeddah to Offer Women Students PE Major
Compiled by New Age Islam News Bureau
URL: https://www.newageislam.com/islam-women-feminism/german-judge-bans-muslim-woman/d/111899
--------
German Judge Bans Muslim Woman from Wearing Headscarf in Court
July 20, 2017
A German judge has banned a Syrian woman from appearing in court without removing her headscarf, claiming "religiously-motivated" attire is prohibited.
Najat Abokal, a lawyer representing the woman, said the order was made for divorce proceedings in the district court in Luckenwalde, Brandenberg.
She said the letter warned of legal action against the woman if she does not comply, but also ordered her to appear in person to present her case against her husband.
Ms Abokal has accused the judge of acting "unconstitutionally", the Tagesspiegel newspaper reported, saying she would contest the order amid fierce debate over Islamic dress in Germany.
One of her colleagues confirmed the information to The Independent but said no further comment could be given while the case continued.
A spokesperson for the district court in Luckenwalde said they could not comment, saying the judge was responsible for conduct within the courtroom.
The German parliament has voted in favour of a partial ban on the burqa and other Islamic veils that cover the face, while existing "neutrality" laws can be used to forbid the wearing of any religious or political symbols by some judicial officials.
But the restrictions do not apply to witnesses, claimants, victims or any other participants in legal proceedings, while a 2006 ruling by the Federal Constitutional Court found a judge had no right to throw out a spectator for wearing a headscarf..
Klaus F Gärditz, an law professor at Bonn's Friedrich-Wilhelms University, described the letter as an attempt to "humiliate" the woman that violates freedom of religion.
He accused the judge of "pursuing provincial racism and sexism under the pretext of following legal procedures", noting that only women were affected by such orders in an article for the Legal Tribune Online.
The case comes amid intense debate over Islamic veils in Germany, where a law to partially ban the burqa – but not the hijab (headscarf) - has not yet come into force.
Angela Merkel announced her support for the move in December, saying full-face veils were "not acceptable in Germany" and calling them to be banned "wherever it is legally possible".
Some right-wing politicians have called for a full ban on the burqa in public, which has been imposed in France and Belgium, but ministers have said a blanked prohibition would violate the country's constitution.
Concerns about integration have also risen following the arrival of more than a million asylum seekers, who are mainly from Syria and other countries in the Middle East.
A poll carried last year showed that 81 per cent of Germans supported a ban on the burqa within public institutions.
Dutch MPs voted for a similar prohibition in the Netherlands last year, covering public transport, education, healthcare and government buildings and punishing any infractions with fines.
Support for bans on full-face veils has been growing across Europe since France became the first country to implement such a law in 2011, followed by countries including Belgium and Bulgaria, with partial bans being imposed in Austria and parts of Spain, Italy and Switzerland.
Attempts to ban female employees from wearing headscarves and veils have sparked several legal cases, which have so far seen the European Court of Human Rights and European Court of Justice support national prohibitions.
In the UK, an estate agent is suing her former employer at a tribunal after she was allegedly told to remove her black hijab because it had "terrorist affiliations".
http://www.independent.co.uk/news/world/europe/muslim-woman-court-headscarf-banned-germany-divorce-luckenwalde-burqa-neutrality-law-case-eu-a7849881.html
--------
Miss World Australia becomes the flag-bearer for Islam as the religion of peace
July 19, 2017
The beautiful and elegant Miss World Australia becomes the flag-bearer of peace in Islam. Esma Voloder, a criminal profiler from Melbourne who identifies herself as a Muslim has recently won the Miss world Australia pageant and has grabbed the opportunity to clear misconceptions about Islam and is keen to project the religion in a peaceful light, reported Daily Mail.
The a twenty-five year old pageant winner of Bosnian descent was awarded the $68,000 pearl-encrusted crown on Friday. After receiving the title, she uttered the following words:
"The Islam that I know, that is in the Holy Quran, I don't associate that with any acts that are occurring around the world."
Esma hopes to use the opportunity bestowed to her with the title of Miss World Australia to negate all the misconceptions about the Islamic faith and the stereotypes surrounding Muslims. She has been on record saying:
"A lot of things have been misconstrued about Islam. I feel that a category has been created that is not really what the Holy Quran actually promotes. I believe Islam is about peace, unity, prosperity and inclusion."
Esma's family fell victim to the Bosnian War two decades ago and found a safe abode in refugee camps in Australia when she was just five months old.
In 2008, the pageant winner was crowned Miss Teen Australia and later went on to acquire a degree in Psychology along with competing for more pageants and perusing a career in the fashion industry.
On the stereotyped image of Islam and Muslims tarnished with extremism, Esma commented, "People tend to blame religion for the atrocities that are happening, but if we do that we take responsibility away from the individuals and then we are not able to assess them, and deal with them effectively, because we are blaming an external source."
As the newest Miss World Australia titleholder, Esma will also be the ambassador for Thailand Tourism and Novo shoes.
But the Bosnian beauty said she hopes she can inspire unity with her platform.
"Despite what your personal beliefs are, if we all believe in what is good, we can work together and make this world a beautiful and liveable place while we are here."
https://tribune.com.pk/story/1461508/miss-world-australia-becomes-flag-bearer-islam-religion-peace/
--------
Saudi Snapchat 'model in skirt' released without charge
Saudi police have released without charge a woman who was filmed in a miniskirt at a historic site in the kingdom, the government said Wednesday.
The Saudi ministry of information said police had released the woman Tuesday night and the prosecutor had closed the case.
Police said Tuesday they were questioning the woman after she appeared in a series of videos, initially posted to messaging app Snapchat, wearing a crop top and a high-waisted miniskirt.
The had been filmed walking through the historic fort of Ushaiqer, north of Riyadh, and playing with sand in the dunes.
The videos were uploaded over the weekend to the "Model Khulood" Snapchat account.
The ministry said in a statement that the woman had confessed to walking through the site in a skirt with her hair uncovered but that the footage had been uploaded without her knowledge.
Women are required to cover their bodies and hair in public in most of Saudi Arabia, which has some of the world's harshest restrictions on women.
The kingdom does not allow women to drive and requires them to be accompanied or given written permission by a male relative — usually a father, husband or brother — to study, work or travel.
The videos sparked heated debate among social media users in the region and beyond on questions of gender and rights in the kingdom.
http://nation.com.pk/international/19-Jul-2017/saudi-snapchat-model-in-skirt-released-without-charge
--------
Iran's latest culture battle: Should women in cars keep their heads covered?
July 20, 2017
Reihane Taravati, an outspoken social media activist, was riding in a taxi the other day when she received a stern reprimand from the driver.
Unbeknownst to Taravati, 26, her headscarf — which Iranian women are required to wear as a show of modesty — had slipped down the back of her head, leaving most of her hair exposed.
"Fix your scarf, or the undercover [moral] police will see it," the cabbie told her. He worried about receiving a ticket in the mail, which would cost him about $30.
As Taravati relayed this story while sipping tea with friends in a Tehran cafe, a debate was raging in the Iranian capital that combines two things that people here obsess over: cars and the way women dress.
Specifically: Is the car a public space, where women must clothe themselves modestly in accordance with Islamic laws, or a private space in which Iran's ruling clerics have tolerated a bit more personal freedom?
In this traffic-choked city, private vehicles are the latest battleground in Iran's ongoing culture wars, which Tehran denizens are watching ever more closely after the May presidential election.
There is growing tension between President Hassan Rouhani, who comfortably won reelection and has said that Iran's police should not be empowered to enforce adherence to Islam, and hard-line clerics who favor a stricter interpretation of religious laws.
"President Rouhani has reiterated over and over in the past year that a police officer is not authorized to poke his nose into people's private lives and enforce what they perceive as God's preferred lifestyle," Taravati said.
Questions over what is often referred to as "bad hijab" — a lax interpretation of the official dress code that requires women to cover their hair and figures — tend to rise in the summer along with Tehran's temperatures, which frequently touch 100 degrees in July.
Last week, in the closely watched Friday sermon at Tehran University, a leading cleric, Ayatollah Mohammad Ali Movahedi Kermani, took on the issue directly, saying: "Private cars are not the private sphere."
Kermani invoked the forcible removal of the hijab in the 1930s by Iran's former secular government, led by Reza Shah Pahlavi, and argued that those who flouted the dress code were thumbing their nose at the ideals of the 1979 Islamic Revolution.
"I have heard that in some cars women do not wear hijab at all," he said. "You who don't have proper hijab, you are violating the country's independence. I thank law enforcement for trying to enforce the Islamic hijab."
In the political Shiite Islam that prevails in Iran, there is no concrete boundary between what is private and what is public. Moral police have been known to break up private parties attended by both men and women and arrest people for posting Instagram selfies because they are seen as immodest.
This month, reformist news sites reported that satellite dishes had been seized from the rooftops of private residences in two districts of Tehran. The dishes are officially outlawed — hard-liners view them as a "weapon of cultural invasion" — but a common feature of middle-class households.
Since taking office in 2013, Rouhani has insisted that people's private lives should be protected from the regular police force and the moral police. But since May, Iran's judiciary, which is close to the clerical establishment, has tried to further curtail the social freedoms that Rouhani promised.
"The invisible part of the car, such as the trunk, is a private space, but this does not apply to the visible parts of the car," Hadi Sadeghi, deputy head of Iran's judiciary, said this month.
Golnar Ramesh, a 28-year-old tour guide, said the postelection backlash against Rouhani supporters was a predictable turn in the rivalry between conservative and reform-minded Iranians.
"In public, women and men should have the right to choose what they wear," Ramesh said. "That is the meaning of the 24 million votes given to President Rouhani. It has become a repetitive and vicious pattern to crack down on freedom of choice for clothing after elections, whenever the hard-liners lose."
Shiva Ershadi, a 30-year-old interpreter who works with Afghan refugees in Tehran, recalled driving her car one evening in February 2016 after parliamentary elections in which moderates and reformists won a sizable victory. She was stuck in traffic when she heard a loud banging noise — it was a Basij paramilitary soldier, in plainclothes and sporting a beard, warning her to fix her hijab, which had fallen off her head.
"He was mad with rage and saw people like me responsible for [the election] loss," Ershadi said.
"The logic behind [the hard-liners'] argument is flawed and demagogic. The police consider people as potential sinners who must be punished whenever they are caught, rather than regarding them as respectful citizens entitled to the right of privacy."
Not all Rouhani supporters endorse the view that the car is private. Monireh Turkmanazar, a 66-year-old attorney, said anything visible on the streets should be considered part of the public domain — and subject to police monitoring.
"I think the opposition — whether based abroad or inside Iran — are raising a minor, irrelevant issue to raise pressure on reformists and moderates."
A reformist human rights defender, Saleh Nikbakht, said that because both cars and houses have roofs and windows, both should be considered in the private domain. But the frequent raids on houses show that the private sphere in Iran "has been under attack," he said.
"Hard-liners argue that when the police see through car windows that clear crimes are happening, then they can arrest people," said Nikbakht, 61. "They do not want to distinguish between a woman without a scarf and a true criminal."
Taravati — the free-spirited activist who in 2014 was arrested for participating in an online video set to the hit Pharrell Williams song "Happy" — said the enforcement of Islamic dress was an attempt by hard-liners to punish Rouhani supporters.
"Private life in the car, in the house and in the apartment must be respected," she said. "That is what we voted for, and it is time for the president to deliver."
http://www.latimes.com/world/middleeast/la-fg-iran-cars-hijab-2017-story.html
--------
Water thrown at Muslim women in fake acid attack outside UK mosque
July 19, 2017
Water was thrown over two women standing outside a mosque in an apparent fake acid attack, police are treating as racially aggravated assault.
The women, who were wearing traditional head coverings, were attacked as they waited outside the Bashir Ahmed Masjid in Southampton on Tuesday.
CCTV footage shows a black car slowing down next to them before speeding away. The pair react in horror before realising they are unhurt.
The mosque, in the southern city's Portswood district, has been forced to issue a safety warning to worshippers.
Police described the women as "understandably shaken" while on Facebook the mosque shared their fears that a subsequent attack could involve acid.
It follows a string of acid attacks, including five committed inside 90 minutes in London.
Footage suggests the assault took place at about 2pm local time.
A territorial police force's spokeswoman said: "We received a report yesterday regarding a racially aggravated assault in Portswood Road, Southampton.
"A woman reported that she was stood outside a mosque in Portswood Road, with her friend, when they had water thrown over them by someone in a passing car.
"Our investigations are continuing today and we are in contact with the victims who were understandably shaken by this incident.
"The vehicle is described as a black estate car."
Recent acid attacks have led to calls for tougher controls on corrosive substances, while British Home Secretary Amber Rudd has suggested acid attack convictions could soon carry life sentences.
http://www.dhakatribune.com/world/europe/2017/07/19/water-thrown-muslim-women-fake-acid-attack-outside-uk-mosque/
--------
Afghan, Pakistani Women Push for Role in Peace Talks
July 19, 2017
ISLAMABAD —
Prominent women rights defenders from Afghanistan and Pakistan have jointly called on their governments to push for the inclusion of women in any peace negotiations aimed at easing bilateral tensions and resolving an increasingly deadly Afghan conflict.
The two countries share a nearly 2,600-kilometer border, and landlocked Afghanistan relies mostly on Pakistani transit routes and ports for international trade.
Tensions in relations have undermined bilateral economic and political ties, however, because of allegations that Islamabad covertly supports the Taliban sustain the Afghan insurgency.
Pakistani officials deny the charges. In recent months, Pakistan repeatedly has closed border crossings with Afghanistan, alleging the neighboring country is sheltering militants and helping them in plotting attacks against Pakistan.
The unilateral border closure has added to the woes of war-hit Afghans and their business, according to traders on both sides.
Kabul dismisses accusations it is behind a recent spike in terrorist attacks in Pakistan.
While official dialogue has failed to improve rampant mistrust and suspicion-marred ties, members of an Afghan women's delegation visiting Islamabad to meet with their Pakistani counterparts are emphasizing the need to include women leaders in the peace-building efforts.
Need to include women
They say the Afghan war and tensions between the two countries are mainly hurting women and children on both sides of the border, but their problems have not been properly assessed and addressed.
"So far only men have been involved in the peace process between Afghanistan and Pakistan, and they have not achieved the desired results," said Gul Maki Sultanzada, a lawyer by profession who hails from Afghanistan's southern Kandahar province.
"It is now imperative to include women in the peace process, talks and negotiations. And for this purpose the empowerment of women is a vital prerequisite and the two governments need to urgently address this gap," she noted.
Pakistani rights activist, Tahira Abdullah, acknowledges bilateral relations lately have worsened, but she says women's participation in any renewed peace initiative could help reverse the trend.
"If any kind of peace process is going to happen in Afghanistan, and between Pakistan and Afghanistan, it will not happen without the inclusion, the participation and the inputs of women. There will be no peace without it," Abdullah observed.
The Kabul government alleges that Taliban insurgents use sanctuaries in Pakistan to plot attacks in Afghanistan. These are charges Islamabad strongly rejects, instead blaming the Afghan intelligence agency for sheltering and aiding anti-Pakistan militants.
Critics say that with the Taliban refusing to engage in peace talks with the Afghan government and instead inflaming insurgent activists in the country, there is virtually no chance of a peace process taking root in the foreseeable future.
The stalemate, observers say, will continue to be a stumbling block in any attempt aimed at normalizing relations between Afghanistan and Pakistan.
https://www.voanews.com/a/afghan-pakistan-woment-peace-talks-role/3950480.html
--------
New app helps Saudi women claim their rights
By Zahraa Alkhalisi
July 20, 2017
DUBAI (CNNMoney) -- Thousands of Saudi women are turning to an app to figure out how they can get the law on their side in the deeply conservative kingdom.
The "Know Your Rights" app was launched in July 2016 by a Saudi lawyer, Nasreen Alissa. It has been downloaded 55,000 times since then.
"I noticed whenever I go out to gatherings and meetings, women did not know their rights, even educated women, women who studied abroad didn't know their rights," Alissa told CNNMoney.
"I figured why not create an app and I can always update it with new laws and regulations."
After studying in the U.K. and Canada, Alissa moved to Saudi Arabia in 2012 to be closer to her family and work as a corporate lawyer.
That's when she started working on "Know Your Rights," investing her own funds to build the IOS and Android app.
Saudi Arabia's legal framework is based on Islamic law, and also incorporates royal orders and decrees. A system of guardianship laws makes it hard for many women to work, travel, undergo medical procedures and go to university without the permission of a male relative or spouse.
Other rules, such as dress codes or the ban on women driving on public roads, are based on interpretations of religious edicts.
Saudi police this week detained a woman who was shown in a short video on social media walking in public wearing a miniskirt and a crop-top. Officials said she was dressed in "offensive clothing" but later released her without charge.
There are few free sources of advice for women left confused about what they can or can't do. Alissa's app offers help in important areas of family law.
"Know Your Rights" covers issues such as divorce, custody of children, inheritance and domestic violence. Alissa said she is trying to find ways to help women become "normal, regular" citizens.
The app uses animated videos to tackle difficult situations women face. For example, a 45-second video shows a woman in a troubled marriage with an abusive husband and asks how she can split from him so she can provide her children a healthier environment.
It also answers frequently asked questions, such as "I want to get married, but my guardian is objecting to the idea. What shall I do?"
There's a section for expats who are married to Saudi men, and a directory of lawyers. Alissa would also like to introduce a system for women to rate and review judges based on their experiences in court.
Human rights groups have long criticized the kingdom over its treatment of women. But there are signs of change.
King Salman ordered a review of some of the guardianship laws in May, and his son -- Crown Prince Mohamed bin Salam -- is leading an economic overhaul, known as Vision 2030. One of the goals is to get more women into work.
"Saudi Arabia has a tremendous opportunity to root out all vestiges of the guardianship system," Sarah Leah Whitson, Middle East director at Human Rights Watch said in a report in May. "The king should also require state agencies to actively prevent discrimination by private individuals and businesses."
Alissa said many laws and regulations need updating.
She wants the Ministry of Justice to change some legislation, such as the legal age for when a girl is considered an adult. Alissa said the age for a woman is not determined but it is set at 18 for men. She also wants to put an end to child marriages.
"An app is not enough... the country is moving forward in that but it's really baby steps," she said.
Alissa, who relies on a team of 10 volunteers, has no plans to charge for the app's family law service because it's all about "helping people," she added.
http://www.weny.com/story/35928009/new-app-helps-saudi-women-claim-their-rights
--------
Sold by Daesh in Raqqa, Yazidi female fighters back for revenge
19 July 2017
RAQQA, Syria: She was trafficked into Raqqa as a sex slave by Daesh but managed to escape. Now Yazidi fighter Heza is back to avenge the horrors she and thousands of others suffered.
Her hair tucked under a tightly wrapped forest green shawl embroidered with flowers, Heza says battling Daesh in its Syrian bastion has helped relieve some of her trauma.
"When I started fighting, I lifted some of the worries from my heart," she says, surrounded by fellow Yazidi militia women in Raqqa's eastern Al-Meshleb district.
"But it will be full of revenge until all the women are freed."
She and her two sisters were among thousands of women and girls from the Kurdish-speaking Yazidi minority taken hostage by Daesh as it swept into Iraq's Sinjar region in August 2014.
The women were sold and traded across the jihadists' self-proclaimed "caliphate" in Syria and Iraq. Around 3,000 are believed to remain in captivity, including one of Heza's sisters.
"When the Yazidi genocide happened, Daesh snatched up the women and girls. I was one of them," Heza recounts.
The UN has qualified the massacres Daesh carried out against the Yazidis during the Sinjar attack as genocide.
Daesh separated Yazidi females from the men in Sinjar, bringing the women and girls into Raqqa.
"They took us like sheep. They chased us and humiliated us in these very streets," Heza said, gesturing to a row of heavily damaged homes in Al-Meshleb.
The eastern district was the first neighborhood captured from Daesh by the US-backed Syrian Democratic Forces, a Kurdish-Arab alliance, in their months-long offensive to seize the jihadist bastion.
SDF officials said that their forces had already rescued several female Yazidi captives, including a 10-year-old girl, since they entered Raqqa city in June.
Over the course of her 10-month captivity in Raqqa, Heza was bought by five different Daesh fighters.
Her voice strained but her brown eyes still sharp, the young fighter says she prefers not to detail the abuses she suffered.
But in an indication of the extent of her trauma, Heza — whose name means "strength" in Kurdish — says she tried to commit suicide several times.
Finally, in May 2015, she escaped from the home where she was being held to a nearby market, and she found a Syrian Kurdish family who smuggled her out of the city.
She traveled around 400 kilometers across war-ravaged northeast Syria back into Iraq to join the Shengal Women's Units (YPS).
The YPS — named after the Kurdish word for Sinjar — is a part of the US-backed SDF.
Heza underwent intensive weapons training, and when the SDF announced its fight for Raqqa in November 2016, she and other YPS fighters were ready.
"When the Raqqa offensive began, I wanted to take part in it for all the Yazidi girls who were sold here in these streets," she says.
"My goal is to free them, to avenge them."
The SDF spent months tightening the noose around Raqqa before breaking into the city in June, and the YPS took up their first positions in Al-Meshleb several weeks later.
It was the first time Heza was back in the northern Syrian city since her escape.
"When I entered Raqqa, I had a strange, indescribable feeling. Despite the enormous pain that I carry, I felt joy," the fighter says.
Rifles are lined up in neat rows inside the abandoned home used by the YPS as their base in Al-Meshleb.
Yazidi women in brand-new uniforms gather around a crackling walkie-talkie for news from the front.
Some of them, like 20-year-old Merkan, have traveled far to join the fight against Daesh.
Her family is originally Yazidi Turkish, but Merkan and her 24-year-old sister Arin were raised in Germany.
When they heard about Daesh's infamous sweep into Sinjar in 2014, they were outraged.
"I could never have imagined a world like this. I didn't expect things like this could happen," Merkan says.
"I was in so much pain," says the tall militiawoman.
Her older sister decided to travel to Sinjar in late 2014 to join the YPS, and Merkan followed in early 2015.
"I only had one goal in front of me: Liberating the Yazidi women, and all women who were still in Daesh's clutches."
She had scribbled a similar pledge in Kurdish on a wall behind her.
"Through strength and struggle, we Yazidi women fighters came to Raqqa to take revenge for the Aug. 3 massacre," the graffiti says, referring to when Daesh entered Sinjar.
"We are avenging Yazidi girls," it adds.
"Yesterday there was Al-Qaeda and today there's Daesh. We don't know who will come next. I want to go anywhere there is injustice," Merkan said.
Fellow fighter Basih is sitting quietly in a neighboring room, chain-smoking cigarettes in the muggy July afternoon.
"We suffered the ugliest forms of injustice. Our revenge will be proportional to it," she said.
http://www.arabnews.com/node/1131926/middle-east
--------
Afghanistan appoints second woman as district governor
Jul 19 2017
The Afghan government has appointed another woman as the district administrative governor amid ongoing efforts to increase the role of the women in the governance, politics, and other social affairs.
The Government Media and Information Center (CMIC) informed regarding the appointment of the second female district governor on Wednesday.
According to GMIC, Dortaj Aimaq has been appointed as the district administrative chief of Charbagh district of northern Faryab province.
Faryab is among the relatively volatile provinces in northern parts o the country.
In the meantime, GMIC said Ms. Aimaq has previously served as a member of the provincial council, holding Bachelors degree in law.
She has also served as an activists and a school teacher in northern Faryab province, GMIC added.
This comes as President Ashraf Ghani vowed to increase the role of the women in the government institutions with the formation of the government of national unity.
Numerous women have been appointed in different sectors, including ministries and other high level government institutions, although some of them have been dismissed during the parliamentary confidence voting.
http://www.khaama.com/afghanistan-appoints-second-woman-as-district-governor-03178
--------
Why this Palestinian-Muslim woman works for a Jewish museum
19 July 2017
Dressed in a headscarf and a robe, 24-year-old Palestinian Nesreen Hajjaj, routinely leads people through one of the world's most significant Jewish sites in Berlin. She sees this as her contribution to peace.
Nesreen works as a freelance tour guide at the Anne Frank Center in Berlin – a vacancy recommended by a former coworker, who is also Palestinian. Part of her duty is to provide commentary on the history and struggles of the Jewish people during World War II at the height of Nazism.
"We talk about different topics such as war, discrimination, and identity…but among the important ones is the Old Jewish Cemetery as it is the first in Berlin'', says Hajjaj.
Located near the Anne Frank Center, the Old Jewish Cemetery was once a resting place for thousands of Berlin's Jews, which was eventually destroyed by the Nazis in 1943.
Similarities and differences
Nesreen believes that working at a Jewish museum shows that Muslims are tolerant toward other cultures. However, there are Palestinians who consider her decision unjustifiable, claiming that there are plenty of other jobs available to her.
Some social media users are calling her an infidel and a hypocrite. Nesreen, however, says that we must look at our similarities rather than differences."We must be open-minded toward different people, especially if you live within their societies," she says.
The few Arab tourists who have met Nesreen at the Center find her job interesting.
Palestinian situation
Nesreen sees similarities between the European-Jewish situation during the Nazi era and the suffering of the Palestinians today. "So many things that happened to the Jews during the Nazi rule are happening to the Palestinians now. Jewish people were kicked out of their homes and denied an education. Today Palestinian lands and houses are being conquered", she says.
Human Rights Watch continues to hold Israel responsible for systematically denying Palestinians their basic social and economic rights.
Future plans
Nesreen is initiating an awareness program with the German authorities to help combat discrimination against Muslims in Berlin and hopes to better people's understanding of Islam.
She also teaches Arabic and Islamic studies in a few organizations in the city and is at early stages of writing a biography that will also highlight the challenges faced by Muslim-Palestinian communities in Germany.
Nesreen's parents are Palestinians from Lebanon's Nahr al-Bared. They migrated to Berlin 28 years ago. She has never visited Palestine as she was granted a German Identification card only in 2014.
https://english.alarabiya.net/en/features/2017/07/19/Tensions-rise-as-Lebanon-bans-protests-calling-for-better-Syrian-refugee-conditions.html
--------
University of Jeddah to offer women students PE major
By Hussain Al-Hazazi
July 20, 2017
JEDDAH — The University of Jeddah has announced plans to introduce a Physical Education and Sports Sciences major for female students at the beginning of next academic year.
The university said students would be able to obtain a bachelor's degree or a diploma in the field. The degree is eight semesters long, each semester with 15 weeks. The curriculum adheres to the teachings of Islam.
The university aims to produce graduates who are qualified academically and vocationally to meet the requirements of the job market in both the private and public sectors.
The curriculum encompasses academic knowledge, vocational experience and the necessary field exposure, the university said, adding that it has signed agreements with companies from the private and public sectors in this regard.
The university aims to achieve the objectives of Saudi Vision 2030 and empower its students to enter the job market with confidence.
The curriculum prepares the students to work for national and regional sport clubs, Olympics committees and public and private sports organizations, the university said.
The action plan for the new degree has three stages. The first stage will serve the short-term goals of the program and will include preparatory courses in physical and health education.
The preparatory program will last two years. The second phase is to enable students of the Bachelor's of Education program to specialize in sports sciences and physical education.
The third phase serves the long-term goals of the program. It includes a bachelor's degree in sports sciences and physical education in which the students can concentrate on one of three options: physical and health education, health and fitness training, and physical and entertainment activities management.
http://saudigazette.com.sa/article/513321/SAUDI-ARABIA/Physical-Education
--------
URL: https://www.newageislam.com/islam-women-feminism/german-judge-bans-muslim-woman/d/111899
New Age Islam, Islam Online, Islamic Website, African Muslim News, Arab World News, South Asia News, Indian Muslim News, World Muslim News, Women in Islam, Islamic Feminism, Arab Women, Women In Arab, Islamophobia in America, Muslim Women in West, Islam Women and Feminism