New Age Islam News Bureau
18 Sept 2017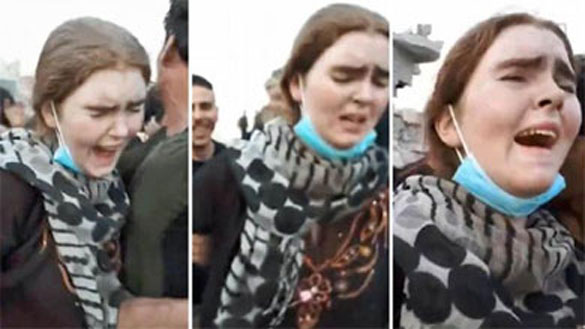 She was dubbed the Belle of Mosul by soldiers during what was described as a 'walk of shame' to a make-shift prison. (Screengrab)
----
• Muslim Rugby Fan Wears All Blacks Hijab to Springboks Match
• UP Govt Order Asks Madrasas to Ferry Women to PM Modi's Minority Interaction Event
• First-Ever Women University in Gilgit Baltistan Soon
• Indonesian Women Hardliners Producing Future Jihadists for Islamic State
• US Central Command Congratulates First Saudi Woman to Join NASA
• Iran Compound Women Win Gold at Para Worlds
• Women Seeking More Instrumental Role in Aviation Industry
Compiled by New Age Islam News Bureau
URL: https://www.newageislam.com/islam-women-feminism/german-isis-bride-nicknamed-belle/d/112567
--------
German ISIS Bride Nicknamed 'Belle of Mosul' May Face Death Penalty
17 September 2017
Iraq's prime minister said the teenage German girl found in Mosul last month who ran away from home after communicating with ISIS extremists online is still being held in a Baghdad prison.
Speaking to The Associated Press on Saturday, Haider al-Abadi said Iraq's judiciary will decide if the teen will face the death penalty.
"You know teenagers under certain laws, they are accountable for their actions especially if the act is a criminal activity when it amounts to killing innocent people," he said.
Sixteen-year-old Linda W. ran away last summer from her hometown of Pulsnitz in eastern Germany. She was found in the basement of a home in Mosul's Old City by Iraqi forces who are driving ISIS militants from the city.
According to local reports, she was dubbed the Belle of Mosul by soldiers during what was described as a 'walk of shame' to a make-shift prison.
Captured Indians
In the interview, Abadi also said the fate of 39 Indians captured by ISIS when the extremists initially overran Mosul three years ago is still unknown.
Abadi said the situation is "still under investigation at the moment. I cannot comment any further."
Indian Foreign Minister Sushma Swaraj had told relatives of the workers in July that they might be held in a prison in Badush, northwest of Mosul, which Iraqi forces have taken back from ISIS.
The abducted workers, mostly from northern India, had been employed by an Iraqi construction company. Thousands of Indians worked and lived in Iraq before ISIS swept across the country's north and west in 2014.
Iraqi forces declared victory over ISIS in Mosul in July after a grueling nine-month fight.
https://english.alarabiya.net/en/News/middle-east/2017/09/17/German-ISIS-bride-nicknamed-Belle-of-Mosul-may-face-death-penalty.html
--------
Muslim Rugby Fan Wears All Blacks Hijab To Springboks Match
Sep 18, 2017
All Blacks fans are rejoicing after Saturday night's thrashing of the Springboks - including a woman spotted in a customised All Blacks hijab.
Two photos of the rugby fan at QBE Stadium were shared on Twitter by media commentator Russell Brown, with the caption "Noticed this last night and I still can't tell whether it's an #AllBlacks hijab or just a beanie and hoodie."
Rehana Ali, the woman in the photo, responded to the tweet, saying she was "a great and loyal supporter of the All Blacks".
Ms Ali told Newshub her sons had it made for her during the 2011 Rugby World Cup.
"I'm a big All Blacks supporter and generally wear a hijab all the time as I am Muslim. My boys thought it was a great idea to have my All Blacks hijab made up for me to wear on game days."
She likes to watch the All Blacks whenever they play in Auckland, and Saturday night's game was no different.
"It was thrilling. I had a lot of South Africa supporters around me so had great pleasure cheering on our boys."
Ms Ali admires all the boys' skills, but has a particular liking for Sonny Bill Williams.
http://www.newshub.co.nz/home/sport/2017/09/muslim-rugby-fan-wears-all-blacks-hijab-to-springboks-match.html
--------
UP Govt Order Asks Madrasas to Ferry Women to PM Modi's Minority Interaction Event
September 18, 2017
The Uttar Pradesh government has asked madrassas in Varanasi to make arrangements so that women from the minority community attend an event where Prime Minister Narendra Modi would interact with them.
The move, however, evoked protests from a body of madrassa teachers.
In a letter sent to all aided and non-aided madrassas of Varanasi, district minority welfare officer Vijay Pratap Yadav said, "On September 22, Prime Minister Narendra Modi is scheduled to hold a 'Samwaad' programme with women from the minority community at the DLW auditorium".
The auditorium has a capacity of 700, the letter said.
"On that day, the responsibility of ferrying women audience to the programme venue is assigned to you," the officer's letter to the madrassas said.
The letter dated September 15 says that the madrassas should ferry around 25 women each to the event.
Reacting to the letter, general secretary of the Teachers' Association Madaris Arabia, Deewan Sahab Zama, said that the madrassas had been assigned a task that should have been given to BJP workers.
He demanded that the order be withdrawn. The PM is on a two-day visit to Varanasi from September 22.
http://indianexpress.com/article/india/up-govt-order-asks-madrasas-to-ferry-women-to-pm-modis-minority-interaction-event-4848810/
--------
First-Ever Women University in Gilgit Baltistan Soon
September 18, 2017
ISLAMABAD - The first-ever women university of international standard would be established in Gilgit Baltistan soon to help female students of the region pursue higher education without any hurdles, Chief Minister Gilgit Baltistan, Hafiz Hafeezur Rehman said.
Addressing a seminar at Karakoram University, the Chief Minister said that the universities have an important role in character-building of students besides leading them to better employment opportunities.
Lauding the role of Karakoram University for organising the seminar, he said that this university has mandated to work as a Think Tank to guide the people of the region on various local social and other issues.
He urged the teachers that character-building of the students should be their mission, adding they should support every student to acquire higher education.
Speaking on the occasion, Reactor International Islamic University, Dr. Masoom Yaseen Zai said, that if a society invests on a student, the student also has responsibility to return manifold back to the society when he is equipped with skills and education.
He said that by educating the students, the teachers can play a vital role to help maintain peaceful environment in the country and rid it of uncertainty and lawlessness.
On the occasion, Vice Chancellor Karakoram University, Dr. Khalil Ahmed lauded IIUI for selecting this university for this important seminar.
Among others, Acting President IIUI, Dr. Muhammad and other educationists including Bashir Khan, Dr. Muhammad Ramzan, Sabookh Syed, Dr. Kausar Yaseen Zahi, Professor Ikram Virik, Syed Muzamil Hussain, Dr Masood Khattak, Nasir Fareed and other also spoke on the occasion.
http://nation.com.pk/national/18-Sep-2017/first-ever-women-university-in-gb-soon
--------
Indonesian women hardliners producing future jihadists for Islamic State
September 16, 2017
INDONESIAN women denied a role by terror groups Jemaah Islamiah and al Qaeda are enlisting as soldiers of the Islamic State, prepared to attack their country's new-found democracy and embracing orders to reproduce and educate children as future jihadists.
Intelligence officials in Jakarta told News Corp Australia they believed there were at least 500,000 Indonesians "activated for jihad" on Australia's doorstep, attributing the huge number to the recent emergence of women hardliners.
Australia has begun paying aid money to reintegrate mainly female jihadists into society in a world-first program that is so far seeing little success.
Mira Kusamarini, executive director of C-SAVE, or Civil Society Against Violent Extremism, said most were deaf to deradicalisation.
But she said they had to try something until Indonesia passed laws, possibly later this year, criminalising citizens who had become foreign fighters.
"It's the role of women, through their reproductive role, to prepare and produce the future jihadists," said Ms Kusamarini.
"Women see themselves as doing something holy and good. They say, 'I'm serving the jihadists, I'm serving the heroes'."
More than 500 Indonesians, mostly women and children, have been deported from Turkey after being blocked trying to enter Syria and now live openly in the community, where they prefer to home school children outside of the government system.
Another 180 who have returned from the battlefield having fought or acted in support roles for ISIS are also living freely, with so far no laws available to prosecute them.
Earlier this year, DFAT provided an initial $272,000 in start-up funding to C-SAVE.
So far, it has accommodated 180 people for one-month stays in a deradicalisation centre in east Jakarta, before they are released with minimal follow-up.
The program — which seeks to co-ordinate the repatriation of jihadists from Turkey and Syria and to gently approach the mothers on their views, including encouraging traumatised children not to be afraid of singing or clapping — has had mixed results.
"Most of the deportees would still like to get to the caliphate," said Ms Kusamarini.
The women jihadists reject mainstream news but follow extremist social media. They appear unaware that ISIS is falling apart in Syria and Iraq, believing instead the world is at "the end of days" for all except those who live in Syria under protection of the caliphate.
Fida Hanifah Kaelani, 23, a follower of Jakarta extremist Syamsudin Uba, who spent six months in prison for supporting ISIS, said it was her ambition to live in the Syrian caliphate or else be part of one at home.
Forbidden to allow anyone outside her family and religious circle hear her voice, she was granted rare permission by her husband and Syamsudin, who openly supports ISIS leader Abu Bakr al-Baghdadi.
"This is a dream I am chasing," said Fida. "But the obstacles are many. Because of finance, the path to get there is difficult, the point of departure it is difficult, migrating is difficult, but the result will be beautiful."
Asked if she feared violence in Syria, she said: "As Muslims, we are only afraid of one thing and that is Allah. Inshallah, we will not be afraid, we will not tremble at what they will do to us.
"If you're asking me do I feel under pressure (in Indonesia), yes, of course I'm under pressure because we have to follow the democratic ways. Democracy is not part of Islam."
The first-ever would-be Indonesian female suicide bomber was sentenced a fortnight ago for planning to attack the presidential palace last year. Her lawyer told News Corp Australia: "She has no regrets."
Taufik Andre, executive director of Jakarta's the Institute for International Peace Building, which is also trying to provide a counter-narrative to jihad and terror, said the role of women jihadists is "a new phenomenon for me".
"I've studied Jemaah Islamiah and women were never attracted to it like they are now. They were not important in JI — they were second or third layer. Now, with ISIS, they have much more strategic role.
"Using mobile phones, they do recruitment and fundraising. Now they can do the same as a man. The fatwa from ISIS clerics says you can optimise your potential, even women or kids. You can fight the enemy using any tools or equipment."
http://www.heraldsun.com.au/news/world/indonesian-women-hardliners-producing-future-jihadists-for-islamic-state/news-story/133e070f77bfe5fae00b887baea856b0
--------
US Central Command congratulates first Saudi woman to join NASA
Sep 18, 2017
Jeddah — US Central Command has congratulated Mishaal Ashemimry, the first Saudi woman to join US space agency NASA.
In a tweet it congratulated Ashemimry, saying she is "an inspiring model for women."
Center for International Communication (CIC), an initiative of the Saudi Ministry of Culture & Information, retweeted: "Congratulations to @mishalashemimry the 1st #Saudi #female to join @NASA."
Mishaal Ashemimry is an aerospace engineer, who serves as CEO of MISHAAL Aerospace based in Miami, Fla. The goal is to send small satellites into orbit with cost-effective space access vehicles known as the M-Rocket Series.
"When I look back at the moment I was inspired, when I was six, it somehow puts things into perspective. I guess you can say I get my inspiration through my younger eyes staring at the sky in awe and enthusiasm," Mishaal said an earlier interview.
"My fascination with space started while gazing at the stars in the Unayzah desert. Since then my focus has been to become an aerospace engineer and contribute to the development of space vehicles and rockets," she said.
Mishaal previously worked for Raytheon Missile Systems' Aerodynamics Department and contributed to 22 different rocket programs. Her professional experience and areas of expertise include: aerodynamics, wind tunnel testing, vehicle design, predictive simulation and analysis and rocket stage-separation analysis, with a strong focus on computational tool development.
Mishaal earned Bachelor of Science Degrees in Aerospace Engineering and in Applied Mathematics from Florida Institute of Technology in Melbourne, Florida, and a Master of Science Degree in Aerospace Engineering, also from Florida Institute of Technology. Her academic focus included: experimental and analytical aerodynamics, rocket design and nuclear thermal propulsion.
She graduated Magna Cum Laude from Florida Institute of Technology with two Bachelor of Science degrees in Aerospace Engineering and Applied Mathematics on May 05, 2006 and a Master of Science degree in Aerospace Engineering on December 15, 2007.
As a graduate research assistant Mishaal worked on a NASA Marshall Space Flight Center project on nuclear thermal propulsion. She analyzed and designed a new thermal nuclear rocket engine for Mars Missions for NASA. She analyzed and modeled the thermo-fluid behavior inside the nuclear core of the 1960s NERVA-Type reactors to better understand the issue of large wall thermal gradients and to benchmark codes to design our new nuclear thermal rocket engine. The objective of her work was to design a nuclear thermal rocket that minimizes or eliminates the thermal issues experienced by the 1960s NERVA-Type reactors.
http://saudigazette.com.sa/article/517388/SAUDI-ARABIA/NASA
--------
Iran compound women win gold at para worlds
September 17, 2017
China opened with a 59 to take a four point lead. But Iran then found their mark, and reeled off ends of 59, 57, and 58 to win by six points.
Incredibly, Iran beat China 229-223 and won the gold medal.
It was Iran's second gold medal in the competition after Zahra Nemati claimed a gold medal in women's recurve on Saturday.
"This gold medal shows how much we are dedicated to our country and how much we love our country," Iran's Somayeh Abbaspour told worldarchery.org. "This was a dream for me and of course any athlete who wishes to win gold. It's amazing."
"The goal was to win a gold medal and we did. China was shooting well, but we kept shooting well too. Thank god everything was perfect and my teammates shot well. Thank god we won!"
http://www.tehrantimes.com/news/416856/Iran-compound-women-win-gold-at-para-worlds
--------
Women Seeking More Instrumental Role in Aviation Industry
Sep 18, 2017
T he Iranian aviation industry, which employs about 30,000 people, is generally known to be a male-dominated domain.
According to Maqsoud As'adi Samani, secretary of the Association of Iranian Airlines, although there is no accurate data on the share of male and female employees, it is not wrong to assume that the role of women in the industry is meager.
"However, things are changing and it seems more women are taking up more positions in Iran's aviation industry," he said.
In July, Farzaneh Sharafbafi officially became the first woman in history to take charge of the country's flag carrier Iran Air, otherwise known as Homa.
At the First International Civil Aviation Exhibition, Financial Tribune learned about a venture focused on women in the aviation industry: The Association of Women in Iran's Aviation Industry.
Being held for the first time in Iran, AERO PERSIA 2017 opened at Tehran's International Permanent Fairgrounds on September 15 and concluded on Sunday, with the aim of paving the way for increased engagement of credible international companies in Iran to keep the country's aviation industry up-to-date.
The association was established in December 6, 2016, with the aim of highlighting women's endeavors and dedication in this industry.
"Our main objective is to put forward a competency-based view regarding women in this industry and diminish gender-based views," Fahimeh Ahmadi Dastjerdi, the founder and managing director of the association, said.
One of the few women pilots in Iran, Dastjerdi started working in the industry in 2006 as a flight engineer.
The Association of Women in Iran's Aviation Industry covers women working in the Iranian aviation industry, including pilots, flight attendants, dispatchers and those working at airport traffic control tower, maintenance sections and offices.
"Being newly-established, the association currently has under 100 members," she said.
"The presumption in the society is that the aviation industry is male-oriented. You may only see female pilots or flight attendants but there are many women behind the scenes working tirelessly in this industry to make everything go smoothly,"
Dastjerdi said lack of sponsorship is a major issue for our association.
She believes lack of trust and the prevailing views in this industry have got in the way of women to have the necessary self-esteem to enter this industry.
Zahra Salehian, the only female aviation medical assessor at Iran's Civil Aviation Organization and a prominent member of the association, told Financial Tribune that the establishment of the association certainly helps women in the industry gain more recognition but they still have a long and very difficult way to go.
"Financial issues have stopped us from putting our good ideas into action. If we get a good sponsor, we can achieve great things," Salehian said.
She started working in 1992 at Iran Air.
"When a woman wants to enter an industry that men have taken over, there is a lot of resistance, so patience is key and women can prove themselves by showing their capabilities and boosting their knowledge," she said.
https://financialtribune.com/articles/economy-business-and-markets/72587/women-seeking-more-instrumental-role-in-aviation
--------
URL: https://www.newageislam.com/islam-women-feminism/german-isis-bride-nicknamed-belle/d/112567
New Age Islam, Islam Online, Islamic Website, African Muslim News, Arab World News, South Asia News, Indian Muslim News, World Muslim News, Women in Islam, Islamic Feminism, Arab Women, Women In Arab, Islamophobia in America, Muslim Women in West, Islam Women and Feminism