New Age Islam News Bureau
12 Sept 2013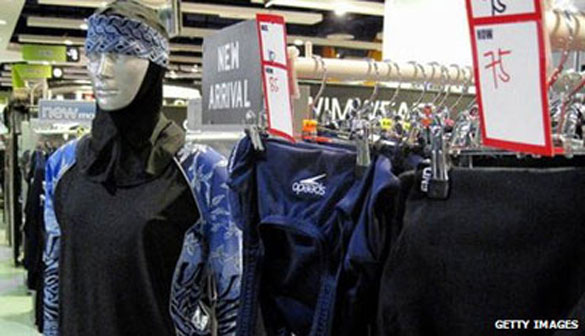 Photo: Some Muslim schoolgirls use the "Burkini" to take part in swimming lessons
--------
• Many Palestinian Women Surrender Inheritance for Marriage
• Female Police to Protect Egyptian Women against Sexual Harassment
• UK Officials Must Stop 'Tip-Toeing Around Race in Sex-Gangs'
• UK's 'First Female Muslim Minister' Promotes Women in Leadership in the UAE
• Birmingham College Niqab Ban: There's more Than Meets the Eye?
• First Black African Woman Nominated For Booker Prize
• Afghan Film Aims to Break Rape Taboo
• Women 'Rising Stars Of Emerging World'
• How Israel Stopped Trafficking in Women
• Women's Complaints Units Still Struggling with Filing Firs in Peshawar, Pak
• NA-5, NA-27 By-Polls: EC of Pak Inquiries Find No Women Vote Bar
Compiled by New Age Islam News Bureau
URL: https://newageislam.com/islam-women-feminism/german-court-rules-muslim-girls/d/13471
-----------
German court rules Muslim girls must join swimming classes with boys
12 September 2013
A German court ruled on Sept. 11 that Muslim girls must take part in school swimming lessons with boys, in a landmark decision that touches on the sensitive relationship between religion and the state.
The decision by Germany's top court for public and administrative disputes signals that the state's constitutional obligation to educate children can take precedence over customs and practices linked to an individual's religious beliefs.
The court said Muslim schoolgirls could not be exempted from swimming lessons, provided they were allowed to wear so-called 'burkinis', full-body swimsuits worn by many Muslim women which leave only the face, hands and feet exposed.
The plaintiff was a Muslim girl, originally from Morocco, who goes to school in the western state of Hesse. Her parents have tried for several years to stop her from joining swimming lessons with boys. She was 11 years old when the case started.
"The plaintiff has not made sufficiently clear that ... taking part in co-educational swimming lessons with a burkini breaches Muslim rules on clothing," said the Federal Administrative Court in Leipzig, rejecting her appeal.
Two courts in Hesse had already rejected her bid to be exempted from swimming lessons.
However, the girl's lawyer argued that she was embarrassed to see boys wearing nothing but swimming trunks.
"The Koran not only forbids being seen by others in light clothing but she herself should not see boys and girls with (swimsuits) on," Klaus Meissner, her lawyer, was quoted in German media as saying before the hearing.
German Chancellor Angela Merkel and her centre-right government have sought dialogue with the country's roughly four-millions Muslims, but have also said they must make an effort to integrate and learn German.
Burkinis banned in some public pools in France
The question of Muslim girls taking part in physical education and swimming lessons has prompted legal disputes in several European countries in recent years, highlighting the challenge of accommodating different religious beliefs.
German Islamic groups say they are not against burkinis.
"From our point of view, a full body swimsuit is appropriate and acceptable in Islam. However, freedom of belief and conscience should be respected," Aiman Mazyek, head of Germany's Central Council of Muslims, told German radio.
In May, the Swiss Supreme Court rejected a Muslim family's case against a school rule that their daughter had to take part in swimming classes and could not wear a burkini.
In staunchly secular France, which has banned religious dress such as Muslim headscarves and Jewish skullcaps as well as large Christian crosses in state schools, some public swimming pools have banned burkinis
http://www.hurriyetdailynews.com/german-court-rules-muslim-girls-must-join-swimming-classes-with-boys.aspx?pageID=238&nID=54306&NewsCatID=351
-----------
Many Palestinian Women Surrender Inheritance for Marriage
By: Rasha Abou Jalal
12 September 2013
GAZA — "Rejected," Asmaa's family responded, when young Ahmed proposed to their daughter. According to Palestinian tradition, which Asmaa's family has followed for decades, daughters should not marry men from outside the family for fear that the family's property and real estate will be transferred to others. Ahmed does not belong to Asmaa's family.
Ahmed and Asmaa, who did not want to disclose their surnames, are colleagues who majored in construction engineering. They had liked each other since their college days and had been intending to get married since that time. They did not expect, however, that this desire would come to an end or that their hopes of building a married life filled with love and happiness would fail to materialize.
Asmaa cursed her bad luck. She told Al-Monitor, "I belong to a rich family that owns real estate. They fear that these properties will be transferred to other families, so they oppose marrying off their daughters to young men from outside the family." Asmaa confessed that she had tried to get around her family's objection, with support from her female cousins, but ended up "disappointed."
Asmaa explained that her family offers any girl who wants to get married two options — marry a family member and retain her rights to property and inheritance or marry a man from outside the family and sign a waiver relinquishing all rights to her inheritance upon the death of her father.
Omar Nawfal, head of the Sharia Court of Appeal, told Al-Monitor that Islam prohibits customs that deny women their inheritance rights. In a case like Asmaa's, a woman can resort to the judiciary following the death of her father, regardless of the husband's family.
Asmaa further revealed, "There is a high probability that I will have a child with a disability if I marry one of my relatives. This is what happened with many of my cousins. They ended up either divorced or their husbands took on a second wife from another family," she revealed. The disabilities are the result of decades of intermarriage in her family.
"A man from my family can easily marry a girl from outside the family, but we, the girls, are not entitled to marry men from another family. This is sheer injustice," she added in an indignant and mocking tone.
Nawfal said that women can approach the courts if their fathers refuse to allow them to marry a man for the sake of maintaining the inheritance if the husband is capable of financially looking after his wife. Nawfal stressed that both Sharia and civil law give judges the authority to authorize a marriage and override a father's objection. Asmaa, however, cannot take that path.
"This does not fit the nature of our customs and traditions in Palestinian society. Girls who resort to the courts face endless family problems, even if they end up marrying the guy they want," she said. Thus, Asmaa has given up and is waiting to be married to a member of her family.
Nawfal said that by not pursuing their legal rights, women will lose these rights. He stressed that women are entitled to receive their inheritance and are free to use it without referring to anyone, "unless they waive their rights of inheritance." Nawfal noted that inheritance issues rank third among all cases filed before the judiciary, outnumbered only by issues related to debt and accidents and compensation.
Faten Azzak, a lawyer specializing in cases where women have been denied their inheritance, confirmed that refusing to marry off women to men from a different family stems from a desire to avoid transfering property to other families. It is a common custom among families of all income levels, she asserted.
"This does not mean that there aren't girls who marry outside the family, but this comes at the expense of their inheritance rights. There are many ways [fathers can] circumvent these rights, such as writing wills, resorting to consensual distribution or granting sons the real estate and land through fake sales," Azzak told Al-Monitor.
"Most of the women complaining about this do not get any of their inheritance, and they are often forced to sign a paper stating that they received the entirety of their rights," she added.
Azzak pointed out that about 90% of the women who marry men from outside their family accept only a small portion of their inheritance due to their ignorance of the law or in a bid to avoid problems with their siblings. Furthermore, only 10% of them go to court to have their rights upheld or resort to reconciliation committees to resolve the problem amicably.
Although Palestinian law affords women the right to inheritance, Azzak stressed, "the procedures are slow and entail high financial costs, and so many women abstain from claiming their inheritance."
Going to court to claim their legal rights is the last thing on women's minds, as they would prefer to avoid a dispute with their brothers. Thus, they turn to the reconciliation committees of the Palestine Scholars Association, which consists of renowned clergy and reformers, to uphold their rights amicably and to maintain family unity.
Sheikh Mohammed al-Husseini, a member of the reconciliation committees, explained in an interview with Al-Monitor that the committees' role is to reconcile the parties' views in accordance with Islamic principles, adding that their recommendations are not binding for either party. If both sides accept a committee's arbitration, then the courts need only supervise implementation of the recommendations. If one of the parties rejects the recommendations, however, the only choice left would be to file a suit in the formal, judicial courts.
According to Husseini, the committees resolved 582 cases in 2012, with inheritance rights returned amicably. "Very few people agree to allow the reconciliation committees to arbitrate," he added.
In light of the unjustness of this custom, more Palestinian women are beginning to exhibit courage by claiming their rights in court as a result of institutional attempts to revive legal awareness among women. These women face a few obstacles, however, such as the long period between judicial appointments and the high financial cost, which often prompts them to give up on the process and the pursuit of their rights.
Rasha Abou Jalal is a writer and freelance journalist from Gaza specializing in the political news, humanitarian and social issues linked to current events.
http://www.al-monitor.com/pulse/originals/2013/09/marriage-inheritance-palestinians-women.html#ixzz2efaqiZuy
-----------
Female police to protect Egyptian women against sexual harassment
September 12, 2013
JEDDAH – Many Egyptian women here have welcomed the government's decision earlier this year to form a special unit of female police officers to combat harassment and violence against women.
The unit consists of 10 qualified female police officers. Some of them are professors of psychology and neurological diseases and social service. The officers will travel to the US soon to get training in combating sexual crimes and violence against women.
"Male officers probably cannot deal with the mental state of a victim of sex crime. Many of the victims are afraid to seek justice. Part of the unit's task is to convince the victims to defend their rights and seek justice against the harassers," Col. Manar Mokhtar, a female police officer at the unit for combating violence against women, said in an interview with Egyptian Al-Hayah TV channel.
Captain Rehab Abdul-Latif, another female officer at the unit, said they help the victim to face society and to understand that she is a victim, and she should not be ashamed about it.
"Many of the cases go unreported because of the pressure the victim faces from her family," said Rehab.
"In the unit we listen to them and convince them that they are victims not perpetrators," she added.
Many Egyptian women said that the new unit will restore confidence in women facing harassment and will help in limiting such cases.
Israa Mohamed, a 23-year-old Egyptian woman working in the communication sector, said she faced harassment many times in public transportation. She didn't report the cases to police because she was embarrassed to report it to a male police officer.
"I faced sexual harassment twice in public transportation despite the fact that I was wearing the hijab and dressed decently. Harassers do not care what you are wearing. I think in the presence of female police officers many woman will report such cases," she said.
Nourhan Sharaf, a 20-year-old university student, believes that the female police unit will encourage her to report any violence against women "It's great to have female officers. We've been calling on the Ministry of Interior since a long time to establish such a unit," she said.
http://www.saudigazette.com.sa/index.cfm?method=home.regcon&contentid=20130912180143
-----------
UK Officials Must Stop 'Tip-Toeing Around Race in Sex-Gangs'
September 12, 2013
In June MPs said public officials must stop 'tip-toeing' around race when tackling child sex gangs and claimed that there is a trend of Asian gangs targeting youngsters.
A dangerous trend of Pakistani men grooming young white girls does exist, according to a Commons home affairs committee report.
Police, prosecutors and social workers must be able to raise the issue without fear of being accused of racism, the committee said.
But it warned against stereotyping offenders because there is no straightforward link between race and child sexual exploitation.
In shocking conclusions to a year-long inquiry, MPs said there were still areas where victims were being failed by the authorities.
Rochdale and Rotherham councils were accused of being 'inexcusably slow' to realise sex abuse was taking place on their doorstep.
And they said both councils had a 'woeful lack of professional curiosity' and were responsible for the 'appalling consequences of their indifference to the suffering of vulnerable children'.
http://www.dailymail.co.uk/news/article-2416586/Gangs-Asian-men-grooming-MUSLIM-girls-plying-drink-drugs.html#ixzz2eg0aEKoY
-----------
UK's 'First Female Muslim Minister' Promotes Women in Leadership in the UAE
12 September, 2013
Senior Minister of State at the Foreign and Commonwealth Office, Baroness Warsi, will attend a networking event for women in business on 12September at Shakespeare & Co in Abu Dhabi. The event aims to celebrate the role that women have achieved in business and public life. Participants will share their successful experiences, discuss the challenges that remain for women in the workplace, and how to build links to further develop opportunities for women entrepreneurs, business leaders and those in public services such as healthcare and education.
Before the event, Baroness Warsi said:"I am proud to attend this networking event and meet so many inspirational women. Both the UK and UAE have a strong track record in encouraging women in leadership. Female empowerment has been a priority of the UK's stewardship of the G8 Deauville Partnership. Recognising the critical role of female entrepreneurs in the Middle East and North Africa region, the UK hosted a successful Arab women's conference on 25-26 June where a new 'Arab Women in Business Challenge Fund' to help support women in business was announced."
Baroness Warsi is visiting Abu Dhabi as part of a wider Gulf tour to highlight the UK's support for Islamic Finance and to promote the World Islamic Economic Forum in London in October 2013.
The UK and UAE both strongly support female empowerment and women's rights. The UK-hosted Arab women's conference was the first of its kind to bring together private sector and government representatives from the G8, Arab countries in transition and regional partners. The UAE's Minister of State Dr Maitha Al Shamsi spoke at the conference. The UAE has also promoted women's rights through a number of initiatives, including a decree to promote the participation of women on the boards of government agencies and companies. The UAE is now the second country in the world with mandatory female presence in board rooms.
Shakespeare & Co, hosts of the event say "Shakespeare and Co. supports women in business, and we are proud to be hosting this event, which promotes female leadership in the UAE."
http://www.zawya.com/story/UKs_First_Female_Muslim_Minister_Baroness_Warsi_Promotes_Women_in_Leadership_in_the_UAE_as_Part_of_Deauville_Partnership-ZAWYA20130912092641/
-----------
Birmingham college niqab ban: There's more than meets the eye?
September 12, 2013
JEDDAH – A recent decision by a college in Birmingham, the most populous British city outside the capital London, banning Muslim students from wearing the niqab – a veil that leaves only a slot for the eyes – has evoked a strong reaction.
All students, staff and visitors to Birmingham Metropolitan College have been told to remove any face coverings so that individuals are "easily identifiable at all times," reported the Birmingham Mail on Tuesday.
News of the policy at the Birmingham college was broken to one prospective Muslim student at the start of the new term last week.
The angry 17-year-old girl, who did not want to be named, said: "It's disgusting.
"It is a personal choice and I find it absolutely shocking that this has been brought in at a college in Birmingham city center when the city is so multicultural and so many of the students are Muslim.
"It upsets me that we are being discriminated against. I don't think my niqab prevents me from studying or communicating with anyone – I've never had any problems in the city before."
The Birmingham Mail quoted the principal and chief executive Dame Christine Braddock DBE as saying that the policy had been in place for some time and had been developed to keep students safe.
"All prospective and progressing students, as well as staff, have been advised of the policy, which will mean everyone allowed on the premises can understand and know each other in a safe environment."
But the ban has caused some female students to enroll at different colleges.
"It's a breach of my freedom and I feel discriminated against. This is my religion, it is what I believe in. I don't really want to go to a place that doesn't accept me but I have no choice now," Imaani Ali, 17, was quoted as saying.
Suleman Hussain, 17, is taking A-level science at the college and strongly disagreed with the guidelines. "They're not going to bring a bomb to college. They have come here to learn," he said.
The strict policy was announced days after the issue of wearing religious dress was brought up in parliament.
Kettering MP Philip Hollobone, who refuses to see constituents who will not lift their veils, raised the issue in a Private Member's Bill, saying it "goes against the basic part of the British way of life."
Niqabs have been banned at BMC along with hoodies, hats and caps.
The college welcomes around 9,000 16-19-year-olds each year, as well as 35,000 adult learners.
Its website boasts that international students receive "supportive personal attention" and it was shortlisted for an AOC Beacon award in 2011 for International Learner Support. – SG
http://www.saudigazette.com.sa/index.cfm?method=home.regcon&contentid=20130912180123
-----------
First black African woman nominated for Booker Prize
(AFP) / 12 September 2013
Zimbabwe's NoViolet Bulawayo on Tuesday became the first black African woman to be shortlisted for the Man Booker Prize, for her tale of a 10-year-old girl who escapes poverty at home only to find new problems in the United States.
Bulawayo was nominated for her novel "We Need New Names", which follows the girl's decision to leave a shanty town in Zimbabwe and move to live with an aunt in the United States.
The author, whose real name is Elizabeth Zandile Tshele, is also the first Zimbabwean to be shortlisted for the prestigious prize.
The winner is awarded $78,500 and normally sees a significant boost in sales.
Bulawayo told AFP that she had no idea she would be on the shortlist and said it was an "amazing feeling" — as well as being a little a bit "awkward".
"I feel there are so many deserving black women who came before me. So I feel very lucky and honoured, especially as this is my first novel," she said.
Bulawayo would be the fourth African winner if she triumphs on October 15.
White South African J.M. Coetzee won in 1983 and 1999, while another South African writer, Nadine Gordimer, was joint winner for her novel "The Conservationist" in 1974.
Nigerian-born Ben Okri won for his third novel "The Famished Road" in 1991.
Irish writer Colm Toibin and British author Jim Crace were among the better-known nominees on the six-book shortlist for the 2013 prize.
Crace, who was also shortlisted in 1997, hopes to win with "Harvest", about a village under mortal threat from outsiders.
Toibin tells the story of a woman trying to piece together the events that led to the death of her son in "The Testament of Mary".
Jhumpa Lahiri is nominated for "The Lowland", about two brothers growing up in Kolkata, while American-Japanese author and Buddhist priest Ruth Ozeki's "A Tale for the Time Being" is a sweep through the history of a Japanese family.
Eleanor Catton, the youngest nominee at 28, was chosen for "The Luminaries", about the goldrush in 1860s New Zealand.
Last year's winner Hilary Mantel made history as the first British author to win the Booker twice.
http://www.khaleejtimes.com/kt-article-display-1.asp?section=newsmakers&xfile=data/newsmakers/2013/September/newsmakers_September13.xml
-----------
Afghan film aims to break rape taboo
12 September 2013
The Icy Sun, a controversial Afghan film made last year about a woman dealing with rape, is struggling to be accepted in Afghanistan, a conservative country, due to a scene of limited nudity.
Fereshta Kazemi, the main actress in the film, talks to Al Jazeera about her ambitions surrounding the film, which aims to break the taboo of discussing sexual assaults against women.
Al Jazeera's Jane Ferguson reports from Kabul.
http://www.aljazeera.com/news/asia/2013/09/201391111340347842.html
-----------
Women 'rising stars of emerging world'
Barçın Yinanç
12 September 2013
The current economic developments will not alter the shift of the economic center from West to East and North to South, but emerging markets cannot even hope to assume a place in the world economic epicenter without including women, said a prominent Turkish female business leader.
Women emancipation will bring about tremendous economic opportunities, meaning that it is time to come up with products tailored toward women, said Ümit Boyner, in an address to representatives from the international banking sector.
Representatives from 26 banks gathered at the 12th annual Global Banking Alliance for Women summit, which was hosted by Turkey's Garanti Bank, one of the few banks in the country offering financial products tailored to women.
Giving the keynote speech, Boyner, the former head of the Turkish Industrialists' and Businessmen's Association (TÜSİAD), underlined how women were set to become important economic players in the near future, noting that women were the emerging actors of emerging markets.
Women will be the main driving force of demand in emerging markets, according to Boyner, who based her projections on future global trends.
As the middle class is expected to expand by 5 billion by 2030, 80 percent of that growth will come from emerging markets, where women will benefit from the lion's share of the spending increase. The summit provided a platform for representatives of the banking sector to share their best practices on winning the women's market.
Reputation contribution
Larke Riemer, from the Westpac Banking Corporation, said working with women also helped improve the reputation of banks that had suffered a blow in the recent world financial turmoil, an issue voiced by Chris Sullivan, CEO of Royal Bank of Scotland.
"Women are great advocates. We had higher advocacy from women than men. So if you want to as well improve your image as a bank, then become the bank of choice for women," said Riemer.
"Banking has not got the best reputation but it is beginning to change. We need to get back to our core values on why we are there. We need to also improve our environment which, in turn, will enhance our customers' opportunities," said Sullivan.
http://www.hurriyetdailynews.com/women-rising-stars-of-emerging-world.aspx?pageID=238&nID=54295&NewsCatID=344
-----------
How Israel Stopped Trafficking in Women
By: Mazal Mualem
12 September 2013
"The phenomenon of trafficking in women in Israel has disappeared," according to Knesset member David Tsur of the HaTenua Party, the chairman of the Subcommittee on Trafficking in Women and Prostitution. Tsur, a retired major general in the police, was previously the commander of the Tel Aviv police district and the head of the operational headquarters of the Ministry of Public Security. In these roles he had first-hand exposure to the phenomenon, which was quite widespread in Israel at the beginning of the millennium. The reports of the US State Department from 2002 included Israel, alongside countries such as Sudan and Somalia, on the blacklist of countries where women are trafficked on a daily basis and sold into the prostitution industry.
Thus it is indeed a noteworthy accomplishment that in the State Department's latest report, published in June, Israel received, for the second time in a row, the highest grade in the fight against the phenomenon. But beyond the accomplishment in itself, it's important to understand how the state of Israel managed to deal so effectively with a problem that involved a lot of money, international criminal organizations and even security implications, since most of the women were brought to Israel through the border with Egypt, which was then very porous.
An analysis of the successful tackling of this issue can help in formulating a model for solving other social problems. Tsur, by virtue of his past and present posts, has become one of the foremost experts on the topic of trafficking in women and prostitution in Israel and the world. In an interview with Al-Monitor, he explains how the feat was done, and does not deny the conclusion that without American pressure and the fear of damage to its image, Israel would still be a magnet for traffickers in women.
Al-Monitor: Do you remember when you understood that Israel had become a destination for trafficking in women?
Tsur: On a personal level, I realized it after 2001, at one of my first meetings with the Americans on the topic of terror. I was then the head of the operational headquarters of the Ministry for Public Security. After one of the discussions, the representative of the State Department asked me what was happening with trafficking in women. I didn't understand what he wanted, and I had no data on it. In response, he told me that he must bring it to my attention because our situation is not good, and that we're on the same level as Sudan and Somalia. Of course, I was insulted and said it couldn't be because we're a democratic country.
In retrospect, of course he was right. When we began to study the subject, we understood that most of the women were brought from Russia, Ukraine and Moldova. Law-enforcement personnel in those countries were sometimes part of this food chain, and looked the other way in exchange for bribes. When we researched it in depth we found mafias that had sprung up in these regions.
Israel became a destination because of the arrival of criminal elements who established a foundation for trafficking here, and also because of the peaceful border with Egypt, which was then porous. The Bedouins, who became a link in the smuggling chain, understood that they could make a good living out of it. And so developed a phenomenon that bordered on slavery. Israel became a prime destination. We were busy then with the terror of the second intifada, and we didn't notice what was happening under our noses.
Al-Monitor: So we woke up only because of the Americans?
Tsur: If I were a seasoned and professional politician, I would say that the decision to act was not related to the Americans, but the reality was that without the whip of the State Department, we would not have taken serious steps. We understood that if we didn't address the problem, aid funds would be stalled, and very quickly we would have a new center of criminal activity on our hands.
Al-Monitor: So what did you do?
Tsur: When the US State Department reports put us on the blacklist in those first years, we understood the extent of the problem. At first it was placed in the jurisdiction of the central units in the police districts, and later an administrative body was created at the Ministry of Justice and the victims were treated a bit differently.
From the point of view of law-enforcement authorities, the women were prostitutes and were treated as part of the problem, not as victims who live in fear and don't have enough to eat. We understood that if this had continued to be the approach, they would not agree to file complaints and testify and we would not be able to incriminate the traffickers. Simultaneously in 2006, the Knesset passed a draconian law against the traffickers, which set a 20-year jail sentence for a human-trafficking violation, and the message was very clear.
Women who filed complaints were treated at special shelters, where the state invested a lot of money in rehabilitation. Slowly, the phenomenon diminished. Of course, the closing of the border with Egypt helped a great deal with the disappearance of the problem. We handled it very aggressively, with cooperation among all law-enforcement agencies and the Ministry of Welfare.
Al-Monitor: In Israel 2013, there's no longer trafficking in women?
Tsur: In the last three years, the phenomenon hardly exists. Actually, I can say that trafficking in women from Eastern Europe stopped entirely, and that it's very rare to find a woman who was imported to Israel by a party or person. We know that according to the US State Department reports, the phenomenon of trafficking no longer exists in Israel. It disappeared. This was continuously verified by data and testimonies — not just data from the authorities, but also from external, critical parties.
Al-Monitor: What conclusion can be drawn from this success?
Tsur: That in order to fight a phenomenon of this kind and this magnitude, all law-enforcement authorities must cooperate. We had a combination of cooperation among the police, the Ministry of Justice, the Knesset that legislated the law, the government that allocated resources and of course the American whip that pushed us to act. Thus, if it's decided from on high to implement a policy, if resources are allocated and if headquarters are established and inspections are conducted — that's how we succeed.
Al-Monitor: Does the problem of prostitution still occupy you?
Tsur: Certainly. Start from the fact that prostitution is not defined as a crime in Israeli law. So someone who actually traffics or runs a brothel could be incriminated only for the offense of running an establishment illegally. What's happening in Israel is that there's a policy of looking the other way from the phenomenon of prostitution, and there is no enforcement.
Al-Monitor: What is your position on the proposed law that will soon be brought to a vote in the Knesset that will enable authorities to incriminate and punish those who receive sex services as well?
Tsur: I don't think we should allow legal prostitution, or recognize it as a profession. I don't know a girl who says that her dream is to become a prostitute. Clearly, the state must deal with this. As for the law, I understand its logic, but there's disagreement over this idea around the world. On the ethical level, it turns the client into a criminal because he takes advantage of a woman in distress. Those who argue against it say that the law creates a situation where the prostitute becomes a victim, because it forces her to incriminate the client. It's a good law in that it provides tools, but we have to find a way not to turn women into victims.
In Sweden, where a similar law was passed, there's mixed conclusions. The authorities claim that the phenomenon of prostitution has diminished, but on the other hand, there are other reports that show that prostitution has not vanished but exists in hidden places, and that the women's situation has gotten worse.
Al-Monitor: A final question, on the diplomatic front that's close to your heart: Are you optimistic about the efforts for peace of the chairwoman of your party, Tzipi Livni?
Tsur: On the eve of Rosh Hashanah, we met for a toast. Livni said, justifiably, that there's a commitment not to share what's happening in the room with parties outside of the negotiations. I believe that its success or failure ultimately depends on a brave decision or the indecision of the leaders of both sides. Because most of the factors are already known.
Mazal Mualem is a contributing writer for Al-Monitor and formerly a chief political analyst for Maariv and Haaretz. She also previously worked for Bamachane, the Israeli army's weekly newspaper.
http://www.al-monitor.com/pulse/originals/2013/09/israel-women-trafficking-sinai-egypt.html#ixzz2efaZl2dH
-----------
Women's Complaints Units Still Struggling with Filing Firs in Peshawar, Pak
September 12, 2013
PESHAWAR: Police officials appointed at Women Complaints Unit are struggling with their new responsibilities as they have been deployed without prior training, said people familiar with matter.
Requesting anonymity, a police officer told The Express Tribune that a majority of the staff deployed at Women Complaint Units established at Kutwali, Hayatabad and Chamkani police stations were transferred from other duties in haste. They have not been trained, lack knowledge of the Pakistan Penal Code (PPC) and do not know how to register an FIR since women police officers are rarely posted on desk jobs.
"They are like female Muharrirs whose job is to listen to complaints and then register FIRs. They are supposed to have knowledge and understanding of the law, the PPC and its various sections along with the ability to write an FIR in simple language," he said. But since these things are yet to be taught, female staffers have to turn to their counterparts for help in registering an FIR under the relevant section, he added.
"They should be trained at the Police Training Centre in Hangu before being deployed at police stations. Most of these women, however, have not attended those courses in their careers," he said.
On the other hand, a female constable at the Hayatabad police station said at least 20 charge-sheets have been registered since the unit opened a month ago.
"Women come to us with various complaints, yesterday a woman registered a complaint about her missing identity card," she said, adding with the passage of time more women will come to know about the complaint centres and visit for help.
"It would be premature to judge people's response in just one month but we are doing pretty well," she insisted.
She also said female muharars need to take help from their colleagues to write FIRs since they have not been trained about relevant sections of the PPC.
Meanwhile, an official of the Kutwali police station said their complaints unit had not registered a single FIR since it opened up.
"Only five or six charge-sheets have been drawn up in the last month," he said, adding the women were educated but lack experience for a desk job in the police department.
Similarly, another female constable at Chamkani police station admitted on average they only receive one complaint per day. The women officials at the police station are able to register FIRs by themselves, she added. "The most common complaint we receive is harassment; around 70% of complaints are about people harassing women."
Additional Inspector General Operations Mian Muhammad Asif admitted the department is facing problems with respect to the units and is working towards finding suitable solutions.
"We introduced complaint units in 60 police stations in the province although we are short of female staff," he said. "We had to appoint women who had no experience. Arranging resources for their work space was also difficult."
He added that as a first step 30 policewomen have been sent to a training course organised by a non-governmental organisation which, he hoped, would resolve the problems to some extent.
http://tribune.com.pk/story/603117/police-reforms-womens-complaints-units-still-struggling-with-filing-firs/
-----------
NA-5, NA-27 By-Polls: EC of Pak Inquiries Find No Women Vote Bar
September 12, 2013
ISLAMABAD: The Election Commission of Pakistan (ECP) had cancelled last month's by-election in two Nowshera and Lakki Marwat districts following reports that women were disenfranchised in the two National Assembly constituencies.
Interestingly however, the ECP inquiries found no evidence indicating that women were barred from voting in the two constituencies. The Jamiat Ulema-e-Islam (Fazlur Rehman faction) rejected the findings, alleging that these were influenced by the Khyber-Pakhtunkhwa (K-P) government.
"If the ECP accepts the inquiry reports it would mean the provincial government was pressurising it and the JUI-F would protest it," said the party's spokesperson Jan Achakzai said.
In a statement he alleged that the K-P's ruling party, Pakistan Tehreek-e-Insaf (PTI), in connivance with local elders had clearly disenfranchised women in the by-elections in NA-5 (Nowshera) and NA-27 (Lakki Marwat).
Achakzai alleged that in NA-27 women were not allowed to cast their votes at around 23 polling stations whereas proxy votes were cast at 30 polling stations yet the turnout for women voters remained below 35%.
"The Peshawar High Court (PHC) had ordered re-polling in these constituencies because of the low turnout of women voters," he added.
However, the reports by special inquiry commissions formed on the directions of the ECP found that women in the two constituencies did not cast their votes at will.
The commissions interviewed all relevant authorities and individuals responsible for the conduct of by-elections, including police officials deployed at polling stations. "Even the nongovernmental organisations that monitored the polling testified that women were not barred from casting votes," said an official of the ECP quoting from the commissions' reports.
The women or their representatives informed the commissions' officials that they did not cast their votes in the May 11 elections too. They were not pressurised or coerced by anyone, the ECP inquiries revealed. The commission investigating elections in NA-27 stated that women voters' turnout was over 27%.
"The ECP has not even one per cent doubt on the authenticity of the two reports'," said the ECP official. He said the reports would be submitted before the PHC on the next hearing. If the court accepts the reports, it would ask the ECP to officially announce the results from the two constituencies withdrawing its earlier orders of re-poll at certain polling stations.
The court could still maintain its earlier order of re-poll at almost 18 polling stations in the two constituencies. If the ECP cancels re-poll and announces results, it would mean a defeat for Maulana Fazl's brother Attaur Rehman, the JUI-F candidate contesting from NA-27 whereas PTI's candidate will be declared winner.
http://tribune.com.pk/story/603197/na-5-na-27-by-polls-ecp-inquiries-find-no-women-vote-bar/
-----------
URL: https://newageislam.com/islam-women-feminism/german-court-rules-muslim-girls/d/13471