New Age Islam News Bureau
2 Nov 2015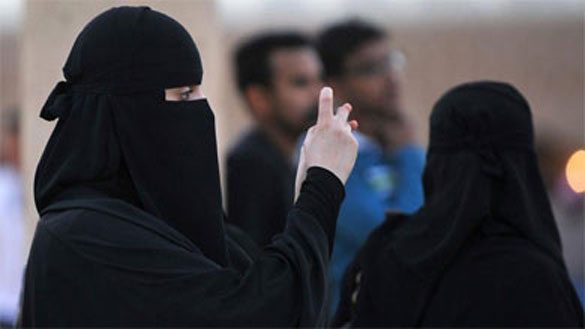 A Saudi woman uses her cellphone in the village of al-Thamama, near Riyadh, Feb. 22, 2014. (AFP)
--------------
• Gender Equality May Add Rs. 46 Lakh Crore to India's GDP in 2025: Report
• How Phone Apps Are Helping Women Travel in Saudi Arabia
• Saudi Woman Defies Driving Ban
• Why B-Schools Have Fewer Women? Here's What ICICI Bank chief Says
• Pakistani Women Entrepreneurs Showcase Products
• Saudi Woman Declares Victory over Breast Cancer
• Unlicensed Weapons Found On 17 Saudi Women
• Japan and Korea to Step up Talks on 'Comfort Women'
Compiled By New Age Islam News Bureau
URL: https://www.newageislam.com/islam,-women-and-feminism/new-age-islam-news-bureau/gender-equality-may-add-rs-46-lakh-crore-to-india-s-gdp-in-2025--report/d/105133
------------
Gender Equality May Add Rs. 46 Lakh Crore to India's GDP in 2025: Report
All India | Press Trust of India
November 02, 2015
NEW DELHI: Pushing gender equality can deliver a sizeable additional economic growth and could add Rs. 46 lakh Crore (USD 700 billion) to India's GDP in 2025, a McKinsey report says.
According to the new report by McKinsey Global Institute (MGI) titled 'The Power of Parity: Advancing Women's Equality in India', bridging the gender gap will have a huge economic impact and the boost could translate into 1.4 per cent per year incremental GDP growth for India.
"Advancing gender equality can deliver sizeable additional economic growth and broad-based prosperity to the world -- nowhere more so than in India," the report said, adding that delivering that impact will require tackling significant gender gaps in society and driving a national agenda for change that involves all stakeholders.
About 70 per cent of the increase would come from raising India's female labour-force participation rate to 41 per cent in 2025, from 31 per cent at present. This would bring 68 million more women into the economy over this period.
"Bridging the gender gap will have a huge economic impact and could add Rs. 46 lakh crore ($700 billion) to India's GDP in 2025," it added.
"India's share of women's contribution to GDP is at 17 per cent, much lower than the global average of 37 per cent, and the lowest among all 10 regions in the world analysed by MGI," McKinsey & Company India Director Rajat Gupta said.
Interestingly, 26 countries in McKinsey's dataset of 95 have a lower per capita GDP and human development index than India. However, many of these have higher levels of gender parity.
"The Indian economy will obviously gain if we bridge the gender gap in the workplace, but this gap cannot be plugged if we do not consider gender equality in society and change our social attitudes and unconscious bias towards women," he said.
The report draws on a recent McKinsey Global Institute research on gender gap around the world.
In its analysis for India, MGI has introduced a new score -- an India Female Empowerment Index, or Femdex -- to measure gender equality at the state level. The report found that a huge variation in gender equality among India's 32 states.
The average Femdex score of the top five states closest to gender parity are Mizoram, Kerala, Meghalaya, Goa, and Sikkim in the decreasing order while the bottom five are Bihar, Madhya Pradesh, Assam, Jharkhand, and Uttar Pradesh in the increasing order.
"While the top five states on Femdex account for a mere 4 per cent of India's female working-age population, the bottom 5 account for as much as 32 per cent. Focusing efforts here represents a large opportunity for improving India's national position on gender equality," Anu Madgavkar, a senior MGI fellow, said.
http://www.ndtv.com/india-news/gender-equality-may-add-rs-46-lakh-crore-to-indias-gdp-in-2025-report-1239074
-----
How Phone Apps Are Helping Women Travel in Saudi Arabia
2 November 2015
Women usually face transport difficulties inside the Kingdom of Saudi Arabia because their family providers are usually busy and they spend most of their time outside home. Many women need to go to work, visit their family or friends, entertain their children, or go shopping, in addition, some girls attend schools or universities. Many families do not agree to the idea of hiring a private driver nor letting their daughters use public transportation. Thus, the availability of modern and safe solutions, such as an application that could be downloaded on different smart phones, such as Uber, is of an utmost importance.
Any woman can use the application and press on a button to order a car wherever she is. Instantly, the application presents detailed data on the car coming to pick her up, such as the car's number, model, the driver's name, his mobile number, his current location, and the expected time of his arrival, in addition to sharing the destination route with her family. Once operating the application, the geographical location is accurately detected and sent to the nearest driver in the area without the need to call the driver or stop on the roads waiting for a taxi and a prompt message will be sent to the user as soon as the driver arrives.
This service provides another feature, through which the user can reach the car or the driver himself in case she forgets her personal bag or any shopping bag in the car. Through the application, she can retrieve the car and/or the driver's information and contact him easily through email to reclaim her belongings, which is quite impossible in case of using a traditional taxi on the road.
According to the company established in 2009, Uber service in the Kingdom of Saudi Arabia was launched in Riyadh before it expanded to include Jeddah and the eastern region. The company intended to further expand its services to cover the largest possible area in the Kingdom.
Uber pointed out to the fact that 80% of the application users in the Kingdom of Saudi Arabia are women. This application also works in Egypt, Bahrain, Qatar, and Jordon. The application interface supports several languages including Arabic. The application changes its language automatically according to the language used in the user's smart phone.
Uber has also announced signing a cooperation agreement with London Cab for taxi services headquartered in the Kingdom of Saudi Arabia.
Uber has also launched its services in Dammam, third city in the Kingdom of Saudi Arabia and the tenth in the Middle East region.
In addition to its services in the Kingdom of Saudi Arabia, Uber offers services currently in Dubai, Abu Dhabi, Doha, Manama, Amman, Beirut, and Cairo.
Users do not need to download a different application for each country. The application works when traveling for tourism or distance learning after identifying the new geographical location of the user. It can be downloaded on smartphones operating with Android, IOS, Blackberry, and Windows Phone. Cars can be also ordered from personal computers through the following link m.uber.com.
This article was first published in the Saudi Gazette on Nov. 2, 2015.
http://english.alarabiya.net/en/media/digital/2015/11/02/How-phone-apps-are-helping-women-travel-in-Saudi-Arabia.html
------
Saudi Woman Defies Driving Ban
Nov 2, 2015
A new video has surfaced on social media, purportedly showing a Saudi woman taking the wheel in defiance of a ban on driving by females in Saudi Arabia.
The footage, uploaded on the Internet on Sunday, displays a woman who appears to be driving in the Saudi capital city of Riyadh.
"I drive occasionally, but nobody has ever filmed me; However, this time I've decided to do it [myself]," the veiled woman says.
She also asks Saudi King Salman bin Abdulaziz Al Saud to lift the ban on women's driving.
The development is the latest in the acts of defiance by Saudi women against the ban on driving by females in the country.
Many similar videos have been posted online, showing women taking the wheels.
In 2011, dozens of women took part in a campaign dubbed Women2Drive, challenging the ban. They posted on internet social networks pictures and videos of themselves while driving.
Saudi Arabia is the only country in the world that prohibits women from driving. The ban stems from a religious fatwa imposed by the country's Wahhabi clerics. If women get behind the wheel in the kingdom, they may be arrested, sent to court and even flogged.
Saudi authorities have defied calls by international rights groups to end what has been described as a violation of women's rights.
http://www.presstv.ir/Detail/2015/11/02/435962/Saudi-Arabia-Riyadh-Salman-
--------
Why B-Schools Have Fewer Women? Here's What ICICI Bank chief Says
Press Trust of India
November 02, 2015
Mumbai: ICICI Bank chief Chanda Kochhar on Monday blamed excessive focus on quantitative aptitude (QA) in entrance tests for lower representation of girls in business schools (B-Schools), and stressed on need for the exams to be "all rounded".
"The MBA entrance exams are so quantitative-oriented that it keeps out more and more women from joining the MBA classes. If we were to make the entrance exams more all-rounded you could see more participation," Ms Kochhar, the managing director and chief executive of the country's largest private sector lender, said in a speech.
Ms Kochhar, who herself went to a B-School before joining the bank, said girls constitute only 10-15 per cent of the b-school students at present.
She also quantitative aptitude questioned need for so much focus on QA, saying a course on developing general managerial abilities does not require so much of focus.
"If there is a course that is quant-oriented, you need to focus on that but if it is a course that is more general management oriented, do you not need entrance examinations which are more all-round?" she said.
A majority of reputed institutes holding MBA tests focus on QA, data interpretation, logical reasoning and verbal ability while selecting students. QA includes topics considered tedious like trigonometry, quadratic equations, logarithm etc.
Ms Kochhar also stressed on the need to make workplaces more diverse, saying a business can deliver better results with more percentage of women. Also, with half of the consumers being women, there is a need for businesses to have more women to understand the consumer better, she said.
On representation of women, she said that we have come a long way in her 30 years in corporate world and added that today women-headed banks account for 35 per cent of the overall assets in the system.
She also regretted that over 80 per cent of 'workforce-ready' women are not joining the organised sector, and exhorted women to believe in themselves and be ready to put in long hours and travel if the work demands.
Ms Kochhar, however, sought to underplay the impact of careers on personal lives, saying women can maintain work-life balance even while pursuing their careers.
Flagging the fledgling e-commerce sector as an area of opportunities, she said there are opportunities of "cottage entrepreneurship" like made-to-order meals, handicrafts etc which women can capitalise on.
To address the difficulty around safety and security, Ms Kochhar said the bank has created a mobile application in-house which also has a 'panic' button.
The application was being used for employees itself and Ms Kochhar on Monday announced that it will be made available for all the companies in the country for the safety of their women employees.
http://profit.ndtv.com/news/life-and-careers/article-less-women-in-b-schools-chanda-kochhar-blames-higher-focus-on-quantitative-aptitude-1239061
--------
Pakistani Women Entrepreneurs Showcase Products
November 01, 2015
Islamabad - Budding women entrepreneurs from various backgrounds and fields got a chance yesterday to present their goods and services at an open house free of charge.
WECREATE | Pakistan – Women's Entrepreneurship Centre, arranged an open house for women entrepreneurs in Islamabad and Rawalpindi to foster community and give a platform for promotion. The all-day event featured 35 select exhibition stalls from a spectrum of categories such as nutrition food, arts and craft, clothing, baked goods, décor, hand-made jewelry, up-cycled wares and handicrafts.
The centre located in F-11 Markaz was bustling with walk-ins from various backgrounds and age groups. From grandmothers to toddlers, attendees praised the exhibition and WECREATE for giving women entrepreneurs a chance to shine. Khadija Qureshi, an architect by profession attended the event and noted her exuberance saying: "It is really uplifting to see so many women stepping out of social norms and breaking stereotypes by making a career for themselves by taking advantage of their talent." She added that such initiatives to provide opportunities to women entrepreneurs need to be increased.
Manager Outreach and Communications at WECREATE Mavra Bari noted the management was positively overwhelmed with the response saying: "I was so pleased with the interest we got for the exhibition displays, really gives one an idea of just how many amazing home-based business women there are out there but they don't get enough opportunities to share and market their initiatives. This is why we thought it is imperative to hold such an event and keep at it."
One of the exhibitors, Nazish Hameed noted that usually exhibitions come with a price for registration and space. "This opportunity was really different because we didn't have to worry about paying for the stall. We got to keep all the revenue we made without any fee which as refreshing. This really shows WECREATE's commitment to help women entrepreneurs without any agenda," said Nazish.
The open house was successful in promoting the sales of entrepreneurs as in total the stalls generated revenue of almost Rs100,000. The event also proved valuable to entrepreneurs by helping them network and establish connections that will help them grow and scale. Nabeela Jabbar who is an artist and has her own Chitral Dry Fruit startup shared that she met an investor during the event who has pledged to help her streamline and scale up her business in the region.
The WECREATE | PAKISTAN Centre, the first incubator in Pakistan designed specifically for female entrepreneurs, is playing an important role in advancing gender equality in entrepreneurship. The resources, training, and mentorship provided through the centre enable Pakistani women to move from the informal sector to the formal sector while generating momentum for measurable economic and societal change. The centre is supported by the US Department of State in partnership with Start Up Cup INC, The Indus Entrepreneurs (TiE) Islamabad, Change Mechanics, and the Hashoo Foundation.
http://nation.com.pk/islamabad/01-Nov-2015/women-entrepreneurs-showcase-products
--------
Saudi woman declares victory over breast cancer
2 November 2015
JEDDAH: In celebration of Breast Cancer Awareness Day, Nora Alzahrani, a survivor of breast cancer, declared her victory over the disease in a program that was organized by Beauty Clinic with the support of the National Initiative Group in Jeddah on Friday.
Alzahrani said that she is feeling better as she is victorious over the disease: "With mercy, faith in Allah and determination, nothing is impossible. Today I am standing in front of you as a survivor of the disease which claims lives if not treated properly."
She further said awareness of breast cancer treatment and early detection at any specialized medical centers is very important to fight against this disease.
Dr. Alaa Sultan, a specialist in breast cancer, said they are able to cure cancer by 75 percent with early detection and treatment. "We believe that early detection is better for survival from the disease."
She said the healing of Alzahrani is due to early detection, taking treatment on time and because of complete information about the nature of the disease and how to eliminate it.
She said there are still a number of people who don't have complete information about the disease and treatment, and only a small percentage of them actually go for early detection and treatment.
"There are new and more effective drugs developed, and treatments available to help to cure this disease," explained Dr. Sultan.
Abir Khalil, the ambassador for nutrition and treatment, said it's also very important to discuss the obstacles that prevent access to the goal of elimination of this disease, stressing that the prevention of the disease and healthy behavior, and awareness, can reduce the high rate of cancer, particularly in women.
Abdul Aziz Alandidjani, head of National Initiative Group and media adviser, said that statistics revealed that cancer affects 70 people out of every 100,000 in Saudi Arabia and about 7,000 new cancer cases are diagnosed each year.
Dr. Ala'a Marzouki, from Al-Zahra Breast Cancer Association, said the most important goals of the association are spreading awareness with the aim to prevent the disease and the problems cancer causes, prevention, early diagnosis, finding better ways for treatment, and creation of a database of chronic cases.
According to Marzouki, King Faisal Center for Tumors treats approximately 2,700 cases every year while the rest of Saudi Arabian centers treat approximately 1,500 cases every year from the 7,000 registered cases. Some 4,200 cases do not receive treatment. Twenty percent of all cancers can be prevented with less exposure to sunlight, not using ultraviolet rays in beauty salons, not using chemicals in food, and daily exercise.
http://www.arabnews.com/food-health/news/829316
--------
Unlicensed Weapons Found On 17 Saudi Women
2 November 2015
JEDDAH: Saudi courts reviewed last year 17 cases involving possession of weapons by Saudi and resident women, including those who relied on such weapons for self-protection in some villages in Tabuk.
A total of 395 cases involving possession of weapons without licenses among Saudis were reviewed by courts during the same year, with Riyadh leading with 161 cases.
According to lawyer and legal advisor Rayan Mufti, possession of unlicensed weapons is among the crimes punishable with a six-month jail time for the first offense. Possession of weapons to threaten others is punishable by up to three years in jail, increasing in the number of years should the weapon be fired at another person, even if the person is not injured.
He said the General Directorate for Weapons and Explosives, under the Ministry of Interior, has put in place certain regulations and warnings if the weapon is licensed, which include refraining from carrying the weapon within the boundaries of the Two Holy Mosques, near any mosque or military sites, or using them in locations that prohibit photography, public places and schools.
As for cases among women carrying weapons for self-protection, he said some husbands in rural villages train their wives to carry and use weapons in order to protect themselves and their children from any danger, noting it is rare to find women accused of carrying weapons for the purpose of threatening others.
According to regulations, the purchase of a firearm or ammunition without a license, or sale of such items to an unlicensed individual, is punishable with up to two years of imprisonment or a fine of up to SR7,000. A punishment of one year in prison and a fine of SR5,000 applies if a licensed weapon is used or carried in a manner beyond the scope of the license; a hunting weapon or ammunition is used by others without a license; unlicensed weapons or ammunition are transferred; a location to train individuals to use hunting weapons is established without a license; or weapon repair practices are carried out without a license or on unlicensed weapons.
http://www.arabnews.com/saudi-arabia/news/829341
--------
Japan and Korea to step up talks on 'comfort women'
2 November 2015
South Korean protestors place a damaged portrait (L) of Japan's Prime Minister Shinzo Abe next to a statue (R) of a South Korean teenage girl in traditional costume called the 'peace monument' for former 'comfort women' during an anti-Japan rally outside the Japanese embassy in Seoul on April 1 2015.Image copyrightAFP
Japan and South Korea have agreed to speed up talks to resolve a row about Korean women forced to work in Japanese brothels during World War Two.
The issue of so-called "comfort women" has hampered ties in recent years.
The announcement came after the first formal meeting in three years between Korean Prime Minister Park Geun-hye and Japan's Shinzo Abe.
Up to 200,000 women are estimated to have been sexually enslaved by Japan during WW2, many of them Korean.
Other women came from China, the Philippines, Indonesia and Taiwan.
Japan has apologised in the past for the "pain and suffering" of the women, but South Korea wants a stronger apology and compensation for victims.
South Korean President Park Geun-hye, right, and Japanese Prime Minister Shinzo Abe pose for photos before their meeting at the presidential Blue House in Seoul, South Korea, Monday, 2 November 2015Image copyrightAP
'Heal the wounds'
Ms Park said the issue of "comfort women" was "the biggest obstacle" to South Korea and Japan's effort to improve their relationship.
"She stressed that the issue must be quickly settled in a way that our people can accept," an adviser quoted her as saying.
Ms Park had earlier said she hoped the summit could "heal the wounds of the past".
Mr Abe, who is in Seoul for the meeting, told reporters the two countries "should not leave behind difficulties for future generations" in building a co-operative relationship.
Neither leader gave further details on planned negotiations.
The issue of forced prostitution has remained highly controversial in South Korea, and the few "comfort women" who are still alive have been campaigning for years for compensation and a stronger apology.
http://www.bbc.com/news/world-asia-34696033
-----
URL: https://www.newageislam.com/islam,-women-and-feminism/new-age-islam-news-bureau/gender-equality-may-add-rs-46-lakh-crore-to-india-s-gdp-in-2025--report/d/105133