New Age Islam News Bureau
21 March 2013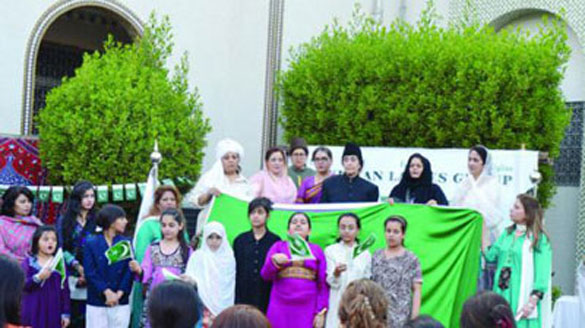 Photo: The ladies of the Pakistani club portrayed various historical Pakistani figures and talked about the importance of Pakistan. (AN photo by Fouzia Khan)
---------
• Saudi Female Law Graduates Worried Over Govt Inaction
• Second Tunisian Woman Posts Topless Photo on Facebook in Protest
• Study Shows Iranian Women Resisting Country's Patriarchy through Facebook
• A Generation of Women and Children 'Traumatized' In Syria
• Egyptian Women Take a Virtual Stand against Harassment
• Syrian Actress Attacked In Egypt after Reciting Pro-Assad Poetry
• Slapped Egyptian Activist, Mervat to File Case against Brotherhood Member
• Pakistani Ladies Club Marks Pakistan Resolution Day
• Missing Saudi Girl Travels through Six Cities before Reaching Tabuk
• UN's Ban Disturbed by Afghan Impunity on Women Violence
• Egypt's Al-Gamaa Al-Islamiya Condemns UN Women's Rights Document
• Libyan Women Rally against Violence
• Abuse against Women Cases to Be Recorded In Bahrain
• Maldives DVA Did Little to Curb Abuse Due To Lack of Implementation: Hope for Women
Compiled by New Age Islam News Bureau
URL: https://newageislam.com/islam,-women-and-feminism/new-age-islam-news-bureau/gazan-woman-killed-in-suspected-honour-crime/d/10846
--------------
Gazan Woman Killed In Suspected Honour Crime
By: Asmaa al-Ghoul
March 20, 2013
Hiyam, a 23-year-old Palestinian woman, was killed at the hands of her father and brother at dawn on March 8 under the pretext of a so-called honor killing. Her mother Souad, 44, spoke with Al-Monitor at the family's home in the Nuseirat refugee camp in the heart of the Gaza Strip. Looking gray with fatigue, and so worn out she could not even stand, Souad said, "They wronged my daughter Hiyam. She was my eldest daughter and the sweetest of them all. May God avenge her father and brother?"
The mother told Al-Monitor her daughter's story. "I was visiting my parents, and I slept at their place. Around 3:00 a.m., I received a call from my eldest son, Adham, telling me to rush back home. I felt there was something very bad. When I arrived at home I found my daughter standing there in silence," Souad said, pointing to a corner in the house. Souad continued, "Adham said that they had found our young neighbour Ahmed inside the house. I asked my daughter, and she said it was a thief jumping out of the window. They did not give her a chance to speak. My daughter was shy by nature. She did not even defend herself."
With her surviving children sitting around her, Souad's eyes filled with tears, when she added, "I knew they were going to kill her. I screamed and cried, and then I don't remember anything except that I woke up in a closed room with my young children."
Mohammed, Souad's 13-year-old son, related what had happened next. "My mother fell on the floor in the living room. When she fainted, we dragged her to the room and they shut the door. This was the last time we saw my sister Hiyam. There were neighbours and many men in the house," he said. According to the police and the family, the father and brother strangled Hiyam. The young man, Ahmed, was beaten and thrown from a high structure and presumed dead. Neighbours were asked to witness the act and reported it to the police.
Mohammed added, sadly, "The police came too late. They arrived after one and a half hours. If they had come earlier, they would have saved my sister Hiyam."
Al-Monitor met with Ayman al-Batniji, the police spokesperson, in his office. Batniji phoned Raed Abu Hoichel, head of investigations in Gaza, to get the details of the crime. After their conversation, Batniji told Al-Monitor, "The police arrived to the crime scene after receiving a call from the neighbours saying that there was a young man on the ground, covered in blood. The police came and arrested him, along with the [female] victim's father and brother.
After about an hour, the neighbours called again to inform the police that the girl's body was in the house. The police went to the home and took Hiyam's body to the hospital. It was later revealed that the father and his son had first strangled Hiyam with a rope, and when that failed to kill her, they used a double wire instead. Batniji confirmed that the father and son had been arrested for killing Hiyam, while the young neighbour who was beaten was being held in custody on charges of violation of privacy.
Souad, her son Mohammed and her other daughter, Haya, 12, were holding on to Hiyam's diary, in which she had written that she wanted to go to a friend's birthday party and to another friend's engagement party, but that she could not. The mother explained that her daughter rarely left the house and that there had been nothing suspicious in her behavior. "I remember that the day before she was killed, she asked me to get her a pad, so how can they accuse her of such a crime?" the victim's mother asked, indicating that her daughter had been menstruating when she was killed.
Batniji said that during interrogations, Hiyam's brother had said that he had found his sister and Ahmed in a "suspicious" situation inside the house. After pressuring them, they confessed that it was not the first such time, which prompted his father and him to take action that morning. Batniji added that the police had arrested the killers on the charge of first-degree murder, but that unjust laws and judicial bodies coordinating with the public prosecutor typically do not apply the maximum punishment for such crimes.
Mitigating circumstances
According to the Palestinian Centre for Human Rights, in 2012 in Gaza, there were three honor crimes resulting in death, while in 2009 nine women had faced a similar fate. Moreover, according to the Independent Commission for Human Rights (ICHR), a total of 70 such crimes took place between 2005 and 2009 in the West Bank and Gaza.
On March 17, appeals court judge Ziad Thabet spoke with Al-Monitor in the library of the Supreme Judicial Council. Thabet said that during his time in the judiciary, he had noticed that honor killing defendants were usually given light sentences. Three years in prison was the stiffest in these cases. Life sentences or execution were never a consideration.
Thabet deplores this situation but also recognizes that judges are members of the same society in which honor killings take place. He added that there are many cases in which offenders receive reduced sentences for crimes, including some involving acts of family revenge and drugs, punishable by death. In most instances, the perpetrators sentences are lighter due to the young age of the offenders. Honor crimes are another example of mitigating circumstances.
Thabet stressed that the honor killings are a breach of Islamic law. "According to Islam, the crime of adultery is rarely proven, as this requires four witnesses. In the case such a crime has been proven, Islam does not provide for killing the adulterer as a punishment," Thabet said.
Patriarchal judiciary
Offenders receive reduced sentences pursuant to Article 18 of Penal Code no. 74 of 1936, which is entitled "Necessity." The article provides for "leniency in punishment for crimes that offenders have committed in order to avert consequences, which could cause irreparable damage to their honor, money, or the honor of those such offenders are obliged to protect."
According to Salah Abdul Ati, a lawyer affiliated with ICHR, the broadness of this article is what allows lenient sentences for killings committed under the pretext of avenging a family's honor. Although acts under this article should be limited to cases of legitimate self-Defence, many judges continue to apply it to honor crimes, which reflect the patriarchal nature of Palestinian culture and society. Ati added that most such crimes are committed based on rumours or suspicion while some offenders might be motivated by a girl's inheritance.
Ati also explained that Palestinian Authority President Mahmoud Abbas had issued a presidential decree for amending the article with the addition of the phrase "with the exception of murdering women under the pretext of family honor." The political division between Fatah and Hamas, however, prevented the Legislative Council in Gaza from amending it. The article was struck from the Jordanian Penal Code, which applies in the West Bank.
Hiyam's mother held a picture of her daughter. "She was in middle school in this picture. I wish I could have seen her happy. She had led her life in sadness, taking care of everyone, serving and cleaning for the 12 members of this family. Although I cherish my son Adham, I want him to be punished along with his father for what they did to Hiyam," she said.
Asmaa al-Ghoul, a journalist and writer from the Rafah refugee camp, is based in Gaza.
http://www.al-monitor.com/pulse/originals/2013/03/honor-killing-gaza.html#ixzz2O9PqdM3k
--------------
Saudi Female Law Graduates Worried Over Govt Inaction
21 March 2013
Members of law firms and law circles denounced rumours that say female advocates should only represent women in court.
They said this would be a violation of their rights and total waste of their skills and asked the Justice Ministry to clarify its position in the legal field in view of the Royal Decree issued a year ago to give them the right to practice law. Yet to date, no female lawyer has entered the courtroom.
Yaseen Khalid Khayyat, president of Jeddah Lawyer's Association, said: "We hope the rumor is not true, otherwise it would be a waste of women's capabilities and education."
He said such actions are unheard of in practices all over the world. "Why should women lawyers be prevented from practicing in any field of law as they are committed to the Islamic principles our country follows and are considerate of the traditions and norms of our Islamic society?" asked Khayyat.
One of the first graduates of law school, Bayan Zahran, now a legal counsellor at a law firm, demanded that the Ministry of Justice clarify its position regarding their work, adding: "If true, the ministry's statements would be unfair and contradictory to the Royal Decree."
"We should not end up working as saleswomen after having studied law," said Zahran.
She added that she went with a fellow graduate to the Ministry of Justice to apply for a license to practice law, but officials in the ministry refused to give them even the application form.
Dismissing rumors or even the idea that female lawyers should represent only women in courts, Nora Al-Jada'ni, another law graduate, said: "This is degrading to our capabilities." She added that the matter is intended to alienate women lawyers and deny them their lawful rights. "It is an attempt to waive the Royal Decree that gave us the right to practice law in the first place," she argued.
Fahd Al-Bakran, spokesman of the Ministry of Justice, said that all requirements for women lawyers are currently being worked out by a special registration committee, which will decide elements of the issue. "There are no bias against women lawyers, only some delay until all preparations are done," he concluded.
http://www.arabnews.com/news/445480
--------------
Second Tunisian Woman Posts Topless Photo on Facebook in Protest
By Nadine Marroushi & Jihen Laghmari
Mar 21, 2013
A Tunisian woman posted a photo of her naked torso on Facebook, in campaign activists say is intended to protect women's rights against ascendant Islamist parties.
"My body belongs to me, and is not the source of anyone's honor," reads an Arabic statement in thick black pen across the woman's chest. She identified herself only as Meriam in the caption, saying she is from Tunisia and a supporter of Amina Tyler, founder of the Tunisian branch of Femen, an international women's rights protest group.
Women rallied alongside men to bring down autocratic rulers in countries such as Tunisia and Egypt two years ago. Many now say their rights are under threat from Islamist movements, the main political beneficiaries of the change.
Aliaa Magda El-Mahdy, founder of Femen Egypt, uploaded nude photos of herself on her blog in 2011. She then sought political asylum in Sweden, where she took part in a Femen protest against Egypt's Islamist-drafted constitution outside the embassy in Stockholm in December. El-Mahdy is under investigation for committing immoral acts and insulting religion.
Nineteen year-old Tyler became the first Tunisian activist to post a topless photo of herself on Facebook after e-mailing it to Femen in last month. She told Tunisian online newspaper Jadal that her goal was to "make the voice of Tunisian women heard and protect them from suppression."
The posting provoked a backlash from officials and her family, many of whom disowned her. President of the Commission for the Promotion of Virtue and Prevention of Vice Adel Almi said that under Islamic law she deserves to be lashed and maybe even stoned to death, according to Tunisian newspaper Assabah.
Other Tunisian women's rights groups have held demonstrations and rallies in Tunis calling for the protection of their rights, and denouncing an article in the draft constitution that describes them as "complementary to men."
http://www.bloomberg.com/news/2013-03-21/second-tunisian-woman-posts-topless-photo-on-facebook-in-protest.html
--------------
Study shows Iranian women resisting country's patriarchy through Facebook
21 MARCH 2013
While it seems nearly every American has a Facebook account to post any thought he or she may have, Shahin Gerami, SJSU's director of woman's studies, reminded students and faculty that many around the world do not have such a privilege.
Gerami's "Iranian Women Occupying Facebook: Identity and Resistance" presentation taught nearly 50 SJSU students and faculty how Iranian women use Facebook to empower themselves through self-expression and networking on Wednesday evening in the Dr. Martin Luther King Library.
The objective was how Iranian women construct their online and offline identities and how their online identities compare to their offline identities.
"I started by accident, because I was trying to figure out what my daughter was doing online," Gerami said. "That's when I started looking at how women present themselves on and offline and constructing their identity."
Gerami said she began the study two years ago when looking at U.S. research on how young people use social networking sites. Then, she looked at how Iranian women express themselves and their resistance to Iran's strict patriarchal society on Facebook — which is banned in Iran.
Gerami's study consisted of mostly women age 18-32. One hundred and eighty Iranian women were from secular families and 34 Iranian women were from religious backgrounds. Twenty-eight men participated in the research study as well.
According to Gerami, when Iran underwent a revolution in 1979, the first official Islamic Republic came to power and changed Iranian culture by implementing a strict Iranian patriarchy system. She said legal and cultural mandates dictated how men and women behave in public and in private, and even dictated what women wore.
"A woman is supposed to cover all of her body except her face and hands," Gerami said.
According to Gerami, the women's responses vigorously demonstrated their resistance by modifying their dress code by integrating colors, texture, designs and accessories to their wardrobe.
One famous act of resistance came from Iranian actress Golshiefteh Farahani, when she posed nude in France's Madame Le Figaro magazine last year. Farahani has since been exiled from her home country.
Senior English major Robin Rogers said that it's not everyone's choice of resistance.
"I don't think anyone should tell you what you should do with your own body, unless you're a minor," Rogers said. "But if a woman wants to pose (nude), in a very tasteful photo for that matter, that's her decision. It's her body, and it's her identity that she's putting out there and it should be respected."
The majority of messages posted on the surveyed Iranian women's Facebook pages were subversive, according to Gerami. Messages ranged from loneliness, affirmation, opposition and resistance, and violence against women.
There were also messages that indicated despair, which Gerami found especially sad to hear from young people.
Junior nursing major Elisabeth Poirier said social media websites such as Facebook and Twitter are great forums for women to express their opinions.
"I didn't know how they fight back or if they fight back, and it's just interesting to see what they're saying on Facebook and get an idea that they don't like (the patriarchy)," she said.
Poirier said she likes that Facebook can be used to help women by networking with other women and sharing their ideas and opinions.
Laurel Thorburn, a senior communicative disorders and sciences major, said many people take their freedom to use Facebook for granted.
"If the government told me I couldn't have a Facebook, I'd probably show them the finger and tell them 'You can't tell me that,'" Thorburn said.
Thorburn said the presentation made her feel appreciative of the liberty she has to use social media.
"Especially living in a country where we often complain about our government and complain about our freedom and talk about what's lacking, it's interesting to actually stand up and (say) 'wow, I have so much more,'" Thorburn said.
http://spartandaily.com/101084/study-shows-iranian-women-resisting-countrys-patriarchy-through-facebook
--------------
A Generation of Women and Children 'Traumatized' In Syria
20 March 2013
Women and children are suffering the worst horrors in Syria, with many subjected to rape and sexual violence in a war that has traumatized a generation of young people, U.S. lawmakers heard Tuesday.
Women and children make up around three-quarters of the four million people who have fled either across the border or within Syria, top U.S. and U.N. officials told a subcommittee of the Senate Foreign Relations committee.
Now there are growing reports of rapes in refugee camps, and of young girls being sold off into forced marriages or prostitution as families disintegrate and struggle to survive in face of the brutal conflict.
Full report at:
http://english.alarabiya.net/en/News/2013/03/20/A-generation-traumatized-in-Syria-expert-witnesses-say-.html
--------------
Egyptian Women Take a Virtual Stand against Harassment
20 March 2013
An online initiative aimed at countering sexual harassment in Egypt has been launched via Facebook, reported local media site Al-Bawaba on Wednesday.
The idea was born when the female creator of the Facebook page was verbally harassed by an elderly driver whilst stuck in traffic; instead of shying away she decided to expose him by taking his photo and uploading it to the website.
The victim, who goes by the name 'M,' then created a page called 'Efdah Motaharish,' or 'Expose Harassers.' She proceeded to post his picture along with a description of how he harassed her.
Full report at:
http://english.alarabiya.net/en/News/2013/03/20/Egyptian-women-take-a-virtual-stand-against-harassment-.html
--------------
Syrian actress attacked in Egypt after reciting pro-Assad poetry
21 March 2013
A famed Syrian actress was attacked Wednesday for explicitly supporting President Bashar al-Assad and reciting poetry criticizing Islamists in the region.
She made her daring announcement while attending a cultural event at Cairo's Opera House, local media reported.
Known as Raghda in the Arab World, the 55-year-old actress angered some attendees at the Arab Poetry Conference held in the Opera House after reciting some poetry to show her support of the embattled Assad, Sada al-Balad news website reported on Wednesday.
Full report at:
http://english.alarabiya.net/en/2013/03/21/Syrian-actress-attacked-in-Egypt-after-reciting-pro-Assad-poetry.html
--------------
Slapped Egyptian Activist, Mervat to File Case against Brotherhood Member
20 March 2013
SHOUNAZ MEKKY
Egyptian activist Mervat Mousa, who was slapped by a member of the Muslim Brotherhood for participating in a graffiti event, told Al Arabiya that she will file a case against the perpetrator with the public prosecutor.
In a video that went viral on social media sites this week, Mousa fell to the ground after being slapped. She was among a crowd of activists and Brotherhood members clashing near the movement's headquarters in Muqattam earlier this week.
Full report at:
http://english.alarabiya.net/en/2013/03/20/Slapped-Egyptian-activist-to-file-case-against-Brotherhood-member.html
--------------
Pakistani Ladies Club Marks Pakistan Resolution Day
21 March 2013
The Pakistani ladies club celebrated the 73rd Pakistan Resolution Day at the residence of the Pakistan Consul General on Tuesday.
"The 23rd of March is a very important day in the history of Pakistan. In 1940 the resolution of Pakistan was presented and accepted in Lahore, demanding a separate country for Muslims of the subcontinent," Nighat Nadeem Farooque, coordinator of the club, explained the significance of day.
Full report at:
http://www.arabnews.com/news/445560
--------------
Missing Saudi Girl Travels through Six Cities before Reaching Tabuk
March 21, 2013
MADINAH — A 16-year-old girl who disappeared last Wednesday reportedly travelled between six governorates before reaching Tabuk.
Members of the Commission for the Promotion of Virtue and Prevention of Vice (Hai'a) found the girl crying two days ago near a shopping mall in Tabuk's Olaya neighbourhood.
They approached her to inquire about her condition and she told them that she had run away from her family in Madinah.
Full report at:
http://www.saudigazette.com.sa/index.cfm?method=home.regcon&contentid=20130321157806
--------------
UN's Ban disturbed by Afghan impunity on women violence
* Violence against Afghan women rose 20 percent in 2012: UN
* Afghan UN envoy says committed to upholding women's rights
21 MARCH 2013
UNITED NATIONS: UN Secretary-General Ban Ki-moon said on Tuesday that there was a deeply disturbing "pervasive climate of impunity" in Afghanistan for the abusers of women and girls and he called on Afghan President Hamid Karzai's government to take action.
Despite a fall in civilian casualties in Afghanistan for the first time in several years, the United Nations said last month more than 300 women and girls were killed and more than 560 injured in 2012, a 20 percent increase from 2011.
Full report at:
http://www.dailytimes.com.pk/default.asp?page=2013\03\21\story_21-3-2013_pg14_1
--------------
Egypt's Al-Gamaa Al-Islamiya condemns UN women's rights document
Ultraconservative Al-Gamaa Al-Islamiya says UN 'End Violence Against Women' document violates Islamic beliefs and will destroy family values
21 Mar 2013
Egypt's ultraconservative Al-Gamaa Al-Islamiya has slammed the recently ratified United Nations 'End Violence Against Women' document because it contains articles "violating Islamic Sharia and general morality."
In a statement on Wednesday, the group said the document "promotes divisions within the family and opens the door to prohibited relationships."
Full report at:
http://english.ahram.org.eg/NewsContent/1/64/67370/Egypt/Politics-/Egypts-AlGamaa-AlIslamiya-condemns-UN-womens-right.aspx
--------------
Libyan women rally against violence
By Essam Mohamed in Tripoli for Magharebia
20/03/13
Scores of Libyan women from human rights organisations staged a last protest Thursday (March 14th) opposite the cabinet headquarters to demand an end to violence.
They chanted slogans such as, "Open Doors, We Won't Be Silent Anymore!" and raised banners reading, "No to Violence, No to Rape, No to Kidnapping!" and "O, Libya, O, Libya, We Want Constitutional Rights!" and demanded that violence targeting women be stopped.
Full report at:
http://magharebia.com/en_GB/articles/awi/features/2013/03/20/feature-02
--------------
Abuse against Women Cases to Be Recorded In Bahrain
By Basma Mohammed
March 21, 2013
BAHRAIN will soon set up a national database to record cases of violence against women.
The initiative, spearheaded by the Supreme Council for Women (SCW), is being conducted in collaboration with government bodies and civil organisations.
It aims to build a comprehensive information system on the status of battered women and girls in Bahrain, said SCW deputy secretary-general Dhawiya Al Alawi.
"The objective is to enforce the social bond that exists through knowledge-sharing based on a joint national database," she said.
Full report at:
http://www.gulf-daily-news.com/NewsDetails.aspx?storyid=349783
--------------
Domestic Violence Act little to curb abuse due to lack of implementation: Hope for Women
By Neil Merrett | March 20th, 2013
The Maldives' ratification last year of a Domestic Violence Act has done little to curb the abuse of women, minors and other vulnerable people despite provisions to do so, a leading civil society expert and former gender minister has said.
Aneesa Ahmed, Chairperson for the Hope for Women NGO, told Minivan News that despite extensive provisions in the act, little progress had been made by police, the judiciary and wider Maldivian society to address domestic violence and abuse.
Full report at:
http://minivannews.com/society/lack-of-implementation-means-domestic-violence-act-has-done-little-to-curb-abuse-hope-for-women-54873
--------------
URL: https://newageislam.com/islam,-women-and-feminism/new-age-islam-news-bureau/gazan-woman-killed-in-suspected-honour-crime/d/10846