New Age Islam News Bureau
19 Jun 2013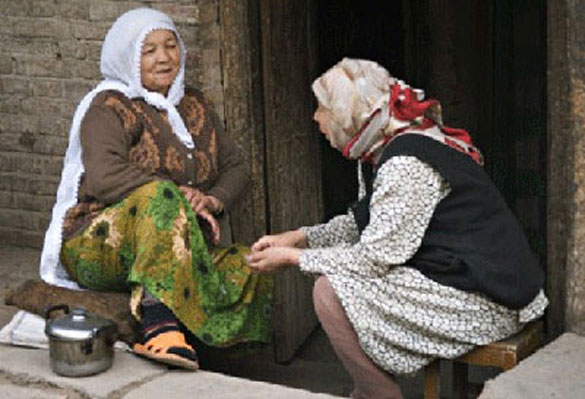 An undated photo of Uyghur women in Kashgar
--------------
• Burma Imprisons Two Muslim Women for Sparking Okkan Unrest
• Muslim Woman Suffers Miscarriage after Attack in France
• Women big part of UAE culture
• Egyptian sexual harasser sentenced to three months in absentia
• Mercy Mission Malaysia to Host International Women Conference
• Bangladesh PM: Be Vocal on Women's Rights, Gender Parity
• Morocco: "Little Maids" But Big Victims
• Salma's Tale: From A Caged Adolescence to Literary Fame
• In The Artery outside the High Court, Everyone Marches to This Woman's Beat
• Desperate Search for Missing Girl Injured In Quetta Attacks
• America's Rebel Folksinger Supports Turkish Protesters By Interpreting 'Imagine'
Compiled by New Age Islam News Bureau
URL: https://newageislam.com/islam-women-feminism/gas-stations-xinjiang,-bar-veil/d/12153
------------
Gas Stations in Xinjiang, Bar Veil-Wearing Muslim Women
2013-06-18
Petrol stations in China's troubled western region of Xinjiang have displayed notices in recent days calling on Muslim women to remove their veils if they wish to be served, residents said on Tuesday.
The notices were mostly evident in the predominantly Uyghur-populated Hotan and Kashgar prefectures in southern Xinjiang, according to residents interviewed by RFA's Uyghur Service.
"They are targeting women who wear veils or headscarves, whether they are young or old, on the grounds that it is supposed to have some connection to terrorism," a resident of Hotan, who declined to be named, told RFA's Mandarin service.
"[The petrol stations] just blindly ban them," he said. "It's not just the petrol stations, but also the hospitals and other public places," he said, adding that the policy was a recent phenomenon in Xinjiang, which is periodically hit by ethnic violence.
"When I was a kid it wasn't like this," he said.
At least two gas stations contacted in Xinjiang's capital Urumqi said they did not put up such notices.
A Uyghur woman in Kashgar's Poskam County said that dressing curbs for Muslim women were not new in her area, saying notices to the effect have been introduced even in hospitals and libraries.
"Yes, they have such notices in the gas station which would restrict covered-up ladies from getting gas," she said. "They also face prohibitions in hospitals. It is extremely hard for the ladies with hijab [veil]."
The woman said she would sell her newly bought car rather than obey the notices put up at the gas stations.
Government offices
In Hotan city, sources said local authorities adopted procedures this month prohibiting women with veils from entering government offices, post offices, and banks, among other government and commercial buildings.
Last month, community officials in Beshtugmen and Igerchi villages outside Xinjiang's Aksu city enforced punitive measures against the relatives of Muslim women who cover their faces by not authorizing their marriage applications and disallowing them to perform pilgrimage to Mecca.
But the reinforced directives appear now to have spread to everyday businesses, and across a wider geographical area than before.
One sign in Chinese and Uyghur script, a photo of which was posted to the Uyghur Online website, read: "Please would ladies remove their veils, to avoid obstructing a modern and civilized society,"
A second photo showed a similar sign, printed out and stuck above the door of a business, while a third read: "Veiled women are forbidden to enter the family compound of the land and resources bureau."
Rights groups have hit out at local restrictions in Xinjiang targeting women in veils and discouraging men from wearing beards, saying they hinder not only religious practice but also Uyghur traditions.
A number of listeners made calls to RFA's hotlines in recent days, reporting similar signage in petrol stations in Xinjiang, which is home to nine million mostly Muslim, Turkic-speaking Uyghurs and is the scene of recurring ethnic violence.
'Anti-terrorism'
Sichuan-based rights activist Pu Fei, who is himself a Uyghur, said such restrictions were frequently justified by the authorities in the name of "anti-terrorism."
"Basically, this is nothing but racial discrimination," Pu said. "The reasons given are combating terrorism, maintaining stability, and so on. But none of them stand up."
"We hope that the authorities will soon stop this ridiculous measure, or else it will create further ethnic tensions in the region," he said.
Many Uyghurs say headscarves are a marker of Uyghur rather than Muslim identity. Chinese authorities, however, discourage the wearing of headscarves, veils, and other Islamic dress in the region.
Top regional officials have rejected claims of curbs on traditional Islamic dress in the region, with Kuresh Kanjir, a Uyghur delegate to the ruling Chinese Communist Party's 19th Party Congress telling a Hong Kong newspaper late last year that there is "absolutely no ban."
In a report this year, the U.S.-based Uyghur Human Rights project decried an "open discrimination" against Uyghurs, especially women leading religious lives, raising concerns about public signs barring entry and reports of government assistance withheld from Uyghurs dressed in "Islamic" fashion.
Headscarves
Most of the restrictions are aimed at women who wear veils and men who have beards, but campaigns against headscarves have also been reported in different parts of Xinjiang.
Earlier this month, students in Xinjiang's Atush city took to the streets in a rare protest over the right of Uyghur girls to wear headscarves to school.
Local residents had said some 70 students wearing headscarves and doppa, traditional Uyghur caps for men, had taken part in the demonstration outside the Kezhou No. 1 High School's gates after the school tried to enforce a ban on the head coverings.
School officials rescinded the ban after the protest, online reports said.
Reported by Yang Fan for RFA's Mandarin Service and Gulchehra Keyum for RFA's Uyghur Service. Translated by Luisetta Mudie and Mamatjan Juma. Written in English by Luisetta Mudie.
http://www.rfa.org/english/news/uyghur/petrol-06182013153821.html
------------
Burma Imprisons Two Muslim Women for Sparking Okkan Unrest
By KYAW PHYO THA / THE IRRAWADDY
June 18, 201
RANGOON— A Burmese court has imprisoned two Muslim women for sparking communal violence earlier this year in the town of Okkan, near Rangoon, in the latest conviction of minority Muslims while Buddhist suspects have yet to face trial.
The two women were blamed for sparking the violence in April after they were involved in an altercation with a Buddhist monk that angered local Buddhists, leading to anti-Muslim rioting in the city about 100 kilometers from Rangoon. One Muslim man was killed and nine were injured in the unrest, while 81 homes and a mosque were burned to the ground.
"The court gave them a sentence of two years each in prison and hard labor on June 5," an official from the court in Taik Kyi Township, where Okkan is located, told The Irrawaddy.
Burma has seen clashes between Buddhists and Muslims in several states this year, but so far only Muslims have been imprisoned. Muslims make up only about 5 percent of the country's 60 million or so population.
In Okkan, the violence erupted on April 31 after a Muslim woman bumped into a novice monk, spilling his food and breaking his alms bowl. The woman and the monk were detained by the police following the incident, and both were released about two hours later after the woman apologized.
But when they left the police station, another Muslim woman grabbed the young monk and shook him, accusing him of lying to the police. This prompted both Muslim women to be detained. A mostly Buddhist crowd gathered outside the police station and began destroying Muslim properties in neighborhood.
The two women were charged with offending religion in Buddhist-majority Burma. An article of the country's penal code prohibits people from engaging in "deliberate and malicious acts intended to outrage religious feelings of any class by insulting its religion or religious beliefs."
As of last month, a total of 39 suspects were reportedly in police custody for their alleged roles in the rioting.
"We are summoning witnesses and still investigating the case," an officer at Okkan's police station told The Irrawaddy, adding that he did not have the authority to disclose the exact number of suspects still in detention.
Before the rioting in Okkan, inter-communal strife between Buddhists and Muslims broke out last year in west Burma's Arakan State. The violence spread this year to central Burma and east Burma—with clashes in the town of Meikhtila, then in Okkan, and mostly recently in Lashio. In total, more than 200 people have been killed and more than 150,000 people—mostly Muslims—have been displaced.
In the unrest this year, the government has convicted more than 10 Muslims but no Buddhists.
In east Burma's Lashio Township, a Muslim man was sentenced to 26 years in prison last week after an incident in late May which sparked an outbreak of anti-Muslim violence that left one person dead and displaced about 1,400 Muslim residents. He was convicted of attempted murder, voluntarily causing grievous harm and two drug-related charges.
In the central Burma town of Meikhtila, the Muslim owners of a gold shop and an employee were sentenced in April to more than a decade in prison after a dispute with a Buddhist customer in March sparked anti-Muslim riots that left at least 43 people dead and destroyed hundreds of homes. Last month, seven Muslim men were also imprisoned for the death of a Buddhist monk during that unrest.
In both cases, most of the remaining suspects under investigation are Buddhists. Seventy-four suspects in custody in Meikhtila have been charged with the destruction of property and murder, while 44 suspects in Lashio have been detained but not yet charged, according to regional authorities.
Kyaw Khin, chief secretary of the All Burma Muslim Federation, told The Irrawaddy that he had no comment on the convictions of those who were guilty.
"If they are guilty of the crime, they should be punished fairly—no bias against religion and race," he said.
"But as of now, all the people who have earned imprisonment are minority Muslims. So I have to ask, where are the majority [Buddhist] people who committed the crimes of looting, rampaging, arson and killing during the riots?"
Kyee Myint of the Myanmar Lawyers' Network called on the government to ensure equal treatment for suspects of all religions.
"At the moment, they are just playing a game of politics to please the Buddhist majority," he said.
"But don't worry: They are going to sentence Buddhists who were involved in the riots very soon."
http://www.irrawaddy.org/archives/37783
------------
Muslim Woman Suffers Miscarriage After Attack in France
By STEVEN ERLANGER
19 Jun 2013
PARIS — A pregnant Muslim woman who was attacked for wearing a facial veil on Thursday in the Paris suburb of Argenteuil suffered a miscarriage and lost her baby, her lawyer said on Tuesday. Two men attacked the 21-year-old woman, trying to remove her head scarf and later cutting off her hair, and reportedly shouted anti-Islamic taunts at her.
The woman, four months pregnant, had been kicked in the stomach, her lawyer, Hosni Maati, told Agence France-Presse.
On Saturday in Bordeaux, six Chinese students were attacked by three French youths, ages 19 and 20, shouting racial insults. The youths were arrested and the attack brought a protest from Beijing.
http://www.nytimes.com/2013/06/19/world/europe/muslim-woman-suffers-miscarriage-after-attack-in-france.html?pagewanted=print
------------
Women big part of UAE culture
Sarah Young (sarah@khaleejtimes.com) / 19 June 2013
The Women's Museum in Dubai — one of only four in the world which focus on women's heritage — is calling on both tourism operators and schools to make more of an effort to share the rich heritage of women in the UAE to visitors and the new generation alike.
The private museum opened in December last year, and while many women's groups, friends and students of public universities in the city had come to visit, tourism groups and Arabic school students had not, founder Dr Rafia Obaia Ghubash said.
"We have put pressure on tourist groups, but none will come...they say 'it takes time for people to read, we want a quick tour. We just want to see a gold souk'."
She said the Dubai Department of Tourism and Commercial Marketing wanted to help, but had little control over the many operators.
"Their business is to sell visas, bring these people and give them a tour and that's it.
"(Tour companies) (intentions) are not for people to learn about the country they are visiting.
"They're private (companies)...we can't force them. But this is a different level of tourist activity — it's to offer knowledge and a very high standard way of displaying knowledge.
"It even affects the psychology of the (team)...if you work here and in 10 days you get no visitors, maybe just one or two."
Ghubash, who has a PhD in epidemiological psychiatry from London University and was president of Arabian Gulf University from 2001 to 2009, also wants the educational curriculum to incorporate the heritage of Arab women into their syllabuses.
She said there had been a lot of interest from young Emirati women from the local universities, who typically showed three emotions when they arrived:
"Happiness and excitement, and then anger — why don't they have the chance to learn their history within the school curriculum? Within our curriculum there is nothing about our history or our women."
Associate professor in political science at United Arab Emirates University, Dr Maryam Lootah, said while things were "starting to change", there was little information about the history of the state or society in the curriculum, and when women were mentioned their role was not considered important.
"We teach UAE society, and there's no mention (of the important role of women)...women were just in the house. This is one of the reasons (Ghubash) insisted on having this museum — to give real information for the new generation who don't see their grandmother (in this way), and to give the foreigner the exact image about women (in the country)."
The Minister of Education Humaid Mohammed Obaid Al Qattami has been invited to view the museum, and they would do their best to try and encourage changes to the curriculum, she said.
The museum, which is the first women's museum in the Arab world, was funded by Ghubash without any private or government investment. Ghubash, who grew up in the Old Gold Souk neighbourhood, bought the piece of land, located in Deira, six years ago and began the project to preserve the cultural history of the area.
"The whole idea was to create a cultural activity in this region because this is the heart of Dubai, but people forget this area so I wanted to bring them back here with something...it is sad this (local) generation is disappearing...it's a normal process, but it does have psychological effects on us."
The land was where a house she remembered from her childhood had been known as Bait Al Banat, (The Girls House), which housed three unmarried women.
"They were called girls...right up to the age of 70.
"This triggered the idea to make it a women's museum."
She visited another women's museum in Copenhagen in 2006, but found it "totally different to what I had in my mind".
"I'm here to show the positive aspect of our history...there it seemed to be women fighting with men... it was the history of war between men and women.
"My feeling of freedom is inside me. It's not up to the government or men to give it to me."
The museum foregrounds the political, economic and intellectual achievements of women, rather than just what people first assumed it would be about — perfume, makeup and clothes, she said.
Donated artefacts include photos from those living in the area and the first lady photographer in the souk area, a series of passports from the 1950s until present, showing how women were able to read and write contrary to many expectations, and land documents showing how women bought and sold land, and had businesses, from as early as the late 1940s and 1950s. The progress of education is illustrated, beginning with the first Dubai girls school which opened in 1958, where enrollments were dismal until the late His Highness Shaikh Rashid Saeed Al Maktoum sent his daughter Shaikha Hessa, which saw enrollments soar to 490 that year.
Meanwhile in 1967, girls at the Khadija School were excluded from admission if they were too tall, until a local Shaikha protested. The exhibition also illustrates how many women from the 1950s onwards started construction companies, dealt in real estate and ran taxi companies — all from their homes.
The second floor includes a women's studies centre, featuring walls covered with bookcases full of literature written by Emirati women, and a gallery featuring local and international work by both men and women.
Ghubash is currently negotiating for more space to expand the museum, as well as working on an encyclopaedia of women's stories from around the region, including those working in "more modern careers like IT and engineering", for which she "knocked on 800 doors" to find 300 subjects.
http://www.khaleejtimes.com/nation/inside.asp?xfile=/data/community/2013/June/community_June39.xml&section=community
---------
Egyptian sexual harasser sentenced to three months in absentia
19 Jun 2013
A Cairo court has sentenced a man in absentia on Wednesday to three months in prison on charges of beating a woman.
Sexual harassment is a serious problem in Egypt but perpetrators are rarely prosecuted.
Layla El-Gueretly, a 30-year-old teacher, was walking on Cairo's 6 October Bridge in April when a bus passenger started cat-calling her.
When she ignored him, he started making obscene gestures, which only stopped when she said, "Shame on your beard."
The offender then started shouting and calling her names before he jumped off the bus and physically attacked her.
El-Gueretly, who sustained minor injuries during the attack, persuaded several witnesses to accompany her to the prosecutor to testify.
The attacker was released on the day and the trial took place Wednesday in his absence.
He received a two-month sentence for the physical attack and one month on charges of assault.
El-Gueretly's supporters staged a protest in front of the court earlier Wednesday in solidarity with her case.
On Sunday, an Egyptian man received a life sentence for murdering 17-year-old Iman Mostafa, who spat at him for sexually harassing her last year.
A report last April carried out by the UN, Egypt's Demographic Center, and the National Planning Institute found that more than 99 percent of hundreds of women surveyed in seven of the country's 27 governorates reported experiencing some form of sexual harassment, ranging from minor harassment to rape.
http://english.ahram.org.eg/NewsContent/1/64/74421/Egypt/Politics-/Egyptian-sexual-harasser-sentenced-to-three-months.aspx
---------
Mercy Mission Malaysia To Host International Women Conference
19th June 2013
KUALA LUMPUR, June 19 (Bernama) -- Mercy Mission Malaysia, a non-government organization focused on enlighting the community about Islam, is hosting an International Women's Conference, 'Being ME' at Putrajaya International Convention Centre on June 29.
The conference dubbed as the only one of its kind international event will feature both local and international speakers and is expected to be attended by 3,300 women.
Local speakers include a renowned opthalmologist, Professor Dr Muhaya Mohamad, and Rector of International Islamic University of Malaysia, Professor Datuk Dr Zaleha Kamaruddin, according to a statement from Mercy Mission.
Meanhwile, featured international speakers are parenting expert from United States, Zohra Sarwari, and Motivational speaker from Canada, Tasneem Ghauri.
Apart from daycare facilities, special room for mothers with small children and bazaar selling Muslim products, the conference will also feature Quranic recitation by Qari from United States, Fatih Seferagic.
Although the conference focuses on Muslim women, non-muslim women are also welcomed.
-- BERNAMA
http://www.bernama.com.my/bernama/v7/ge/newsgeneral.php?id=957153
-----------
Bangladesh PM: Be Vocal on Women's Rights, Gender Parity
19 Jun 2013
Prime Minister Sheikh Hasina yesterday urged the Commonwealth member states to be vocal in and outside the national territories to achieve the goal of establishing women's rights and gender parity.
In this regard, she underscored formulating coordinated and united strategies among the Commonwealth member states.
Hasina was inaugurating the three-day 10th Commonwealth Women's Affairs Ministers Meeting at Bangabandhu International Conference Centre. Ministry of Women and Children Affairs organised the programme.
Parliament Speaker Dr Shirin Sharmin Chaudhury, Foreign Minister Dr Dipu Moni, Commonwealth Secretary General Kamalesh Sharma and Minister of Human Services and Social Security of Guyana Jennifer Webster also addressed the inaugural session. State Minister for Women and Children Affairs Meher Afroze Chumki presided.
The triennial conference that began with the theme "Women's Leadership for Enterprise" aims at reviewing the progress of women's economic, political and social empowerment, and gender parity issues among the member countries.
Hasina said despite multi-faceted challenges including discrimination in getting jobs, salaries and other benefits as well as religious and social extremism, women across the world were progressing although the pace of the development was very slow.
The activities of the women in the global arena should be strengthened, she said.
Hasina said Bangladesh was a promoter to establish world peace through ensuring socio-economic and political empowerment of women.
The leader of the house and prime minister, five ministers, the Speaker, deputy leader of parliament and the leader of the opposition in Bangladesh are women, she mentioned.
Earlier, Hasina distributed awards to three winners of an essay competition on "Commonwealth" – one each from Nigeria, Malaysia and Bangladesh from among the contestants from 24 countries.
http://www.thedailystar.net/beta2/news/be-vocal-on-womens-rights-gender-parity/
------------
Morocco: "little maids" but big victims
19 Jun 2013
Each year Terre des hommes witnesses young girls from rural zones in Morocco being exploited by employers in the city, despite the strengthening of laws in Morocco. Tdh workers in Morocco work to help these girls, but also to raise community awareness of the risks that these "little maids" face.
The rise of the middle class in Morocco is pushing some families to want to appear more wealthy, even though they might not necessarily be that well-off. In order to be to employ domestic staff, some families have no qualms about hiring young girls from the countryside who are cheaper to employ and who are too young to rebel.
These girls are recruited by "Samsars" – intermediaries from the same village – who send them to the towns to work as "little maids" whilst promising to provide a wage for the parents and a good education for the girls.
Full report at:
http://www.trust.org/item/20130612091247-jexi8/
------------
Salma's Tale: From A Caged Adolescence to Literary Fame
19 Jun 2013
Salma's fate wasn't meant to be any different to that of millions of girls in rural India: you're born to the huge disappointment of your parents who were desperate for a boy; you're sent to school for a few years; you're married off in your teens and have children of your own. Eventually, you die.
The prospect of such a life haunted Salma when she was a young girl growing up in an ultra-conservative Muslim village in southern India. The thought of puberty filled her with dread, for that was when young girls got locked up inside their homes, forbidden to study, play or do any of the things children do.
Full report at:
http://www.trust.org/item/20130617110703-qzw4u/?source=dpagehead
------------
In the artery outside the high court, everyone marches to this woman's beat
June 19, 2013
KARACHI: She stands resolutely at the intersection right in front of the Sindh High Court, surveying all that bends to her will. When she raises her hand, cars – in which powerful men sit – come to halt right away. When she casually waves it, the wheels slowly start spinning again.
Meet 40-year-old Shakila Bibi, aka Shabbo, who has been voluntarily directing traffic for the last five years outside the high court building. This is a powerful corridor – not only do judges pass through but officials who work at the passport and FIA offices located near the intersection. She's very well-known here.
Full report at:
http://tribune.com.pk/story/565065/in-the-artery-outside-the-high-court-everyone-marches-to-this-womans-beat/
------------
Desperate search for missing girl injured in Quetta attacks
SYED ALI SHAH
19 Jun 2013
QUETTA: Zara Ahmed, a student of Sardar Bhadur Khan Women University, has been missing since the deadly June 15 bombing on a university bus.
Maternal Uncle of Zara Ahmad, Abdul Manan told Dawn.com that the ill-fated student went missing after she suffered serious wounds in the university blast.
"The parents of Zara Ahmed are repeatedly visiting hospitals," he said.
Manan said Zara is the student of MA Islamic Studies in the univetsity.
"Zara has no brother, just a sister," he said, adding that the family was completely dependent on Zara Ahmed.
Full report at:
http://beta.dawn.com/news/1019098/desperate-search-for-missing-girl-injured-in-quetta-attacks
------------
America's Rebel Folksinger Supports Turkish Protesters By Interpreting 'Imagine'
19 Jun 2013
America's rebel folksinger, who was once an icon of a generation, Joan Baez has expressed her support to the ongoing protest movement in Turkey, interpreting John Lennon's classic "Imagine" in an intimate YouTube video.
Baez, who was present in every major civil protest of her time with her guitar and voice - from the March on Washington to the 1989's Velvet Revolution in the former Czechoslovakia - did not stay indifferent to the demands of the Turkish protesters.
Full report at:
http://www.hurriyetdailynews.com/joan-baez-expresses-support-for-turkish-protesters-by-interpreting-imagine.aspx?pageID=238&nID=49069&NewsCatID=383
------------
URL: https://newageislam.com/islam-women-feminism/gas-stations-xinjiang,-bar-veil/d/12153