New Age Islam News Bureau
2 Nov 2012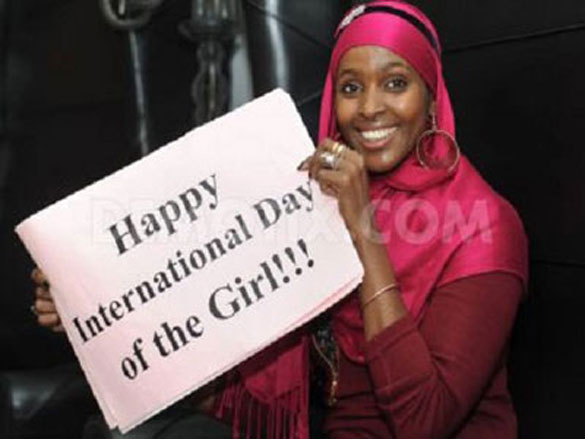 • Over 100 Afghan Girls Enrol In National Military Academy
• Nigerian Girl Child and the Malala Inspiration
• Drafting Egypt's Constitution Stalls on Women's Equality
• Bangladesh Charity Puts Women in Driving Seat
• Married Adolescents in Nigeria
• 'Poverty Alleviation Possible If Equal Opportunities Given To Women': Tie Lahore
• Indonesia: Parental, School Supervision Needed to Uphold Rights of Young Women
• Afghanistan's Female Powerhouses: A Rapper, a Colonel and 'Mother' To Hundreds
• U.S. Consul-General Advises Nigerian Girls to Develop Their Sporting Talents
• Reporter Jailed In Ethiopia among the Women Journalists Honoured
• Human Rights Recommend Rs 5,000 Compensation Each to Punished Girls
Compiled by New Age Islam News Bureau
Photo: Nigerian Girl Child and the Malala Inspiration
URL: http://www.newageislam.com/islam,-women-and-feminism/new-age-islam-news-bureau/gambler-in-pakistan-puts-rs60k-price-tag-on-daughter/d/9171
---------
Gambler in Pakistan Puts Rs60k Price Tag on Daughter
By Sarfaraz Memon
November 2, 2012
SUKKUR: A gambler put a price on the priceless when he allegedly offered to sell his 18-year-old daughter to settle a bet.
The incident took place in Eid Gah Mohalla in Sukkur late Wednesday night, when Ghulam Sarwar Noonari allegedly lost Rs60, 000 to one Uzair Jakhrani.
Finding himself short of cash, Noonari quickly decided to marry off his daughter, Sabrina, to settle the debt. According to reports, Jakhrani accepted the offer and asked Noonari to arrange for a Maulvi who could perform their Nikah.
The police, however, were swift in taking action after being informed of the incident by a neighbour. They raided Noonari's house, took Sabrina into custody and arrested Noonari and Jakhrani.
Sabrina was presented before the court of the second civil judge Jacobabad on Thursday, where she recorded a statement. The court ordered the police to send the girl to a shelter home in Larkana for a couple of days, after which she could make a decision of her own free will.
While a case is yet to be registered, the police have refuted the story. SHO Thull Police Station Ali Mohammad Mahar told The Express Tribune that reports about a father gambling off his daughter were wrong and baseless.
However, he confirmed that the police raided Noonari's house and took Sabrina into custody but she admitted she was engaged to Jakhrani for the last three years and wished to marry him.
According to Mahar, Sabrina's uncle Hakim Ali was not happy with the marriage and was forcing her parents to end the engagement.
In her statement, Sabrina said that Jakhrani had come to her house Wednesday night to settle an appropriate date for marriage but her uncle informed the police, the SHO added.
Sabrina will be presented before the court after three days.
http://tribune.com.pk/story/459625/reckless-wager-gambler-puts-rs60k-price-tag-on-daughter/
---------
Over 100 Afghan Girls Enrol In National Military Academy
November 1st, 2012
According to Afghan defence officials, around 100 volunteer Afghan girls participated in an assessment test to join the national military academy of Afghanistan.
Officials in the National Military Academy of Afghanistan said around 3000 participants including around 100 Afghan girls took part in the assessment test.
The officials further added around 300 volunteers including 30 girls will qualify to enter the National Military Academy of Afghanistan.
The successful candidates will be trained various subjects specifically military trainings during the four years course in this academy.
The Afghan National Army (ANA) is the main branch of the military of Afghanistan, which is responsible for land-based military operations and ground warfare to defend the state against possible foreign military incursions. It is under the Ministry of Defense in Kabul and is being trained by NATO alliance. The ANA is divided into six regional Corps, with about 200,000 active troops as of June 2012. The current Chief of Staff of the Afghan National Army is Lt. Gen. Sher Mohammad Karimi.
In the meantime Construction work on an Afghan National Army Officer Academy (ANAOA), dubbed the 'Afghan Sandhurst' and funded by United Kingdom, has begun at a site just outside Kabul, it has been announced.
The academy will train around 1,500 students per year, around 10 per cent of whom will be female. Three quarters of the non-Afghan mentoring staff at the facility will be British, and training will continue after the end of ISAF military operations in Afghanistan, with support from the US, Australia, Denmark and Norway.
David Cameron, Great Britain's Prime Minister, in his trip to Kabul-Afghanistan announced that this country, as part of its long-term cooperation with Afghanistan, will create Officers Academy based on the model of Great Britain's Royal National Academy 'Sand Hurst ' in Afghanistan.
The Academy which is under construction by financial cooperation of United States and Great Britain will work in the framework of Afghanistan National Defense University and it is expected to be unique of its kind in South Asia, Central Asia and in the Middle East.
http://www.khaama.com/over-100-afghan-girls-enroll-in-national-military-academy-395
---------
Nigerian girl child and the Malala inspiration
02 NOVEMBER 2012
BY EMMANUEL ONWUBIKO
THE last couple of weeks have seen the World's attention focused on issues around the girl-child. Precisely on 11 October 2012, the World marked the first ever special day reserved by the United Nations as the International Day of the Girl Child.
Incidentally, while the rest of the World paused for a while to reflect on ways and means of promoting, protecting and enforcing legislative frameworks and laws that safeguard the rights of the girl child, the people of Pakistan were thrown into shock and trepidation over the attempted assassination of a foremost girl child activist, the little Miss. Malala Yousafzai by armed terrorists belonging to the banned Taliban gunmen while returning home in a school bus.
The attempt on the life of this young school girl who has shown remarkable gifts and talents as a good speaker and defender of the educational right of the girl child drew International condemnation.
The inspirational story of Miss. Malala Yousafzai as captured by the online encyclopedia Wikipedia has it that she was born in 1998 in the town of Mingora in the Swat District of Pakistan's North-West Frontier province.
Malala, according to documentary evidence, is reputable as one of the best known Child rights activists of the contemporary times. She gained fame for her education and women's rights activism in the Swat Valley, where the Taliban has, at times, banned girls from attending school.
In early 2009, at the age of 11, Yousafzai wrote a blog under a pseudonym for the BBC detailing her life under Taliban rule, their attempts to take control of the valley, and her views on promoting education for girls. The following summer, a New York Times documentary was filmed about her life as the Pakistani military intervened in the region, culminating in the Second Battle of Swat. Yousafzai began to rise in prominence, giving interviews in print and on television, and taking a position as chairperson of the District Child Assembly Swat. She has subsequently been nominated for the International Children's Peace Prize by Desmond Tutu, and has won Pakistan's first National Youth Peace Prize.
Miss. Malala can as well be described as the new little 'Nelson Mandela' of our time.
I have keenly followed the ordeals of this beautiful girl since she was unfortunately shot by the bandits who do not have regards for human life and I can attest that she has provided inspiration for other girl child activists especially in a developing society like Nigeria and the rest of Africa to join the global advocacy to improve respect for the fundamental rights of all children and especially the girl child since all human rights are universal; inalienable; sacrosanct and inviolable.
Before Malala was airlifted to a British hospital for treatment in the wake of her attack by the terrorists, I watched the former premier of Britain Mr. Gordon Brown on the international media as he waged global-wide advocacy for World leaders to provide concrete support for the kind of inspirational work and advocacy activities that the likes of Miss Malala has launched.
Mr. Gordon Brown who appeared on a special interview session with the UK-based television station—Skynews— to inaugurate a United Nations petition in the name of Miss. Malala using the slogan "I am Malala," demanded that all children World-wide be in school by the end of 2015. The former British premier said he would hand over the petition to Pakistan's President, Mr. Asif Ali Zardari in November.
I was also opportune to have watched one of Malala's recent interview by the United States-based Cable News Network (CNN) and was indeed proud of her display of prodigious intellect and wisdom when she clearly stated in polished English language that "It is not true that the Islamic religion forbids girl child education. If I have a meeting with Taliban I will tell them that the Islamic religion promotes girl child education".
The interesting dimension of Malala's human rights advocacy is that it appears that the pivot of her campaign molded and inspired the United Nations' introduction of the first ever international day of the Girl Child.
On 11 October, 2012, the United Nations marked the first ever International Day of the girl child by calling for an end to child marriage, and stressed that education is a strategic background for protecting girls against this harmful practice.
"Education for girls is one of the best strategies for protecting girls against child marriage", Secretary-General Ban Ki-moon said in his message for the Day. "When they are able to stay in school and avoid being married early, girls can build a foundation for a better life for themselves and their families".
"Let us do our part to let girls be girls, not brides," he stated, urging governments, community and religious leaders, civil society, the private sector, and families—especially men and boys—to promote the rights of girls.
The International Day of the Girl Child was designated as 11 October by a resolution adopted by the UN General Assembly in December 2011, to recognise girls' rights and highlight the unique challenges girls face worldwide. The theme of this year's observance is 'Ending Child Marriage.'
Approximately 70 million young women today were married before age 18, according to the UN, which notes that child marriage denies a girl her childhood, disrupts her education, limits her opportunities, increases her risk of being a victim of violence and abuse, and jeopardizes her health.
Girls with low levels of schooling are more likely to be married early, and child marriage has been shown to almost always end a girl's education, the UN adds. Conversely, girls with secondary schooling are up to six times less likely to child marriage, according to the UN.
Nigeria is a case study of where the government and indeed even the legislators pay lip service to these two fundamental rights of the girl child which are freedom from early marriage and right to sound education.
Few months back, a serving Senator of the Nigeria's National Assembly was accused of marrying a suspected girl child of 13 years from Egypt but when different groups demanded his prosecution, the Federal Government through the office of the Federal Attorney General, criminally failed to protect the fundamental rights of this Egyptian girl child even when there is an extant law against such practice known as the Child Rights Act of 2003 which was passed validly by the Nigeria's National Assembly of which the suspected high profile violator is later to be a member.
A presenter with one of Nigeria's Ray power fm, Mrs. Queen Kunde, once commented that government's lip service to the rights of the girl child is deeply entrenched.
Queen, who is a mother herself, said that while President Jonathan rightly inaugurated the Almajiri educational rescue project for over 10 million street boys in Northern Nigeria who were out of formal schooling, the same government failed to introduce similar programme for the girl child in parts of Nigeria who largely face child labor such as street hawking and lack of education.
The Federal government needs to urgently redress this systemic anomaly because what is good for the goose is also good for the gander, so goes the wise saying.
Nigeria is also blessed with talented young girls who have used their enormous gifts to campaign for the respect of the fundamental rights of the girl child.
In the 1980's, Nigeria witnessed the emergence of an enormously talented young girl child by name Miss. Tosin Jegede who excelled in music and indeed used her talents to call on stakeholders in the Nigerian project to train the girl child educationally and save them from child trafficking, sexual molestation and early marriage. A national newspaper earlier in the year, on 20 July, published a brief story of the remarkable activities of Tosin Jegede who has now grown to adulthood and has also achieved much academically.
According to the paper, Tosin Jegede ruled the Nigerian music scene as one of the youngest child stars in the 80s. Renowned for persuasive songs, in which she urged 'parents to listen to their children and pay their school fees', Tosin began her foray into music at the age of four.
Her music videos enjoyed generous air play on NTA Channel 5, 7 and 10 which were the on only TV stations in Lagos at the time. She left the country 16 years ago, with three albums to her credit. She returned briefly in 2005 to stage a visual arts exhibition of some of her works.
After taking a degree in Business Decision and Analysis from the University of Bristol, London, she finally returned to Nigeria four years after. She also worked briefly in the UK as Pension Adviser.
Now in her late 20s, according to the newspaper, the chubby-faced artiste lost her mother, Mrs. Martha Jegede, recently after being diagnosed with a muscle disease.
The anti-human trafficking agency (NAPTIP) building upon some of the inspirational works of great children like the then little Tosin Jegede, should be empowered to independently prosecute habitual abusers of children without necessarily waiting for the Federal Attorney General for authorisation.
The National Human Rights Commission, with the new independence that the National Assembly gave it, must partner actively with sister organizations such as NAPTIP and credible civil society groups to consistently put the issues around the rights of the girl child and, indeed, the Nigerian child on the front burner of national discourse.
Mrs. Funmi Femi-Falana aptly and, indeed, rightly noted in her new book titled "Girl Child education in Nigeria", that 'an untrained girl child is indeed an untrained society'.
• Emmanuel Onwubiko, Head, Human Rights Writers' Association of Nigeria.
http://www.ngrguardiannews.com/index.php?option=com_content&view=article&id=103453:nigerian-girl-child-and-the-malala-inspiration&catid=203:youth-speak&Itemid=730
---------
Drafting Egypt's Constitution Stalls on Women's Equality
By: Mohammad Abdel qader and Mohammad Gharib
Nov 1, 2012
Representatives of political forces in the Constituent Assembly failed to resolve a dispute over Article 68, related to the equality of men and women.
While representatives of Islamist parties have insisted on preserving "the provisions of Shariah [Islamic] law" in the article, representatives of civil forces have stressed the need to omit the sentence or to completely abolish the article.
However, the Freedom and Justice Party has refused to omit the sentence, since it is mentioned in the constitution of 1971.
In its meeting yesterday [Oct. 31], the party rejected the proposal of Dr. Manar Shorbagy to specify that "Islamic Shariah" would be limited to "personal status and inheritance" laws.
Mohammed el-Sawy, a member of the assembly taking part in the meeting, said that at the end of the meeting, political forces reached an agreement over two new proposals.
The first proposed completely abolishing the article — a proposal that was rejected by Dr. Gamal Gibril and Gaber Nassar, since the article is unique among the world's constitutions and the other articles within the constitution affirm these same rights.
Sawy added that the second proposal suggests keeping the article as it is in the 1971 Constitution, yet adding a new article that specifies the rights that the state guarantees for women, such as the right to education, employment, travel and free movement, as well as the other rights that should to be preserved.
Representatives of these political forces have decided to hold a meeting on Sunday [Nov. 4] to resolve the article and vote on the proposals that they have agreed upon.
On the other hand, Shorbagy submitted a proposal to the drafting committee, which consists of a new text article on slavery and servitude that the commission on rights and freedoms has adopted.
The text article stipulates that no one shall be held in slavery and servitude, and criminalizes the trafficking of women. Although the drafting committee has amended the text article, it was rejected by a number of members of the assembly, since there is no slavery or human trafficking in Egypt, and therefore it is not worth stipulating for it.
Shorbagy said that although the article is important, it was superseded by another that could be acceptable. The new text prohibits and criminalizes "forced labor, inviolability of the person and sex trafficking."
She added that she still insists on adding that "harassment is punishable as criminal offense" to the family law article.
She noted that a large number of members refused to add this sentence to the constitutional article, preferring that it be instated as a law. Shorbagy stressed that harassment has become so serious and should be criminalized constitutionally, not just legally.
http://www.al-monitor.com/pulse/politics/2012/10/egypt-islamists-fail-to-agree-on-womens-rights-in-new-constitution.html#ixzz2B3DOXnnt
---------
Bangladesh Charity Puts Women in Driving Seat
2 November 2012
Mosammat Shahanara, 22, is a rare breed in Bangladesh: A qualified professional female driver and she is ready to hit the road in a new career that should bring her independence and an income.
Shahan Ara, who comes from a poor village in the southwest of the country, is one of 21 women to be the first graduates from a training scheme designed to promote women drivers and challenge deep gender prejudices.
About 600 young women from poor backgrounds are being taught to drive at an eight-week course in Dhaka, funded by the BRAC, a Bangladeshi charity in co-operation with the government. The first course started in July.
For Shahanara, defying the taboo against women drivers has given her a shot at a better life, but it has come at a high price in a Muslim-majority country where conservative values remain strong.
Full report at:
http://www.arabnews.com/bangladesh-charity-puts-women-driving-seat
---------
Married Adolescents in Nigeria
BY HAJIYA BILKISU
1 NOVEMBER 2012
I prefer to call them advocates for youth. Among them were government officials, parents, teachers, health care providers, technical experts, human rights and gender activists, development partners, programme managers and founders of several nongovernment organisations working for and with young people.
Students who are adolescents from selected secondary schools in Abuja sat in the front row of the hall. It was their day. They all turned up in large numbers and filled the events hall of Transcorp Hilton Hotel, Abuja on October ---to listen to presentations on married adolescents in Nigeria. The Federal Ministry of Health hosted the workshop with support from the John D and Catherine T MacArthur Foundation. The workshop was organised as a side event of the Board Meeting of the Global Meeting of the Partnership for Maternal, New-born and Child Health which was hosted by Nigeria.
Full report at:
http://allafrica.com/stories/201211010441.html?viewall=1
---------
'Poverty Alleviation Possible If Equal Opportunities Given To Women': TiE Lahore
November 2, 2012
ISLAMABAD: The poverty alleviation efforts can only be successful in by providing equal opportunity to work to women in Pakistan.
The Indus Entrepreneur (TiE) Lahore President Salim Ghauri said an inactive role of the fifty percent of the country's population in building economy was one major reason behind the rising poverty levels in Pakistan. It is fanning intolerance in the society at large, he added.
Full report at:
http://www.dailytimes.com.pk/default.asp?page=2012\11\02\story_2-11-2012_pg5_2
---------
Indonesia: Parental, School Supervision Needed to Uphold Rights of Young Women
November 01, 2012
Ayu Meutia Azevy
It was a lazy Sunday afternoon. But it soon turned bitter shortly after I logged on to Facebook and read a news article: 25 girls in Nunukan district, East Kalimantan, were denied entry to a higher education institution because they are not virgins anymore.
Just last month, a 14-year-old schoolgirl was expelled from her school in Depok, West Java, after she was kidnapped and raped. The case sparked outrage from the community and feminists.
Online commentators protested and said that the rejection was unfair to the girls. Inquiries were raised on how the institution conducted virginity tests and whether such test was valid or not. Obviously to most Indonesians, virginity — and the way society perceives it — is still a huge concern.
Full report at:
http://www.thejakartaglobe.com/talkback/parental-school-supervision-needed-to-uphold-rights-of-young-women/553675
---------
Afghanistan's female powerhouses: a rapper, a colonel and 'mother' to hundreds
By Jamieson Lesko, NBC News
2012/10/31
KABUL, Afghanistan -- Odds are, if you are a female in Afghanistan, you have been forced to marry a man who has hurt you, denied access to an education and will die young. It takes extreme measures just to survive, let alone thrive, here.
There's no denying the grim litany of evidence. But beyond the bombs and burqas that often define this country is a light shining through the darkness. It turns out some of the bravest women in the world live here. These are the stories of three women in Kabul who dared to defy the odds.
Full report at:
http://worldnews.nbcnews.com/_news/2012/10/31/14805382-afghanistans-female-
---------
U.S. Consul-General Advises Nigerian Girls to Develop Their Sporting Talents
1 NOVEMBER 2012
Mr Jeffery Hawkins, Consul-General of the U.S. Consulate in Lagos, on Thursday, advised young Nigerian girls to develop their sporting talents, alongside their studies.
Hawkins gave the advise while speaking at the launch of "Kick like a Girl", a programme organised by the consulate.
The Consul-General urged young girls to emulate American Lawn Tennis Star, Ms Serena Williams, by shunning acts capable of leading them astray.
Hawkins restated the U.S government's commitment to empowering the girl child, toward the realisation of their potential.
Full report at:
http://allafrica.com/stories/201211020307.html
---------
Reporter Jailed In Ethiopia among the Women Journalists Honoured
November 1, 2012
Reeyot Alemu missed an important dinner engagement in Beverly Hills. But she had a good excuse.
The 31-year-old journalist is jailed in the notoriously brutal, rodent-infested Kaliti prison in Addis Ababa, the capital of Ethiopia. She's two years into a five-year sentence for daring to write about poverty, opposition politics and gender equality.
The dinner she missed Monday was the annual awards ceremony, at the Beverly Hills Hotel, for the International Women's Media Foundation, which celebrates courageous women journalists.
Full report at:
http://latimesblogs.latimes.com/lanow/2012/11/reporter-jailed-in-ethiopia-among-woman-journalists-honored-.html
---------
Human Rights Recommend Rs 5,000 Compensation Each to Punished Girls
Nov 01 2012
Bhopal: Madhya Pradesh Human Rights Commission (MPHRC) has recommended the state government to pay a compensation of Rs 5,000 each to four girls who were made to stand for four hours as punishment for not doing homework by a government school teacher in Burhanpur district recently.
The recommendation to pay this sum to the four students was given by MPHRC's Acting Chairman Justice A K Saxena yesterday following a complaint in this regard, official sources said today.
Full report at:
http://www.indianexpress.com/story-print/1025265/
-----------
URL: https://www.newageislam.com/islam,-women-and-feminism/new-age-islam-news-bureau/gambler-in-pakistan-puts-rs60k-price-tag-on-daughter/d/9171