New Age Islam News Bureau
11 Jan 2019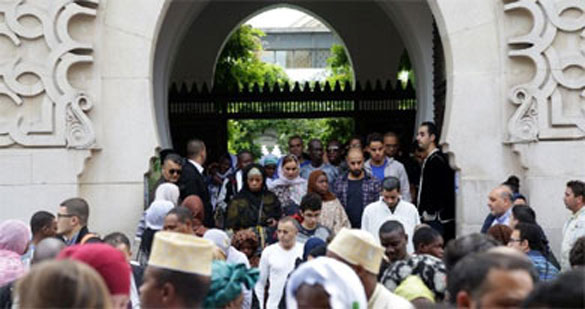 Worshippers leave Grande mosquée de Paris after Friday prayers, 1 September 2017.
Zakaria ABDELKAFI / AFP
-------
• Is Saudi Arabia On The Road To Ending Child Marriage?
• All-Women Travel Expeditions Take Off In Middle East
• By Necessity or Design, Iraqi Women Launch Mosul Firms
• Muslim Congresswomen Pave Way for Future Generation
• Mehbooba Asks Governor to Act against Muslim Girl's Rapists
• Sahar Kazemi Taken To Jail, Sama Nazifi Dismissed From College
Compiled by New Age Islam News Bureau
URL: https://www.newageislam.com/islam-women-feminism/french-muslim-women-push-inclusive/d/117430
--------
French Muslim Women Push For 'Inclusive' Mosque in Paris
10 January 2019
Two Muslim organisations in France have launched projects to create "inclusive" mosques: spaces where women and men can pray together, and where female imams would be able to lead Friday ...
Kahina Bahloul conducts her prayers at home, in her living room. She decided to stop going to the mosque five years ago after she was refused access to the main prayer room.
"I went to the mosque with a group of male and female friends. It was a religious festival commemorating the birth of the Prophet, so it was very important," she tells RFI.
"The men were told to go in, but we women were told 'cross the road and you'll find a room'. It was a garage in fact. So there I was in this garage. The sound system was terrible and the atmosphere was not at all spiritual. Women were cooking and kids were playing. I was extremely disappointed, shocked even."
Bahloul says the separation of men and women in the main prayer does not make sense.
"We're together everywhere in everyday life, and then suddenly, when it's prayer time, you can't even look at one another. It's as if we've been reduced to sexual objects and nothing else."
A need for an inclusive space
Bahloul has a doctorate in Islamic studies and is of the more mystical branch of Islam known as Sufism. Following the terror attacks in November 2015 she founded a discussion group and youtube forum, Parle moi d'Islam (talk to me about Islam).
Along with philosohy professor Faker Korchane, she has now set up an association with the aim of opening a Fatima mosque, an "inclusive" modern space where men and women can pray together.
"The mosque will welcome men and women in the same room, women on one side, men on the other, but both on the same level," she explained.
Bahloul does not wear a veil and does not believe the Koran imposes it, so there will be no dress code.
The other crucial feature is that a woman imam will lead Friday prayers every other week.
France's female imam
Bahloul would like to be the first woman in France to lead Friday prayers, but recognises that even though France has Europe's largest Muslim population (estimated between four to five million people), she is swimming against a very conservative tide.
"It's surprising that in France, considering there's such a large Muslim community, that there's also a deeply conservative tradition," she said. "The traditional currents such as Salafism and the Muslim brotherhood have a strong presence.
"Some schools of Islamic jurisprudence like the Mālikī school – the most common in the Maghreb – forbid women imams entirely. Other schools accept women imams, but they're allowed to hold prayers only in front of women, or there's a physical separation in the hall so you can't see the women imam."
New readings of the Koran
Eva Janadin is another French muslim woman with big hopes of creating a place embodying the reformist current of Islam.
Along with Anne-Sophie Monsinay, she plans to open the Simorgh Mosque, also mixed, with female imams and an open dress code. Prayers would be in French.
"We would like to use the critical-historical discourse around Islam that has developed within universities," she tells RFI. "To try and make it more accessible to a wider public and bring it into the religious domain.
"In other words we want to draw concrete lessons on how you can lead a spiritual life in today's world, following all the new readings of the Koran, new religious concepts and so on."
Both groups are looking for funds and premises for the mosques which would, ideally, be in the French capital.
Other attempts in Europe
There is some support for women imams in Britain and Spain, but so far Germany and Denmark are the only European countries that have more progressive mosques where women and men can pray side by side.
The Mariam mosque, which opened in Copenhagen in early 2016, welcomes worshippers of both sexes; Friday prayers are reserved for women.
Berlin's Ibn Rushd-Goethe 'liberal' mosque opened in June 2017. Prayers are held in German in a building belonging to the Protestant community.
Despite positive media coverage the Berlin mosque has only a few dozen regular worshippers. And its female imam, Seyran Ates, a well-known lawyer and human rights militant, has suffered ongoing threats and lives under police protection.
https://uk.news.yahoo.com/french-muslim-women-push-inclusive-083500710.html?guccounter=1
--------
Is Saudi Arabia On The Road To Ending Child Marriage?
10 January 2019
BEIRUT, Jan 10 (Thomson Reuters Foundation) - Saudi Arabia is trying to ban child marriage through new regulations, but loopholes are leaving young girls in the deeply conservative kingdom unprotected, campaigners said on Thursday.
The Shura Council, a top advisory body to the government, approved regulations on Wednesday to prohibit marriage for girls and boys under 15, and those under 18 will need approval from a specialised court, according to council member Lina Almaeena.
Currently, the conservative Muslim country does not have a minimum legal age for marriage, and women live under a guardianship system where they must have permission from a male relative to marry, work and travel.
Almaeena said the approval by the council, which does not have legislative powers but can propose laws to the king and the cabinet, is a "great accomplishment" for the kingdom in protecting its young citizens.
"There were no marriage limitations before, so for this to be passed and prohibit marriage for a child under 15 is a huge accomplishment because you will be protecting young boys and girls," she told the Thomson Reuters Foundation by phone.
Globally, 12 million girls marry before age 18 every year, according to Girls Not Brides, a coalition working to end child marriage.
The United Nations regards the practice as a human rights violation.
Heather Hamilton, deputy director of Girls Not Brides, said it is "encouraging" that the kingdom is setting age limits for marriage, but the rules are a "far cry" from protecting children under 18, who can still marry with court approval.
"Girls are still at risk of being forced into marriage if their parents can persuade a court to agree," she said in an emailed statement.
"We know that even in countries like the U.S. and U.K., courts offer little protection to girls who don't want to marry but risk alienation or retribution from their families if they tell court officials their real feelings."
Child marriage - defined internationally as marriage under 18 - remains legal in Britain. In England, Wales and Northern Ireland, teenagers can wed at 16 with parental consent. In Scotland, they do not need consent.
The majority of U.S. states do not lay out a minimum age for marriage if statutory exceptions are met, such as parental or judicial consent or in case of pregnancy.
Campaigners say children married young are more likely to leave school, get divorced, experience domestic abuse and mental health problems and live in poverty than those who marry later.
http://news.trust.org//item/20190110180820-7e64r/
--------
All-Women Travel Expeditions Take Off In Middle East
JANUARY 11, 2019
To explore the world independently, meet locals in new and unfamiliar places, or simply to stretch the limits of one's comfort zone—there are myriad reasons for a growing trend in tourism: namely, all-women expeditions. For a woman, hitting the road alone often seems daunting enough and perhaps more so when considering a trip to conservative countries in the Middle East and North Africa.
Women are therefore increasingly taking advantage of all-female options—and dozens of tour companies are rushing to meet the demand. Among the most popular destinations for westerners are Morocco, Iran, Egypt and Jordan.
While less common, Middle Eastern Muslim women are also beginning to seek out these travel experiences; this, even though many Islamic leaders hold that it is impermissible for Muslim women to travel alone without a mahram, a legal male escort that accompanies her during overnight journeys. Yet entrepreneurs have started to buck religious and social norms by offering female travel enthusiasts the opportunity to experience the world in a new way.
Noura Al Ameri, a Qatari businesswoman who in 2014 founded the Doha-based Tartebkum Holidays, organizes excursions strictly for women and children. She has also called for the establishment of tourist facilities in Qatar that are expressly designed for females.
"The idea began in my mind ten years ago but I waited for the right time to implement it," Al Ameri related to The Media Line. "I started to organize tourist trips limited in scale, in cooperation with [government] bodies such as the Ministry of Culture and the Tourism Authority."
Al Ameri's first tour was to Turkey and included only two women—a Qatari and a Saudi. Since then, the concept has taken off and now dozens of women from various Arab states participate in each outing.
Still, tourism outfits continue to face obstacles.
"Women in our country and in the Gulf have different requirements," Al Ameri stressed. "They need special trips that are safer and catered to them. Because our customs and traditions forbid women from traveling alone they are denied the pleasure. My company aims to overcome this barrier and take women everywhere in the world.
"Sometimes I communicate directly with the husband or brother of the woman who wants to participate to convince him to allow her to go and dispel any fears," she expounded. "There is certainly a big responsibility but I decided to go ahead with the project because I am convinced that it's what we need."
Catering To Solo Female Travelers
To capitalize on the burgeoning movement, Intrepid Travel recently announced the creation of women-only holidays to Morocco, Jordan and Iran, among other locations.
"Each tour was designed to uncover the customs, food, challenges and lives of the local women in each country, all the while encouraging female empowerment and showcasing the traditions and routines unique to each culture," Jenny Gray, Regional Product Manager for the Middle East at Intrepid Travel, told The Media Line.
One of the advantages of embarking on women-only tours, Gray notes, is the ability to visit local establishments generally inaccessible to mixed-gender groups. For instance, in the Moroccan city of Marrakech travelers frequent an artist's cooperative that supports female rug-weavers as well as a traditional hammam, or bathhouse, that is open only to women. In Jordan, participants learn about henna art from Bedouin women, whereas in Iran—infamous for its strict gender-segregation rules—they tour a female-only park and meet with women entrepreneurs.
"The itineraries, each guided by women, break the barriers of customary tourism in these locales, offering a deeper understanding of female culture in each Middle Eastern nation," Gray affirmed. "The trips expose female travelers to a range of fascinating local women—young, old, religious, conservative, rural, modern and liberal—while respecting traditional cultural values."
Intrepid's latest offerings, many of which coincide with International Women's Day in March, are increasingly being sought out and there currently are several itineraries already scheduled in 2019 and 2020. The trips to Iran, for example, retail anywhere from $2,310 for a 9-day jaunt (none of the pricing includes airfare) to $4,550 for a 16-day cycling adventure throughout the country.
The majority of Intrepid's clients are based in Australia, the United States, Canada and the United Kingdom. The goal, Gray explains, is not only to provide female travelers with the opportunity to venture into previously unseen territory but also to empower local women.
Calling All Women: The Quest For Adventure
There are many reasons women are choosing to set off on these unique adventures.
"I don't like the idea of accommodating men," Nevena Barrett, a retired schoolteacher living in Australia, affirmed to The Media Line. "I have been on mixed trips before and I'm more comfortable going strictly with women. I just want to go for the enjoyment of the travel and the enrichment that provides, rather than being distracted by the possibility of romantic relationships. In a small setting like that, sometimes guys want to make a move and you just want to focus on the trip without distraction."
Barrett, 68, embarked on her first such trip with company Venus Adventures to Morocco nearly a decade ago. Since then, she has taken numerous similar vacations, most recently to Oman.
"When you're strictly with women, you're able to share things that you wouldn't necessarily be able to discuss with men because the subjects or topics are unique to a women's perspective," she elaborated. "Because of that, connections and conversations are freer and you don't feel as inhibited as you would if the opposite sex were present."
Venus Adventures created the marketplace for women-only travel groups several years ago after noticing a gap in the industry. Its pricing varies depending on the destination and length of stay, ranging from roughly $3,300 for a 15-day odyssey through Morocco to an 11-day journey in Egypt for $3,900.
"We [put] an emphasis on meeting the locals and mingling with them as much as possible to get to know the culture," Julie Paterson, Managing Director at Venus Adventures, conveyed to The Media Line, adding that the majority of the company's clients are mature women from English-speaking countries whose friends are unavailable to travel.
"The 50 and over demographic that partakes in women-only trips may be married/divorced/single, or often we have women whose husbands have recently passed away and they are traveling for the first time alone," Paterson explained. "Women feel safer and more comfortable in a group of like-minded people. Without men around they don't have to compete with them when doing activities or for their attention."
For Stephanie, a 56-year-old woman from Canada, the decision to go on an all-women excursion was less about being surrounded by members of the same sex and more about the trip aligning with her personal interests. She recently went to Egypt on a tour arranged by Wild Women Expeditions, a global agency focusing on outdoor adventure travel and which currently offers trips to nearly 30 countries. A 12-day vacation to Egypt, including accommodations, a tour guide, in-country travel and full board costs $5,495. "I wanted to go to Egypt and had traveled with this tour operator before," Stephanie, who is divorced, recounted to The Media Line. "It came down to a choice between two options: a trip through an educational institute in the United States and this one. After looking at the itineraries, costs and length of trip, the final deciding factor wasn't so much that it was a group of women but that it was a women-focused trip."
As interest in such travel continues to rise, one of the problems agencies are dealing with is recruiting enough female tour guides. For its part, Intrepid has attempted to overcome this challenge by advertising specifically to females and launching targeted social media campaigns.
In a study published last year, the United Nations World Tourism Organization (UNWTO) found that travel-related policies can be tailored to promote leadership qualities among women. According to the UNWTO, the tourism sector employs up to 10 percent of the global workforce and is thus ideally positioned to contribute to fostering gender equality.
Despite the lack of women in managerial or senior roles in the industry, the world body nevertheless highlighted that "there are almost twice as many women entrepreneurs [51%] in tourism than in any other [field]."
https://www.jpost.com/Middle-East/All-women-travel-expeditions-take-off-in-middle-east-577038
--------
By Necessity or Design, Iraqi Women Launch Mosul Firms
January 10, 2019
Under the thumb of jihadist rule they were deemed minors – unable to do anything without permission from a father or husband – but today women are establishing businesses in Iraq's Mosul.
In red letters "Umm Mustafa and sons" looms large over a modest grocery, standing out in a sea of shop facades daubed with male proprietors' names.
At just 27 she is already a widow – her husband was executed by the Islamic State group during its brutal three-year occupation of the city.
The jihadists seized control of Mosul in 2014, and the ruined metropolis was only wrested back by Iraq's internationally-backed military a year and a half ago after months of some of the most brutal urban combat seen anywhere since World War II.
Located in the working class district of Al-Faruq, Umm Mustafa needs the shop's income to feed her sons, who are six and four.
The self-proclaimed caliphate had relegated Umm Mustafa and her female peers to the shadows – forbidden from even leaving home in the Nineveh province capital, never mind speaking in public places.
Storefront signage such as Umm Mustafa's could never have been erected as they have today.
Why This Matters
Nearly two-thirds of young people in Iraq say they support the right of women to work, compared to only 42 percent of older people, according to a U.N. survey.
And unemployment, while officially at 10.8 percent nationally, is higher in Nineveh and other provinces that were until recently plagued by fighting or under the control of ISIS.
The bloody conflicts that have ravaged the country for nearly four decades – beginning with the 1980-88 Iran-Iraq war – have killed and disabled hundreds of thousands of people, and also triggered numerous divorces.
As a result, one in ten Iraqi households is headed by a woman nowadays, according to the U.N.
"Umm Mustafa's self-reliance should be an example," said Adel Zaki, a neighbor who comes to her shop regularly to buy chocolates or a bottle of fruit juice.
Fellow Mosul native Dania Salem did not have a pressing need to earn money.
But after fleeing home with her family to escape the advancing jihadists, she discovered her passion in Arbil, the capital of Iraqi Kurdistan.
The 23-year-old economics graduate worked at a florist there, where she learned to arrange fresh bouquets and create wreaths of synthetic flowers.
After returning home to Mosul, in August 2018 she opened a flower stall that is now in full bloom.
"For me, it was something of a challenge – a way to improve women's place in society, which has been changing a lot," she told AFP.
What's Next
Since the jihadists were defeated in Mosul – long a Middle East trade hub -the city has undergone a cultural boom.
More and more women are feeling their way into the public sphere, whether by finding work alongside male counterparts or by setting up their own firms.
"This shop is a first step and I have other plans for later," Salem said, before returning to arranging her flowers.
For women's rights activist Rim Mohammed, it is crucial that the state supports other women setting up their own businesses.
"Their social rights must be assured, employment created and their place in cultural and political life guaranteed," she told AFP.
Khalaf al-Hadidi, who runs Nineveh province's planning department, said he takes this message on board.
He said micro-credits of between five and 10 million dinars ($4,200 to $8,400, 3,700 to 7,300 euros) will be granted to women, boys, and girls as a priority.
He promised this would happen as soon as the province receives the $1 billion dollars allocated by Iraq's federal budget, without specifying when that might occur.
https://theglobepost.com/2019/01/10/iraq-mosul-women-economy/
--------
Muslim congresswomen pave way for future generation
11.01.2019
By Umar Farooq
WASHINGTON
The elections of congresswomen Rashida Tlaib and Ilhan Omar set a path for other Muslim women to be able to pursue careers in American politics, the two said Thursday.
Speaking at a reception hosted by the Council of American Islamic Relations, the congresswomen discussed how their elections changed the narrative of Muslims in the country.
"We now feel in many ways that we belong here and this is our country just like anyone else," said Tlaib.
Tlaib and Omar, who are both Democrats, won their races while campaigning on a progressive platform of increasing the minimum wage, environmental advocacy and healthcare coverage for all.
While there have been Muslims in Congress prior to their elections, the two made history by becoming the first Muslim women to hold the office.
"We seek to tell a different story about Muslim women here in the United States of America," Omar said.
"Our young women are now believing that their place is on the House floor," Tlaib said.
The legislators also discussed their faith, mentioning that while they were proud Muslims, they were not perfect.
"I will never be your perfect Muslimah," Tlaib said. "But mashallah, I believe so much in our faith, and it gives me so much strength every day."
The representative was referring to an incident where she used profane language aimed at President Donald Trump, calling for his impeachment.
"I ask Allah to give me strength to get up every single day, because Trump is in my community, and I think to myself 'I'm exposing my faith in such a profound way,'" Tlaib said after shedding tears.
https://www.aa.com.tr/en/americas/muslim-congresswomen-pave-way-for-future-generation/1361593
--------
Mehbooba Asks Governor to Act against Muslim Girl's Rapists
Jan 11, 2019
SRINAGAR — Peoples Democratic Party president Mehbooba Mufti Thursday urged Jammu and Kashmir Governor Satya Pal Malik to ensure that the cul­prits in the rape of a 13-year-old Muslim girl in Ramban district of the state are punished.
"What can be more blood cur­dling & disturbing than a case where a 13-year-old minor girl was gangraped in Ramsoo and is now 3 months into her preg­nancy. But instead of public out­rage, questions will swirl about the caste and religion of this innocent child and her rapists," Mehbooba said in a tweet.
In an apparent reference to Kathua rape and murder case, the PDP president said the pres­ent atmosphere in the country had emboldened culprits to car­ry out such acts which are then justified on the basis of religion.
"Before we know it will as­sume communal understones & leaders who enjoy political pa­tronage will be out on a limb to defend the rapists. Current atmo­sphere in our country has sadly emboldended such acts which are justified on basis of religion & to teach the minority a lesson," she said. "Is this what we have come to as a nation? Urge the @jandkgovernor to ensure culprits are punished," she added.
On Wednesday massive pro­tests erupted at Ramsoo on Srinagar-Jammu highway against the rape of Muslim girl. Leaders of religious organizations, social activists and members of sev­eral NGOs held separate protests in the district office complex against the rape of the girl. The girl who is three months into her pregnancy is currently under­going treatment at a hospital in Jammu, said a protester. He said the matter came to light after the girl became sick a few days ago. "She was shifted to a hospital where doctors told the parents about her pregnancy."
Members from Jammu and Kashmir Peoples' Alliance (JKPA) also held a protest dem­onstration against Ramsoo rape here at Press Colony. Scores of youth including females from JKPA raised slogans against RSS and BJP alleging that "backing by such parties has encouraged people to make the minors a prey."
https://kashmirobserver.net/2019/local-news/mehbooba-asks-governor-act-against-muslim-girls-rapists-39348
--------
Sahar Kazemi Taken To Jail, Sama Nazifi Dismissed From College
Jan 10, 2019
Sahar Kazemi, a female Kurdish woman from Sanandaj, was transferred to the women's ward of Sanandaj Prison.
Sahar Kazemi was arrested by the Ministry of Intelligence forces at her home in August 2018, and was temporarily released on November 24, 2018.
Sahar Kazemi was arrested again on Sunday, December 2, 2018, after going to the Justice Department of Sanandaj. Sahar Kazemi's husband, Madeh Fat'hi, was arrested last autumn and held for three months in a solitary cell in the detention center of the Department of Intelligence of Sanandaj.
Moreover, Sama Nazifi, a student of architecture at Azad University's Shahriar Branch, was dismissed from school on Monday, January 7, 2019, due to her Baha'i beliefs.
This undergraduate student of architecture received an honorary student title last year. But this year, she cannot continue her studies because of being a Baha'i.
According to reports, until November 19, 2018, fifty-eight Baha'i students were deprived of their education at the university competitive examinations, and at least 11 Baha'i students were expelled from their universities because of their beliefs.
In another report, Baha'i woman Neda Shabani is still being held in uncertain status over 40 days after her arrest in Karaj.
The security forces of Karaj arrested Neda Shabani on November 29, 2018, and transferred her to an unknown location. Ms. Shabani has only been able to contact her family once a week, and despite repeated attempts by her family, they have not yet been fully informed about the status of her case. They have only been informed of Neda Shabani's extended detention.
Also in Isfahan, several women were sentenced to imprisonment on December 25, 2018, because of their Baha'i conviction. Baha'i women Bahareh Zaini (Sobhaniyan), Fujhan Rashidi and Sepideh Rouhani were each sentenced to 4 years' imprisonment and Anosh Rayeneh to 6 years in jail.
https://women.ncr-iran.org/2019/01/10/sahar-kazemi-jailed-sama-nazifi/
--------
URL: https://www.newageislam.com/islam-women-feminism/french-muslim-women-push-inclusive/d/117430
New Age Islam, Islam Online, Islamic Website, African Muslim News, Arab World News, South Asia News, Indian Muslim News, World Muslim News, Women in Islam, Islamic Feminism, Arab Women, Women In Arab, Islamophobia in America, Muslim Women in West, Islam Women and Feminism