New Age Islam News Bureau
10 May 2016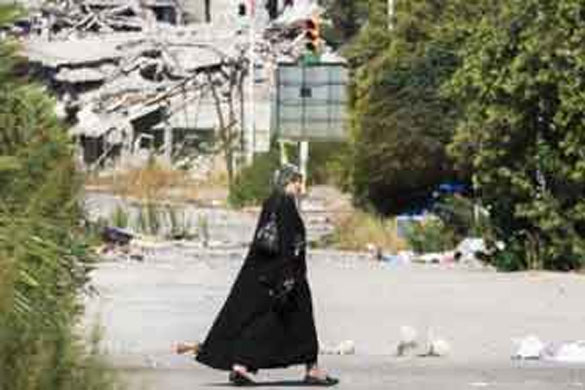 Photo: A woman walks near a residential area in the city of Homs in 2013, destroyed in the fighting. Women's roles are changing with the war. Photo by ART production/Shutterstock
----------
• 'Christianity to Islam and Back': Woman Moves Court against Father
• Women Emerge As Change-makers In War-Torn Syria
• Battle of the Burqas! Saudi Women in Veils Battering Each Other Following Road Rage Row
• 'Good Muslims' Or 'Good Citizens': How UK Muslim Women Feel About Integration
Compiled by New Age Islam News Bureau
URL: http://newageislam.com/islam,-women-and-feminism/new-age-islam-news-bureau/french-imam-says-hijab-is-a-'20th-century-invention'/d/107258
------
French Imam Says Hijab is a '20th Century Invention'
10 MAY 2016
The Bordeaux imam, in an interview with Anne Sinclair on Europe 1, said that the Islamic headscarf is a practice invented at the end of the twentieth century.
According to Oubrou, in Islam, "the principle of [modest] clothing is to achieve decency in a given culture. But there is no canonical dress."
"The Prophet and Muslim women [in his time] dressed like the pagans," said the imam. "Islam did not bring a new dress."
Oubrou said, "A Muslim who does not cover her hair is just as Muslim who covers…the headscarf does not make a woman a true Muslim."
The women in the imam's own family wear fitted hats, which he described as "moderation."
"We do not dictate to the woman how she should be modest," Oubrou said.
The imam explained that women who wear hijab are dressing according to their local culture, as there is no unique Islamic dress.
Oubrou said there many forms of hijab, which women wear for "different reasons and purposes."
"Some wear the headscarf to get married, others put it on for spiritual reasons, while others do it for other motives," the imam said.
For his liberal positions on Islam, the so-called Islamic State (ISIS or Daesh) issued a fatwa condemning Oubrou to death.
moroccoworldnews.com/2016/05/186117/ffrench-imam-says-hijab-is-a-20th-century-invention/
---
'Christianity to Islam and back': Woman moves court against father
May 10th, 2016
LAHORE: The Lahore High Court on Monday sought assistance of the Punjab advocate general on a petition of a Christian woman seeking action against her father for changing religion twice.
Aneela Saleem filed the petition through Advocate Aftab Bajwa stating that her father Saleem Nazeer converted to Islam, married a Christian woman and converted her too.
Later, the petitioner said, his wife died and her burial was carried out as per Christian traditions. The petitioner further said her father married another Christian woman and converted her to Islam.
However, she claimed, her father recently started claiming to be a Christian. She asked the court to order a first information report be registered against her father for changing religions.
Justice Syed Kazim Raza Shamsi observed that conversion from Islam leads to death penalty. He asked the advocate general to assist the court on the matter and adjourned hearing for May 25.
dawn.com/news/1257462/christianity-to-islam-and-back-woman-moves-court-against-father
---
Women emerge as changemakers in war-torn Syria
May 10th, 2016
AMMAN, Jordan -- In war-torn Syria, a growing number of women are taking on the role of changemaker, providing a sliver of hope with potentially lasting ramifications for empowerment.
As in a number of Arab countries, many of Syria's women were largely confined to traditional roles before the uprising against Syrian President Bashar al-Assad and the outbreak of war.
Now, however, more and more women are at the forefront of new efforts to solve local problems and counter the death and destruction that has engulfed the country.
This is in part because so many men are engaged in battle, have been imprisoned or have fled the country and women have had to step into new roles, but also because the Syrian uprising has upended a lot of social norms and customs.
One of the ways they've done this is by starting their own independent magazines and radio stations, such as Jasmine Syria, Sayedet Souriya, Radio Souriyat and Nasaem Radio, which focus on highlighting the daily struggles of Syrian women amid the conflict.
Even in the alternative media that emerged at the beginning of the uprising, the role of women in the movement was minimized. When women were mentioned, they were portrayed as the mothers, sisters or wives of male political prisoners or male fighters.
Now that is starting to change, said Reem al-Halabi, director of Nasaem Radio, which is based in the northwestern city of Aleppo.
"The stereotypical image of women presented in media reflects a patriarchal society," Halabi said. "Women's interests are not limited to fashion, beauty, cooking, family and children. This image does not reflect the real interests or concerns of Syrian women or how hard they are working to take part in building their country."
More women are also launching community initiatives, such as Women Now for Development, a center formed by women in 2012 in the besieged town of Hazza in the Damascus countryside to provide training in new skills. The initiative focuses on young women who have had to quit school due to the security situation and widows who need to generate income to support their families.
Layla, the manager of Women Now for Development, said the conflict had paradoxically "opened new horizons" for some Syrian women. "They are more self-confident and not afraid to express their opinions anymore, and this is reflected in the way they raise their children and deal with their husbands and the society around them," said Layla, who asked that her real name not be used for security reasons.
One of the center's trainees is 29-year-old Muzna al-Jundy, who could not complete her master's degree or find a job because of the fighting and military checkpoints.
"The center provided me and many others with the opportunity to get out of the house, and start work on our own projects," Muzna said. "This was the first personal, positive thing that had happened to me in years."
Layla added that Women Now's workshops about women's rights have contributed to increasing the number of women who voted in local council elections in Eastern Ghouta, a suburb of the Syrian capital, Damascus.
"Since the revolution began, Syrian women have shown an interest in politics," she said. "They do not base their opinions on what men say; they form their own opinions by analyzing the news themselves."
Reem Kanjo, manager of the Women Now center in the northwestern city of Saraqeb in Idlib Governorate, said women were still marginalized, but that it was a natural result of the growth of extremism and the spread of military factions in Syria and was a temporary phase.
"The situation will gradually change with the continuous insistence of women to have a role in decision-making," she said.
Another such initiative is the Network of Guardians, which was founded by a group of young women in 2012 and provides training in caring for children during emergencies – for example, how to deal with the psychological shock many children suffer after a bombing.
The organization also works with educators in schools in Ghouta, near the capital, and northwestern Idlib to develop school curricula that take into consideration war and its influence on children.
"My work with the Network of Guardians helped me develop management skills, which was something I never learned in college," said Hiba, a fourth-year architecture student at the University of Damascus who had to quit her studies because of the security situation, especially the random arrests at checkpoints between Damascus and her home in Douma.
Hiba, also not her real name, said she stayed at home for five months before finally joining the Network of Guardians. She hasn't looked back since.
"The current conflict in Syria has played a positive role in breaking the stereotype of women as housewives. Women today have a great opportunity and they should take advantage of it, especially with the number of men being lost in Syria to the fighting, imprisonment and abduction," she said.
More women are also trying to change things through political activism – even taking on the Islamic State.
In the city of Raqqa in northeastern Syria, for example, Suad Nofal has become a symbol of resistance to tyranny. For a long time, she had opposed the Syrian regime. Later, she confronted the Islamic State.
When the city broke away from the Syrian regime in March 2013, she contributed to establishing the local government council. And when IS took control of the city and started abusing residents, Nofal protested daily in front of their headquarters for more than two months, calling for the release of the people they had arrested.
Since she had been a well-known teacher in Raqqa, she initially succeeded in opening a dialogue with a number of IS fighters who were former students, which irritated IS's foreign leaders. They banned their fighters from talking to her, then they began to harass and threaten Suad and issued a fatwa ordering her execution, which forced her to move to Turkey in 2013.
In Turkey, knowing that the media was covering her activities, she began a hunger strike in solidarity with the besieged in Homs and Ghouta. In 2015, Suad received the Czech Homo Homini Award for human rights.
upi.com/Top_News/World-News/2016/05/10/Women-emerge-as-changemakers-in-war-torn-Syria/5361462559723/
---
Battle of the Burqas! Saudi Women in Veils Battering Each Other Following Road Rage Row
10 MAY 2016
This is the moment two Muslim women pulled over at traffic lights for a brutal ' road rage brawl'.
In the shocking clip, the two female drivers are seen at the roadside as they attempt to punch at each other.
They then grab at each other's veils before both falling to the ground, where they continue scrapping.
Several pedestrians walk past the warring pair, but no one intervene or tries to stop the fight.
In the background of the clip, car horns can be heard beeping loudly as it appears the two women have brought traffic to a standstill at the busy junction.
A caption alongside the video reads: "My guess is one woman cut up the other woman in her car on the road and a good old road rage followed."
It is not clear what the exact circumstances were in the lead up to the fight.
The video is believed to have been recorded in Saudi Arabia on May 2.
It has now had several thousand views since it was uploaded to LiveLeak.com just 22 hours ago.
It is not known whether either of the women were injured in the fight, or whether police were called.
mirror.co.uk/news/world-news/muslim-women-full-islamic-dress-7936949
---
'Good Muslims' Or 'Good Citizens': How UK Muslim Women Feel About Integration
10 MAY 2016
A great many things have been said about Muslims as UK citizens, mainly by non-Muslims. The Prime Minister, David Cameron, believes that if more Muslim women became proficient in English, for example, it would help beat extremism and terrorism. Meanwhile, Trevor Phillips, the former chair of the Equality and Human Rights Commission, says that UK Muslims "See the world differently from the rest of us".
Phillips also presented a controversial Channel 4 programme called What British Muslims Really Think, which put across the message that Muslims are more conservative than the majority population and don't want to integrate into wider society.
The debate is often highly intemperate – and both Muslim and non-Muslim voices alike have suggested it contributes to further stigmatisation of an already marginalised and disadvantaged Muslim population. In this highly politicised climate, the relationship between Islam and citizenship has also come under scrutiny by Citizens UK, a charitable voluntary organisation with churches, mosques and unions among its members.
In July 2015, Citizens UK launched its Commission on Islam, Participation and Public Life headed by conservative MP Dominic Greave. Greave somewhat unfortunately framed the Commission's work as aiming to "help tackle extremism".
The commission is holding a series of public hearings throughout the UK, asking Muslims to speak about barriers to their participation in society but also asking how "the Muslim community" can improve its participation. Although commendable for speaking with and soliciting views from Muslims around the country, there is also a problem with the approach chosen by Citizens UK, in that it only focuses on the Muslim population. In a febrile political atmosphere, it risks legitimising the isolation of Islamic faith and the prejudiced idea that Muslim citizens in Britain are uniquely problematic and a "one-voice" community.
Common ground
In a study published in April 2016, Beatrice Halsaa and I conducted research that compares women of Muslim and Christian faiths and also contrasts the UK context with Norway and Spain. Contrary to the notion that Muslims might view citizenship differently from Christians, our research shows that they have at least as much in common as not.
Interviews with women attending churches and mosques in Leicester, Oslo and Madrid showed that Muslim and Christian women in these cities had similar views of what citizenship is and how a good citizen should act. This is a point that has deep political ramifications – especially for those who believe that Muslims somehow have less of a sense of citizenship than other groups. It also illustrates the need to look for common ground among different faith communities, not just differences.
The main aspirations expressed by both Muslim and Christian women are the same: to live in peace and care for their families, friends and neighbours. They all express a desire to contribute to society by playing an active part in local communities and to feel that they belong by connecting with others. What emerged from our interviews was the shared belief that a good citizen not only respects the law of the land, but also has compassion for others and volunteers to make society better.
'So you are from al-Qaeda?'
But a major point of difference also emerged: the discrimination and stigmatisation felt by the Muslim women we interviewed in all three countries. By contrast, our Christian interviewees did not speak much at all about any form of exclusion.
Moreover, very few Christian women reflected in any way on privileges attached to Christianity as the dominant religion in their own country. An exception was an Anglican woman in the UK who suggested it is easier to follow the Christian religion in the UK than any other religion, as "everything is set up for you, people don't question it". In other words, citizenship is far from equal for people of different religions.
Uniquely, the Muslim participants in all three countries spoke of the barriers to their "lived citizenship" – their everyday life experiences as citizens. Muslim women felt a need to demonstrate that they are "good Muslims" and "good citizens" so as to counter stereotyping and negative media portrayals.
A Shia woman in the UK said that she is not as comfortable in public spaces as she used to be. She also observed that it is more normal for Muslim women to wear the hijab, but that this heightened visibility of faith is also causing problems of stigmatisation and stereotyping. She and others suggested that Muslim women are under more pressure than Muslim men to demonstrate good citizenship – as women are more visibly Muslim due to their dress. Another told us:
I just feel for Muslim women; at the moment it is really important for us to be part of the society. Because otherwise they are going to take the media hype and isolate us.
Muslim women identified barriers to citizenship that were not echoed by Christian women. Negative stereotyping in the media and discrimination in the workplace, in educational contexts, on city streets and public transport, affected Muslim women's citizenship in negative ways. Their religious identities were questioned, their religious dress was ridiculed and their sense of belonging to society was undermined.
One woman recounted being met when at secondary school with reactions such as "Oh, so you are from al-Qaeda" and "Look out, she is going to plant a bomb". These findings confirm other recent studies of the discrimination that Muslim women experience due to their religious identity. They feel that being a Muslim puts you in a position of disadvantage and marginalisation in relation to a majority society that is overwhelmingly either Christian or secular – and one that is rife with stereotyping and increasing Islamophobia as evidenced by Tell Mama.
Risking division
While discrimination may well emerge as a main finding from the public hearings being held by the Citizens UK's Commission on Islam, the strong sense of shared values and collective purpose and the similar sensitivities towards civic responsibilities we found among both Christians and Muslims in our study might be overlooked.
The "Muslim other" is much more like the broader community in the UK than we might think – and if this point is missed, then political debates as well as governmental strategies (such as the Prevent agenda) might well lead to further stigmatisation and alienation rather than to inclusion and cohesion. The "integration challenge" may not be as huge as some people want to suggest – whether for political reasons or just plain prejudice.
theconversation.com/good-muslims-or-good-citizens-how-muslim-women-feel-about-integration-58796
URL: https://newageislam.com/islam,-women-and-feminism/new-age-islam-news-bureau/french-imam-says-hijab-is-a-'20th-century-invention'/d/107258
New Age Islam, Islam Online, Islamic Website, African Muslim News, Arab World News, South Asia News, Indian Muslim News, World Muslim News, Womens in Islam, Islamic Feminism, Arab Women, Womens In Arab, Islamphobia in America, Muslim Women in West, Islam Women and Feminism