New Age Islam News Bureau
28 Apr 2019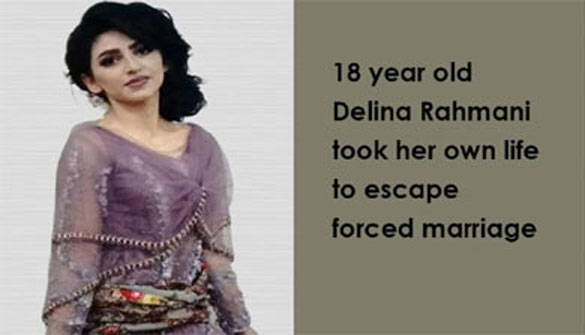 Delina Rahmani, 18, took her own life after being beaten by his father and the man she was being forced to marry. She shot herself on Sunday, April 21, 2019. — Courtesy: NCRI
----
• Muslim Women Aid Society Inactive In Many Tamil Nadu Districts:
• Coverage of Defiant Sudanese Women Protesting Empowers Young Manawatū Muslims
• Women at the Forefront of Sudan Change
• Israeli Hospitals Admit To Segregating Jewish and Arab Women at Maternity Wards
• Women In Iran Committing Suicide
Compiled by New Age Islam News Bureau
URL: https://www.newageislam.com/islam-women-feminism/french-convert-highlights-top-ten/d/118447
--------
French Convert Highlights Top Ten Rights Women Experience in Islam
April 27, 2019
Abu Dhabi: Converted Muslim and French author Mathilde Loujayne while highlighting the positive messages of Islam and its beauty, urged people to research Islam and not rely on Western media's false and negative image of Islam.
In an interview with the Union of OIC News Agencies (UNA) on the sidelines of the 2nd OIC Festival in Abu Dhabi, Loujayne talked about her journey into Islam, which she has summarized in her book, "Big Little Steps".
The book, published last year in the UAE, strives to serve as a woman's guide to finding a balanced lifestyle and a glowing heart in Islam, as well as clarifying some of the misconceptions regarding Islam.
Asked about some of the misconceptions she tackles in her book, Loujayne said: "The book tackles misconceptions regarding women's rights in Islam. It highlights the role of Muslim women at the time of Prophet Muhammad (PBUH) and their role in society. I wrote about our exclusive rights in Islam, and my book has a section with top ten rights women experience in Islam."
"I also tried to shed light on the things that are not always talked about, and they should be, because of their positives, for example, the many women who contributed to Islamic discoveries during the Golden Age of Islam," she added.
Loujayne also highlighted some of the benefits of Islamic rituals for human body, such as the benefits of performing prayers, and the benefits of fasting in her book, saying that such benefits were also proven by today's modern science.
On misconceptions regarding Islam, she said: "Islam is a religion of logic, and if people try to understand it, they will come to see that there is always a reason behind every verse and Hadith, and they are always for the benefit of Muslims and humankind."
Responding to a question about the reasoning behind her book's name "big little steps", Loujayne said: "It is derived from the Hadith 'Take one step towards me, I will take ten steps towards you. Walk towards me, I will run towards you'."
"So it is a message that even if you think the steps you are making towards God are small, they are a huge deal and God will reward us for our efforts", she added.
https://www.ummid.com/news/2019/april/27.04.2019/french-convert-highlights-top-ten-rights-women-experience-in-islam.html
--------
Muslim Women Aid Society Inactive In Many Tamil Nadu Districts:
Apr 28, 2019
Tiruchy: The Federation of Muslim Women Aid Society (FeMWAS) has appealed to the Tamil Nadu Government to instruct all the 32 district collectors in the state to give suitable directions to the concerned officials and office-bearers to activate the society's units at the district level. The collector is the president of the respective district unit of FeMWAS, while the district project officer of 'Mahalir Thittam' is its vice-president who coordinate with the district backward classes and minority welfare officers.
The Federation vice president, Mustafa Kamal and general secretary, Mr Syed Ahmed of 'FeMWAS' told DC that a resolution to this effect was adopted at the state office-bearers meeting held here on Saturday under the leadership of its president I. Mohammed Kamaludeen,
He said that out of 32 districts in Tamil Nadu, the activities of FeMWAS in districts of Thiruvannamalai, Karur, Pudukkottai, Kanyakumari, Namakkal, Virudhunagar Tiruvarur and Ariylaur, were inactive and decided to take necessary steps for activating their activities with help of respective district collectors, who are also chairman of 'FeMWAS'.They said erstwhile British rulers formed such organisations to help the Muslim war widows in 1894.
https://www.deccanchronicle.com/nation/current-affairs/280419/muslim-women-aid-society-inactive-in-many-tamil-nadu-districts.html
--------
Coverage of Defiant Sudanese Women Protesting Empowers Young Manawatū Muslims
Apr 28 2019
The symbolic image of a defiant Sudanese protester is empowering young Muslim women in New Zealand.
Salma Abdalla and her friend Zoha Shuaib say the images of women protesting in Sudan, are a welcome counter to a frustrating stereotype – that Muslim women are submissive and oppressed by their faith.
Sudanese president Omar al-Bashir was deposed in April by the country's military following months of demonstrations against his 30-year rule.
Protests continued after his departure to prevent the instalment of a military dictatorship, and 22-year-old AlaaSalah became a symbol of the protests when she was photographed chanting and singing on top of a car.
Palmerston North Girls' High School student Abdalla, 17, and her family came to New Zealand in 2003. Her father fled Sudan in 1996 due to the al-Bashir regime.
Sudan is a majority Muslim country, but Abdalla said women were not oppressed in Sudan as they were in countries such as Saudi Arabia.
Abdalla said in Sudan women have always had a strong, courageous and dignified role in society.
"These women in Sudan are completely breaking that bubble, showing we are not like that at all. Being a Muslim does not confine women and it does not oppress women.
"These strong women are painting a new picture about what it is like."
She said as a young Sudanese Kiwi, to see women in Sudan on the street trying to make a better future for themselves was empowering.
"This is nothing new. What frustrates me living here in New Zealand is some people have the idea Muslim women are oppressed and don't have that freedom."
Shuaib said wearing a hijab did not make Muslim women submissive, and she was glad coverage of the Sudan uprising was showing a different story.
She said wearing her hijab showed her identity to the world.
"That doesn't disempower me, that empowers me. Because I'm not following what I'm supposed to be ... I'm doing the exact opposite.
"That's what's most frustrating with this submissive woman trope, is that it's so far from the truth."
Shuaib's family is from Pakistan, but she has spent all but six months of her life in New Zealand. Shuaib is in her first year out of Girls' High.
Abdalla's father Mohamed Elfatih Abdalla left Sudan in 1996, living in Jordan and Oman, before coming to New Zealand in 2003.
His wife Nahla Ahmed was working at a bank, but now looks after the children. They also have sons Suliman, 14, who is at Palmerston North Boys' High School, and Mustafa, 9, who is at Riverdale School.
Mohamed Elfatih Abdalla, 46, is a senior veterinary research officer at Massey University.
https://www.stuff.co.nz/manawatu-standard/news/109576528/coverage-of-defiant-sudanese-women-protesting-empowers-young-manawat-muslims
--------
Women at the Forefront of Sudan Change
28/04/2019
BEIRUT - The revolution that led to the toppling of Sudanese President Omar al-Bashir after three decades in power is stamped with a female icon, a university student dubbed "Kandaha," the title given to Nubian queens of ancient Sudan.
Alaa Salah, a 22-year-old engineering and architecture student at Sudan International University, shot to internet fame after footage showed her standing on a car in a long white garment, singing and leading the crowds protesting outside army headquarters in Khartoum went viral. She became the icon of the Sudanese uprising.
Reports estimate that women made up 60% of the protesters who took to the streets in late December to demonstrate against a government decision to triple the price of bread. The unrest morphed into a nationwide movement against al-Bashir's rule. He was unseated by the military April 11.
"Sudanese women have always participated in revolutions in this country. If you see Sudan's history, all our queens have led the state. It's part of our heritage," Salah was quoted as saying.
"I wanted to speak against racism and tribalism in all its forms, which affect everyone across all walks of life," she said on her Twitter account, which she set up following her new-found fame.
"I wanted to speak on behalf of the youth and to say that Sudan is for all," she said, adding that she has been receiving death threats but "will not bow down" and her voice "cannot be suppressed."
For many women, the revolution was not just about bread; it was also about fighting a regime that oppressed women.
Women in Sudan were the most disadvantaged group under al-Bashir's conservative government. For 30 years they experienced massive encroachment on their rights, largely stemming from an ultra-conservative interpretation of Islam encouraged by the Islamists in power. Women demonstrated for equal rights, access to politics and education and against female genital mutilation and forced marriages.
"In such movements, women are widely participating not only for their rights but for the rights of the entire community," Salah told Agence France-Presse.
Sarah Abdeljalil of the Sudanese Professionals Association argued that female protest has a long tradition in Sudan and that women were at the forefront of organising protest actions in 1964 and 1985, which triggered the removal of authoritarian regimes.
"Women have died. They have been in the middle of the protests, have been detained, arrested and contributed significantly to the (revolution's) success so far," Abdeljalil was quoted as saying by Deutsche Welle.
Jehanne Henry, associate director of Human Rights Watch's Africa division, said thousands had been arrested since unrest erupted last December and that women were among those tortured and kept in custody without being charged. The brutal response did not stop them from placing themselves firmly at the heart of the protests.
Henry said Sudanese women have always been willing and strong and they were active in many revolutions, including those in 2011 and 2013. They came from all classes, interests, occupation and ages.
In 2009, Sudanese women started a movement to protest the so-called public morality laws that curtailed basic freedoms, including controlling the clothes they were allowed to wear.
The long white garment and full moon golden earrings that Salah donned while leading the crowds from atop the car were inspired by outfits that Sudanese women wore during revolutions in the 1960s and 1980s.
During March, Sudanese women wore the traditional white robe in support of the protests and women's rights. Social media platforms filled with pictures of female protesters wearing the white garment, using the hashtag#whitemarch.
Sudanese women also proved to be instrumental in the demonstrations by creating Facebook groups and posting videos and pictures of abusive security forces. Agents, whose identities were uncovered, were often beaten and chased out of town.
Since her photos and footage went viral, Salah has been a source of inspiration to her compatriots at home and abroad.
Huda Hashim, a Sudanese graphic artist in Paris, represented Salah in one of her works surrounded by mobile telephone screens, in reference to viral images that were instrumental in mobilising populations since the eruption of the "Arab spring" revolutions in late 2010.
"I don't have words. So I outpoured my heart with painting, while wishing a million times to be on the frontlines with my people," Hashim wrote, as reported by France's Le Monde.
Ebaa Elghali, a Sudanese architect in the United Arab Emirates, was quoted by Arab News as saying that most of her female friends and relatives participated in the demonstrations and sit-ins.
"Even my older aunts and grandmother took part in the protests," she said, "even those who were not politically engaged were there."
https://thearabweekly.com/women-forefront-sudan-change
--------
Israeli Hospitals Admit To Segregating Jewish and Arab Women at Maternity Wards
April 27, 2019
Three Israeli hospitals have admitted for the first time that they segregate Jewish and Arab women giving birth, at the women's request.
In response to a lawsuit filed against four hospitals, three of them – Hadassah University Hospital on Mount Scopus, Jerusalem, Haemek Hospital in Afula and Soroka Medical Center in Be'er Sheva – have admitted in February that this is their policy, while the Galilee Medical Center in Nahariya, which is also included in the lawsuit, denies it.
Kupat Holim Clalit, the health maintenance organization representing Soroka and Haemek, has told the Jerusalem District Court that separating mothers in labour is part of life in Israel's reality. "Not respecting the wishes of mothers for specific placement creates an 'enforced communal hospital stay' when both sides are not interested in this. The purpose of their stay is not to create an artificial melting pot."
Hadassah Mount Scopus told the court that "given the differences between various populations, women often request to be in a room with other women from their own community. Hadassah, where possible, accedes to these requests."
The hospital says that these requests are most common among ultra-Orthodox women, in an attempt to observe the Sabbath and kashrut laws, as well as modesty and other customs. Some Arab women also request to be in different rooms. "This is understandable, given the different languages the women speak," says the hospital.
The hospital emphasizes that there is no policy or practice of deliberate segregation and that Jewish and Arab women giving birth are usually placed in the same rooms. Hadassah noted that Prime Minister Benjamin Netanyahu's daughter, Noa Roth, was placed in a room with an Arab woman. "There is nothing wrong with acceding to individual requests – this is not discriminatory, and when possible, the request is taken into consideration."
Haaretz first reported the lawsuit filed by four Arab women last year. The women included recordings of conversations with hospital staff and demanded 20,000 shekels ($5,500) in compensation for being insulted by the segregation. In one recording, a nurse is heard supporting the segregation, where there are available rooms. "If there is pressure, we do mix the women, but try to separate them the next day."
Hadassah maintains the lawsuit is baseless and populist. "The hospital is a beacon of equality and a model of coexistence between Arabs and Jews." The hospital claims that Hadassah has never received complaints from Arab women giving birth and that professional considerations by doctors should not be interfered with.
Hadassah has numerous Palestinian patients (4,741 in 2015), with many Arab employees at all levels. The hospital says the Health Ministry, which is also charged in the petition as the hospital's owner, "is aware of its policy to take into consideration the requests of these women, and has never forbidden it." The hospital adds that it will be severely harmed if the class action suit is successful.
The lawsuit includes the testimony of a social worker, who had her three children at Mount Scopus. She testified that when giving birth to her third child in 2017, after the segregation was reported, she was put in a room with Arab women only, making her feel "humiliated."
Hadassah said that she had the right to choose another hospital in the area. "The fact that she kept returning to Hadassah to give birth despite claiming that she was humiliated and insulted shows that her claims are groundless since she was happy with the service she received there. This is a baseless petition," said the hospital.
Kupat Holim responded: "The insistence on mixed rooms in contrast to the wishes of women giving birth stems from an ideological and contrarian stance, paternalistic in trying to determine what is best and right for these women, disconnected from their own wishes."
https://www.middleeastmonitor.com/20190427-israeli-hospitals-admit-to-segregating-jewish-and-arab-women-at-maternity-wards/
'We just want to be heard': Woman in Gaza builds app to help support fellow mothers
There are few places mothers can turn to for help in Gaza, a war-ravaged enclave stunted by a crippling 12-year Israeli-imposed blockade.
Without childcare or support, and with few parenting handbooks available, that frustration, anger and despair can be channelled towards the children.
One Gazan mother, Nour al-Khodary, wants to help change that with a new app, Momy Helper.
It is the first of its kind in Arabic: at the click of a button mothers can access how-to guides for parenting, be connected to trained specialists, and get support for gender-based violence and other issues faced by women.
The former film producer says it is a simple solution to one of the most unspoken taboos in the Middle East: being a mother who cannot cope.
"Everyone is stressed here in Gaza. We don't have peace inside ourselves. Each day we are following in the news: what will happen next, who will be killed, which building will be hit?" she tells The Independent from her offices at Gaza Sky Geeks, a tech hub in the 25-mile long militant-run strip.
"The kids pay for this: the mother, the father, the family are all under pressure," she adds.
She says she wants to connect mothers to professional consultants specialising in psychology and parenting.
"You can't simply can't go to a professional in our culture – your family and your husband will not support it.
"People call you crazy, they blame the women for not being able to cope. It's a taboo. You end up sunk in depression, which you take out on your kids. But with the app you can have discreet and confidential support," she explains.
The app, which is registered in Delaware, aims to break through blockades, barriers and borders and help women both within Gaza and across the Arabic-speaking world on how to look after and support their children.
Through the app, women can also discreetly book paid sessions from among their team of more than 100 professionals, who speak multiple Arabic dialects and have been carefully vetted.
Ms Khodary acknowledges that Momy Helper can only reach those who can afford mobile phones and so cannot fix all problems women face, but hopes it can help be part of a solution.
In a trial run last year, Momy Helper paired up with Oxfam to provide free support sessions for mothers who could not afford to pay or did not dare ask their husbands.
In Gaza, where few have bank accounts or credit cards, women can pay for the $15 hour-long sessions in person.
The app, which is available on Google Play, also provides basic questionnaires to help identify what issues the user is facing and then direct them to the correct free advice in Arabic.
Ms Khodary hopes in the future to use artificial intelligence to better improve the interaction.
For now, they have step-by-step guides of what to expect each month with their new child, and how best to improve the child's development at each key stage.
There are also sections on violence against women and how that can impact children. The app lays out what kind of abuse women are subjected to and what support they can get to tackle it.
After hearing some of the worst stories from women who have reached out to Momy Helper, Ms Khodary also wants to pair up with charities to improve the gender-based violence section of the app and blog.
Gender-based and domestic violence is increasing in Gaza, according to a rights group, which says it is driven by soaring unemployment and poverty rates among Gaza's trapped 1.8 million population.
According to the United Nations, more than half of women in Gaza have experienced violence at home, while nearly 80 per cent have reported being psychologically abused. Depression is also thought to be on the rise.
Ms Khodary hopes her app can, in some way, support some women across the Arab world going through this.
"Sometimes mothers just need someone to hear them. We can't provide professional therapy, but our consultants try to give them support on how they can better deal with their issues," she says.
"With severe cases we encourage them to seek professional therapy and we try to put them in touch with facilities to help with that," she adds.
Ms Khodary says she first came up with the idea in 2014 after having her son Bassem when she was briefly living in Chicago as her husband, who had secured a Fulbright scholarship, was finishing his Masters in Architectural Engineering.
A long way away from home, Ms Khodary turned to the wealth of childcare literature and support available in the US.
"When I was in Gaza I didn't pay much attention to how people brought up their kids but after I read the books, I realised [back home] mothers were hitting their kids and shouting at them. Children just had to follow orders without thinking," she says.
"This shocked me and I started posting on Facebook about what I had learned," she adds.
She initially received angry backlash from friends who thought she was judging them.
But that changed to a stream of questions when she put up videos showing examples of positive results from her little boy Bassem.
"Then I start thinking about connecting mothers with professional consultants, I realised there was nothing for mothers speaking Arabic," she says.
Through Gaza Sky Geeks, a Mercy Corps-supported initiative that runs a coding academy, she put together a 10-person team to build the app. In 2017 she came second in a region-wide competition in Istanbul for best start-up in the Middle East and North Africa.
But the problem now is funding. Ms Khodary secured a small injection of cash from angel investors at the start, who gave her around 10 per cent of what was needed.
But two years on she has had to drop her team and is now running the business entirely on her own.
She registered the app in Delaware and with a US bank, knowing foreign investors would be nervous about money going into Gaza. Right now, she is looking into crowdfunding options.
The working mother hopes to run the app as a business, so she can create work back in Gaza where youth unemployment has soared past 70 per cent and only 19 per cent of women of working age have jobs: the highest female jobless rate in the world
"My first dream is that I can reach every woman in the Arab world that needs the support that Momy Helper can offer," she says.
"But I have a bigger dream, to be the first female investor in Palestine, to grow my business and earn enough to be able to invest in other start-ups to help others achieve their goals."
https://www.independent.co.uk/news/world/middle-east/gaza-momy-helper-app-arabic-mothers-parenting-psychology-a8887946.html
--------
Women In Iran Committing Suicide
2019-04-27
TEHRAN – A shocking number of young mothers and pregnant women are among the women who have committed suicide in Iran in recent months, according to the findings of the National Council of Resistance of Iran (NCRI).
Some 14 Iranian women and girls committed suicide since the beginning of the Persian New Year on March 21, 2019.
The upward trend in the suicides of women indicates the excessive pressures on women and girls in Iran.
Hopelessness, depression, anxiety and sense of insecurity accompanied by a feeling of humiliation are considered as the main reasons leading women and girls to physically eliminate themselves.
The rate of women's suicide in Iran is the highest in the Middle East.
The stats on suicides in Iran are not transparent and are usually not published in the press. For example, in the period spanning from March 2017 to February 2018, NCRI collected 75 reports of women committing suicide.
According to a social pathologist, woman's suicide rate in Iran increased by 66 percent during a five-year period. — Agencies
http://saudigazette.com.sa/article/565056/World/Mena/Women-in-Iran-committing-suicide
--------
URL: https://www.newageislam.com/islam-women-feminism/french-convert-highlights-top-ten/d/118447
New Age Islam, Islam Online, Islamic Website, African Muslim News, Arab World News, South Asia News, Indian Muslim News, World Muslim News, Women in Islam, Islamic Feminism, Arab Women, Women In Arab, Islamophobia in America, Muslim Women in West, Islam Women and Feminism