New Age Islam News Bureau
24 Oct 2018
• Lucknow: Divorced Muslim woman caught in nikkah halala trap, 65-year old man refuses divorce
• Abducted Hindu girl rescued, one kidnapper held
• Thousands in Malaysia want to wed teenage girls
• Kathua victim's lawyer wins Mother Teresa Award-2018
• We will not forget the work of Saudi women pioneers
• CII chairman clarifies statement on new marriage document
• 87 percent of Turkish women want to work in paid employment: ILO Turkey director
Compiled by New Age Islam News Bureau
URL: https://www.newageislam.com/islam-women-feminism/french-ban-full-face-islamic/d/116703
--------
French ban on full-face Islamic veil violates human rights: U.N. panel
OCTOBER 23, 2018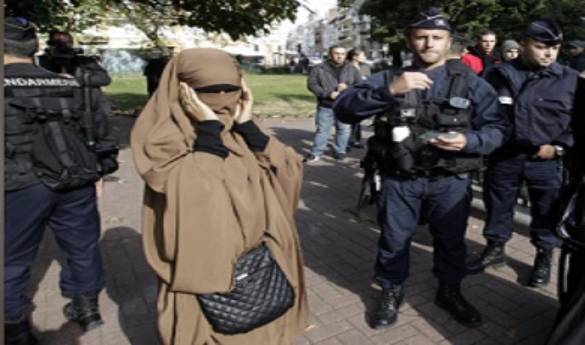 Photo: French police and gendarmes check identity cards of two women for wearing full-face veils, or niqab, as they arrived to demonstrate after calls on the internet by Islamic groups to protest over an anti-Islam video, in Lille September 22, 2012. REUTERS/Pascal Rossignol
---------
GENEVA (Reuters) - The U.N. Human Rights Committee said on Tuesday that France's ban on the niqab, the full-face Islamic veil, was a violation of human rights and called on it to review the legislation.
France had failed to make the case for its ban, the committee said, and gave Paris 180 days to report back to say what actions it had taken.
"In particular, the Committee was not persuaded by France's claim that a ban on face covering was necessary and proportionate from a security standpoint or for attaining the goal of 'living together' in society," it said.
The panel of 18 independent experts oversees compliance with the International Covenant on Civil and Political Rights (ICCPR). Implementation of its decisions is not mandatory, but under an optional protocol of the treaty, France has an international legal obligation to comply "in good faith".
A French foreign ministry spokesman said the law was legitimate, necessary and respected religious freedom. The ban applies to hiding one's face, not to any type of religious clothing that leaves the face uncovered, he told reporters.
RISK OF MARGINALIZATION
The French spokesman also pointed out that both France's constitutional court and the European Court of Human Rights, whose rulings are binding, had upheld the full-face veil ban, saying it did not violate religious freedom.
The U.N. Human Rights Committee disagreed with this in its statement on Tuesday, saying the ban disproportionately harmed the right of women to manifest their religious beliefs and could lead to them being confined at home and marginalized.
The committee's findings follow complaints by two French women convicted in 2012 under a 2010 law stipulating that "No one may, in a public space, wear any article of clothing intended to conceal the face".
In its findings the panel called on France to pay the two women compensation.
Under the ban, anyone wearing the full-face veil in public is liable to a fine of 150 euros ($170) or lessons in French citizenship. According to Metronews media, 223 fines were handed out in 2015 for wearing a full veil in public.
Other countries in Europe have introduced legislation on Islamic dress. Denmark's parliament enacted a ban on wearing of face veils in public in May. Belgium, the Netherlands, Bulgaria and the German state of Bavaria have also imposed some restrictions on full-face veils in public places.
France has the largest Muslim minority in Europe, estimated at 5 million or more out of a population of 67 million. The place of religion and religious symbols worn in public can be a matter of controversy in the staunchly secular country.
The U.N. Human Rights Committee came to similar conclusions on the 2008 case of a woman sacked by a creche for wearing a veil. In September, a top French judge was quoted by newspaper Le Monde as saying that while not binding, the panel's decisions might still influence French case law.
https://www.reuters.com/article/us-france-islam-un/french-ban-on-full-face-islamic-veil-violates-human-rights-un-panel-idUSKCN1MX15K
--------
Lucknow: Divorced Muslim woman caught in nikkah halala trap, 65-year old man refuses divorce
24th October 2018
LUCKNOW: Even after the Supreme Court struck down triple talaq calling it illegal and unconstitutional, the custom is very much prevalent in the country. In Bareilly, a woman is caught in an intriguing situation as she wants to reunite with her previous husband, but the person with whom she performed halala following the provisions of Sharia is refusing to divorce her.
Khatima resident Aqil Ahmad had married off his daughter Juhi to Moahmmad Javed of Bareilly in 2010. The couple had two sons. After three years, Juhi and Javed divorced in 2013. However, a few days after the separation, Javed went back to Juhi for reconciliation, which was accepted by Juhi.
But, in came the Sharia provision of nikah halala — the divorced woman needs to enter in a wedlock with another man and consummate the marriage before she can return to her first husband.
Juhi's relatives arranged for her to marry a 65-year-old man from Bareilly under the condition that he would divorce her soon after the marriage so that she can reunite with Javed. But, the man later refused to divorce Juhi, alleging that he couldn't do so as she did not perform halala by consummating the marriage.
While Javed and Juhi are caught in a fix, the couple's two sons seem to be worst affected by this turn of events. One of the two sons live with Javed and the other with Juhi. The couple finally approached an NGO. Activists tried to persuade Juhi's second husband to grant her divorce, but he remained firm in his stand.
While some ulemas (Muslim clerics) say that it is the right of the woman to seek divorce and advise the couple to go to a Sharia court for justice, Mufti Ghulam Mustafa Rizvi of Ala Hazrat Dargah of Bareilly claims that the person with whom the woman performs halala remains her husband till he grants her divorce. "The Sharia also suggests that if it the talaq was pre-decided and the deal was that divorce will be given the next day of marriage, in such a case, the marriage stands annulled on its own," he said. "But if this condition was not there before marriage, the elderly man will remain the husband till he grants divorce."
http://www.newindianexpress.com/nation/2018/oct/24/lucknow-divorced-muslim-woman-caught-in-nikkah-halala-trap-65-year-old-man-refuses-divorce-1889167.html
--------
Abducted Hindu girl rescued, one kidnapper held
October 24, 2018
MATIARI: The police rescued an abducted Hindu girl and arrested one kidnapper in Matiari on Tuesday.
According to details, the Hindu girl was abducted from Hala a couple of days earlier and Pakistan People's Party (PPP) Chairman Bilawal Bhutto Zardari taking notice of the occurrence had directed authorities to rescue the girl.
The police accelerated the efforts after the directives, traced and rescued the abducted girl in addition to arresting the kidnapper identified as Mushtaq.
The rescued girl was handed over to the family and the nabbed kidnapper is being interrogated. More arrests are expected over the matter.
The family of the rescued girl thanked Bilawal and the police.
https://www.pakistantoday.com.pk/2018/10/23/abducted-hindu-girl-rescued-one-kidnapper-held/
--------
Thousands in Malaysia want to wed teenage girls
October 24, 2018
GEORGE TOWN (THE STAR/ASIA NEWS NETWORK) - To marry a young girl seems to be the desire of some men, whether or not they are Muslim.
The recorded instances number in the thousands, whatever the religion.
According to Penang Institute, the state government's policy think tank, statistics show that between 2005 and 2015, 10,240 Muslims applied for child marriages in Malaysia.
Among non-Muslims, 7,719 men applied to marry a girl aged between 16 and 18 from 2000 to 2014.
The Malaysian Syariah Judiciary Department says the highest number of Muslim child marriage applications came from Sarawak (2,064), Kelantan (1,929) and Terengganu (924) between 2005 and 2015.
Penang Institute political studies analyst Ooi Kok Hin, in his study last year titled Child Marriages In Malaysia: Reality, Resistance And Recourse, revealed that for non-Muslim child marriage applications between 2000 and 2014, Sarawak also took the top spot with about 1,750 cases, Johor came in next with some 1,000 cases.
Penang had about 250 non-Muslim child marriage applications, and Selangor about 700 in that period.
Mr Ooi said the approval rate for Muslim applications in 2015 was 81 per cent.
"So, Syariah Court judges approved eight out of 10 child marriage applications," he said, adding that he was unable to gather statistics on the approval rate of non-Muslim child marriage applications.
For non-Muslims wanting to marry someone under the age of 18, they must have the approval of the Menteri Besar or Chief Minister.
The Law Reform (Marriage and Divorce) Act 1976 stipulates that under no circumstances can the marriage of non-Muslims below 16 years old be legally approved.
"Child marriage is not a fringe issue in Malaysia. Most immediately, we are dealing with cases of children being forcibly and suddenly exposed to sexual acts before they are physically and emotionally ready," said Mr Ooi.
Meanwhile, Penang Women, Family, Gender Inclusiveness and Non-Islamic Religion Committee chairman Chong Eng announced that the state secretary and state legal adviser have been instructed by the state executive council to study how to amend Penang's Islamic laws to raise the minimum age of Muslim marriages to 18 for both men and women.
"Our Chief Minister informed the exco after his meeting with the Prime Minister and the exco agrees to explore this amendment," she said.
As with most states, Section 8 of the Penang Islamic Family Law Enactment 2004 states that no marriage may be solemnised where either the man is under the age of 18 or the woman is under the age of 16, except where the Syariah judge has granted permission in certain circumstances.
The enactment does not spell out the circumstances.
https://www.straitstimes.com/asia/se-asia/thousands-in-malaysia-want-to-wed-teenage-girls
--------
Kathua victim's lawyer wins Mother Teresa Award-2018
October 22, 2018
Jammu, October 22, 2018: Advocate Deepika Rajawat, who fought to seek justice in the Kathua rape-and-murder case, has won the Mother Teresa Memorial Award-2018 for social justice.
The Harmony Foundation hosted the 14th annual Mother Teresa Memorial Awards-2018, at the Taj Lands End, Mumbai, on Sunday.
At the award ceremony, people who rescued women and children from captivity along with the survivors of sexual abuse and slavery, who are now leading the fight against this social evil, were honoured.
Deepika has been bestowed with the prestigious 'Mother Teresa Memorial Award for Social Justice' as support and encouragement to her in the dispensation of justice for the Kathua victim.
Deepika, who is working for the protection of the human rights in J&K since 2008, has been greatly admired for her selfless act of representing the family of the eight-year-old rape-and-murder victim in Kathua.
Earlier, she has been conferred with the 'Women of the Year Award' by the ladies wing of the Indian Merchants Chamber of Commerce and Industry, Mumbai, in June 2018 for her contribution to women welfare initiatives.
http://mattersindia.com/2018/10/kathua-victims-lawyer-wins-mother-teresa-award-2018/
--------
We will not forget the work of Saudi women pioneers
2018-10-24
Mona Almalki
"First Saudi woman to get a driving license", "First Saudi woman to win a medal", and "First Saudi woman to sing in a public festival". This use of the phrase "First Saudi woman" is irritating!
There are Saudi women who are first in many fields that were denied to them in the past. It is normal to see women first in many things, especially as we are living in the era of the empowerment of women. But to brag about the first Saudi woman in this and that, is a phenomenon that needs to be examined.
In my opinion, exaggerating and bragging about the achievements and extraordinary powers of Saudi women is actually harming their image in one way or another.
There is a difference between being "the first Saudi woman" and a being a "pioneer". It requires a lot of knowledge and continuous hard work to be a pioneer with results that have an impact on the generations to come. We will never forget the names of Saudi women pioneers in many intellectual, cultural, economic and social fields who have done great work and deserve to be called "Saudi pioneers". However, to be "the first Saudi woman" in something that can be done by many people is somewhat ridiculous.
http://www.saudigazette.com.sa/article/546269/Opinion/OP-ED/We-will-not-forget-the-work-of-Saudi-women-pioneers
--------
CII chairman clarifies statement on new marriage document
Waseem Abbasi
October 24, 2018
ISLAMABAD: The Chairman Council for Islamic Ideology (CII) Qibla Ayaz has once again reiterated that women will be granted the right to seek dissolution of marriage without going to court under the new marriage document being worked out by the council. However, he clarified that inherent right to divorce would remain with the husband but the same would be surrendered to wife at the time of Nikah if both parties agree.
"The women can't divorce husband under the Shariah Law but there is a provision under which the right of divorce (Talaq-e-Tafweez) is delegated to the wife unconditionally by the husband in the Nikah contract. In that case women will have the right to dissolve marriage which was obtained from the husband through Talaq-e-Tafweez which is provided for in the Shariah," he said.
The chairman was clarifying a news report published in this newspaper titled "Women soon to be able to divorce husbands". He re-confirmed content of the story and his statement to this correspondent but disagreed with the wording of description. "Women can't divorce but can seek right to dissolve marriage under Talaq-e-Tafweez," Ayaz said referring to his previous interview. If the man surrenders his right to divorce then wife would be empowered to dissolve marriage whenever she wants.
He said the provision of women having right to dissolve marriage was part of old marriage document but the women would rarely get that right as Nikahkhawan would not inform them about their rights. "Under the new proposal Nikhakhawan will be asked to explain entitlements and responsibilities to both bride and bridegroom," he said.
According to Ayaz there are three ways of divorce in Islam's Fiqh. First is Khula under which woman goes to court to seek divorce. Second is calls Faskh Nikah, under which the marriage is automatically dissolved if certain conditions are not met by husband. Third is Talaq-e-Tafweez under which husband surrenders his right to divorce to his wife at the time of Nikah. He said for Khula the husband's consent was necessary but under the dissolution provision consent would not be required as husbands would already surrender their right to their wives.
Sources said the chairman faced pressure from religious circles after the publication of his interview with The News and the CII was forced to issue a clarification of his own chairman's statement. However chairman insisted he was not under any pressure.
But in a statement issued on Monday, CII spokesman Ikramul Haq said that council was not considering a marriage document that would include a clause allowing women to divorce their husbands.
"However, the council is working on a Nikahnama and a Talaqnama (divorce document) whose language will be simple and easily intelligible," he added. The statement added that the new document will include necessary clauses to strengthen family system in the light of teachings of the Holy Quran and Sunnah.
Also being considered are proposals to ensure details of national identity cards are entered in the Nikahnama and the "role of the Nikahkhwan is made effective and documentary". "The scholars will be taken in confidence on the draft for the Nikahnama and Talaqnama, which will be presented for formal approval in a meeting of the council," Haq said.
The council, a constitutional body which recommends changes to Pakistani laws to make them Shariah-compliant. In his previous interview Ayaz had said that the old marriage document drafted in 1960s did not have provisions according to the requirements of 21st century. He said provision for the bride to dissolve the marriage was present in the old document too but it was not elaborate and the brides were often given the document in which the provision was deleted by Nikahkhwans.
"They won't be able to do that anymore and there would be legal consequences for that and the Nikahkhwan would not able to delete it without consent of the bride-to-be," Ayaz had told The News.
https://www.thenews.com.pk/print/384726-cii-chairman-clarifies-statement-on-new-marriage-document
--------
87 percent of Turkish women want to work in paid employment: ILO Turkey director
October 23 2018
Some 87 percent of women in Turkey want to work in paid employment, 17 percent above the world average, the International Labor Organization's (ILO) Turkey director Numan Özcan has said.
"Women in Turkey want to take an active role in the economy, more than other women in the world," Özcan said on Oct. 22, speaking at a meeting organized to introduce the "Gender Mainstreaming Program for SMEs" launched by the ILO.
"The gap between women and men in Turkey in terms of participation in the labor force is higher than the world average. According to a research done by the ILO last year named 'Towards a better future for women and working life: The voice of women and men,' some 70 percent of women in the world want to work in paid employment, whereas 87 percent of women in Turkey want to work in paid employment," Özcan said.
Özcan added that more works need to be undertaken to raise awareness regarding the importance of female labor participation and such works should target men.
"The progress of a country in a humanitarian way and economically is possible only when the women are equally represented in every area of life, including the working life, and when they are visible and powerful," he added.
http://www.hurriyetdailynews.com/87-percent-of-turkish-women-want-to-work-in-paid-employment-ilo-turkey-director-138188
--------
URL: https://www.newageislam.com/islam-women-feminism/french-ban-full-face-islamic/d/116703
New Age Islam, Islam Online, Islamic Website, African Muslim News, Arab World News, South Asia News, Indian Muslim News, World Muslim News, Women in Islam, Islamic Feminism, Arab Women, Women In Arab, Islamophobia in America, Muslim Women in West, Islam Women and Feminism