New Age Islam News Bureau
22 Sept 2017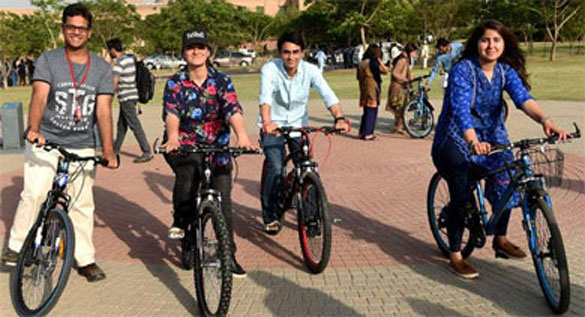 A group of students riding bikes at the soft launch of CYKIQ at NUST campus, Islamabad, -Pakistan on May 2017. Picture taken May 10, 2017. Picture Courtesy of CYKIQ
------
• Women Need To Know Their Rights to Eliminate Violence: Malala
• Senior Saudi Cleric Banned From Preaching After Insulting Women
• Benazir Killed For Defying Terrorists and Being a Woman: British PM
• French-Algerian Millionaire Vows to Pay Burqa Ban Fines for Muslim Women in Austria
• New Drive to Increase Saudi Women's Employment in IT Industry
• Iran: Women's Admission to Stadiums Not a Social Priority – Official
• Iran: Woman on the Verge Of Execution In Shiraz
Compiled by New Age Islam News Bureau
URL: https://www.newageislam.com/islam-women-feminism/freewheeling-women-campus-bikes-liberate/d/112623
--------
Freewheeling women: campus bikes liberate Pakistan's female students
September 21, 2017
For Senam Khan, one of the founders of a bike sharing scheme on the National University of Sciences and Technology (NUST) campus, the start-up has had unexpected - and welcome - consequences.
The aim of the five young entrepreneurs who conceived the sharing scheme, named CYKIQ, was to solve the problem of covering long distances on the university campus in Islamabad.
But as well as convenience for students, CYKIQ has helped campus society "accept that women are equal to men and their modes of transport should also be the same," said 21-year-old Khan, in the final year of her industrial design degree at NUST.
CYKIQ "provided all of us a simple solution to our most dire problem - long walking distances and short attendances," she told the Thomson Reuters Foundation.
In a conservative nation where women are conspicuously absent in public spaces, and the sight of a woman on a bike is a rarity, more than half of CYKIQ's customers are women.
Hitching rides in cars is common for male students, but, according to another CYKIQ co-founder, Ans Shahzad, "females are hesitant to sit in cars and or jump on motorbikes with their male counterparts".
Female students at NUST have embraced the scheme, launched earlier this year, in which bikes can be booked and returned through a mobile app.
"CYKIQ is a savior for me in this scorching heat; it's reasonable, easy and fun," said 21-year old Umme Hani, also an industrial design student and living in NUST's hostel.
There are 50 imported bikes strewn across 10 locations where cycles can be parked for easy access without the need for elaborate docking stations - covering an area of nearly 1,000 acres of campus - including the hostel, canteen, classrooms and administration block.
The response has been so overwhelming, especially from women, that by mid October, 250 more bikes will be added.
LIBERATING
"Uber for bicycles," is how Shahzad, a 23-year-old engineer and one of the five founders, described the scheme.
"It took us nearly three years of working all days and nights to fine tune it to perfection," he said.
It is the first such venture at a Pakistani college, although at least 33 universities in the United States have some kind of bike sharing programme.
Syeda Farvah Sameen, an MBA student, said she finds biking "liberating".
The ability to move around quickly "just by the swiping of a card" has made her life on campus easier.
"I don't mind cycling from one end of the campus to the other or having a friendly race with a fellow CYKIQ-er!" she said, laughing.
Bicycles are rented out for 500 Pakistani rupees ($4.70) a month, 250 rupees ($2.30) a week or a daily rate of 80 rupees (75 cents).
The program aims to reach 10,000 students with 300 cycles. "If the shared model isn't used then there would have to be thousands of cycles to cater for all the customers," Shahzad said.
And a CYKIQ customers "never has to worry about flat tires or loose brakes", he added.
CYKIQ is expanding to other university campuses, and in the longer term it aims to emulate bike-sharing schemes in cities such as London and Paris that allow users to travel smoothly around the city and reduce congestion and pollution.
http://nation.com.pk/national/21-Sep-2017/freewheeling-women-campus-bikes-liberate-pakistan-s-female-students
--------
Women need to know their rights to eliminate violence: Malala
Zoya Anwer
September 22, 2017
NEW YORK: In order to eliminate violence against women and girls, an initiative Spotlight has been launched by the European Union and the United Nations.
Speaking about her relationship with her father Ziauddin Yousafzai, world's youngest Nobel laureate, Malala Yousafzai not only shared stories about her father's support for her but also stressed the need to create awareness among women regarding their rights.
Secretary-General UN, Antonio Guterres, who has been very vocal about gender equality, opened the session held on Wednesday at the Trusteeship Council Chamber of the UN Headquarters.
Phumzile Miambo-Ngcuka, UN Under-Secretary-General and the Executive Director of UN Women stated that violence against women existed on all levels of society and was not confined to a particular group and rather gender inequality was universal and surpassed class and religion.
Moderated by UNDP Goodwill Ambassador, Danish actor Nikolaj Coster-Waldau, known for popular TV series Game of Thrones, the session titled as 'Conversation between father and daughter' saw Malala narrate her experiences with the help from her father.
"When I was born, my father's cousin took out our family tree dating back to hundreds of years which only had room for men's names but he took out a pen and added my name to it, thus I became the first girl to be mentioned there," she began.
Malala added that her story wasn't a striking one save one aspect"There's nothing special in my story with regards to talent rather the only difference is that my father didn't stop me from pursuing education when Taliban rose, and there were many other girls like me who wanted to speak out but they were held back," she said.
She added that the endless support from her father brought her to the point where she stood now."I had this dream, and even before Malala was born I wanted to name her after Afghan hero Malalay who was known for herself because in patriarchal societies, women are known by their association with men. When Malala was born, I wanted her to acquire quality education, and I wanted her to have an identity for herself," Yousafzai said.
Speaking about Malala's encounter with Taliban when she was shot by one of the men, Yousafzai said that their efforts went in vain: "They wanted to silence her on local level but now it's global. The best answer to violence is non-violence but that doesn't mean one should stay silent and submit rather non-violence means, an even louder voice."
Answering a question regarding areas that need attention regarding gender-based violence Malala said that education was very important because many girls didn't even
know about their rights. She added that educating women doesn't only help them rather it helps the entire community. She added that many women didn't even understand that the violence done to them was unjust because they have been conditioned that wat and awareness can help through that.
"It's very difficult to change men especially in patriarchal societies but men are the answer and they have to come forward. We need to work on education and more importantly and we need to have quality curriculum, and I feel we need to have a UN commission on curriculum," he pointed out.
"They should ensure that young generation should learn harmony and equality and only through gender equality can we counter violence," he added.He narrated that his wife wasn't educated but she had the freedom to move around and it created ease for him because she helped him in my work by taking children to various places.
"Men have put these social barriers and taboos not only to hamper the progress of women rather themselves as well. We are yet to see a nation which has moved forward by ignoring half of their population," he stressed.
Malala had also met with the Prime Minister, Shahid Khaqan Abbasi and shared her views about education in the country especially for women and girls. Abbasi lauded her commitment and assured full support in expansion of education at all levels.
https://www.thenews.com.pk/print/231737-Women-need-to-know-their-rights-to-eliminate-violence-Malala
--------
Senior Saudi Cleric Banned From Preaching After Insulting Women
22 September 2017
JEDDAH: Asir Gov. Prince Faisal bin Khalid bin Abdul Aziz has banned Sheikh Saad Al-Hijri, a senior cleric, from preaching, leading prayers and other religious activities.
The ban follows Al-Hijri's claim that when they go shopping, women — who he said only have half a brain to begin with — "end up with only a quarter." His comments caused uproar on social media.
The spokesman for Asir governorate, Saad bin Abdullah Al-Thabet, said the ban is aimed at limiting the exploitation of preaching platforms to spread controversial ideas that diminish the value of humans.
He added that anyone using preaching platforms to disseminate ideas that do not serve the national interest will be banned.
http://www.arabnews.com/node/1165341/saudi-arabia
--------
Benazir killed for defying terrorists and being a woman: British PM
Anwar Iqbal | Masood Haider
September 22, 2017
UNITED NATIONS: Former Pakis­tani prime minister Benazir Bhutto was remembered at the 72nd UN General Assembly by Britain's Theresa May who also reminded world leaders that no country had suffered more at the hands of terrorists than Pakistan.
"This year is the tenth anniversary of the death of the woman who introduced me to my husband, and who was known well to many of us in this United Nations," said the British prime minister in her address to the General Assembly on Wednesday night. "Benazir Bhutto was brutally murdered by people who actively rejected the values that all of us here in this United Nations stand for," she said.
She recalled that Ms Bhutto, who was killed in a terrorist attack in December 2007, stood against terrorism "in a country that has suffered more than most at the hands of terrorists". The popular Pakistani leader, she added, was "murdered for standing up for democracy, murdered for espousing tolerance, and murdered for being a woman".
While praising Ms Bhutto's courage and defiance, the British leader warned that "defiance alone is not enough" in the fight against terrorism.
As leaders, "we have all visited too many hospitals, and seen too many innocent people murdered in our countries" and now was the time to fight back, she said. "In the last decade, hundreds of thousands have been killed by terrorists across the world," said Ms May. "This is a truly global tragedy that is increasingly touching the lives of us all."
"When I think of the hundreds of thousands of victims of terrorism in countries across the world, I think of their friends, their families, their communities, devastated by this evil, and I say enough is enough."
Ms May emphasised the need to take the fight to these terrorist groups by staying together and rejecting their false beliefs. "For, as the threat from terrorists evolves, so must our cooperation," she said.
Ms May noted that for the first time in the UN, governments and industry came together through the Global Internet Forum for Counterterrorism to coordinate their efforts to fight terrorism.
"The challenges we face today are vastly different from those of previous eras," said the British leader.
https://www.dawn.com/news/1359228/benazir-killed-for-defying-terrorists-and-being-a-woman-british-pm
--------
French-Algerian millionaire vows to pay burqa ban fines for Muslim women in Austria
21 Sep, 2017
A French businessman of Algerian origin has called on Muslim women to defy the face veil ban in Austria, offering to pay all their fines. This comes two weeks before the ban enters force.
I am reaching out to all women in Europe and especially to women in Austria who voluntarily wear the burqa, I will always be there and pay the fines," Rachid Nekkaz, a French property dealer and a millionaire with Algerian roots, who says he is not personally a "face veil advocate," told the Austrian Servus TV in an interview seen by Reuters. The interview will be aired on Thursday evening.
"If one accepts religious freedom, one must also accept the manifestations of religion," he also said, adding that he seeks to protect the people's right to openly demonstrate their religious beliefs, the Austrian APA news agency reports.
Nekkaz already pays fines for Muslim women wearing face veils in public places in defiance of the ban in such countries as France, Belgium, the Netherlands and Switzerland. He even established a special organization called "Touche pas à ma constitution" (Do not touch my constitution) that settles these bills.
According to Nekkaz, he already spent around € 300,000 ($360,000) covering face-veil fines in various countries.
His proposal, however, was slammed by Austrian authorities. Austrian Foreign Minister Sebastian Kurz already threatened the businessman with charges over "incitement to commit an offense."
"We would certainly not let it happen," Kurz said, adding that "those who would wear the niqab or burqa in Austria should expect to face the consequences," APA reported.
The minister, who is also a leading candidate of the Austrian conservative Austrian People's Party (OVP) at the forthcoming parliamentary elections, said that Nekkaz's words should be examined for whether they constitute an "administrative offense," adding that the millionaire could also "face appropriate consequences."
"We will not tolerate any symbols that are aimed at establishment of a parallel society [in Austria]," Kurz said.
Austria approved the ban on full face veils in May, as part of a large "integration law" which the Foreign Ministry says is aimed at encouraging people to assimilate into Austrian culture. The legislation comes into force on October 1.
However, the legislation called the "Anti-Face-Veiling Act," which is also commonly referred to as a "burqa ban," covers not only the conservative Muslim headwear, such as burqa or niqab. People wearing balaclavas, covering their faces with scarves or even wearing medical masks without sufficient reasons could also be found in violation of the new law.
https://www.rt.com/news/404146-french-millionaire-austria-burqa-ban/
--------
New drive to increase Saudi women's employment in IT industry
22 September 2017
RIYADH: A guide prepared by the Saudi E-Government Program (Yesser) has identified eight factors that could increase the employment of Saudi women in the information technology (IT) sector, local media said.
The guide reportedly came in light of the increase of Saudi female graduates who were twice the number of female graduates in 13 countries of the world such as the US, the UK and South Korea, Aleqtesadiah daily said.
The factors contained an analysis of the work environment (part-time and remote-based work), social and organizational environment of the company, training and development, and the availability of support services such as rest rooms, transport and prayer places.
Meanwhile, the Yesser program plans to develop and update the guide periodically to keep abreast of developments, achieve maximum benefits and study local and global experiences in this regard.
According to the latest study on the best practices to employ women, the rate of graduates in the scientific sections represented 14 percent of the total graduates. Graduates of the scientific sections (mathematics, physics, biology, statistics, and informatics) reached 47,382 compared to 337,101 graduates of other sections of the universities.
Female graduates in the scientific sections represented 20.5 percent of the total female graduates in the Kingdom where their number in the last five years stood at 74,272 out of 362,906 female graduates.
The Yesser program was jointly established by the Ministry of Finance and the Communication and Information Technology Commission to work as an incentive in applying and minimizing centralism of e-government transactions.
http://www.arabnews.com/node/1165371/saudi-arabia
--------
Iran: Women's admission to stadiums not a social priority – official
21 September 2017
In a meeting on the presence of women in sports stadiums, Mehdi Taj, the head of the Soccer Federation, said, "As I have previously said, the structures of our stadiums are not suitable for admission of women. In addition, this issue is not a priority for women and society at the present time." (The state-run Mehr News Agency – September 19, 2017)
The latest example of exclusion of Iranian women from attending a sports stadium was on September 5, 2017 in the course of the football game between the national teams of Syria and Iran at Tehran's Azadi Stadium where Syrian women were allowed in to watch the game and encourage their team, but Iranian women remained behind closed doors.
http://www.women.ncr-iran.org/iran-women-news/4312-iran-women-s-admission-to-stadiums-not-a-social-priority-official
--------
Iran: Woman on the verge of execution in Shiraz
21 September 2017
The Iranian Supreme Court upheld the death sentence for a woman from Shiraz.
The woman charged with murder of her husband, told her interrogators, "We had disagreements with my husband since a long time ago. I attempted several times to get a divorce, but he would not agree."
Due to the difficult conditions of the family, the woman had been forced to get married at the age of 17 with a much older man.
After her last defense, the judges condemned her to death. The Supreme Court upheld the sentence on September 20, 2017. (The state-run Jam News website – September 20, 2017)
http://www.women.ncr-iran.org/iran-women-news/4313-iran-woman-on-the-verge-of-execution-in-shiraz
--------
URL: https://www.newageislam.com/islam-women-feminism/freewheeling-women-campus-bikes-liberate/d/112623
New Age Islam, Islam Online, Islamic Website, African Muslim News, Arab World News, South Asia News, Indian Muslim News, World Muslim News, Women in Islam, Islamic Feminism, Arab Women, Women In Arab, Islamophobia in America, Muslim Women in West, Islam Women and Feminism