New Age Islam News Bureau
26 Oct 2018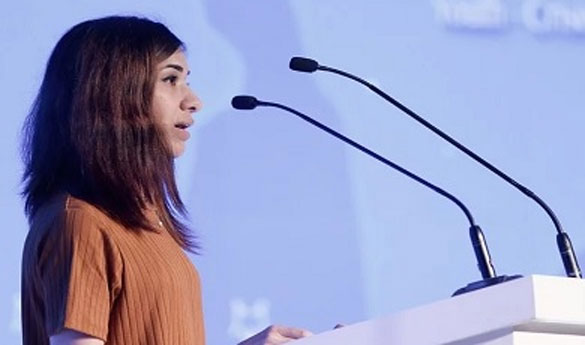 Photo: Yazidi human rights activist Nadia Murad was awarded the Nobel Peace Prize for her campaign to end sexual violence as a weapon of war. (AFP)
--------
• European Court Rules Against Woman Convicted in Austria for 'Disparaging' Islam
• Man arrested for giving triple talaq to obese wife
• Women can turn tide of violence: Scholars
• Irish singer Sinead O'Connor converts to Islam
• Ethiopian parliament names first-ever woman president
• Malala included in GCSE UK curriculum
• Saudi Aramco participates in women's excellence and development symposium in Bahrain
• Woman and her two children rescued from IS-held area
Compiled by New Age Islam News Bureau
URL: https://www.newageislam.com/islam-women-feminism/france-take-100-yazidi-women/d/116720
--------
France to Take In 100 Yazidi Women Who Were Assaulted by ISIS in 2014 and Stranded in Iraqi Kurdistan
October 25, 2018
PARIS: French President Emmanuel Macron has pledged to bring to France 100 Yazidi women who were victims of assault by Daesh fighters in northern Iraq beginning in 2014, his office said Thursday.
Macron's offer came after a meeting in Paris with Nadia Murad, who was awarded the Nobel Peace Prize this month for her campaign to end sexual violence as a weapon of war.
Murad was one of thousands of Yazidi women captured by extremists before they were driven out of Sinjar and other parts of Iraq, starting with campaigns by Kurdish forces backed by US-led coalition forces.
Macron said that in response to Murad's request, 20 of the refugees being held without access to care in Iraqi Kurdistan would come to France by the end of this year, and the remainder in 2019.
He said he would also back Murad's launch of a reconstruction fund for Sinjar to build hospitals and schools, hopefully encouraging Yazidis who had fled to return to their bastion.
Murad was in Paris to present a report from the International Federation for Human Rights (FIDH) on the brutalities inflicted on Yazidi women during the Daesh siege, in particular those by foreign fighters who had joined the extremists.
More than 6,800 Yazidis were kidnapped, of which 4,300 either escaped or were bought as slaves, while 2,500 remain missing, the report said.
The federation called on governments to pursue its citizens who fought alongside Daesh for participating in genocide and crimes against humanity.
http://www.arabnews.com/node/1393976/world
--------
European Court Rules Against Woman Convicted in Austria for 'Disparaging' Islam
25 Oct 2018
BERLIN (AP) — The European Court of Human Rights says an Austrian woman's conviction for calling the prophet of Islam a paedophile didn't breach her freedom of speech.
The Strasbourg-based ECHR ruled Thursday that Austrian courts had "carefully balanced her right to freedom of expression with the right of others to have their religious feelings protected."
The woman in her late 40s, identified only as E.S., claimed during two public seminars in 2009 that the Prophet Muhammad's marriage to a young girl was akin to "pedophilia." A Vienna court convicted her in 2011 of disparaging religious doctrines, ordering her to pay a 480-euro ($547) fine, plus costs. The ruling was later upheld by an Austrian appeals court.
The ECHR said the Austrian court's decision "served the legitimate aim of preserving religious peace."
https://www.breitbart.com/europe/2018/10/25/european-court-rules-against-austrian-woman-convicted-disparaging-islam/
--------
Man arrested for giving triple talaq to obese wife
October 25, 2018
New Delhi: In yet another case of instant divorce, a man in Madhya Pradesh was arrested on Thursday for saying 'triple talaq' to his wife, for being obese.
The wife, Salma Bano, has alleged that her husband and mother-in-law used to taunt her for being fat.
"My husband would constantly make fun of me about my weight. He and his mother would nag me on my physical condition. My husband mistreated me for being obese," Bano said in her complaint to the police.
The complainant married Arif Hussain 10 years ago and they have two children.
"Soon after our wedding, my husband started harassing me and calling me fat. As the torture did not end, I decided to move back to my parents' house in Meghnagar. But my husband would beat me up. After he divorced me by uttering 'talaq' thrice, I decided it was enough," Bano told Gulf News.
The case was registered under the new Protection of Rights of Marriage of Muslim Women Ordinance, 2018, against Hussain and his mother Hussain Bano at Meghnagar police station in Jhabua district.
"After giving me triple talaq, my husband tried to take my children away and when I refused, he threatened to kill me," Bano added.
According to Meghnagar police station-in-charge Kushal Singh Rawat, Hussain was immediately arrested after the victim registered a formal complaint.
This comes a month after the government passed an ordinance making triple talaq a punishable offence.
Triple Talaq or instant divorce is a form of Islamic divorce which has been used by Muslims in India, especially adherents of the Hanafi Sunni Islamic schools of jurisprudence. It allows any Muslim man to legally divorce his wife by stating the word 'talaq' three times in oral, written, or more recently, electronic form.
Unconstitutional
On August 22, 2017, the Supreme Court of India deemed instant 'triple talaq' unconstitutional. Later, the Narendra Modi-government formulated a bill called 'the Muslim Women (Protection of Rights on Marriage) Bill, 2017' and introduced it in Parliament; it was passed on December 28, 2017 by the Lok Sabha (Lower House of Parliament).
The Bill made instant triple talaq in any form — spoken, in writing or by electronic means such as email, SMS and WhatsApp — illegal and void, with up to three years in jail for the husband.
However, the Bill was stalled in Rajya Sabha (Upper House of Parliament) where the government did not have a majority. Thus, the government passed an ordinance last month making triple talaq a criminal offence.
https://gulfnews.com/news/asia/india/man-arrested-for-giving-triple-talaq-to-obese-wife-1.2293852
--------
Women can turn tide of violence: Scholars
October 26, 2018
Women are agents of change in both domestic and social context and capable of promoting tolerance and stability, said IIUI Female Campus Vice President Dr Farkhanda Zia on Thursday.
She was speaking at International Islamic University Islamabad (IIUI) a seminar "Role of Daughters of Pakistan: women as agent of change to promote peace, tolerance and social reciprocity to counter violent extremism," held at the varsity's female campus in connection with Iqbal Day.
Dr Zia said that Allama Iqbal had urged women to come forward and play a positive role in the character building of the youth in the society.
The 1973 Constitutions of Islamic Republic of Pakistan allows participation of women in every sphere of national life, she said at the seminar jointly organised by IIUI Vice President Office and Urdu Department in collaboration with the Council of Islamic Ideology.
The purpose of seminar was to create awareness among women regarding their role as catalyst in social change towards peace, tolerance and social reciprocity to counter violence and extremism.
The event was chaired by IIUI President Dr Ahmed Yousif Al-Draiweesh. Social Sciences Faculty Dean Dr Samina Malik, Urdu Department Head Dr Najeeba Arif, Students' Advisor Dr Nyla Jabeen also expressed their views.
Speaking on role of women in society and teachings of Islam, IIUI president called for provision of opportunities to women in building the society.
He said that Islam has clearly defined prerogatives of women. Dr Al-Draiweesh, mentioning prominent names of women in Islamic history, maintained that no society can excel unless it accepts participation of women.
He said that women, through their role, can help in disseminating peace and eradicating violence from the society.
Dr Najeeba Arif expressing her views on Iqbal's thought on role of women mentioned his essay "National Life" and also elaborated on his address in Madras in which he had advocated role of women.
"It is quite unfortunate that Iqbal is taken as just a curriculum poet and his actually thoughts, message and philosophy being ignored," she added.
Dr Ghazala Ghalib, a faculty member at faculty of Shariah and Law presented a paper on role of women and Iqbal's thoughts. Dr. Sadia Tahir, a faculty member at the Urdu Department also discussed teachings of Iqbal and women.
https://tribune.com.pk/story/1834100/1-women-can-turn-tide-violence-scholars/
--------
Irish singer Sinead O'Connor converts to Islam
October 26, 2018
Irish singer Sinead O'Connor has revealed she has renounced Catholicism and converted to Islam, taking the new name "Shuhada' Davitt."
"This is to announce that I am proud to have become a Muslim," the 51-year-old singer wrote on Twitter.
"This is the natural conclusion of any intelligent theologian's journey. All scripture study leads to Islam. Which makes all other scriptures redundant," she wrote.
"I will be given (another) new name. It will be Shuhada'."
O'connor had changed her legal name to Magda Davitt last year.
She also posted a video of herself reciting the Adhan -- the Islamic call to prayer.
The singer found international fame with a series of albums and singles in late 1980s, including the 1990 hit "Nothing Compares 2 You".
https://www.yenisafak.com/en/world/irish-singer-sinead-oconnor-converts-to-islam-3464586
--------
Ethiopian parliament names first-ever woman president
25.10.2018
Ethiopian Parliament on Thursday named Sahle-Work Zewde as the first woman president of the country, replacing Mulatu Teshome.
The top diplomat resigned her post as the Special Representative of the Secretary-General and Head of the UN Office to the African Union.
Zewde became the 4th president since 1995 -- after Negasso Gidada, Girma Woldegiorgis and Mulatu Teshome.
Her appointment came in unanimous vote during the second Special Joint Session of the two houses of parliament: House of Peoples' Representatives and the House of the Federation.
The parliament approved Zewde's appointment as president with the unanimous vote, hence making her Ethiopia's first woman president.
The position of the president is however more of a ceremonial and less of an executive power, according to Ethiopian law.
The highest executive powers belong to the prime minister, who is also commander in chief of the armed forces.
Zewde also served as the head of the UN's office in Kenya and has a long diplomatic profile, serving as Ethiopia's ambassador to numerous countries at various times.
https://www.aa.com.tr/en/africa/ethiopian-parliament-names-first-ever-woman-president/1292739
--------
Malala included in GCSE UK curriculum
October 26, 2018
Youngest Nobel Prize laureate and Pakistani activist for female education Malala has been included in the Religious Studies curriculum for General Certificate of Secondary Education (GCSE) in the United Kingdom.
This news was shared by her father, Ziauddin Yousafzai, who took to Twitter to express his pride that his daughter's name had been included in the textbook among names of individuals who have campaigned for human rights, such as the prominent 20th-century civil rights activist Martin Luther King.
According to the official website, the Religious Studies curriculum provides a critical and sympathetic approach to the study of religion as learners reflect on religious responses to moral issues, identify and explore questions about the meaning of life, and recognise the contribution of religion to patterns of belief and behaviour.
Malala, currently a student of Oxford University was shot by a Taliban gunman in 2012 for campaigning for girls' rights and education in the conservative Swat Valley, however, she recovered and since then has been a strong advocate of girls' education and rights across the world.
https://www.pakistantoday.com.pk/2018/10/25/malala-included-in-gcse-uk-curriculum/
--------
Saudi Aramco participates in women's excellence and development symposium in Bahrain
October 25, 2018
BAHRAIN: Saudi Aramco has been participating at the Leadership Excellence for Women Awards and Symposium" (LEWAS), held in Bahrain from Oct. 23-25, Saudi Press Agency reported on Thursday
LEWAS aims to empower, engage and develop female professionals working in the energy sector, through focused workshops, leadership seminars and networking symposia, alongside awards that celebrate and recognize professional excellence.
It is one of the growing gender diversity initiatives in the GCC energy industry and this year's Symposium was held concurrently with the Gulf Downstream Association (GDA) Conference and Exhibition event at the same venue.
Saudi Aramco Vice President of Downstream, Abdulaziz Judaimi, mentioned in his keynote speech the professional development of Aramco's women employees.
He noted the best practices in recruiting, developing and advancing women in Downstream.
Welcoming delegates, he identified three key corporate drivers which deliver healthy numbers of women professionals in a company; a strong belief in the role of women, strategic recruitment and effective professional support.
"I am pleased to say that Saudi Aramco has been investing in tailored outreach programs for some considerable time. These programs are helping women to compete before they even enter the workplace and specifically in our industry."
The company also continues to champion the professional development of its women employees through the implementation of company functions such as the Diversity Division, which works on providing programs to help leaders develop their inclusive leadership capabilities, and to develop professional careers for women.
The company is also home to a number of women in senior positions including Diversity and Inclusion Leader, Reem Al-Ghanim, who has been chairing LEWAS since 2017, and all of whom attended the event in Bahrain.
http://www.arabnews.com/node/1393986/saudi-arabia
--------
Woman and her two children rescued from IS-held area
26 Oct 2018
KUALA LUMPUR: A Terengganu-born woman, her five-year-old daughter and two-year-old son are the first Malaysians to be repatriated from Syria on Oct 6, said Tan Sri Mohamad Fuzi Harun (pic).
The Inspector-General of Police said the 31-year-old woman, who wanted to be known as Aisyah, was keen to return after her Malaysian husband died while fighting with the Islamic State (IS) in February.
He said it took three weeks to plan the operation as it involved multiple agencies – Bukit Aman's Counter Terrorism Division, the Malaysian Embassy in Turkey and the Turkish National Intelligence Organisation (MIT).
"We had to act fast as the situation at her settlement in Idlib, Syria, was getting more volatile with Sy­­rian forces, assisted by the Russian army, were preparing to launch their largest attack on the area to free it from militant control," he said.
Mohamad Fuzi said four other groups of Malaysians wanted to escape the horrors of IS in Syria.
He said the four adults and seven children had contacted and sought assistance from Bukit Aman.
"It is still in the planning stages. We have to consider security and risks faced by the team sent to help them," he told a special press conference in Bukit Aman yesterday.
The Special Branch Counter Ter­rorism Division has so far identified 54 Malaysians – 23 men, 11 women, 12 boys and eight girls – still in Syria, the IGP added.
"Since 2013, we discovered that 102 Malaysians have gone to Syria.
"At least 11 of them have returned home while 37 men have been killed in Syria and Iraq.
"The remainder are still in Syria with IS," he said.
Mohamad Fuzi said some of them were trapped in Deir Ez Zour and Al Bukamal districts.
"They moved around a lot be­­cause of offensive operations by Syrian and Russian forces on IS and rebel strongholds.
"Others are at refugee camps in northern Syria while some are im­­pri­­soned by Syrian rebels," he said.
Mohamad Fuzi said authorities were genuinely concerned about these Malaysians and advised them to return.
"They should take the opportunity given by the government and police who want to bring them back, especially those who had repented," he said.
The IGP urged those in Syria to contact the Bukit Aman operations centre at 03-2266 3333 or 03-2266 3444 if they wanted help to return.
"We will review on a case by case basis," he said.
https://www.thestar.com.my/news/nation/2018/10/26/woman-and-her-two-children-rescued-from-isheld-area/
--------
URL: https://www.newageislam.com/islam-women-feminism/france-take-100-yazidi-women/d/116720
New Age Islam, Islam Online, Islamic Website, African Muslim News, Arab World News, South Asia News, Indian Muslim News, World Muslim News, Women in Islam, Islamic Feminism, Arab Women, Women In Arab, Islamophobia in America, Muslim Women in West, Islam Women and Feminism