New Age Islam News Bureau
9 May 2012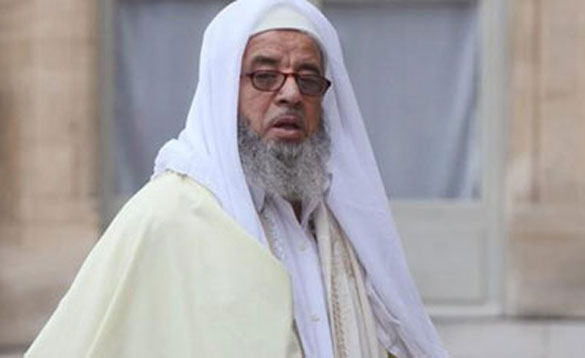 • Indonesia: 62 women in tight clothing detained in Bireuen
• Muslim women's conference: a model of gender cooperation and harmony
• Muslim group declares 'devilish' Lady Gaga unwelcome in Indonesia
• Mona Eltahawy's 'hate' fuels real war on 'us'
• Afghan woman fights to be president
• Muslim woman beat girl with steel ladle for not reading enough of Quran
• Pregnant Asian Muslim stabbed to death in Britain
Photo: Mohammed Hammami, 76, was accused by Interior Minister Claude Geant of making "violently anti-Semitic remarks" as well as calling for women to be "whipped to death" for adultery
URL: https://newageislam.com/islam-women-feminism/france-deport-radical-imam-calls/d/7273
----------
France to deport radical Imam who calls for women to be "whipped to death" for adultery
9 May 2012
The French froze his assets. Others have been or will be deported for advocating anti semitism and death for heresy. Since all these things are mainstream in Islam, it must be asked: will any imams be left? "France freezes assets of Tunisian Imam," from the Pakistan Observer, May 7 (thanks to Mackie):
Paris—The French finance ministry froze the assets of a radical imam from Tunisia who is underthe [sic] threat of expulsion for anti-Semitism, an official announcement said. Mohammed Hammami, 76, has lived in France for decades and was accused in January by Interior Minister Claude Geant of making "violently anti-Semitic remarks" as well as calling for women to be "whipped to death" for adultery. Hammami was hospitalized in February for what his lawyer said was psychological and physical shock from the accusations and was unable to attend an expulsion hearing.
France expelled two Islamic radicals in April and was planning to deport three more as part of a crackdown announced after a gunman of Algerian decent killed seven people in the city of Toulouse. Gueant said an Islamist militant of Algerian origin who had previously been sentenced for his role in a 1994 Marrakech terrorist attack, was expelled for renewing ties in radical Islamic movements.
A preacher of Malian origin was deported for promoting anti-Semitism, advocating the full face veil and rejecting the West.
Meanwhile Imams from Saudi Arabia and Turkey as well as a suspected Tunisian militant, who called for the death of all those who deviate from Islam, were due to be expelled, an Interior Ministry statement said, adding that other expulsions would take place soon.
http://www.jihadwatch.org/2012/05/france-muslim-cleric-misunderstands-islam-calls-for-women-to-be-whipped-to-death-for-adultery.html
----------
Indonesia: 62 women in tight clothing detained in Bireuen
9 May 2012
Sixty-two young women were detained in a raid for wearing tight clothing in Wilayatul Hisbah, Bireuen, Aceh on Tuesday evening.
Four of the 62 women detained are sales promotion girls who were promoting cigarettes near the area, and were wearing tight black pants, white tops and red jilbab (veils).
Most of the women who passed along Jl. Meuligoe were sent to the Meuligoe regent, while the four promotion models were sent to the Islamic Shari'a office to receive instructions before being freed.
"They violated the 2002 Qanun No. 11 on the implementation of Islamic and worship symbols, which touched upon Islamic wear," said Tgk M Daud, investigator and Islamic law department head, as quoted by tribunnews.com.
The commander of Wilayatul Hisbah, Usman Kelana, said he will conduct raids more frequently to minimize the number women wearing tight clothes.
"We hope the people and parents to prohibit their children from wearing tight clothing," Kelana said.
http://www.thejakartapost.com/news/2012/05/09/62-women-tight-clothing-detained-bireuen.html
----------
Muslim women's conference: a model of gender cooperation and harmony
Dina Malki
9 May 2012
The first DFW Muslim Women's Conference kicked off over the weekend, attracting a big crowd of women on Saturday, May 5 at the Dar El Iman mosque in Arlington. The day-long event closed at 9:00 PM with the local imam (Muslim prayers leader), Said Atif, commending the women who participated and helped make the event successful. One could not let such an event go without some reflection and analysis about its significance to local American Muslims and particularly about its significance to the empowered position of American Muslim women.
The conference included lectures in spirituality as well as in health and nutrition, taking care of both soul and body. A bazaar of scarves and other items, and a display by a young self-taught chef, Ayah Isa, who proudly exhibited her artistically decorated cakes took place. The theme of the conference, "Historical Contributions of Muslim Women," helped define the backdrop of the lectures presented by half a dozen female preachers who came from all over the metroplex.
North Texas Muslim women have a long history, extending over three decades, in local spiritual study circles, also known as "halaqas," presented by women, for women. In Arlington alone, there are at least three weekly study circles taking place in different locations, usually at Islamic centers and mosques. The turnout of attending women is also significant and it has increased over the years. These women who are usually housewives in different age groups and coming from different cultural and ethnic backgrounds look for spiritual relief that makes sense of their daily challenges and domestic responsibilities. Common topics of discussion include how to raise children in America while remaining faithful to the Islamic ethics, how to purify one's heart, how to recite the Qur'an, stories of prophets in the Qur'an, etc… Women who hold full time jobs also have a share in religious education as they can attend evening and weekend classes, also offered all over the metroplex.
But what is unique about last weekend's women's event is the male factor in initiating and supporting such an event. It is true that Muslim men have always been supportive of women seeking religious knowledge; Imams have offered classes for women only on a regular basis. Muslim men have also supported women's organizations that work in social services, youth activities, and interfaith, like the Texas Muslim Women's Foundation. Moreover, Muslim men have been in general open to the idea of a woman pioneering an initiative that they are willing to carry on. Such was the case when Maha El-Genaidi, Founder and Chief Executive Officer of ING, Islamic Networks Group, came to Dallas in February 2011 and initiated the Islamic Speakers Bureau. ISB presents training seminars to public institutions "on developing cultural competency with the American Muslim community." Yet, last weekend, Muslim men showed an evolving understanding of the need of an empowered role of women in the community. The event was spear-headed by a man, the imam, and according to one attendee, Alia Salem, "he was there the whole day with maybe 2-3 other (men) busy helping and ensuring the event went smoothly."
Many imams in the DFW area are well-known for their rationality in addressing community issues. For example, Muslim imams and religious leaders are the only faith-based community to address the issue of domestic violence in their sermons. Texas Muslim Women's Foundation takes great pride in this support. These leaders acknowledge the problem when it exists, then do their best to solve it, often seeking the help of women.
That such support for women comes from men is understandable given the history of Muslim women and their contributions to knowledge, Islamic law, science, astronomy, literature, and other fields of knowledge. But when this support is publically condoned by a religious leader, it sends a public message to the community about what this community is looking up to. American Muslims are not all well-rounded in Islamic knowledge; many depend on the imams in learning about their faith and about the dignified position of women in Islam. Thus, a rational imam can do miracles transforming a community's mentality and attitude, especially when this leader is charismatic and appeals to a large segment of the community.
http://www.examiner.com/article/dfw-s-first-muslim-women-s-conference-a-model-of-gender-cooperation-and-harmony
----------
Muslim group declares 'devilish' Lady Gaga unwelcome in Indonesia
9 May 2012
INDONESIA may be home to many Little Monsters, as fans of Lady Gaga are called, but a hard-line Muslim group said the American pop star is not welcome in the country, accusing her of promoting devil worship.
As the economies of many countries in the West struggle, Indonesia has become a favorite stop on the global concert circuit, and Lady Gaga is likely to be the latest big arrival. She is scheduled to perform in Jakarta on June 3, but some Muslim conservative leaders already expressed opposition to the gig, The Wall Street Journal's Scene Asia blog reported.
"Lady Gaga insults all religions. Even Christians in Korea opposed her," said Munarman, a spokesman for the Islamic Defenders' Front (FPI), a group known for its tough stance on vice and liberalism and sometimes violent protests. "She is promoting the worship of Satan."
A group of conservative Christians in South Korea protested against Lady Gaga's concert in their country last month, saying she promoted homosexuality. Munarman, who like many Indonesians goes by only one name, did not say what the group would do if the concert in Jakarta went ahead as scheduled. "We'll decide later," he said.
Local fan Rientha Ramdan said that her idol's songs are not from the devil.
"Some of the songs in her latest album actually reflect her spirituality as a Catholic," the Jakarta-based Little Monster said. "I don't think they even listen to Lady Gaga's songs. They only see her posters, which are frightening, but they are just for show."
Ticket prices for the concert to be held at the Bung Karno soccer stadium range from 750,000 rupiah to 2.25 million rupiah ($82 to $245), unaffordable prices for most Indonesians.
Last week, The Jakarta Post reported that FPI chairman Rizieq Shihab warned there would be trouble if Lady Gaga's concert was not stopped. "If you want chaos in Jakarta, just continue to hold the concert," he was quoted as saying.
Muslim scholar Cholil Ridwan told The Jakarta Globe that Gaga's performances were haram, or forbidden, in Islam because the singer, whose real name is Stefani Joanne Angelina Germanotta, wears revealing clothes during concerts.
http://www.dailytelegraph.com.au/entertainment/muslim-group-declares-devilish-lady-gaga-unwelcome-in-indonesia/story-e6frewyr-1226350559680
----------
Mona Eltahawy's 'hate' fuels real war on 'us'
9 May 2012
Claiming Islam and Arab culture are misogynistic helps to legitimise attacks against the Middle East.
Cairo, Egypt - When I began to read Mona Eltahawy's recent article in Foreign Policy magazine, it drew me back to my senior year at Princeton. As I walked into the lobby of the Woodrow Wilson School, I was taken aback by an art exhibit consisting of large collages of Arab children with guns, mosques in the shape of rockets, and covered women. The images were not only offensive, but also diminished the Arab and Muslim worlds and their people to inherently violent and oppressive entities. When I explained the danger of the stereotypes - that by depicting an entire religion and culture as hateful, it justifies aggression against it and carries with it life or death consequences for the people of the Middle East - I was told by members of the school's administration that the artist meant no offence and is in fact "sympathetic to the women of your region".
The artist's explanation was just as problematic as the paintings. It perpetuated the same stereotype that Eltahawy did when she argued, in essence, that the women of the Arab world are oppressed by their societies due to the barbaric nature of Arab culture and the Islamic religion. Eltahawy's piece, addressed to a western audience by virtue of its language, does nothing to benefit the women which it discusses. Rather, with its lack of nuance, it invites the Western world to "save" voiceless Arab women from their hateful societies and, by doing so, contributes to a part of the same story woven by US media and academia to justify costly wars in Iraq and Afghanistan.
Full report at:
http://www.aljazeera.com/indepth/opinion/2012/05/201255134117758375.html
----------
Afghan woman fights to be president
Lawrence Bartlett
9 May 2012
Leading Afghan author, women's rights champion, legislator and presidential hopeful Fawzia Koofi has a revealing anecdote about life as a woman in a man's land.
As she walked out of the Presidential Palace in Kabul recently, a male parliamentary colleague approached her and said: "Ms Koofi, if you would really like to live in a palace – because you are running for the presidency – why don't you get married to a president?"
Even now, weeks later, Koofi's steady brown eyes flash at the memory.
"It really made me feel angry, because that's how they see it," Koofi said. "If a woman would like to become a president it's not because she's qualified for it, it's because she would like to live in a palace."
In a riposte, she told her colleague pointedly that, unlike some men with dubious pasts in Afghanistan's 30 years of conflict, she had no need to hide in the security of a palace.
"I'm happy sometimes when they oppose me, because it means I'm something to them, they feel I am strong – and I also give them the required punch, I think."
Named this year as one of the world's "150 Fearless Women" by US website The Daily Beast, Koofi, 36, is a widow with two young girls who are addressed in her memoir Letters to my Daughters. It is the tale of a girl growing up in a country sometimes called the worst place in the world to be a woman.
Full report at:
http://www.iol.co.za/pretoria-news/afghan-woman-fights-to-be-president-1.1291872
----------
Muslim woman beat girl, 10, with steel ladle for not reading enough of Koran
By LEON WATSON
9 May 2012
Doctors found 56 wounds the child's body
Asia Parveen also forced the girl to stand arms outstretched for four hours
Police found her after she escaped from the house in north London
A Muslim woman who repeatedly beat a 10-year-old girl with a steel ladle for not reading enough verses of the Koran is facing jail today.
Asia Parveen, 31 brandished a knife at the child after accusing her of lying about her prayers.
Parveen, who was five months pregnant at the time, also forced the girl to stand with her arms outstretched for four hours, Snaresbrook Crown Court heard.
The girl, who cannot be identified for legal reasons, escaped from the house in Stoke Newington, north London, and police found her alone at a bus stop in Waltham Forest, east London, almost four hours later in the early hours of the morning.
Full report at:
http://www.dailymail.co.uk/news/article-2139623/Muslim-woman-beat-girl-10-steel-ladle-reading-Koran.html#ixzz1uMvT2jXz
----------
Pregnant Asian Muslim stabbed to death in Britain
May 09, 2012
London: A 26-year-old Asian Muslim woman, who was pregnant with her second child, has been stabbed to death in Britain.
Saiba Khatoon was stabbed at her family home in Rochdale, Greater Manchester. Her 7-year-old son was woken up by a smoke alarm late at night and ran out of the house to get help from neighbours who found Khatoon dead in a room, the Daily Mail reported.
Police have questioned a 30-year-old taxi driver, believed to be a boyfriend of the dead woman, on suspicion of murder.
The woman -- working as a carer for the disabled -- was four months pregnant. Her estranged husband worked as a doctor.
http://www.ndtv.com/article/world/pregnant-asian-muslim-stabbed-to-death-in-britain-208451
----------
URL: https://newageislam.com/islam-women-feminism/france-deport-radical-imam-calls/d/7273