New Age Islam News Bureau
15 Aug 2013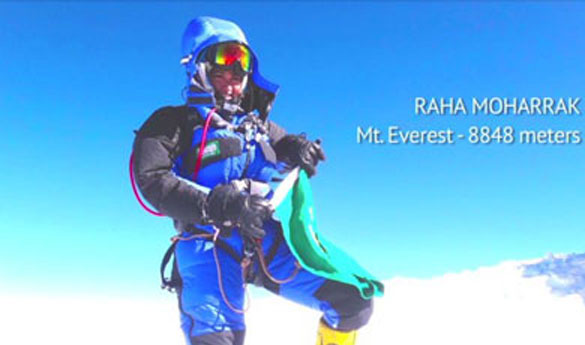 Raha Moharrak: First Saudi Woman to Conquer Everest and Break Taboos
-----------
• Utah Beauty Queen Accused of Throwing Bombs Resigns Title
• 3 Women 'Militants' Arrested in Bangladesh
• Syrian woman abducted, raped and beaten
• An Indian High Court Allows Girl to Go On Her Own
• Woolwich Murder Videos: Woman in Court on Terror Charges
• Raha Moharrak: First Saudi Woman to Conquer Everest and Break Taboos
• Women Take Control in Jhenidah, Bangladesh, Grow Vegetables on Their Own
• Unimpeded By Gezi, 500 Women to Come To Istanbul
• Govt Spurs Efforts to Employ Saudi Women
• Kuwaiti Lovers Caught 'Making Out' In Car in Salmiya
Compiled by New Age Islam News Bureau
URL: https://newageislam.com/islam-women-feminism/fourteen-year-old-girl-latest/d/13032
---------
Fourteen Year-Old Girl Latest Victim in Surge of Rape Crimes in Maldives
Aug 15, 2013
Police are investigating the rape of a 14 year-old girl on Muli island of Meemu Atoll, the latest incident in an increasing number of sexual crimes against women and girls in the Maldives.
According to the police the incident was reported around 1.30am Sunday night, and a 19 year-old man was arrested on charges of rape.
The suspect has a history of criminal behaviour including assault and theft, police stated.
Rise in rapes
The 14 year-old's rape comes less than two weeks after a 19 year old girl was snatched from the streets of Hulhumale' and allegedly raped by a man believed to be an expatriate on the early morning of August 3.
More than 1000 expatriate workers have been searched and interrogated in the ongoing hunt to find the foreign national accused, according to police.
Just two days later on August 5, the police stated that two minors and two men have also been arrested in connection with the rape and filming of an underage girl in a house in Male'. The rape incident occurred on July 27.
Meanwhile, on July 30, the police arrested four men and one minor in connection with the gang rape of a 17 year-old girl on the island of Milandhoo in Shaviyani Atoll.
Police acknowledged that an increasing number of rape and sexual abuse cases had been reported this year.
"We urge parents to be more careful with children's whereabouts, and check who they meet and hang out with," a police spokesperson noted. "Parents also need to be careful of people who visit their homes."
Surveys indicate that most of the sexual perpetrators are known persons, including family members and friends.
Last year three cases of rape incidents were reported to the police while in 2011 a total of 13 cases were investigated, according to the annual police statistics report 2011/2012.
Most cases were gang-rapes and the victims included girls as young as 13.
Tip of the iceberg
Sharing her concerns over the increasing number of sexual crimes against women, Assistant Representative of UNFPA Maldives Shadiya Ibrahim warned an increasing number of rape cases were just "the tip of the iceberg".
She suggested that many of rape and abuse cases go "unreported and uninvestigated" .
"The culture of impunity is one factor why sexual violence against women and girls is increasing," Shadiya observed.
While a number of rape cases are reported in the Maldives, few are prosecuted – especially if the victim is 18 or above.
Rape cases involving minors are prosecuted as child abuse cases with a maximum penalty of 20 years depending on the magnitude of the offence. In contrast, rape cases in which the victim is an adult, are deemed as "forced fornication" under the existing regulation on sexual offences, according to the Prosecutor General Office. To prove fornication – whether forced or not – requires a confession or four witnesses.
"Due to this burden of proof, proving rape cases becomes next to impossible," a state prosecutor told Minivan News in an earlier interview on the subject.
Therefore, adult rape victim's cases are detracted to a sexual assault or harassment offence, in which the four witnesses and confession is not required. However, penalty for sexual assault is only two to three year long imprisonment.
The amended penal code and sexual offences bill currently being deliberated by parliament committees provide a legal remedy to the problem of inadequate legal definition of rape, and if passed will ease the existing burden of proof, making it easier to prosecute rape cases.
Meanwhile, the UNFPA also named other underlying issues contributing to the surge in sexual violence against women; including gender-inequalities that makes women and girls particularly more vulnerable to abuse and secondly, men's attitude.
"A recent survey based on men's experiences of violence shows that entitlement is one of the main reason for men to rape," Shadiya pointed out. "Men surveyed believe it is their right to rape and they can simply get away with it."
She concluded that a huge shift was required in the attitudes of public and authorities in condemning violence against women as an inexcusable human rights violation.
"Parliamentarians, prosecutors, police and judges needs to be gender-sensitised to achieve progress in reducing violence against women." she added.
Minivan News contacted the Gender Ministry but had received no response at time of press.
Earlier this year, Maldives came under international scrutiny following the sentencing of a 15 year old rape victim to 100 lashes on charges of fornication – a symbolic case reflecting the systematic injustices suffered by some rape victims.
Widespread international coverage of the sentencing has since led to over two million people signing an Avaaz.org petition calling for her sentence to be quashed, a moratorium on flogging, and reform of laws to protect women and girls in the Maldives.
http://minivannews.com/society/fourteen-year-old-girl-latest-victim-in-surge-of-rape-crimes-62270
---------
Utah beauty queen accused of throwing bombs resigns title
Aug 15, 2013
REUTERS - A Utah beauty queen accused along with three friends of throwing homemade bombs in a Salt Lake City suburb resigned her Miss Riverton title on Tuesday, according to a statement posted on the city's website.
In the statement, city officials said they had been informed by the director of the Miss Riverton Pageant that Kendra Gill, 18, had resigned her position effective that day.
"Prior to the alleged incidents of August 2, 2013, Kendra had done a good job during the short time she served as Miss Riverton," the statement said.
Gill, crowned Miss Riverton in June, and three other 18-year-olds were arrested earlier this month following a bomb-throwing spree that began the evening of August 2 and was aimed at people and property in Riverton neighbourhoods.
The bombs were constructed from household chemicals, aluminium foil and plastic water bottles, arrest records show.
When questioned by police, one of the teens said he had spent the evening "'pranking' with fireworks with friends," according to booking documents.
They were charged on Friday with four counts each of felony bomb possession, the Salt Lake Tribune reported.
Gill's attorney, Walter Bugden, could not be reached for comment late Tuesday evening and officials with the Miss Utah Scholarship Pageant did not respond to a request for comment.
(Reporting by Laura Zuckerman; Editing by Dan Whitcomb and Catherine Evans)
http://in.news.yahoo.com/utah-beauty-queen-accused-throwing-bombs-resigns-title-064057379.html
---------
3 Women 'Militants' Arrested in Bangladesh
Aug 15, 2013
Three women suspected of militancy were arrested from the Patuakhali's Kalikapur area around 4:00pm yesterday.
They were identified as Ruma Khatun, 25 from Meherpur, Sabia Sultana, 23 from Jhenidah and Amena Begum, 23 from Kushtia.
Patuakhali Officer-in-charge Md Monirul Islam told The Daily Star that that police seized some books on militancy from them, which they were distributing door to door in the area.
They were taken to court and were then sent to jail while a case was filed with the police station.
"We are taking lawful steps regarding the matter," said the OC.
http://www.thedailystar.net/beta2/news/3-women-militants-arrested/
---------
Syrian woman abducted, raped and beaten
August 15, 2013
BEIRUT: A Syrian woman was found beaten and raped on the outskirts of the Baalbek village of Nahleh, the National News Agency reported Wednesday.
The NNA said that the 25-year-old was lured into a car by two young men who then raped her.
They tried to kill the girl by violently beating her afterward, but she did not die and was transferred to hospital by members of security bodies.
An investigation is underway.
http://www.dailystar.com.lb/News/Lebanon-News/2013/Aug-15/227421-syrian-woman-abducted-raped-and-beaten.ashx#ixzz2c21SmvrN
-----------
An Indian High Court Allows Girl to Go On Her Own
Aug 15, 2013
A Division Bench of the Kerala High Court on Monday allowed a girl hailing from Palakkad to go on her own volition.
Her mother had sought a directive alleging the girl was under the custody of a Bangalore-based forum for sexual minorities.
The girl appeared before the Bench and said that she had not been detained by anybody or by any organisation. When the Bench interacted with the 21-year-old girl, she expressed her wish to go on her own.
In view of the submissions by the girl, the Bench comprising Justice Antony Dominic and Justice K. Ramakrishnan closed a petition filed by the mother seeking the directive to release her daughter from the custody of Sangma, the organisation that worked for the cause of sexual minorities.
In her habeas corpus petition, the mother said her daughter went missing and that she had learned now that her daughter had illegally been detained by the organisation. She also feared that her daughter would be forced into flesh trade if she continued in the custody of the organisation.
The court had earlier allowed a woman, a friend of the girl, to go along with her parents when she was produced before the court. Her mother, too, had alleged that she was allegedly in the custody of the organisation.
http://www.thehindu.com/news/cities/Kochi/court-allows-girl-to-go-on-her-own/article5019447.ece
---------
Woolwich murder videos: Woman in court on terror charges
Aug 15, 2013
A 21-year-old woman has appeared in court charged with terror offences after allegedly making videos about the murder of Fusilier Lee Rigby.
Rebekah Dawson, of east London, is also accused of encouraging terrorism by publishing a statement entitled "Muslim laughs at British Soldier killing".
She was remanded on conditional bail by Westminster Magistrates' Court.
She will appear at the Old Bailey on Friday alongside a 22-year-old man with whom it is alleged she acted jointly.
Scotland Yard said Ms Dawson, from Hackney, had been charged with dissemination of terrorist publications for allegedly making two recordings about the killing and circulating them "with the intention, either directly or indirectly, of encouraging others into the commission, preparation or instigation of an act of terrorism".
She is also accused of encouraging an act of terrorism by publishing the statement "glorifying an act of terrorism" on or about 22 May - the day Fusilier Rigby died.
Royal Barnes, also from Hackney, appeared at the same magistrates' court on Monday to face terror charges linked to the footage.
Mr Barnes, from east London, also faces a third charge of inciting terrorism overseas.
Two men - Michael Adebolajo, 28, and Michael Adebowale, 22 - have been charged with Fusilier Rigby's murder.
http://www.bbc.co.uk/news/uk-23684698
---------
Raha Moharrak: First Saudi woman to conquer Everest and break taboos
By Kellie Morgan, CNN
Aug 15, 2013
(CNN) -- Climbing the world's highest mountain is challenge enough, but for Raha Moharrak, it also meant breaking a taboo.
The 27-year-old graphic designer is from Saudi Arabia, an ultra-orthodox country which only officially allowed sport to be played in private girls' schools in May.
But Moharrak, who had been raised by her parents to aim for greatness, wanted to test her limits and that also meant challenging her culture.
Mountaineering seemed like the perfect pursuit but getting her father, who still maintained conservative views, to agree was going to be the first hurdle.
"I told him the idea and he was like 'you want to do what? Ah very interesting. Why don't you leave it until you get married?'" Moharrak recalls.
Fuming and determined not to give up on her dream, Moharrak then wrote her father a long email arguing her point and then waited for three agonizing days for his response.
"I was so scared of his reaction," she says. "And after the three days of silence to me he sent me one line -- 'I love you. You are crazy. Go for it.'"
Since then, Moharrak's family has supported her every step of the way.
She began climbing in November 2011 and in the space of a year, conquered eight mountains including Kilimanjaro.
Then on May 18 this year, she stepped into the history books by becoming the first Saudi woman to climb to the summit of Mount Everest.
She was also the youngest Saudi to reach the top of the world and was part of the first Arab team to make the climb.
"When I finally got there I was thinking 75% of people die on the way down, so I was thinking celebrate but not too much because you still have to get down."
Moharrak had trained hard for the expedition and promised herself that if she was at risk of losing fingers and toes to frostbite, she would abandon her attempt. Many doubted she would make it.
"One person actually said 'What is Barbie doing on the mountain?' and I said: 'Don't let the Disney princess hair fool you.'"
Raha Moharrak's triumph on Everest is the latest in a growing number of milestones for women in Saudi Arabia.
She follows the path of America-based Sarah Attar who became the first Saudi woman to compete in an Olympics at the London Games last year and Dubai-born Elham al Qasimi who became the first Arab woman to reach the North Pole in 2010.
"I did not set out to be a poster child for anything," Raha Moharark she says. "I saw a mountain. I wanted to climb it."
Moharrak's only hope is that her achievements will help change the perception that Saudi women have of themselves and cites an email she received from a young fan.
"I think she was 13 or 14 years old ... saying 'I just wanted to tell you that after hearing your story I found the courage to ask my father for a bicycle.' I thought if that young lady had the courage to buy a bicycle today and to ride it, what is she capable of tomorrow?"
For Moharrak, the achievement is not being the first Saudi woman to conquer Everest, but to ensure she is not the last.
http://edition.cnn.com/2013/08/13/world/meast/saudi-woman-everest
---------
Women Take Control in Jhenidah, Bangladesh, Grow Vegetables on Their Own
Azibor Rahman
Aug 15, 2013
Many women in Jhenidah have been working in the crop fields reluctantly under men and contributing to their family with their hard labour and skill. The vegetables produced are almost organic, where various types of locally produced compost manures and vermin-compost (fertilizer from the earth worms) are widely used. The initiative was a challenging one when the entire farming system was clutched by the chemical farming throughout the country. The female farmers now are selling the vegetables in markets as well as consuming the same for their family.
Rushia Khatun, 35, a house wife at Madhabpur village in Ganna Union Parishad in Jhenidah Upazila said that she has been working in crop fields with her husband, Tajul Islam, for last 15 years. Initially, she started farming activities when her family could not mange day labourer. Rushia, who studied up to class five said that two of her kids go to school. The family income with the joint activities had ensured them purchasing four bighas (measurement of land) of arable land. The purchased land have been used to produce vegetables all year round.
Rushia, also the president of Madhabpur Chashi Club (farmers' club) said that they formed a club in the village where women lead the organization. She deposited Tk. 20 a week from her earning that now cumulated to Tk. 13,000 in last 19 months. Following the success, Rahima, Rashida, Mita and some other women in the village were encouraged to work in the crop fields.
Working with her husband Rushia had constructed a building where it was nothing but a dream for her. "I am proud of Rushia as she works in crop fields like the males in the village. The financial solvency in my family was possible for her", said Rushia's husband Tajul Islam.
Another housewife, Morzina Khatun, 35, of Balarampur village said that she was encouraged to handle the process of vermin compost by her father, Omar Ali, an ideal farmer of Moheshwarchanda village. Now, around 3,000 housewives are working under a Card Samity of the village. She earns Tk 30,000 thousand per month, she added.
Madhabpur Chashi Club member said, her husband Shah Alam was very open minded to allow her in the fields. Usually she earns Taka 1,200 to 1,400 a month. "Usually I do not give pressure on my husband for my kids' education as I am earning working in the crop fields. Furthermore, the weekly savings for Tk. 20 deposited in the club account might be a great savings in the long run, she said.
According to Mita, selling vegetables in the market, each and everybody in the family give emphasis on consuming vegetables they produce. Villagers are pleased when she can distribute the organic vegetables free of cost among their near and dear ones. A non-governmental organization has organized the women farmers in Jhenidah.
Jhenaidah Sadar Upazila Chashi Federation president Rabiul Islam said, the farmers in Jhenaidah and Chuadanga districts were organized through 60 clubs, raising their voices in their respective locality to receive services from the department of agriculture extension, cooperative, social welfare, women affairs, youth development, water development board, Union Parishad and some others institutions.
Maina Khatun, field level activist of the a development organization Action In Development-AID said, the agriculture project had a great impact in the society when 64 women of total 69 were engaged in crop farming in the locality, while five well-to-do women were not allowed to work in crop fields.
Any latest technology and know-how is now within the reach as the farmers are keeping touch with Union information centers in the respective areas. The project had ensured a new era for women in society, she said.
Chandan Bose Mukto, project coordinator of the implementing organization AID, said, the Manusher Jonno Foundation providing support for the project, such as: Establishment and Protection of Rights of Vegetables Producing Farmers (EPRVPF) targeting the Access Creation and Association Building for Agriculture Development (AABAD) in Jhenaidah and Chuadanga districts since 2009. Three other organizations: Sonarbangla Foundation, RESWO and Pratyasha Samajik Unnayan Sangstha working as partner organizations in their respective areas
Sixty villages of Jhenidah Sadar, Kaliganj and Kotchandpur Upazila in Jhenidah and Chuadanga Sadar and Alamdanga Upzila in Chuadanga districts have been covered under the EPRVPF project activities. The project has been helping the access for the farmers in government institutions and good governance.
It has been also helping the farmers to avail latest available technologies from service providers at the villages. The project has been contributing a lot as it helps ensure financial safety for the farmers.
Deputy Director of the department of agriculture extension in Jhenidah Joynul Abedin said, the field level activities of the DAE were strengthened as the project has been helping learning the responsibility and accountability of the staff in fields towards the digitalized country.
Jhenidah sadar Upazila Nirbahi (UNO) officer, Kalachand Shingha said, the people of the working areas were consuming the fresh and organic vegetables, as well as the farmers, especially, the women farmers were benefiting from the project when they were engaged in their livelihood aside their male counterparts. The trend will help establish rights for the women community gradually.
http://www.thedailystar.net/beta2/news/women-take-control/
---------
Unimpeded by Gezi, 500 women to come to Istanbul
Barçin Yinançbarcin.yinanc@hurriyet.com.tr
Aug 15, 2013
While several international conferences and meetings have been canceled in Istanbul due to the Gezi events, the members of the International Federation of University Women (IFUW) decided to go ahead with their triennial conference scheduled for mid-August in the city.
Nearly 500 delegates will gather in Istanbul for the 31st conference of IFUW, a leading girls' and women's global organization run by and for women, advocating for women's rights, equality and empowerment.
"We chose not to run away, on the contrary, to show support," Marianne Haslegrave, the president of IFUW told a small group of journalists yesterday.
"Most of the participants had registered prior to the Gezi events. But we did not have one single cancellation," said Nezihe Bilhan, the head of the local arrangement committee, adding that 492 delegates from 58 countries would come to Istanbul. Members of IFUW span 65 countries, and Turkey is hosting the organization's triennial conference for the first time.
"At the beginning we received letters asking us what was going on during the Gezi events. We wrote a letter back explaining that they were democratic protests but the government chose a brutal approach. Then we started getting supportive mail," said Nazan Moroglu, the head of IFUW's Turkey branch, which was established in 1949.
Mock trials to be held
The conference will see a first as two mock trials will be held; one on a divorce case, the other on a child marriage case. The Turkish Association of University Women, IFUW's Turkey branch, has tabled two additional changes to the organization's mission, asking members to focus more on the child marriage issue as well as working to make incest a crime under national laws.
While the conference will have a special focus on sustainable development, another topic of importance will be ensuring opportunities for secondary and higher education, according to Haslegrave.
"Secondary education is very important because few women get empowered if their education is limited to primary education," she said. Meanwhile upon the suggestion of the Turkish participants, urbanization will be another topic under discussion.
The conference will also elect its new president as Haslegrave ends her three-year term. The three candidates are from South Africa, Rwanda and France. Ayden Birerdinç will become one of the four vice presidents. The conference has no major sponsor except Kadir Has University.
http://www.hurriyetdailynews.com/unimpeded-by-gezi-500-women-to-come-to-istanbul.aspx?pageID=238&nID=52494&NewsCatID=339
---------
Govt spurs efforts to employ Saudi women
Aug 15, 2013
The Labor Ministry announced on Tuesday that it would toughen its stance against businesses that violate the rule of employing Saudi women at lingerie shops.
"Employment of women at these shops is mandatory and we'll not show any leniency toward violators," said Fahd Al-Takhify, assistant undersecretary at the ministry.
He said violators would face punishment designated for Nitaqat's red category firms, adding that they would not receive any service from the ministry. "We'll also impose fines on the violators," he added. However, he did not disclose the number of firms fined by the ministry during the past weeks.
Al-Takhify emphasized the ministry's plan to expand job opportunities for women to cut down unemployment among them. "The government decision aims at creating a suitable working atmosphere for Saudi women," he said.
The ministry had deployed female inspectors for lingerie shops in various parts of the country to make sure they comply with new labor regulations. "Our officials conducted 11,020 inspections in 2012 and found that 5,226 shops were following the rules while 2,608 were violators," he said.
Last year, the ministry's dispute settlement commission imposed fines worth SR11.1 million on firms that violated various labor regulations including Saudization rules. The commission found out 1,513 violations of the Labor Law in 2012, said a source at the ministry.
"The ministry's preliminary commission handled 10,523 cases in 2012 registering an increase of 22 percent compared to 2011," the source said. The commission's women branches received 653 cases and issued verdicts in 229 cases.
He said that 81 cases out of a total of 309 women's cases received in Riyadh province were settled while in Jeddah verdicts have been issued in 97 women's cases out of 204.
Statistical reports said out of 1,979,103 firms covered by the Nitaqat system, 67,769 were in the red category, while 146,548 were in green in 2012. The report also showed that only 11 out of the 807 biggest companies failed to reach the green zone with regard to Saudization. They failed to employ the required percentage of Saudis. It also found that 101 out of 2,434 large companies were in the red category.
The report also pointed out that 65,265 small and medium enterprises were in the red category, while 125,648 SMEs were in the green zone during the same period. It said 2,392 medium-sized firms remained in the red category against 17,958 green category companies.
http://www.arabnews.com/news/461210
---------
Kuwaiti Lovers Caught 'Making Out' In Car In Salmiya
Aug 15, 2013
KUWAIT CITY, Aug 13: A Kuwaiti citizen and his Kuwaiti girlfriend were arrested in Salmiya for committing immoral activities inside a vehicle that they parked in front of a public garden in Salmiya, reports Al-Rai daily.
They were referred to Salmiya Police Station for necessary legal action against them. Meanwhile, officers from General Department for Criminal Evidences launched several campaigns against beggars during the Eid Al-Fitr holidays and arrested 35 Arab women, reports Al-Qabas daily. Most of the beggars came to the country on visit visas. They were referred to the concerned authorities to prepare for their deportation.
In another incident, an Asian expatriate was arrested recently at Kuwait International Airport for attempting to smuggle drugs into the country, reports Al-Shahed daily. Reportedly, the suspect had arrived from Bahrain and when securitymen checked his luggage, they found 2.5 kilograms of drugs hidden in his luggage. He was referred with the drugs to the Directorate General for Drug Control for necessary legal action.
http://www.arabtimesonline.com/NewsDetails/tabid/96/smid/414/ArticleID/198915/reftab/36/Default.aspx
---------
URL: https://newageislam.com/islam-women-feminism/fourteen-year-old-girl-latest/d/13032