New Age Islam News Bureau
20 March 2020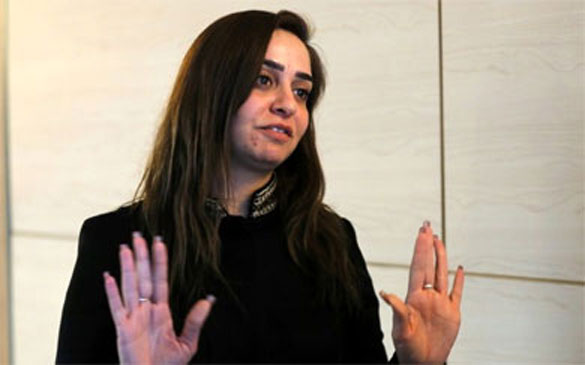 Sundus Salih, an Arab Israeli newly elected to Israel's parliament, speaks to AFP at the Knesset in Jerusalem
-----
• Muslim Women and Children Racially Abused At Christchurch Shop
• Women's Empowerment in Pakistan Promoted through Films
• Egypt Detains Women Who Called for Prisoner Release amid Coronavirus, Lawyer Says
• How Women Are Leading the Way In North-East Delhi
• 103-Year-Old Iran Woman Survives Coronavirus: Report
• Yemen: Women Revive Country's Oldest Factory to Sew Face Masks
• Turkey's TIKA Empowers Women In Afghanistan
• Saudi Arabia Is Not Offside On Gender Equality
• Why Educated Women Are Out Of the Mainstream Workforce in Pakistan
• From Victims to Superwomen: Honouring Female Strength in Afghanistan
Compiled By New Age Islam News Bureau
URL: https://www.newageislam.com/islam-women-feminism/four-women-forefront-israel-arab/d/121361
--------
Four Women at Forefront of Israel's Arab Political Surge
March 13, 2020
Newly elected Israeli MP Iman al-Khatib, greeting supporters in Nazareth, shook hands with women but tapped her heart with her right hand for men.
The gestures signaled the Muslim identity of the woman who is about to become Israel's first hijab-wearing MP and part of a group of Arab women poised to expand their voice in Israel's male-dominated politics.
All major parties in the Jewish state are led by men, with women making up only 25 percent of lawmakers in the Knesset, or parliament.
But in March 2 elections, one party managed to double its female representation, albeit from a low base.
The predominantly Arab Joint List won 15 of the Knesset's 120-seats, the alliance's best-ever performance and up from 13 during stalemate election last September.
The List also counts four women among its incoming MPs, up from two in September.
Khatib will be part of the Knesset's largest ever contingent of Arab women, including three Joint List colleagues and a Druze woman from the centrist Blue and White party.
The List draws most of its support from Israel's roughly 20-percent Arab minority -- who have Israeli citizenship but are Palestinian by heritage.
Israel's Arab minority complain of discrimination and accuse Prime Minister Benjamin Netanyahu of treating them as second-class citizens.
Netanyahu counters that his government has invested more in Arab neighborhoods than any in the history of the Jewish state.
The List's elected women told AFP that while they will focus on their constituent's concerns, they also care about wider issues in Israeli society.
"Do not make the veil a barrier. Look at the capabilities of the veil's wearer -- their ethics, work, skills and attitudes," said Khatib, a 54-year-old mother of four.
There are "religious Jewish women in the Knesset", she added. "We didn't hear any comment about them."
"We must deal with people first as human beings."
'Lack of options'
Like other Arab-Israeli MPs, Khatib speaks fluent Hebrew.
She studied social services at Tel Aviv University, specializing in women's support. In parliament, she wants to tackle issues ranging from violence in Arab neighborhoods to poverty and housing.
"Sixty-four percent of women are excluded from work, not because they don't want to work but due to conditions and lack of travel options," she said, referring to the Arab population.
Inflexible hours mean Arab women often need to leave for work before their children go to school, she said.
"These issues must be put on the table at the Knesset."
The new parliament will be sworn in next week but some fear it will last only a few months.
No bloc has a 61-seat majority, a repeat of inconclusive polls in April and September 2019.
Netanyahu's right-wing Likud won 36 seats and controls a total of 58, counting its allies.
Netanyahu's main rival Benny Gantz, who heads Blue and White, needs the Joint List's support to even consider forming a government.
The List's head Ayman Odeh has indicated he could back Gantz under certain conditions.
Israel's youngest lawmaker
Aida Touma, a Christian Arab-Israeli re-elected on March 2, is on the List's four-person team negotiating with Gantz.
A women's activist before entering parliament in 2015, Touma stressed that the List's incoming female MPs "are from all walks of life and are capable and serious representatives of the whole of society".
The Joint List is an alliance of parties representing both Muslim and Christian Arab Israelis, as well as some Jewish leftists.
Its members range from Islamists to communists.
One member, Sundus Salih, is at 34 about to become Israel's youngest lawmaker.
The mother of three is from Al-Mashhad town near Nazareth and has a masters in science and technology.
"There are differences between the [List's] parties... but we four women unite and agree on most things," Salih told AFP.
"As a mother and a teacher I am worried by the proliferation of violence and guns."
The fourth member of the quartet almost didn't make it on the ballot.
Hiba Yazbek, also from Nazareth, was blocked as a candidate by the Central Elections Committee over Facebook posts allegedly supporting terrorism.
She denied the charges and won an appeal. Now she is determined to use her Knesset seat to fight for Arab rights.
"We intend to translate our great electoral strength into political positions that reinforce our position as Arabs in this country and confront the right wing and its agendas," she told AFP.
https://www.thejakartapost.com/news/2020/03/13/four-women-at-forefront-of-israels-arab-political-surge.html
--------
Muslim Women and Children Racially Abused At Christchurch Shop
Mar 20 2020
A woman abused at a Christchurch shop says it is one of a growing number of racist attacks against women wearing hijab in the city.
Maha Galal, her two daughters, and a friend with her two young children were shopping at The Warehouse in Hornby about 8pm on Wednesday when a man abused them beside the counter.
The abuse was loud, repetitive, and deliberate, she said.
Galal is speaking out after two other Muslim women were abused in separate incidents in the past 10 days, including one at Masjid An-Nur (also known as Al Noor).
"It's too much," Galal said. "I don't want this to happen again."
Her 13-year-old daughter Norhan cried and told mother, "Don't ask me please to wear the hijab anymore".
She wants Kiwis to start intervening when they see racist abuse, and for it to be taken seriously by the law.
Another woman recently had her hijab pulled from behind in Shirley about 10 days ago. In the third incident, the wife of a mosque attack survivor was sworn at by a passing cyclist and told to "go home" about a week ago.
It happened in front of cameras outside the mosque, so she hoped police would take action.
Galal has spent hundreds of voluntary hours as a social worker for mosque attack families, and had just the night before the incident given advice in a support group of widows.
"We agreed that no [Muslim women] should leave the house alone. And to take photos [of abusers].
"Don't let him go back and feel happy because he hurt us [with no coincidences]."
At Warehouse Hornby on Wednesday night, a man wearing a hoodie and camouflaged cargo pants said "f... you and go back to your country, you're not allowed to stay".
He repeated it, loudly, many times, and pulled the middle finger at Galal's group.
Staff did nothing, despite her begging, she said.
"I believe they were shocked themselves. I said please close the doors, so he could not get away, because I believed the police were coming."
"I told [police] my daughter needs to see police come, to support us."
Galal followed the abuser, and took a photo of him and his car. His female accomplice told her off, but she was determined to see him caught.
Eventually, at 8.10pm, a staff member came outside, said the police had been called, and apologised for what happened.
A Warehouse spokeswoman said it took incidents like these "very seriously". CCTV footage had been given to police, she said.
Two male customers voluntarily stayed to be witnesses, and a woman customer who had kindly put herself between the Muslim group and the abuser. But by the time police arrived, only one witness was left waiting in the cold.
Acting Inspector Paul Reeves said an officer arrived at the incident within 30 minutes and took the allegations "very seriously".
"[Galal] was extremely upset given the circumstances and we will be following up with her."
The offender had since been identified and investigations were ongoing.
Police were investigating the other two incidents, but had been unable to identify the offenders.
"We're in touch the with Muslim community providing preassurance and security advice on how to keep themselves safe."
He urged people to report incidents to 105, or 111 if they felt their safety was being threatened:.
Race Relations Commissioner Meng Foon called the abuse "ignorant and cowardly". He warned against bystanders putting themselves in danger.
"I always ask people to be an 'upstander to racism', but this shows me, that standing up to incidents of racism can be scary. This is why businesses should be training their employees to know how to intervene in these situations," he said.
"These reports are another reminder of why I hope to work with Government on a 'National Action Plan Against Racism'. Tackling racism will require a coordinated action on behalf of Government and wider society."
https://www.stuff.co.nz/national/120410443/muslim-women-and-children-racially-abused-at-christchurch-shop
--------
Women's Empowerment in Pakistan Promoted through Films
Afshan S. Khan
March 20, 2020
Islamabad: Promoting women's empowerments and gender equity through film, the US Mission in Pakistan's American Film Showcase (AFS) screened US documentaries and conducting workshops with a US documentary specialist March 2 to 13.
The Showcase featured special screenings in Islamabad, Karachi and Lahore of "Qualified," a documentary that profiles American race car driver, Janet Guthrie, the first woman to qualify for the Indianapolis 500. "RBG," which details the life and legacy of Supreme Court Justice Ruth Bader Ginsburg, was also shown exclusively for the first time in Pakistan at the Pakistan National Council of the Arts in Islamabad.
"The US Mission to Pakistan screened films by women and about women, offering insights into American society and fostering mutual understanding between the United States and Pakistan," said Minister Counsellor for Public Affairs Lisa Heller.
"The American Film Showcase served as a venue for Pakistani and American film experts and enthusiasts to share their stories with a wider domestic – and international – audience."
https://www.thenews.com.pk/print/631683-women-s-empowerment-promoted-through-films
--------
Egypt Detains Women Who Called for Prisoner Release amid Coronavirus, Lawyer Says
March 19, 2020
CAIRO — Four women detained by Egyptian security forces after demonstrating in central Cairo for the release of prisoners they said may be at risk from the coronavirus were freed late on Thursday, a relative of one of the women said.
The four women, including a prominent novelist and a professor, were detained by security forces on Wednesday, a lawyer and the relative said.
They were held for questioning on charges including incitement to organize a demonstration and spreading false news, the relative, Sanaa Seif, told Reuters. Seif posted the news of the four women's release on social media.
An Interior Ministry spokesman could not immediately be reached for comment and there was no statement from prosecutors.
Also on Thursday, state TV and a judicial source reported that 15 members of political movements had been ordered released from jail.
The total number of inmates in Egypt is unclear, but tens of thousands have been detained in a broad crackdown on political opposition since then-army chief Abdel Fattah al-Sisi ousted the Muslim Brotherhood from power in 2013.
Egypt has reported 256 confirmed coronavirus cases, including seven deaths. With the spread of the outbreak, rights groups and activists have campaigned for the release of political, sick and elderly prisoners, citing what they describe as poor conditions, lack of healthcare and overcrowding in prisons.
Sisi, elected president in 2014, has denied holding political prisoners. He and his backers say the detentions over recent years are necessary to stabilize Egypt.
Security sources and officials have said no coronavirus cases have been detected in prisons and that the Interior Ministry is taking measures to protect prisoners. Authorities have suspended prison visits since March 10, citing the risk from the virus.
Among those detained on Wednesday were Laila Soueif, a campaigner and mother of high-profile imprisoned activist Alaa Abdel Fattah, and Laila's sister Ahdaf Soueif, a novelist short-listed for the Booker Prize, according to Khaled Ali, a lawyer for the family.
The other two women detained were Laila's daughter Mona Seif, a rights activist, and Rabab El Mahdi, a professor at the American University in Cairo.
A video posted by Mona Seif on her Facebook account showed the women raising banners calling for political prisoners to be freed and warning against the danger of the coronavirus in prisons.
Egypt bans demonstrations without prior security approval.
Laila Soueif was released after being taken to the state security prosecution on Thursday evening, while the other three were released on bail from a police station in central Cairo, Sanaa Seif said.
Alaa Abdel Fattah, a leading activist in the 2011 uprising that toppled President Hosni Mubarak, was detained in September after rare anti-government protests, six months after his release from a five-year prison term.
https://www.nytimes.com/reuters/2020/03/19/world/middleeast/19reuters-health-coronavirus-egypt-arrests.html
--------
How Women Are Leading the Way In North-East Delhi
20 Mar 2020
Asmita Bakshi
A resident of Bhajanpura in north-east Delhi, Uzma, 32, had been an active member of her community—she would help women in the locality who needed loans with their documentation. On the night of 24 February, one such woman from nearby Chandu Nagar called her frantically, terrified because the homes nearby had been set ablaze and she, her husband and three children were stranded. Uzma told her to get out and meet her in the lane nearby—"Uzma Baaji, Aap Mat Aaiye, Woh Aap Ko Kaat Ke Maar Denge (don't come here, they will kill you)," the woman responded. "I said I will remove the Dupatta from my head, put on a Bindi and bring them home. My husband yelled at me and called me mad, but I told him to stay put, he would have easily been identified," says Uzma.
That's what she did. "They came home with me and then left for the family's home town, Daulatpur, two days later. The children refused to eat and would keep saying they will never come back here." Since then, Uzma says she has opened her home to three displaced families, worked with volunteers to help six families get rooms on rent and access relief material, and helped a total of 52 people in various ways.
It has been over three weeks since the violence in north-east Delhi, which had been simmering after clashes during a pro-Citizenship (Amendment) Act (CAA) rally led by the Bharatiya Janata Party's (BJP's) Kapil Mishra on 23 February.
Violence erupted on the streets over the next few days. The death toll stands at 53— according to news reports, this includes over 35 Muslims and 15 Hindus. Since then, social media and news channels have been playing videos that indicate police complicity or inaction—one piece of footage, verified by independent fact-checker Alt News, shows a police officer forcing four men to sing the national anthem between beatings. One of these men—Mohammad Faizan, 23—is now dead.
Homes, businesses, schools and mosques have been charred. Residents have been displaced. Online, and on television screens, a battle of narratives has ensued—riot versus pogrom, both sides vs self-defence, competing scales of brutality.
Far removed from this dissension, women—locals like Uzma and others from across the city—have been on the front lines, providing or coordinating relief and rehabilitation. Many have worked independently of the administration—raising funds, collecting rations, medicines, clothes and other essential commodities through collection drives across the city and calls on social media. Online, a group comprising professionals, activists and political workers has raised over ₹1 crore for the affected families, identified through contacts and fieldwork, transferring the money directly into their bank accounts.
Many such women arrived on the scene well before administrative assistance. For instance, SK, 31, a professor at Delhi University, reached the GTB Hospital mortuary on 25 February, responding to an SOS call. Over the next few days, she helped families register complaints, identify bodies and explained the process of magisterial inquiries and post-mortems.
"I don't know if it's to do with the nature of attacks that have happened that women have been more present on the front lines—most of the counsellors, doctors, lawyers are women. You see so many women activists on the ground, speaking to families. We are a group of about 16 people—14 are women," says SK. She is now working out of someone's home in Mustafabad, towards long-term rehabilitation, which includes rebuilding homes and livelihoods.
Filling the lacuna
In the lanes of Babu Nagar, old Mustafabad, a legal and medical camp set up by the Citizens' Collective for Peace (CCP) has been at work since 27 February. AK, 35, a PhD scholar trained in first aid, has been there daily for close to 12 hours. "In the early days, there was a great need for first aid. A lot of people were coming in with burns and wounds and cuts. But there was a lot of fear. And there still is," she says. "A person who had second-degree burn injuries on 24 February came to the camp nearly 20 days later, he didn't have the confidence to leave home. Women have come in days later with wounds on their knees—stitched together with a needle and thread by a family member," she adds.
AK has been coordinating with volunteers and hospitals, and the CCP team has been dealing with trauma and mental health to ensure these people get the medical attention they require. But there is a shortage of resources. "Medical records are burnt and lost. People are coming and saying their heart medicines, tuberculosis medicines have stopped. We are trying to get behind the government to start a restoration of medical records camp—please reassess them, reissue their papers, ensure that the hospitals accept those papers and reintegrate them into the system," she says.
Manasi Saxena, who runs EnCOMPASSion, which deals with Nonviolent Communication (NVC) and community building, hit the ground early too. She is part of a group called Helping Hands—spearheaded by medical doctor and community medicine specialist Aqsa Shaikh—and has been helping to transport relief material. "On 6 March, when it started raining, we organized over 180 blankets which had to be sent to different places, and of the 1000 folding beds required for the camp at Eidgah, we managed to contribute 500."
Now, the focus is shifting to long-term rehabilitation. Saxena and team have started interviewing families to start the process of community building and empathic listening, while efforts to rebuild homes and shanties continue alongside.
"These are people who were perfectly capable of taking care of themselves two weeks ago—they had houses, they had all the amenities, they were able to ensure their needs were being met," says AK, who has also started the process of long-term medical rehabilitation. As her team offers home visits and post-op care, she hopes that the Delhi government will restock existing mohalla clinics and ensure a functional one in Mustafabad.
This is the kind of relief work SK has been coordinating as well. Her team has interviewed families and started raising funds to rebuild businesses, replace sewing machines and reconstruct homes. "We make sure people know we are here not just for a month but for as long as it takes," says SK. A team of architects working with her has also started surveying destroyed properties and assessing how homes can be rebuilt.
The little things
In the din of essential needs—dry rations, medical attention and legal aid—certain immediate requirements slipped under the radar. Intellectual property rights lawyer Shwetasree Majumder, 41, and her team from Fidus Law Chambers are providing material relief, to fill this gap. "On my second visit, we were five women. I knew I had specific tasks on my list, but I took along two colleagues with the intention of sitting down and interviewing women to understand what their needs were. A woman will never tell a man she needs sanitary napkins or underwear or the sizes, she will never talk about iddat (a period she must observe after the death of her husband)."
Her efforts have ranged from organizing 150 burqas to providing support and provisions to a woman who lost her husband and home. "A family that lived in Shiv Vihar—four men and their parents—escaped from their home amidst the violence and took shelter in a relative's house. After things died down, the father decided to go back and see what condition the house was in. When he did, he just couldn't handle the trauma and he had a heart attack and passed away on the spot. His wife is now observing iddat and maintains will never go back to that home again," adds Majumder.
The lawyer even stepped in to help with a Nikah. A volunteer from Dua, an organization which has set up a medical camp at the local Eidgah, told her about a woman who was to get married on 13 March. Majumder organized the wedding Lehnga, jewellery and applied the bridal make-up. "We got a list of what would be required for the wedding and fulfilled everything. The Waqf Board organized the legalities."
While these efforts inspire hope, they have not been without their share of challenges. SK says there is still a certain amount of fear, but they are being cautious. Some insecurities are more gendered. Saxena, for instance, says that working late at night on certain days—navigating deserted streets with no one but paramilitary officers—was unnerving. Another time, a stampede broke out at Eidgah. "I felt sexually very unsafe. Not because anyone was doing anything overt, but the crowd was pressing in and touch for me is very triggering," she says.
But she, and hundreds of others like her, do not let these challenges overwhelm them.
"Aap Log Sirf Andaza Laga Sakte Ho, Par Jisne Aankhon Se Dekha Hai, Woh Raat Ko So Nahi Paata (You people can only imagine, but those who have seen the violence with their own eyes can't sleep at night)," says Uzma, who, along with her neighbours, has been keeping watch on the lane every night. And dealing with the trauma her own children have had to endure.
"My 13-year-old daughter saw a video of a pregnant woman recounting the violence she had endured. She cried once she watched it and said to me, 'Ammi, Maut Ka Dar Nahi Hai, Bas Allah Izzat Bacha Le (I do not fear death but May god protect our dignity)'." Uzma reassured her children and banned television news and WhatsApp in her family because of the amount of visuals—both fake and genuine—going around and the impact they had on ground. A moment of exhaustion slips through. "Kab Tak Jiyenge Aise Dar Ke Mahaul Mein (how long can we live in such an atmosphere of fear?)"
https://www.livemint.com/mint-lounge/features/how-women-are-leading-the-way-in-north-east-delhi-11584681434043.html
--------
103-Year-Old Iran Woman Survives Coronavirus: Report
Mar 19, 2020
TEHRAN: A 103-year-old woman in Iran has recovered after being infected with the new coronavirus, state media reported, despite overwhelming evidence the elderly are most at risk from the disease.
The unnamed woman had been hospitalised in the central city of Semnan for about a week, IRNA news agency said.
But she was "discharged after making a complete recovery", Semnan University of Medical Sciences head Navid Danayi was quoted as saying by IRNA late Tuesday.
The woman was the second elderly patient in Iran to have survived the disease.
The other was a 91-year-old man from Kerman, in the southeast of Iran, the news agency said.
After being sick for three days, he recovered on Monday despite having pre-existing medical conditions including high blood pressure and asthma, it added.
The report did not say how the pair were treated.
Since Iran announced its first deaths on February 19, the novel coronavirus has spread to all of the country's 31 provinces and killed nearly 1,000 people.
The elderly are the most vulnerable to the disease, which first emerged in China late last year.
The World Health Organization this month estimated the novel coronavirus kills 3.4 per cent of all those infected.
But for people aged over 80 the fatality rate was 21.9 per cent, according to a report the WHO carried out with the Chinese authorities.
https://timesofindia.indiatimes.com/india/103-year-old-iran-woman-survives-coronavirus-report/articleshow/74701495.cms
--------
Yemen: Women Revive Country's Oldest Factory to Sew Face Masks
March 19th, 2020
More than a decade after it closed, 20 Yemeni women have revived the war-torn country's oldest factory to make face masks in anticipation of an outbreak of the new coronavirus.
The situation is especially fraught because Yemen's health system has all but collapsed following years of conflict.
In the factory in the capital Sanaa, rows of desks line a cavernous hall with women in black niqab and white gloves hunched over sewing machines meticulously assembling medical masks, AFP reported.
Yemen, ravaged by an ongoing war described by the United Nations as the world's worst humanitarian crisis, has not yet registered any COVID-19 cases.
It has not taken drastic measures to prevent the virus' spread, but is also less vulnerable to imported virus cases, with swathes of the country under siege and air links severely curtailed. Yemen has not taken drastic measures to prevent the virus' spread, but is also less vulnerable to imported virus cases, with swathes of the country under siege and air links severely curtailed.
"We have been working on the masks since Monday and, thank God, we started working on them before the disease reaches us as a precautionary measure, without the need to import from outside," mask maker Faten al-Masoudi told AFP.
"I am willing to work here for free for the health of our children, infants and women," added Masoudi who, like all the women, does not receive a regular salary but is paid per mask.
In another section, one women sanitized plastic bags as another filled them with masks.
"We have stood firm against war and we will stand firm against this disease," Abdulbasit al-Gharbani, the factory's sewing director, told AFP.
The storied Chinese-designed factory opened in 1967 producing cotton, which was a major contributor to Yemen's economy in the 1970s, making garments including army uniforms before shuttering in 2005.
Parts of the complex have been damaged in airstrikes while others have become dilapidated.
Abdullah Shaiban, the factory's chairman, hopes the crisis preparations will see the site achieve its "full potential".
"There is a great demand for this kind of mask, which people use to protect their health," he told AFP.
"We transformed a section of the sewing department that manufactures clothes into one that produces masks."
He was hopeful that with 80 machines, the plant could make 8,000 to 10,000 masks daily.
Another factory in Sanaa is now manufacturing hand sanitiser.
- 'Viruses don't respect borders' -
The World Health Organization confirmed Tuesday there were no registered cases in Yemen.
"The virus does not respect borders," said Yemen's WHO representative Altaf Musani.
"There is a shortfall in the number of tests... we're about to increase... testing capability."
Musani added the WHO had distributed protective kit, including masks and gloves, but not "nearly enough", and was working to get more.
https://www.albawaba.com/business/yemen-women-revive-countrys-oldest-factory-sew-face-masks-1345770
--------
Turkey's TIKA Empowers Women In Afghanistan
MAR 19, 2020
Vocational courses for women in Afghanistan were organized by the Turkish Cooperation Coordination Agency (TIKA) in collaboration with the Maarif Foundation.
TIKA continues to launch people-oriented projects. Recently, the center organized training courses for women in sewing, embroidery, cooking and Turkish language to increase the participation of women in the socioeconomic development of the country.
The center launched six-month vocational courses to help Afghan women to acquire new professions, participate in the various aspects of social life, stand on their own feet and contribute to their family and to the economy.
The courses took place in the Maarif Foundation's education center in Afghanistan's northern city of Mazar-i-Sharif.
Within the scope of vocational courses for women, 140 women were trained in sewing, embroidery, cooking and the Turkish language.
The trainees successfully completed the vocational courses and received their certificates at a ceremony.
Since its founding in 1992, TIKA has been responsible for facilitating Turkey's official development assistance by providing aid to developing countries. Operating in 50 countries, the agency has helped as many as 140 countries worldwide.
The Maarif Foundation was created in cooperation with the Ministry of National Education with the purpose of providing educational services abroad and to run schools that used to belong to the Gülenist Terror Group (FETÖ) in the past.
Since its establishment in 2016, the foundation has made official contact with 100 countries and set up offices in several countries to take over FETÖ-linked schools. It currently runs 314 schools in 41 countries, from the Balkans to Asia, along with 42 dormitories for students.
https://www.dailysabah.com/turkey/turkeys-tika-empowers-women-in-afghanistan/news
--------
Saudi Arabia Is Not Offside On Gender Equality
6 Mar 2020
Little has surprised me more than spending my Saturday night Googling how to buy tickets to watch a game of football in the Kingdom of Saudi Arabia – perhaps only that it was for a female football league announced by the Saudi sports authorities just last week. That I might stand in a stadium in the Gulf Kingdom alongside the football hooligans of Riyadh is something that I never imagined in my lifetime.
This women's footballing announcement comes after years of Crown Prince Mohammad bin Salman leading the deeply conservative Kingdom through a period of modernisation. This is a Crown Prince desperate to diversify the Kingdom's overly oil-dependent economy led by his Vision 2030 strategy. This is a Crown Prince who knows that to achieve this vision, unlocking the potential of women is critical.
Saudi Arabia is the country to watch for progress in gender reforms in 2020. I do not say this lightly, and I accept that the starting bar is low, particularly given the long history of complaints about women's rights in Saudi Arabia, including Elaine Pearson's analysis on International Women's Day 2019 in The Interpreter. Human Rights Watch frequently documents its own observations on Saudi Arabia's human rights record. But years of legislative and cultural change will come to a head in 2020, as the Kingdom hosts the Group of Twenty (G20), including the female-focused engagement group, the W20.
Saudi Arabia's administration of the G20 has already impressed government and non-government groups alike. This is not a surprise, with a secretariat in operation for two years backed by the absolute monarchy controlled by one of the world's richest families, the Al Saud's. In my role as Australia's head delegate to the W20 Saudi Arabia, I deal regularly with the secretariat and engagement groups; it is well resourced, draws on G20 experts from across the globe, and its operations are slick. Saudi Arabia is taking its role as the only Middle Eastern member of the G20 seriously.
There are three aims of the Saudi Arabia presidency: empowering people, safeguarding the planet, and shaping new frontiers. Embedded across all three aims is advancing the role of women, and the G20 Saudi Arabia strategy document mentions women on 20 occasions. The W20 Saudi Arabia framework takes this agenda one step further, focusing on women's labour inclusion, financial inclusion, digital inclusion, and inclusive decision-making.
The number of G20 official engagement groups have grown over the years with each presidency adding its own flavour to the alphabet soup. Saudi Arabia did not add any more engagement groups following Japan's presidency, choosing rather to focus on the existing framework of the Business 20 (B20), Youth 20 (Y20), Labour 20 (L20), Think Tank 20 (T20), Civil 20 (C20), Scientists 20 (S20), Urban 20 (U20) and Women 20 (W20). This was a wise move by Saudi Arabia, as the recent "mandate creep" of the G20 engagement groups has drawn criticism.
That Saudi Arabia could focus its attention on existing engagement groups and embedding women's empowerment across the G20 agenda reflects the Kingdom's increasing focus on domestic reforms for women in recent years. Previously, change was gradual and incremental after allowing women access to education in 1962.
Women's rights reforms accelerated in 2016 with the creation of the Family Affairs Council to support the interests of families, which includes technical committees focused on women, children, and elderly. In the years since, almost 20 legislative changes have significantly liberalised the previously restrictive lives of women.
Many of these reforms relate to guardianship; women in Saudi Arabia can now obtain a passport and have access to services and procedures without the permission of a male guardian. Other reforms relate to civil status, including registering births, seeking a divorce, and no longer forcing cohabitation with a husband. Public decency violation changes removed restrictions on women's public dress, and women may now enter sports facilities under the same conditions as men. Women now have child custody rights when married to a foreigner, access to their inheritance, and access to alimony without distinction to gender. High-profile changes include the non-discriminatory issuance of drivers' licences. The list goes on.
To highlight the recent advances of the role of women in Saudi Arabia is not to say there are not challenges; it would be naïve of me to do so. We know that female unemployment is around 20% and labour market participation is around 23%. The gender pay gap in the private sector is Saudi riyal 54 for women to Saudi riyal 100 for men. We also know that the type and quality of jobs are important, not just the numbers of women.
Some observers of Saudi Arabia have described these reforms as part of a broader cultural revolution taking place. In 2017, the 35-year prohibition on cinemas ended, a 2019 royal decree allowed music to be played in restaurants, and a new tourist visa allows easy access for visitors to the previously restrictive Kingdom.
Real examples of this cultural revolution can be seen through the lens of social media. I follow young Saudi Arabians I have met through the G20 network and beyond; they attend concerts, run through the desert on weekends, attend dance classes, and climb Mt Everest.
This International Women's Day, we should reflect on Saudi Arabia's gender reform – that 50 years ago women had no right to an education, that two years ago women could not obtain a driver's license, that only last year women could not travel without the permission of a male guardian.
It is easy to criticise Saudi Arabia's historical record on gender equality and therefore its capacity to deliver a meaningful W20. It is harder to put aside other complex problems and focus on how far Saudi Arabia has come for women. It is this history, which means 2020 is the year for Saudi Arabia to kick enough goals to make it to the grand final – and I will be in the stands ready to celebrate their progress.
https://www.lowyinstitute.org/the-interpreter/saudi-arabia-not-offside-gender-equality
--------
Why Educated Women Are Out Of the Mainstream Workforce in Pakistan
Sara Manan
MARCH 20, 2020
Data provided by the world bank collection of development indicators, unemployment in Pakistani female is 5.077%. Unemployment indicates the share of the labor force that is without work but feasible for employment. In the deteriorated economic condition of Pakistan, the above ratio of unemployed women is critically alarming. Because when GDP spent by the state to educate women doesn't become the segment of the mainstream workforce, it checks the economy of the country intensely. So there is dire need to address the thwarting issues hindering economic participation of women and sudden steps that the state should take to elevate women's workforce engagement. Article 38 of the constitution of Pakistan guarantees citizens the right to pursue economic opportunities irrespective of any concept of disparity. Adverse job situations and domestic restriction are the major factors that women face commonly. Adverse job environment includes hostile and antagonistic conditions hindering the participation of women to the country's development as well as their right to employ is also violated.
Women face different kinds of harassment in the workplace. Although, harassment of women at the workplace Act 2010 declares the harassment as a criminal offense. But in the teeth of this act, women are still at a pinch with a multitude of problems. Firstly, in the institutions, women aren't properly educated about the ins and outs of their right of defense. In the consequence of it, most of the cases go unreported. Secondly, women, instead of raising their voice, prefer to quit their job quietly, that causes the crescendo of this crime. Thirdly, women hardly dare to break the ice because bringing such a problem to light itself causes the antipathy of women; they are blamed for violating the social norms and the forlorn lady is forced to forsake job silently. In most cases, a woman can't give up her job because of the under cloud economical condition of her home. Fourthly, in our society, laws are too lackadaisical to put screws to the criminal of harassment shortly. Some weeks ago, the case of Gomal University's Islamic department head Maulana Salahuddin popped up on media. Who had been harassing female students after threatening them to change their examination marks or to fail them? Despite lodging many complaints against him, the administration fell flat by turning deaf ear to these students, until a media team caught the criminal red-handed harassing female students and administration dismissed him. To diminish such odious incidents entirely, the government must take effective alacrity.
Domestic restriction is another noticeable reason hampering women from doing their jobs, Although, with broadening awareness, parents are becoming ambitious to educate their daughters and want them to represent their parents just like sons. But, unfortunately, after matrimony, the girls have to depend on the mindset of her husband and the environment of her in-laws. In many cases, the said factors turn into the proprietor of the fate of the girls' career. A girl who fantasized about her career from early childhood, burnt midnight oil to accomplish her dream, spent a substantial portion of parents' income for education, stayed away from family for higher education, completed her university with distinction; has suddenly made dependent upon others to continue even her own career. Seeing her dreams ending in smoke, she undergoes severe psychological, mental and emotional problems. Although, the government can't percolate in such demeanor directly. But deliberate stipulation is needed to preserve women's right to utilize their capabilities to grease the wheels of a country's economy more effectively. The government should contour the law giving age relaxation to the women, so they may join the public sector after raising their children to the school age. On public fora and social discussion, there is a need to raise awareness about amalgamate behaviorism in domestic problems. So, domestic and economical issues can be catered nicely.
https://dailytimes.com.pk/579666/why-educated-women-are-out-of-the-mainstream-workforce-in-pakistan/
--------
From Victims to Superwomen: Honouring Female Strength in Afghanistan
By David Zucchino
March 19, 2020
KABUL, Afghanistan — Inside an art exhibit called Abarzanan — Superwomen — stones the size of pomegranates hover above a mannequin wearing a dress fashioned from a white burial shroud.
The display commemorates a young Afghan woman, Rukhshana, 19, who was stoned to death by village men in 2015. She had fled an arranged marriage to a much older man and eloped with a young lover in a Taliban-controlled district in western Afghanistan.
The Superwomen exhibit, created by the photographer and artist Rada Akbar, honors eight trailblazing women in Afghanistan and the region — among them an ancient queen and a 10th-century poet — at a fearful time for Afghan women.
After 19 years of halting gains after the collapse of Taliban rule, a Feb. 29 agreement between the United States and the insurgents has filled many Afghan women with dread. The agreement does not mention women's rights but does envision a return of the Taliban to a future Afghan government after American troops withdraw.
That prospect adds urgency to the Superwomen exhibit, which explores the refusal of Afghanistan's patriarchal society to acknowledge, much less respect, the achievements of courageous women.
"It's not as if someone gave us the rights we have — we earned them," Ms. Akbar said. "Now we face going backward with the Taliban, the enemies of women, art and culture."
The exhibit is showing at Chehilsoton Palace in Kabul, the country's capital. Each of the displays in the Superwomen show tells the story of a pioneer, and each features traditional Afghan artwork by female jewelry makers, embroiderers and calligraphers.
One piece represents Khalida Popalzai, 32, a soccer player who played the game clandestinely as a girl despite persecution by the Taliban when the group ruled Afghanistan from 1996 to 2001. Ms. Popalzai later helped form the Afghan national women's soccer team and led a movement that exposed sexual abuse and harassment by male officials.
Her story is embodied by a woman's figure dressed in black. Three black-gloved hands clutch at her body.
One hand grasps a breast, one of its fingers shaped like a scorpion. Another hand, shaped like a snake, is wrapped around the figure's womb. The third hand creeps over her shoulder.
Ms. Akbar said the hands represent oppression against Afghan women from three spheres — religion, politics and economics.
The figure's dress includes a long black train that unfurls across the floor. Visitors have to decide whether to step on the material to reach the next display, or to find a way to step over it. The train is smeared with footprints.
"We, Afghan women and our allies, are righteously enraged," Ms. Akbar said at the exhibit's opening ceremony. "It comes from generations of powerful men telling us to wait."
Ms. Akbar, 32, fled the Taliban government for Pakistan with her family as a child. She returned to Afghanistan in 2002, the year after the American invasion toppled the Taliban.
Because women were essentially invisible under the Taliban, she said, "people assume women have only existed here for the past 18 years. That's insulting."
Ms. Akbar said Afghan women were expected to be satisfied with their incremental gains in education, the workplace and public life since 2001. But Afghanistan remained a suffocating, patriarchal society for women, especially in rural areas dominated by the Taliban, she said.
"We're not victims — we're champions," she said. "We've fought hard for everything we've accomplished. But people expect us to be satisfied with basic rights, nothing more."
Ms. Akbar is raising money to establish a permanent museum to recognize achievements by Afghan women. She said she has received approval from President Ashraf Ghani to open the museum in a refurbished palace in Kabul.
Through the Superwomen exhibit, Ms. Akbar sought to honor the contributions made by Afghan women over the centuries, most of them erased in history books written by men. She said she had to dig deeply, for instance, to uncover the stories of an Afghan queen and an empress.
One exhibit figure represents Queen Soraya Tarzi, who reigned from 1919 to 1929. She fought for women's education, and opposed polygamy and requiring women to wear hijabs.
Another figure embodies Gawharshad Begum, a powerful 13th-century empress who championed artists and writers, including the renowned female poet Mehri Herawi.
At least half of the exhibit's visitors are men, Ms. Akbar said. "Most have been curious and open to listening and learning," she said.
One visitor, Mohammad Hadi, 25, said that even after more than 18 years of post-Taliban governance, "Afghan women still have so much to deal with." He said Afghan men should fight alongside women for expanded rights.
"This exhibition is like a lesson for a whole new generation," he said.
Another visitor, Maryam Atefi, 16, was born after the Taliban government fell but said she had heard and read about their harsh treatment of women.
"But the Taliban are not even in power, and society is still totally against women," she said. "This exhibition is a reminder to all Afghan women what would happen to them if the Taliban come back."
The exhibit runs through Sunday. But for many female visitors, the stories it tells have only intensified their trepidation over the possible return of the Taliban.
"Every woman in this country is afraid that we could lose everything we've been fighting for all these years," Ms. Akbar said. "As this exhibits shows, we deserve so much more."
https://www.nytimes.com/2020/03/19/world/asia/afghanistan-taliban-women-rights-exhibit.html
--------
URL: https://www.newageislam.com/islam-women-feminism/four-women-forefront-israel-arab/d/121361
New Age Islam, Islam Online, Islamic Website, African Muslim News, Arab World News, South Asia News, Indian Muslim News, World Muslim News, Women in Islam, Islamic Feminism, Arab Women, Women In Arab, Islamophobia in America, Muslim Women in West, Islam Women and Feminism