New Age Islam News Bureau
05 February 2021
• University Of Cincinnati's Basketball Player, Nesma Khalifa, Represents Muslim Women On Court
• US, UK Vow Action after Report Of Sexual Violence Against Uighurs
• Ayatollah Khamenei Decries Western Outlook on Women
• Makinde's Aide Distributes Hijabs In Ibadan
• Egypt arrests father, nurse for female genital mutilation of 15-year-old
Compiled by New Age Islam News Bureau
URL: https://www.newageislam.com/islam-women-feminism/four-ultra-runner-women-uk/d/124234
--------
Four Ultra-Runner Women from UK, Canada and Philippines Set To Make History By Travelling Around Qatar On Foot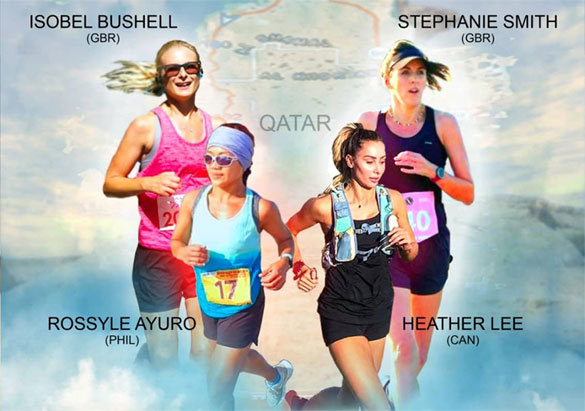 01 Feb 2021
Doha: Ahead of the National Sports Day, "The Desert Roses" will attempt to make history as the first women to circumnavigate Qatar, on foot. Starting on Friday, the four female ultra-runners will begin camping by the roadside and take on the 500 kilometre distance by walking, jogging, and running around the periphery of the country in a period of five days (Feb 5-9).
The Desert Roses, composed of Stephanie Innes-Smith and Isobel Bushell from the UK; Heather Lee from Canada; and Ross Ayuro from The Philippines, share a common passion for running. With a shared history on sporting activities and belonging to the same running community, the four women were able to establish a team that could try the record-breaking adventure in the country.
The group's goal does not simply end by completing the 500 kilometre distance. Much like the team's name, "The Desert Roses" also wants to highlight and encourage exploration in the country beyond Doha, its capital city. The challenge also serves a greater vision to inspire women and girls to engage in challenging, arduous outdoor activities. They also aim to raise the profile of female sporting competence in Qatar as well as to inspire amateur athletes to set ambitious and unconventional personal goals.
In an interview with the Qabayan Radio, teacher and army reservist Stephanie Innes-Smith shared: "We certainly feel we're in a position where we're able to try and I think anyone can start small and build up and be committed to it."
With two teachers in the same team, Isobel Bushell and Innes-Smith, their passion for sports and running also ties with their vision to lead the students they teach by setting as an example. Educational Psychologist Heather Lee and finance professional Ross Ayuro completes the team.
"Our other message is to children, again you're never too young to start and you just get involved and get going. You never know, you might really like it," Innes-Smith added.
Ahead of the journey, preparations and training are underway along with identifying inevitable challenges they might encounter such as food supply, weather conditions and the on-going pandemic.
The quartet received overwhelming support from local sports communities, such as a Filipino cycling community and the Doha Bay Running Club (DBRC), who are willing to accompany the team and be of help along the journey.
Bringing the community spirit ahead of the much-awaited Qatar National Sports Day on February 9, The Desert Roses have a few days to go to gear up and train for the historical record that could mark them as the first women to travel around Qatar, by foot.
Also speaking to Qabayan Radio, Filipina expat Ayuro shared a short message to all amateur athletes and fellow runners ahead of the 500 kilometre challenge.
"Do whatever you can with whatever you have and wherever we are, in line with Qatar's vision 2030, like spreading sporting awareness and get involved in physical activities," Ayuro concluded.
https://thepeninsulaqatar.com/article/01/02/2021/Four-women-set-to-make-history-by-travelling-around-Qatar-on-foot
--------
University Of Cincinnati's Basketball Player, Nesma Khalifa, Represents Muslim Women On Court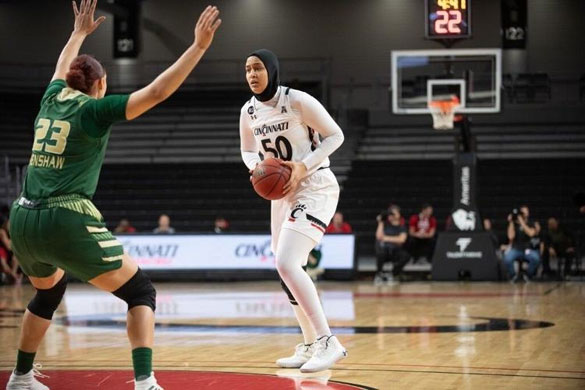 Nesma Khalifa – a junior in the University of Cincinnati's College of Design, Architecture, Art and Planning and an international student-athlete from Alexandria, Egypt – is the only D1 basketball player to wear a hijab in the American Athletic Conference.
Provided | Nesma Khalifa
------
February 05, 2021
Nesma Khalifa – a junior in the University of Cincinnati's College of Design, Architecture, Art and Planning (DAAP) and an international student-athlete from Alexandria, Egypt – is the only D1 basketball player to wear a hijab in the American Athletic Conference.
Khalifa has dreamed of playing basketball in America since she was eight years old. "Since then, I did not leave the court," she said.
Before coming to America to play basketball, Khalifa played in many different countries. While overseas, she played on the Egyptian national team. But, a few years ago, FIBA (The International Basketball Federation) wouldn't let her play with her hijab.
She had to decide between two options; take her hijab off, or sacrifice playing the game. "I don't have to choose between my religion, me playing and achieving my dream," said Khalifa.
In 2017, she chose not to play for the national team, but the following year she was approved to wear her hijab around the same time frame Nike started producing them.
As a result, she was asked to play for the Egyptian national team again. Her team played in the African championship and went to the World Cup in Italy, where they were the first Egyptian women's team to win a game.
Her journey of playing basketball in the U.S started when Khalifa attended Tallahassee Community College in Florida, known for its national championship reputation. After a year of attending Tallahassee community college, she transferred to the University of Cincinnati.
At UC, she received abundant support from her teammates and coaches on and off the court. However, her dream of playing basketball in America was almost put on hold due to the pandemic. In June of 2020, Khalifa went back home to Egypt.
"It was a risk because we didn't know if I was able to come back from the airport," she said.
Although there was a huge possibility of not being able to carry on with pursuing her dream, at that moment, she knew that she needed to be with her family.
Even though Khalifa and her family were scared because they were not sure what was coming next, she was thankful that she eventually was able to come back to the U.S. later on in the summer.
Through all of the challenges that Khalifa has endured, her family has always been by her side. "My parents and my brothers are my 'why.' They are the reason I started basketball." Khalifa said. "They are the reason I had the confidence to come here by myself to do something I really love."
She is proud to have her family support her every step of the way, but she knows that her journey in the present and the future will never be easy.
Khalifa's parents always told her and her brother that "you are strong enough to do anything," she said.
Her family motivates her to keep moving forward, and she encourages all women who face challenges when wearing a hijab to do the same.
Her advice to Muslim women when faced with adversity is to "keep working hard and you will achieve your dreams. Just keep your faith and follow your heart," Khalifa said.
https://www.newsrecord.org/news/breaking-barriers-uc-basketball-player-represents-muslim-women-on-court/article_5f666f18-6763-11eb-9598-179ea5975b49.html
--------
US, UK vow action after report of sexual violence against Uighurs
04/02/2021
The United States and Britain on Thursday reacted with horror and vowed action after a BBC investigation detailed harrowing accounts of torture and sexual violence against Uighur women in Chinese camps.
The reactions came as a "people's tribunal" was convened to examine allegations against China of anti-Uighur brutality, chaired by a British lawyer who led the UN prosecution for war crimes of former Serbian leader Slobodan Milosevic.
"These atrocities shock the conscience and must be met with serious consequences," a US State Department spokesperson said, reiterating the view of both the former and new US administrations that China is perpetrating "genocide" against the Uighurs.
"We will speak out consistently and jointly with allies and partners to condemn these atrocities, and we will consider all appropriate tools to promote accountability for those responsible and deter future abuses," the spokesperson said.
British junior foreign minister Nigel Adams said the BBC report revealed "clearly evil acts".
"The evidence of the scale and severity of these violations is now far-reaching, it paints a truly harrowing picture," he told parliament.
"This government is committed to taking robust action in respect of Xinjiang," he said, although the government has stopped short of invoking the term "genocide", arguing only UK courts can make that legal definition.
- 'Screams echoed' -
In a lengthy investigation based on witness testimonies, the BBC reported allegations of systematic rape, sexual abuse and torture of women detainees by police and guards in China's western region of Xinjiang.
It described torture by electric shock, including anal rape by guards using electrified sticks. Women were subject to gang rape and forced sterilisation, witnesses said.
"The screams echoed throughout the building," one was quoted as saying.
The report also triggered outrage from politicians in Australia, and new calls for China to grant access to UN rights inspectors to tour Xinjiang.
The region is home to the mainly Muslim Uighur minority and has seen a sweeping security crackdown by Chinese forces in recent years in response to separatist unrest.
Rights groups believe that at least one million Uighurs and other Turkic-speaking Muslims are incarcerated in camps in Xinjiang.
China is accused of compelling Uighurs to parrot Communist propaganda and renounce Islam, forcibly sterilising women and imposing a regime of forced labour.
After initially denying the camps existed, China's government abruptly acknowledged them, saying they were vocational training centres aimed at reducing the appeal of Islamic extremism.
The Chinese foreign ministry dismissed the BBC investigation as "false".
- Tribunal hearings -
Last month, Britain and Canada announced new rules to ban imports of Chinese goods suspected of being made using forced labour in Xinjiang.
Meanwhile the new tribunal was convened at the request of Dolkun Isa, president of the World Uyghur Congress, and is chaired by Geoffrey Nice, who prosecuted Milosevic in The Hague. The former leader died in 2006 before a verdict was reached.
There is no state backing for the tribunal, but Nice told reporters that such panels had played an important role through the 20th century in holding offenders to account, noting China would block any international prosecution by the UN.
Its eight jurors intend to hear from more than 30 witnesses, mostly Uighurs who allege Chinese violence, and experts in international law.
The panel will hold two rounds of hearings in London, in May and September, with a view to publishing its verdict by the end of the year into whether China is guilty of genocide and/or crimes against humanity.
It has reached out to the Chinese embassy in London to participate, but has yet to receive any reply, organisers said.
"We will hope to persuade them that it is genuinely in their interest to provide us with information for our investigation," Nice stressed.
Another tribunal led by the British lawyer found last year that China continues to harvest the organs of executed prisoners, including of Uighurs and members of the banned Falungong spiritual movement, despite official denials.
https://www.france24.com/en/live-news/20210204-us-uk-vow-action-after-report-of-sexual-violence-against-uighurs
--------
Ayatollah Khamenei Decries Western Outlook on Women
February, 03, 2021
Ayatollah Khamenei on Wednesday attended a videoconference with a group of Iranian eulogists in an annual ceremony marking the birth anniversary of Hazrat Fatimah Zahra (PBUH), daughter of Prophet Muhammad (PBUH).
Highlighting the fundamental difference between the viewpoints of Islam and the West on women, the Leader said the Islamic Republic has high regard for women's respect and dignity, while the typical Western outlook considers women as commodity and instrument.
From the viewpoint of Islam, women and men are equal when it comes to divine and humanitarian values, the Leader added, stressing, "We are proud of Islam's view, and are diametrically opposed to the West's view on women and lifestyle."
Dismissing the Western propaganda about Islam and Islamic hijab's restrictions on the growth of women as an "outright lie", Ayatollah Khamenei said a clear evidence for the falsity of such claim is the status of women in the Islamic Republic of Iran.
The Leader noted that before the establishment of the Islamic Republic, Iran has never had so many educated women involved in various social, cultural, political, scientific and economic fields.
Islam's view on women provides the foundation for the prominent role of mothers and families, Ayatollah Khamenei underlined, saying the strongest pillars of intellectual and spiritual education and the most genuine atmosphere of intimacy are formed within the family.
The Leader finally deplored the attempts from the Western propaganda campaign and a number of Westernized individuals inside Iran to devalue or eliminate the key role of mothers in families.
https://www.tasnimnews.com/en/news/2021/02/03/2445930/ayatollah-khamenei-decries-western-outlook-on-women
--------
Makinde's aide distributes hijabs in Ibadan
By Shakirah Adunola
05 February 2021
The Special Assistant to Oyo State Governor on Islamic Affairs, Alhaji AbdRasheed AbdAzeez, has donated 250 hijabs to Muslim women in commemoration of this year's World Hijab Day.
The beneficiaries were Islamic organisations that included Al-Akhwaatul Muslimaat, Alhamdulilah Islamic Society and the Peoples Democratic Party's Muslim women of Ward 8, Ibadan Northwest Local Government.
Addressing members of Al-Akhwaatul Muslimah Organisation, Oyo State chapter, who paid him a visit in his office, AbdAzeez stressed the importance of hijab as the pride of believing women.
He emphasised that the use of hijab is compulsory in Islam, while hijab sisters should avoid discriminating against those who are yet to use it "as the good character of the regular users will serve as a motivating factor for others to join them."
The Special Assistant noted that the administration of Seyi Makinde had been fair to all religions and would continue to promote peaceful coexistence among adherents of different religious organisations.
He said the governor had done a lot for Muslims before he came into office and would not deny Muslims their entitlements now that he is the governor.
AbdulAzeez called on people, especially the politicians, to desist from campaigns of calumny and engage in constructive criticisms to enhance the development of the state.
The Amirah of Al-Akhwaatul Muslimaat Organisation, Oyo State chapter, Alhaja Bashirat Haashim, who said the visit was aimed at identifying with the special assistant and to celebrate the day, expressed confidence that the occasion would encourage more Muslim women to embrace wearing hijabs.
"The hijab is not fashion, but a dress code to encourage morals in Muslim women. The celebration is also aimed at addressing the issue of discrimination faced by Muslim women in our society on some occasions."
According to her, wearing of hijabs has nothing to do with social vices such as the Boko Haram insurgency as believed by some people. She commended Governor Makinde for identifying with Muslims across the state.
The group also paid a similar visit to the Commissioner for Women Affairs and Social Inclusion, Alhaja Fausat Sanni.
https://guardian.ng/features/makindes-aide-distributes-hijabs-in-ibadan/
--------
Egypt arrests father, nurse for female genital mutilation of 15-year-old
February 03, 2021
Cairo: Egypt arrested a father and a retired nurse on Tuesday for carrying out female genital mutilation (FGM) on a 15-year-old girl, after announcing plans to toughen the penalty to 20 years.
Police made the arrests a day after the crime was reported to the public prosecution by a doctor in a hospital about 35km northeast of the capital, Cairo, said Sabry Osman, head of a child helpline that supports children subjected to violence.
"The surgery was done at home and when the girl had severe bleeding, the father transported her to a nearby hospital," Osman, who works for the state-run National Council for Childhood and Motherhood, told the Thomson Reuters Foundation.
"We followed up the case until the girl went out of hospital and returned home. We are now in the process of offering the girl the psychological support that she needs after going through this incident." Nearly 90 per cent of Egyptian women and girls aged between 15 and 49 have undergone FGM, according to a 2016 survey by the UN Children's Fund (UNICEF), and the ritual is practised widely by both Muslims and Christians despite a 2008 ban.
World leaders have pledged by 2030 to eradicate FGM, which typically involves the partial or total removal of the external genitalia, and can cause long-lasting mental and physical health problems, including infections and childbirth complications.
Egypt's cabinet last month approved a draft law hiking the maximum sentence for FGM from seven to 20 years, in a bid to stamp out the ancient practice.
The law was tightened in 2016 to make it a criminal offence to request or carry out the widely condemned practice but women's rights groups say the ban has not been well enforced.
https://gulfnews.com/world/mena/egypt-arrests-father-nurse-for-female-genital-mutilation-of-15-year-old-1.76935906
--------
URL: https://www.newageislam.com/islam-women-feminism/four-ultra-runner-women-uk/d/124234
New Age Islam, Islam Online, Islamic Website, African Muslim News, Arab World News, South Asia News, Indian Muslim News, World Muslim News, Women in Islam, Islamic Feminism, Arab Women, Women In Arab, Islamophobia in America, Muslim Women in West, Islam Women and Feminism