New Age Islam News Bureau
15 July 2022
• Women's Rights In Light Of Sira-e-Taiba Discussed in a Seminar in Pakistan
• Princess Reema: Strong US - Saudi Alliance Imperative to Resolve Global Dangers
• In Rural Bangladesh, Women Earn Self-Reliance with Hand-Knitted Muslim Prayer Caps
• Muslim Women Pray For Oyetola, Tinubu Ahead Of Elections
• Jordan Struggles to Stem Violence against Women
• Historical Presence of Saudi Women at World Championships or Games
• More Women Work in Health And Care But Earn Less: UN Report
Compiled by New Age Islam News Bureau
URL: https://newageislam.com/islam-women-feminism/female-journalists-khyber-pakhtunkhwa/d/127487
--------
Four Female Journalists from Khyber Pakhtunkhwa Win International Awards in Film Making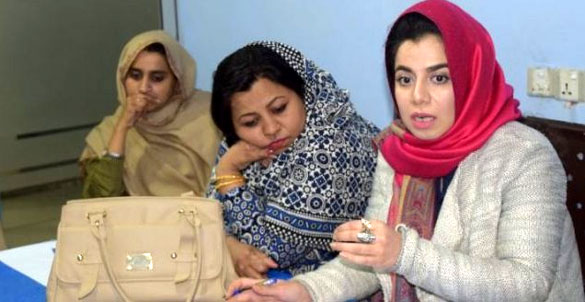 Women journalists of Khyber Pakhtunkhwa,
----
Muhammad Irfan
July 15, 2022
PESHAWAR, (UrduPoint / Pakistan Point News - 15th Jul, 2022): Four female journalists from Khyber Pakhtunkhwa have brought laurels to the country by winning international awards in Film Making on women empowerment and religious freedom.
The four journalists of KP surprised all by bagging top positions in the international awards sponsored by Empower Media Women.
The winning journalists are Zeenat Bibi who clinched the first position and won the grand prize. The second position was bagged by Khalida Niaz of Tribal news Network.
Jamaima Afridi of Khyber District submitted a film titled as `A Helping Hand Across Faith and Countries' which received the `Inclusion Award' and Fatima Nazish's film also obtained the first position.
The grand prize winner received a $3,000 cash prize, 1st runner-up $1,500, and 2nd runner-up $500, says a press release of Empower Media Women.
The media projects submitted to the film competition came from thirty women who took part in Empower Women Media's Pakistan Media Training Fellowship.
This is the fifth annual Religious Freedom Film Competition sponsored by Empower Women Media in association with the Religious Freedom & business Foundation.
"We were amazed to witness the tenacity and creativity of the Pakistani women filmmakers," said Shirin Taber, Director of Empower Women Media.
"Their films have the potential to change lives and shift the culture at large," she added in the press statement.
Zeenat Bibi from Peshawar who won the grand prize submitted her film titled `She stood against religious extremism'.
The film tells the story of a young woman in a war-torn region of Pakistan who starts an initiative to counter religious extremism and sectarian violence by holding dialogue sessions with youth from different beliefs and religions.
Empower Women Media invited nine highly respected judges to review the short films, including Katrina Lantos Swett, president of the Lantos Foundation; Dr. Brian Grim of the Religious Freedom & Business Foundation, Ed Brown, Secretary General of Stefanus Alliance International, and other leading voices for religious freedom.
The winning films were screened before civil society and faith leaders at the IRF Film Festival and Roundtable in Islamabad. While selected films are showcased at the International Religious Freedom (IRF) Summit in Washington, DC on June 28-30.
Source: Urdu Point
https://www.urdupoint.com/en/pakistan/four-female-journalists-from-kp-win-intl-awa-1536752.html
--------
Women's Rights In Light Of Sira-e-Taiba Discussed in a Seminar in Pakistan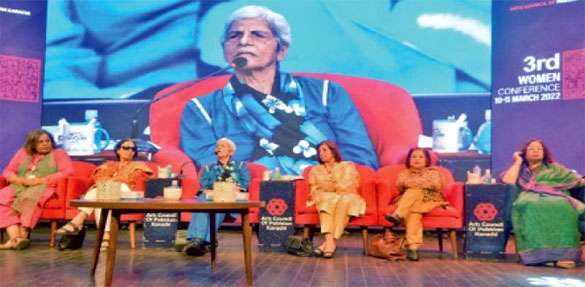 Panelists express their views at the third Women's Conference held at Pakistan Arts Council, while choreographer Farah Yasmeen Shaikh enthralled the audience with her Kathak performance. Photos: Jalal Qureshi/Express
-----
July 15, 2022
ISLAMABAD:
A seminar on "Contemporary, Social, Economic and Political Problems Faced by Women and their Solutions in the Light of Sira-e-Taiba" was held at Allam Iqbal Open University (AIOU), organised by the institute's Seerat un Nabi chair.
"Islam is the greatest defender and advocate of women's rights. Islam has given women all the basic rights in social, legal, economic and political contexts, including right to life, education and business," said Jamia Nusrat ul Uloom Gujranwala Chairman Maulana Zahid Al Rashidi while addressing the seminar.
He said that Muslims have to differentiate between religion and civilisation to solve problems, adding that husband and wife are two wheels of a car that drive life together and to live a happy life, these wheels need to be balanced.
Al Rashidi, while describing the positive and negative effects of Western civilisation on Muslims, said that the Muslim Ummah need to refrain from unacceptable things of the West.
"We need to sit together to find a solution," he opined.
Source: Tribune Pakistan
In this regard, he proposed a grand dialogue under the Seerat Chair of AIOU.
https://tribune.com.pk/story/2365963/womens-rights-in-light-of-islam-discussed
--------
Princess Reema: Strong US - Saudi alliance imperative to resolve global dangers
July 14, 2022
— Saudi Arabia's Ambassador to the United States Princess Reema Bint Bandar emphasized that Saudi Arabia and US have emerged from every challenge stronger together and if the two countries are united, they will be a formidable force for good.
"Long gone are the days when the US - Saudi relationship could be defined by the outdated and reductionist "oil for security" paradigm. The world has changed and the existential dangers facing us all, including food and energy security and climate change, cannot be resolved without an effective US - Saudi alliance," she said, while reaffirming, "these priorities must guide the US -Saudi partnership of the 21st century, and we view the visit of President Joe Biden as an important moment for laying out our shared vision for how to tackle the challenges that lie ahead."
Princess Reema made the remarks in an article she wrote in the famous US magazine POLITICO on the eve of the first ever visit of Biden as president of US to Saudi Arabia. She said that Saudi Arabia will share with Biden and the world Saudi Arabia's vision of progress and partnership and that President Biden will see a storied land with a new, younger face.
Recalling the 80-year-long historic and strategic ties between the two countries ever since the historic meeting between King Abdulaziz and US President Franklin D. Roosevelt, she underlined the need to further bolster the U.S.-Saudi partnership. "And that is why the upcoming visit by President Joe Biden to Saudi Arabia is so pivotal. For our relationship to deliver peace and prosperity for both of our peoples and the wider world, we must redefine the contours of the next eight decades of this critical alliance."
Commenting on the breathtaking changes and reforms being taken place in the Kingdom, Princess Reema said: "The Saudi Arabia of today is barely recognizable from how it once looked, even just five years ago and today, we are not just a global leader in energy, but also in investment and sustainable development. Through hundreds of billions of dollars of investment in education, technology, economic diversification and green energy, we have launched a transformation agenda that is unlocking the enormous potential of our young men and women," she said.
Referring to the government's landmark initiatives toward women's empowerment, the ambassador said that Saudi women at present enjoy legal guarantees of equal pay and nondiscrimination in the workplace and that some Western countries have not taken such steps.
"Today, Saudi women outnumber men in our institutes of higher education and women represent the same share of entrepreneurs in Saudi Arabia as they do in the United States. We are entering sectors such as construction, mining and the military." "We are creating companies, becoming CEOs and assuming top government posts, empowered by a government determined to see us succeed. As the first, but not only, Saudi woman appointed ambassador, I can speak firsthand to the new realm of the possible we are establishing. It is a success story we hope others will emulate."
Princess Reema also highlighted the Kingdom's initiatives to promote tolerance and interfaith dialogue to achieve greater stability in the region. "And we are advancing a vision for shared economic prosperity as an alternative to conflict. Saudi Arabia is indeed reconceiving how we express ourselves and engage with the world as a society and a culture," she said.
Highlighting the growing significance of joint efforts to further strengthen US-Saudi partnership, she expressed hope that the two countries can lead a global transition to renewables, while catapulting the Middle East into a new hub for global supply chains.
Referring to the counterterrorism efforts, Princess Reema said: "We can and we must continue our important cooperation on counterterrorism, but we should go above and beyond current efforts. Our work will not be complete if all that we do is just crack down on terrorists." "We must offer the people of this region greater hope for the future, and that is why our reimagined partnership encompasses cooperation from emerging technologies to joint space exploration. Given Saudi Arabia's status as the cradle of Islam, the reverberations will be felt from Nigeria to Afghanistan."
Underscoring the significance of enhanced Saudi-US role in establishing regional peace, she said: "We envision a future where our region is not bogged down in conflict, but is rather focused on regional economic cooperation, social development and multinational projects that deliver benefits to everyone. We want the U.S. to be part of that future, just as it was part of building our nation eight decades ago."
"As governments, we must broaden our thinking to encourage and enrich such collaboration. The challenges of the 21st century are complex, from maintaining international peace and stability to addressing climate change, and we in Saudi are coming to the table with ideas. Let us integrate the markets of our region, use economics to promote friendship among all our neighbors, and show the promise of growth and prosperity as an alternative to the status quo."
Princess Reema said that Saudi Arabia is approaching challenges such as global pandemics, food, energy, and supply chain crises with a new mindset. "We believe that the global transition to renewables can happen only if we all work together to manage this transition in a manner that ensures energy security and global economic growth. We have embraced the transition to green energy and are committed to net-zero emissions by 2060, along with the goal to shift more than half of our energy industry to renewables by the end of this decade," she said while noting that these are commitments once deemed unimaginable for the world's central bank of oil.
The ambassador underlined the need to confront the vision of chaos promoted by Iran with a vision of cooperation that people of region can see and feel. She also referred to the Khashoggi issue, saying: "I acknowledge, of course, there have been some turbulent waters in the U.S.-Saudi relationship. No doubt, the killing of Saudi citizen Jamal Khashoggi was a gruesome atrocity without any justification". "But Saudi Arabia has made clear from the highest levels our abhorrence of this crime, and justice was served in our courts with verdicts handed down against all assailants. We have emerged from this terrible tragedy stronger, with stricter safeguards to make sure such an atrocity never happens again," she said while adding that Saudi Arabia is confident that its "reforms will prove effective because, quite simply, what happened more than three years ago in Istanbul is not who we are. What occurred is not what we do. And it cannot define the US -Saudi relationship going forward."
Princess Reema also noted her personal attachment to the United States. "Having grown up in the United States as the daughter of an ambassador and with a personal connection to both of our nations, I see a horizon of unlimited potential in our cooperation. Saudi Arabia stands at the meeting point of three continents — Asia, Europe and Africa — but America is closest to our hearts...And we should tackle today's biggest challenges — from deadly epidemics and food insecurity to the responsible transition to renewables — with the same zeal with which we once contained communist aggression and threats to global energy production," she said while reaffirming, "by working together we can build the future we all dream of, a future our youth can be proud of, a future we all deserve."
Source: Saudi Gazette
https://saudigazette.com.sa/article/622945
--------
In rural Bangladesh, women earn self-reliance with hand-knitted Muslim prayer caps
July 14, 2022
DHAKA: When Shiuli Khatun completes her daily household chores, she joins other women in Kashiabala, a northern Bangladeshi village, as they sit around baskets filled with yarn and begin to knit prayer caps — their region's main export, and a source of female financial self-reliance.
Khatun, 35, learnt the craft from her mother when she was 15. The side job allows her to earn about $50 a month.
"Women in every house of this locality are engaged in prayer cap production, as it offers them a big opportunity to earn," she told Arab News.
"Now I can fulfill all my little wishes with my earnings. I don't need to ask my husband."
She and her neighbors in Kashiabala are among hundreds of thousands of women in Bogura district involved in making the Muslim skullcaps known in Bengali as tupi.
Jewel Akand, president of the Bangladesh Jali Tupi Association, estimates that the district contributes about a third of the whole country's production.
"In Bogura region only, around 250,000 to 300,000 village women are engaged in cap production, while this handicraft industry engages around 800,000 to 1 million (women) across the country," he said.
The industry has been blooming since producers began to export the caps to Gulf countries in the 2000s.
Akand's own company, Jewel Cap Depo, is one of about 150 in Bogura and exports 250,000 prayer caps a month to Saudi Arabia, the UAE, Kuwait, Qatar, India and Pakistan.
"It changed the fate of many of the village women," he told Arab News. "Our demand in the export market is increasing year by year. It happened due to the high quality of our handmade prayer caps. If the current trend continues, we will employ more and more women to produce the caps."
Farida Parveen, 30, began to knit when she was six years old, learning the craft from other women in Kashiabala.
"I have acquired this skill from my neighbors, as I used to watch them, sitting beside them, as they (knitted) the caps. It's not very tough. But one needs to have patience," she told Arab News.
Now she is often accompanied by her six-year-old daughter.
"We all make these handmade caps along with our regular (work)," she said. "As a village woman, I look after around a dozen cattle every day. Besides that, we rear poultry and pigeons at our home. After doing all these jobs, I spend my time on making caps."
Parveen, a mother of three, can earn between $0.17-0.27 per cap.
"I would earn $50 to $60 per month from selling the caps to wholesale buyers," she said. "This little extra earning helps me a lot in spending on children's education."
Source: Arab News
https://www.arabnews.com/node/2122376/world
--------
Muslim women pray for Oyetola, Tinubu ahead of elections
JULY 14, 2022
Muslim Women in Osun State have declared their support for All Progressive Congress Governorship candidate, Adeboyega Oyetola and the presidential candidate of the party, Asiwaju Bola Tinubu in the forthcoming elections.
The Muslim Women offered special prayers in Osogbo, Osun State capital for the APC candidates to win the elections.
The Convener, Hajia Rasheedah Adebari, said the Muslim women were convinced that Tinubu and Oyetola have the experience and capacity to deliver.
She said, "We use this avenue to drum support and pray for Asiwaju Bola Ahmed Tinubu and Governor Oyetola in Osun.
"We are today organising this special prayer for a gentle, amiable, cool-headed, capable, intelligent, financial guru, economic giant, incorruptible, indefatigable and God-fearing Governor Adeboyega Oyetola to be victorious in the July 16 election."
"We are not just canvassing votes for Oyetola because he's the last man standing, the only ambassador of the Muslims in the entire Southern Nigeria (as governor), we are equally supporting him as a worthy administrator who has done us proud as Muslims, managing the scarce resources of Osun to achieve great feats without resorting to borrowing and without failing in his financial obligations as the governor.
"It is in this sense that we are declaring our unalloyed and total support for Oyetola Leekan si. After all, nobody changes the winning team. Oyetola towers above all the pretenders and jesters. He does not deal in theories. He is practical and realistic to the core. He is a silent achiever. So, let the achievements continue," she said.
Source: The Eagle Online
https://theeagleonline.com.ng/muslim-women-pray-for-oyetola-tinubu-ahead-of-elections/
--------
Jordan struggles to stem violence against women
Suha Ma'ayeh
15/07/2022
The recent killing of Iman Irsheid, a 21-year-old university student, has once again brought attention to the harsh reality that gender-based violence remains a shameful and entrenched problem in Jordan and other parts of the Middle East.
Her attacker, 37-year-old Oday Hassan, shot her at least five times at a university campus in Irbid. A few days later, the perpetrator shot himself dead after he was asked to surrender by police.
Iman's murder came days after a similar crime in Egypt where Nayera Ashraf, a 21-year-old university student in Mansoura, was stabbed to death after she declined a marriage proposal from her attacker.
While social media has played a role in exposing such gruesome crimes against women, sadly, many cases of gender-based violence in Jordan and beyond remain under-reported. Violence against women is so pervasive that physically harming a spouse is relatively common. Most alarming, it is widely accepted. A government survey published in 2019 found 69 percent of men and 46 percent of women agreed that wife beating could be justified.
According to UN Women, 37 percent of women in the Arab world have experienced some form of violence in their lifetime, although indicators suggest the figure could be higher. This compares to 21 percent in western Europe and 25 percent in North America, both regions where the situation is far from perfect.
Unfortunately, women in Jordan are often reluctant to report male abusers. They fear they will retaliate and they remain sceptical that the systems and institutions within the patriarchal society will protect them.
Besides, a rhetoric that blames the victim rather than the perpetrator for sexual assault persists.
Jordan has one of the world's lowest female labour-force participation rates at 13 percent, meaning that most women rely on their spouses for financial support. This leaves them with limited options when they want to leave an abusive partner.
Social stigma also does not help. Many families are not keen on having their divorced daughter return home. They often ask her to leave the children with the father so he can provide for them.
That is why the vast majority of battered women continues to suffer in silence. This obscures their plight and encourages men to push, shove and slap their wives, sisters or daughters, or even kill them.
When the pandemic hit Jordan in March 2020, there was a surge in domestic violence cases, as in many other countries. The Family Protection Department, a police unit working to combat domestic and sexual violence, reported 1,534 cases of domestic abuse, a 33 percent increase during the first month of lockdown.
But few women had the courage to make their voices heard. One was Iman Al Khateeb, a 36-year-old single mother who shared harrowing details of abuse at the hands of her brother and mother. She was forced to flee home with her 13-year-old son in April 2020 and was later relocated to a safe house.
Even before the pandemic, the 2017-18 Population and Family Health Survey showed that 26 percent of married women aged between 15 and 49 were exposed to physical or verbal abuse and sexual violence at least once by their spouses. But the attacks are also coming from other male family members.
Two years ago, Ahlam, a 40-year-old woman was killed by her father with a brick in broad daylight. Local media reports said he smoked a cigarette and drank tea next to her body as he waited for police to arrive.
In another horrific incident in 2019, a 31-year-old man blinded his wife by gouging her eyes.
These high profile cases sparked outcry and have prompted Jordan to take action.
The Family Protection Department has beefed up its efforts to provide stronger protection for abused women. In addition to its 24-hour hotline, it made it easier for victims to file complaints through social media and a police app.
But efforts to stem gender-based violence have not gone far enough.
A Domestic Violence Protection Act, which was adopted in 2017, does not have a definition of what constitutes violence against women. Marital rape is not even considered a crime.
NGOs provide legal aid and support but they continue to struggle with limited resources. There is a number of economic empowerment programmes to equip women with skills, but they are not enough to pay the bills or take care of children.
Besides, couples are encouraged by the Family Protection Department to settle disputes if the abuse was not a criminal offence. Some men who learn that hurting a woman is not OK may stop, but others continue, particularly if the woman has no family to support her. Since most women report abuse as the final straw, reconciling with the attacker seems at best unlikely to succeed and at worst extremely dangerous.
Some abused women I talked to wished their husbands dead. Others who managed to leave are staying at shelters, facing a bleak future. I have met some women who struggled at first, but thanks to support from their families and NGOs, they were able to stand on their own two feet.
For Jordan and the wider Middle East to combat gender-based violence, social norms and attitudes need to change and laws need to be reformed. Mothers need to teach their sons that it is not acceptable to hurt women. Perhaps, most importantly, women must strive to be financially independent or at least have a job to help support themselves. Until then, tragic cases like that of Iman Irsheid will remain all too common.
Source: The Arab Weekly
https://thearabweekly.com/jordan-struggles-stem-violence-against-women
--------
Historical presence of Saudi women at world championships or games
by Ruslan Burak
July 15, 2022
The World Championships in Athletics, taking place today in Eugene, USA, is the first time in the history of Saudi Arabian athletics that women from Saudi Arabia are taking part.
Following the Olympics in London 2012, Rio de Janeiro 2016 and Tokyo 2020, Saudi women will record a historic presence with the participation of sprinter Yasmine Al-Dabbagh in their eighteenth edition in Eugene, Oregon from 15 to July 24th.
This is Al-Dabbagh's second participation in international competition after the Tokyo Olympics last summer, when she competed in the 100m and exited qualifying ninth in her series with a time of 13.34 seconds before breaking her personal best by Games in the Persian Gulf. last May when she placed fifth with a time of 12.90 seconds.
Al-Dabbagh dedicated Saudi women's presence at the Olympics as the sixth athlete to compete after runner Sarah Attar and judoka Wijdan Shahkhani who competed in the London Olympics and Attar, fencers Lubna Al-Omair, runner Karimane Abu Al-Jadael and judoka Judo Fahmy in Rio de Janeiro.
Athletics in Saudi Arabia performed well at the end of the last century and the beginning of the new millennium, in particular, runner Saad Shaddad Al-Asmari won a bronze medal in the 3000 meters steeplechase at the 1995 World Championships in Gothenburg, Sweden. Barriers at the 2000 Sydney Olympics.
Among the only three runners present at America's World Wedding were Yasmine Amr Al-Dabbagh and pole vaulters Hussein Al Khizam and Mazen Al-Yassin, but the latter was unable to compete due to injury.
Al Hizam qualified between 32 divers and his rating until the end of the qualifying period was 29 in the qualifier list on June 26th and he put in a fantastic effort during international meetings and external competitions and showed remarkable levels that qualified him for the World Championships.
Participation by Saudi forces in previous World Championships has been limited to middle and long running, throwing, long jump and triple jump.
Source: Habertusba
https://www.habertusba.com/historical-presence-of-saudi-women-at-world-championships-or-games-2/
--------
More women work in health and care but earn less: UN report
July 15, 2022
GENEVA — Women working in the health and care sector earn nearly 25 percent less than their male counterparts – a larger gender pay gap than in other economic sectors, two UN agencies said in a new report on Wednesday.
The gender pay gap in the health and care sector: a global analysis in the time of COVID-19 was published by the International Labour Organization (ILO) and the World Health Organization (WHO).
It documents a raw gender pay gap of roughly 20 percentage points which jumps to 24 percentage points when factors such as age, education and working time are taken into account.
While much of this gap is unexplained, the agencies said it is perhaps due to discrimination towards women, who account for nearly 70 per cent of health and care workers worldwide.
The report also revealed that wages in the health and care tend to be lower overall when compared with other sectors, which is consistent with the finding that wages often are lower in areas where women are predominant.
Furthermore, even with the pandemic, and the crucial role played by health and care workers during the crisis, there were only marginal improvements in pay equality between 2019 and 2020.
"The health and care sector has endured low pay in general, stubbornly large gender pay gaps, and very demanding working conditions. The COVID-19 pandemic clearly exposed this situation while also demonstrating how vital the sector and its workers are in keeping families, societies and economies going," said Manuela Tomei, Director of Conditions of Work and Equality Department at the ILO.
The report also found a wide variation in gender pay gaps in different countries, indicating that these gaps are not inevitable and that more can be done to close the divide.
Within countries, gender pay gaps tend to be wider in higher pay categories, where men are over-represented, while women are over-represented in the lower pay categories. 
Mothers working in the health and care sector also appear to suffer additional penalties, with gender pay gaps significantly increasing during a woman's reproductive years and persisting throughout the rest of her working life.
A more equitable sharing of family duties between men and women could lead to women making different job choices, according to the report.
The analysis also examines factors that are driving the gender pay gaps in the health and care sector.
Differences in age, education and working time, as well as the difference in the participation of men and women in the public or private sectors, only address part of the problem.
The reasons why women are paid less than men with similar labour market profiles remains, to a large extent, unexplained by labour market factors, the report said. 
Ms. Tomei expressed hope that the report will spark dialogue and policy action as there will be no inclusive, resilient and sustainable post-pandemic recovery without a stronger health and care sector.
"We cannot have better-quality health and care services without better and fairer working conditions, including fairer wages, for health and care workers, the majority of whom are women," she said. 
Jim Campbell, WHO's Director of Health Workforce, added that the report contains success stories in several countries, including wage increases and political commitment to pay equity, which point the way forward.
"Women comprise the majority of workers in the health and care sector, yet in far too many countries systemic biases are resulting in pernicious pay penalties against them," he said.
"The evidence and analysis in this ground-breaking report must inform governments, employers and workers to take effective action." — UN News
Source: Saudi Gazette
https://www.saudigazette.com.sa/article/622958/World/More-women-work-in-health-and-care-but-earn-less-UN-report
--------
URL: https://newageislam.com/islam-women-feminism/female-journalists-khyber-pakhtunkhwa/d/127487
New Age Islam Islam Online, Islamic Website, African Muslim News, Arab World News, South Asia News, Indian Muslim News, World Muslim News, Women in Islam, Islamic Feminism, Arab Women, Women In Arab, Islamophobia in America, Muslim Women in West, Islam Women and Feminism