New Age Islam News Bureau
8 Aug 2015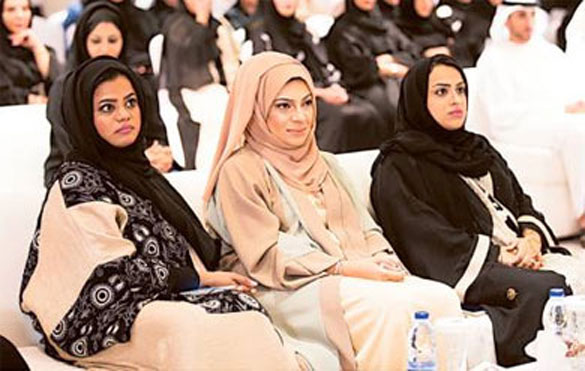 Shaikha Manal said the FNC attaches great importance to women's empowerment issues
-----------
• Escapee Kidnapped By Boko Haram Shares Her Story in Minneapolis
• Shaikha Manal, President of the UAE GBC calls on women to run for FNC
• Many Saudi Women Keeping Up With 'Gym Trend' – But Skip Healthy Eating
• Muslim Women's Role in Feminism
• Historic: Female MPA Presides KP Assembly
• UP Couple Claims Indian Girl Geeta in Pakistan Is Their Daughter
• Indonesian Political Parties Overlook Women Candidates In Local Elections
• Viral Video Sets off Debate over Harassment of Women in Saudi Arabia
• Pakistan's Biggest Child Abuse Scandal Jolts Punjab
Compiled By New Age Islam News Bureau
URL: https://newageislam.com/islam-women-feminism/four-families-claim-geeta-their/d/104213
-----------
Four families claim Geeta is their daughter as India vows to bring her home
By Aditi Phadnis / Web DeskPublished: August 8, 2015
As India continues to assure 'stranded girl' Geeta's return to her home country, confusion over her parentage persists with four Indian families coming forward to claim her as their daughter.
According to Indian media reports, earlier, a deaf-mute couple from Amritsar claimed that Geeta was their daughter. Now, a couple from India's Pratapgarh district's Dhamohan village of Uttar Pradesh, Ramraj and Anara Devi, have claimed Geeta is actually Savita who disappeared after she went for praying in Bihar 11 years ago, the Hindustan Times reported.
"We have seen her pictures and seen news reports on television and are fully convinced that she is one of our six children who were last seen at the age of 9," the couple said, according to Hindustan Times.
On the very same day, another family came forth in Bokaro, Jharkhand and claimed that Geeta is actually Kokia Kumari.
"The day I saw her photo, I knew she is my Kokia. If she is my daughter, the government should bring her back as soon as possible," a woman claiming to be her mother said.
Meanwhile, External Affairs Minister Sushma Swaraj remained hopeful on Saturday that Geeta would be brought back to India and confirmed in a series of tweets that "all formalities are being completed to bring Geeta back to India."
We are completing the necessary formalities to bring Gita back to India.
— Sushma Swaraj (@SushmaSwaraj) August 8, 2015
Although Swaraj has come under scrutiny for assisting cricket manager Lalit Modi to obtain a passport in Britain and has come under immense pressure to resign from her role for doing so, she is determined to reunite Geeta with her family.
Indian High Commissioner to Pakistan Dr TCA Raghavan met the hearing- and speech-impaired Indian girl earlier this week and assured that he would do whatever he could to find her family back home.
Following the meeting in Karachi's Bilquis Edhi Foundation, Swaraj continued her efforts to find the girl's family who accidentally entered Pakistani territory 13 years ago.
"Gita in Karachi – During last few days four families from Punjab, Bihar, Jharkhand and UP have claimed Gita as their daughter," the minister said in a tweet.
Gita in Karachi – During last few days four families from Punjab, Bihar, Jharkhand and UP have claimed Gita as their daughter.
— Sushma Swaraj (@SushmaSwaraj) August 8, 2015
She urged chief ministers of the said states to verify and report back.
I am requesting the Chief Ministers of these states to verify and report.
— Sushma Swaraj (@SushmaSwaraj) August 8, 2015
Further, Swaraj shared through one of her posts information that Geeta may have passed on during the meeting.
Gita conveyed to Indian High Commissioner by gestures that they are seven brothers and sisters.
— Sushma Swaraj (@SushmaSwaraj) August 8, 2015
In an earlier post, Swaraj expressed appreciation to Pakistan for their efforts in looking after the girl.
We are grateful to all individuals and institutions in Pakistan who looked after Geeta.
— Sushma Swaraj (@SushmaSwaraj) August 4, 2015
Leading Pakistani human rights activist Ansar Burney, who has been closely pursuing Geeta's case, thanked the Indian high commissioner for meeting Geeta.
"Dear Dr TCA Raghavan thanks for coming to Karachi and to meet Geeta alias Guddy @SushmaSwaraj @MEAIndia," he tweeted.
http://tribune.com.pk/story/934539/four-families-claim-geeta-is-their-daughter-as-india-vows-to-bring-her-home/?utm_source=Daily+Roundup+Newsletter&utm_campaign=a327f667f6-Daily_Roundup_5pm&utm_medium=email&utm_term=0_19961368d8-a327f667f6-65338937
-----------
Escapee kidnapped by Boko Haram shares her story in Minneapolis
By Beatrice Dupuy
08 Aug 2015
A woman who escaped from the Nigerian militant group Boko Haram told her story Friday to a group of journalists gathered in Minneapolis.
Joy, 19, described how she saved herself and three other girls from their kidnappers last year. Boko Haram kidnapped more than 200 girls from their school in Chibok, Nigeria. Many of them haven't been found yet.
The girls, Joy said, were taking final exams when the gunman stormed the school.
"They said, 'If you want to die, you go this way,' " she said at the National Association of Black Journalists annual convention at the Minneapolis Convention Center. "If you want to live, you enter the truck."
Joy escaped only by telling the men that she needed to use the bathroom and then running off with her friends.
She now lives in the U.S., but for safety reasons would not reveal her last name or where she lives.
International human rights lawyer Emmanuel Ogebe brought Joy and 10 other girls to the U.S. to talk about the atrocities in their home country. He said Joy is a hero.
"She inspires me," he said. "She led three other people to escape. She is a genuine heroine of our time."
Ogebe, along with panelists John Yearwood from the Miami Herald, Vladimir Duthiers of CBS News and U.S. Rep. Frederica Wilson, D-Fla., discussed how the use of Twitter on the issue galvanized international attention.
CNN anchor Michaela Pereira moderated the discussion.
Duthiers spoke about his time in Nigeria covering the kidnapping and how the social-media movement shed light on the incident.
"If you sent your kid to school and they didn't come home one day, what would you do?" he asked. "If your president never addressed it or lied about what the rationale was for why these girls went missing, what would you do?"
Wilson wore all red and a red cowboy hat to symbolize the color she chose to support the effort to bring the girls home.
Wilson has also brought the movement to the U.S. Congress. She continues to travel to Nigeria on behalf of the girls.
The former school principal said the movement spoke to her because of how the militant group attacks places of education.
She said she plans on tweeting and speaking about the issue until the girls are released. "We will tweet and tweet," she said. "We will break all records."
Yearwood has covered the Nigerian community in Miami. He agreed with Wilson, and said journalists at the convention should continue to write about Nigeria.
Through the hashtag #BringBackOurGirls, the panelists answered questions about Nigeria and the violence there.
Joy said she will not let Boko Haram stop her from getting her education.
She is continuing her schooling in the U.S., hoping to one day become a doctor.
http://www.startribune.com/escapee-kidnapped-by-boko-haram-to-share-her-story-in-minneapolis/321048831/
------------
Shaikha Manal, President of the UAE GBC calls on women to run for FNC
August 8, 2015
Dubai: Active participation of UAE women in the next Federal National Council (FNC) elections is considered "a national duty that must be fulfilled by each and every woman seeking to positively contribute to the growth and prosperity of the UAE", Shaikha Manal Bint Mohammad Bin Rashid Al Maktoum, President of the UAE Gender Balance Council and the Dubai Women's Establishment, said.
Shaikha Manal, who is the wife of Shaikh Mansour Bin Zayed Al Nahyan, Deputy Prime Minister and Minister of Presidential Affairs, encouraged women to fulfil their potential as key contributors in nation-building.
"The FNC attaches great importance to women's empowerment issues, enabling them to play an important role in serving the community, increasing their presence in various business sectors, legislative and executive institutions, and holding decision-making positions. This is the reason why we all hope that women's participation in the current legislative session increases so as to support their role as active partners in political life," Shaikha Manal said.
"Through their membership in the Federal National Council, UAE women succeeded in holding several leading positions such as the First Deputy Chairman of the Council, and presided over a number of permanent and interim committees," she said. "They also played an influential role through their participation in regional and international conferences."
Shaikha Manal also noted that the efforts made by the UAE over the past period to achieve gender balance have paid off. In this respect, the UAE ranked the first globally in Closing the Gender Gap in Educational Attainment - Higher Education. Regionally, it was the first in reducing the gender gap, according to the World Economic Forum's Gender Gap Index, thereby indicating almost complete equality between genders in terms of educational attainment as well as provision of health-care services.
Dr Anwar Mohammad Gargash, Minister of State for Foreign Affairs, Minister of State for Federal National Council Affairs and Chairman of the National Election Committee, expressed his gratitude to Dubai Women's Establishment.
He said Emirati women have played a major role and contributed to the success of the FNC's electoral process. Hence, raising political awareness among UAE women, as well as enabling and encouraging them to play leadership roles and exercise their right to participate in the electoral process will always remain a common responsibility.
http://gulfnews.com/news/uae/government/manal-calls-on-women-to-run-for-fnc-1.1563127
-----------
Many Saudi women keeping up with 'gym trend' – but skip healthy eating
8 August 2015
Many people in Saudi Arabia visit gyms for health reasons and to look good. However, there are some, especially Saudi women, who visit gyms because it is a trend and an "in thing."
Sarah Ali is a 25-year-old Saudi woman who believes that many Saudi women visit gyms because it is a trend and that most of them pay little attention to what they eat and how they exercise.
"In the society that I live, most of those who visit gyms do so because it is a trend. They visit gyms once or twice a month despite having the time to go more frequently.
I know some who go to the gym and then head off to eat fast food as a way of rewarding themselves for going to the gym," she said.
Sarah began visiting a gym around three years ago. "I initially visited the gym as many other people do as it was the in thing to do.
I have, however, recently found it to be very useful. I have started to watch my weight and nutrition. The change in my lifestyles makes me feel fresh and confident.
Now I feel happy and live a more healthy life," she said. Rima Muhammed is a 31-year-old Saudi who began visiting the gym as a form of therapy when she developed a problem with her leg muscles. She has never stopped since then.
Rima believes that many Saudi women visit gyms as a trend. She believes that there should be more awareness informing women that going to the gym is not a trend but a way of leading a healthy lifestyle.
"You shouldn't be going to the gym so you can take photographs of yourself wearing sports outfits to post on social media and show yourself as being classy," she said.
"We need some awareness about visiting the gym and its benefits. A large number of people visit gyms for health reasons.
I have seen many others who visit gyms because it is an in thing to do. I believe those who go to gyms as a trend waste the opportunity to lead better and healthy lives," she said.
"The cost of female gyms is very high, but if there were sports clubs for women then the cost of gyms would go down … I believe that we should have more therapist gyms and instructors as well," said Rima.
Bashyer Abdu, a Saudi female in her 20s, has been visiting a gym for a year now. "Most people in Saudi Arabia visit gyms because it is a habit.
Maybe for some people it is a trend," she said. Abeer Makki has been going to a gym for some four years now. "I like aerobics and other kind of sports.
I go to the gym because it benefits the heart, bones and muscles," she said. She added that some people go to gyms to lose weight.
"I think most people go to gyms to lose weight while others go to spend their free time and for health reasons," said Makki.
However, there are still a few females who prefer to do sports at home. Rafan Abed, 18, has been playing sports for some two years now.
"I do yoga and aerobics at home to protect my health. Sport also helps the person develop a better mood and better mental health," she said.
"Sports have helped me to have a better life. The portion of food that I eat has decreased and I feel more energetic," Abed added.
Some Saudi females prefer specific kinds of exercises that burn large numbers of calories. Hadeel Rashwan has been exercising for four years.
"I prefer swimming because it refreshes the body and you can move all of your body muscles. I also like Zumba because I enjoy it and it helps burn almost 900 calories per hour.
I like yoga since it helps me to relax," she said. "Fitness is very important for a fat or thin person. Sports affect a person's psychological health and helps get rid of toxins in the body," she added.
However, some Saudis still visit gyms because it is a trend. May Mohammed is in her 20s. "I think that girls go to gyms because it is a trend.
Gyms have been open for many years and no one used to go. However, women are now going and have their own personal trainers to help them show off," she said.
http://english.alarabiya.net/en/life-style/healthy-living/2015/08/08/Many-Saudi-women-keeping-up-with-gym-trend-but-skip-healthy-eating.html
-----------
Muslim Women's Role in Feminism
August 7, 2015
The headscarf on my head doesn't stop my brain from working. Being female and Muslim doesn't make me oppressed or brainwashed. My gender doesn't prevent me from pointing out to my co-religionists that things need to be better for Muslim women.
There's no single form of feminism and to those feminists who think Muslim women are oppressed and need saving: we've got a thing or two that you can learn from us.
Muslim women are fully aware that we have challenges just like other women, but our faith and our experiences give us motivation, inspiration and new ways of thinking that can push forward more equal, fairer societies in general. After all, that is why we are Muslims, our self-professed goal is to make our world more just.
The sexualisation that saturates our public space is toxic. The idea of modest dress or behaviour is worth considering. So many women – Muslim and not – who adopt modest dress say that it empowers them, they feel relief and freedom from sexualised imagery. There's food for thought here, even if you don't agree.
The "male gaze" that pervades our print, film and public discourse is challenged by feminists. But because of the female-only spaces created by Muslim women we can take advantage of the opportunity to see how our notions of beauty and behaviour can change and flourish under a female gaze.
Ideas that Muslim women uphold around the division of public and private space can offer fresh thinking to the challenges of invasion of space and ownership of female bodies.
Personal space, a zone that is completely forbidden for someone to enter without permission, is highly important, with strict rules governing it. It is focused around the person and who they interact with rather than a physical space, which currently governs how we define space.
The rights, respect and support for mothers is one of the most challenging arenas. It's all well and good to talk of the end of sexism, but without an elevation and respect for motherhood and the practical support it requires, alongside respect and support for fatherhood, disparities kick in immediately. The huge importance that Islam places on being a mother and the centrality of the family can be an inspiration.
But for me, one of the most important and unspoken issues is to pull both women and men out from being sucked into the vortex of economic production to the detriment of self-development.
Muslim women face many challenges, many severe. We don't have it perfect, we haven't resolved all our issues. But then neither has the wider feminist movement. That's why we are all in it together. But we've got ideas. We've got experiences. We've got inspiration, stories and perspectives.
Our faith returns us to early feminist aims that by removing the structures of oppression we can make life better for women and men, the privileged as well as those at the bottom of the pile. That we happen to identify as Muslims is our entry point into rights, equality and justice. It's a flag we will fly as we march side by side.
Shelina Zahra Janmohamed is the author of Love in a Headscarf and blogs at www.spirit21.co.uk
http://www.thenational.ae/opinion/comment/muslim-womens-role-in-feminism
-----------
Historic: Female MPA presides KP assembly
August 08, 2015
PESHAWAR - For the first time in the history of Khyber Pakhtunkhwa, a female lawmaker belonging to Qaumi Watan Party (QWP) Aneesa Zaib Tahirkheli chaired the provincial assembly session here on Friday.
Due to the absence of Speaker Asad Qaiser and of being vacant seat of deputy speaker since long, MPA Aneesa Zaib Tahirkheli of QWP presided over the KP assembly session.
Aneesa Zaib chaired the session as she was among four in the panel of chairmen chose to lead the house in absence of the speaker and his deputy.
On this occasion, KP Minister for Higher Education, Mushtaq Ahmad Ghani told the house that provincial government has started work on the preparation of a draft package to send it to the President of Pakistan for extending Right to Information (RTI), Right to Service (RTS) and other laws related to Provincial Administered Tribal Area (PATA).
The provincial minister was responding to the point of orders of the Syed Jaffar Shah of ANP and Dr Haider Ali of PTI regarding the extending of Model Universities Act to Malakand Division. They alleged illegal recruitments in the University of Swat, saying the whole district Swat is protesting against the matter.
They said that three months back the provincial assembly had passed a unanimous resolution for the extending of the Model Universities Act to Malakand Division, but it was not implemented. They said that the provincial assembly has granted autonomy to an institution, but an individual has made it hostage.
Dr Haider Ali said that despite the passage of two years in power, the provincial government had failed and massive corruption is going on in universities.
Syed Jaffar Shah of ANP even staged walk out from the house over the issue. However, Provincial Minister for Higher Education, Mushtaq Ahmad Ghani and Irrigation Minister Mahmood Khan persuaded him back to the house.
Sikandar Hayat Khan Sherpao, the parliamentary leader of QWP stressed the need for uniformity in laws of the country. In response to the speeches of legislators, Mushtaq Ghani told the house that the provincial government has already sent a summary of the removal of the vice chancellor of the University of Swat to the chancellor. However, he said the vice chancellor has made a commitment that as he is retiring within a period of three months and will not indulge in any illegality during the period.
Anisa Zeb Tahirkheli on this occasion directed the Minister for Higher Education to raise the matter of the summary with the governor and report to the house next week.
Meanwhile, the matter of the scrutiny of local and foreign non-governmental organizations was referred to the standing committee on social welfare of the house.
The matter of the registration and non-issuance of no objection certificate (NoC) to them was also raised by Syed Jaffar Shah of ANP. He said that 75 international NGOs are working in the country. But, home department is not allowing it to work in the flood-affected areas.
Debate on University of Swat was continued when Fazal Elahi of PTI pointed out the lack of quorum. To which the presiding officer directed count and after finding the house in disorder he adjourned the proceedings of the house till Monday 3pm.
http://nation.com.pk/national/08-Aug-2015/historic-female-mpa-presides-kp-assembly
-----------
UP couple claims Indian girl Geeta in Pakistan is their daughter
August 08, 2015
Lucknow: A couple from a village in Uttar Pradesh's Pratapgarh district has claimed that the deaf and mute Indian girl stuck in Pakistan for about 14 years is their daughter.
According to Anara Devi and her husband Ramraj Gautam of Thammohan village under Maheshganj police station here, the girl, addressed as Geeta in Pakistan, is their daughter Savita who went missing since 2004, IG Law and order A Satish Ganesh said here.
Devi claimed she had left the then four-year-old daughter with her brother Narain Das in Chhapra district of Bihar in 2004, the IG said. She said that a few days later, Savita went missing and a report was also lodged with the police station concerned, Ganesh said.
Devi claimed that she first recognised the girl on news channels, which showed her being looked after by a social welfare group in Pakistan, and approached the Maheshganj police station. She also informed the Pratapgarh DM and SP about it,she said.
http://nation.com.pk/international/08-Aug-2015/up-couple-claims-indian-girl-geeta-in-pakistan-is-their-daughter
-----------
Indonesian Political Parties Overlook Women Candidates In Local Elections
August 08 2015
The upcoming simultaneous election for regional heads on Dec. 9 will soon become another male-dominated election in the country, as only a small number of women have received support from political parties to run as candidates in the elections.
Data from the General Elections Commission (KPU) shows that 825 candidate pairs have signed up to participate in the upcoming simultaneous elections, which will be held in nine provinces and 260 regencies and municipalities, by the time it closed the second and final round of candidate registration period on Monday.
The data also shows that only 57 women have signed up as a mayoral, regent or governor candidates, while 61 others registered as deputy mayor, deputy regent, or deputy governor candidates.
In total, only 118, or 7 percent of the total 1,650 aspiring participants for the upcoming local elections are women.
In East Nusa Tenggara (NTT), the planned nine local elections in the province have only attracted the participation of one women candidate, namely Maria Geong who will run for the deputy regent post in West Manggarai regency with regent candidate Agustinus Ch. Dulla.
The pair has been jointly endorsed by the Indonesian Democratic Party of Struggle (PDI-P), the country's largest political party, and the NasDem Party, which made its maiden participation in legislative elections last year.
Speaking to The Jakarta Post on Thursday, NasDem lawmaker Johnny G. Plate said the party had previously tried to endorse several women candidates for several local elections in the province. However, popularity surveys showed that they have a slim chance of winning the elections.
"We once tried to nominate a woman to run in the Ngada regional election. However, after considering the results of a survey on the candidate's electability, we finally decided to replace her with a male candidate," Johnny said.
The final decision to nominate candidates, Johnny added, rested with the members of the coalition of political parties that nominates them. As a relatively small party, NasDem, according to Johnny, will of course endorse popular candidates to increase their chance of winning the elections.
"The challenge for NasDem in nominating women as regional head candidates, in the end, was their relatively low popularity and our limited political threshold [to nominate candidates in a region]," he said.
Meanwhile in West Sumatra, Rahmi Brisma, who registered as a deputy mayoral candidate for the Bukittinggi mayoral election, is the only women among 84 participants in the province's upcoming 14 local elections.
Rahmi, a property businesswoman, used to serve as the Bukittinggi Regional Legislative Council (DPRD) councillor for the 1999-2004 and 2004-2009 terms, representing the National Mandate Party (PAN).
In the mayoral election, Rahmi and mayoral candidate Harma Zaldi, however, have been jointly endorsed by the Golkar Party and NasDem. "Six weeks before the candidate registration period, PAN's Bukittinggi branch decided to support our nomination, but finally quit at the last minute after the party failed to get a coalition partner to support us. In the end, Golkar and NasDem agreed to back up our nomination," Rahmi told the Post on Friday.
Indonesian Women Coalition (KPI) activist Tanty Herida blamed political parties for their failure in grooming female cadres and for allegedly maintaining the tradition of 'political dowries' in election candidate selection.
"This [dowry] practice is indeed difficult to prove but it has been a public secret that political parties nominate figures capable of preparing billions of rupiah as ammunition," she said. - See more at: http://www.thejakartapost.com/news/2015/08/08/political-parties-overlook-women-candidates-local-elections.html#sthash.BeVo1m6e.dpuf
http://www.thejakartapost.com/news/2015/08/08/political-parties-overlook-women-candidates-local-elections.html
-----------
Viral video sets off debate over harassment of women in Saudi Arabia
August 7, 2015
DUBAI, United Arab Emirates — In a minute-long video uploaded to YouTube last month, two young Saudi women walk along the waterfront promenade in the kingdom's Red Sea city of Jiddah as a group of young men jeer and follow them until the women become visibly agitated.
The video went viral and set off a rare public debate on the rights of women in a country which distinguishes itself as an Islamic state that upholds one of the strictest segregations of the sexes in the world.
Rights activists and commentators lambasted the men in the video for sexually harassing the women, who wore traditional black flowing robes known as abayas, along with face veils. Public outrage, expressed in the media and online, prompted a police investigation, and state-linked media reported that six of the boys involved were detained and questioned.
Then things took a sharp turn.
Days later, another video emerged, purportedly of the same two young women. It was shared on semi-official news websites and carried on websites of privately owned channels such as Rotana TV, which suggested it had been recorded just before the women were accosted.
In that video, the women are riding a quad bike on the promenade as the young men watch. One of the women tosses toward the men an "agal," the black rope worn by Saudi men over their traditional checkered headcloths. The young men break out in laughter and hooting at the gesture.
Suddenly, the women were no longer seen as victims by viewers who accused them of being "indecent" and provoking the men.
Though men and women in Saudi Arabia work alongside each other in places such as banks and hospitals, unmarried men and women are prohibited from socially mixing — in both public and private — and women adhere to an ultraconservative dress code that often includes the full face covering.
Saudi women are not allowed to drive cars, and riding a quad bike is no less offensive in the more conservative provinces. But in Jiddah, the kingdom's cosmopolitan hub and seaside gateway for millions of Muslim pilgrims, some women do not cover their hair and the abayas are not always black. There are walkways where men and women, in sporty black robes, can stroll briskly alongside one another — public spaces that do not exist for average Saudi citizens in the capital, Riyadh.
Judicial adviser Yehia al-Shahrani told the state-linked Sabq news website he believes the women acted in a "seductive and tempting" manner. He said it would be unjust to investigate and possibly refer the men to trial "without taking the same deserved action against those who seduced and aroused this to happen, which are the two girls."
He also blamed the young women's parents for allowing their daughters to be in a public place around young men.
The debate that emerged from the videos is significant — both for bringing the issue into the spotlight and for exposing struggles Saudi women face in public.
The Justice Ministry says 3,982 cases of sexual harassment were registered over the last two years. However, that figure also includes cases of sexual assault and abuse, since there is no legal definition of what constitutes sexual harassment in Saudi Arabia.
Saudi women's rights activists and liberal pundits claim sexual harassment is all too common in the kingdom and are calling for a law that would criminalize such behavior. Regardless of whether a Saudi woman even shows her face, she is seen as "just a subject to harass," activist Tamador Alyami told the Associated Press.
"Harassment is something you see on a daily basis," she said. "It's expected and accepted. That's how common it is. It only makes controversy when it's caught on camera."
Social media and YouTube have carried videos from across the kingdom that appear to show women being harassed. In one, from the central city of Taif, a young woman is aggressively followed by several young men as she walks near a shopping center.
Police said two men were arrested afterward, though neither the girl nor her family reported the incident.
Though Saudi women were granted the right to run and vote in municipal elections, due later this year, their lives are still dominated by their male relatives. Under "guardianship laws," women need the permission of male relatives, usually the father or husband, to travel abroad or work, and many private hospitals require such permissions for women to undergo medical procedures.
Many within the powerful clerical establishment argue that male guardianship protects women and say that if women were allowed to drive cars, it would expose them to sexual harassment, among other sins.
Jiddah-based commentator and writer Khaled Almaeena says these restrictions have ultimately failed to protect women. He says religious education should emphasize basic Islamic fundamentals of right from wrong.
Almaeena is among several public figures who have called on the consultative Shura Council — which last year for the first time had women appointed as members — to recommend an anti-sexual harassment law to the cabinet and King Salman for approval.
Another backer of the initiative, Shura Council member Thuraya Ebrahim al Arrayed, said that in the absence of a law, the definition of what constitutes harassment is broad and penalties for sexual abuse and rape are left to the wide discretion of the judges interpreting Islamic law.
A law would "clarify the details because it would punish any harassment, whether it is sexual assault of minors or adults, including that of children and minors inside and outside their home," she told the AP.
But discussion within the Shura Council for a bill against all that encompasses "sexual harassment" was shelved last year by members who argued it could encourage women to go out in more provocative attire and mingle with men. The proposed bill remains with the council, pending further action.
In the absence of legislation, it is unclear on what grounds the harassers in the videos from Jiddah and Taif could be prosecuted, though there are broad laws against disturbing public order and violating Islamic codes of conduct that have been used in past cases.
Some argue Saudi Arabia's morality police, the muttawa — also known as the Commission for the Protection of Virtue and the Prevention of Vice — should enforce segregation of men and women more vigorously, particularly in places like the Jiddah promenade.
Almaeena says norms, such as those requiring that women be accompanied by male guardians when they go for a walk or run personal errands, have backfired, fostering negative attitudes toward women among men from an early age.
"It's a mindset," he said. "They [men] are not taught to respect women right from the house."
http://nypost.com/2015/08/07/viral-video-sets-off-debate-over-harassment-of-women-in-saudi-arabia/
-----------
Pakistan's Biggest Child Abuse Scandal Jolts Punjab
August 08, 2015
GANDA SINGH WALA - Punjab's leading child protection official has called for a federal inquiry into 'the largest-ever child abuse scandal in Pakistan's history' after the discovery of 400 videos recording more than 280 children being forced to have sex. Most of the victims were under 14 but include a six year old boy who was forced to perform a homosexual act and a 10 year old schoolgirl who was filmed being molested by a 14 year old boy.
Videos of these assaults were filmed and thousands of copies are believed to have been sold for Rs50 each in Hussain Khanwala village in Kasur district. One of the victims said he was injected in the spine with a drug before he was assaulted.
The scale of the scandal emerged earlier this week after the victims' parents clashed police during a protest against their failure to prosecute the men who orchestrated the scandal. Two dozen people were injured when police used force to disperse more than 4,000 protesters on the Dipalpur Road near Dolaywala village in Kasur district on Tuesday who were calling for justice for the victims.
They have claimed that local police have tried to cover up the scandal and that the perpetrators have used their influence to avoid being charged.
Saba Sadiq, head of Punjab's Child Protection Bureau, described the case as "the largest-ever child abuse scandal in Pakistan's history" and said a provincial inquiry announced by the chief minister "would be taken up at federal level to safeguard the children rights in future."
The number of victims in this child abuse ring is almost three times higher than in the case of Javed Iqbal in the late 1990s when around 100 children were sexually abused and murdered in Lahore. Saba Sadiq said the provincial government would change the law to ensure "vigorous punishment for such criminals."
So far only six alleged abusers have been arrested, five of whom have been remanded in custody but according to parents of the victims the abuse was orchestrated by a gang of up to 25 young men and teenagers led by two men in their 40s.
The gang arranged the abuse, perpetrated it in many cases, and then used the videotapes of the assaults to blackmail the children and their families to hand over millions of rupees. Many of the children stole gold ornaments from their parents to pay off their abusers to keep their ordeal secret.
The abuse began in 2006 and continued until one year ago, police said. They have seized more than 400 videos depicting the assaults, and many of the parents have identified their children as victims in the films. Some of the clips showed that some of the victims were abused for more than an hour.
In one clip five to six young men are seen molesting a seven-year-old boy. The 'producers' recorded the videos at different locations – in the open fields, washrooms, bedrooms, and at deserted houses.
"We have arrested six persons after registering six separate cases against them on the complaints of the victims. Five of the accused are on physical remand while the sixth has obtained pre-arrest bail," District Police Officer Rai Babar Saeed told The Nation.
He said the police seized the videos for evidences. "I don't know why they made videos and what was their agenda? Police are investigating," he added.
Police sources said the main suspect had been released after a Rs5 million bribe was paid on his behalf and victims families said they had been subjected to pressure by a local political figure to withdraw the allegations.
One mother aged 35, said she had to sell her gold ornaments to pay Rs 600,000 to the blackmailers for the videos of her 14 year old son being abused to be erased. "They made the video of my son in 2011. We have been paying money to the blackmailers for the last four years. I have seen the videos. It was disgusting and shameful," she said with tears rolling down her cheeks. "We are seriously thinking to set our houses on fire and leave the locality."
A 10-year-old said he was taken to a haveli by the gang at gunpoint. "After being brutally tortured, I was administered "spinal injection" and I was dozing when five to six men molested me one by one," he said.
The police have arrested a 13-year-old boy for having sex with another child. His mother said her son is innocent because he committed the crime under duress. "They (producers of the clips) not only molested the children themselves but they also asked the victims to rape each other on camera," she told The Nation.
"Everyone in this village is a victim. Our children both boys and girls are raped and blackmailed," said another victim's mother.
Another boy said he was molested by the same gang in 2006. "I was just nine years old when I was abducted and taken to a deserted house. I was brutally tortured when I offered resistance. Then they administered a spinal injection. I was raped multiple times by several men at gunpoint. I decided not to tell anybody.
Six months later, the accused showed me the video clips when I refused to perform sexual acts on camera again. It was horrible," he said. The family of a ten year old girl forced to perform a sex act in her school uniform said they had paid a million rupees to their blackmailers but they had not erased the video.
Another villager said the gang had sold videos of the children to gay porn sites operating from the UK, USA, and Europe. One victim said he once heard one of the gang leaders talking on Skype to a customer abroad. "Once I saw, Shirazi was talking to someone on Skype. He was talking about the videos of children and money in return. They were collecting a huge amount in dollars from the dealers abroad," he said.
One villager who led the campaign to expose the scandal told The Nation he had been warned he would be killed if he did not withdraw his claims. On Thursday night, he was picked up by police when he was returning home from Lahore. The police used his mobile phone and contacts to force the activists to cancel a protest demonstration scheduled for Friday.
http://nation.com.pk/national/08-Aug-2015/country-s-biggest-child-abuse-scandal-jolts-punjab
-----------
URL: https://newageislam.com/islam-women-feminism/four-families-claim-geeta-their/d/104213