New Age Islam News Bureau
21 Feb 2017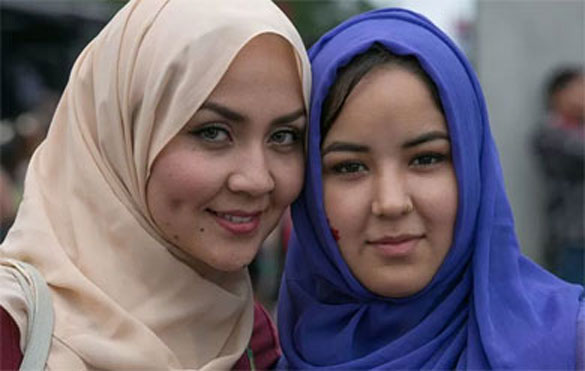 World Hijab Day (Picture: Getty)
----
• Women Named To Head Saudi Bourse, Major Bank
• Eastern Libyan Ban on Women's Travel without Male Guardian Mocked
• Muslim Women Offer Sweet Alternative as Way of Getting To Know Neighbours
• Palestinian Women Workers Abused In West Bank Colonies
• Hina Shahnawaz's Murder Shows Pakistani Men Won't Let Women Break Free Of Social Norms
Compiled by New Age Islam News Bureau
URL: https://www.newageislam.com/islam,-women-and-feminism/new-age-islam-news-bureau/founder-of-world-hijab-day-shares-what-wearing-the-hijab-really-means-for-women/d/110154
-------
Founder of World Hijab Day shares what wearing the hijab really means for women
21 Feb 2017
The hijab is a head covering that many of us have seen Muslim women wear.
Those who don't have knowledge of what it means may believe that wearing the covering is a symbol of oppression. However, this couldn't be more incorrect.
The word hijab means 'barrier' or 'partition' – however, in Islam, the covering holds a wider meaning. Wearing the hijab is part of the principle of modesty and privacy, that includes behaviour as well as dress, for both men and women.
Nazma Khan, the founder of World Hijab Day, said that she started wearing the hijab when she was eleven.
MORE: The first ever Muslim-friendly 'modest' fashion show is taking place in London
'No one actually told me to wear the hijab. I made that conscious decision at an early age when I saw how beautiful and elegant my mom, sister, and grandmother looked in their hijabs.'
Many may believe that those who wear the hijab were made to wear it, or that they don't want the head covering as a part of their lives. However, Nazma was never against wearing it.
After 9/11, increased levels of discrimination meant that some Muslim women felt too afraid to go out wearing the hijab. 'I took the hijab off for one day right after 9/11,' Nazma said. 'But I felt an out of body experience without my hijab. I felt incomplete and dead inside. So, I decided to put the hijab back on the next day and never looked back.'
The act of wearing the hijab each day means many things to Nazma. 'The hijab makes me feel empowered, by putting forth my faith and being identified as a Muslim woman.'
It also provides guidance on how Nazma wants to behave. 'Every day, hijab gently reminds me to be modest, kind, and honest in my dealings with the world.
'The hijab also serves as a self-awareness that there's a bigger purpose in life which I need to work toward every day in order to make this world a better place. It's a fulfilling reminder.'
Is the hijab oppressive, as some believe? Far from it. 'I see the hijab as a symbol of freedom because with it, I no longer have to comply with the expected standards of the society showcased by magazines, TV, or celebrity lifestyles.
'Hijab gives me the freedom to set my own standards to live up to without worrying about what the world has to say, which is to me is extremely liberating!'
Those who are confused about what the hijab means can talk to the Muslim women who wear them. 'Don't be afraid to ask Muslim women how they feel in their hijab. You'll get to hear the truth from the direct source.'
When asked if she'd get into trouble if she stopped wearing the hijab, Nazma's response was an emphatic 'No!'
'Islam honors me as a Muslim woman to have the right to choose and have free wills.
'The Quran clearly states, "Let there be no compulsion in religion." (2:256). Forcefulness is indisputably against Islam.'
World Hijab Day, which is held every year on 1 February, invites women to wear the hijab for a day. Nazma created the event to raise awareness of what it means to wear the covering. 'The best way to understand someone's pain or joy is to walk in their shoes for a moment.
'Asking women to don the hijab for a day serves the same purpose.'
To make World Hijab Day a year-long programme, donations can be made at LaunchGood to support the battle to end bigotry, discrimination and prejudice against Muslim women.
http://metro.co.uk/2017/02/21/founder-of-world-hijab-shares-what-wearing-the-hijab-really-means-for-women-6461954/
-------
Women named to head Saudi bourse, major bank
20 February 2017
RIYADH: Women have been named to head Saudi Arabia's stock exchange and a major bank, the institutions announced, despite the kingdom's social restrictions on females.
Samba Financial Group on Sunday said Rania Mahmoud Nashar had begun work as chief executive officer.
The announcement came three days after the Saudi stock exchange, known as Tadawul, named Sarah Al-Suhaimi as chairman of its board.
While other Saudi women have already assumed corporate leadership positions, their rise comes against some of the world's tightest restrictions on women.
Although the government no longer requires guardian permission for women to work, activists have said many employers still demand guardian consent in order to hire a woman.
In a notice to the Saudi stock exchange, Samba said Nashar had almost 20 year's experience in banking and had followed an "executive career" program at Samba.
Samba also said that Nashar was the first Saudi woman certified as an anti-money laundering specialist by a respected American association of experts who combat financial crime.
Her appointment as CEO followed the resignation of general manager Sajjad Razvi for personal reasons.
Tadawul's Sarah Al-Suhaimi is the CEO of NCB Capital, the investment banking arm of National Commercial Bank.
She was the first female head of a Saudi investment bank when named to that post in 2014, according to Bloomberg News.
It said she is expected to remain at the bank while leading Tadawul, the Arab world's largest bourse.
As part of a wideranging social and economic reform drive to cope with fallen oil revenues, Saudi Arabia is trying to get more women working.
In the third quarter of last year the unemployment rate for Saudi females was 34.5 percent, compared with 5.7 percent for Saudi males, according to figures cited by the firm Jadwa Investment.
By 2020 the Islamic kingdom wants to boost the proportion of women in the job market to 28 percent from 23 percent last year.
http://www.arabnews.com/node/1057106/saudi-arabia
-------
Eastern Libyan ban on women's travel without male guardian mocked
RAMI MUSA | AP
21 February 2017
BENGHAZI: Eastern Libyan authorities have issued a ban forbidding women from traveling outside the country without a male guardian, sparking mockery.
The decision was issued Thursday by the Libyan Chief of Staff Abdel-Razek Al-Nadhouri, the military ruler of eastern Libya. He was appointed by army chief Khalifa Haftar who is allied with the internationally recognized Parliament.
Airport authorities said the decision has not been put into effect.
"It is ridiculous that in 2017 we discuss if it is OK for women under 60 years to travel without a guardian male who might be 20," activist Imam Bugaighis tweeted.
One satirist made a song called "I can be your mahram baby," a Libyan version of Enrique Iglesias' "I can be your hero baby." Mahram is a term that refers to a male guardian.
In a separate development, a convoy carrying Libya's contested unity government chief, Fayez Al-Sarraj, and other top officials came under heavy gunfire Monday in Tripoli, but they survived unharmed, spokesmen for his administration said.
"The convoy of GNA (Government of National Accord) chief Fayez Al-Sarraj ... came under fire as it passed near the Abu Slim sector of Tripoli," said spokesman Ashraf Al-Thulthi.
"All the cars were armored-plated, and there were no injuries," he told AFP, adding an investigation was underway to identify the assailants.
Mohamed Salem, a spokesman for the supreme state council, said its head, Abdel Rahman Al-Swehli, was also in the convoy as well as presidential guards chief, Najmi Al-Nakou.
The convoy came under "intensive gunfire" in eastern Tripoli and two guards were wounded, according to Salem.
Libya has been submerged in chaos since the fall and slaying of longtime dictator Muammar Qaddafi in a NATO-backed 2011 armed uprising.
Sarraj's fragile GNA, formed under a UN-backed deal signed in late 2015, has struggled to impose its authority, particularly in eastern Libya where a rival administration holds sway.
http://www.arabnews.com/node/1057431/middle-east
-------
Muslim women offer sweet alternative as way of getting to know neighbours
February 20, 2017
Victims of Islamophobia across Waterloo spoke out on Monday in hopes of building bridges with community with their act of kindness.
This comes after police said there has been an uptick in hate-related calls.
The Muslim group of women offered the sweet alternative of offering baked cookies as a way of getting to know their neighbours. The cookies were handed out across the region on Family Day.
"This campaign is to help people to go from not knowing us to knowing us, to knowing we are just average people living in the community like everyone else," said Fauzia Baig, the organizer of the event.
"One of the things we see locally is really we start to see the uninformed, so we see inappropriate comments. We see hateful comments," said Bryan Larkinwith the WRPS.
He said it involved comments like: "go back to your own country".
"It is very hurtful. I've lived in Canada my entire life. I work really hard. I contribute," said Baig.
She hopes that these small gestures will help bring everyone together.
Police said if anyone experiences or witnesses any form of hate to call them. They said raising awareness about different cultures is important.
http://kitchener.ctvnews.ca/muslim-women-offer-sweet-alternative-as-way-of-getting-to-know-neighbours-1.3293733
-------
Palestinian women workers abused in West Bank colonies
February 21, 2017
Ramallah: Palestinian women from the West Bank are being forced into servitude as maids in Israeli colonist homes despite being originally recruited to work on farms in the fields of the colonial area by Palestinian job agencies, according to Palestinian officials.
The women's financial needs make them easy prey for these employers and Palestinian agents, they say.
"Those women were originally recruited to work in agriculture, but they are forced to work as maids and in the event, they refuse to do that, they are fired and never granted any further colony work permits," said Shaher Sa'ad, secretary general of the Palestine General Federation of Trade and Labour Unions.
This problem is made worse because some West Bank women who are recruited to work in agriculture can enter the colonies without holding entry permits from the security companies who guard the colony entrances because they pass through the colony gates in their employers' vehicles.
"The Palestinian National Authority or PNA does not have any supervision due to this direct colonist employer-employee relationship," Sa'ad told Gulf News. "Palestinian women are therefore victimised by the colonist employers and their Palestinian agents mainly in their salaries and the nature and hours of their work."
While the payment of a Palestinian female worker is supposed to be $53 per day, this payment is made by the colonist employer to his agent--not directly to the women workers. Thus, the broker only pays the female worker $21 and keeps the rest. "This is pure slavery as West Bank women workers are not supposed to and have never agreed to work as household maids," said Sa'ad. "The PNA, the Palestinian government and syndicates should monitor and supervise the deteriorating conditions of the women workers in the West Bank colonies."
The PNA and all its bodies view the Israeli colonies in the occupied Palestinian territories as illegal so they refuse to intervene regardless of the mistreatment taking place there against female workers. "This attitude leaves the women workers easy prey for the Israeli colonist employers and their agents who take advantage of the women's needs the most," he said. "Furthermore, the Israeli lawyers who usually handle women's labour issues and disputes take advantage of the women by overcharging for their services."
The Palestine General Federation of Trade and Labour Unions receives daily complaints from women workers in West Bank colonies where the federation advises the plaintiffs to hire one of 11 recommended Palestinian lawyers from inside the Green Line, he said, adding that those lawyers will take a certain percentage of what the workers receive.
According to Sa'ad a total of 2,800 to 3,500 Palestinian women currently work inside Israeli colonies, mainly in agriculture, with the number of female workers rising to as many as 7,000 during the harvest seasons.
http://gulfnews.com/news/mena/palestine/palestinian-women-workers-abused-in-west-bank-colonies-1.1981939
-------
Hina Shahnawaz's murder shows Pakistani men won't let women break free of social norms
REEM WASAY
21 Feb 2017
Work and what it means for the female franchise — independence in industry, social emancipation, progress from our primitive psychology and a need to be better than the women before us — has belittled and disturbed the fragile foothold that patriarchy enjoys pummelling over our necks.
It designates a sense of purpose and realisation of identity, which has long been denied the women and girls of Pakistan. It makes them just as important (if not more) as men.
Hina Shahnawaz was finding her place of dignity and economic purpose, her role in the bigger picture. At the age of 27, this Kohat native worked for an NGO and earned a sizeable income due to sheer hard work and a mind that wanted to be more than the social mores around her.
The main breadwinner for her widowed mother and sister-in-law, Hina traversed the backlands of communal contempt and did not get married, did not sit at home and did not wait for rescue; she became 'the man' most men around her simply could not be.
In a patriarchy as blemished and contorted as ours, those are values that disfigure the status quo. The potential and perseverance with which Hina went out into the world now lies riddled with four bullet holes, a shadow play on the intimidation and fear under which Pakistani women still seek a more promising future.
It is a story all too frequently told: killed by her paternal cousin for either a) working and emasculating him and others from the male side of her genealogy or b) refusing to marry that same cousin. Hina had a Masters degree in Philosophy; the cousin, it is reported, had not studied beyond 10th grade. Hina wanted better for herself.
It is a tale all too often spun: when women dare thrash about in the unchartered waters of financial freedom there will inevitably be blood in the water and a feeding frenzy will follow. Qandeel Baloch was 2016's loudest and brashest case of honour killing. Hina Shahnawaz's will undoubtedly be 2017's saddest. Both women belonged to that untouchable realm of confident resurgence, a progressive place that looks patriarchy in the eye and laughs at it.
It is a grey line that colourblinds our men but brightens our femininist aspirations. It is dangerous territory and too many women have been paying the price for treading too far out under a disapproving male gaze. And all too many women have fallen between the cracks, killed and never acknowledged because their murders are never reported. It is, after all, a matter of 'honour'.
It is important to recognise the real monster here: the musky, sweat-stained smut of honour and haaya is but a contestant in this competition of carnage; women are being killed because the space afforded to outrage against this butchery is being compressed and deflated.
Left simply to the online warriors of social media campaigning and silent strokes of the battling keyboard, only a well-intended niche crowd of Facebook and Twitter users gets to understand the consequence of this crime, the complex cruelty of these bloodied beliefs. They type and they argue, claim and exclaim but they cannot conquer the dominion of the dogmatic.
It is out on the streets that these crusades must be won, that these assaults must be accounted for. Only when the pulpit and the puritan are brought together to defend the autonomous and the female will there be a change in the statistics of the 'honoured' and forgotten. When men are told what they do, how they think, who they blame and what they commend is wrong will they begin the hundred-year process towards self-growth and personal evaluation.
It is our institutions that do not do enough. Our courts, our thaanas, our own communal hunting grounds still canonise this cruelty, still believe in keeping our bodies in check. It is the most basic, most demeaning form of regulation — of our anatomies and our abilities. And it is a travesty of justice, a deftly signed treaty of humiliation.
The clan-like alliance of our men is a predisposed patronage of tribal patriarchy. It seeks a social wealth of gender isolation where the male is all powerful and the woman/girl is always at their mercy. Honour is a very flimsy thing in today's world where permission is not sought and freedom is taken, where women make decisions and not babies, where the male ego has been neutered.
Hina Shahnawaz was no doubt a satisfied woman, an unbreakable reminder that women like her have gone much further than the archaic incompetencies of men. No hole in the wall can contain the female spirit when it decides to persevere; no prototypal Pakistani man can disembark from these winds of change. He can snuff out lights like Hina but he cannot sentence further the suppressed of centuries old who are finally breaking free of his chains.
http://www.dawn.com/news/1316071
-------
URL: https://www.newageislam.com/islam,-women-and-feminism/new-age-islam-news-bureau/founder-of-world-hijab-day-shares-what-wearing-the-hijab-really-means-for-women/d/110154
New Age Islam, Islam Online, Islamic Website, African Muslim News, Arab World News, South Asia News, Indian Muslim News, World Muslim News, Womens in Islam, Islamic Feminism, Arab Women, Womens In Arab, Islamphobia in America, Muslim Women in West, Islam Women and Feminism, Moderate Islam, Moderate Muslims, Progressive Islam, Progressive Muslims, Liberal Islam