New Age Islam News Bureau
19 Oct 2015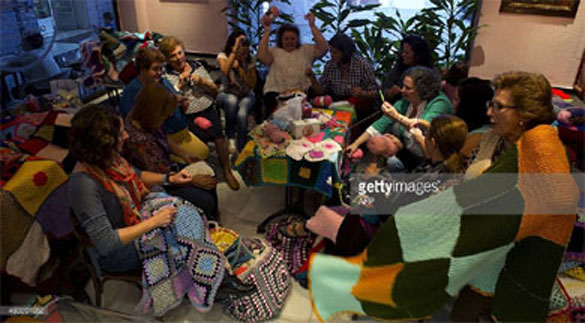 Working at home or huddled together in cafés, women of all ages across Spain have furiously knitted hundreds of blankets to send to war-torn Syria before cold weather begins
--------
• Former First Lady of Benue State Yemisi Suswam Escapes Death by Stoning in Abuja Narrowly
• Female Suicide Bombers Launch Deadly Attack in Nigeria
• Women Take a Hit in Taliban Takeover of Kunduz
• Extraordinary Picture Shows Drunk, Burqa-Clad Woman Passed Out In A Saudi Street
• Spanish Women Knit Blankets for Syrians
• Veiled Prejudices: Muslim-Canadian Women Speak Out On Niqab Debate
• Marine to Launch First Afghan Women's Water Polo Team
• Broadcast Of Old Clips Blatant Maligning Tactic: Dr Nafisa Shah
Compiled By New Age Islam News Bureau
URL: https://www.newageislam.com/islam,-women-and-feminism/new-age-islam-news-bureau/former-first-lady-of-benue-state-yemisi-suswam-escapes-death-by-stoning-in-abuja-narrowly/d/104978
---------
Former First Lady of Benue State Yemisi Suswam Escapes Death by Stoning in Abuja Narrowly
Soonest Nathaniel 19 Oct 2015
The wife of the immediate past governor of Benue state, Gabriel Suswam narrowly escaped death by stoning in Abuja, on Sunday, October 18, following an attack by traders.
Daily Post reports that Yemisi Suswam was held hostage for hours by some traders who accused her of conniving with the authorities of the Federal Capital Development Authority (FCDA) in extorting money from them and denying them access to the shops they duly paid for.
Investigations reveal that the traders in question had made payments for shops at the Wuye ultra modern market, but were denied access to their shops.
Chief Ifeanyi Ezejim, the chairman of association of Wuye ultra modern market allottees said, the traders paid various amounts of money ranging from N2,000 to N8,000 as allocation fee to the FCDA.
According to Ezejim, the protest was informed by the order of an Abuja High Court, which had asked the FCDA to declare the statutory fees for the shops, an order which was not carried out by the FCDA.
The chairman charged the FCDA authorities to give the traders the statutory fees which would allow them pay and move into their shops as to begin business in earnest.
He said: "We have gone to the FCDA and they did not say that we have no allocation here.
"They did not say we did not pay for allocation of shops here even though we are hearing rumour here now that FCDA said that we did not pay anything.
"We are telling them here that 'give us the statutory fee so that we pay and continue our businesses'.
"The court has even told the FCDA that give these people the statutory fees so that they can pay and they are not ready to do it.
"We have so far paid what is required of us but we are talking of the statutory fees now."
Yemisi Suswam is allegedly the major financier of the All Purpose Shelter Development Company, a firm which reportedly developed the market.
It would be recalled that in 2011, a report by Sahara reporters claimed that Mrs. Suswam duped Benue Women-Premier Magazine.
The allegation was based on an investigation by the Premier, in which the ex-first lady of Benue state allegedly mismanaged certain funds meant for the hosting of the fifth edition of celebrate Benue women.
https://www.naij.com/608944-former-governors-wife-escapes-death-stoning.html?utm_campaign=traqli&utm_source=traqli&utm_medium=traqli&source=traqli
------
Female suicide bombers launch deadly attack in Nigeria
19 October 2015
Two female suicide bombers killed at least 11 people in northeast Nigeria after hiding among residents fleeing a suspected Boko Haram attack on a remote village, police and a local official said on Sunday.
The attack happened in Dar village, in the north of Adamawa state, on Saturday evening, the former head of the Madagali local government council, Maina Ularamu, said.
Boko Haram has repeatedly attacked the area, which is near the border with Borno state to the north and the Islamists' Sambisa Forest stronghold, prompting calls for better security.
"Residents fled to the bush. After a while, two women who disguised as fleeing locals blew themselves up... while the gunmen shot at survivors," he told reporters.
Ularamu said "so far 12 corpses have been found" but the Adamawa state police spokesman, Othman Abubakar, confirmed 11 dead.
On October 1, seven people were killed in the village of Kirchinga, near Madagali, while four people were killed on September 30 in two other villages close by, both in similar raids.
On September 11, seven people were killed when a bomb went off at a camp for people displaced by the conflict outside the state capital, Yola -- the first time Boko Haram has attacked refugees.
Thirty-one people were killed when two male suicide bombers detonated their explosives at a market in Yola on June 4.
Suicide bombings are fast becoming Boko Haram's preferred method of inflicting mass civilian casualties, accounting for seven of the eight recorded Boko Haram attacks this month in Nigeria.
Increasingly, the group is using two or more bombers, detonating the second or third explosives after people rush to help those caught up in the first blast.
Similar tactics have been seen in Boko Haram attacks in Chad, Cameroon and Niger.
This month alone 101 people have been killed in Nigeria, according to an AFP tally, while nearly 1,370 have died since President Muhammadu Buhari came to power on May 29.
On Sunday, soldiers shot dead a suspected suicide bomber outside the main military base in the Borno state capital, Maiduguri, detonating explosives concealed in her handbag, a civilian vigilante and a military source told AFP.
At least 34 people were killed in a wave of attacks on Thursday night and Friday morning on the outskirts of Maiduguri, while last month 117 died in explosions in the Ajilari Cross area of the Borno state capital.
The military source, who requested anonymity as he is not authorized to talk to the media, said the use of human bombs was a sign of the group's desperation and frustration at a fight-back by troops.
"They are looking for every opportunity to hit back, which is why they have resorted to soft-target attacks on mosques and markets and such attacks on a military base is intended to show the terrorists are still strong," the officer added.
https://english.alarabiya.net/en/News/africa/2015/10/19/Female-suicide-bombers-kill-11-in-Nigeria-.html
---------
Women take a hit in Taliban takeover of Kunduz
October 18, 2015
KABUL - Hiding in her basement, a Kunduz radio presenter was paralysed with fear when the Taliban came looking for her as they conducted house-to-house searches for working women after storming the northern Afghan city.
Long condemned as misogynistic zealots, the Taliban have sought to project a softened stance on female rights, but the insurgents' three-day occupation of Kunduz offers an ominous blueprint of what could happen should they ever return to power.
Harrowing testimonies have emerged of death squads methodically targeting a host of female rights workers and journalists just hours after the city fell on September 28.
When they knocked on the radio host's door, her uncle answered, she told AFP, requesting anonymity due to safety concerns.
"We know a woman in your house works in an office," she said they told him.
"When my uncle denied it, he was taken outside and shot dead.
His body lay in the streets for days - no one dared to go out and get it.
"
Such testimonies hark back to the Taliban's 1996-2001 rule of Afghanistan, when women were relegated to the shadows.
Rights groups say female prisoners in Kunduz were raped and midwives were targeted for providing reproductive health services to women.
Rampaging insurgents destroyed three radio stations run by women, looted a girls' school and ransacked offices working for female empowerment, stealing their computers and smashing their equipment, according to several sources including activists and local residents.
One of their main targets were women's shelters, which give refuge countrywide to runaway girls, domestic abuse victims and those at the risk of "honour killings" by their relatives.
The Taliban have often denounced the shelters as dens of "immorality" and labelled the women who seek shelter there as "sluts".
"Where are you hiding those women from the shelter?" Haseena Sarwari recalled being asked in an abrupt phone call from the head of the Taliban's vice and virtue department soon after they took the city.
"They are safely in Kabul," Sarwari, the Kunduz director of Women for Afghan Women, an NGO which ran a shelter housing 13 women, said she told the insurgent.
"He laughed and said: 'It's good for them they managed to get away'.
" That shelter has since been burned down.
The Taliban tried to project a moderate view on women's rights through informal peace talks earlier this year, where insurgent representatives for the first time sat across the table from Afghan women and even prayed alongside them.
"There has always been a serious disconnect between their vague promises and the behaviour of the Taliban on the ground, where they have continued to threaten, attack and kill women who stepped out of roles of total subservience," Heather Barr, a researcher with Human Rights Watch, told AFP.
"In Kunduz we may have caught a glimpse of how little their pledges to women are worth.
" Sarwari is no stranger to threats from the Taliban, but the married mother-of-two also received an astonishing letter just before the insurgents stormed Kunduz.
Wrapped in a wedding card, the note warned that she would be married off to a Taliban commander.
Sarwari said the threat could not be dismissed lightly.
In some areas overrun by the Taliban, she said insurgents are known to have married off wives of government officers to their cadres, treating the women as spoils of war.
Women who fled Kunduz said the Taliban used a "hit list", including names, photos and mobile phone clips of their targets, sparking fears there had been a large-scale identity theft from the computers and documents stolen from various city offices.
Many received calls and text messages with a clear message from the Taliban: "Don't come back or we will kill you.
"
As Sarwari was fleeing the city in a burqa, she recalls seeing a band of thickset insurgents wrapped in bandoliers of ammunition at Taliban checkpoints, rifling through women's purses for any government IDs and scrolling through mobile phones for contacts.
They also chastised some women for travelling without a male chaperone.
"The Taliban still adhere to the idea that women must submit to men, that they are half-brained, and offer mere ornamental value," Sarwari said during an interview in Kabul.
"The tumult in Kunduz showed us that their medieval mindset has still not changed.
"
http://nation.com.pk/national/18-Oct-2015/women-take-a-hit-in-taliban-takeover-of-kunduz
---------
Extraordinary Picture Shows Drunk, Burqa-Clad Woman Passed Out In A Saudi Street
19 Oct 2015
It is not a picture one expects to see coming out of Saudi Arabia: a Burqa-clad woman, lying down drunk in the streets of the capital.
But ex-pats have revealed how this is not a surprising sight, as young Saudis do drink and take drugs at debauched gatherings - despite their countries strict laws.
Westerners - who themselves admit to wild parties on compounds in the desert state - have lifted the lid on the excesses of their Saudi neighbours, including a growing taste for a drug used by ISIS fighters before they go into battle.
Their claims came as the picture of the 'drunk' woman emerged, apparently collapsed after a gathering held in the capital Riyadh - one of many held in the strictly Muslim country, right beneath the nose of the strict authorities.
It throws into question exactly why British grandfather Karl Andree has been sentenced to 350 lashes for having a few bottles of homemade wine in his car when the authorities are known to turn a blind eye to the excesses of its residents - for a price.
In theory, alcohol is banned. At worst, a person caught with alcohol can be put to death. Most of the time, however, they are sentenced to lashes and time behind bar, like Mr Andree.
However, that doesn't stop people from brewing, buying and consuming alcohol in vast consequences - especially within the walled compounds where westerners live.
'The parties are pretty crazy even by western standards,' one ex-pat told the Sunday Mirror.
Tony, another ex-pat, told the BBC that while the compounds are like 'holiday camps' - but the Saudis were just as likely to be found with a drink in their hand.
'There is quite a drinking culture with the Saudis themselves,' he said.
'Most of the guys that I socialise with have stocks of Jack Daniels and other booze, as well as buying stuff that some of the expats brew.'
They also are known to make their own 99 per cent proof moonshine, made from potatoes, the Mirror's source revealed.
The partying culture is nothing new. Five years ago, Wikileaks revealed how a Saudi prince threw a party for 150 20 and 30-somethings, where booze was flowing freely and prostitutes mingled with the super-rich.
Attendees were protected from the authorities thanks to their host's royal status, according to an American diplomat, the Guardian reported.
The dispatch also revealed a bottle of Smirnoff vodka could fetch as much as 1,500 riyals (£250), while the local version will cost just 100 riyals (£16).
But it doesn't stop at drink: the Mirror's source also revealed how rich young Saudis have got a taste for the Syrian-made drug Captagon - a drug used by ISIS fighters.
It has previously been reported that the drug is used to keep the fighters on both sides of the bloody conflict alert, allowing them to fight for longer.
However, the source claimed: 'Rich young Saudi men love it and it has led to a deadly craze known as Drifting where they speed expensive sports cars up to 100mph and then slam on the hand brake for fun.'
http://dailymail.co.uk/news/article-3278018/How-young-Saudis-drink-despite-country-s-strong-laws-tipple-choice-99-cent-proof-alcohol.html
---------
Spanish women knit blankets for Syrians
October 19, 2015
MADRID - Working at home or huddled together in cafés, women of all ages across Spain have furiously knitted hundreds of blankets to send to war-torn Syria before cold weather begins following an online appeal for help.
Every night for the past week, a team of some 20 women and girls have met in a café in the heart of Villaverde del Rio, a town of white-washed houses near Seville, to finish their blankets.
The group on Friday sent 50 blankets of varying sizes that they had knitted to the Syrian People Support Association, a small NGO in Madrid, which will ship them to camps for displaced people inside Syria.
They usually gather once a week to make blankets for local homeless people but when they learned of the movement to knit blankets to send to Syria they could not resist taking part, said Coral Benitez, a 59-year-old housewife.
"We don't look at colour, nor race, nor religion.
It doesn't matter if we are Catholics and they are Muslims.
We have knitted for people who are sitting in the cold.
"
Over 4,000 people signed up to a Facebook group for people interested in making blankets to send to Syria dubbed "The Blanket of Life" since it was launched at the beginning of September.
They knitted about 1,450 blankets ahead of Sunday's deadline for getting them to the Madrid-based association, said Marta Blanco, one of those who set up the Facebook group.
Blanco, a 44-year-old Madrid architect who has a blog about knitting, set up the Facebook page with two other knitting bloggers on September 4 after learning of the association's appeal for donations of blankets.
Television newscasts at the time were flooded with images of desperate Syrians risking their lives to try to reach Europe and she said he wanted to do something for people who had remained behind in Syria.
"We could buy blankets, everyone has used blankets they could donate.
But the idea is to say 'we have not forgotten you, we know there is a war and you are suffering'.
It's not just about giving shelter," she said.
Within days of being set up, the Facebook group had attracted over 1,000 members.
Local chapters of the group were set up in about 50 Spanish cities, charged with collecting and sending the blankets to Madrid.
Several hundred blankets were sent directly by knitters to the association's cramped office in a residential street in Moratalaz, a working class neighbourhood in eastern Madrid.
A handful have come from people from outside of Spain - the United States, Latin America and other European nations - who heard about the initiative online.
"There is a lot of love delivered in each blanket that is here," said Amer Hijazi, president of the Syrian People Support Association as he stood in front of a pile of multi-coloured handmade blankets.
The association, which was founded in 2011, will ship the blankets to Syria at the end of the month.
They will be distributed to several camps in mountainous areas in Idlib province in northwestern Syria where little aid arrives, said Hijazi, 49, who has lived in Spain for 25 years.
The average minimum temperature in the region in January is just above freezing.
"The only means they have to warm themselves are their clothes and blankets.
This is why blankets are so important," said Hijazi at the association's office where a Syrian flag is hanging up.
Each blanket will be wrapped in plastic with a label in both Spanish and Arabic that reads: "We Are With You".
Four million people have fled the war in Syria and another 6.
5 million are displaced inside Syria itself, according to the UN refugee agency, UNHCR.
Members of the Facebook group have posted pictures of themselves knitting with others in outdoor squares, at home with their families sitting on the sofa or alone proudly holding up their finished blankets.
"I saw the images of the refugees, those parents with their children fleeing war and it seemed very painful.
I thought that could be me," said Olga Lopez, a 48-year-old Madrid mother of two teenagers who knitted a blanket together with three co-workers.
"It's a beautiful idea.
A blanket is not much but it was made with much love and I hope some of it reaches these people.
http://nation.com.pk/international/19-Oct-2015/spanish-women-knit-blankets-for-syrians
---------
Veiled Prejudices: Muslim-Canadian Women Speak Out On Niqab Debate
OCTOBER 18, 2015
While other party leaders accuse the Conservatives of dividing Canadians over a minor issue, Prime Minister Stephen Harper is adamant to unveil the truth beyond the niqab and set things straight. He has promised to "look at" extending Quebec's Bill 62 across the federal bureaucracy – supposedly in the name of fostering neutrality – and forbid civil servants and those accessing government services from wearing face-covering veils.
Is Harper trying to scare new Canadians into not voting by publicly attacking minority faiths and traditions? If you're worried about how you look or how you dress, will the desire to mark your 'x' on the ballot be stronger? Is Harper's reference to new/old stock Canadians only one more Conservative strategy to split voters?
Zunera Ishaq went to court to fight and win the right to become a Canadian citizen on her own terms: wearing her niqab during her swearing-in ceremony October 9. And she intends to wear it when she votes October 19. Ishaq considers the niqab a symbol of her religion. It was her choice to start wearing at 15, in Pakistan, against her parents' wishes. No man ordered her to wear it. So, no man should order her to take it off.
Nada, a Muslim woman who immigrated to Canada from Syria in 2000 agrees with that sentiment, although she doesn't view the veil as a religious symbol. "It's a way of wearing clothes. People are free to wear what they want to wear, the same as they pierce their noses, have tattoos."
Dilyana Mincheva of Trent University's cultural studies department says the Koran doesn't prescribe that women must cover their faces or their bodies. "Verses of the Curtain" mentions the veil with regard to the Prophet Muhammad's wives: "Believers, do not enter the houses of the Prophet for a meal without waiting for the proper time, unless you are given leave… If you ask his wives for anything, speak to them from behind a curtain. This is more chaste for your hearts and their hearts."
Mincheva emphasizes that, historically, spiritual and legal authorities of Islam have interpreted those passages from the Muslim holy book as strict prescriptions with regard to female dress code. But "in this particular Koranic passage, the Arabic word 'hijab' means 'curtain' (or physical separation) rather than veiling of the face."
Yet, the veiling of women is not an Islamic innovation but a Persian and Byzantine-Christian custom that Islam gradually adopted and adapted, insisting "on Muslim women's protection and distinction from their Western counterparts."
Mincheva explains that it has become a more pronounced religious identity marker only in the 19th-century when colonialism, feminism, and Western modernity deeply penetrated the Arab and the Muslim world and, along with the political changes, triggered self-affirming Islamic responses.
Bahman and his wife Mina know this all too well. They came from Iran in 2003. Mina's gleaming blonde hair freely falls onto her shoulders.
But Mina had to wear a hijab in public in Iran, which is mandatory, or risk being arrested, according to a law reinstated in 1983. In 2014, London-based Iranian journalist Masih Alinejad initiated an online movement, My Stealthy Freedom, asking for Iranian women's right "to choose whether they want hijab" instead of being forced by law.
Mina hoped Canada would be different: "Harper saying when women shouldn't wear the niqab is as wrong as my country saying that women should cover their hair."
Halima, a Muslim woman from Sarajevo, describes the debate over niqabs as "idiotic."
She came to Canada as a refugee during the Yugoslav wars. That country's former communist regime adopted a law in 1950 banning veiling in the name of liberating women from patriarchy. According to Behar Sadriu, a PhD candidate in international studies at the University of London, many protested the law but 20,000 – 30,000 women were "forced to remove their veils from 1947 to 1950."
While niqabs and hijabs (hair coverings) reappeared on the streets of Kosovo after the fall of communism, a new controversy erupted in 2009 when an order of the minister of education at the time banned all "religious symbols" in public schools. The issue came under the spotlight during the 2013 municipal elections in Kosovo when a Muslim girl was expelled from school for wearing a niqab. Sound familiar?
The Harper government isn't the first in Canada to take issue with people's faiths and dress codes. If covering too much makes the Canadian government nervous in 2015, showing too much made it fume more than 50 years ago. During the 1950s and 1960s, Sons of Freedom, a small but radical group of the Russian Doukhobors religious sect in British Columbia, organized nude protests (among other actions) against land seizures by the government and compulsory education in government-run schools. The government responded by banning public nudity.
Protesters had their children seized by police and schooled in a compound out of reach of their parents. When the survivors demanded an apology and compensation, the BC government needed almost 15 years to issue "a statement of regret."
The Doukhobors didn't vote. They rejected secular governments. But for so-called "new Canadians," many of them refugees or from countries with dictatorships and where it doesn't matter whom you vote for, casting a ballot in their adopted country is even more important.
Nada didn't vote immediately after she became a Canadian citizen. She felt she still didn't know enough about Canadian parties or politics. And the information offered during the election campaigns was never enough: "I read mainly [about issues] targeting the people who are born here and know the life here," she says.
Bahman agrees that new Canadians need to be educated about Canadian politics.
"I know Muslims who'll vote for Harper because they fear the others are too liberal. They don't want a Kathleen Wynne in the federal government."
The ethnic press is of little help, Bahman argues. Most newcomers read mainly community magazines in their own languages, which mainly report on their home countries. "These publications," says Bahman, "should also focus on what's happening in Canada, the country we chose to live in."
Bahman doesn't need any persuading to go to the polls. When he invited his parents to visit from Iran, because there's no Canadian embassy there, they had to go to Turkey to apply for a visa. There they were fingerprinted.
"They spent a lot of money and it was very insulting for me … after I lived in Canada for so many years."
Maria, a Romanian-born professor, is also eager to vote but for different reasons: "As a new Canadian, I must influence the government's attitude towards immigrants. It's [becoming] harder and harder to gain citizenship."
Indeed, the Conservative government's Bill C-24, among other measures, extends the period one has to live in Canada to four out of the last six years (instead of the current three years out of four). "Citizenship is not a right; it is a privilege," citizenship and immigration minister Chris Alexander stated at a 2014 news conference.
A "right" that comes with the duty to vote. Don't let any fabricated debate scare you off.
Diana Manole, a native of Romania, is a poet, journalist and academic.
https://nowtoronto.com/news/the-now-guide-to-the-2015/veiled-prejudices-muslim-canadian-women-speak-out-on-niqab-debate/
---------
Marine to launch first Afghan women's water polo team
October 17, 2015
A Marine who helped launch Afghanistan's first men's water polo team is making good on his promise to bring the sport to the other half of the country's population.
Marine Corps Reserve Chief Warrant Officer Jeremy Piasecki is on track to travel to Afghanistan this month to stand up the nation's first women's water polo team but has put out a call for help to make it happen.
With assistance from an indiegogo campaign, Executive Director Piasecki, fellow Marines and members of the nonprofit organization Afghanistan Water Polo will be able to travel to Kabul and fund the equipment and training needed for the 30 young Afghan women who have committed to the team.
A few years ago, putting together a women's team would have been nearly impossible, Piasecki told Marine Corps Times, but it was a promise he made to himself and to the Afghans he worked with while setting up the men's team seven years ago.
"It's something they want: 'How quickly can you come out? When can we get the women in the water? When can we get them the support they need?' ... So everyone's very excited about it, not only our Afghan counterparts, but also the families (of the women) who are involved," he said.
In a country where 15 years ago, under Taliban rule, women were executed for inadvertently showing an ankle, the fact that some women are now eager to participate in competitive sports marks a milestone, according to Lydia Davey, a member of the group and a former Marine combat correspondent.
Today, young women in Kabul have taken up competitive cycling, gymnastics and skateboarding, and now water polo, she said, but cultural conservatism, continued targeting by the Taliban and the tenuous security environment still present real obstacles.
"The courage that these women are demonstrating by even coming out for tryouts or taking the risk of emailing the water polo team for more information is incredible," Davey said of the more than 100 women who have expressed interest in joining the team.
Piasecki said that despite the large demand, they only have one female coach and one women-only pool in Afghanistan, which opened in Kabul in February, which means they have to start with a small core group of dedicated women.
Funds raised from the campaign will go toward securing the basics: balls, full-body swimwear, as well as kickboards and paddles for strength and endurance training during twice-weekly sessions at the pool.
"The first training session that we're going to have is mostly going to be teaching women how to swim, picking up a ball and doing water polo drills," Piasecki said.
Over time, he said, they will progress to intra-squad competition, forming additional teams in Kabul and Herat to play against each other, and eventually going outside of Afghanistan to compete against other national teams.
This will put the women on track to echo the resounding success of the men's water polo program that Piasecki and his all-volunteer staff helped stand up in 2008.
In December 2014, they participated in the Asian Water Polo Clubs Championship in Iran, and are working on setting up more international matches.
http://usatoday.com/story/news/nation-now/2015/10/17/marine-launch-first-afghan-womens-water-polo-team/74144840/
---------
Broadcast of old clips blatant maligning tactic: Dr Nafisa Shah
October 18, 2015
Karachi: Pakistan People's Party (PPP) Deputy General Secretary Dr Nafisa Shah has termed the reports that appeared in two private TV channels regarding her as malicious, fake and with mala fide intentions.
These reports claimed that she is having meetings with party workers in DRO's office every evening and thereby influencing the local elections in Khairpur district in Sindh.
She said, "The report is not only fraudulent, it is intended to malign my reputation. I demand that the concerned channels retract the statement and apologize, as this report has defamed me."
She said the reporters have lifted a 2012 photograph from facebook status of party workers and presented it as reportage. It is pitiful to see total lack of editorial control and above all ethics in reporting.
She said the day the report was issued, she was in Karachi.
Dr Shah further said she has not had any meetings with the District Commissioner or DRO concerned nor visited his office after the announcement of the schedule.
"It is evident that our cowardly opponents do not have courage to confront us in the elections, are now using some unscrupulous channels to spread disinformation," she deplored.
Dr Shah has called upon PEMRA and Media Watch groups to take notice of this malicious and fraudulent report and issue notices to the channels concerned. She further demanded the Election Commission might also take notice of this as it is intended to malign her and her father, Sindh Chief Minister Syed Qaim Ali Shah ahead of local elections.
http://nation.com.pk/national/18-Oct-2015/broadcast-of-old-clips-blatant-maligning-tactic-dr-nafisa-shah
---------
URL: https://www.newageislam.com/islam,-women-and-feminism/new-age-islam-news-bureau/former-first-lady-of-benue-state-yemisi-suswam-escapes-death-by-stoning-in-abuja-narrowly/d/104978