Age Islam News Bureau
16 Nov 2012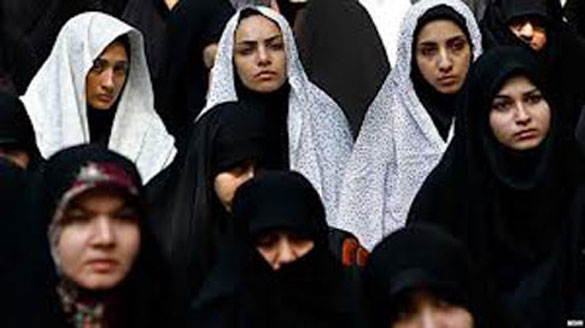 • Hamas rocket kills Delhi rabbi's wife
• Iran Deputies to Mull Draft Law Restricting Women's Right to Travel
• Somali women's religious rights abused inside Somali embassy in Kenya
• New helpline for Muslim women may be Canada's first
• Savita Halappanavar's Parents Want Change in Irish Law
• Malaysia hailed as role model for early childhood education
• Egypt's Belly Dancer Mocks Islamist, Muslim Brotherhood Politicians
• Fashion designer Hajra Hayat shows her peers how it's done
• UAE Women Athletes Tipped For Bright Future
• 5,000 children celebrate Gulf Disabled Day
• Malaysia Risks Losing Working Mothers
Compiled by New Age Islam News Bureau
Photo: Iran Deputies to Mull Draft Law Restricting Women's Right to Travel
URL: https://www.newageislam.com/islam,-women-and-feminism/new-age-islam-news-bureau/forcing-women-to-sin-in-turkey,-afghanistan-and-pakistan/d/9323
---------------
Forcing Women to Sin in Turkey, Afghanistan and Pakistan
November 16, 2012
Asma Al-Muhammad
COUNTRIES such as Turkey, Afghanistan and Pakistan have witnessed heinous crimes against women.
In Turkey, a 15-year-old girl ran away from an orphanage and met a woman, who forced her to have illicit relationships with about 100 men. Three months later, she escaped and went to the police. Three men were arrested after confessing to having sex with her.
In Afghanistan, the situation is worse. Three men and an old woman were arrested after killing a young girl who refused to be a prostitute and engage in illicit relationships with men for money. They slit her throat four months after her marriage because she refused to obey her mother-in-law who kept forcing her to commit sins.
According to Abdul Qadir Rahimi, director of a human rights organization, violence against women in Pakistan has been on the increase. He said in the beginning of 2012, over 100 such cases were discovered where girls were forced to commit sins. He believes the number to be larger than that as many cases have not been reported.
Police rescued a girl after her mother-in-law locked her in the bathroom for refusing to listen to her orders to work as a prostitute.
It is very sad that women and young girls are abused and forced into doing things like this. This is one of the most important reasons why some Muslim countries still suffer from backwardness.
I hope the Friday sermons in the Grand Mosque in Makkah and the Prophet's Mosque in Madinah as well as in mosques around the Muslim world addresses this issue. If we do not do something about it today, the situation might worsen and become too difficult to control.
http://www.saudigazette.com.sa/index.cfm?method=home.regcon&contentid=20121116143022
---------------
Hamas rocket kills Delhi rabbi's wife
Shubhajit Roy
Nov 16 2012
New Delhi : Mirah Scharf, the wife of a rabbi at the Chabad House in New Delhi, was one of three Israelis killed in a militant rocket attack on Israel Thursday as the conflict over Gaza escalated. The website of the orthodox Jewish group said Scharf, 25, was pregnant.
Israeli sources said Hamas fired rockets on the small southern town of Kiryat Malachi and blew up the top floor of a four-storey apartment, killing the three.
Mirah's husband Shmuel and their four-year-old son suffered "medium injuries".
The couple were in Israel as Shmuel was on his way to a global conference of rabbis in New York. The couple had been living in Chabad's New Delhi centre in Paharganj for five years now.
The couple were also due to attend a memorial ceremony in Israel for their colleagues killed in the Mumbai terror attack in November 2008.
Casualties in the latest fighting between Israel and Gaza have mounted with Israeli strikes killing at least 13 Palestinians.
Israel has launched air strikes on Gaza, and has followed up the assassination of Ahmed al-Jabari, a top Hamas commander, with more strikes on Thursday after the Gaza-based group retaliated with rockets.
http://www.indianexpress.com/news/hamas-rocket-kills-delhi-rabbi-s-wife/1031726/
-----------
Iran Deputies To Mull Draft Law Restricting Women's Right To Travel
By Roya Karimi and Daisy Sindelar
November 16, 2012
Lawmakers in Iran are preparing to consider legislation that may drastically alter an adult woman's ability to obtain a passport and travel outside the country.
The draft law, set to go before the 290-seat Majlis, stipulates that single women up to the age of 40 must receive official permission from their father or male guardian in order to obtain travel documents.
Under current law, all Iranians under 18 years of age -- both male and female -- must receive paternal permission before receiving a passport. Married women must receive their husband's approval to receive the documents.
The proposal is expected to find support in the conservative Majlis.
Distinct Disadvantage
Critics say the draft law is the latest attack on women in a country whose Islamic leaders are eager to scale back a burgeoning rights movement.
Human rights lawyer and Nobel Peace laureate Shirin Ebadi told RFE/RL's Radio Farda that Iran's interpretation of Shari'a law puts girls and women at a distinct disadvantage.
"According to our laws, if a 9-year-old girl commits a criminal offense, she will be tried and punished exactly as a 40-year-old person would," Ebadi says. "But if she wants to leave the country she is required, until the age of 40, to get permission from her father [for a passport]. If her father is deceased, she has to get permission from a judge."
Iran's civil code overwhelmingly favors fathers and husbands in all personal matters related to marriage, divorce, inheritance, and child custody.
Girls may be legally married as early as 13, and some lawmakers argue the age may, under Islamic interpretation, drop as low as 9. All women require permission from a male guardian to marry, regardless of their age.
Under Iranian law, women are also strictly compromised in terms of rights to compensation and giving legal testimony.
They are also bound by a strictly observed Islamic dress and conduct code, which forbids casual contact with the opposite sex and ordains that a woman must keep her hair and body covered in public.
Such laws are often used as a pretext to crack down on political opponents.
Some Successes
Lawyer Nasrin Sotoudeh, a prominent advocate for women's and children's rights, is currently serving a six-year sentence in Tehran's notorious Evin prison for a range of charges, including violating the Islamic dress code for appearing in public without a head scarf.
Sotoudeh, who in October was co-awarded the European Union's Sakharov Prize for Freedom of Thought, is in the fourth week of a hunger strike.
Women's rights activists have seen some success in fighting back against some of the harsher aspects of Shari'a law.
One campaign claims to have reduced the number of women facing death by stoning for convictions of prostitution or adultery.
Another, the 1 Million Signatures campaign backed by Ebadi, has helped call attention to the stark legal discrimination against women in Iranian laws.
Ebadi, who now works in London after fleeing Iran amid rising harassment, says the rights movement has caused discomfort among Tehran's ruling establishment.
"Feminist movements have become very large, very active in Iran. Women are fighting for equal rights. Equal rights are the first pillar of democracy," Ebadi says. "So the government is using different ways to create restrictions for women."
The draft law on passports and travel comes just months after Iran announced it was closing dozens of university-level courses to women across the country.
Education officials defended the change, saying single-gender courses were needed to reestablish "balance" in the republic's universities, where female students outnumber males 3-to-2.
The move was seen as an attempt to weaken the country's cadres of politically active, well-educated women.
But at a time of low population growth and high unemployment, it may also be an attempt to force independent, working women back into traditional roles as homemakers and mothers.
http://www.rferl.org/content/iran-draft-law-restricting-womens-right-to-travel/24772571.html
---------------
Somali women's religious rights abused inside Somali embassy in Kenya
November 16th, 2012
By H. Ali-Horad
Among all other things, it is undisputed that Somalia's new constitution recognizes the country as a Muslim nation with every citizen having their rights to practice his/her Islamic religion. After its adoption last August, many intellectuals applauded, with top government officials vowing to uphold it. Many Somalis were proud of such constitution that recognizes human rights and rights to religious practice in the country. But such feelings are no longer shared by many Somali women in Kenya.
Nimo Ahmed (not her real name) is 19 years old Somali lady. She was born in Nairobi after her parent fled Kismayo and sought refuge in Kenya. She speaks little Somali compared to her fluent Swahili and English as she has undergone formal education in Kenya. Though, she has never seen Somalia and speaks little of her mother tongues, Nimo is a proud to be from Somalia. All her belongings including her handbag and laptop are decorated with the Somali flag, a sign of devotion. This is a feeling she had before few days ago.
In early November, Nimo went to the Somali embassy in Nairobi seeking a passport to concretely build her sense of belonging. As a devoted and practicing Muslim, Nimo hired a taxi with one of her male relative while dressed in dark and bulky veil. She never perfumed herself to meet her Islamic dress code.
Nimo was shocked beyond doubt at what she has witnessed inside the embassy."One thing I could not imagine was that the staff in the embassy were extremely rude, enough to scare away people. I don't know whether they were trained to do so. Only the guy in the reception where you present payment receipt seemed friendly," she said covering her mouth with her Henna decorated hand.
What made her loose her sense of belonging this time is the fact that women are required to remove their Hijab to have their digital portrait taken when applying for a Somali passport. According to her she could not believe when she saw officers in the embassy ordering women seeking passports to completely remove their veils and uncover their head.
"I was shocked to see what was going on. I could not believe that being a Muslim lady from a Muslim country you can be forced to expose your body in front of male employees or visitors just for a passport," she said in a low tone full of thoughts. She added "you know I used to wonder with some factions in Somalia accusing the government of being anti-Islam but what I saw there is a true reflection of what is being said about the government."
One thing she was so concerned is the true violation of her religious practice and the deliberate violation of the new constitution."When it was my turn, I was trembling. I have never uncovered my head in front of a non-Mahram male person. So I decided to plead with the man who was photographing me not to remove my Hijab but he said I must remove it," she uttered these words while tears cascaded from her cheeks.
Nimo was forced to give up her quest to get the passport to safeguard her religious duty because as a Muslim lady, she was not ready to accept her religion abused for a passport."When I first asked my mum to give me a hundred dollar to get my national passport, she wondered whether I was ok in the mind because according to her the passport is not recognized anywhere in the world but I had to stick to my position asking for the money."
"But when the guys wanted to undress me for the sake of the passport, I decided to walk out of the embassy premises crying, feeling humiliated," she said while still crying. Nimo said she still needs the passport to strengthen her sense of belonging and further her love for her country, but she could not go back to the embassy knowing that she will still be required to remove her Hijab.
She accuses the embassy staff in Nairobi for trying to spread anti-Muslim and anti- cultural practice, fearing such practice will soon be exported to Somalia itself if actions are not taken immediately. "You see even those in America, they are not forced to remove their Hijab when applying for a passport and they are not in a Muslim country, so these guys just want to please the West while in reality violating our fundamental and religious rights," she added.
Asked whether she will ever go back to Somalia, she replied "I don't think so because something unusual is coming in the name of fighting what they call extremism."
"In Kenya, female Muslim applicants are not forced to uncover their head because the constitution clearly states that every citizen has the right to his religious practice but in Somalia if we have to consider the way Muslim Somali ladies are mistreated in the Somali embassy in Kenya, something bad is coming," said Nimo. Her horrifying ordeal is shared by 45 year old Halima Osman who recently dropped her need to have Somali passport after she was told to remove her Hijab.
Halima says she decided to walk out of the embassy when a man reacting to her request to have her head covered for religious grounds told her "We don't entertain nonsense here. If you are a Muslim you could have stayed in your house, otherwise remove your Hijab and get photographed or show us your back."
"At my age, I have never seen something like that before, I think there must be something we don't understand" she said."If this will be the trend and our religious rights as Muslim Somali women continue to be abused like that, Somalia is heading to the wrong path," she added.
"People have gone far and Islam has no value in that embassy, I can swear that," said Halima, raising her hand up emotionally to prove her argument.She urged the Somali religious scholars to in the situation as it locks out hundreds of potential women applicants from obtaining passports in fear of being violated.
Such sentiment is echoed by Ahmed Osman, 48, a resident of Hagardera refugee camp in northern Kenya. Until recently Osman has never stepped outside the refugee camp where he has been living with his wife and children for the last two decades.
In August 2012, he and his family applied for a refugee travel document to Nairobi on the grounds that they wanted to get specialised treatment in a hospital in Nairobi. His main aim was to document his nine children, five of them girls, since he feared that they might be stateless and to retain their identity as Somalis, he travelled to Nairobi to apply for Somali passports for his wife and children.
He said his wife and the five daughters could not get their national passport because when they went to the Somali embassy in Nairobi, they were told to remove their Hijabs which he said contradicts their Islamic values. Quoting a verse from the holly Quran, Osman faulted the move to remove women's Hijab when applying for a passport.
"Allah says in his noble Qur'an "O Prophet, Tell your wives and your daughters and the women of the believers to draw their outer garments about themselves (when they go out). That is better so that they may be recognised and not molested. And Allah is Forgiving, Merciful. [Al-Ahzaab, 33:59]," Osman said.
"Their actions (embassy staff) contradict this verse and that is why I decided not to accept my wife and daughters be stripped naked just because they needed passport and instead opted to go back to the refugee camp."
He said the embassy should drop such requirement to allow Muslim Somali women to get their rights just like male citizens.
Osman also accused the embassy staff of nurturing corruption and violating the rights of Somali women by forcing them to expose their Awrah (body parts that needed to remain covered) in defiance of their Islamic values.
Writer's witness
To verify this and establish the truth behind this allegation against the embassy, I (writer of this article), decided to visit the embassy together with a female relative who was seeking a passport.
Upon arriving at the embassy, we met a group of veiled women in a serious discussion outside the embassy compound. Near them was a gun-wielding Kenyan police officer offering security and a guard with a metal detector to search all visitors.
Since we were not familiar with these women, we greeted them and proceeded towards the entrance to the embassy compound, with the lady behind me.
After undergoing a brief security check, we were directed towards an office whose front right stood the Somali flag. We presented the payment receipt to an officer there. He asked the lady to shout her name and she did. He then directed us to a waiting room on the other corner with a receipt. The man was friendly and humble as Nimo described him in the first place (if he was the one she really referred as friendly).
After waiting in the room for about thirty minutes, a man opened the door leading to a big office with round desks and few chairs for the applicants. He shouted the lady's name and told her to get in. I tried to follow her but he objected though he later allowed me in after pleading with him for several minutes.
Inside this office, there were three ladies and a man; probably they were all applying for a passport. Among them was a middle aged woman who was restless by the time we were let in. Few minutes later, I realized that the lady was rattled by an officer who asked her to remove her Hijab and she never wanted to remove it. Not far from where I was seated, a man with a grey suit shouted at her, ordering her to remove the Hijab, a piece of cloth so dear to her heart.
"Mama don't waste our time here. Can you remove your Hijab and get photographed immediately," he shouted.
"Bismillah….are we not Muslim guys, how can I remove my Hijab in front of you, "replied the woman desperately pleading with the officer not to remove her Hijab. Despite trying all means to prove her point, she had nobody to listen to. She compromised removing her Hijab but requested a private room since there were around five men inside the room including me.
She was shocked when she was told that they had no private place and the person to take her photo is a male employee. Without any delay, the lady walked out furiously and I went after her to get her argument.
"These men are violating our religious rights as women. They want us to remove our Hijab which is impossible. They are claiming to be Muslims of which I doubt because no true Muslim man will ever want to see or force a woman to undress in front of him," she shouted as she walked outside the compound.
In effort not to raise eyebrows and curiosity of the embassy staff, I followed her to her taxi parked outside the embassy compound. Before reaching there, she was stopped by the same group of women I met outside when I was coming in and she joined the discussion. To get their comment, I started the discussion of the embassy's breach of Islamic rules regarding women and their rights to dress. They all joined in agreed.
From the view of concerned fathers and husbands and from women who went to that embassy whether they accepted or not to remove thier hijab, they all had one thing in common and that is Somali Women's religious rights are deliberately violated by the embassy through its policies.
With such perception and practice, the new Somali constitution seems to remain only in writing on a piece of paper with no future of uniting the country.
http://indepthafrica.com/somali-womens-religious-rights-abused-inside-somali-embassy-in-kenya/#.UKY68eRthm4
-------------------
New helpline for Muslim women may be Canada's first
November 15, 2012
Months before the Muslim women's helpline was launched, the phone at the Mississauga-based Women's Resource Centre started ringing.
Sabah Kazmi had just taken over as program director of the new centre, where she had intended to launch educational programs and empowerment seminars for women. Instead, she was answering phone calls from women across the GTA simply looking to talk.
"They were talking about what was going on in their lives. And at the time, I wasn't prepared to help," said Kazmi. "But when we looked around, we realized there are a lot of helplines out there, but nothing specific for Muslim women to call and get support in respect of their faith and culture."
Full report at:
http://www.thestar.com/news/gta/article/1288492--new-helpline-for-muslim-women-may-be-canada-s-first
---------------
Savita Halappanavar's Parents Want Change in Irish Law
November 16, 2012
Belgaum, Karnataka: The parents of Savita Halappanavar, who died in an Irish hospital after doctors reportedly declined to abort her foetus on the grounds that Ireland is Catholic country, on Thursday sought changes in Irish law to prevent such tragedies.
Her parents, Andaneppa Yalagi and Mahadevi, told reporters in this north Karnataka town, about 400km from Bengaluru that the Indian government must also impress upon Ireland to change its law banning abortions.
"The law should be changed to avoid recurrence of incidents like our daughter's death," they said.
Full report at:
http://gulfnews.com/news/world/india/indian-woman-s-parents-want-change-in-irish-law-1.1105742
---------------
Malaysia hailed as role model for early childhood education
November 16, 2012
DOHA: Malaysia can be a role model for much of the world in early childhood education and care (ECEC), according to several delegates at the 4th World Innovation Summit for Education (WISE) here.
They felt that Malaysia should share its experience in the field for the benefit of other countries, in the Asean region as well as elsewhere.
Chheang (rpt) Chheang Vannarith, executive director of the Cambodian Institute for Corporation and Peace, said fellow Asean countries could take Malaysia as an example or a role model to share its experiences in implementing education for children, especially ECEC programmes.
Full report at:
http://www.nst.com.my/latest/malaysia-hailed-as-role-model-for-early-childhood-education-1.172092
---------------
Egypt's Belly Dancer Mocks Islamist, Muslim Brotherhood Politicians
Sama Al-Masri, an Egyptian belly dancer, taunts Muslim Brotherhood in home-made video that's gone viral online
Bassem Abo Alabass
15 Nov 2012
An Egyptian belly dancer performed a song with anti-Muslim Brotherhood innuendos in a home-made video that has spread across different websites and social networks on Wednesday.
Sama Al-Masri told Ahram Online, on Thursday, in short phone interview that she does not usually give concerns to politics in Egypt even since last year's uprisings. However, she was seriously provoked by the clashes on 12 October, also called "Accountability Friday," when pro-Muslim Brotherhood protesters attacked liberal and leftist groups in Cairo's Tahrir Square.
Full report at:
http://english.ahram.org.eg/NewsContent/1/64/58268/Egypt/Politics-/Egypts-belly-dancer-mocks-Islamist-politicians-in-.aspx
---------------
Fashion designer Hajra Hayat shows her peers how it's done
By Saira Agha
November 16, 2012
It's overwhelming to meet a woman who's a legend in her particular field, has gained humongous respect and admiration over the years for the brilliant work she's carried out, is a household name and someone newbies look up to and has experience getting the maximum exposure a designer could ask for, to come across so humble and modest about her rocking career is downright overwhelming. With brilliant aesthetics, the mind of a superwoman, fashion acumen the size of an entire collection and with a demeanour so charming, yet vigilant, Hajra Hayat is undoubtedly the Queen of Couture. She rocked the recently concluded Pantene Bridal Couture Week (PBCW) with her stunning collection with its outstanding colour palettes, the perfect cuts and just the right embellishments for the dress to be worn with style, elegance and grace. They say you reflect your inner beauty with what you create. Then maybe that's what she is - an epitome of style, elegance and God-gifted grace, Hajra speaks exclusively to Daily Times about her natural flair and tendency towards the fashion art, her chic collection at PBCW, the colour saffron and her take on fashion.
Full report at:
http://www.dailytimes.com.pk/default.asp?page=2012\11\16\story_16-11-2012_pg9_11
---------------
UAE women athletes tipped for bright future
By Alaric Gomes
November 15, 2012
Dubai: The secretary-general of the General Authority of Youth and Sports Welfare (GAYSW) is confident the UAE women's team will rise to the occasion when the West Asian Athletics Championships are held here next month.
"For the UAE this has been a historic moment as we are the first country in the Gulf to have a proper women's team for track and field. And now that we have come so far, I am confident the medals and honours will start to follow," Ebrahim Abdul Malek told Gulf News while attending a training session at the Dubai Police Officers Club.
Full report at:
http://gulfnews.com/sport/athletics/uae-women-athletes-tipped-for-bright-future-1.1105646
---------------
Malaysia Risks Losing Working Mothers
NOVEMBER 16, 2012
Andrea Mathew
"WITHOUT day care centres at the workplace, we risk having more women leave the workforce," said Wanita Umno chief Datuk Seri Shahrizat Jalil at the Kuala Lumpur Hospital maternity ward yesterday.
Shahrizat urged government ministries and government-linked companies (GLC) to provide day care centres at work for new mothers.
"It is important for GLCs to provide proper day care centres for mothers who have just delivered. Without such services, those who want to return to work will have no place to leave their children," she said after visiting babies born on the Islamic New Year (Maal Hijrah).
Full report at:
http://www.mmail.com.my/story/nation-risks-losing-working-mothers-37616
---------------
URL: https://www.newageislam.com/islam,-women-and-feminism/new-age-islam-news-bureau/forcing-women-to-sin-in-turkey,-afghanistan-and-pakistan/d/9323