New Age Islam News Bureau
11 Sept 2017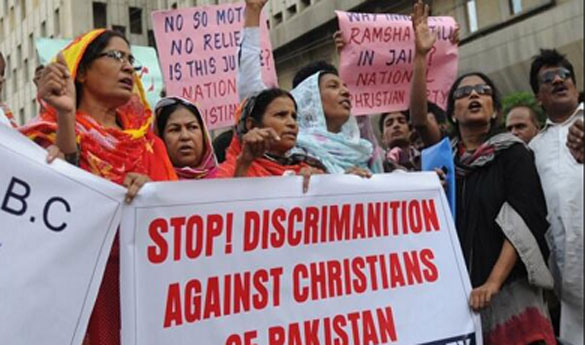 Photo: Forced conversions of Christian girls in Pakistan make a mockery of its constitution
-----------
• 1400 foreign women, children left behind by Daesh after Tal Afar liberation
• Buddhist woman's wedding with Muslim sparks tension in Ladakh
• Schools chief inspector to meet Muslim campaigners who are calling for a ban on hijabs in state primaries
• Muslim woman takes 'divorce' at press meet in Lucknow
• Parents seek arrest of wadera for daughter's murder
• Call for women MPs to wear hijab
• 142 Saudi women work in 11 airports
• Marriage of underage girl prevented
• Teenage girl commits suicide
• US envoy optimistic about growing role of Afghan women in economic development
• A skilled Arab woman in solidarity with societies torn by war, disease
• How Tunisian women inspired monogamy in Islam centuries ago
• Muslim woman becomes first hijabi to win Australian council election
• Muslim women in mosque committees of Kerala shatter the myths built by right-wing media
Compiled by New Age Islam News Bureau
URL: https://www.newageislam.com/islam-women-feminism/forced-conversions-christian-girls-pakistan/d/112492
--------
Forced conversions of Christian girls in Pakistan make a mockery of its constitution
Muddying the waters additionally is the subject of what happens if and when the Christian lady who is persuasively changed over and hitched happens to as of now be hitched to a Christian man under the Christian Marriage Act. In Pakistan, isolate individual laws, including marriage laws, are set up for Muslims and non-Muslims. Consider the possibility that a Christian girl needs to marry a Muslim. On the off chance that she's as of now wedded under the Christian Marriage Act, she is not permitted to re-wed any other person.
Even if she is unmarried, the Christian Marriage Act will in any case apply in an interfaith marriage. How does a Muslim man who needs to constrain a Christian girl to wed him go around this without breaking the law? It's as basic as forcing her to change over to Islam, after which a marriage contracted under personal laws for non-Muslims will be superseded by a nikah nama.
Courts in Pakistan do precisely the same as in any nation in which there is no law implementation framework. The above mentioned incident is in front of you. The law was given to the judges, but the judge heard only his heart. Perhaps this is because of the judge's own discipline.
Actually our attention should be on our own community. What is the society doing in this regard? Those judges who judge with such offense are also related to the same society. What's more, the Jagirdars who wed Hindus and constrained them to receive Islam, they are additionally the creation of this general public.And all powerful people who kidnap women's honor, abduct them, and make low-cost girls Muslim, they live around us. And that which makes a false certificate of acceptance of Islam and the registrar who enrolls the marriage, and sitting on both sides, those who sign this marriage as a witness, they do not come from any other planet.
What's more, the individuals who call themselves journalists yet don't report such news reports, or the columnists who stop such news or fear getting representatives under the control of the individuals who dread such thing.
Pakistani politicians who have attempted to combat forced conversions have been unsuccessful. In November 2016, the Sindh provincial government passed a bill against forced religious conversion. The bill recommends a five-year punishment for perpetrators, three years for facilitators of forceful religious conversions, and also it makes it a punishable offence to forcibly convert a minor.
But after an outcry by some forceful Muslim religious groups who declared the bill un-Islamic and demanded its withdrawal.
christiansinpakistan.com/forced-conversions-of-christian-girls-in-pakistan-make-a-mockery-of-its-constitution/
--------
1400 foreign women, children left behind by Daesh after Tal Afar liberation
Sep 10, 2017
After being expelled from Tal Afar, the Daesh terrorist group has left behind some 1,400 foreign wives and children, who are now in the custody of the Iraqi government.
According to Iraqi security and aid officials on Sunday, those left behind are mostly from Russia, Turkey, and Central Asia, with some also from European countries.
Iraqi officials are currently engaged in the process of verifying their identities and nationalities, as many of the women have lost or destroyed their original credentials.
The group, which is the largest group of foreigners linked to Daesh in Iraq, are currently being housed in a specially-designated camp, which they are not permitted to leave.
On August 31, Iraq's Prime Minister Haider al-Abadi announced that the northern city of Tal Afar and the entire Nineveh province have been purged of the Daesh Takfiri terrorists.
The Iraqi government is currently negotiating with the women's home country embassies for their returning home.
"I want to go back (to France) but don't know how," said a French-speaking woman of Chechen origin who claims to come from Paris. She also said that she has no idea concerning the current whereabouts of her husband who brought her to Iraq to join the terrorists.
Some of the women claim that they were tricked by their husbands into joining the terrorists during trips to Turkey.
"My mother doesn't even know where I am," said a French woman of Algerian descent. "I had just given birth to this little girl three months before… He said 'let's go for a week's holiday in Turkey.' He had already bought the plane tickets and the hotel," she added.
Tal Afar, situated about 150 kilometers from Syria's border, was among the last Daesh-held cities in Iraq. The liberation of Tal Afar deprives Daesh of what was once a key supply route between its territory in Syria and Iraq.
Iraqi army soldiers and allied fighters from Popular Mobilization Units have been leading a major operation to rid the country of the Takfiri elements.
Iraqi forces launched the Tal Afar liberation operation on August 20, one month after fully recapturing the country's second biggest city, Mosul, which was Daesh's so-called "capital" in Iraq.
Daesh unleashed a campaign of death and destruction in Iraq in 2014, but it is currently retreating from much of the territory under its control in the Arab country due to recent advances made by the Iraqi forces on the battlefield.
presstv.ir/Detail/2017/09/10/534719/daesh-iraq-foreign-women
--------
Buddhist woman's wedding with Muslim sparks tension in Ladakh
Sep 11, 2017
Abhishek Saha
A marriage between a Buddhist woman and Muslim man has stoked tensions in Jammu and Kashmir's Ladakh, with the region's apex religious body threatening communal unrest unless the woman is "brought back".
The Ladakh Buddhist Association (LBA) has written to chief minister Mehbooba Mufti, asking for an annulment of the marriage between local-born 30-year-old Shifah, formerly called Stanzin Saldon, and her 32-year-old husband Murtaza Aga of Kargil. The woman converted to Islam in 2015. She married Aga, an engineer, last year.
"Young girls are being lured by Muslim boys to marry and finally convert them to Muslim... we have repeatedly asked the Muslim community leaders... to sensitise their communities to stay away from such wicked and depraved act which otherwise will lead to communal unrest, and the district administration will be solely responsible," reads the letter, dated September 7.
The letter, signed by LBA president Tsewang Thinles of which HT has a copy, also urged the state government to intervene immediately and make arrangements to "bring back the girl" before "peace, tranquillity and communal harmony takes an ugly turn". Repeated phone calls to Thinles and vice-president PT Kunzang went unanswered.
The controversy comes amid rising tensions between the Muslim-majority Kargil region and the Buddhist-dominated Leh region over the LBA's demand for UT status with legislative power to Ladakh region — an appeal opposed by Muslim leaders from Kargil. Ladakh-based groups say they have been historically discriminated against and received little funds to develop the sparsely populated region.
Shifah herself wrote to Mehbooba on Saturday, dismissing the LBA's claim and alleging that she was being unduly threatened. "The statement of LBA is false and concocted, an effort to suppress and threaten the rights of individual… I appeal not to let hatred and fear to win over love and compassion." She also said choosing Islam was her spiritual choice that had little to do with her marriage. A copy of this letter is with HT.
Kargil MLA Asgar Ali Karbalai alleged that the LBA was trying to disturb communal harmony. "There are no issues as such but they are trying to start one by talking about this boy-girl thing. The woman in this case converted to Islam on her own and out of her own judgement and choice married the man," he said.
In a court affidavit last year in Karnataka, where Shifah was staying then, she declared that on April 22, 2015, she converted to Islam and on April 28, 2016, she changed her name to Shifah from Stanzin. "I am affirming my new Islamic faith in healthy and sound mind without any threat, force or compulsion or coercion from any person or person, whatsoever," the affidavit said.
In another affidavit, Shifah said on July 7, 2016, she got married to Syed Murtaza Aga , out of her "own free will and consent". She declared that she was not "induced or abducted" by her husband and was not under wrongful confinement.
When tensions rose, the couple approached the J&K high court and in an order dated July 28, it observed that during the case, the "petitioners shall not be harassed".
The issue has garnered attention on social media too. In Ladakh-based Facebook groups, some users have sided with the LBA's objections saying that "values to protect our identity and culture" should be respected, while many others criticised it, arguing that a woman had every right to marry whosoever or follow whichever religion she wants.
The state women's commission has also written to the government to investigate the matter after reports that Shifah was being hounded.
"I, in fact, got in touch with the girl and she told me that she had converted before her marriage out of her own free will. She said she is an adult and educated enough to take decisions for herself," said Nayeema Mehjoor, the commission's chairperson.
hindustantimes.com/india-news/buddhist-woman-s-wedding-with-muslim-sparks-tension-in-ladakh/story-gsHijp23F7O4Ck79U0Bt6I.html
--------
Schools chief inspector to meet Muslim campaigners who are calling for a ban on hijabs in state primaries
10 September 2017
The chief inspector of schools in England has agreed to meet with a group of Muslim women who want the hijab banned from primary schools.
Amanda Spielman, Ofsted's head of inspections, says she will hear the concerns of Muslim campaigners who branded the garment 'an affront to gender equality.'
The activists are concerned that girls as young as five are being encouraged to wear the hijab by 'extremists'. The modesty covering is typically only worn after puberty.
An Ofsted spokesman told the Sunday Times that, while the inspector recognises the right of schools to decide their own uniform code, 'we are looking at whether there is evidence that schools are facing external pressure to adapt their policies.'
In advance of the meeting, the group of eight campaigners - led by former Labour parliamentary candidate Amina Lone - wrote an open letter to the Times.
They accuse Britain of having 'an abysmal record' of protecting Muslim girls 'who suffer under the pretext of protecting religious freedoms'.
'We duck from robustly challenging issues such as female genital mutilation, child sexual exploitation and forced marriages,' they write.
'By turning a blind eye when our schools are being politicised, government contradicts itself when advocating more inclusion and cohesion.'
It comes after a Times investigation found that 18 per cent of 800 primary schools surveyed include the hijab in their uniform policy.
The proportions were significantly higher in areas of the UK with a high Muslim population, such as Birmingham and Tower Hamlets, in east London.
Aisha Ali-Khan, a Muslim feminist campaigner and a teacher for 13 years, told MailOnline: 'The hijab should be banned from primary schools but local authorities are afraid of causing offence to the Muslim community and afraid of being branded as racist.
'A headscarf or hijab, is usually worn by girls who have reached puberty, to prevent unwanted sexual advances from men.
'How can a four or five year old child make an informed choice? It's not allowed in Islam so why is it being allowed in schools? You should only do something if you want to and understand the concept behind it.
'But the local authorities are too scared to go back and our government has allowed this to be part of the school policy and that's wrong. They are allowing decisions to be made by schools and local authorities which is worrying and they are trying to wash their hands of all responsibility.'
Gina Khan, a children's rights campaigner in Birmingham, added: 'Schools are allowing it because they are afraid of being called Islamophobic and they have been told that this is a religious garment - but they need to support Muslim girls to have free choices, not to be set apart from other children.'
Amina Lone, a Muslim former Labour parliamentary candidate, said: 'In an Islamic context, the hijab is commonly understood as being for females after they reach the age of puberty. There are very few Muslims who would say a child should be covered.'
Shaista Gohir, of the Muslim Women's Network, has previously said making young children wear the headscarf was as bad as children having spray tans and pole dancing lessons.
Ms Gohir said the hijab was designed to discourage sexual advances from men and enforcing it on young children could 'sexualise' them.
'We challenge parents who spray tan or give pole dancing classes to seven-year-olds, so we should be challenging Muslim parents who make young children wear the hijab,' she said.
dailymail.co.uk/news/article-4870194/Schools-inspector-meet-Muslims-calling-hijab-ban.html
--------
Muslim woman takes 'divorce' at press meet in Lucknow
September 10, 2017
A Muslim woman has openly announced to take "khula" (divorce) from her husband after her efforts to get it done through Islamic seminaries did not succeed. In Islam, a man can take "talaq", while a woman can part ways with her husband through "khula".
Shajada Khatoon, married to Juber Ali, signed a letter for "khula" at a press conference in Lucknow on Saturday. "I tried to take 'khula' from my husband. I had approached the Islamic seminaries, Nadwa and Firangi Mahal, but did not get any relief," she claimed.
"That is why, I am signing the 'khula' in the public and sending him (the husband) the notice. I am free from him now," she said. Muslim Women League general secretary Naish Hasan, who helped Shajada take "khula", said the woman was fed up with her husband torturing her and had been living separately for the last 18 months.
All India Muslim Personal Law Board executive member Maulana Khalid Rashid Farangi Mahali, however, said the process followed by the woman for "khula" was not correct. "Khula is not done in a single letter. For khula, the woman has to serve a notice on her husband and if he does not respond to three of such notices, it is deemed implemented," he said.
Asked about the cleric's stand, Hasan said if he felt that Shajada was wrong, he should approach the court. All India Muslim Women Personal Law Board President Shaista Ambar voiced support for the woman, saying what she did was "valid".
The incident comes at a time when the country is witnessing a raging debate over the issue of triple talaq.
indianexpress.com/article/india/muslim-woman-takes-divorce-at-press-meet-4837466/
--------
Parents seek arrest of wadera for daughter's murder
September 11, 2017
DADU: The parents and a sister of the 19-year-old girl, Tania Khaskheli, who was murdered in their house on Saturday evening, have demanded arrest of the killers saying that police were not laying hands on them due to their political clout.
Speaking at a press conference at the Bhan Syedabad Press Club on Sunday, Ghulam Qadir Khaskheli, his wife, Khursheed Begum, and their daughter, Eman Khaskheli, alleged that an influential wadera (feudal lord) of Jhangara Bajara town, Khan Noohani, along with his armed associates, barged into their house and shot dead Tania on Saturday evening.
The girl's parents claimed that Khan had been pressing them to marry Tania to him but they had turned down the proposal. They alleged that Khan had twice tried to kidnap her in the recent past. On Saturday evening, they claimed, Khan, along with Maula Bukhsh and an unknown person, barged into their house and terrified them with their weapons. They alleged that the armed men tried to take away the girl but on strong resistance put up by the family, Khan got furious and shot dead Tania.
The family said that an FIR against Khan Noohani, Maula Bukhsh and the unknown person was lodged at the Jhangara Bajara police station but the suspects were threatening them with dire consequences if the case was not withdrawn. They said police were not arresting the suspects due to their political influence.
The family appealed to the IGP and the higher authorities for protection and justice, and demanded immediate arrest of the killers.
dawn.com/news/1356831/parents-seek-arrest-of-wadera-for-daughters-murder
--------
Call for women MPs to wear hijab
September 11, 2017
LAHORE - The Aalmi Chaddar Orh Tehrik (ACOT), headed by Pir Kabir Ali Shah, resolved on Sunday to launch a special campaign to persuade the women legislators to wear hijab (veil).
At a conference on the Hijab Day at Alhamra Art Centre, the participants demanded that women anchors should be allowed to present their shows when properly covered. Also, they said, the parliament should pass legislation and Pemra should issue orders to all TV channels in this regard.
Various resolutions passed by the participants demanded that female students should be barred from using cell phones in their educational institutions; male members of official delegations should be disallowed to shake hands with female hosts during their visits abroad; laws should be framed to discourage vulgarity at beauty parlours; Indian plays and films should be discouraged in Pakistan as they are like dangerous infectious diseases. ACOT has so far distributed veils among 750,000 women and Pir Kabir Ali Shah is determined to continue the mission till the country is a true mirror of an Islamic society.
A resolution expressed serious concern over the silence of the OIC, UN and world human rights organisations over the persecution of Kashmiri and Rohingya Muslims.
It said that ACOT would hold protest demonstrations in front of the OIC and UN offices to awaken their conscience.
Justices (r) Ahmed Farooq Sheikh and Mian Nazir Akhtar Ghazi, former LHCBA president Muhammad Shafqat Chauhan and Khateeb Data Darbar Masjid Mufti Muhammad Ramzan Sialvi, Syed Sibtain Haider Gilani and Syed Ahmed Mustafain Haider Gilani were among the speakers.
nation.com.pk/lahore/11-Sep-2017/call-for-women-mps-to-wear-hijab
--------
142 Saudi women work in 11 airports
Sep 11, 2017
JEDDAH — A total of 142 Saudi women work at 11 airports in the Kingdom. Faisal Al-Migaish, a spokesman for the Saudi Customs, said in addition to the customs department, these women work at passport control, foreign aviation companies, car rental offices, hotels and shops.
He said Saudi women works at customs departments of King Abdulaziz International Airport in Jeddah, King Khalid International Airport in Riyadh, King Fahd International Airport in Dammam, Prince Muhammad Bin Abdul Aziz International Airport in Madinah, Prince Naif Airport in Qassim, Prince Sultan Airport in Tabuk and King Abdullah Airport in Jazan as well as the airports of Taif, Al-Jouf, Abha and Hail.
"Saudi women work side by side with their male colleagues in luggage scrutiny, inspection and body search of passengers," he said.
Migaish said the female workers are highly qualified and have undertaken leading and supervisory positions in the customs department.
He said before assuming their duties, the women received rigorous training at the Customs Training Institute and they also attended various rehabilitation courses to lift their standard.
"Saudi women have proved themselves in the customs work, releasing or preventing the entry of some items," he added.
Migaish recalled that Saudi women started working in the department of customs more than 60 years ago but their work was focused mainly on searching women passengers.
The women are now competently undertaking all customs jobs using the most modern equipment available at the airports," he added.
saudigazette.com.sa/article/516923/SAUDI-ARABIA/Saudi-women
--------
Marriage of underage girl prevented
September 11, 2017
MIRPURKHAS - The timely intervention by Kot Ghulam Muhammad (KGM) police prevented the marriage of an underage girl in village Gulshan Gorchani, taluka KGM on Sunday.
Police also detained two accused and three accused were at large on Sunday.
According to reports, an underage girl of Gorchani clan was going to be married off secretly.
SSP Mirpurkhas Kamran Nawaz when learnt about it directed police to conduct a raid prior to the marriage.
Heavy contingent of police conducted a raid and picked up Haji Gorchani, father of the underage girl, as well as the girl, Aasha Gorchani, 12.
Police said that groom Irfan Ali Gorchani, 22, his father Sher Muhammad Gorchani and Nikah Khawan Muhammad Asif Gorchani managed to escape from the spot.
Police said that cases had been registered against five persons, Irfan Ali Gorchani, Sher Muhammad Gorchani, Nikah Khawan Muhammad Asif Gorchani, Haji Gorchani and Ghulam Hussain Gorchani.
Police added that raids were being conducted at different places to arrest the remaining three accused.
nation.com.pk/karachi/11-Sep-2017/marriage-of-underage-girl-prevented
--------
Teenage girl commits suicide
September 11, 2017
KHAIRPUR - A teenage girl committed suicide in Mirpur Mathelo on Sunday.
According to Mirpur Mathelo police, Dilshad of mohalla Gulab Shah threw herself before the approaching train and committed suicide.
On receiving information, police reached the spot and took the body into custody.
Later the body was shifted to taluka Mirpur hospital for medicolegal formalities, and was handed over to her parents.
It has been learnt that the girl was angry with her parents over some petty issue.
Hindu girl kidnapped
A Hindu girl was kidnapped by armed persons from Gambat on Sunday.
According to details, some persons attacked a Hindu dominated locality, kidnapped a girl, Arsee, at gunpoint and ran away.
Later several members of the Hindu community strongly protested in front of the police station. However, they ended their protest after receiving assurances from the SHO that the girl would be recovered very soon and the culprits would be arrested.
nation.com.pk/karachi/11-Sep-2017/teenage-girl-commits-suicide
--------
US envoy optimistic about growing role of Afghan women in economic development
Sep 10 2017
The Special Charge dáffaires of the US Embassy in Kabul has shown optimisms regarding the growing role of the Afghan women in economic development.
In a video message, Ambassador Hugo Llorens said "For the United States ensuring women and girls have access to economic opportunity has been a top priority in Afghanistan since 2001. Personally, advancing women's rights in Afghanistan is something I care deeply about."
Ambassador Llorens further added "Fortunately, and despite obstacles, Afghan women entrepreneurs are using their talent, tenacity and ingenuity to succeed and contribute to building a better future for their families and their nation. A growing number of Afghan women have broken into industries ranging from agriculture, IT, and media, to manufacturing, construction, and healthcare. Over the last fifteen years, Afghanistan has trained thousands of women in business practices, and young women are redefining roles in economic and social spheres. Still, women account for less than 20 percent of Afghanistan's labor force; so much more needs to be done. Some of the biggest hurdles include access to capital, access to experienced mentors and networks, and access to technical training and on-the-job experience."
According to Ambassador Llorens, USAID's PROMOTE program has provided more than 4,000 women with internships and apprenticeships to help them gain the experience they need to compete on the job market.
PROMOTE also identifies qualified women entrepreneurs in need of financial support and helps them secure investment loans. Launched in July of 2015, this four-year, $71 million dollar program is giving Afghan women the momentum they need to get ahead.
"The United States also supports multiple exchange programs to provide training and capacity-building for professional women. Since 2002, more than 220 Afghan women have participated in our flagship International Visitors Leadership Program. These exchanges give women essential leadership training, and open doors to what they may achieve on the global stage," he said.
He also added "With support from fellow Afghans, as well as your friends in the United States and around the world, Afghan women are making meaningful progress each year. But we need to do more. We are committed to working together with the Afghan government, NGOs, and international partners to continue supporting rising female entrepreneurs, and to provide training initiatives for the next generation of young Afghan women. Let there be no doubt: When Afghan women succeed, Afghanistan succeeds."
khaama.com/us-envoy-optimistic-regard-growing-role-of-afghan-women-in-economic-development-03403
--------
A skilled Arab woman in solidarity with societies torn by war, disease
10 September 2017
Around five o'clock on a cold winter's morning, I was called to the delivery room for a patient who was "not well". I jumped out of bed where I had fallen asleep in my hijab and scrubs just a few hours ago, reached for my coat and shoes, and rushed out of my quarters, across the field to the hospital grounds.
The air was biting and after four months in this project, working in confined spaces, the three-minute run left me breathless.
"Not well" in Khost was usually code for a catastrophic event related to labor and delivery. I arrived to find a listless patient on the floor of the delivery room, dress covered in blood, head cradled in her caretaker's lap with the caretaker rocking back and forth in tears. The midwives and doctor looked exhausted. Women were delivering in every bed and others squatting on the floor in between.
A heavily bleeding patient
I was told the patient had delivered at home earlier that night and was brought to our hospital bleeding. Her family had waited for daybreak when they could travel to us safely. The patient was not awake but appeared to be breathing and had a pulse; we moved her to a stretcher and rushed her into the operating theatre (OT), simultaneously calling the anaesthesia staff and sending the caretaker to our blood bank.
For the next four hours we performed resuscitation on the patient, supported her breathing (manually) and operated. She had a tear in her cervix that extended up into her uterus. We needed to work quickly, and ultimately removed her uterus and cervix to stop the haemorrhage. She required multiple units of blood.
Once her condition had stabilized, I ran out of the OT in search of more blood. My scrubs drenched in sweat, I grabbed a white coat to step outside.
The caretaker, an older woman without teeth was smiling at me, grabbing my coat and pointing to her abaya. I tried to wave her away and asked a midwife to translate for me, to say that I would be back to talk with her but needed to get to the blood bank first.
The old woman then lifted her arm and showed me the unit of blood she was warming under her arm, she handed it to me and squeezed my hands. The midwife looked at me and we both laughed so hard we were in tears.
I spent six months working as a specialist doctor in the maternity hospital in Khost, Afghanistan; MSF's largest comprehensive emergency obstetric and neonatal care project.
In 2016 alone, we safely performed 21,335 deliveries with only four in-hospital maternal deaths, and our admission numbers keep climbing. Our aim is to mitigate the risk of direct obstetric complications in order to reduce maternal morbidity and mortality. We have a large team of medical and non-medical staff with the majority being national staff (midwives, nurses, doctors, logisticians, lab and hygiene staff, data managers, administrative staff, guards and drivers).
More outreach activities
This year we have intensified our outreach activities in Khost province with our health promotion teams, radio messaging about signs of danger during pregnancy, and community networking. We've increased support to community health centers to help promote access to safe basic delivery services and newborn care and early referral to our hospital when necessary.
When I left for Afghanistan, friends and family were afraid, some were horrified. I am a Palestinian woman, born and raised in East Jerusalem and though I pursued medical education and training in the United States, I returned to East Jerusalem to practice and teach.
As a child I remember being awestruck by the MSF cars and their no weapons logo in a city and country where weapons are everywhere, and violence is a fact of life.
I joined MSF in 2014. I was looking for a way to put all my skills to meaningful use, to practice humanitarianism and to stand in solidarity with women and societies that have been eroded by war, poverty, and epidemics, yet simultaneously feared, much like my own society. I was also looking for ways to be, what I felt I was, a citizen of the world.
In 2014, I was in Sierra Leone when Ebola led MSF to close its maternity project and concentrate efforts on Ebola detection and treatment, and in 2016 I was in Lebanon (Shatila) and Afghanistan (Khost), in 2017 I was in Cote d'Ivoire (Katiola) and Iraq (Mosul).
Working with MSF has been transformational for me, both personally and professionally, and truly, this where I am most happy in my work. The impact you can have as a skilled Arab woman with communities in need of solidarity, and vision-driven high-quality work is incalculable.
One thousand women die every day of pregnancy-related complications, MSF teams are made up of individuals from around the world, the majority working in their own countries – working hard to provide care where no-one else will, in a way that no one else will. You want to be part of that!
_______________________
Dr Rasha Khoury received her M.D. from Yale School of Medicine; she completed her specialisation in Obstetrics and Gynecology at the University of California, San Francisco and her fellowship in Family Planning and Global Women's Health at Brigham and Women's Hospital. She holds an M.P.H from the Harvard School of Public Health. She is in search of a job that will allow her at least 25 per cent of her time annually to continue working with MSF in the field.
english.alarabiya.net/en/features/2017/09/10/A-skilled-Arab-woman-in-solidarity-with-socities-eroded-by-war-poverty-and-disease-.html
--------
How Tunisian women inspired monogamy in Islam centuries ago
10 September 2017 T
Many Tunisians have set a rare precedent of monogamy in the Muslim world since the early centuries of Islamic history. Enshrining the rights of women through the instrument of the celebrated 'Kairouan dowry', Tunisians have practiced a tradition of according respect and equality to their women through a novel form of marital contract through the ages.
Historical precedent for women's empowerment
It all began in the eighth century, when the future Abbasid caliph Abu Jaafar al-Mansour was on the run from the Umayyad forces led by Marwan bin Muhammad.
As a fugitive, he eventually found asylum in the Tunisian city of Kairouan at the house of Mansour bin Abdullah al-Humyari. Mansour had a beautiful and intelligent daughter named Arwa and Abu Jaafar eventually sought her hand in marriage.
Her father agreed, but Arwa put one condition for this marriage —Abu Jaafar will not marry any other woman for as long as Arwa is his wife, or else she would have the right to demand divorce. This novel marriage contract later became famously known as the 'Kairouan dowry'.
Abu Jaafar al-Mansour remained committed to this pre-nuptial agreement even after becoming the Abbasid Caliph, right up to the time of Arwa's death, after she had given birth to one of his successors, Muhammad al-Mahdi.
'The Kairouan dowry' also had other novel provisions of inheritance and endowments. It is stated that Arwa al-Kairouaniya had received a farm by the name 'Al-Rahba' from her husband, which she ordered would only be passed on to her female progeny. She is behind what is called the first female Wakf.
Provisions for monogamy
Reverting to the legal provisions of the Kairouan marital contract, the stipulations therein state that the husband should obey his wife and not remarry. He should take a vow to this effect in front of all the witnesses and people gathered at the time of the first marriage. He cannot remarry unless the wife willfully approves of it or else the marriage would automatically stand dissolved, as the husband could not fulfill his commitment to the marital contract.
The provisions also state that the husband cannot take his wife's sterility as a reason for marrying another woman, which is implied in its clause "do not marry for the mother of a child" or else the divorce will come into effect if the wife wished so.
This amazing marital tradition has been practiced for centuries by the Kairounian people and its famous judges, preachers and scholars have blazed a trail over the centuries in this regard. In fact, since the time of the Grand Imam Sahnoun ibn Said, Kairouan judges and magistrates of Al- Maghreb and Andalusia have accepted and followed this article of marital jurisprudence and traditions.
Strengthening of the institution of marriage
In fact, this legislative tradition has strengthened the institution of marriage in Kairouan and the rest of Al-Maghreb countries for centuries, as the entire Kairouan region has adopted the selfsame doctrine and approach.
It is also noteworthy that this piece of historical legislation has facilitated subsequent reforms in marriage and inheritance legislation, particularly when modern Tunisian law abolished the tradition of verbally pronouncing divorce and second marriage, both of which are now considered crimes punishable by imprisonment, according to Chapters 18 and 30 of the personal law.
In fact, some of these provisions have been directly derived from the age-old Kairouanian women's legislation, which allows a woman to make any of her female descendant inherit her property (mother to daughter or vice versa). This has enabled women in Tunisia to be entitled to their own fortunes.
Correlation of prosperity with women's rights
Tunisia can also feel proud of having a true champion of women's rights in the great scholar and social reformer of the 20th century Tahar Haddad. In the 'Introduction' to his famous 1930 book Our Women in the Shari'a and Society, Haddad link the rights of women to the very future of humanity, as woman is the progenitor of the human race.
In his book, Haddad notes the West has been in a state of continuous progress and development because of its emphasis on women's education, liberation and enlightenment.
Largely the same observation holds true to the great enlightenment that Kairouan witnessed between the second and fourth centuries of the Hijri calendar.
Thus, it is rightly noted that greater prosperity and revival of civilizations has a correlation with adherence to basic human rights, empowerment of women and the promotion of humanitarian values.
english.alarabiya.net/en/perspective/features/2017/09/10/How-Tunisian-women-inspired-monogamy-in-Islam-centuries-ago.html
--------
Muslim woman becomes first hijabi to win Australian council election
11 September 2017
Four Muslim individuals won a seat in Australia's largest city council in terms of population, Canterbury-Bankstown, Sydney. Among them is the first veiled Muslim woman councilor, on Saturday.
The win comes amid rising conflicts demanding a ban on Muslim women wearing the headscarf and preventing them from earning seats in public offices.
After successfully serving as the CEO to the Riverwood Community Center for 18 years, Nadia Saleh, of Lebanese descent, and an Australian resident for28 years, was elected as the first veiled Muslim councilor to the city's council.
The center specializes in providing family services in the city which hosts 500,000 residents.
Former Mayor
Speaking to Al Arabiya, Saleh's Husband, Khider Saleh - who was Bankstown's deputy mayor in three consecutive sessions for 13 years - said that 150,000 Arab immigrants constitute the city's population, most of whom are Lebanese.
Khider was also the first Muslim and Arab to win the city's council elections. The 31-year-old Lebanese immigrant was the leader of the ruling Australian Labor Party in this election. In the Roselands' department, his wife and three other Muslim members won as the largest bloc in the 15-member municipal council.
Of the three other winners, Mohammed Huda and Mohammed Zaman are originally from Bangladesh. Meanwhile, the fourth winner, Lebanese national Bilal al Hayek won another department in the municipality which is comprised of five departments.
Important achievement
Khider, a father of four with Nadia, described her win as a very important achievement. Al Arabiya.net found that news of Nadia's win was a prominent headline in various international media outlets, including British Daily Mail and Indonesian Tribun Style.
It was also prominent in dozens of Australian media outlets. "This is because her win came amidst campaigns fought by Australian deputies, parties and some racists and extremists against Islam and Muslims," said Khider.
Khider continued saying that Muslims constitute about 110,000 individuals in Canterbury-Bankstown. "This is more people than the Australian state of Tasmania's entire population," he added.
The ill-intentioned campaigns seeking to prevent Muslims from participating in the elections and banning their inclusion as part of Australia's social fabric "back-fired," said Khider.
"This is thanks to the Australian people's awareness and condemn of Islamophobia," he added.
english.alarabiya.net/en/features/2017/09/11/Muslim-woman-becomes-first-hijabi-to-win-Australian-council-election-.html
--------
Muslim women in mosque committees of Kerala shatter the myths built by right-wing media
September 10, 2017
In 2015, Twocircles.net had reported about an emerging trend in Kerala, where women are given representation in mosque committees. At a time when discrimination against Muslim women is selling like hot cake in media especially in light of the ban on Instant Triple Talaq, more mosques are coming forward offering membership in mosque committees while the mosques, which already have women members, have started to increase representation.
In 2011, women were part of the Mahallu executive committees only at Sivapuram in Kozhikode district while the system was introduced in 2015 at Santhapuram in Malappuram district. Chennamangaloor Mahallu in Kozhikode district joined the new trend in June 2017 by offering seats to three women in 15 members executive committee. Mahallu refers to the area, which comes under the care of a mosque. Both Santhapuram and Sivapuram have increased the women quota. The first has 20 women members in 90-member Council while the latter has allocated three seats for women in 18 member executive committee. At Shanthapuram, six of the 20 women are part of the 31-member Mahallu executive committee.
Women members in these Mahallus are now mainly active in empowering Muslim women in the Mahallu limits apart from various works ranging from family counselling to welfare schemes. Mosques here, according to Shanthapuram Mahallu committee functionary K V Ishaqali, women were elected to the executive committee in order to ensure effective intervention of committees in women and familial issues.
"Unlike men, women have no limitation in working with women. We are allowed access up to the kitchen of every house in our jurisdiction. And women too are reluctant to frankly speak about their woes to the male members of the mosque committees," P Fathima Teacher, Shanthapuram Mahallu committee executive member.
"We can do justice to our posts as most of us have been given training in counselling and social work," says C H Thahira, another member at Santhapuram.
Due to the intervention of women members, the three mosques are recording decrease in domestic violence and divorce cases.
The three mosques have also proposed a slew of women empowerment projects after women were selected to committees. "The mosque committee is preparing a three-year plan for women empowerment. And it will be executed by women members," says Chennamangaloor Mahallu executive member Fathima Kodappana.
Routine household visits are conducted by women groups and they check the condition of women and families in their respective Mahallus.
"Visits help us understand the sufferings of women and teach us how should we act for women and family empowerment,"" says Chennamangaloor mosque committee member K P Shabeeba.
However, taking the cue of the good result Jama'te Islami Hind in Kerala has decided to spread the new trend to more mosques across the state.
twocircles.net/2017sep10/416393.html
--------
URL: https://www.newageislam.com/islam-women-feminism/forced-conversions-christian-girls-pakistan/d/112492
New Age Islam, Islam Online, Islamic Website, African Muslim News, Arab World News, South Asia News, Indian Muslim News, World Muslim News, Women in Islam, Islamic Feminism, Arab Women, Women In Arab, Islamophobia in America, Muslim Women in West, Islam Women and Feminism