New Age Islam News Bureau
15 Jan 2013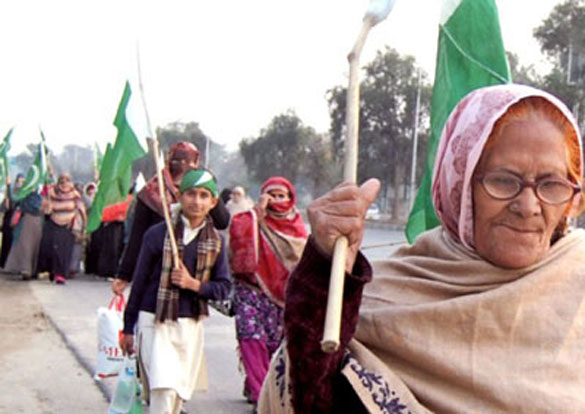 • 23-Year-Old Mother of Two Victim of 'Honour Killing' In Kurdistan, Iraq
• Shura' Legislative Committee Intend the Exclusion of Woman in the Next Egypt Election
• Indonesian Women Told How to Ride Motorbikes
• British Airways discriminated against Christian staffer: Court
• Kuwaiti Women Can Now Become Judges
• Saudi Arabia to Jump in World Listing, For Nominating 30 Women To The 150-Seat Shura
• Saudi Nurse Hailed As Hero for Saving Man
• Aid Money Stolen From Family of Indonesian Sex Abuse Victim
• Kainat Malala's Friend Slowly Picks up the Pieces
• Women Marchers: Willing To Brave Everything, Unwilling To Walk To a Toilet
• Fatima Bint Mubarak Hails His Highness's Pakistan Initiative to Open "Woman Training Centre"
• Syrian Women Fight the Silent Battle
• Indian's subway death: NY woman indicted, deemed fit for trial
• Indian-origin politician becomes Singapore's first woman speaker
• At NASA for Five Days for 14-Year-Old Emirati Girl
• Omani Father's 33-Year Search For Daughter Ends in Dubai
• PCP, Women's Empowerment Group for Promoting Media Ethics on Portrayal of Women
• Middle East Soccer Associations' Campaign for Women's Right To Play
• Indonesia's World-Class Pianist ... at 14
Compiled by New Age Islam News Bureau
Photo: Women Marchers: Willing To Brave Everything, Unwilling To Walk To a Toilet
URL: https://www.newageislam.com/islam,-women-and-feminism/new-age-islam-news-bureau/for-women-victims,-no-privacy-in-death--post-mortem-unit-in-khyber-medical-college/d/10007
-----------
For Women Victims, No Privacy in Death: Post-Mortem Unit in Khyber Medical College
January 15, 2013
PESHAWAR: Although the number of post-mortem cases has increased by over 60% in the past decade, there are no female doctors in the city to perform autopsies.
The Forensic Science and Toxicology department of the Khyber Medical College (KMC) department, the only place in the city where autopsies are performed, is leanly staffed, and ill-equipped.
The department has been conducting autopsies since 1990, with a limited staff of one professor, two assistant professors and four medical officers.
In addition to delivering lectures at KMC, they conduct autopsies and appear in court for numerous cases. The staffs claim they are not paid for these extra services, even though their duties have more than doubled as a result of terrorist activities.
"It's very astonishing that despite repeated requests to the government, we have no women doctor to conduct post-mortems and they are all carried out by male doctors, which is considered disrespectful in our culture," said a doctor in the forensic department requesting anonymity.
He added the reason the department did not attract people was the unpleasant nature of the field. In addition, those who conduct autopsies have to attend court hearings if there's a case related to the body.
"We are bound to do things which are necessary for conducting female autopsies because none of the female doctors are ready to provide services to this department."
The doctor said the department had conducted many post-mortems which helped the police and law enforcement agencies track down culprits, but their efforts are not appreciated.
"Akhtar Ali was arrested in a robbery case in Mardan and died in police custody on August 19th last year. When we conducted the post-mortem later, it showed that the boy was killed by the police and the case took a U-turn," he said.
Only government departments can refer bodies to the Forensic Science and Toxicology department and private citizens are not allowed to bring a dead body for an autopsy.
Officials said some posts for medical officers were lying vacant, but nobody was willing to apply for them. Even those transferred to this department use political influence to avoid joining the forensic department.
Khyber-Pakhtunkhwa Director General Health Dr Sharif Ahmad Khan, however, held the department's administration responsible for the lack of both male and female staff. He claimed it allowed doctors to be transferred to other healthcare institutions.
"We have transferred lady doctors to the department many times, but after serving for a few months, the administration of the forensic department provides them with No Objection Certificates and posts them to other hospitals if they so desire," Dr Khan told The Express Tribune.
He added that the forensic department had not made any proper requests to recruit both male and female doctors.
If the provincial health department was given an official request with the required number of staff needed, we can discuss the matter with the Planning & Development Department and appoint doctors, Khan added.
http://tribune.com.pk/story/494000/post-mortem-unit-for-women-victims-no-privacy-in-death/
-------------
23-Year-Old Mother of Two Victim of 'Honour Killing' In Kurdistan, Iraq
14/01/2013
ERBIL, Kurdistan Region - A 23-year-old mother of two in Iraq's Kurdistan Region was murdered by her husband on suspicion of an illicit relationship with another man, her family said, as police reported they had six suspects.
Jihan Muhammad Jafar was found dead in the district of Bahrka, close to her grandparents' house. She was killed on New Year's Day after her husband made her believe he was taking her out on a date.
Major Jilamo Abdulqadir, director of an interior ministry department in Erbil that investigates violence against women, told Rudaw, "An arrest warrant for six people has been issued for killing Jafar. So far, three people have been arrested, including two of her brothers and her nephew."
Women in the Kurdistan Region are often victims of domestic violence and so-called "honour killings," where a relative kills a female family member who is believed to have sullied the family honour, usually through pre-marital relations with a man.
Bafreen Ismaeel, Jafar's mother, said her daughter was killed by her husband, who suspected her of a relationship with one of his friends.
She said the husband's family had reported Jafar to the police. She was arrested and held for 10 days, but then freed after a physical examination showed nothing and investigations showed she had never even spoken on the phone with her alleged lover.
Abdulqadir said that Jafar was returned to her parents because they promised to protect her. "Without the court's consent, they handed her back to her husband. What they did was ignorant and illegal," he said.
Ishmaeel said she had told Jafar's husband to divorce her if he did not want her, but he had gathered his own relatives and announced his intention of killing her.
"Two days before she was killed, Jafar and her husband went to Koya. On the way, her husband told her he would neither kill her nor divorce her, but that he wanted to start a new life with her." Ismaeel said, "So, they planned to go out together for New Year's Day."
"When she was getting ready to go out on New Year's Day, I felt something was not right. I begged her not to go out with him, but she didn't listen to me," Ishmaeel said.
"Jafar was always saying even if he kills her, she would still go and see her husband. She loved him a lot," Ishmaeel said. "Her phone went off after 11 am. After two hours, her husband sent us a message that he had killed her."
http://www.rudaw.net/english/kurds/5658.html
-----------
Shura' Legislative Committee Intend the Exclusion of Woman in the Next Egypt Election
13 JANUARY 2013
The undersigned express their resentment towards the amendments of parliament's law in addition to the amendments of practicing political rights law that were stated by the legislative committee of Shuraa' Council headed by the deputy Mohamed Toson. The committee has cancelled putting women in the first half of the list that includes more than four candidates. This, in turn; aims at excluding woman in the next elections, the matter which contradicts with democracy and does not represent the half of the parliament
The undersigned also condemn this law as it ignores and "wastes" the largest voting power, 23 million voters from the registered voters in records. This power is being sought by all political parties to vote for them in the elections, while being rejected to be represented in the parliament by a weak argument which states that "obliging the parties to put woman in a specific arrangement in the electoral list is a barefaced intervention in the parties' management and contradicts with equal opportunities". In addition, the undersigned assure their rejection to the declarations which state that the addition of this clause in the election's law is a waiver to satisfy the civil trend and an accusation of being trafficking with women's issue
Shuraa' legislative committee cancelled this clause, although the government has approved and kept it in its bill. Although the judge Omar El Sherif, the assistant of minister of justice, has defended the constitutionality of this article considering it as a positive discrimination, yet the Islamic parties represented in "El Nour", "Al Banaa wa El Tanmya", "Al Amal" and a number of independent individuals among which law professors form a majority in voting on cancelling these clause in article no. 3 in the law
The undersigned stress that women did not get any new gains in the law after the committee has cancelled what it has been agreed upon in the dialogue committee concerning putting women in the first half of the list, as the statement of putting women in the list is not new one and cannot be considered a discrimination since it was there in the old law
Accordingly, the undersigned claim the necessity of reviewing the recently stated elections' law since it totally violates the Egyptian women's right and her representation in the next parliament, in a way that is matching with her strong and effective participation at all levels since 25th January revolution till now. Especially as Egypt is one of the signatories states on CEDAW Convention which obliges all the signatories with appropriate representation of women. The seventh article in this convention states that "States Parties shall take all appropriate measures to eliminate discrimination against women in the political and public life of the country and, in particular, shall ensure to women, on equal terms with men, the right
(a) To vote in all elections and public referenda and to be eligible for election to all publicly elected bodies;
(b) To participate in the formulation of government policy and the implementation thereof and to hold public office and perform all public functions at all levels of government;
(c) To participate in non-governmental organizations and associations concerned with the public and political life of the country".
Also the third article states that "States Parties shall take in all fields, in particular in the political, social, economic and cultural fields, all appropriate measures, including legislation, to ensure the full development and advancement of women, for the purpose of guaranteeing them the exercise and enjoyment of human rights and fundamental freedoms on a basis of equality with men"
Besides article no. 4 states that "Adoption by States Parties of temporary special measures aimed at accelerating de facto equality between men and women shall not be considered discrimination as defined in the present Convention, but shall in no way entail as a consequence the maintenance of unequal or separate standards; these measures shall be discontinued when the objectives of equality of opportunity and treatment have been achieved. So this law contradicts with this convention"
It is worth mentioning that with the outbreak of July Revolution in 1952 and according to the constitution of 1956, the Egyptian woman gets her right to vote in the elections and nominating for the membership of political and legislative bodies. Also the Egyptian constitution of 1971 has asserted these rights, and in 1957 the Egyptian woman joined the parliament for the first time, and the first female minister in the Egyptian government was appointed in 1962
http://allafrica.com/stories/201301141695.html?viewall=1
-----------
Indonesian Women Told How to Ride Motorbikes
By SARA SCHONHARDT
Jan 15, 2013
JAKARTA, Indonesia — A plan by officials in an Indonesian city to ban women from straddling motorbikes has prompted an outcry from critics, who say local leaders are infringing on women's safety and freedom in the name of religion.
Leaflets have been circulating for a week in Lhokseumawe, in Aceh Province on the island of Sumatra, informing residents about a proposed bylaw that would prohibit women from sitting in a straddle position or holding on to the driver while riding on the back of a motorbike.
Most Indonesians are Muslims, but Aceh is the only province that seeks to strictly enforce Islamic law, or Shariah. The province already has bylaws prohibiting gambling and adultery and restricting how women may dress in public, with penalties that include public canings.
Full report at:
http://www.nytimes.com/2013/01/15/world/asia/indonesian-city-plans-to-ban-women-from-
-----------
British Airways discriminated against Christian staffer: Court
Jan 15, 2013
LONDON: British Airways discriminated against a devoutly Christian airline employee by making her remove a crucifix at work, Europe's highest court ruled on Tuesday. But the court rejected discrimination cases by three other Christian claimants.
BA check-in clerk Nadia Eweida sparked a national debate in Britain over religion in public life when she was sent home in November 2006 for refusing to comply with rules banning employees from wearing visible religious symbols.
Full report at:
http://timesofindia.indiatimes.com/world/uk/British-Airways-discriminated-against-Christian-staffer-Court/articleshow/18032967.cms
-----------
Saudi Arabia to Jump In World Listing, For Nominating 30 Women To The 150-Seat Shura
By Habib Toumi
January 13, 2013
Manama: Saudi Arabia was ranked 184th on the world's list of the percentage of women in parliament, alongside Nauru, Palau, Qatar and Vanuatu. None of the countries had any women in their elected or appointed parliaments.
However, a decree issued on Friday by King Abdullah Abdul Aziz Al Saud, has set the country on the path to make a huge leap to the 80th place, well ahead of the US, Ireland, Russia, India and Brazil.
Full report at:
http://gulfnews.com/news/gulf/saudi-arabia/saudi-arabia-to-jump-ahead-in-world-listing-1.1131427
-----------
Saudi Nurse Hailed As Hero for Saving Man
By Habib Toumi
January 15, 2013
Manama: A Saudi nurse has been hailed a hero after she rescued a young man following a road accident.
Salwa Juma Al Khobairi was in a car on the Madina-Khaybar highway in western Saudi Arabia when she saw a crowd of people around a man who was bleeding as a result of an accident.
Despite the social restrictions on the presence of women among men, Salwa got out of the car and forced her way through the crowd of onlookers until she reached the man and administered the urgently needed medical care.
The nurse's prompt intervention and efforts saved the young man in his 20s well before medics reached the site of the accident, witnesses told local Arabic daily Okaz.
http://gulfnews.com/news/gulf/saudi-arabia/saudi-nurse-hailed-as-hero-for-saving-man-1.1132395
-----------
Aid Money Stolen From Family of Indonesian Sex Abuse Victim
January 15 2013
New misery appears to have hit the family of the 11-year-old sex abuse victim, with their aid money being stolen by an unidentified woman on Monday.
The money, which totalled Rp 35 million (US$3,619), had been collected from donors, including Jakarta Governor Joko "Jokowi" Widodo, following the death of the girl, who came from a scavenger family, after she was apparently repeatedly sexually assaulted by a third party.
Full report at:
http://www.thejakartapost.com/news/2013/01/15/aid-money-stolen-family-sex-abuse-victim.html
-----------
Kainat Malala's Friend Slowly Picks up the Pieces
January 15, 2013
ISLAMABAD: Kainat Riaz, one of the schoolgirls injured in the Taliban attack on Malala Yousafzai, spoke to The Express Tribune about how she remains affected by her attack, but adds that her life is gradually returning to normalcy.
Perhaps fearing for her safety, she refuses to comment on who attacked her, but admits the incident has badly affected her life. She cited her constant police escort as one example of how her life is forever altered.
Full report at:
http://tribune.com.pk/story/494078/kainat-riaz-slowly-picks-up-the-pieces/
-----------
Women Marchers for Minhaj Ul Quran: Willing To Brave Everything, Unwilling To Walk To a Toilet
January 15, 2013
ISLAMABAD: People watching on TV with baited-breath Tahirul Qadri's 'million men' march that streamed into the federal capital late Monday, many could notice the unusually large number of women and children among the participants.
They will camp out on the main Jinnah Avenue and streets until their demands are met. They waited for Minhaj ul Quran International (MQI) chief Tahirul Qadri to arrive, waving flags, chanting slogans and calling for 'change'.
Full report at:
http://tribune.com.pk/story/494069/women-marchers-willing-to-brave-everything-unwilling-to-walk-to-a-toilet/
-----------
Fatima Bint Mubarak Hails His Highness's Pakistan Initiative to Open "Woman Training Centre"
15 January 2013
Shaikha Fatima bint Mubarak, Chairperson of the General Women's Union (GWU), the Family Development Foundation (FDF) and the Supreme Council for Motherhood and Childhood and the honorary chairman of the Red Crescent Authority (RCA), has hailed the distinctive humanitarian initiative of The President, His Highness Shaikh Khalifa bin Zayed Al Nahyan, to open the first of its kind project of the "Woman Training Centre" in Pakistan's Khyber Pakhtunkhwa province.
Full report at:
http://www.khaleejtimes.com/nation/inside.asp?xfile=/data/government/2013/January/government_January33.xml&section=government
-----------
Syrian women fight the silent battle
Little optimism in women playing a leading political role when the conflict ends
By Carol Morello, Washington Post
January 15, 2013
Antakya, Turkey: Hiba Al Haji's flight from Syria was sparked when she was summoned for interrogation after she encouraged her university students to join protests against the government.
Her inquisitors never realised the trunk of her car parked outside was full of guns she was running for the rebels. Afraid it was just a matter of time before she was found out, Hiba says she left Aleppo the next day for Turkey, where she founded the Free Syrian Women Organisation. She now channels her revolutionary spirit into distributing food and medicine for refugees, and counselling women who were raped before they, too, fled the civil war in their homeland.
Full report at:
http://gulfnews.com/news/region/syria/syrian-women-fight-the-silent-battle-1.1132402
-----------
Indian's subway death: NY woman indicted, deemed fit for trial
Jan 15, 2013
NEW YORK: A 31-year old woman, accused of shoving an Indian immigrant to his death in front of a subway train last month as she hated "Hindus and Muslims", has been found mentally fit to stand trial and was indicted on charges of murder as a hate crime by a US grand jury.
Erika Menendez of Queens pushed Sunando Sen, 46, in front of an oncoming subway train on December 27, telling authorities later that her hatred for "Hindus and Muslims" prompted her to do so.
Full report at:
http://timesofindia.indiatimes.com/world/us/Indians-subway-death-NY-woman-indicted-deemed-fit-for-trial/articleshow/18031474.cms
---------
Indian-origin politician becomes Singapore's first woman speaker
January 14, 2013
Indian-origin politician Halimah Yacob scripted history on Monday by becoming the first woman speaker of Singapore's parliament, replacing Michael Palmer who was forced to quit over his extra-marital affair.
She assumed charge at the start of the sitting of the House this afternoon, Channel News Asia reported.
Full report at:
http://www.hindustantimes.com/world-news/restofasia/Indian-origin-politician-becomes-Singapore-s-first-woman-speaker/Article1-989468.aspx
---------
At NASA for Five Days for 14-Year-Old Emirati Girl
Olivia Olarte-Ulherr / 15 January 2013
For Zeinab Al Sheikali, learning how to work within her team's budget and buy parts to build the Mars rover, lander and rocket is a difficult task, especially since the 14-year-old Emirati girl is only in Grade 10 and not a space scientist or NASA engineer, for that matter.
Yet, this is exactly what she and 21 other girls from the Applied Technology High School (ATHS) of the Institute of Applied Technology (IAT) in Abu Dhabi and Al Ain, were trained for at NASA's Houston Space Centre last month.
Full report at:
http://www.khaleejtimes.com/kt-article-display-
-----------
Omani Father's 33-Year Search For Daughter Ends in Dubai
January 14, 2013
Dubai: On Saturday night the arrivals area at Dubai airport was the setting for a very special family reunion.
A father, face to face with his estranged daughter, fell short of words to express his joy. A very emotional daughter walked towards him after a few moments of hesitation and hugged him tightly for a long time. He responded by holding her chin up and planting a gentle kiss on her cheek.
Full report at:
http://gulfnews.com/news/gulf/uae/general/father-s-33-year-search-for-daughter-ends-in-dubai-1.1131961
-----------
PCP, Women's Empowerment Group for Promoting Media Ethics on Portrayal of Women
15 January 2013
KARACHI: Press Council of Pakistan (PCP) and Women's Empowerment Group (WEG) signed the Memorandum of Understanding (MoU) to become strategic partners to collaborate on interventions on social development and media ethics related to human rights, while emphasising women rights particularly. As per the signed MoU, scope of intervention of both parties includes creating public awareness, involving in research and media development, capacity building and community mobilisation and policy reforms related to press freedom and right to information.
Full report at:
http://www.dailytimes.com.pk/default.asp?page=2013\01\15\story_15-1-2013_pg5_5
-----------
Middle East soccer associations' campaign for women's right to play
By James M. Dorsey - Singapore
15 January 2013
Middle Eastern soccer associations have launched a campaign to put women's soccer on par with men's football in a region in which a woman's right to play and pursue an athletic career remains controversial and at a time at which political Islam is on the rise.
The associations announced the campaign at the end of a two-day seminar in the Jordanian capital Amman organized by the West Asian Football Federation (WAFF) and the Asian Football Development Project (AFDP). Glaringly absent among the representatives of the 13 Middle Eastern WAFF members was Saudi Arabia where women's soccer exists at best in a political and legal nether land as well as Yemen.
Full report at:
http://www.middle-east-online.com/english/?id=56444
-----------
Indonesia's World-Class Pianist ... at 14
Katrin Figge | January 15, 2013
At first sight, Janice Carissa Kurniawan looks like a regular teenager: the bubbly, charming 14-year-old is a 9th grade scholarship student at Cita Hati Christian Junior High School in Surabaya. She likes to hang out with her friends at a mall on the weekends, hoping to catch a movie.
But as soon as her fingers touch the keys of a piano, Janice drifts off into another world — the world of music.
She has spent two hours every day playing the piano for as long as she can remember. On some days — especially prior to a concert — she practices up to eight or nine hours. Janice has already performed at the prestigious Carnegie Hall in New York, and will have her first solo piano recital in Indonesia at Soehanna Hall in South Jakarta tonight at 7:30 p.m., organized by the Jaya Suprana School of Performing Arts.
Full report at:
http://www.thejakartaglobe.com/lifeandtimes/indonesias-world-class-pianist-at-14/565697
-------------
URL: https://www.newageislam.com/islam,-women-and-feminism/new-age-islam-news-bureau/for-women-victims,-no-privacy-in-death--post-mortem-unit-in-khyber-medical-college/d/10007