New Age Islam News Bureau
31 Jan 2020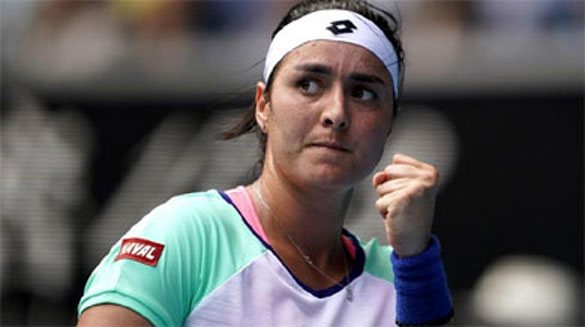 Tunisia's Ons Jabeur. (Reuters)
-----
• Battling Jabeur Sets New Benchmark for Arab Tennis, First Arab Woman to Reach a Grand Slam Quarter-Final
• More Afghan Women Reporting Sexual Harassment, Year On Year
• A Muslim Women's Netball Team Brings Competition — And A Sense Of Inclusion
• 'Saaf Bath' Initiative To Set Up Portable Public Toilets For Pakistan Women
• All-Women Sit-In against CAA/NRC at Ballarpur Today
• Women Deaf Club Opens New Riyadh HQ
• Sheikha Jawaher Guides and Encourages UAE Sportswomen Ahead Of the Arab Women's Sports Tournament
Compiled By New Age Islam News Bureau
URL: https://www.newageislam.com/islam-women-feminism/for-first-time-saudi-arabia/d/120944
--------
For The First Time in Saudi Arabia, Women Are Allowed To Participate In Playing Cards Competitions
January 30, 2020
In Saudi Arabia, where women are now free to drive, they can now work with unmarried men, and they are allowed to participate in politics.
Now the Saudi government has allowed women to participate in playing cards competitions for the first time.
According to Saudi Arabia's Entertainment Authority, for the first time ever, women are allowed to compete in the card game.
There is a playing cards tournament held every year in Saudi Arabia, in which young people, including elderly people from across the country, participate and showcase their skills.
This time also, the first week of February next month will begin with a playing-card tournament in which female players are also allowed to participate for the first time.
In Saudi Arabia, women have generally been seen playing with cards but were previously allowed to play cards at home or at women's conferences.
According to the Saudi Entertainment Authority, the championship of cards will begin on February 6, which will continue till February 15, and for the first time, women will participate in the tournament.
It is unclear whether the female players will compete with the male players or the men's and women's combined teams will be formed in the tournament.
https://www.newsbox.pk/for-the-first-time-in-saudi-arabia-women-are-allowed-to-participate-in-playing-cards-competitions/
--------
Battling Jabeur Sets New Benchmark for Arab Tennis, First Arab Woman to Reach a Grand Slam Quarter-Final
30 JANUARY 2020
By Kylie Kiunguyu
25-year-old Tunisian Ons Jabeur, the highest-ranked Arab woman in tennis history, knocked out China's Wang Qiang to become the first Arab woman to reach a Grand Slam quarter-final.
The first Tunisian and Arab woman to win a main-draw match at the Australian Open is 25-year-old Ons Jabeur. The only other Tunisian woman to win at a Grand Slam after reaching the second round at Wimbledon, the US Open and the French Open was Selima Sfar.
Jabeur played against 27th-ranked Wang, who had defeated 23-times Grand Slam champion Serena Williams in the third round. Wang faltered in the second set, going down two breaks as Jabeur kept her off balance with varied and speedy shots.
"The first set was tricky little bit because I started good, but then went down little bit, couldn't win my serve," Jabeur said post-match. "Obviously second set was amazing for me. I was really relaxed... I'm happy that I went through."
Jabeur also sent former world number one Caroline Wozniacki into retirement in the previous round.
The tennis giant describes herself as a "100% Tunisian product" having turned down opportunities to train abroad to continue developing her game at home.
"I got a lot of offers to go to college in the US -- wasn't really an option for me," said Jabeur, who is ranked 78th in the world. "I wanted to really go pro directly. I knew if I play in college, I cannot play professional tournaments.
"We don't have much experience in Tunisia. But hopefully now we can see more and more."
She therefore hopes her success at the Australian Open will inspire other players from her region.
"I'm trying to inspire many (of the) young generation back home either in Tunisia or the Arabic world, especially in Africa, which is amazing," Jabeur is quoted saying by AFP.
"I mean, it's not impossible. I made it. Like I said before, I've been practising in Tunisia from the age of three through 16 or 17. I'm 100 percent Tunisian product."
She went on to acknowledge the drawbacks in Tunisia's recent past saying, "It was little bit tough after the revolution. It was not really safe at the time. Now everything, like, is normal."
Other African's that featured in the Grand Slam are Egyptian debutante Mayar Sherif made it to the first round of the women's qualifying draw and fellow Egyptian Mohamed Safwat made it through his three qualifying matches to become the first Egyptian player since 1978 to make the Australian Open's main draw.
https://allafrica.com/stories/202001300944.html
--------
More Afghan Women Reporting Sexual Harassment, Year On Year
27 Jan 2020
The number of women in Afghanistan reporting cases of sexual harassment has been on the rise for years.
Rights advocates say that may be a sign more women are becoming emboldened, as they also become more prominent in other sectors in society.
But with the Taliban resurgent in many parts, some women are worried that any progress will be short-lived.
https://www.aljazeera.com/news/2020/01/afghan-women-harassment-rise-number-cases-reported-200127094957914.html
--------
A Muslim Women's Netball Team Brings Competition — And A Sense Of Inclusion
January 30, 2020
Aysha Khan
LONDON (RNS) — Sumayyah Akhter wasn't close with many other Muslim girls growing up.
"I lived in a very small white town before I moved to London," she said. "So I only ever had, like, three Muslim friends. That's why I applied to university in London."
But even though the University of Westminster has a large Muslim population and an active Islamic society, commonly referred to as an ISOC, Akhter still found it difficult to connect with other Muslims on campus.
She might have been disappointed — had she not stumbled upon a Facebook page called ISOC Netball during her first month at Westminster, where she studies French and international relations.
"I was like, 'Whoa, that exists?'" said Akhter, who had played netball for eight years at both the school and club levels. "I played netball all my life and always wanted to get back into it, and I've met tons of Muslim girls now, so that was kind of like two in one for me. I'm literally so happy I joined."
In the fall of 2017, two Muslim women studying at the London School of Economics founded the netball club for women in their school's Islamic society. The pair had played against each other in a local netball league before university and sought a way for their Muslim friends of any athletic ability to get involved in sports.
Back then, the group was small, with about 10 LSE students that founders Faiza Siddiqi and Hibah Rizki knew. Since then, it's grown to an interuniversity club, with Muslim students at over a dozen institutions up and down the U.K. involved.
Although less common in the U.S., netball is popular among women in Commonwealth nations. The sport is similar to basketball but is played by two teams of seven players each and does not allow dribbling or running with the ball. Players are also assigned roles, restricting their movement to designated areas of the court.
Because it's typically played as part of schools' physical education classes, most young Brits have a basic familiarity with the fast-paced game. Virtually any Muslim woman at an area university can join the team with little to no learning curve.
"Having started the club over two years ago, it feels amazing to see how far it has come," said Rizki, who now works as a business analyst in a law firm while Siddiqi serves as an executive officer in Britain's Foreign Office. "The team has evolved and become a place where girls from all universities feel welcome. I think it offers students the opportunity to practice sport without judgment and make new friends."
The club's founders graduated in 2018. But both remain involved in the club, coordinating matches, joining players in games and showing up with a whistle around their necks to referee.
The club is now helmed by captain Amina Hassan, a third-year biomedical student at St. George's, University of London.
"Muslim women are very underrepresented in sports," she said. "You only see the standout ones, and none of us feel like we can get to that point. And even if we wanted to, there's nowhere to play."
Hassan said the initiative offers an inclusive alternative to Muslim women who feel uncomfortable joining university sports teams due to barriers including drinking culture, the lack of prayer breaks, the uniforms and the prospect of playing with mixed genders.
"They have their socials every week that are just not halal. They all wear their little dresses up to here" — she indicated her thighs — "and then we've got all our long sleeves and leggings, and it's too much."
The team is one of a number of initiatives emerging to increase British Muslim women's participation in sports.
Among Muslim women, a 2017 analysis by Sport England found, just 18% reported participating in sport regularly, compared with about 30% of the U.K.'s female population. And just half of Muslim women said they performed at least 150 minutes of moderate activity per week, compared with 72% of women of no religion.
Last year, London's Brunel University became the country's first to offer a lightweight sports hijab for its student athletes. The move was championed by the student union as a potential solution to a gap in minority female students' participation in group sports.
Other U.K. Muslim-led projects such as Muslim Girls Fence, launched by community-based charity Maslaha in collaboration with British Fencing and Sport England; Grace & Poise ballet academy; and Safari Kickboxing's women-only Muay Thai program seek to champion Muslim women in sports by offering culturally sensitive classes to help participants gain confidence and interest in physical activity. Another Muslim woman, in Birmingham, started a community women's netball team to overcome her own postnatal depression.
But most efforts have been short term, with limited funding, and therefore have not made any sustained impact, noted Anira Khokhar, a representative for the British-based Muslim Women's Sports Foundation.
Grassroots, community-led initiatives like the netball team are a "brilliant" start, she said, offering young women a "safe space to pursue these activities in a more accessible and private way," and thereby boosting physical, mental and social well-being.
"I personally stopped doing sports as soon as my body started changing," she recalled. "I was embarrassed and didn't feel comfortable running around anymore. But if there were support systems out there, then I could have carried on playing netball and swimming without feeling like I was jeopardizing my religion."
A major aim of the netball team is to allow players to bring their faith with them onto the court.
"When it hits maghrib time at 4:30 (p.m.), everyone's just lined up on the court praying," Hassan said, referring to the daily evening prayer. "These guys made me lead the prayer last week. You can't do that at any other league."
Many people assume the team is somehow strict or religious in nature, she said, noting that Islamic societies can have a reputation for being judgmental about students' faith.
"My cousin literally asked me, 'Every time you score, does someone say takbeer?'" she said, referring to the Arabic expression praising God. Her team members burst into laughter around her at the idea. "I was like, no, it's not like that at all. It's just open for all Muslim girls to get together."
Some players pointed to university leagues' intensely competitive nature as intimidating, saying they preferred the accessibility of their club. But members of the ISOC club have a competitive streak, too. The group has entered area tournaments and regularly plays against other university clubs. And in March, the group will host another national inter-ISOC tournament at the Colombo Centre's netball courts in Waterloo.
"I'm not driving down from Birmingham and wasting all that petrol not to get a medal," one player said with a laugh.
Last year's tournament had eight teams participating; this year, organizers hope to get at least 10 involved. Either way, the players agreed, Manchester is the team to beat.
Even at their weekly matches, the group can get aggressive.
"I have to remind them it's a no-contact sport," Siddiqi said as the women jostle each other beneath the hoop.
On this dreary, cold Sunday, 14 students participated in the weekly match. When the sun comes out, organizers said, about 40 students show up and divide themselves between two courts.
"Allah gave you height, use it!" one player shouts. "Footwork, footwork!" another reminds.
Inevitably, locals walking past the courts look up as they hear the players' shouts, and many do a double take as they see the players' full-length joggers, hoodies and, for many of them, hijabs.
"It's a bunch of hijabis and Muslim girls running around, so everyone's always like, 'What's going on?'" Siddiqi said, blowing her whistle as a player ran offsides. "It's an odd sight for most people."
https://religionnews.com/2020/01/30/a-muslim-womens-netball-team-brings-the-competition-and-a-sense-of-inclusion/
--------
'Saaf Bath' Initiative To Set Up Portable Public Toilets For Pakistan Women
January 31, 2020
In response to the abysmal state of public toilets in the country, the Salman Sufi Foundation (SSF) – a progressive gender equality initiative – has launched a new project aimed at benefiting pedestrians, especially women, who do not have access to clean or safe public toilets in Pakistan.
According to a report, the foundation, under the Saaf Bath initiative, will set up portable public toilets in Lahore and Karachi during the first phase of the project by February 2020.
In order to do so, the SSF is partnering with several corporate companies so that portable toilets can eventually be installed in all major cities of the country, especially those areas with a large number of female pedestrians, the statement added.
The restrooms, which will also be made accessible for the elderly and the differently-abled, will be maintained on a daily basis by the foundation's coordinating officers. Further, the foundation will also ensure hand sanitizer and ample water for the public, it read.
The pilot project is in line with the foundation's plan of initiating an overall health and sanitation campaign exclusively for women, the press release concluded.
According to a 2015 report by the World Health Organisation (WHO), Pakistan was the third-largest country where over 43 million people defecate openly.
https://www.pakistantoday.com.pk/2020/01/31/saaf-bath-initiative-to-set-up-portable-public-toilets-for-women/
--------
All-Women Sit-In against CAA/NRC at Ballarpur Today
Jan 31, 2020
Chandrapur: Muslim women under the banner of Women against NRC and Muslim Ekta Manch have geared up for a massive agitation against the controversial Citizenship (Amendment) Act (CAA) and the proposed National Register for Citizens (NRC).
A grand all-women agitation has been planned at Ballarpur SDO office on Friday where protesters will stage daylong sit-in to oppose the allegedly tyrant laws of the central government.
Shakila Parveen, district president of Jamaat-e-Islami's women's wing, alleged that the CAA has been brought to "rectify" the failure of NRC in Assam. "There are many burning issues like poverty, unemployment, health and education in the country. At a time when the Centre has failed on all these fronts and country's GDP has dropped to a record low of 4.7%, the government is busy in pitting one community against other," said Parveen.
"It is a well-planned conspiracy and the ruling party is sowing seeds of discord among communities for its political gains," she charged. Parveen also accused the ruling BJP of being inclined to fascism and using Hitler's tactics to persecute Muslims in India.
Humera Khan from Muslim Ekta Mach informed that over 3,000 women from all major towns in Chandrapur and Gadchiroli districts will gather at Ballarpur and stage the daylong sit-in to oppose the CAA, National Population Register (NRP) and NRC on Friday.
Leaders from various organizations including Bharatiya Muslim Parishad, Jijau Brigade, Shramik Yalgar, Tipu Sultan Foundation, Shaheed Ashfaqulla Khan Foundation and various organizations including Jamat-e-Islami Hind etc have declared their support to the agitation and will address the gathering.
https://timesofindia.indiatimes.com/city/nagpur/all-women-sit-in-against-caa/nrc-at-ballarpur-today/articleshow/73782406.cms
--------
Women Deaf Club Opens New Riyadh HQ
January 31, 2020
RIYADH: The Women Deaf Club has launched its new headquarters in the Al-Faiha neighborhood in Riyadh.
The King Salman Center for Disability Research (KSCDR) attended the inauguration ceremony.
The event was attended by women and girls with hearing impairments, officials from the Saudi Association for Hearing Impairment and the Volunteering Deaf Girls Group.
Hind bint Abdul Aziz Al-Shuwayer, deaf and sign language program officer at KSCDR and regional director for the Arab region at the World Federation of the Deaf, said that the center aims to promote its partnerships with charities.
Intisar Al-Hadlaq, a supervisor from the club, stressed in her speech the need to establish institutions caring for women and girls with hearing impairments.
She added that they provide them with sporting, cultural and social activities that enable them to demonstrate their capabilities.
Al-Hadlaq noted the importance of the connection between the deaf community and the entities representing them.
She also spoke highly of experience with KSCDR, which has consistently involved deaf people in all of its programs and training courses.
https://www.arabnews.com/node/1620776/saudi-arabia
--------
Sheikha Jawaher Guides and Encourages UAE Sportswomen Ahead Of the Arab Women's Sports Tournament
January 30, 2020
The SWS Chairperson noted that AWST embodies Sharjah's vision for comprehensive and inclusive development, and reflects the emirate's emphasis on empowering women across both traditional and non-traditional sectors like sports, arts and other creative fields in the UAE and the Arab world.
A few days ahead of the fifth edition of the Arab Women Sports Tournament (AWST), one of the most ardent champions of women's sports in the region, Sheikha Jawaher bint Mohammed Al Qasimi, Wife of His Highness the Ruler of Sharjah and Chairperson of Sharjah Women's Sports (SWS), has met the players of Sharjah Women's Sports Club (SWSC), carried out detailed inspections of the tournament's facilities and equipment, and hasbeen debriefed on competition-wise preparations.
Sheikha Jawaher has emphasised that Arab sportswomen have made qualitative strides in elevating their professional status globally, and have successfully turned around age-old preconceptions and stereotypes that determined women's role in their communities - establishing themselves as equal stakeholders in the development of economy and society.
The SWS Chairperson noted that AWST embodies Sharjah's vision for comprehensive and inclusive development, and reflects the emirate's emphasis on empowering women across both traditional and non-traditional sectors like sports, arts and other creative fields in the UAE and the Arab world.
The tournament is organised by Sharjah Women's Sports (SWS) and the 2020 edition will be held from Feb. 2-12.
During the visit, Sheikha Jawaher met the sportswomen who will be representing the UAE at AWST 2020, and received a rundown on the training they are undergoing in preparation to compete at the tournament.
Sheikha Jawaher offered a boost of encouragement to these athletes, saying, all of them walked two distinct journeys to be ready for professional sports and for AWST 2020. "The journey represents the spirit, culture and history of our nation - your progress mirrors Sharjah's and the UAE's values and your success is proof and endorsement of the individuals and institutions in the UAE who have collaborated seamlessly for your professional advancement."
"You have also been on personal journeys that come with being a woman who wants to excel in sports. You strived, persevered, and overcame numerous challenges - and here you are. Today, you are all role models who have successfully changed the traditional narratives of duty and achievement attributed to women. You will all leave a lasting imprint in the history of our nation, our region and the world," Sheikha Jawaher added.
Sheikha Jawaher continued: "Your determination, team spirit and singular focus on taking your athletic performance and professionalism to the next level are a win regardless of what you score in AWST. Winning is meaningful only when viewed in the bigger picture, which is not only inclusive of the scores but values that make the foundations of good sports."
Sheikha Jawaher encouraged the athletes to put their best foot forward and exhibit the sporting spirit instilled in them by the UAE to their counterparts from other nations. Sheikha Jawaher advised the players to not let the competitions' outcomes affect their relationships with their opponents, and use the tournament as a platform to promote Sharjah's and the UAE's cherished values of friendship to the world.
"I am here to root for you and provide the support you need to bring victories to yourself, to Sharjah and your beloved nation," the SWS Chairperson continued, saying she will be following their performance live on TV and social media. "I urge you to be responsible, and continue your journey of development at the SWS facilities, which will continue to play a fundamental role in developing your sporting skills and physical strength," Sheikha Jawaher further noted.
Sheikha Jawaher concluded her talk by thanking His Highness Sheikh Dr. Sultan bin Muhammad Al Qasimi, Supreme Council Member and Ruler of Sharjah, for continuously supporting the emirate's comprehensive and inclusive journey of development by providing all that is required to advance women in sports, both locally and internationally. Sheikha Jawaher also thanked SWS staff for their passion to achieve AWST's goals and for offering worldclass services to target segments of society.
Sheikha Jawaher Al Qasimi took feedback from the sportswomen on AWST's preparations for the 11-day event on how they thought the level of the tournament can be advanced and its facilities updated, listened to participating athletes' views on the training sessions ahead of AWST - including internal and external camps organised by SWS and sessions that enable the sportswomen to exchange expertise and experiences - can enhance their performance levels and prospects of winning.
Sheikha Jawaher concluded her inspection visit with a tour of the sporting venues and new facilities at SWS, including five sports halls and eight fully-equipped multipurpose facilities. She also took a tour of the AWST 2020 competition venues and took updates from the tournament's officials on the final leg of preparations.
https://www.khaleejtimes.com/sport/local/sheikha-jawaher-guides-and-encourages-uae-sportswomen-ahead-of-the-arab-womens-sports-tournament
--------
URL: https://www.newageislam.com/islam-women-feminism/for-first-time-saudi-arabia/d/120944
New Age Islam, Islam Online, Islamic Website, African Muslim News, Arab World News, South Asia News, Indian Muslim News, World Muslim News, Women in Islam, Islamic Feminism, Arab Women, Women In Arab, Islamophobia in America, Muslim Women in West, Islam Women and Feminism