New Age Islam News Bureau
17 Oct 2013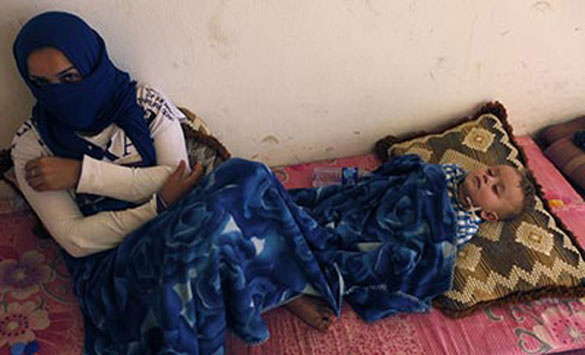 A Kurdish Syrian and her son are seen at a shelter in Qushtapa on the outskirts of the city of Erbil in Iraq's Kurdistan region, Aug. 23, 2013. (Photo by REUTERS/Thaier al-Sudani)
-----------
• Filipino Women's Rights Group to Relaunch Anti-Violence Campaign in Dubai
• No Trace of 'Sexual Jihad' Girls in Tunisia
• Sacking of Turkish TV Host over Low-Cut Outfit Spurs Debate over Religious Influence
• Better Law Enforcement in Pakistan Could Help Prevent Rape of Children
• New Iraqi Association Strives To Help Unmarried Women
• In Ramallah and In Bnei Brak, Big Hair's Back Among Observant Women
• 1,657 Female Saudi Nurses Serve Pilgrims
• Gathering of Women from Different Faiths in Hamburg
• Female Muslim Fighter Emerges In Time of Turmoil
• Singapore Based Beauty Queen Found Murdered In Pakistan
Compiled by New Age Islam News Bureau
URL: https://www.newageislam.com/islam,-women-and-feminism/new-age-islam-news-bureau/for-malaysian-men,-homes-turn-bloody-as-wives-show-claws/d/14023
-----------
For Malaysian Men, Homes Turn Bloody As Wives Show Claws
October 17, 2013
PETALING JAYA— Who knew women are becoming increasingly aggressive? Who knew that men are steadily adding to government statistics of victims of domestic violence?
Consider: The police received 650 cases of men being abused by wives and family members in 2010. The figure jumped to 815 in 2011 and 930 last year.
Social analysts said this worrying trend showed that a growing number of Malaysian men were becoming victims of domestic abuse by their partners or families.
They said most of the victims were professionals, an indication of growing female dominance in households.
However, while 28 per cent of domestic violence victims are men, the number of women abused remains higher, at 72 per cent.
Malaysian Islamic Youth Movement women's affairs vice-president Fadlina Siddiq said those abused were usually professionals — primarily doctors, engineers, accountants, teachers and PhD holders.
She said women were becoming dominant as they were breadwinners in some families, usurping the traditional role of men.
"Some were hit with golf clubs, mops, brooms or even slapped by their spouses.
"Some suffer mental abuse when the wife refuses to talk for weeks or months. Some wives even deny their husbands sex for a prolonged period of time," she said.
"Many women today are decision-makers in families. This goes against the traditional and religious role as man has always been seen as the protector of the family.
"If a father fails to play his traditional role this will also confuse children," she said.
"We have counselled several children and they told us they have seen their mother abusing their father. This has to stop because it confuses the children.
Women's Aid Organisation executive director Ivy Josiah said abuse, be it on men or women, is not right and pro-active steps must be taken to protect the victims.
"Domestic violence is a pattern of abuse that involves both physical and mental," said Josiah.
Josiah said if the number of abused men was increasing, the ministry should set up a helpline to assist them.
Malaysian Psychiatric Association secretary Dr Hazli Zakaria said: "We should first rule out any psychiatric disorder in either the victim or the perpetrator and offer them treatment as required," he said.
http://www.themalaymailonline.com/malaysia/article/for-men-homes-turn-bloody-as-wives-show-claws#sthash.ZOVqeBnp.dpuf
-----------
Filipino women's rights group to relaunch anti-violence campaign in Dubai
October 17, 2013
DUBAI // A women's rights group plans to relaunch its campaign to battle violence against women and reach out to thousands of Filipinas.
Gabriela – the General Assembly Binding Women for Reforms, Integrity, Equality, Leadership and Action – hopes to send a strong message to women about defending their rights at its general assembly in Dubai tomorrow.
"I do not want our members to lose sight of our vision when it comes to women's rights and welfare," said Melca Perez, the group's chairwoman.
"We need to emphasise the importance of revisiting our ongoing campaign, 'I vow to fight violence against women'."
On November 25, 2011, the local branch of Gabriela was launched in Dubai to provide counselling to Filipinas, particularly victims of sexual abuse.
It has more than 70 members, most of whom are household workers. The campaign seeks to encourage women to realise their worth and role in society.
Since its launch, Gabriela has held educational discussions for housemaids and office workers to teach them how to protect themselves.
Topics include rape and incest, sexual harassment, violence against women and children, sex trafficking, prostitution and slavery, and sexual discrimination in the workplace.
In the past nine months Gabriela UAE has handled more than 20 cases involving sexual harassment, rape and non-payment, among other issues.
"Efforts by our government to ensure the protection of the rights of our women are still lacking," Ms Perez said. "However, the women should also be fully aware of their rights and how to defend them."
She said she was handling the case of a housemaid who reported a rape to police. Her employer had requested assistance.
There is also a sexual harassment case filed by three female office workers against their boss.
"They had videos as proof, which the police admitted as evidence of sexual and verbal abuse," Ms Perez said.
In August, a woman was held at the Dubai International Airport for non-payment of her credit card debt. She was eventually released and deported after her family in the Philippines settled her debt.
Some Filipino maids work more than eight hours a day and are paid below the US$400 (Dh1,469) minimum wage set by the Philippine government.
"We hope other women can join us in our campaign and share their experiences," Ms Perez said. "We need them to be empowered and stand up for their rights."
Gabriela has invited a speaker from a non-government organisation in Hong Kong to discuss women's migration and its effects on the family, women and their country.
The general assembly will be held at the Millennium Plaza Hotel on Sheikh Zayed Road tomorrow from 1pm to 6pm.
rruiz@thenational.ae
http://www.thenational.ae/uae/filipino-rights-group-to-relaunch-anti-violence-campaign-in-dubai#ixzz2i11lhOoi
-----------
No Trace of 'Sexual Jihad' Girls In Tunisia
October 17, 2013
"Oh, lovers on Habib Bourguiba Avenue! … No, our girls did not go to Syria looking for love! They were forced to go there," said an old drunken man, who was preaching to passersby late at night on Habib Bourguiba Avenue in the Tunisian capital, facing the headquarters of the Interior Ministry. The latter is the site where Tunisia's interior minister dropped the bomb by mentioning the "100 Tunisians girls who came back from sexual jihad [in Syria]."
The speech by Interior Minister Lotfi Ben Jeddou, which he delivered at the Constituent Assembly three weeks ago, about "sexual jihad" caused dozens of international media outlets and journalists to flock to Tunisia to look for these "sexual jihad" women. These women, however, have yet to be found.
Nevertheless, the story of Lamia, a Tunisian girl, has gone viral in Tunisian media. It has been said that Lamia went to Syria, came back pregnant and had contracted HIV, and has been locked at her home in the city of Bizerte in the far north of Tunisia. Journalists went to Bizerte in search of Lamia, whom the whole world has come to know, but there is no trace of Lamia.
Women's rights organizations are part of the political divide. They want the minister's statements to be true, but there is no firm evidence to prove them. Thus, they remain silent, because speaking out in the case would be to the advantage of the Islamic Ennahda movement — their traditional opponent, which is accused of facilitating the trip of young Tunisians to Syria to perform jihad.
Ahmed, a Salafist preacher, stands In front of the Al-Fateh Mosque in Tunis. This is where Seifallah ben Hassine — known as Abu Iyad al-Tunisi — emir of the dissolved Ansar al-Sharia group, used to pray. "We take our wives along with us to Syria, or we marry Syrian women there. This is what we have done in Iraq and Afghanistan," he said on the issue of sexual jihad.
So, why did the minister make these allegations? The viable explanation, in the absence of any evidence to this effect, is that the US report on the assassination of opposition member Mohamed al-Brahimi was to be brought up during the Constituent Assembly's session. It has been asserted that the Ministry of Interior had been informed that Brahimi would be assassinated 11 days before his death and did not take any measures in this regard. Thus, to divert the attention away from this issue, Ben Jeddou has randomly brought up the story of "100 Tunisian women, who came back pregnant from Syria."
Ennahda has embraced Ben Jeddou's claims about sexual jihad to avoid a scandal that would make its government part of Brahimi's assassination.
However, the scandal revolving around sexual jihad will soon be replaced with another scandal, if Ben Jeddou fails to find a way to deal with the issue. Yet, the story of the 100 Tunisian women who came back pregnant from Syria will not pass unnoticed, should it turn out to be fabricated.
Some observers expect that a few women will show up to uphold the minister's claims. This is not to mention that Ben Jeddou has told a French media outlet that he has 15 documented cases only on this issue.
The flocking journalists, who have failed to find one case of the 100 cases that the minister talked about, started to dig into the source of the story. Preacher Mohammed al-Arifi — who some have said issued a sexual jihad fatwa — denied this.
According to some reporters who came to Tunisia, the number of words in the tweet that was attributed to Arifi exceed the number of words allowed in one tweet, which proves that it was a bogus claim. Moreover, the news was first heard on a Lebanese TV channel close to the Syrian regime.
Yet, Tunisia believed the story of sexual jihad. Everybody here knows that the government has allowed thousands of people to fight jihad in Syria, so what would prevent young women to follow suit? The story about these girls feeds the creative imagination of the Tunisian people. This is not to mention that offering sexual services under the umbrella of al-Qaeda and the Islamic State of Iraq and al-Sham is an appealing story that sparks much excitement.
http://www.al-monitor.com/pulse/culture/2013/10/tunisian-women-return-from-sexual-jihad-in-syria.html#ixzz2i135ucZx
-----------
Sacking of Turkish TV host over low-cut outfit spurs debate over religious influence
October 17, 2013
ISTANBUL // The sacking of a Turkish television host after she was criticised for wearing a low-cut outfit has highlighted divisions in the country's ruling party and sparked accusations it is trying to impose religiously conservative values.
Gozde Kansu, 33, hostess of the music talent show Veliaht, or Heir to the Throne, at the private ATV channel, lost her job earlier this month, following condemnation from an aide to the prime minister.
The move came just days after the reform allowing female civil servants to wear the headscarf took effect.
Recep Tayyip Erdogan's spokesman, Huseyin Celik, branded Kansu's attire as "unacceptable", adding television presenters should respect the "sensitivities" of their audience.
A day later, Kansu was removed from her job by ATV for poor performance. The channel belongs to Calik Holding, led by Berat Albayrak, a son-in-law of Mr Erdogan.
The case caused an outcry in Turkey, where charges of Islamisation by the Justice and Development Party (AKP) government have increased following a recent decision to allow teachers and other civil servants to wear the Islamic veil at work.
Mr Celik has also come under fire from other prominent AKP politicians. EU minister Egemen Bagis said Mr Celik's statement had created the impression in the West that there was a "repressive mentality" in Turkey. In Turkey, a Muslim country with a western-style democratic system, TV hostesses and female singers regularly wear extravagant dresses.
Fatma Bostan Unsal, a founding member of the AKP and a long-time campaigner to allow Turkish women to wear headscarves in state institutions, told the Taraf newspaper yesterday that Mr Celik had violated the rights of Kansu.
"The violation against a woman with a décolleté is also a violation against me," Ms Unsal, who wears a headscarf, told the daily.
But government critics say they are concerned that Mr Celik's remarks were not the reflection of a personal view, but represent the AKP's approach to non-conservative lifestyles.
Selen Dogan, a leading member of Ucan Supurge, or Flying Broom, a women's rights group, said there were growing efforts by conservative circles to force their values onto the rest of society.
"They want to take control of women's bodies at all times," Ms Dogan said. "Not only women's décolletés, but their faces will be covered as well" if the trend continued, she added.
Secularist opponents of the Erdogan government regard the headscarf as a symbol of political Islam that should be kept out of state institutions, but the government says the now-scrapped ban was a violation of the rights of women who wear the headscarf.
Mr Celik conceded that concerns in society had been fanned by the row surrounding Kansu.
"It is being said that 'they first freed the headscarf and then said this about a décolleté,'" he told the Anadolu news agency. But he insisted that the government respected the freedom of women to dress as they liked. Mr Bagis, the EU minister, said the government was working on a law that would make it a crime to put pressure on people because of what they wear.
But AKP critics think the government, in power since 2002, is involved in a campaign to make conservative values the norm, especially with the help of the media.
"Turkish media have become extremely conservative in the last ten years, and censorship has been revived," Ms Dogan said. "I am concerned that in a few years every word uttered against AKP policies will be counted as a crime."
Kansu's décolleté has also become a political issue in Ankara. Sezgin Tanrikulu, a deputy leader of the secularist Republican People's Party (CHP), the biggest opposition bloc in Turkey's parliament, wants Mr Erdogan, who is the AKP's leader as well as the prime minister, to clarify whether the criticism against the TV presenter had political motives.
"Where does Huseyin Celik find the right to judge people's taste in clothes?" Mr Tanrikulu asked in written questions submitted to parliament, which Mr Erdogan is obliged to answer under parliamentary rules.
Mr Tanrikulu suggested that Mr Celik's statement might have had the purpose to punish Kansu for her support of anti-government protests that shook Turkey in June.
The Veliaht show's producers and Mr Celik denied any connection between the criticism against Ms Kansu's dress and her dismissal.
But Kansu said she did not believe that.
She posted a picture on her Facebook site that showed her next to a sign that read "My body, my décolleté, my performance" and told the Hurriyet newspaper that there had not been any complaints about her performance, her dress or her style before the AKP spokesman made his remarks.
tseibert@thenational.ae
http://www.thenational.ae/world/europe/sacking-of-turkish-tv-host-over-low-cut-outfit-spurs-debate-over-religious-influence#ixzz2i1BARkjc
-----------
Better law enforcement in Pakistan could help prevent rape of children
October 17, 2013
The Post's Oct. 14 report "In Pakistan, a new focus on rape amid deadly attacks on children" queried various scholars and political leaders on what is causing an epidemic of rape of children. The problem was linked, variously, to a culture of terrorism and assassination, to overpopulation and to Islamic schools. But a crucial element was missing from the analysis: basic law enforcement.
While many contributing factors may allow violence to flourish, the most important by far is the failure of police, prosecutors and courts to deter child rape by regularly prosecuting rapists and sending them to jail. If there were an epidemic of rape or violence in our own communities, our first response would be to turn to law enforcement and demand that it do its job in protecting our children from crime. Pakistani children deserve this same protection — but if adults responsible for securing their safety have given up on basic law enforcement, then these children have an even more fundamental and devastating problem that needs attention.
Congress approved $18 billion in military and economic assistance to Pakistan between 2002 and 2010. How about supporting a Pakistani justice system that actually protects women and girls?
Gary A. Haugen, Washington
The writer is president of International Justice Mission.
http://www.washingtonpost.com/opinions/better-law-enforcement-in-pakistan-could-help-prevent-rape-of-children/2013/10/16/51af6400-35b7-11e3-89db-8002ba99b894_story.html
-----------
New Iraqi Association Strives To Help Unmarried Women
October 17, 2013
SULAIMANIYAH, Iraq — An association calling itself Single Women, based in the city of Sulaimaniyah in the Kurdistan Region of Iraq, is helping unmarried women meet the challenges of family life and the pressures faced by single women.
Single Women is the first association in the Iraqi Kurdistan Region set up to help women over the age of 35 who haven't married or had the chance to achieve any technical or professional skills.
Amina Ali, the director of the association, told Al-Monitor: "I began implementing the idea in 2009. I later worked on clarifying its goals and working methods. Then, I obtained the necessary government approvals and announced the opening of its office in Sulaimaniyah in August 2013. It is run by 15 female employees and housewives."
"The association works with single women and seeks to help them attain financial independence and alleviate many social pressures," she added.
Ali continued, "This 'invisible' segment of women struggles with enormous psychological and physical suffering, because of societal notions that condemn and shame women who are not married by their thirties. This is despite the fact that, often, this [situation] is out of their own control."
Although there are no official statistics on the number of single women in Iraq, unofficial figures indicate that a high percentage of Iraqi women are illiterate. According to a statement released by the Tammuz Organization for Social Development on the International Day for the Eradication of Illiteracy, Dec. 8, 2012, 24.6% of Iraqi women are illiterate.
The vast majority of illiterate women in Iraq remain under the care of male family members and rely on them financially. This naturally subjects them to the absolute authority of their father, brother or uncle. This control comes in addition to the loneliness and isolation suffered by a single woman if she does not have a rich social environment.
Ali added, "A single woman's day revolves around housework. She exerts her energy cleaning and cooking. Our goal is to enable these women to develop themselves and allow them to learn skills and participate in professional workshops so they can find work and a source of income — so they will no longer be a burden on their families."
The association, which receives support from the Kurdistan Regional Government, is preparing a program that will provide monthly stipends as well as other activities for these women. Women can join the association by applying, and the association's employees go around distributing the form. According to Ali, "So far, approximately 70 women have joined the organization and are receiving services."
The association hopes to later expand its work to include services for divorced women and widows.
Miriam Ali is a journalist who has worked with a number of Iraqi media outlets. She is an activist in the field of women's rights and has participated in a number of courses and workshops for promoting civil action.
http://www.al-monitor.com/pulse/originals/2013/10/iraqi-kurdish-organization-helps-single-women.html#ixzz2i14l86OZ
-----------
In Ramallah and In Bnei Brak, Big Hair's Back Among Observant Women
October 17, 2013
Orthodox Jews call it a bubu. Religious Muslims call it a puff. Both are based on the same idea: stuffing something other than a woman's real hair under her headscarf to create the illusion of long flowing tresses beneath.
The Jewish version, the bubu, is a sponge-like accessory, usually the size of a baseball, that's either clipped directly onto the hair or in some instances, inserted into a pocket inside the headscarf created especially for this purpose. The Muslim version, the puff, is a floral hair clip that comes in various sizes and colors and attaches directly to the hair.
In both cases, though, the attachment forms a huge hump on the head, suggesting lots and lots of hair, and causing the headscarf wrapped around it to protrude from the back of the skull at a 90-degree angle.
Once upon a time, it was rather simple to tell observant Jewish and Muslim women apart – despite the hair coverings that are standard garb for both groups and dictated by religious rules of modesty. The Jewish women tended to tie their scarves behind the head and were partial to solid colors, though not necessarily black or white. The Muslim women, on the other hand, used their Hijabs to cover the entire front of the neck as well, and more often than not, restricted themselves to either black or white.
An ironic development
But that's no longer the case. Out-of-towners visiting the modesty fashion centers that dot both sides of the pre-1967 Green Line can't help but be struck these days by the fact that - as distant as they may be culturally, religiously and politically - fashion-conscious women strolling the streets of Ramallah and Bnei Brak have remarkably similar tastes when it comes to new trends in headwear.
Perhaps it's a sign of the times, but the drab colors that once defined hair coverings for both Jewish and Muslim women are gone, having been replaced by bright-colored patterns, often decorated with fringes, beads and other eye-catching ornaments. Somewhat ironically, these headscarves, whose original purpose was to deflect attention from the female head, have through their volumizing effect and bold designs become the centerpiece of many outfits worn today by both observant Jewish and Muslim women. Headscarves have become the one piece of attire that often sets the tone for all the rest.
Numa Yaqub, the proprietor of a toy store in downtown Ramallah, says he finds the contemporary style alluring, and even offers an explanation as to why it hasn't yet caught on among Israeli Arabs. "In Jaffa, the Arabs need to differentiate themselves from the Jews," he says. "Here in Ramallah, they don't, because they live among themselves."
A customer in the store, who identifies herself as Zahara, wears a white sweater, snug blue jeans, and a headscarf decorated in bold hot-pink, sky-blue, and black-and-white patterns that draw out the solid colors in the rest of her attire – a look quite popular outside on the street as well. "My face is thin, so it makes me look fuller," she says, explaining her preference for the puffed look.
From black-and-white to leopard prints
The selection is enormous, judging from random stops at big and small shops in downtown Ramallah that cater to female clientele. Not by chance, the once-standard black-and-white Hijabs are rarely seen on the streets anymore, except on the heads of much older women. As Yaqoub puts it: "If you see a young woman with a black or white hijab and no puff underneath, you know she's not from here."
Checks, polka dots, leopard-skin prints, wild geometric shapes and softer paisley patterns are among the dozens of different designs visible on headscarves decorating the heads of young, fashion-conscious Muslim women, their colors spanning the spectrum of soft pastels to fluorescent orange and lime. When not wrapped around the head, covering the oversize bun created by the puff, the scarves are prominently displayed hanging outside storefronts or folded neatly in huge piles inside.
Jehed Jada, who owns a headscarf shop near the main downtown square, says most of the women popularizing the new fashion are between 16 and 35 years old. "It's something that's become extremely trendy in the past few years," he says.
Not all are thrilled with the look and what it suggests. In an article titled "Clerics Split Hairs Over Latest Hijab Fashion," the U.K.-based online fashion site Hijab Style recently reported that the more flamboyant look, also known as the Abu-Nafkha-style hijab, was enraging some prominent Muslim clerics, one famously describing it as "the leaning humps of female camels" and damning those who followed the trend to a bitter fate.
The 'it' style
Jewish women sporting a similar look have been spared such attacks. "There's nothing wrong with a Jewish woman looking beautiful and caring about how she looks," says ultra-Orthodox stylist and fashion designer Miri Beilin. "If the point is to create the illusion of lots of hair, there's absolutely nothing wrong with that."
The concept, she says, has recently carried over to the world of wigs, typically worn by the very ultra-Orthodox, "where the 'big hair' look of the 1980s is back in style again."
And what's the attraction? "Lots of thick hair," explains Beilin, "is a sign of a healthy woman, and women want to look healthy."
A recent visit to the biannual fashion fair for modesty-conscious Jewish women, held just outside the ultra-Orthodox community of Bnei Brak, would seem to confirm that. There, the designers displaying and selling haute couture hair wraps were clearly drawing the largest crowds.
So call it big hair, Abu-Nafkha, bubu or puff. Whatever the case may be, for modesty-conscious women with a sense of flair – Jewish and Muslim alike – it's indisputably the modern-day "it" style.
http://www.haaretz.com/culture/.premium-1.552144
-----------
1,657 female Saudi nurses serve pilgrims
October 17, 2013
MINA — A total of 1657 female Saudi nurses are participating in taking care of sick pilgrims, according to Dr. Munira Al Osaimi, the Assistant Deputy Health Minister and Head of Laboratories, Nursing, and Nutrition committee at Ministry of Health in this year Haj season.
"We are seeing more participation from Saudi nurses, whether males or females, in Haj healthcare service by the passage of time. Their participation is determined by their qualifications and experience, and willingness to serve," she said. She added the above figures represent 28% of the total nurse workforce participating in Haj service at the ministry and that the Saudi nursing workforce, male and female, represent almost 65% of the total nurses in Haj this year, while the total number of nurse represent over 26% of the total 22,500 healthcare workers in Haj this year.
Dr. Al Osaimi said the Ministry has prepare these nurses for serving in Haj. "For example they receive training session in how to deal with pilgrims, and this we wanted to teach them some major language of pilgrims. So, we made a booklet withcommon words and phrases used in communication between nurses and patient in 12 languages including English, French, Urdu, and others, " she said. — Saeed Al Khotani
http://www.saudigazette.com.sa/index.cfm?method=home.regcon&contentid=20131017183820
-----------
Gathering of Women from Different Faiths in Hamburg
International Quran News Agency
October 17, 2013
The second gathering of women from different faiths will be held in the city of Hamburg, Germany.
The gathering is slated for Saturday, October 26, from 9:30 in the morning to 5 P.M., izhamburg website reported.
The theme of this year's convention is peace, the organizers have announced. Women from different faiths and nationalities will take part at the event.
Director of women's affairs at the Islamic Center of Hamburg is one of the participants at the gathering.
She will deliver a speech on "Role of Women in Establishing World Peace".
http://www.iqna.ir/en/news_detail.php?ProdID=1303523
-----------
Female Muslim Fighter Emerges In Time of Turmoil
October 17, 2013
The Miss World pageant in Indonesia was moved last month amid protests from radical Muslim groups. In July, a member of the Malaysian Parliament proposed forcing women to abide by a dress code to better control the country's issues with sexual crimes.
Ann Osman is both Muslim and Malaysian. And Friday when she makes her professional mixed martial arts debut, she'll be fighting against more than just her opponent – she'll be breaking down barriers for women across Southeast Asia.
Osman will battle Sherilyn Lim of Singapore for the ONE Fighting Championship organization at Singapore Indoor Stadium in front of a sold-out crowd of 12,000 people. Even though two of ONE FC's top fighters are competing, the women have overshadowed all their male counterparts in terms of attention.
Osman is the first Muslim Malay female to ever compete at this level of MMA and this will be just the second women's fight in ONE FC history. Though women's martial arts are deeply rooted in Southeast Asia going back generations, a spectacle like this has never been seen.
Loren Mack, ONE FC's director of public relations, says the media attention the bout has gotten in the region and beyond has been "phenomenal." The event has the ability to reach 1 billion viewers on ESPN Star Sports in Asia and online streaming at LiveSport TV.
"I hope to inspire other women and with this female bout happening, I just hope it opens more doors and breaks barriers for more female fighters to want to compete," Osman told The Post.
The 27-year-old business development manager has seen only support from her family, community and fiancé. She says she's "lucky" for not having encountered any negativity, even on media tours throughout the region.
Osman said she was unsure whether she will bare her midriff in a sports bra, common garb for female fighters, saying she hopes she would be able to wear something that makes her "comfortable." Osman does wear sports bras while training, but that's in a private setting – not in front of potentially millions of people.
In September, Muslim groups protested the Miss World contest, tabbing it as pornographic. The pageant had to be moved from Jakarta, Indonesia to the island of Bali, a predominantly Hindu resort island.
"I'm sure there's going be some kind of backlash," said Mark Buehler, a political science professor at Northern Illinois University who specializes in Southeast Asian culture. "There are conservative Muslim groups in Malaysia. I'm sure there will be protests against this fight."
Buehler, though, says those people will be in the minority and the fight being in more liberal Singapore will quell the outrage. Osman, he believes, actually has a chance to become a huge celebrity in Malaysia if she wins.
"My guess is that if she wins against Sherilyn, [any controversy] is going to be forgotten," Buehler said. "I think she'll be very popular if she wins."
Part of Osman's motivation to train in mixed martial arts is a result of Malaysia's problems with crimes against women. When she was in college, she was attacked by a man while walking on the street, but she managed to fight him off.
"It didn't get ugly," Osman said. "I elbowed him and pushed him and he ran away."
In the last five years, the government has installed women's-only train cars, buses and taxis in the capital of Kuala Lumpur and other areas to cut down on sexual harassment. Still sex crimes persist, prompting a female member of Parliament, Siti Zailah Mohd Yusoff, to declare that shorts and short skirts were factors contributing to the spate and women should have a dress code.
"You always see the stories on the news, rape cases, women being robbed," said Osman, who is from Sabah on the island of Borneo. "It's really sad. I'm always telling girls to join this sport. It really changed me physically and mentally it gives me that confidence to defend myself."
Now anyone who tried to mess with the pretty brunette would be in for a major problem. Her coach at Borneo Tribal Squad, Ayung Jumat, said she's the only fighter – male or female – to ever break his nose during training. Accidentally, of course.
"She spars with the boys and during training, she can knock anyone out," Jumat told The Straits Times. "I make it compulsory for them to put on headgear whenever they spar with her."
Osman, though, still considers herself a "girlie girl." She likes to paint her nails and wear dresses. Her hero is Gina Carano, the women's MMA veteran who has gone on to star in Hollywood movies like "Fast and Furious 6."
"I've always looked up to Gina," Osman said. "I just think she's just gorgeous and fierce at the same time."
She hopes a win Friday will "open doors" for her in MMA and possibly beyond. Just being in the cage will likely cause a ripple effect with women across the region.
"These are important events from a pop cultural perspective," Buehler said. "Maybe younger women are inspired by that."
Osman considers herself fortunate that she avoided any resistance from her parents and family. When she told her mother, Nur Fadillah, that she signed a deal to fight for ONE FC, Fadillah asked, "Can we come watch?"
"Ann has always been an independent girl," Fadillah said. "I think she is brave in taking the lead and being one of the first females in the sport here in Malaysia and for this we are so very proud of her."
ONE FC CEO Victor Cui says women represent his organization's fastest growing fan base.
"There are a lot of female martial artists in Asia," said Cui, who started ONE FC in 2011 and made it into the most influential MMA brand in Asia. "This is still a new sport. It's going to take time to take off."
For Muslim women in Southeast Asia, Osman is the pilot.
http://nypost.com/2013/10/16/female-muslim-fighter-emerges-in-time-of-turmoil/
-----------
Singapore Based Beauty Queen Found Murdered In Pakistan
AFP | Oct 16, 2013
A model and beauty queen from Singapore who went missing in Pakistan has been found dead in a ditch on the edge of Islamabad, police said on Tuesday.
Fehmina Chaudhry, 27, a Singapore-based model originally from the Pakistani port city of Karachi, went missing last Thursday while visiting Islamabad to buy property, police said.
"Police arrested the real estate broker and after interrogation, he told officers that he had murdered the model and dumped her body in a stream at the outskirts of the city," Islamabad police spokesman Muhammad Naeem said.
Her promoter in Pakistan, Asif Hashmi confirmed Chaudhry's death, and said she was married with a son and a daughter.
"She was a dedicated philanthropist and she was planning to set up a fashion school in Pakistan," Hashmi said, adding that she had won several beauty contests.
The officer leading the investigation, Yasir Afridi, said Chaudhry's mother had contacted her for the last time on the evening of October 10, after which she received a text message saying her daughter had been kidnapped.
"She used to visit Pakistan often to see her mother and was staying at a private hotel in Islamabad where she came to buy real estate for her mother," Yasir said.
http://beautypageants.indiatimes.com/world-pageants/archives/Beauty-queen-found-murdered-in-Pakistan/articleshow/24245314.cms
------------
URL: https://www.newageislam.com/islam,-women-and-feminism/new-age-islam-news-bureau/for-malaysian-men,-homes-turn-bloody-as-wives-show-claws/d/14023