New Age Islam News Bureau
31 May 2020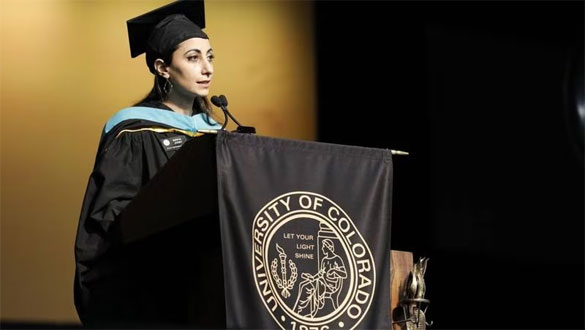 (Photo: Supplied, Iman Jodeh)
-----
• Women Given Hygiene Kits in Sindh's Prisons, Shelters
• Feminism Is Not A Movement in Pakistan At All: Sherry Rehman
• Romina Ashrafi: 'Honour Killing' Sparks Outcry In Iran
• COVID-19 Poses Challenge for Indonesia's Female Peacekeepers
• Top Iran Body Denies Negligence in Teenage Girl's Killing
• This Fashion Designer Is Making Hijabs for Covid-19 Frontline Workers
• Online Quran Contest Underway for Iraqi Women
• Western Countries Leave Children of ISIS in Syrian Camps
• Over Two Million Households Received Women's Ministry Aid During MCO, CMCO, Says Rina Harun
Compiled by New Age Islam News Bureau
URL: https://www.newageislam.com/islam-women-feminism/for-iman-jodeh-being-muslim/d/121992
------
For Iman Jodeh, Being Muslim And A Progressive Democrat Go Hand In Hand
May 31, 2020
NEW YORK CITY: In the 1980s and 1990s, Colorado's Muslim community was made up of fewer than 30,000 people, and there were only five mosques in the entire state.
"It was really small, but we were happy," said Iman Jodeh, the Democratic nominee for Colorado's House of Representatives District 41.
Ever since she was a child, on the first day of Ramadan, Jodeh has sent teachers a letter, written on the mosque letterhead, saying: "For the next 30 days, Muslims will be fasting. So, if your Muslim students seem lethargic by the end of the day, please understand why."
"Those Muslims are starting to make up a big voting bloc, a big portion of our legislators' constituency. And it is incumbent upon those legislators to make sure they are listening and taking into account the views of the constituents, regardless of their race, creed or religion. And I constantly remind them of that," Jodeh told Arab News by phone.
The Democrat hopeful grew up in the shadow of two Gulf wars, and shortly after the 9/11 attacks, the Afghan and the Iraqi wars. She remembers the anonymous phone calls at dinnertime threatening to kill her father Mohammed, and recalls her mother, who wears a hijab, being frightened to leave the house.
"It changed my life. In the wake of 9/11, I was a sophomore in college and had not declared my major yet. Two days later, I was a political science major and, again, speaking to crowds having to defend my religion."
Jodeh, a trained political scientist, spent the years following those events advocating for the Muslim community and the Middle East, "the most misunderstood region of the world, and the people who call it home." She taught about the Israeli-Palestinian conflict at the University of Denver, held cultural events about the region and discussed Islam.
The most effective results, according to Jodeh, came via her non-profit "Meet the Middle East," which invited Americans to take an "educational immersion journey" to the region to meet various stakeholders there, from Arab Bedouin to Palestinians living in Nablus, and both right-wing and left-leaning Israelis.
"From the Berbers of Morocco to the Kurds of Iraq, all these cultural and regional nuances must be understood before you can even attempt to understand the complexities of the conflict, and the kaleidoscope that make up the Middle East," Jodeh said.
"There are things we can highlight to prove to the world that the Muslim world is one of the most fascinating places to be: There are nine women heads of state in the Muslim world, and the US has yet to see our first. It was Arabs and Muslims who discovered contagion; Arabs and Muslims who discovered latitude and longitude.
"Some of the first and oldest libraries were in Alexandria and Baghdad. And one of the oldest universities was in Morocco, founded by a woman.
"The more we can show that to Americans, the more we're going to see further understanding and commitment to ending violence in the Middle East, as well as asymmetrical policies from the US and how we look at the region."
Jodeh said her love for Palestine is ingrained. She was never introduced to it. She did not have a first language: It was Arabic and English her entire life. She was never just American. She was Palestinian American.
"This is my identity, I will never abandon this narrative, because I feel I have an obligation to all Palestinians everywhere to advocate when I can.
"The age of learning, that renaissance period is coming. But we have to get through our dark ages before we can get there. And, unfortunately, that is what we are witnessing today in the Middle East. And it's heartbreaking.
"But the majority of people in the Middle East are under the age of 35, people like myself. We are just learning how to step outside dictatorship and implement something that we have known our entire lives to be true, which is democracy.
"Democracy is not a concept that is new to the Arab world. Shariah law has paved the way for democratic processes like social welfare," she said.
To Jodeh, being a Muslim and a progressive Democrat complement each other. She gained her knowledge of Islam from her father, a Palestinian immigrant who co-founded the largest mosque in the Rocky Mountain region, and took his daughter with him when he taught or gave speeches on Islam. That put her in contact with scholars whom she still consults today.
In Aurora, a city she calls home and "one of the best and most diverse cities in the nation, a true reflection of America," Jodeh has been working at the Interfaith Alliance of Colorado, where she speaks, often as a Muslim voice, on contentious bills, such as Equal Pay for Equal Work.
"I testified that, 1,400 years ago, God came down with a verse in the Qur'an: 'I never fail to reward any worker among you, for any work you do, be you male or female — you are equal to one another.'
"It was ironic to me as a woman following a religion that is often deemed as primitive, that this was prescribed to the people 1,400 years ago.
"The fact that those rights were laid out for women so early on is proof of the sanctity of a woman in Islam: Her right to divorce, to own land, to take part in government, to own her own business. These were all things that have been practiced and continue to be practiced."
The Democratic Party primaries in Colorado will take place on June 30.
https://www.arabnews.com/node/1682411/world
--------
Women Given Hygiene Kits in Sindh's Prisons, Shelters
May 31, 2020
KARACHI: The Sindh Commission on the Status of Women (SCSW) distributed hygiene kits for coronavirus among the female police officials, prisoners and workers at shelter homes with the help of Oxfam Pakistan.
According to a statement released by the commission on Saturday, upon seeing the severity of the coronavirus outbreak in prisons across the country, SCSW had arranged 500 hygiene kits for women in prisons and shelter homes to help protect them against the contagious disease.
Moreover, the commission observed that though there had been a surge in gender-based violence (GBV) since the lockdown was imposed, many victims were turned away by shelter homes due to the fear of virus transmission.
"The kits were distributed to protect our frontline female workers, who include police officers and shelter home administration staff, as well as the survivors of [domestic] violence, as it was reported that the victims of GBV were not allowed to enter shelter homes," the statement read.
Expressing gratitude towards Oxfam Pakistan, SCSW said that 319 kits were distributed in women's police stations, prisons, and protection cells, while 181 were handed over to Panah and four government-owned shelter homes in the first round in Karachi, Hyderabad, Sukkur, and Larkana.
In the second round, additional hygiene kits are to be distributed in the remaining women's prisons in Sukkur, Larkana, and Hyderabad, police stations in Matiari, protection cells in Hyderabad and Sukkur, and a district safehouse in Dadu.
The kits, which include face masks, sanitiser, sanitary pads and other items, were distributed among the women police officers and prisoners in the presence of Karachi AIG Ghulam Nabi Memon, three zonal DIGs, the women's prison DIG and SHOs.
Expressing the hope that these hygiene kits would help curb the spread of coronavirus in prisons and shelter homes, the statement stressed the need to develop concrete gender-specific policies to control violence against women during the pandemic.
The commission intends to consult civil society organisations, experts and stakeholders for developing recommendations for the Sindh government in order to address the needs of women at times of emergency.
https://tribune.com.pk/story/2232053/1-women-given-hygiene-kits-sindhs-prisons-shelters/
--------
Feminism Is Not A Movement in Pakistan At All: Sherry Rehman
May 30, 2020
Pakistani politician Sherry Rehman recently took to Instagram to share her views about actor Ayesha Omar's statement regarding feminism in Pakistan.
In a recent interview, Bulbulay star Omar had commented that Pakistanis think "feminists are man-haters or that they believe men should be eliminated. Feminism is a movement, a belief that women should have equal rights as men in any society, that's it."
Rehman, a former diplomat, then took to the Tribune Edit Instagram account where the quote had been shared to share her own take on the situation.
"Unfortunately, feminism is not a movement in Pakistan at all," she wrote. She went on to add, "Movements have coherent goals and constant mobilisation as well as strategic planning."
Omar had also shed light on instances of harassment in the industry in her interview. She said that she too had been harassed in the industry but did not take any names.
"I don't think I'm strong enough right now to name anyone… I don't want that kind of attention coming on to me," said Ayesha, mentioning how Meesha Shafi went through so much when she came out with her story.
"I was once asked whether I believe her story, and I just think when a victim comes out with their story, I would want to listen to it. I won't immediately be like, 'Oh, she's lying!'" she said.
https://tribune.com.pk/story/2231799/4-feminism-not-movement-pakistan-sherry-rehman/
--------
Romina Ashrafi: 'Honour killing' sparks outcry in Iran
27 May 2020
Iran's President Hassan Rouhani has requested his cabinet to speed up harsher laws in so-called "honour killings" amid a social media outcry over the murder of a 14-year-old girl by her father.
Rouhani pushed on Wednesday for speedy adoption of relevant bills, some of which have apparently shuttled for years among various decision-making bodies in Iran.
Separately, Masoumeh Ebtekar, the vice president of Iran for Women and Family Affairs, announced a special order to investigate the murder, while she also requested the cabinet to expedite and prioritise the relevant bills.
The killing last week of Romina Ashrafi in the town of Talesh, some 320 kilometres (198 miles) northwest of the capital, Tehran, prompted a nationwide and social media outcry.
The father, who is now in custody, was apparently enraged after she ran away with her 34-year-old boyfriend Bahamn Khavari in Talesh.
Five days later, after she escaped, they were found by authorities and Ashrafi reportedly told the police she feared a violent reaction from her father.
On Wednesday, different local media outlets highlighted the story, and a social media outcry followed under the hashtag #Romina_Ashrafi.
Under the law, girls can marry after the age of 13, though the average age of marriage for Iranian women is 23. It is not known how many women and young girls are killed by family members or close relatives because of their actions, perceived as violating conservative family or societal norms on love and marriage.
Iran's judiciary said Romina's case will be tried in a special court. Under the current law, her father faces a prison sentence of up to 10 years.
Iran's vice president in charge of family affairs, Masoumeh Ebtekar, expressed hope that a bill with harsher punishments will soon be in the final stages of approval.
https://www.aljazeera.com/news/2020/05/romina-ashrafi-honour-killing-sparks-outcry-iran-200527132339466.html
--------
COVID-19 Poses Challenge for Indonesia's Female Peacekeepers
May 30 2020
In many of the world's conflict regions where health may be one of the first casualties, the coronavirus poses a discernible threat to the local population.This is largely the case in south Lebanon, where sporadic skirmishes still occur at the border with Israel and the only medical facilities are located at the compound of the United Nations peacekeeping mission.The COVID-19 outbreak has had the unintended consequence of putting an end to all direct contact with the Lebanese people, a vital aspect to the work female peacekeepers do, according to Indonesian peacekeepers with the UN Interim Force in Lebanon (UNIFIL).UN Secretary-General António Guterres said that women held a central role in UN peacekeeping operations because they had greater access to local communities, improved the protection of civilians and promoted human rights in the line of duty.But the outbreak threatens to upe...
https://www.thejakartapost.com/news/2020/05/30/covid-19-poses-challenge-indonesia-s-female-peacekeepers.html
--------
Top Iran body denies negligence in teenage girl's killing
May 30, 2020
TEHRAN: Iran's Guardian Council denied Saturday that the killing of a teenage girl by her father was the result of "negligence" due to a delay in its approval of a new child protection law.
Last week's apparent "honor" killing of Romina Ashrafi, 14, sparked outrage across Iran, with media denouncing "institutionalized violence" in the "patriarchal" Islamic republic.
After her death, Vice President for Women and Family Affairs Masoumeh Ebtekar deplored a delay in the validation by the 12-member Guardian Council of a bill on the protection of children and teenagers.
Ebtekar said the bill was in the "final phase" of approval by the council and urged the top body, which is tasked with ensuring legislation complies with the constitution and Islamic sharia law, to pass it quickly.
The council has previously called three times for changes to the draft law after it was passed by lawmakers, the reformist Ebtekar newspaper wrote on Wednesday.
The daily said it was concerned that another delay would spell the bill's demise, particularly since Iran's new parliament is dominated by conservatives and hard-liners.
"There has been no negligence on the part of the council... concerning the approval of a draft law on the rights of children," Guardian Council spokesman Abbas Ali Kadkhodaee said Saturday.
According to Iranian media, Romina Ashrafi was killed in her sleep on May 21 by her father, who decapitated her in the family home in Talesh in northern Gilan province.
The reports said she ran away after her father refused her permission to marry a man 15 years older, but was detained and taken home.
Kadkhodaee said the council had indicated to parliament that it had some "objections" concerning the text of the bill and that lawmakers could have met in an emergency session to further discuss the draft law.
But he added: "One law alone cannot resolve such problems (apparent 'honor' crimes) which have a cultural, social and even economic dimension."
Iranian media reported that after authorities detained the teenager, she told a judge she feared for her life if she was sent home.
But what most outraged public opinion was that the girl's father was likely to face a lenient punishment of just three to 10 years in prison, which could be further reduced, according to the Ebtekar newspaper.
https://www.arabnews.com/node/1682296/middle-east
--------
This fashion designer is making hijabs for Covid-19 frontline workers
May 31, 2020
DUBAI: Hijab-wearing healthcare workers on the frontlines of the coronavirus pandemic have taken to washing their headscarves more frequently and after every use to maintain sanitation. Some women are even disposing of their hijabs after in between every shift to help mitigate the spread of germs, and are thus facing a shortage.
This is why Minnesota fashion designer Hilal Ibrahim has set out to design a sanitary head scarf that can be easily washed and safely reused. The owner of Henna & Hijabs, a boutique specializing in organic henna and hijabs, has already donated over 700 hijabs to doctors and nurses on the frontline of the coronavirus crisis all across the state.
The hospital-grade head scarves, which come in a variety of hues, including black, tan, blue and blush pink, were designed in a way that they don't impact mobility on the job while adhering to religious needs. Handcrafted out of jersey material, the pieces are breathable and efficient for the fast-paced work environment. They're also designed to withstand industrial washing machines.
It's not the first time the Minnesota-native teamed up with hospitals to provide hijabs for Muslim wearing healthcare workers. In 2019, Ibrahim joined forces with Park Nicollet and HealthPartners to design healthcare appropriate hijabs for patients and healthcare professionals.
Her hijabs are also sold in the Methodist gift shop where Ibrahim first volunteered at age 14.
https://www.arabnews.com/node/1682536/lifestyle
--------
Online Quran Contest Underway for Iraqi Women
May 31, 2020
According to Al-Kafeel website, the Quran Section of Women's Religious Guidance Office affiliated to the Astan (custodianship) of Hazrat Abbas (AS) Holy Shrine in Iraq has organized the competition since the holy month of Ramadan.
Fatemeh Seyyed Abbas Al-Mousawi, head of the section, said that the contenders are required to answer 30 questions on diacritics of Quran's verses, Quranic sciences, interpretation of Quranic verses and Hadiths from the infallibles (AS) about some verses of Quran.
She added that the main objective of the competition is to promote Quranic skills of Muslim women to make use of the verses in raising the new generation and get them familiar with Islamic teachings.
The competition is held for 4 days and the participants should be above 18 years old. Winners will be announced on Al-Kafeel website.
https://iqna.ir/en/news/3471553/online-quran-contest-underway-for-iraqi-women
--------
Western Countries Leave Children of ISIS in Syrian Camps
By Ben Hubbard and Constant Méheut
May 31, 2020
BEIRUT, Lebanon — As about 900 children languish in fetid, disease-ridden detainment camps in northeastern Syria, the Western states their parents hail from have insisted they cannot take them back.
But last month, when a seven-year-old French girl was on the verge of dying if she did not receive urgent medical care, France sent a medical jet and flew her to Paris for treatment, leaving behind her mother, two brothers and twin sister.
The repatriation of the girl, Taymia, was the rare exception, but proof, rights advocates said, that countries can take their children back when they want to.
"We have seen incredible hardheartedness when it comes to the responses of governments such as France that talk the talk about human rights," said Letta Tayler, a senior counterterrorism researcher at Human Rights Watch. "If France could take one child out, why couldn't it take the entire family?"
Human rights groups say leaving the children in Syria threatens their mental and physical health and risks their indoctrination with Islamic State ideology, which is widely followed in the camps and could create a new generation of violent jihadists.
The children lack education and adequate health care, and there are often shortages of food and clean water. Infectious diseases are rampant, killing dozens of people a month. There are increasing fears of the coronavirus, but there have been no confirmed cases because there has been no testing, according to the International Crisis Group.
Some children have lived in the camps for years, and at least nine children of European parents have died of preventable causes in recent years, according to Yasmine Ahmed, executive director of Rights and Security International, an advocacy group.
Some countries have taken many of their children back. Russia, Kosovo, Turkey, Uzbekistan and Kazakhstan have repatriated more than 100 women and children each.
But most Western governments have been reluctant to do so, citing obstacles like the difficulty of confirming parentage, the danger of sending diplomats into a war zone and not wanting to separate children from their mothers, whom the countries mostly do not want back.
When the Islamic State seized territory the size of Britain that spanned the Syria-Iraq border in 2014, declaring it an Islamic caliphate, tens of thousands of adherents flocked there from around the world, including many Westerners who brought children with them or gave birth after they arrived.
Those who survived the American and Kurdish-led military campaign against the group that ended more than a year ago were detained. The men were locked up in makeshift prisons and the women and children in the camps.
While repatriating the adults raises difficult questions about how guilty and dangerous they may be, a network of activists, lawyers and relatives in Europe and North America has pressed governments to bring the children home, arguing that they did not choose to go to Syria and should not suffer for their parents' sins.
"There is a line of argument that the kids are not to be blamed, but we will not help them because there will be a mother and potentially a father who will come out of the woods and insist to be joined with the kids," said Tyge Trier, a human rights lawyer in Copenhagen who disagrees with the policy and is working to bring Danish children home.
Despite the difficulties, 20 countries have brought home some children, according to Ms. Tayler of Human Rights Watch. The United States has brought home 15 children, a State Department official said, but did not say how many remained.
Twenty-six children of Canadians are stuck in northeastern Syria, most of them age six or under, Ms. Tayler said. They include a four-year-old orphan, Amira, who was born to Canadian parents in Syria and whose family was killed in the battle against the Islamic State.
Other countries have followed a case-by-case approach that gives priority to sick children, because the governments do not want them to die in the camps, and orphans, who can be repatriated without the encumbrance of their jihadist parents.
The issue of repatriation is particularly thorny for France, where Islamic State attacks have killed more than 250 people, turning a majority of French people against the repatriation of jihadists and their families.
The Kurdish forces who run the camps have called for the repatriation of all foreigners, arguing that they cannot detain them indefinitely in an unstable region.
But the French government regards women who joined the Islamic State as fighters who should be tried where they committed their alleged crimes, meaning in Syria or Iraq.
The parents of one French ISIS fighter have been trying for years to get their four grandchildren and the children's mother out of a Syrian camp and back to France, to no avail.
"There is no compassion or humanity for these children," said the grandfather, who gave only his last name, Lopez, to protect the family's privacy.
Her parents brought their four French-born children, including Taymia and her twin sister, to Syria with them and had another child there.
In 2015, her father, a well-known French jihadist, appeared in an ISIS propaganda video with her oldest brother as the boy executed a prisoner with a gunshot to the head. Both were killed in 2018.
Her mother and the four remaining children surrendered to Kurdish forces last year, joining some 80,000 women and children in the Syrian detention camps.
Taymia's mother asked relatives in France to help her and her children come home but the government refused. As Taymia, who has a double heart defect, grew weak and emaciated, lawyers and human rights groups took up her cause.
In April, by which point Taymia was struggling to breathe and had swollen hands and feet, the French government permitted her to come home.
Her mother, recognizing that her choice to join the Islamic State meant that the French authorities did not want her back, gave up custody of her daughter so she could leave.
"I was happy and sad at the same time," her mother said. "I knew she was finally going to get treatment, but I also knew that it would be a long time before I could hold her in my arms again."
Children's advocates said that France's extraction of Taymia in the midst of global pandemic when many borders were shut and air travel restricted showed that where there's a will there's a way. They criticized the French government for leaving her healthy siblings in Syria.
"Why is it that one child can be repatriated and not another?" asked Véronique Roy-Burin, a spokeswoman for an association of families that campaigns for the repatriation of French jihadist families. "Does he have to be near death?"
A French official, who spoke on condition of anonymity, said France was working to repatriate as many children as possible.
Last year, as the United States commemorated the 18th anniversary of the Sept. 11 terrorist attacks, a group of leading national security experts warned in an open letter that life in the Syria camps "fuels the Salafi-jihadist narrative of grievance and revenge that has proven so potent in recruiting followers."
Leaving so many people there, the experts said, risked allowing history to repeat itself.
"The kids are going to be worse than their fathers," Taymia's mother said. "I don't want them to grow up there."
Ben Hubbard reported from Beirut, Lebanon, and Constant Méheut from Paris.
https://www.nytimes.com/2020/05/31/world/middleeast/isis-children-syria-camps.html
--------
Over Two Million Households Received Women's Ministry Aid During MCO, CMCO, Says Rina Harun
30 May 2020
KUANTAN, May 30 — The Women, Family and Community Development Ministry (KPWKM) through the Department of Social Welfare (JKM) has channelled assistance to over 2.07 million households during the period of the movement control order (MCO) and conditional movement control order (CMCO) from March 18 until yesterday.
Minister Datuk Seri Rina Mohd Harun said of the total, 1.66 million households received Food Basket Aid through allocations from the government and Covid-19 Fund.
The remaining 401,130 households received aid from 2,760 non-governmental organisations (NGOs) and other bodies totalling RM20.96 million, she said.
"Donations from NGOs and other bodies in addition to the Food Basket Aid have been coordinated by the JKM to be presented to the targeted households.
"Among the recipients are those whose income had been affected and who have the difficulty in obtaining food supplies during the MCO and CMCO including those involved in the enhanced movement control order (EMCO) in several locations throughout the country," she said.
She said the ministry appreciated the cooperation and contributions of NGOs as well as corporate sector, public agencies, houses of worship and individuals in helping the government ease the burden of those affected by the implementation of the MCO and CMCO to curb the spread of Covid-19 in the country.
"We hope the NGOs and those involved will continue to work together with the government to help those in need by donating cash and food aid," she said. — Bernama
https://www.malaymail.com/news/malaysia/2020/05/30/womens-ministry-channels-aid-to-over-two-million-households-during-mco-cmco/1870881
--------
URL: https://www.newageislam.com/islam-women-feminism/for-iman-jodeh-being-muslim/d/121992
New Age Islam, Islam Online, Islamic Website, African Muslim News, Arab World News, South Asia News, Indian Muslim News, World Muslim News, Women in Islam, Islamic Feminism, Arab Women, Women In Arab, Islamophobia in America, Muslim Women in West, Islam Women and Feminism