New Age Islam News Bureau
02 November 2021
• Women Camel Riders 'Deserve Their Own Championship Series', Says First Female Race Winner
• UAE Women Officials among World's Most Influential People
• Women Feel Safer In UAE than Any Other Country: Survey
• Afghanistan: Women's Education in Limbo despite Taliban's Assurances
• Saudi Tournaments Crucial for Women's Golf Momentum, Says LET Chief
• US Woman Convicted In Bali 'Suitcase Murder' To Be Deported
Compiled by New Age Islam News Bureau
URL: https://www.newageislam.com/islam-women-feminism/iraqi-christian-girls-football/d/125698
--------
Football Brings Hope To Iraqi Christian Girls In Ex-IS Town
1 Nov 2021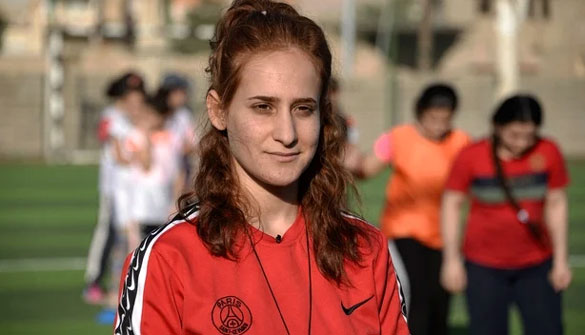 Coach Joanne Yusef Chaba leads a training session
-----
Spurred on by their coach, Christian girls kick the ball around a field in Iraq's Bartalla, a former jihadist stronghold where football is helping them dream of a better future.
In 2014, the Islamic State group seized control of the town in its sweep through the northern province of Nineveh, before subjecting women and girls to a harsh interpretation of Islam.
Four years on from IS's defeat the roughly 1,500 families who returned have been trying to restore a semblance of normality to Bartalla, about 12 kilometres east of Mosul, once the jihadists' de facto capital in Iraq.
A football academy opened its doors to girls six months ago equipped with artificial turf, thanks to funding from Lara, an Iraqi Christian non-governmental organisation.
"Here we do everything to teach young girls the basics of football," said coach Joanne Yusef Chaba.
The coach, a 22-year-old physical education graduate, said her dream was "to start a women's team that will compete in the future" in one of two already established women's leagues in Iraq.
Dressed in brightly coloured bibs, the girls do stretching exercises on the freshly laid pitch before Yusef Chaba blows a whistle for the start of practice.
After an exchange of passes, one of the players brings a ball under control before dribbling the length of the 40-metre pitch and unleashing a shot that rattles the post.
'Lack of support'
"Being here allows us to forget hard times," said Yusef Chaba, who fled to Arbil with her family two hours before the jihadists arrived in her hometown.
"Today when people see us, it raises their hopes and gives them confidence," added the recent graduate who is looking for a job. "Here we forget about our daily worries."
About 50 girls aged between 10 and 15 are enrolled at the academy where they attend two-hour training sessions twice a week.
Miral Jamal was six years old when she fled Bartalla with her family to escape the jihadists. Now aged 13, she is passionate about football.
"The players here feel good," said the schoolgirl.
"Football relieves us... there's nothing else to do in the city. I look forward to the training sessions."
The families' modest monthly contributions - between 5,000 and 10,000 Iraqi dinars (€3 and €6) - go towards renting the field on land owned by a church.
For other expenses, the four founders from local families dip into their own pockets.
Hala Thomas, who helped to launch the academy, recently travelled to Baghdad to meet with government officials and seek funding.
She received promises, but nothing concrete.
"We don't have enough money to buy more balls, outfits or what we need for training," said the 55-year-old, who opted to stay in her hometown rather than join her sons in the Netherlands.
"Despite the lack of support from sports institutions, we are hopeful that we can have a women's football team," she added.
'Breath of fresh air'
During its three-year rule over nearly a third of Iraq, IS subjected hundreds of thousands of women to its rigid interpretation of Islam, using beatings and executions as punishments.
In Mosul and its surrounding province, jihadists raped, kidnapped and enslaved thousands of women and adolescent girls.
After the IS onslaught in 2014, tens of thousands of Christians fled northern Nineveh province, some escaping to nearby Iraqi Kurdistan and others going into exile.
That only worsened an exodus since the US-led 2003 invasion, which has seen Iraq's Christian minority shrink from more than 1.5 million to only around 400,000.
Across the Nineveh plain, churches and monasteries destroyed and burned by the jihadists have been restored.
But the challenges of rebuilding remain daunting in the ravaged province.
"Football is a breath of fresh air for any community," said neighbourhood leader Bassem Metti.
"We needed something that would encourage stability in our daily lives and that would start to be tangible."
Source: RTE News
https://www.rte.ie/news/world/2021/1101/1257142-football-brings-hope-to-iraqi-girls-in-ex-is-town/
--------
Women Camel Riders 'Deserve Their Own Championship Series', Says First Female Race Winner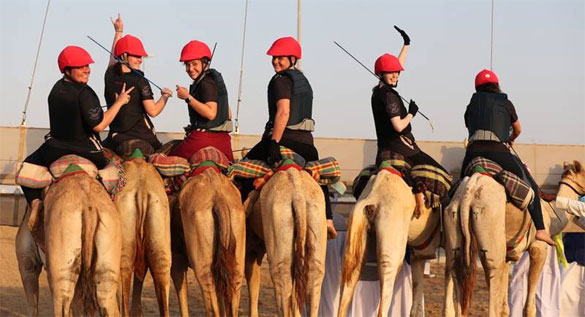 Participants prepare to compete during the first Female Camel Racing Series C1 Championship at Al Marmoom Camel Racing Track in Dubai. All photos by EPA
------
Yvonne Kerr
Nov 2, 2021
Kiwi woman Sarah Collins made history last month by winning the first official camel race for women in the UAE at Al Marmoom Racetrack in Dubai.
Collins was one of eight female jockeys to pass Dubai Camel Racing Society's licensing assessment, which allows them to compete in the championship race – the first of a flat-race series that will continue through to April next year. The jockeys hail from New Zealand, Germany, Poland, Russia and Ireland.
"It's like riding a bullet," says Collins, describing the race in which camels reach speeds of up to 45 kilometres per hour over a 1,200-metre course. "It's the closest I've come to flying on land. I felt very honoured to cross that finish line in first place."
Collins says the race was monumental as it proved to predominantly male jockeys, farm owners, sponsors and trainers that women deserve their own championship race series in the centuries-old Emirati sport. "For me, this was more important than winning. Even now, when we are training, our male peers will stare and [film] us because they have never seen women race camels before.
"The pressure to prove ourselves outweighed any competitive angle and, more importantly, we gained a level of respect that we hadn't received before."
Eight female jockeys took part in the race. EPA
At the start of the race, camels are tied to a bar with a canvas sheet in front of them, Collins explains. "When the race is ready to start, there is no warning or countdown. The race starter pushes a button, and the camels are automatically unhooked from the bar as the canvas sheet is pulled over their heads.
"This is one of the most dangerous parts of the race because as soon as the canvas lifts, the camels take off. Jockeys have to keep really low otherwise the bar will knock you backwards."
Collins owes her victory to speed-training on camels at least three times every week. A competitive horse rider in New Zealand, she moved to Dubai in 2018 to work as a primary school teacher at the Australian International School in Sharjah. Collins also competes monthly in the UAE's Tough Mudder obstacle races and regularly enjoys scuba diving, bouldering, and pole dancing in addition to horse riding.
Her camel racing journey began when she met Linda Krockenberger, a German who had partnered with Emirati camel farm owner Obaid Bin Subaih Al Falasi to open the Arabian Desert Camel Riding Centre to teach men, women and children how to ride, handle and race camels.
Collins joined the school in May. "I had always wanted to learn how to ride a camel properly, to gallop on a camel, but I never dreamt I would make history by winning the first-ever licensed female race.
"At the start, I was put on a lead like everyone else for their first camel ride and learnt how to trot. Two sessions later, I did my trot speed test where you have to show you are able to keep your seat and control the camel at 20kph, which is very difficult.
"After passing that test, I was allowed my first gallop, which was possibly one of the most exhilarating experiences of my life," Collins says. "After that the possibility of forming a racing series became stronger and with more women showing an interest, it became a reality."
In July, Collins graduated to become a guide and instructor at the school and helped train race camels for the first female championship series in the UAE. Camel races are fun, raucous events as spectators and owners drive alongside the racetrack, beeping their horns and banging the sides of their SUVs.
With no plans for now to return to New Zealand, Collins describes living in the UAE as "an amazing experience", citing a great work-life balance. "The Emirates are accepting of different cultures and, as a woman, I feel safer walking down the street at night here than anywhere else in the world."
Source: The National News
https://www.thenationalnews.com/lifestyle/2021/11/02/women-camel-riders-deserve-their-own-championship-series-says-kiwi-winner/
--------
UAE Women Officials among World's Most Influential People
1 Nov 2021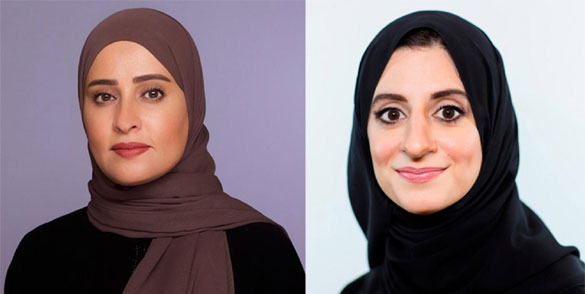 Photo: Supplied
----
Two UAE government's top officials have been listed among the world's most influential people navigating disruption.
The World Economic Forum's Global Future Council on Agile Governance has named Ohood bint Khalfan Al Roumi, Minister of State for Government Development and the Future, and Huda AlHashimi, Deputy Minister of Cabinet Affairs for Strategic Affairs, in the 2021 Agile 50 List.
Al Roumi was recognised in the Public Figures category, together with five global government leaders, including Ana Brnabić, Prime Minister of Serbia, and Mikhailo Fedorov, Deputy Prime Minister and Minister of Digital Transformation of Ukraine.
While AlHashimi was also selected in the Agile Enablers category, which included government officials from several countries around the world, including Brazil, Sweden and Shanghai.
In 2021, the Agile 50 List included nine categories, namely public figures, agile enablers, collaborators, entrepreneurs and experimenters, futurists, governance pioneers, government transformation, public health and Covid-19 response, and technologists.
Finalists in the Agile 50 List, announced jointly by the World Economic Forum's Global Future Council and Apolitical, the educational platform for government, were selected based on 10 criteria. Primarily: embracing the future, focusing on outcomes, experimenting and learning, being lean on business, connecting with peers, being responsive, engaging locally and nationally, having a global outlook, focusing on innovators, as well as putting citizens at the centre.
Al Roumi was chosen among the world's leading public figures for spearheading a transformative vision to accelerate government development in the UAE, enhance government performance, and embed future foresight and readiness in government.
She further supported building agility to adapt to emerging trends, enhancing competitiveness, and supporting effective government coordination. The recognition also highlighted Her Excellency's continuous efforts to spur innovation, create a new generation of anticipatory government services, and support future-readiness.
Huda AlHashimi was selected in recognition of the significant role she undertakes in various government fields, including driving innovation and agility in the government through initiatives and projects launched by the Mohammed bin Rashid Center for Government Innovation.
AlHashimi achievements include supporting the initiatives that accelerate delivery and finding solutions for the pressing challenges through leading the world's first Government Accelerators.
Source: Khaleej Times
https://www.khaleejtimes.com/government/uae-women-officials-among-worlds-most-influential-people
--------
Women feel safer in UAE than any other country: Survey
30 Oct 2021
Women feel safer in UAE than any other country, according to the Women, Peace and Security Index survey by Georgetown University.
While UAE ranked 24th out of 170 countries surveyed in the index, the country ranked first in terms of 'community safety'.
A total of 98.5 per cent of the women surveyed, aged 15 and above, said they feel 'safe walking alone at night in the city or area where they live'.
Singapore came in second at 96.9 per cent. The UAE also climbed to 24 from 43 in 2017.
This is the third edition of the Index and is published by Georgetown University's Institute for Women, Peace and Security (GIWPS) and the Peace Research Institute in Oslo.
The survey provides valuable insights into patterns and progress on women's status and empowerment around the world.
UAE is also one among 16 countries where the representation of women in parliament increased by at least 10 per cent, according to the survey.
The Emirates' performance in the women in financial inclusion category has also jumped from 66.3 per cent in 2017 to 76.4 per cent in 2021.
The Index measures the percentage of women ages 15 and older who report having an individual or joint account at a bank or other financial institution or who report using a mobile money service in the past year.
Norway, Finland, and Iceland lead the rankings, while Afghanistan, Syria, and Yemen are at the bottom. The range of scores has widened: this time, the top score is three times better than of the worst performer, compared to two times better in 2017, said a press release issued by Georgetown University.
The United States has dropped out of the top 20, to 21st place.
"Slowing rates of progress for women can be traced to the Covid-19 pandemic, which has widened gender gaps in paid employment and care burdens, and heightened risks of intimate partner violence," said Dr Jeni Klugman, managing director of GIWPS and lead author of the WPS Index.
This year's WPS Index takes a deeper dive into two South Asian countries: Afghanistan and Pakistan. Conditions are worst for women in the south-eastern provinces of Afghanistan, where conflict has been protracted.
"Since 2017, Afghanistan's score has deteriorated 28 per cent on the WPS Index. The return of the Taliban to power is unraveling the progress Afghan women have made and worsening the situation for women around the country," said Ambassador Melanne Verveer, executive director of GIWPS and former US ambassador of Global Women's Issues.
"This year's edition of the index systematically measures the situation of women around the world. The massive challenges created by the pandemic mean that intersectional analysis and policymaking are more important than ever as governments and communities strive to build back better," said Dr Klugman.
Source: Khaleej Times
https://www.khaleejtimes.com/world/women-feel-safer-in-uae-than-any-other-country-survey
--------
Afghanistan: Women's education in limbo despite Taliban's assurances
Nov 1, 2021
KABUL: Afghanistan's takeover by the Taliban has been harsher for the women and girls of the war-torn country despite the group's assurances to protect their rights.
Hollie McKay, an author, writer on wars and foreign policy, writing in Deadline, a US-based entertainment daily, said that the state of girls' education is in oblivion. Ministry of Education is filled with the Taliban government's most devout - as evidenced by their long beards and constant twisting of prayer beads, without a single woman inside the bustling halls or walls.
It's a searing reminder of the state of girls' education inside an Afghanistan in limbo, with next to no input from the gender suffering most amid the Taliban takeover, said McKay.
While boys of all ages were ordered back to classrooms last month, girls' education after the sixth grade - including some universities - has been indefinitely put on hold by the Islamic Emirate.
While private schools continue, the vast majority of Afghan girls and women who rely on the public education system are relegated to the home until further notice.
"Amendments will be made based on our new laws. Islamic scholars will make the decisions," said Abdul Hakeim, chief of staff for the Minister of Education.
"We want an Islamic perspective, and this means separate classes and transport. Once this is sorted out, girls can continue education for a lifetime."
"We cannot teach our kids music and other things which are not part of our society," Hakeim said, adding that the Taliban of 2021 will be far more open-minded than the rule that started in the 1990s.
"Now, we have advanced policies and strategies to catch up with the world. Back then, we did not have access to the resources and no capacity for new buildings or schools. Now we have much more power to make the changes."
McKay said that she heard such justifications on multiple occasions.
Mawlawi Noor Ahmad Saeed, Director of Information and Culture for Kandahar province stressed that "the whole issue is about transport" and that it will "take time" to make sure girls and women have entirely separate transit and infrastructure facilities.
The Deputy Minister of Religious Affairs, Hafiz Habib, insisted that Islam allows "full rights" to women's education. A leader inside the much-feared Ministry for Propagation of Virtue and Prevention of Vice, Mohammad Yousuf, echoed that the new government won't deprive girls of the right to full and proper schooling, reported Deadline.
McKay also recounted her meeting with Imam Mawlawi Hayat Khan, who said that the reason for separation - and why women should cover their whole face except for the eyes - is so that men do not get "too tempted."
As it stands in Afghanistan, most students do a half-day at regular school and spend the other half intensifying their religious studies in a madrassa.
Meanwhile, the official Taliban spokesperson Bilal Karimi assured that the stoppage is only temporary.
With each passing day, Afghanistan as a whole dips deeper into poverty. With economic assets frozen and little diplomatic recognition from the outside world, the UN estimates that 97 per cent of the 38 million will have plunged into destitution by mid-2022 without urgent action from the outside world, reported Deadline.
And needless to say, it is almost always the women and girls who will suffer the haunting repercussions, said McKay.
Source: Times of India
https://timesofindia.indiatimes.com/world/south-asia/afghanistan-womens-education-in-limbo-despite-talibans-assurances/articleshow/87470958.cms
--------
Saudi tournaments crucial for women's golf momentum, says LET chief
November 02, 2021
JEDDAH: Women's golf in Saudi Arabia needs to keep building on its massive momentum, according to Ladies European Tour chief executive officer Alex Armas.
Armas was speaking ahead of the return of the Aramco Saudi Ladies International presented by Public Investment Fund from Nov. 4 to 7. The tournament made history last year as the first professional women's sport event to be staged in Saudi Arabia.
The individual event helped restart the LET season, which had come to a complete halt during the coronavirus disease (COVID-19) pandemic, impacting its professional players. The tournament returns to Royal Greens Golf & Country Club in King Abdullah Economic City.
"The reaction we got last year blew everyone's mind," said Armas.
"We didn't think we were going to get the interest we did from it being on live terrestrial TV within Saudi and the coverage it received. It just made sense to come back to do it again and to keep building on that and I think that is what we will be doing going forward. Golf Saudi has big plans for the women's game. Although we're only at the beginning, it's been a fast trajectory.
"Last year golf stopped. Our players weren't competing. We managed to get some momentum and we managed to have the first event in Jeddah with the Aramco Saudi Ladies International and as we had the players there, we did the back-to-back tournaments with the team event.
"We made history and I think we didn't know what to expect when we went the first time, but now the players know, we know what the golf courses will be like, and what the hospitality will be like — everyone is looking forward to being back."
The Aramco Team Series — Jeddah will follow from Nov. 10-12 at the same venue, for a doubleheader of LET-sanctioned events alongside Golf Saudi.
The success of the Aramco Team Series, which has taken place in London, Spain, and the US, has put a spotlight on the challenges of international women's sport and addressing gender equality in golf.
Armas added: "There is a challenge in women's sport. We don't get the coverage of the men but there is a shift in that and the equality movement and the corporate companies are realizing there is an imbalance. We need to showcase them and their stories and incredible journeys. We still have a long way to go. People don't realize what good athletes these women are and if they don't get to see that they don't understand that. They can compete. They are as good athletes as the men."
Armas also referenced the importance of elite women's sport being visible to inspire active participation in growing sporting markets such as Saudi Arabia. Last year's events coincided with the launch of the Ladies First Club powered by Aramco — a free-golfing initiative that saw 1,200 women and girls register to learn the game over the tournament's four days.
Armas said: "I think it's hugely important because across the globe, we need to get the population more active and involved in sports.
"I think the best way to do that is obviously through live sports on TV and for people to be able to become inspired by these athletes and look up to them as role models. Having so many sporting events of the quality that Saudi is bringing to the Kingdom will be hugely important to growing participation in various sports. The amount of people that signed up for the Ladies First Club and the amount of positive feedback was immense."
Tickets for both tournaments at Royal Greens Golf & Country Club in King Abdullah Economic City are available now, free of charge.
Source: Arab News
https://www.arabnews.com/node/1959566/sport
--------
US woman convicted in Bali 'suitcase murder' to be deported
November 02, 2021
DENPASAR, Indonesia: American Heather Mack, convicted as a pregnant teenager of helping to kill her mother at an Indonesian luxury hotel, was to be deported Tuesday along with her now six-year-old daughter, immigration officials said.
Mack, 25, was released from a Bali prison last week, nearly three years early for good behavior, and was set to be flown to the United States later Tuesday.
"Yes, it's true. (She's) got the ticket already," Bali justice ministry spokesman I Putu Surya Dharma told reporters when asked about Mack's pending deportation.
In a case dubbed the "suitcase murder," Mack was handed a 10-year jail term in 2015 while her boyfriend Tommy Schaefer got 18 years for the murder of Chicago socialite Sheila von Wiese Mack on the holiday island of Bali.
Schaefer — the father of Mack's child — beat the 62-year-old victim to death with a fruit bowl during an argument at the five-star St. Regis resort.
The couple then stuffed the woman's body into a suitcase and tried to flee with it in a taxi, but quickly abandoned the blood-soaked luggage.
Mack, who was pregnant at the time of the crime, was found guilty on a lesser charge of assisting in the murder.
Earlier, Mack's lawyer said that she did not want her daughter to be deported and "hounded by the (US) media."
Since the pandemic began, Mack — now fluent in Indonesian and Balinese — had only video contact with her daughter, a prison official said earlier.
The 2014 murder shook the usually sedate holiday island, with details of the grisly killing emerging during the closely followed trial.
The court heard how von Wiese Mack's badly beaten body was discovered in the taxi outside the ritzy hotel where she had been staying with her daughter and Schaefer.
The couple had fled to another part of Bali, where police arrested them.
Schaefer, who remains in prison, confessed to the killing during his trial but claimed he was defending himself during an argument with von Wiese Mack, who was unhappy that her daughter was pregnant.
Prosecutors alleged that Schaefer "blindly hit" von Wiese Mack with the fruit bowl in a fit of rage after she hurled a racial slur at Schaefer, who is Black.
During the attack, Mack hid in a bathroom but later helped Schaefer stuff the body into a suitcase, the trial heard.
The sentencing judge described the killing as "sadistic."
Locals and foreigners alike were horrified at the rare murder on Bali, a pocket of Hinduism in Muslim-majority Indonesia famed for its palm-fringed beaches.
Source: Arab News
https://www.arabnews.com/node/1959741/world
--------
URL: https://www.newageislam.com/islam-women-feminism/iraqi-christian-girls-football/d/125698
New Age Islam, Islam Online, Islamic Website, African Muslim News, Arab World News, South Asia News, Indian Muslim News, World Muslim News, Women in Islam, Islamic Feminism, Arab Women, Women In Arab, Islamophobia in America, Muslim Women in West, Islam Women and Feminism