New Age Islam News Bureau
4 Oct 2013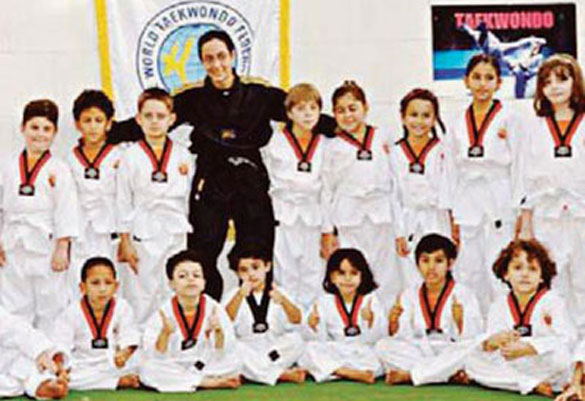 The first taekwondo Saudi female trainer Wud Shaikh with her students — Courtesy photo
----------
• Chilean Woman Arrested In Syria on Terror Charges: Official
• Malala Is Among Top Nobel Peace Contenders
• Video Shows Sudanese Woman Flogged For Riding in Car with Stranger
• Saudi Woman Runs for Jeddah's Chamber Of Commerce Board Membership
• Saudi Female Lawyers to Receive First Licenses Sunday
• Rohina Malik's 'Unveiled' Play Breaks Down Stereotypes of Muslim Women
• Nigeria: The Need for Women Empowerment
• First Saudi Female Taekwondo Trainer
• 300 Lashes each for Two Saudi Young Men who Harassed Girl
Compiled by New Age Islam News Bureau
URL: https://www.newageislam.com/islam,-women-and-feminism/new-age-islam-news-bureau/first-woman-bishop-in-south-asia,-says-critics-are-now-silent/d/13834
------------
First Woman Bishop in South Asia, Says Critics Are Now Silent
October 4th, 2013
NEW DELHI (RNS) A Christian nun who became the first woman bishop of South Asia's Anglican community said that so far her appointment has silenced critics who believe only men can play leadership roles in the church.
Speaking on the phone from the Nandyal diocese in the southern state of Andhra Pradesh, the Rev. Eggoni Pushpalalitha, who was appointed a bishop of the Church of South India on Monday, said she faced bias against women in leadership roles "but only until my consecration."
"Those who used to talk about it are now touching my feet," said the 57-year-old bishop, who holds degrees in economics and divinity, referring to an Indian custom of showing respect.
A day before her consecration, she told an Indian newspaper: "Be it any institution, women are always given second-rung treatment. We need to change that by promoting values that teach us to not discriminate and treat all humans the same."
The Church of South India, successor of the Church of England in India, has been ordaining women as priests since 1976, but Pushpalalitha is the first woman elected bishop.
The denomination has nearly 4.3 million members in India and Sri Lanka. One of the 38 member churches of the Anglican Communion, the CSI is a union of varying traditions, including Anglican, Methodist, Congregational, Presbyterian and Reformed.
Three other candidates, all men, were also in the running for bishop.
"It was a unanimous decision," CSI Provincial Secretary Mani M. Philip told New Delhi Television. "While many Western churches are debating this issue, the CSI has been leading in revolutionary thinking from women's education to empowerment."
The CSI constitution mandates that 25 percent of all statutory bodies be made up of women.
Pushpalalitha said her election was in line with Indian values.
"Numerous goddesses are worshipped, and women are highly valued in India," she said.
Pushpalalitha made a vow of celibacy when she was in college. She said her parents dedicated her to God's service before her birth.
The bishop said she believed God created men and women as equals, though she held out that in some cases men and women have different roles.
"We're first humans and then male or female," she said. "Some of their roles can be different, but in God's mission there is no difference at all."
http://www.huffingtonpost.com/2013/10/03/rev-eggoni-pushpalalitha-_n_4037951.html?ref=topbar
------------
Chilean woman arrested in Syria on terror charges: official
AP | Oct 4, 2013
SANTIAGO: A 38-year-old Chilean woman has been arrested in Syria on terror charges, Chile's top diplomat said Wednesday.
"The accusations against her are serious and complex, so this is going to take a lot of time," Foreign Minister Alfredo Moreno told CNN Chile from Thailand.
Chilean press reports said the woman, identified as Gisella Carcamo, and her Tunisian husband Radwan Hamidi assaulted a Syrian military checkpoint.
Moreno said Carcamo has been transferred to a women's prison in Damascus after being arrested some 200 kilometers (120 miles) from the Syrian capital.
In an interview with Syrian public television posted by Chilean media, a veiled Carcamo said she entered Syria with her husband.
"I thought that he had come here only for the religion, nothing more. And later I found out what was happening and wanted to return to my country, but he wouldn't let me," she said, wearing a blue veil that also covered much of her forehead and neck.
Her mother, Yolanda Carcamo, told local media her daughter traveled to Spain six years ago, leaving behind six children from three fathers.
Moreno noted that the woman previously had run into serious problems in Tunisia, and had asked for help from the Chilean government.
"At that time, she was given tickets to return to Chile, but in the end she didn't use them. She did not return to Chile," the foreign minister said.
http://www.dailystar.com.lb/News/Middle-East/2013/Oct-02/233346-chilean-woman-arrested-in-syria-on-terror-charges-official.ashx#ixzz2gkI3ZBdV
------------
Malala is among top Nobel peace contenders
Bloomberg | Oct 4, 2013
Malala Yousafzai, the Pakistani teenager who took on the Taliban , and Russian human rights activists are seen as top contenders for this year's Nobel Peace Prize, the International Peace Research Institute said.
Sister Mary Tarcisia Lakot is also a potential winner for her work promoting peace in Uganda, Kristian Berg Harpviken, head of the Oslo-based institute that ranks potential winners each year, said in a statement. Russians that may win include the "formidable , female, three-generation trio" of Lyudmila Alexeyeva, Svetlana Gannushkina and Lilya Shibanova, he said.
Yousafzai, 16, was shot in the head in Pakistan's Swat Valley in retaliation for her campaign for girls to be given equal rights to schooling, defying threats from Taliban militants in her hometown of Mingora.
She now lives in the United Kingdom and has since then gained global recognition for her promises to continue her struggle against illiteracy, poverty and terrorism.
http://timesofindia.indiatimes.com/world/uk/Malala-is-among-top-Nobel-peace-contenders/articleshow/23491311.cms
------------
Video shows Sudanese woman flogged for riding in car with stranger
4 October 2013
A video being circulated by media outlets allegedly shows an Sudanese woman being flogged by a police officer, who is supposedly punishing her for riding a car with man she was not related to.
The footage shows a woman sitting on the floor, crying in pain, as lashes hit her back while a crowd watches the scene.
The woman, is sitting on the ground and tries to cover up her head with her pink veil every time it slips. The video is believed to have been taken in the Sudanese capital Khartoum, reported the Daily Mail.
Whilst flogger her, the officer allegedly scolds the victim by telling her she should not have been in the car and she should not have sat in the front seat.
At 0:39 seconds in the video clip, the police officer warns the woman: "this is so you don't get into cars anymore," according to France24.
Article 152 of Sudan's 1991 Criminal Act under the so-called "Public Order Law" allows police to whip women for violations of "public decency."
It came into effect when General Omar al-Bashir became the country's president following a military takeover in 1989.
http://english.alarabiya.net/en/News/middle-east/2013/10/04/Video-shows-Sudanese-woman-flogged-for-riding-in-car-with-stranger.html
----------
Saudi woman runs for Jeddah's Chamber of Commerce board membership
Nada Altuwaijri, Al Arabiya
October 4th, 2013
Not so many women in Saudi Arabia are commonly known for holding leading positions in the kingdom's booming business sector. But one young Saudi woman is aiming straight for the top.
Rania Salama has launched a campaign to be elected to the board of Jeddah's Chamber of Commerce, and currently serves as the chair of the Young Businesswomen Committee at the chamber.
Salama said that by running for the chamber's board, she is seeking to help match Saudi women with the opportunities that men commonly enjoy.
"We really need to bridge the gap between women and opportunities," Salama told Al Arabiya News.
She also emphasized that her campaign for the board aims to spread awareness of the chamber's uses amongst voters.
It is also aimed at "raising awareness and having more people participate in the elections," she said.
"If the person is active and wants to search for their rights in public sectors, the chamber of commerce should play its role unexceptionally," she added.
The young businesswoman proved her business credentials by launching in 2000 the Arabiyat Magazine - an online feminine, social and cultural publication.
Salama pledges voters in a campaign video to help advance the use of technology to facilitate business service and consolidate partnership with the public sector to overcome challenges that Saudi businesses are facing.
She said her goal is to also find "a comprehensive service system for business pioneering and achieving sustainability for productive families program."
Voting challenge
There are 63 candidates running for the board of Jeddah's Chamber of Commerce, which has 12 seats. However, only six members will win seats via the elections, while six will be appointed by authorities.
Anyone who holds a commercial registration in Jeddah is entitled to vote, she added.
Winning the board's elections may not prove easy for Salama as a woman.
Only one other woman, Lama al-Sulaiman, currently serves on the board. Sulaiman was elected deputy chairwoman of the chamber in December 2009, becoming the first woman to occupy this post in Saudi Arabia's history.
Salama is not alone in her bid.
Rawda al-Yousef, a woman activist, leads a campaign called "My Guardian Knows Better."
Yousef argues that it is "not essential for a woman to participate in governmental sectors due to her religious and cultural perspective."
Commenting on Yousef's campaign, Salama said: "it is beautiful to see both sides of the story," adding that a response to such a campaign would be based on actions and not words.
"The society will only be ready for such a step when they become aware" of the importance of the chamber and its uses for business development, Salama noted.
Basmah al-Omair, CEO of Khadija bint Khuwailid Center for Businesswomen, stressed, however, the important role Saudi women can play in business and on their "ability to influence decision making."
"Since women first took part in the chamber's 2006 elections, they were able to influence decision making," Omair said.
"The Saudi woman was able to prove that she is capable to confront economic issues and to propose solutions and is able to make decisions that others can benefit from."
"We hope that this success will continue and the number of the female board members will increase," she added.
http://english.alarabiya.net/en/News/middle-east/2013/10/03/Saudi-woman-runs-for-Jeddah-s-Chamber-of-Commerce-board-membership.html
----------
Saudi Female Lawyers to Receive First Licenses Sunday
October 4th, 2013
JEDDAH — Saudi female lawyers are only three days away from receiving their licenses from the Ministry of Justice to practice their profession for the first time ever.
The ministry has informed four female lawyers that they will receive their licenses on Sunday, Al-Watan quoted Ministry of Justice sources.
Sources said the ministry told female lawyers, who submitted applications for licenses, that they have been registered in the list as practicing lawyers. They have to visit the General Administration for Lawyers after completing the procedures for the issuance of advocacy licenses.
The female lawyers have to personally receive their licenses from the ministry's headquarters. Sources said this step also allows them to obtain identity cards issued by the Ministry of Justice.
Legal consultant Bayan Zahran said the presence of Saudi female lawyers in courts would contribute to disseminating legal culture among Saudi families.
Other female lawyers appealed to the Ministry of Justice for equal treatment as their female colleagues who have already been informed that they will receive their licenses to practice advocacy.
Meanwhile, official spokesman of the Ministry of Justice Fahd Abdullah Al-Bakran said the number of Saudi lawyers is increasing. Over 200 lawyers have been registered during the current Hijri year. He lauded the lawyers' groundbreaking role in serving justice.
He said lawyers are partners in serving justice. Al-Bakran added that the General Administration for Advocacy in the Ministry of Justice is continuing its efforts to complete applications submitted to them, as well as granting the lawyers licenses for practicing the profession provided the conditions are fulfilled by the applicants.
He mentioned that they are communicating with the new lawyers through SMS messages to come to the ministry and collect their licenses.
Female lawyer Dania Abu Al-Ula said she visited the Advocacy Administration in the Ministry of Justice in Riyadh carrying a file containing her complete CV and degrees, including certificates of experience from legal establishments she worked in for five years, but was surprised with the requirement of fulfilling a new condition — a printout from GOSI showing three years of experience.
She demanded the Ministry of Justice to scrap the condition for the GOSI printout.
http://www.saudigazette.com.sa/index.cfm?method=home.regcon&contentid=20131004182527
------------
Rohina Malik's 'Unveiled' Play Breaks Down Stereotypes of Muslim Women
10/03/2013
Rohina Malik's one-woman play 'Unveiled' came about after she attended her best friend's wedding in a Hijab, not long after 9/11. A guest at a different wedding reacted vehemently towards her head covering, and she said, "It got really ugly very fast. I knew afterward that I wanted to write about it."
Malik sat down with HuffPost Live to talk about her critically-acclaimed show in further detail, explaining, "I was inspired by the current climate of hate towards Muslims. And not just Muslims, but also towards the Sikh community, the Hindu community, because Islamophobia is so based on ignorance and ignorant assumptions about a group of people that often it is not Muslims who are the only ones who suffer."
Using education to battle ignorance has become Malik's personal mission with 'Unveiled," which she performs as a series of monologues delivered by five very different Muslim women. Over a cup of tea, her Westernized characters share their diverse experiences with intolerance, from a Moroccan-American lawyer to a West London rapper of South Asian origin.
"I feel that theater is a very powerful way to solve some of our problems in society. I believe in the power of theater, and the power of storytelling," she said.
http://www.huffingtonpost.com/2013/10/03/rohina-malik-unveiled_n_4039062.html?ref=topbar
------------
Nigeria: The Need for Women Empowerment
4 OCTOBER 2013
A lot more needs to be done to empower the girls and women
On a recent visit to Nigeria, the United Nations Under Secretary-General and Executive Director, Entity for Gender Equality and Empowerment of Women and former President of Chile, Madame Michelle Bachelet spoke strongly in favour of gender equality and women empowerment. It is a message that still resonates given recent reports about rising cases of domestic violence against women and the denial of rights to the girl child in our country.
While the current administration has touted as achievement its appointment of more women into cabinet positions, the lot of the ordinary woman in our country has hardly improved. Our women and girls still face daunting challenges while in the last couple of years, many have fallen victim to such bestialities like gang-rape, incest and all manner of domestic abuses and violence. While women remain the pillars of the family institution, they are victims of the most telling abuses of socio-economic, cultural and political exploitations in our society. Such is the dire situation that trafficking in women and children has become so commonplace that we wonder if any nobody is seriously tackling it.
All these happen because law enforcement in relation to crimes against women and girls appears weak and ineffective. That has engendered a situation in which most of those violated would rather just keep mute about their plight as reporting to the authorities might expose them to further indignities and humiliation. Furthermore, crimes, communal conflicts, wanton destruction of life and property (in which women and children are at the receiving end) have gradually become so endemic in our society, to the extent that many of the despicable violations are considered commonplace.
Perhaps more tellingly, the women in most Nigerian villages are highly impoverished. They lack access to basic medical facilities. They lack access to drinkable water. They still trek long hours to the farm to work for multiple hours just to eke out a living. They die from preventable illnesses. So bad is the situation that majority of the pregnant women in many villages still give birth in huts without any medical aid. Therefore beyond rhetoric, the empowerment of women is crucial for strengthening the families and communities, improving food security and bringing about sustainable development.
Beyond lamenting Nigeria's increasing maternal and infant deaths, government should improve the poor primary healthcare and emergency obstetrical services associated with child birth. Cultural and financial barriers to health need to be analysed with a view to overcoming them.
State governments should place the girl-child education as priority while child marriage should be discouraged. We also advocate access to vocational education to enable our rural women engage in productive activities. Nigerian girls and women should have increased access to farmlands and agricultural loans. In the area of law enforcement, considering the gravity of rape, we urge the police and other security agencies to always ensure that suspects are swiftly prosecuted. We also urge our courts to be stringent in applying appropriate sanctions to convicts in order to serve as a deterrent to other would-be offenders.
The National Assembly should expedite the enactment of the Violence Against Persons (Prohibition) Bill without further delay. Safe houses, toll-free numbers, free counselling and financial support need to be provided for survivors of violence to enable them overcome their trauma as swiftly as possible. Finally, we call for increased sensitisation of men and women to the peculiar challenges that women confront on a daily basis, as well as the participation of Nigerian women at all levels of governance and in all spheres of human endeavour.
http://allafrica.com/stories/201310040324.html
------------
First Saudi female taekwondo trainer
October 4th, 2013
JEDDAH — Wud Shaikh, a 30-year-old Saudi citizen, has become the first Saudi female trainer in Taekwondo, Al-Madinah newspaper reported.
She said that she began Karate training when she was nine years old, at an international school, but did not continue her training due to personal circumstances.
However, the thought of practicing martial arts never left her, and her determination increased when she graduated from school in 2000.
She contacted the Korean International School in Jeddah and began her training in Taekwondo. She then obtained a black belt from Britain, and another from Jeddah that was certified in Korea.
She said that Taekwondo teaches patience and self respect. It depends on concentration and quickness, and utilizes fists and the feet.
Taekwondo differs from Karate in the high and flying kicks, and differs from kung fu where it doesn't rely on floor moves.
She said that when she left the country and came back seven years later, she was astonished by society's increased attention to sports and nutrition.
She found that many females had taken up walking as a hobby, and many have enlisted in health clubs.
Many girls were also interested in Taekwondo and she began training them. She said that the best age to begin learning Taekwondo is at six.
She wanted to prove that she could make it and was able to succeed, and thus, has become the first Saudi woman to give training in Taekwondo.
She was first confronted with the problem that there were not many women's clubs in the Kingdom, but she said this has recently changed.
There are now women teams for basketball, volleyball, and football, which is good for women's sports.
She hopes that one day soon the women's clubs can fall under the association of the General Presidency for Youth Welfare.
http://www.saudigazette.com.sa/index.cfm?method=home.regcon&contentid=20131004182519
------------
300 Lashes each for Two Saudi Young Men who Harassed Girl
October 4th, 2013
JEDDAH — Two young men have been sentenced by Jeddah District Court to 300 lashes of the whip each after they harassed a girl at the mall and ran away from police. A police officer spotted the men on the street as they approached a girl who was shopping. They fled the scene when they saw the officer. After a long car chase, the officer arrested them with the help of another police patrol. One of the men was drunk.
http://www.saudigazette.com.sa/index.cfm?method=home.regcon&contentid=20131004182534
------------
URL: https://www.newageislam.com/islam,-women-and-feminism/new-age-islam-news-bureau/first-woman-bishop-in-south-asia,-says-critics-are-now-silent/d/13834