New Age Islam News Bureau
21 March 2022
• Gulf Cooperation Council to Adopt Joint Mechanism for Women's Issues
• Ukrainian Women Immigrants in Israel Pose Moral Dilemma, Security Challenge
• Darah Launches Initiative to Enrich Arabic Digital Content On Saudi Women
• Saudi Women Are Partners in Kingdom's Development
• Turkish Women's Snow Volleyball Team Wins CEV European Tour Cup
• Unfazed By Hijab Row, All Hijab-Clad Women Are Campaigning Municipality Polls In Kendrapara
Compiled by New Age Islam News Bureau
URL: https://www.newageislam.com/islam-women-feminism/saudi-female-coach-reem-golf/d/126620
--------
First Saudi Female Coach, Reem Al-Gobaisi: Golf Is a Game of Peace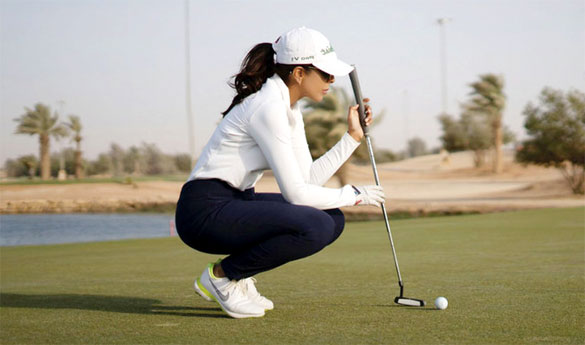 Originally from Riyadh, Reem Al-Gobaisi is also a professional player at Al-Nassr Tennis Club. Her interest in golf grew when the sport began to be developed in Saudi Arabia. (Twitter @ReemAlgobaisi)
-----
Nada Hameed
March 20, 2022
JEDDAH: Saudi Arabia's first female golf coach has passed on her favourite playing tips to eager visitors at a ladies day event held in conjunction with the 2022 Aramco Saudi Ladies International presented by the Public Investment Fund at King Abdullah Economic City, near Jeddah.
Reem Al-Gobaisi, who was announced as the Kingdom's first female golf coach by Golf Saudi last November, told Arab News that she took up the sport three years ago after being inspired by her father.
"He had been playing golf since I was a child and he advised me to try the game. I liked it," she said.
"My father supported me to reach where I am."
Originally from Riyadh, Al-Gobaisi is also a professional player at Al-Nassr Tennis Club.
"But after I experienced golf, I was hooked and kind of ignored all the other sports I was playing and focused more on golf."
Al-Gobaisi's interest in golf grew when the sport began to be developed in the Kingdom and international tournaments started to take place.
"International tournaments opened the door for us to learn from professional golfers and to exchange knowledge," she said.
"I see a lot of Saudi women and youngsters loving the sport already, and I think it has a promising future in the country."
Al-Gobaisi is furthering the achievements of Saudi women in sports by coaching children and teenagers aged from 5 to 18 through Golf Saudi's golf education programs. She also coaches women players at the Royal Greens Golf Club.
The Saudi coach cites US pro Tiger Woods as her role model in the sport and says she likes the sport because the green golf course helps her feel calm.
"Golf is a game of peace," she said.
On the sidelines of a media tour on Saturday at KAEC, Arab News met Raghdah Al-Essawi, a Saudi national team player and the mother of golfers Lailah, 18, and Omer Al-Tulmusani, 13.
In 2020, Golf Saudi offered the golf-loving family the chance to represent the Kingdom abroad.
Al-Essawi and her daughter have represented Saudi Arabia in golf tournaments across the Middle East, including Egypt and Oman.
"We were the first women to represent Saudi Arabia on an official ladies team in 2020 in Egypt," she said.
"My son also joined the junior team, and was the first of his age group here in Saudi, in Egypt and Oman."
Al-Essawi said that curiosity brought her into golf as she followed in the footsteps of her children.
"My son and daughter have been into sports since they were young and have tried many different games, including golf, so I was encouraged to try it as well. We all got hooked on the game."
Al-Essawi devotes hours to perfecting her game. "We practice a lot, like five, six times a week, as we are trying to take the game forward."
The family moved to the UK to help improve their golf skills, but Royal Greens is still their favorite place.
"This is our home and where we feel comfortable. Now we're playing in England, it's different than Saudi, but we're trying to improve our skills."
Al-Essawi also played in the tournament's pro-am event on Wednesday. "It was a great experience to play with the professionals and learn from them. The experience was beyond expectation."
The final day of the tournament on Sunday will include an award ceremony followed by a press conference with the winning competitor.
Free tickets for the final day are available by registering online at www.golfsaudi.com.
Source: Arab News
https://www.arabnews.com/node/2046451/sport
--------
Gulf Cooperation Council to Adopt Joint Mechanism for Women's Issues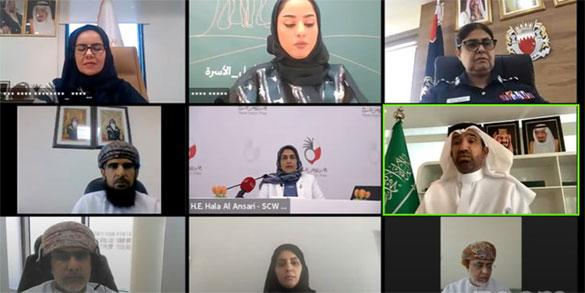 The two-day virtual forum aims to shed light on Gulf women's participation in priority issues and exchange experiences among GCC states to achieve common goals. (Supplied)
----
March 20, 2022
RIYADH: The GCC is developing a joint mechanism for women's issues, Secretary-general Nayef Al-Hajraf has said.
It comes as Saudi Arabia exceeded its 2030 target for the female labour market participation rate.
Saudi Minister of Human Resources and Social Development Ahmed Al-Rajhi said that the Saudi women's labour market participation rate has risen to more than 32 percent, exceeding the 30 percent target.
During the inauguration on Sunday of the "Gulf Women: Leadership for a Sustainable Tomorrow" forum, Al-Rajhi said that the Kingdom's achievements in women's empowerment resulted from a "comprehensive policy and methodology."
GCC Secretary-General Nayef Al-Hajraf said that the body was in the process of organizing a virtual roundtable to develop a vision for a joint action mechanism among GCC countries on women's issues in the region.
The two-day virtual forum aims to shed light on Gulf women's participation in priority issues and exchange experiences among GCC states to achieve common goals. It also aims to achieve coordination, integration and interdependence in women's empowerment among GCC states.
The forum features three main sessions, the first of which focused on the role of Gulf women in environmental sustainability.
It and was attended by Hala Al-Tuwaijri, secretary-general of the Family Affairs Council in Saudi Arabia; Dr. Sabah Al-Junaid, professor of geographic information systems at Arabian Gulf University; Dr. Thuraya Said, assistant director-general for Nature Conservation at Oman's Environment Ministry; and Najat Al-Abdullah, director of the Family Affairs Department at Qatar's Ministry of Social Development and Family.
The second session is titled "Gulf Women and Economic Empowerment," while the third will cover the role of Gulf women in security cooperation.
Al-Tuwaijri said that the Kingdom is achieving the highest level of women's participation and rights in the region, adding that GCC countries are among those economically empowering women at the fastest pace.
Hoda D. Al-Dulaijan, vice dean of Graduate Studies at King Faisal University, told Arab News that sustainable development standards are a framework for agreement among UN member states. She said that gender equality and equal opportunities for men and women in civil societies are important standards to uphold.
"I took the initiative to support and encourage Gulf women in the journey of empowerment in society by preparing a vision of development goals and procedural enablers to be ahead of the competition with men in international competitions to achieve societal achievements," she added.
She said that the strengthening of the educational system is leading Gulf women to venture into new fields, whether in higher education, scientific research, manufacturing, innovation or finance.
Al-Dulaijan added that Gulf women "managed to participate in the development of the labor market in a short period of time in terms of supply and demand.
"Women have achieved efficiency in the public and private sectors with Gulf capital, practical initiatives and strategic experiences, which helped women play more energetic and pivotal roles in Gulf societies while preserving national identity, traditions and social norms."
Source: Arab News
https://www.arabnews.com/node/2046421/saudi-arabia
--------
Ukrainian women immigrants in Israel pose moral dilemma, security challenge
MOHAMMED NAJIB
March 19, 2022
RAMALLAH: Concerns have increased in Israel since the outbreak of war in Ukraine over claims in the media that some women refugees from the Eastern European country were being exploited by human trafficking networks.
Leaflets — including preventive information and emergency phone numbers — are expected to be distributed among Ukrainian refugee women upon arrival at the airport as part of measures to counter the threat.
A moral dilemma has arisen — as Israel has begun to receive hundreds of Ukrainians fleeing war — amid fears that some of the arriving women were being lured into prostitution, according to Israeli media reports.
The reports detailed how Israeli human trafficking and criminal networks lure Ukrainian refugees into prostitution upon their arrival to Israel, with the concern being used as an excuse for Israeli immigration officials to deny entry to dozens of refugees during the past two weeks.
According to a TV report aired on Thursday on Israeli Channel 12, the Israeli Ministry of Social Welfare and the Anti-Trafficking Unit in the Ministry of Justice received information on attempts to lure Ukrainian female refugees in Israel into prostitution.
The attempts to lure refugee women did not begin only after arriving in Israel.
The report indicated that about 100 Ukrainian refugees spoke during their interrogation at Ben Gurion Airport about a person who offered them money to help them escape from the war zones in Ukraine, cross the border and board a plane bound for Israel.
The refugee women added that after they arrived in Israel, the same person told them that they had to provide "sexual or domestic services" to pay back the money.
The Israeli Population and Immigration Authority has received information and details on the person in question, and the suspicion is that a network — rather than a single person — was trying to lure refugee women into prostitution.
The testimonies of refugee women will be communicated to the police to open an investigation.
During deliberations in the Knesset on March 14, Population and Immigration Authority Director-General Tomir Moskowitz justified his refusal to allow some Ukrainian refugees to enter Israel, claiming that "they have come to work (in) prostitution."
Moskowitz said: "Just as they came before the war, they come now too. Some of them are victims of (human trafficking) … and some are interested in bringing them or inviting them here."
According to data reviewed by Moskowitz, 247 Ukrainian refugees were refused entry out of the nearly 10,000 refugees who have tried to enter Israel since the outbreak of the war in Ukraine three weeks ago.
Luring Ukrainian and Russian immigrant women into prostitution is not a new issue in Israel.
Dozens of those who immigrated to Israel in the early 1990s following the collapse of the former Soviet Union were reportedly recruited to work in prostitution for years.
Meanwhile, an Israeli source related to the institutes receiving Ukrainian immigrant women confirmed to Arab News that human trafficking was indeed occurring, adding that this was the case not only in Israel but in Europe as well.
"I heard that someone came to those Ukrainian women and gave them a telephone number. Yes, it happened," said the source, who requested anonymity.
Source: Arab News
https://www.arabnews.com/node/2045856/middle-east
--------
Darah launches initiative to enrich Arabic digital content on Saudi women
March 19, 2022
RIYADH — King Abdulaziz Foundation for Research and Archives (Darah), represented by WikiDowen, started an enrichment initiative about Saudi women on the volunteer labor platform, with the goal of enriching the Arabic digital content material.
The initiative's focus areas have been revealed to be: the royal family's role in supporting comprehensive development, historical women figures from the Arabian Peninsula, female figures of Saudi women leaders in many fields, and Saudi women's contributions in various fields (education, health, economy, technology, volunteering, charitable work, social responsibility, basic sciences, humanitarian fields).
In addition, there were women who obtained local and international awards, as well as rights and regulations that supported the process of empowering Saudi women in personal status, rights, and employment statuses, among other things.
The Darah clarified that the first week will include the announcement and launch of the program through the volunteer work platform, followed by accepting the participants and clarifying the work process.
While the fifth week will include evaluating published articles, later the participants will be evaluated via the voluntary labor platform in the last week.
They also stated that the participants will receive volunteer hours through the HRSD's volunteer work platform, and that the initiative will run until the middle of Ramadan. They encouraged those interested to register and to enrich Arabic content in the free online encyclopedia Wikipedia
Source: Saudi Gazette
https://saudigazette.com.sa/article/618348
--------
Saudi Women Are Partners in Kingdom's Development
8 March, 2022
The world celebrates International Women's Day on March 8 to recognize women's achievements, their essential role in the world, and supporting gender equality. The day marks public respect and appreciation of women for their economic, political, and social achievements.
On International Women's Day, Asharq Al-Awsat monitored reform steps taken by Saudi Arabia to support and empower women in all crucial areas in the Kingdom. Saudi reforms have worked to involve women in the developmental programs of the national transformation plan, Vision 2030.
Since the launch of Vision 2030, Saudi Arabia has seen development in various fields. Its 12 programs aim to promote Islamic values, develop and diversify the economy, increase employment rates, enable social responsibility, and achieve many other goals that will manifest a developmental shift in the Kingdom.
Vision 2030 programs have also been keen to increase the participation of women in the labor market.
From this point of view, Saudi women's steps towards empowerment have accelerated thanks to the issuance of many decisions, legislation and regulations that enhance their position in society. This has allowed women to become effective partners in national development in all fields.
Legislation and reforms have been adopted over the past years to include women more in advancing development due to their essential role in contributing effectively through leadership and administrative positions.
The Saudi government has been keen on placing qualified women in high positions in several fields.
The Saudi Ministry of Human Resources and Social Development has launched a women's empowerment initiative. This scheme has helped increase women's participation across all government sectors and expanded work opportunities for women in the Kingdom.
Today, Saudi women hold senior structural leadership positions in government agencies.
The National Platform for Saudi Women Leaders (Qiyadyat) is an interactive national platform that contains a database of women's national leaders to facilitate rapid access to female leaders in the public sector, private sector institutions, and civil society institutions.
Moreover, the platform serves as a tool that enables agencies to communicate and nominate women leaders to leadership positions, boards of directors, or official delegations in international forums based on smart search criteria.
The ministry also launched the Women's Empowerment Agency. It seeks to create initiatives and projects that support the empowerment of women and people with disabilities in the Saudi workplace and work to implement them in order to achieve the goal of increasing women's participation in the labor market in order to achieve justice in equal opportunities in the labor market.
The Kingdom launched the leadership training for women to develop training and orientation programs that aim to improve the skills of working women and increase the percentage of women employed in leadership positions. The initiative trained over 500 working women across the Kingdom, which were divided into two categories including leaders and managers.
As for working mothers, the ministry worked on establishing daycare centers at the workplace in an initiative for creating an attractive and stimulating work environment for working women. It also looks to create investment and job opportunities at these centers.
The Ministry of Trade has taken a number of measures and programs to empower women in society and their participation in various aspects of economic life, with the aim of increasing their presence in economic and development activities in order to enhance sustainable development, and achieve the Vision 2030.
Woman can start a business easily after removing the requirement for guardian approval and equality in procedures between men and women.
These measures led to the Kingdom's progress in a number of indicators related to women, most notably the index of women's share in the labor market (out of the total workforce) to reach 31.8%, exceeding the 2020 target of 27.6%.
In the World Bank's 2021 Women, Business and the Law Index, Saudi Arabia scored 80 out of 100, well ahead of the global average.
Source: Aawsat
https://english.aawsat.com/home/article/3518531/saudi-women-are-partners-kingdom%E2%80%99s-development
--------
Turkish women's snow volleyball team wins CEV European Tour cup
March 21, 2022
The Turkish women's snow volleyball team has claimed the CEV European Tour title, as France won the men's cup.
The 4th Snow Volleyball European Tour organised by the European Volleyball Confederation (CEV) wrapped on Sunday following the final matches at Türkiye's Erciyes Ski Resort.
The European Cup took place from March 18 to March 20, 2022, at the Tekir Kapi runway of Erciyes.
7 women's and 11 men's teams from Belgium, France, Hungary, Italy, Poland, Romania, Switzerland and Türkiye participated in the tournament, with a total of 67 players.
Türkiye claimed the first place in the women's cup, followed by Hungary and then Italy. France won the men's cup while Türkiye came in second, followed by Italy.
Türkiye's worldwide success
Erciyes Inc., the corporation behind the Erciyes Ski Resort, had officially commenced the Snow Volleyball European Tour in Türkiye in 2017.
"Volleyball is a sport that our country has achieved worldwide success in, so we are working to bring all its branches to Türkiye," the Turkish Volleyball Federation's Deputy Chairman Alper Sedat Aslandas has said.
"We introduced snow volleyball in Türkiye simultaneously with Europe," he has added, emphasising that the tournament would "once again annunciate the achievements of Türkiye across Europe."
Source: Trt World
https://www.trtworld.com/sport/turkish-women-s-snow-volleyball-team-wins-cev-european-tour-cup-55677
--------
Unfazed By Hijab Row, All Hijab-Clad Women Are Campaigning Municipality Polls In Kendrapara
21st March 2022
KENDRAPARA: The hijab controversy may have been raging down south in the classrooms but for the women candidates from Muslim community in Kendrapara, the urban polls are business as usual.
The candidates clad in hijab are seen campaigning in full spirit and reaching out to voters in their respective areas. The row over their traditional headscarves has hardly prevented them from carrying on with their work.
Several of them have entered the poll fray to contest for councillor posts of Kendrapara municipality. Of 12 nominees, Congress has fielded five, BJD four, BJP two and BSP one.
"All hijab-clad women are continuing poll activities and raising important issues of the civic body," said BJP leader Salim Ali. Ali is also the vice-president of the minority cell of the State BJP.
The saffron party's candidate from Ward 14, Simran said she is confident of winning as the BJP-led government at the Centre has carried out many developmental initiatives for the community.
Mohammed Naeem, a Congress leader, and lawyer said it is proper for the women contestants to wear hijab during campaigning as it is an essential practice in Islam. "If they win, they will continue wearing their headscarves at the workplace," he added.
On the other hand, Congress-backed candidates feel the victory of hijab-wearing Muslim candidates would be a blow to BJP and its saffron allies. "Muslims and Hindus co-exist peacefully in Kendrapara town. Our neighbours, many of whom are Hindus, are also campaigning for us," said Farzana Khatun, the Congress candidate from Ward 16. Out of 36,718 voters, there are around 8,000 voters from the Muslim community in the municipality.
Source: New Indian Express
https://www.newindianexpress.com/states/odisha/2022/mar/21/unfazed-by-hijab-row-muslim-women-campaign-for-ulb-polls-in-kendrapara-2432481.html
--------
URL: https://www.newageislam.com/islam-women-feminism/saudi-female-coach-reem-golf/d/126620
New Age Islam Islam Online, Islamic Website, African Muslim News, Arab World News, South Asia News, Indian Muslim News, World Muslim News, Women in Islam, Islamic Feminism, Arab Women, Women In Arab, Islamophobia in America, Muslim Women in West, Islam Women and Feminism