New Age Islam News Bureau
7 Jul 2018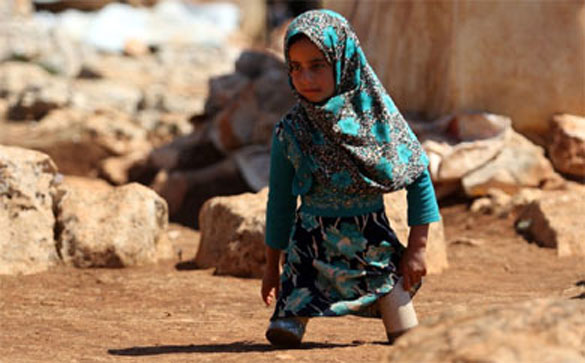 Eight-year-old Maya Merhi, who was born with no legs, had to shuffle around a camp in northern Syria on makeshift limbs fashioned from old tubing and tin cans.
-----
• Selfies with the Taliban: Afghan Women Buoyed By Ceasefire Snaps
• Musicians Celebrate Saudi Women Drivers with Cover of Beatles' 'Drive My Car'
• 48 Parties Allocated Tickets to 304 Women for Upcoming Polls: ECP
• Triple Talaq Crusader Shayara Bano Set To Join BJP
• Qatari Women...Partners In Renaissance and Development
• Iranian Women's Movement Pushes For More Rights, At Its Own Pace
Compiled by New Age Islam News Bureau
URL: https://www.newageislam.com/islam-women-feminism/first-new-steps-8-year/d/115762
-------
First new steps for 8-year-old Syrian girl who used tin cans for legs
6 July 2018
Eight-year-old Maya Merhi, who was born with no legs, had to shuffle around a camp in northern Syria on makeshift limbs fashioned from old tubing and tin cans.
Now she is taking her first tentative steps in Istanbul on prosthetic legs, after images of her struggling in the tent encampment in Idlib appeared on social media and she was brought to Turkey.
Her father Mohammed Merhi, who suffers from the same congenital disorder as his daughter, had fled fighting in the city of Aleppo with his wife and six children and took refuge in rebel-controlled Idlib.
"We faced many challenges, especially moving from the place we lived in tents... The situation in general was difficult," he said. "She was unable to walk so we had to create something for her to protect her from the ground," he said, referring to the improvised legs he designed from tubes and old tins of tuna.
Doctors hope Maya will be able to fully walk with her new prosthetic legs in three months, and they say that her father's determination made their work easier.
"He did everything to make this child walk and God helped them," Turkish prosthetic specialist Mehmet Zeki Culcu said. "Normally nobody would believe she could walk with these makeshift limbs."
The Syrian conflict has displaced more than 11 million people, around half within Syria and half as refugees abroad - including more than 3.5 million in neighboring Turkey.
https://english.alarabiya.net/en/features/2018/07/06/First-new-steps-for-8-year-old-Syrian-girl-who-used-tin-cans-for-legs.html
-------
Selfies with the Taliban: Afghan women buoyed by ceasefire snaps
6 Jul 2018
One of the longest wars of our generation took an unexpected turn last month. The Taliban insurgency in Afghanistan accepted the government's call for a three-day ceasefire during the Islamic festival of Eid al-Fitr.
For the first time in years, Taliban fighters – known for their brutality on the frontline of the spiralling conflict – entered the capital, Kabul, and other urban centres in Afghanistan and socialised with the locals.
They marched through the streets of Kabul with their flags, hugging civilians, offering Eid prayers alongside the security forces, and even enjoying a scoop of the city's best ice creams. Many civilians went up to the fighters, welcoming them, engaging in conversation about peace and taking selfies. Missing from most of these images of brotherhood and bonhomie were the Afghan women who have been among the worst victims of past Taliban atrocities.
Amid the swirl of excitement, hope and fear, however, a few women did make their presence felt during the ceasefire celebrations. Kabul, Baghlan and Jalalabad were among several cities where a handful of women not only joined the predominantly male celebrations, but also took selfies with the Taliban fighters.
The resulting photos, which show conservative, extremist fighters alongside determined and progressive Afghan women, went viral on social media.
One picture, taken by the Afghan photojournalist Farzana Wahidy, resonated especially profoundly with women and men alike. In it, Wahidy is seen with a few Taliban fighters. Her eyes are defined with green eyeliner, and a headscarf of similar colour lightly covers her fringe. It is a look that would earn her the ire of the Taliban were they in control. Instead, the fighters stand next to her smiling meekly in a photo that has become a symbol of resistance.
"I think the Taliban's views of women have changed over the years. Earlier, under their own government, they threatened the women and mistreated them, but now they seem to be open to women's freedoms to an extent," said Hanifa Majid, 50.
Majiid, an employee of the municipal department in Pul-e-Khumri, the capital of the northern province of Baghlan, joined the city's men in welcoming the Taliban. Such a scene would once have been unthinkable: under the Taliban regime of the late 1990s, it is believed that women were not even allowed to be photographed.
"At first, I was scared to approach the fighters," said Majid. "I had carried flowers in my hand as a gesture of peace, but as soon as I got closer I saw the fatigue in their eyes, and I knew they were as tired of the war just as much as we were."
Much to her surprise, as Majid got closer, the fighters greeted her respectfully and accepted her peace offering. Emboldened by the turn of events, she took the opportunity to talk to them about ending the conflict, while also grabbing a few quick photos. "It was surreal and I couldn't believe it was really happening," she said.
For many other women, though, seeing the Taliban on their streets again brought back painful memories of restrictions and punishments.
"I spent the Taliban years in Panjshir [a northern province that resisted Taliban accession], but we often visited relatives in Kabul and I remember when my mother and I were flogged by the Taliban police because we were outside the house without a male escort," said Sadia Tajali, a 24-year-old student.
Even though she was only a child during the Taliban years, she has memories of witnessing many floggings and punishments administered against women who had failed to comply with strict rules on clothing, movement and education.
"I was scared and shaking [with fear and anger] when I saw the photos and videos of them roaming around in Kabul again.
"But I really admire those women who went out, with makeup, without a hijab or male family member, and took selfies with the Taliban who used to persecute them for these things."
Although the Taliban refused to extend the ceasefire, and the government officially declared it over on Saturday, the selfies have given women hope.
Lima Ahmad, an academic specialising in women and international security, said the images have "mobilised and empowered other women, showing them it is possible for them to face the Taliban".
Ahmad has long campaigned for the need to include women and safeguard their rights in any peace talks with the insurgents. The prospect of facing the Taliban across a table had nonetheless seemed unimaginable – until now.
"Watching Farzana, I felt very relieved, because it meant that I could join the negotiation table with the Taliban and protect the rights of women without having to give up on how I look and my beliefs," she said.
Majid added: "Women make up half of this society; how would it be possible to maintain peace without including us?"
https://www.theguardian.com/global-development/2018/jul/06/selfies-with-the-taliban-afghan-women-buoyed-eid-ceasefire-photos-viral
-------
Musicians Celebrate Saudi Women Drivers with Cover of Beatles' 'Drive My Car'
July 6, 2018
A group of Palestinian, Syrian and Jordanian musicians have recorded a cover of British band The Beatles' track "Drive my car" to celebrate Saudi Arabia's decision to allow women to drive.
The cover saw Syrian singer Nano Raies, Palestinian cellist Naseem Alatrash and other musicians from Jordan and Palestine come together to adapt the famous Beatles song, using traditional Middle Eastern instruments such as the oud and the darabouka drum to form the backing track. Raies sang the cover in Arabic, closely echoing the original lyrics "Baby you can drive my car, yes I'm gonna be a star."
The cover was recorded with the help of US radio station PRI and Berklee College of Music, based in Boston USA, which provided the musicians with the means and equipment to produce the track, according to the Jerusalem Post.
Raies and the group recorded the cover to honour the recent lifting of a ban on female drivers in Saudi Arabia, which came into effect in June. Saudi Arabia was the last country in the world to uphold a ban on women's driving, the rescinding of which has been hailed as a victory for women's rights in the Kingdom.
An end to the ban was ordered last September by King Salman as part of the sweeping reforms pushed by his son, Crown Prince Mohammed Bin Salman (MBS). Bin Salman has led a bid to transform the Saudi economy and liberalise its society, pledging in May to spend 50 billion riyals ($13.33 billion) by 2020 to promote entertainment, health, sports and education.
However, Saudi women have continued to face numerous obstacles to their new-found right. Yesterday, a Saudi woman's car was set on fire by a group of men seemingly angry over the female driver's purchase of the vehicle. The owner of the car, Salma Al-Sherif, alleged that her car was deliberately set alight by men "opposed to women drivers".
In June, Saudi TV presenter, Shireen Al-Rifaie, came under investigation by the Saudi General Commission for Audiovisual Media after appearing in a TV report in "indecent" clothing. Al-Rifaie was documenting her first experience of driving following the lifting of the ban. Numerous women's rights activists, many of whom had lobbied for the ban to be lifted, remain under arrest in the Kingdom, raising concerns about the extent of MBS' reform agenda.
https://www.middleeastmonitor.com/20180706-musicians-celebrate-saudi-women-drivers-with-cover-of-beatles-drive-my-car/
-------
48 Parties Allocated Tickets to 304 Women for Upcoming Polls: ECP
July 07, 2018
The Election Commission of Pakistan (ECP) issued some details regarding the political parties which are contesting upcoming general elections.
The Election Commission shared the percentage of tickets which political parties have allocated to women candidates .
According to the details, 59 political parties have not issued general seat tickets to any women. However, 48 parties have issued tickets to a total of 304 women in total.
Furthermore, among those that did, four parties failed to meet the requirement of allocating five percent of the tickets to women. The include Allah Akbar Tehreek, Jamiat Ulema-e-Islam-Samiul Haq (JUI-S), Pakistan Tehreek-e-Insaf Nazriati (PTI Ideological), and Pasban Pakistan.
In the mean time, the Pakistan People's Party (PPP) has emerged as the party that allocated the highest percentage of its total tickets to women compared to its peers — at 43.
On the other hand, the Pakistan Muslim League-Nawaz (PML-N) allocated 37 to women, Pakistan Tehreek-e-Insaf (PTI) allocated 42 tickets, Muttahida Qaumi Movement-Pakistan (MQM-P) gave tickets to 6, All Pakistan Muslim League (APML) to 8, Awami National Party (ANP) to 14, Balochistan National Party (BNP) allocated 3 tickets to female candidates, BNP-Awami to 2, Grand Democratic Alliance (GDA) to 8, and the Muttahida Majlis-e-Amal (MMA) allocated 33 tickets to women candidates .
https://nation.com.pk/07-Jul-2018/ecp-reveals-59-parties-not-fielding-any-women-candidates
-------
Triple Talaq Crusader Shayara Bano Set To Join BJP
Jul 06, 2018
Shayara Bano, the Uttarakhand woman who led the legal battle against triple talaq, is all set to join the Bharatiya Janata Party (BJP).
Forty-year-old Bano met BJP state president Ajay Bhatt on Friday with her father Iqbal Ahmed and expressed her interest to join the party. "She (Bano) visited us today. She is a global personality now and we would be more than happy to welcome her into the party," said Bhatt.
Bano was the original petitioner in the triple talaq case after she approached the Supreme Court in 2016, demanding that the talaq-e-biddat pronounced by her husband be declared as void. Petitions of four other women were tagged with Bano's petition. The Bharatiya Muslim Mahila Andolan (BMMA) is the sixth petitioner in the case.
In August 2017, the apex court ruled that the practice of instant triple talaq, which allows Muslim men to divorce their wives instantly by saying 'talaq' thrice, is unconstitutional.
"I met BJP leaders today and expressed my desire to join the party," said Bano who hails from Kashipur in US Nagar district. Praising the party, she said, "It was with the support of Prime Minister Narendra Modi that we got justice."
She said women in the Muslim community "continued to be brutalised" over practices such as triple talaq, nikah halala, and unequal property rights.
Bano plans to enter politics soon. "It will be done soon. I am pursuing it," she said.
"I want to work for women's rights while working for the party (BJP)," she said.
Her marriage of 15 years was dissolved in minutes unilaterally with her husband -- Allahabad-based property dealer Rizwan Ahmed -- dispatching a 'talaqnama' to her while she was at her parent's place in Kashipur.
After her husband abruptly ended the marriage, she approached the apex court, demanding that talaq-e-bidat, nikah halala and polygamy under Muslim personal laws be declared unconstitutional.
Talaq-e-bidat is a practice in which Muslim men utter 'talaq' thrice instantly -- sometimes via a written talaqnama, or even by phone or text message -- not adhering to the three-month iddat period, which is meant for reconciliation and arbitration.
Nikah halala is a law that requires a woman to marry another man, consummate the marriage and then get a divorce in order to return to her first husband.
https://www.hindustantimes.com/india-news/triple-talaq-crusader-shayara-bano-set-to-join-bjp/story-OclLYKXlhtDe2gdudrst2L.html
-------
Qatari women...partners in renaissance and development
July 07 2018
The transformation that is taking place in Qatar cannot be discussed without highlighting the crucial role of Qatari women.
Side-by-side with their fellow men, Qatari women have taken on a leading role in the transformation of the country's economic, political, social, and sports sectors that realise Qatar National Vision 2030's goal of building a future that relies on all of its society's capabilities.
Qatari women have throughout history played an important role in society. The economic conditions of many Qatari families' before the discovery of oil required women to carry out many roles, particularly during the diving season.
Nowadays Qatari women are playing a significant role in the country's development, backed by the political leadership and fully-supported by society, without having to forego her Arab and Islamic identity and principles.
Qatar's permanent constitution confirmed women's crucial role and enhanced their rights. It stressed on the principle of equality between all citizens in their rights and duties. It also prevented discrimination based on gender and focused on equal opportunity for all in terms of enjoying services and participating in all sectors.
There were also a number of policies, legislation, and national strategies were adopted to empower women and to provide them with the opportunity to actively participate in the development process.
Qatari legislation prevents discrimination against women in the job market, whether in the public or private sector. Women are also paid wages equal to men who carry out the same job. They also get equal training and promotion opportunities. The human resources law also award men and women equal opportunities in gaining promotions and occupying leadership positions.
Qatar National Vision 2030 reflects these constitutional principles by stressing the importance of enhancing women's role in society, particularly through participation in the economic and political fields. The vision also stresses that the aspired societal development means providing equal education and work opportunities to all citizens regardless of their backgrounds or gender.
One of the hallmarks of the country's leadership in that regard was the role of Her Highness Sheikha Moza bint Nasser in enhancing women's role, making her a role model for Qatari women and women around the world.
The local, regional, and international projects launched by Her Highness Sheikha Moza bint Nasser, particularly in the education and societal development fields, will continue to be a source of pride for Arab women and women around the world.
There is also no doubt that the high-quality education system established in Qatar over the past two decades helped build the capabilities of Qatari men and women. Qatar's education system is ranked top among Arab countries and fourth in the world according to the report of the World Economic Forum (WEF) in Davos in 2017. This helped women play a big role in the country's modernisation and development push.
The country also managed unprecedented success in the region after it was able to close the gender gap in terms of enrolment in different stages of education, as noted in the Report issued by the WEFin Davos. In fact, female enrolment rates in higher education in Qatar are consistently favouring women, according to various official statistics.
One example can be seen in Qatar University; where around 70% of the 2016-2017 academic year's graduates were women. They also graduated from a host of schools such as engineering, medicine, law, economy, literature, besides other disciplines. Enrolment rates at the Education City of Qatar Foundation for Education, Science and Community Development also tend to favour women.
This trend saw the percentage of women in the workplace reach about 37% in 25-29 years age group. That percentage rises to 49% in the 30-34 age groups, data from the Ministry of Development Planning and Statistics for the year 2017 showed. Women also had a majority of jobs in the education, health, and social work fields.
As for encouraging women gaining leadership positions, official statistical reports indicate that the representation of Qatari women in decision-making positions is currently 30%. Qatar National Vision 2030 and population policy 2017-2022 aim to raise this percentage while increasing the political representation of Qatari women as well.
In fact, Qatar is the first Gulf country to appoint women as a minister back in 2003, following the appointment of HE Sheikha al-Mahmoud as Minister of Education. A host of women ministers followed - like in 2008 with the appointment of a minister of health. The year 2013 saw also the appointment of a minister of communications and information technology. The latest Cabinet also has HE Dr Hanan Mohamed al-Kuwari as the Minister of Public Health, in addition to a number of women deputy ministers.
Women also occupy leading roles in a number of important state institutions. Qatar Foundation for instance is chaired by Her Highness Sheikha Moza bint Nasser. The foundation oversees a number of prestigious international universities, as well as research centres that lead the country's knowledge economy push.
Qatari women also lead other important institutions such as the Qatar Museums Authority (QMA), the Qatar Social Work Foundation, Doha Film Institute, Hamad Medical Corporation, Primary Health Care Corporation, National Commission for Education, Culture and Science as well as other institutions.
At the international level, Qatari women have been able to strengthen their presence in various international forums. Her Highness Sheikha Moza bint Nasser has emerged as one of the most influential figures in the world through her regional and international initiatives such as Silatech, and Education Above All that are concerned with providing education in poor and conflict-stricken areas. She also plays an active role in international organisations, especially in the field of supporting education globally, strengthening the Alliance of Civilizations and defending the goals of sustainable development.
Qatari women have also made a number of achievements at the international level. In this context, HE Sheikha Hessa bint Khalifa bin Ahmed al-Thani was the first woman in the world to become Special Rapporteur for Disability at the United Nations back in 2003. She is currently the Secretary General of the League of Arab States Envoy for Humanitarian Affairs.
Qatari women have also been members of a number of UN committees including the Committee on Rights of the Child, the Committee on elimination of Discrimination against Women and the Committee on Persons with Disabilities.
As for diplomatic work, the Qatari woman affirmed their success and ability to serve the country in various international forums, thus confirming the legitimacy of her right to represent Qatar abroad.
In recognition of this role, HE Sheikha Alia Ahmed bin Saif al-Thani was appointed as the first ambassador to the United Nations in Geneva and Permanent Representative of Qatar to the United Nations General Assembly in New York.
This year also saw a ministerial decree appointing HE Lulwa Rashid al-Khater as an official spokesperson for the Qatari Ministry of Foreign Affairs, to become the first Qatari woman appointed to the post.
According to statistics from the Ministry of Foreign Affairs, the number of Qatari women in the diplomatic corps reached 22, whereas 10 years ago it was only 3.
HE Sheikha Alia Ahmed bin Saif al-Thani told Qatar News Agency (QNA) that Her Highness Sheikha Moza bint Nasser was a bright example for women's diplomatic work, as it encouraged Qatari women to enter the field and represent the country in international events.
She said that Qatari women are proud of their success in the diplomatic field. This is evident from UN members and the UN Secretary-General choosing her to follow up on the development of UN institutions, which reflects the special status of Qatar.
HE Sheikha Alia added she feels proud due to the respect and trust she feels the world has in the leadership and people of Qatar. She added that such a trust puts more responsibility on the shoulders of the country's diplomats.
In November 2017 Qatari women entered the Advisory Council for the first time ever after an Amiri decree was issued appointing 28 new members, including four women.
Vice-President of Administration and Finance at the Doha Institute for Graduate Studies Dr Hend al-Muftah told QNA that the country's leadership took an important step in enhancing the participation of women in politics, and her inclusion in the decision-making process as a result. She added that the appointment of four women to the council was an historic moment.
That step also affirms that the State of Qatar has made significant progress in promoting women's leadership and participation in decision-making in recent decades and granting them the right to vote and stand for election.
The elections of the Central Municipal Council, which took place for the first time in 1999, were the first real political entitlement for Qatari women candidates and voters, after the law guaranteed them. Two women currently hold two seats in this council.
In the business community, Qatari women have made significant strides in this area after they made investments in all sectors economy. The initiatives launched by the State and the policies adopted by it have contributed greatly to women's presence in this important area.
Qatar Chamber board member Ibtihaj al-Ahmadani told QNA that the great support by the country's leadership which helped women lead in many fields. She added that the support also helped women carry out their role in the development process.
She pointed out that Qatari women have entered the business world and have achieved great success. She added that the past period witnessed intensive women's activities in all sectors of the economy, entering into new fields and expanding their existing businesses.
Al-Ahmadani said that the amount of investments of Qatari businesswomen is between QR20 and 25bn in the local market, in addition to the volume of investments in the stock market, real estate activities, tourism and others.
She also affirmed that women have reached an unprecedented achievement in the household industry sector. The role of Qatar Chamber is to adopt and support productive families by promoting their products and allowing them to participate in exhibitions organised by the Chamber both in Qatar and abroad.
Qatari women's gains were not confined to a particular sector, but included other vital sectors that were exclusive to men in the past such as the judiciary where women held important posts. Maryam Abdullah al-Jaber was appointed first prosecutor in 2003, the first women to assume the post in the region.
In the sports field, Qatari women have witnessed a remarkable rise in terms of their rates of participation and their ability to compete strongly in some games locally, regionally and internationally, especially after the formation of a special committee for Qatari women's sport in 2000, which played an important role in encouraging women to engage with the field.
Qatar participated for the first time with a women's delegation in the London Olympics in 2012 and carried the flag of Qatar in those games.
One of the most recent achievements of Qatari women, most notably in this regard, is the crowning of Qatar's women in the fifth edition of the Gulf women's games in 2017, in which 891 players representing four Gulf countries participated.
The Qatari team was crowned as champions of the West Asian Women's Handball Championship in 2016, while the national team for women's rugby made an historic achievement by winning the first West Asian Championship held in Lebanon this year in their first ever participation in addition to the centres developed in many regional and international games and competitions over the past two decades.
This quick look at Qatari women's achievements over the past years gives important indications that the wise leadership's bet on the role of women in development alongside men is a bet on the future and a guarantee for achieving the National Vision 2030, which aims to propel Qatar to the ranks of developed countries capable of achieving sustainable development and to ensure the continuity of the decent life of its people generation after generation.
http://www.gulf-times.com/story/598663/Qatari-women-partners-in-renaissance-and-developme
-------
Iranian Women's Movement Pushes For More Rights, At Its Own Pace
Saeid Jafari
July 6, 2018
Despite numerous obstacles and challenges, the women's rights movement in Iran continues to move forward. Indeed, while to some the pace of its advances may seem slow, its achievements in the past few years cannot be ignored.
Rights activists have put in a great deal of effort to overcome the traditional, cultural and legal challenges that women confront in Iranian society. In many cases, these efforts have been fruitful and resulted in the removal of certain obstacles.
The ban on entering sports events at stadiums, and especially for soccer games, is one of the strangest restrictions imposed on Iranian women in recent years. While women are allowed in cinemas or concert halls, they have been prevented from entering soccer stadiums. But this restriction was briefly lifted for this year's World Cup. On June 20, Iranian women were permitted to enter Tehran's famous Azadi Stadium along with their male counterparts to watch the match between Iran and Spain being broadcast live on screens at the stadium. While no official statement was made as to who ultimately issued this order, unofficial reports point to a direct order by President Hassan Rouhani to this effect. Now, there are hopes that this will pave the way for subsequent orders that allow women to watch live games at stadiums, too.
However, this is not the only achievement made by Iranian women. Perhaps what is more significant are the efforts of civil rights activists to improve the situation of women as a whole in Iranian society.
The Abuse Monitor is a newly established nongovernmental organization (NGO) launched by a group of women's rights activists in Iran. This NGO is aimed at raising public awareness about issues such as harassment and abuse of women. Posters and brochures published by this NGO can be found both online and in real life, all bearing the same message: stop sexual harassment of women. These posters have received a warm welcome, even from the Tehran municipality, and can now be found in the capital's metro and bus stations, warning both men and women against sexual harassment.
Ghoncheh Ghavami, the founder of this initiative, told Al-Monitor, "We pushed this idea forward by studying similar tactics [that had been adopted] in different countries and tried to inform the public about the abuse of women and how it should be banned. We focused our approach more on public areas such as bus stops and taxi stations and talked to people one by one about this [topic] and were generally welcomed."
But the Abuse Monitor is not the only body that is trying to revive focus on women's rights in Iran. The Campaign to Stop Domestic Violence is another independent grass-roots initiative launched by women's rights defenders in Iran. The campaign is trying to promote the need for further laws designed to stop domestic violence against women by raising public awareness about the issue.
The organizers of the campaign are opposed to the idea that whatever happens in people's homes should be considered private. By posting a public call, the group is asking abused women to share their stories so they can elevate these voices in the public debate. In this vein, the campaign is working on a draft law that bans domestic violence against women. They plan to submit this draft to the necessary legal authorities to have it ratified and included in the constitution.
Another factor that has brought more attention to Iranian women's rights than in the past is the spread of social media. The expansion of social media has made Iranian society more sensitive toward women's issues. For example, on June 13, before Iran's national soccer team played in the World Cup, a huge poster was displayed in one of Tehran's main squares. It depicted a group of men, with each individual representing a different ethnicity in Iran, standing side by side and holding up a golden trophy. Though the poster aimed to send the message that the entire Iranian nation, with all of its various groups and ethnicities, supports the national team, it did not feature a single woman.
This sparked a social media backlash of a magnitude so great that two days later, on June 15, the poster was taken down and replaced with another one that included women.
Many rights activists have deemed a World Cup TV advertisement by the Iranian branch of South Korean electronics giant Samsung insulting. The ad showed members of a family watching soccer, with the men following the game and cheering on while the women looked after the children. The ad was harshly criticized on social media and created a very negative atmosphere for Samsung. The company responded to critics by posting an explanation in Persian on its official Instagram page in an attempt to calm sentiments while deflecting accusations of being anti-women.
But do these kinds of backlashes and initiatives, which progress at a glacial pace, have the ability to change the situation for women in Iran?
Fahimeh Miri, a journalist and rights activist, told Al-Monitor, "The efforts to improve the situation for women are no longer restricted to a limited number of rights activists. Other parts of society are also seeking this change. Therefore, we see that measures aimed at improving women's status are welcomed and supported by the public. Of course, we still have major cultural and traditional obstacles in our way, but we have no choice but to pursue this path."
Although some rights activists outside Iran seek to portray an entirely dark image of women in Iran, rights activists inside the country have both pushed back against such characterizations and continued to pursue a different approach.
"It is natural that the situation has changed and is improving," said Ghavami. "Although there might be differences of opinion regarding the speed of these changes, what is clear is that this is a more intellectual and successful approach than sudden orders [from above], which, for example, are implemented in Saudi Arabia. I do not believe in those [efforts] at all."
Iranian women, given all the obstacles and challenges they have faced, continue to pursue their path for change and improvement. Even on issues such as the mandatory hijab, a development in the decades following the 1979 Islamic Revolution, when the headscarf became compulsory, illustrates that Iranian women are steadfast in pursuit of their goals to change society. Although this path has faced stricter restrictions and challenges at some historical junctures, it has never come to a halt.
https://www.al-monitor.com/pulse/originals/2018/07/iran-womens-rights-movement-soccer-stadiums-entry.html
-------
URL: https://www.newageislam.com/islam-women-feminism/first-new-steps-8-year/d/115762
New Age Islam, Islam Online, Islamic Website, African Muslim News, Arab World News, South Asia News, Indian Muslim News, World Muslim News, Women in Islam, Islamic Feminism, Arab Women, Women In Arab, Islamophobia in America, Muslim Women in West, Islam Women and Feminism