New Age Islam News Bureau
29 May 2020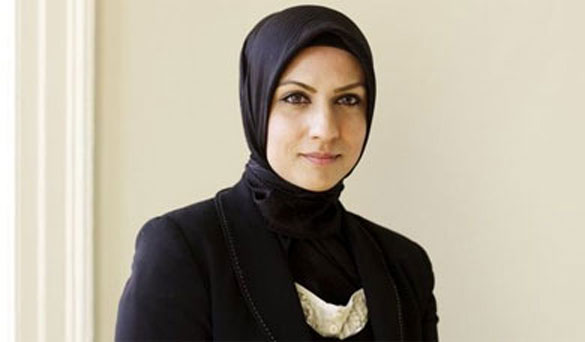 Raffia Arshad has practised family law for more than 17 years
----
• Re-Think Gender Roles, Says Tunisian Feminist Feminist Activist and Former Lawmaker
• Yemen's First Responders Are Women Peace Builders
• Israel Defense Forces Not in Hurry to Integrate Women in Elite Combat Units
• COVID-19 Poses Challenges For Indonesia's Female Peacekeepers
• UN Highlights 'Women in Peacekeeping' On International Peacekeepers Day
• US Coercive Measures Against Iran Hurting Women
• UN-Women Head Praises Egypt's Efforts Preserving Women's Needs While Fighting COVID-19
Compiled by New Age Islam News Bureau
URL: https://www.newageislam.com/islam-women-feminism/first-hijab-wearing-judge-britain/d/121980
--------
First Hijab-Wearing Judge in Britain Tells Muslim Women To 'Break the Moulds!'
May 28, 2020
For the first time in British history, a hijab-wearing woman was appointed as court judge in the U.K., breaking glass ceilings and paving the way for fellow Muslims pursuing success.
Forty- year-old Raffia Arshad received her letter approving her assignment as a deputy district judge in the Midlands region last week, BBC reported.
"It's taken a while to get here but I'm so pleased. It's not just a personal achievement. It's a huge achievement for anyone from a diverse background," she said.
Arshad, who is the first member of her family to go to university, expressed that she refused to remove her hijab during her career without fear of passing up better career options.
"I decided that I was going to wear my headscarf; because for me it's so important to accept the person for who they are and if I had to become a different person to pursue my profession, it's not something I wanted," she said.
She believes her success has broken stereotypes of how judges are "supposed to look."
"Don't worry about what you look like, don't worry about not fitting into the mold, break that mold and achieve what you need to," she said, pointing out that everyone should reach for the stars.
As a mother of three, she has been pursuing a career in the field of Islamic Family Law for over 17 years.
"I was happy, but the happiness I've had from other people sharing this is far greater," she said.
Joint heads of St Mary's Chambers Vickie Hodges and Judy Claxton also expressed that they are contented with the appointment of Arshad which is "richly deserved" and based "entirely on merit."
"Now it's up to me to be that voice for them, to make sure the sound of diversity is heard loud and clear and that it gets to the appropriate places," she added.
https://www.yenisafak.com/en/world/first-hijab-wearing-judge-in-britain-tells-muslim-women-to-break-the-molds-3530585
--------
Re-Think Gender Roles, Says Tunisian Feminist Feminist Activist And Former Lawmaker
May 29, 2020
TUNIS: During Tunisia's coronavirus lockdown, feminist activist and former lawmaker BochraBelHajjHmida has been worrying about family violence, rethinking gender roles — and crocheting.
Tunisia's lockdown, which has seen men and women confined to the domestic space together, offers a chance to rethink gender roles in a traditionally patriarchal society, Hmida said.
"It's a subject that we don't talk about, and we can't have real change if we don't explore these questions in depth," she said.
Now is the time for people to reflect and speak out about family relations and domestic violence, she said, stressing that "we cannot continue like this."
Tunisia is seen as a forerunner for women's rights in the Arab world and Hmida — who helped found the Tunisian Association of Democratic Women in 1989 — a pioneer.
The North African country, birthplace of the Arab Spring protests that ousted several autocratic rulers, adopted a new constitution in 2014 which guarantees equality between men and women.
Hmida, a lawyer who was elected to parliament in 2014, chaired the commission charged with integrating into law the values of freedom and equality that characterized the 2011 uprising.
She has since stepped back from politics but maintains her concern for Tunisian society, where around half of women say they have been subject to at least one form of violence in their lives.
During the lockdown, Hmida has had the chance to re-engage with traditional home life, but on her own terms.
"In the morning, I start with the gardening. And I've discovered I still know how to crochet," she said.
"It's not very feminist of me but I've realized it's a pleasure and not an obligation. Today men are sewing and cooking, we can't have complexes about these things. If it's done for pleasure, it's a luxury."
The lockdown has made Tunisia's youth more open to challenging gender norms, Hmida said, with young people the most receptive to taking up housework normally assigned to the other gender.
"The question is whether this will continue and become normal or whether it is just temporary," she said.
Unfortunately the confinement has also produced a fivefold increase in emergency calls for gender-based violence compared to the same period last year.
"Men already had an issue with women accessing the public space, but now they are forced to remain in a space typically reserved for women, many men are struggling to accept it," Hmida said.
The positive aspect is that more women have started speaking out, either online or via local organizations, she said.
"They are more aware regarding violence," said the retired lawyer, who once faced controversy defending a woman raped by policemen in a highly politicized trial.
But there has yet to be a fundamental reckoning with Tunisia's traditional gender roles and male-dominant power dynamics in families, she said.
Making any kind of fundamental change to Tunisia's social structure would require clear political will, Hmida said.
But she does not see any such efforts by the state, whether on the social, financial or cultural level.
"I am shocked that in Tunisia or elsewhere, violence against women would be an issue to be relegated to the minister of women," she said.
"All sectors need to be involved to the highest level of government."
Journalists must question ministers on whether they have done anything proactive to combat gender-based violence, Hmida said.
Views on the role of men and women in the family are an area where progressives like Hmida diverge widely from conservatives. But many others are not yet ready for change, she said.
"We lack the collective will to redefine the family and review our priorities," she said.
Foremost among these must be health care, she said, which has been stretched thin by years of mismanagement and privatization.
Environmental issues are also absent from public discourse in Tunisia, she said, while inequality is also neglected.
"Citizens must take charge" and lead the debate, she said.
https://www.arabnews.com/node/1681431/middle-east
--------
Yemen's First Responders Are Women Peace Builders
Jackie Abramian
Since 2015 Food4Humanity Foundation, one of Yemen's first women-led Civil Society Organization (CSO) non-profits, has engaged Yemeni women volunteers to work in areas most affected by poverty, famine, lack of humanitarian aid while also promoting civic values, charitable and responsible citizenship.
It has provided aid to over 17,000 Yemeni's, while its programs, campaigns and assistance to hospitals on cholera awareness and other vital assistance have reached another 30,000 Yemeni's in 5 governorates distressed by the long war now entering its sixth year.
MunaLuqman, Executive Director of Food4Humanity Foundation, has worked as a social worker in Sanaa with ADRA, focusing on health care, infrastructure development, including water projects and landmine clearance, and Save the Children. Three years after the war started, Luqman moved to Taiz, on the Red Sea, to work with the private global corporation HSA Group, and later as an advisor to the business savvy regional governor helped galvanize socio-political projects and youth activism.
The UK-educated peace builder is also the co-founder of the Women Solidarity Network (the largest network in Yemen), a member of Women's Alliance for Security Leadership (WASL) and the 2019 recipient of the International Young Women's Peace and Human Rights Award from Democracy Today, for "outstanding work in raising women's visibility in peace building and gender responsive policy."
As UN and other international aid organizations left Yemen, the role of women peace builders became indispensable. Luqman mediated armed water disputes for residents caught in crossfires, secured the transfer of oxygen, medical supplies and humanitarian aid to over 40,000 Yemeni's. As Houthi's seized Taiz, Luqman and other women mediated with fighting factions to allow safe passage for 70 orphans, provided relief for cancer patients and the sick in hospitals–all while airstrikes partially destroyed her house.
Along with other women peace builders Luqman has mediated with the local tribes to release 600 detainees–when UN negotiations failed. Working with the mothers of abductees and an international campaign to free prisoners, Luqman helped release 450 abductees. Her concern for ostracized populations led her to provide aid to the 3.5 million African-descent Muhamasheen ('the marginalized ones') community, hit hardest by the war. The most devastating part of the war for Luqman, however, was witnessing "young boys mobilized as fighters to feed the violence."
Women Peace Builders Are Sidestepped
When it comes to power sharing, Luqman blames the international organizations' exclusion of women, and for not exerting enough pressure on the warring parties that exclude women in peace negotiations. While 20 years ago the UN Security Council (UNSC) resolution 1325 on Women, Peace and Security called to include women, the 2015 UNSC resolution 2216, demanding an end to Yemen violence, "is gender blind" she says.
When excluded from the 2018 Geneva II UN Peace Envoys meeting, Luqman confronted a local Yemeni minister. He told her there weren't enough "chairs available for the women." Adding, "it is not time for the women now."
"I screamed at the minister and reminded him how it was women, not him, who smuggled oxygen to save little babies, how we work tirelessly for women's rights while he enjoys his lavish, VIP treatment in Saudi hotels," Luqman says angrily.
Along with three other women, Luqman attended the UN meeting and met with many diplomats. The peace talks failed when Houthi representatives didn't show up and their leader, Abdul Malik al-Houthi, later accused the Saudi-led coalition of blocking his delegation from traveling to the peace talks.
"Men-led organization are profiting from the war and are in charge. But Yemeni's need opportunities not handouts," Luqman calls for a comprehensive approach to peace process "inclusive of women peace activists." Women constituted only "2 per cent of mediators, 8 per cent of negotiators and only 5 per cent of signatories in all major peace processes," between 1990-2017 according to UN Women. A recent study confirms that peace agreements with female signatories are more durable.
"Militant groups in Yemen must be accountable. Inclusion of women isn't about equality–it's about giving voice to survivors, the youth, the women, the dire needs of the Yemeni people," Luqman states. "When our women provided reports to the UN Envoy, he admitted he learned a lot by listening to the women. I believe so can the world."
https://www.forbes.com/sites/jackieabramian/2020/05/28/yemens-first-responders-are-women-peace-builders/#4ccdb78e592b
--------
Israel Defense Forces Not in Hurry to Integrate Women in Elite Combat Units
May 27, 2020
GaliNishri is a marathon runner. Service in an elite military unit runs in her family and she wants nothing more than to serve in the Shayetet 13 commando of the Israel Defense Forces (IDF), the equivalent of the US Navy SEALs. Mika Klieger successfully completed a tryout for IDF naval officers' training, but she is eyeing service in the infantry's Golani commando. Omer Sariya, a bookworm inspired by the exploits of Hannah Senesh, the woman parachuted by the British into Yugoslavia during World War II to assist anti-Nazi forces, dreams of serving in the IDF paratrooper's commando. MorLidani has her sights set on serving in the IDF's elite counterterrorism Duvdevan commando.
The four youths, cadets in a pre-military academy, petitioned Israel's top court May 20, demanding that the IDF summon women for tryouts to its elite special operations units just as it does men, in the name of full equality.
"We are not asking for any special treatment. We want the women tested according to the exact same criteria applied to men. If they pass, they serve," Attorney YinorBertentaltold Al-Monitor. "We specifically want them called for tryouts conducted according to set criteria so that the army cannot wriggle out of allowing them to serve if they pass."
Bertental knows what he is talking about. In 2019, he petitioned the Supreme Court on behalf of two female soldiers who had successfully completed rigorous training to become tank crewmembers but were not allowed to serve in that capacity. In January 2020, the court rejected that petition, citing a decision by IDF Chief Aviv Kochavi to continue testing the integration of women as tank fighters.
Kochavi reportedly deemed that the first pilot program to integrate women as tank fighters in 2017-18 had not addressed some related issues, such as women's ability to load tank shells. Thus, a second pilot program will be put in place. But is this a genuine attempt at finding solutions or a delaying tactic? Bertental said that the second pilot will include some 60 rather than the previous 15 participants, and increase the height and weight prerequisites. The idea, in any case, is to have gender-segregated tanks, apparently a concession to rabbis and some religious commanders opposed to co-ed military units.
"With the growing number of men from religious Zionist circles in the army, the conflict with the gender revolution in the IDF has become unavoidable," IditShafranGittleman, an expert on women's integration into the IDF and head of the Army and Society program at the Israel Democracy Institute, told Al-Monitor.
The combination of an inherently male-dominated, patriarchal, hierarchal organization and conservative, religious pressures has created a bastion that is hard to breach. While thousands of women serve in combat positions that were closed to them less than a decade ago, ShafranGittleman concedes that the military often takes one step forward and two steps back. "There is still a large group of people who view the fight for gender equality as a liberal, feminist whim willing to sacrifice the army's ability to win wars. The fact that equality is not a luxury has still not sunk in," she said.
The petitioners themselves insist they are not trying to poke the army in the eye. "We want to contribute and volunteer," Klieger has said in several interviews, but she also believes the petition has a higher purpose than just personal ambition. "If women serve in elite units, this would create a huge shift in social awareness," she noted. The four women claim that the roles offered to women by the army are "gilded cages, allowing the army to boast of integrating women in combat roles although they are nothing but a misleading fig leaf."
ShafranGittleman agrees. "This is a super important petition, given that the IDF is a people's army, with mandatory recruitment, and it plays a key role in shaping society, imbuing values and social norms and creating social mobility," she said.
The May 20 petition is directed at the IDF and at the newly installed Defense Minister Benny Gantz, whose record on women's inclusion could be considered spotty.
In 2011, as IDF chief of staff, Gantz was forced to issue an apology after he joked with then-Defense Minister Ehud Barak about female soldiers present at an army exercise in the north. In the comments, caught on an open mike, Barak was heard asking Gantz, "Who are these girls, from the battalion, the brigade?" To which Gantz answered, "They sing on breaks" — a reference to the controversy over women singing in the presence of religious male soldiers.
Two years later, Gantz was quite clear about his views on women serving in infantry units. "I see three parameters for women's service in the IDF. The first is whether they can carry out operational tasks; the second is whether they can work in the operational environment in which they are placed; and the third is whether this can be done in the required scope. I don't think we can have companies of women [only] in Golani." Nonetheless, he added, "There is no problem with a woman being a combat pilot."
When Gantz entered politics in late 2018, he appointed two former fellow army chiefs to the leadership of his Blue and White party — Moshe Ya'alon and Gabi Ashkenazi — naming very few women to his party's Knesset slate.
The attitude of distancing women from top security positions was reflected also in the recent nomination of a panel of experts advising the National Security Council on combatting the coronavirus outbreak. The panel included 23 members — all men. In response to a demand by women's groups to include women, the committee thanked them for their "important letter."
Nonetheless, Bertental is hopeful. "I think it will be hard for the IDF and the court to deny the petitioners something as basic as equality," he said, encouraged by the commander of Israel's northern command Maj. Gen. Amir Baram, who said in a recent interview, "I believe in these women. Those among them able to get into these units on an egalitarian basis, I am with them all the way."
https://www.al-monitor.com/pulse/originals/2020/05/israel-benny-gantz-aviv-kochavi-idf-commando-units-women.html
--------
COVID-19 Poses Challenges For Indonesia's Female Peacekeepers
Dian Septiari
May 29, 2020
In many of the world's conflict regions where health may be one of the first casualties, the coronavirus poses a discernible threat to the local population.
This is largely the case in south Lebanon, where sporadic skirmishes still occur at the border with Israel, and the only medical facilities are located at the compound of the United Nations peacekeeping mission.
The COVID-19 outbreak has had the unintended consequence of putting an end to all direct contact with the Lebanese people, a vital aspect to the work female peacekeepers do, according to Indonesian peacekeepers with the UN Interim Force in Lebanon (UNIFIL).
UN Secretary-General AntónioGuterres said that women held a central role in UN peacekeeping operations because they had greater access to local communities, improved the protection of civilians and promoted human rights in the line of duty.
But the outbreak threatens to upend their most vital work.
As a civil military coordination (CIMIC) officer embedded with UNIFIL, First Lt. Rima Eka Tiara Sari is used to interacting with the local community, but now she is mostly coordinating remotely with local authorities and nongovernmental organizations because of the pandemic.
"We still do [border patrols] while following protocols like wearing masks, using hand sanitizer and gloves," Rima told reporters in a virtual briefing on Wednesday, hosted by the UN Information Center in Jakarta.
"But other activities like the various [civilian] training programs are postponed until the COVID-19 outbreak ends," added the 37-year-old psychology graduate from Semarang, Central Java.
UNIFIL was formed in 1978 to oversee the withdrawal of Israeli forces from Lebanon and to assist the Lebanese government in restoring its authority. Among its operational activities is patrolling along the "Blue Line" border demarcation between Lebanon and Israel, established by the UN in 2000.
Another Indonesian UNIFIL operative, Second Sgt.Yazella Agustin, also lamented that the outbreak had greatly reduced her interaction with civilians.
"We can only contact them by phone to ask them about the latest situation, whether it is a problem caused by the coronavirus, an economic situation or other things," Yazella said at Wednesday's press briefing.
Many medical workers on the forefront of the COVID-19 response are putting their own health at risk to protect the Lebanese people and the UN peacekeepers stationed there.
But even such crucial services had been forced to stop, said First Sgt.ImakulataNgamel, an Indonesian Air Force nurse stationed with the UNIFIL's Indonesian battalion. "We can no longer accept local patients," she told the briefing.
Foreign Minister RetnoMarsudi on Thursday reiterated the nation's concerns about the impacts of the COVID-19 crisis on countries in conflict, that Indonesia was committed to upholding any and all efforts to resolve conflict and build peace.
Earlier this month, the minister noted that the already vulnerable situation in conflict countries had "now worsened [...] due to limited health infrastructure, fragile security, challenging economic situations and humanitarian conditions".
According to data on May 29 compiled by statistics site Worldometer, 1,168 people have tested positive for COVID-19 in Lebanon, with 26 total deaths. While 699 people have recovered, the country's economy has been hit hard, with businesses closing down and people losing their jobs.
Separately, the Foreign Ministry's director general for multilateral cooperation, FebrianRuddyard, said that the safety and security of Indonesian peacekeepers were of utmost priority.
"During Indonesia's presidency of the UN Security Council last year, we specifically raised the issue of the safety and security of peacekeepers through training and capacity building," he said.
Febrian, who leads Indonesia's Peace Maintenance Mission Coordination Team (TKMPP), said that the government was closely monitoring the latest developments in the field while ensuring that all missions followed the UN's COVID-19 health protocols.
He said that Indonesia was also deliberating a draft UN Security Council resolution on managing the pandemic amid the challenging conditions in conflict areas.
"We are paying very close attention to our peacekeepers because they are our assets that we lend to the world, in this case to the UN," said Febrian.
Friday is the 20th anniversary of the International Day of UN Peacekeepers. The day is paying special tribute to female peacekeepers with this year's theme, "Women in Peacekeeping: A Key to Peace".
UN Undersecretary-General for Peace Operations Jean-Pierre Lacroix said in a statement that "ensuring women's meaningful, equal and full participation in peace operations, as well as in peace and political processes, is key to protecting civilians and building durable peace".
However, women represent just 6 percent of all uniformed military, police, justice and corrections personnel in field missions, according to the UN.
As a nonpermanent member of the UN Security Council, Indonesia has advocated for women's participation in peace processes with an aim to increase the deployment of female peacekeepers to more than 3 percent at present.
Out of the 2,852 military and police officers Indonesia has deployed to nine UN peacekeeping operations around the world, only 159 are women.
https://www.thejakartapost.com/news/2020/05/29/covid-19-poses-challenges-for-indonesias-female-peacekeepers.html
--------
UN highlights 'Women in peacekeeping' on International peacekeepers day
May 29, 2020
May 29 marks the International Day of United Nations Peacekeepers. Over the years, Pakistan has contributed to the UN's peacekeeping operations with over 200,000 troops in 46 missions across 28 countries.
At least 157 Pakistani service members have also been killed during these operations but Islamabad remains committed to helping the UN in building peace and restoring stability in turbulent regions.
Globally, at least 3,900 peacekeepers from different UN member nations have lost their lives while serving in different conflict zones across the world since 1948.
The International Day of UN Peacekeepers is commemorated to pay tribute to the peacekeepers who include both uniformed and civilian personnel.
This year, the UN has chosen to highlight its female peacekeepers with the theme, 'Women in peacekeeping: a key to peace'. The theme has been chosen in light of the 20th anniversary of the UN Security Council Resolution 1325 on Women, Peace and Security.
UN Secretary-General Antonio Guterres has also appreciated the role Pakistan's women peacekeepers from time to time.
In recent years, Pakistan has increased its female representation in peacekeeping missions and was the first country to deploy female engagement teams. Currently, there are 30 Pakistani female officers serving in two such teams, with another team to be deployed in Congo by June 20.
Since the first UN peacekeeping mission established in 1948, over a million people have served under the UN flag in 72 missions. Today, the UN peacekeeping operations have over 95,000 people deployed, including military, police and civilian personnel in 13 operations.
This year, the UN peacekeepers have been involved with the response to the coronavirus pandemic in the areas in which they are deployed.
Pakistan joined the UN peacekeepers in 1960 and currently has troops deployed in Congo, the Central African Republic, South Sudan, Darfur, the Abyei area, Somalia, Western Sahara, Mali, and Cyprus, serving under the UN flag.
Pakistan remains one of the biggest contributors of troops to the UN's peacekeeping efforts and remains committed to the UN Charter, its initiatives and the forum at large. The country has been appreciated by UN leaders for the same as well over the years.
https://tribune.com.pk/story/2230308/3-un-highlights-women-peacekeeping-international-peacekeepers-day/
--------
US Coercive Measures Against Iran Hurting Women
28 MAY 2020
BRUSELS (IDN) – On 21 May 2018, less than two weeks after the U.S. withdrew from the 2015 nuclear deal with Iran, Secretary of State Mike Pompeo launched Washington's "New Iran Strategy" before an audience at the Heritage Foundation. In his remarks, he insisted that Iranian women's long struggle for inclusion and equality matters dearly to Washington.
As if to prove the point, the U.S. State Department's social media feeds since that day have interspersed announcements of new choking sanctions with twinkling reminders of Iranian women's potential ("Congratulations to Iranian-American and new #NASA Astronaut Jasmin Moghbeli!").
In January 2020, the State Department released a two-minute video on the history of Iranian women's rights. To a melody of maudlin piano and soaring strings, the video sweeps viewers past scenes of bare-headed women in silk blouses, wistfully recalling an era when Iran's women purportedly "enjoyed freedom and equal opportunity", before shifting to dark footage from after the 1979 revolution, when "women's rights in #Iran…regressed". No Iranian woman from either era actually speaks in the video, about either the Shah's regime or the Islamic Republic. But the final caption promises nevertheless: "The women of the U.S. will stand with the women of Iran".
Washington's evocation of Iranian women and their aspirations has become a feature of its marketing for "maximum pressure" – the campaign of economic coercion aimed at precipitating Iranian capitulation to U.S. demands or regime collapse. The marketing is stunning for its hypocrisy, focused as it is on the plight of Iranian women even as it says nothing about the injustices women face at the hands of Middle Eastern governments allied with the U.S. Moreover, as Washington has widened its claim that the Islamic Republic disallows any space for women, it has grown more detached from reality.
One tweet this past December maintained that the Iranian regime denies women the opportunity to "participate in public life" – during a month when Iranian female directors and actors were shining at the Tehran film festival. Women have long been engaged in almost every aspect of Iranian public life from politics to political activism and from diplomacy to flying planes and driving heavy trucks. But perhaps the most regrettable feature of this U.S. policy spotlighting the suppression of Iranian women's rights is that it has damaged the activism and independence of the very women it claims to support.
Of course, and despite women's prominence in public life, the Islamic Republic has a long and dismal record of keeping Iranian women second-class citizens in terms of civil and personal rights. The surge of women into higher education and the work force that accompanied the 1979 revolution galvanised women to demand more legal and social equality, not less. Yet the state has, for decades, defended a status quo of discriminatory laws like mandatory hijab. It was only in December 2019, under international pressure, that Iran's Football Federation committed to allowing women to attend matches in the domestic club league.
Restrictions on women's public conduct and appearance have sown increasing resentment and alienation, especially among millennial women and girls, who are less inclined than their elders to view the relaxation of rules as sufficient progress. As one 19-year-old sports champion put it: "My generation wants [dress codes] removed. We compare ourselves to the rest of the world, where everyone is modernising and evolving, and we find this strictness ridiculous".
For much of the past two decades, the Iranian women's movement has encompassed diverse strands of activism: there have been radical and gradualist wings, single-issue campaigns seeking an end to mandatory hijab or access to sports stadiums, drives to reform divorce and domestic violence laws, and grassroots efforts aimed at mobilising rural and working-class women behind such legal changes.
On occasion, these different currents have brought their particular struggles into the streets and endured crackdowns, before shifting course. The authorities have never smiled upon women's activism, and every subset of the women's movement, from state-affiliated religious feminists to secular-minded organisers, has encountered some level of official hostility and obstruction.
The authorities' intolerance for women's organising has grown so severe in recent years that most of the movement's luminaries are now in prison, in exile abroad or in a self-imposed state of quiescence. But the state's response has not been limited to repression. At times, it has grudgingly tolerated – and even conceded to – women's demands as a reality with powerful electoral implications. Women's turnout has been critical to presidential wins by more moderate candidates since the late 1990s, and politicians now regularly emphasise women's concerns when courting voters.
The Trump administration is trying to appropriate the Iranian women's cause. Whether they are skirmishing with authorities in anti-hijab street confrontations, joining labour protests, such as last year's May Day demonstrations, or agitating against the government's November hike in fuel prices, women have been active in airing specific grievances.
Most demonstrators have pointedly demanded an end to hijab laws, but they have received loud support – whether solicited or not – from anti-regime voices in Washington and among certain Iranian opposition figures outside the country, whose objective is toppling the regime.
If this external pressure was supposed to help, there is little evidence that it achieved its goal. Iran's security apparatus, under siege and suspicious of citizens' real or imagined links with the outside world, has over the past year doled out some of the severest sentences for women activists in recent memory.
In the 2000s and 2010s, Iranian women waged sophisticated and far-ranging battles against both discriminatory laws and the patriarchal culture, shared by men and women alike, from which those laws partly emanate. But in recent months, all those intense and public rows among women, between generations of activists with varying priorities, over whether the most suitable terrain was the family living room, one's personal relationship or the public street corner, have fallen eerily silent. Internal debate among women activists in Iran now is largely about the frightening, pervasive threats to the country's security and well-being.
A sanctions campaign as broad and blunt as that which the U.S. has built up is bound to have inadvertent consequences for the target population. As the economy reels from sanctions, women entrepreneurs, particularly those in cash-based or service industries, have been particularly hard-hit.
The 2010s saw a flourishing of women-owned businesses, with successes piling up in sectors women found themselves able to enter – from online clothing sales to cafés and restaurants. Those sectors might have appealed to women because they could better control their hours and workload, sidestep workplace exploitation or harassment, or discover opportunities for real economic advancement.
But as the Iranian currency began to sink in value in the summer of 2018, first in response to the Trump administration withdrawing from the nuclear deal, and then more precipitously, in anticipation of increasingly severe sanctions, sometimes falling by double digits in a single day, families coped by cutting back on leisure spending, on everything from clothes to hair salons to eating out. Small shops and retailers saw their revenue drop, while their rents skyrocketed.
"Many women I know, often younger women who used to be activists or journalists and had turned to running cafés, are now going out of business", said SussanTahmasebi, a long-time civil society activist who retains close ties with women counterparts in Iran. "They're not just losing economically, but losing that liberating force of being able to be financially independent".
Sanctions have also forced tens of foreign firms to close shop and lay off Iranian workers. These companies tended to offer forward-thinking and empowering workspaces for women, setting high standards – everything from attractive salaries to more professional management and expected conduct – that Iranian companies would have to match. Some organised anti-sexual harassment training for employees, to bring them in line with minimal codes of conduct in European firms. Sanctions halted that progress.
The record thus appears clear: by imposing stifling sanctions, the Trump administration has deprived Iranian women of economic empowerment and the social independence that can accompany it; by politicising the women's movement in the service of its own goals, it has exposed them to graver danger; and by zeroing in on women's rights in Iran while it ignores them elsewhere in the Middle East, it has highlighted its own insincerity.
The monumental challenges that Iranian women face in fighting their government's discriminatory laws and repressive policies are difficult enough without the debilitating impact of sanctions. If they could collectively send a message to Washington, they might draw from the words of the thirteenth-century Persian poet, Sa'adi, who said: "I do not expect any favours from you. Just do no harm". [IDN-InDepthNews – 02 May 2020]
https://www.indepthnews.net/index.php/the-world/middle-east-north-africa/3509-us-coercive-measures-against-iran-hurting-women
--------
UN-Women Head Praises Egypt's Efforts Preserving Women's Needs While Fighting COVID-19
May. 28, 2020
CAIRO – 28 May 2020: Under-Secretary-General and Executive Director of UN-Women, H.E. PhumzileMlambo-Ngcuka, has praised the efforts currently being undertaken by Egypt to face the repercussions of the spread of the coronavirus (COVID-19), taking into consideration the needs of Egyptian women.
Mlambo-Ngcukahas also expressed her happiness at the cooperation between the Egyptian government, the United Nations family and UN Women Egypt in this framework.
This came in her letter sent to the Egyptian Mission in New York and the National Council for Women in Egypt; in which she also expressed her admiration for the issued women policy tracker on monitoring policies and measures taken by the government to support women during curbing the spread of COVID-19, which introduces different kinds of women's challenges and needs.
"I am particularly impressed by the Women policy tracker on Responsive policies and Programs During COVID-19 Pandemic, I would like to commend also the leadership of the Egyptian government on ensuring that the response has a gender lens, and the tracker serves as an opportunity to ensure that no policy is gender blind, of note is the decision to increase financial support to rural women," Mlambo-Ngcuka said
Mlambo-Ngcuka emphasized that all countries' individual and collective response to this unprecedented crisis can ensure that women's rights, well-being, and economic autonomy are part of the short term responses and longer-term recovery.
She further noted that this will not only benefit women but will contribute to making these efforts more effective and to building the inclusive, equal and more resilient societies we need to address this crisis.
Mlambo-Ngcuka also stressed the UN-Women will continue supporting the Egyptian government in the fight against covid19 and in all efforts to achieve sustainable development to empower women and girls.
The Egyptian Mission in New York had previously addressed the Undersecretary and Executive Director of UN Women and the missions of member states of the organization to emphasize the need for international cooperation and sharing of experiences and information in order to overcome this urgent challenge facing humanity, and to highlight the Egyptian precedent in preparing plans and programs responsive to women needs while fighting the COVID-19 pandemic.
The Egyptian delegation circulated the report prepared by the National Council for Women on the proposed policies and programs towards the status of women when facing the COVID-19 pandemic, as well as the women policy tracker of those policies and programs.
The Egyptian government was the first globally to issue a policy paper and a women policy tracker to monitor policies and programs, responsive to women needs, which were taken by the Government during the reduction of the spread of the covid19. The women policy tracker has tracked 52 measures, policies and decisions taken by the Egyptian government during the first two months ever since COVID-19 hit Egypt.
https://www.egypttoday.com/Article/1/88086/UN-Women-Head-praises-Egypt-s-efforts-preserving-women%E2%80%99s-needs
--------
URL: https://www.newageislam.com/islam-women-feminism/first-hijab-wearing-judge-britain/d/121980
New Age Islam, Islam Online, Islamic Website, African Muslim News, Arab World News, South Asia News, Indian Muslim News, World Muslim News, Women in Islam, Islamic Feminism, Arab Women, Women In Arab, Islamophobia in America, Muslim Women in West, Islam Women and Feminism