22 May 2022
• First For Saudi As Domestic Flight Takes Off With All-Female Crew
• Women TV Presenters Defy Taliban Order To Cover Faces On Air
• Phone Kiosks For Female Worshippers Installed In Mecca Grand Mosque
• Muslim Women Canvass Support For Bola Tinubu's Presidential Ambition
• Imran Khan Owes Apology Not Just To Maryam But To All Women: Pak Rights Group
Compiled by New Age Islam News Bureau
URL: https://newageislam.com/islam-women-feminism/saudi-flight-female-crew/d/127061
--------
First For Saudi As Domestic Flight Takes Off With All-Female Crew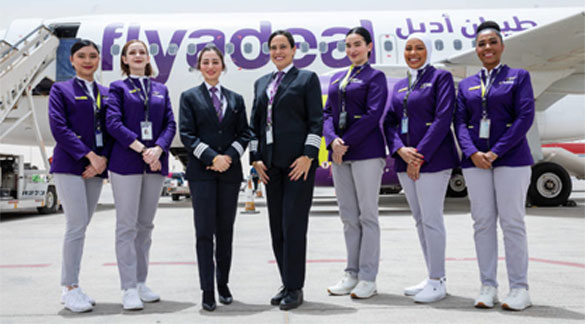 The number of Saudi female pilots has grown recently. (Supplied)
-----
Nada Hameed
May 21, 2022
JEDDAH: Saudi low-cost airline Flyadeal have announced the first domestic flight in the Kingdom with a fully female crew, most of them Saudis.
The announcement was made on the airline's official Twitter account @flyadeal on Friday: "For the first time in Saudi aviation history! #flyadeal operated the first flight with an all-female crew, the majority of which are Saudis by the newest A320 aircraft. Flight 117, flew from #Riyadh to #Jeddah"
Saudi women have proved themselves in many careers that men dominated for a long time including aviation-related positions.
Flight 117, with a crew of seven, was co-piloted by Yara Jan, 23, who is also the youngest Saudi female pilot.
Jan told Arab News that she was extremely proud to be taking part in such a historic moment in aviation for Saudi women.
"As a Saudi woman trying to lead my country with a proud step it was a moment of pride and joy."
Jan graduated from flight school in Florida, US, in 2019, and joined Flyadeal a year ago.
She said that being the co-pilot means assisting the pilot in many key role tasks such as navigation and completing many checklists.
Jan is aware of how important this is for young Saudi women.
"Although being a Saudi woman pilot is new, it is not impossible for our generation, especially with the backing that we are receiving from our beloved country and our respected leaders, who have supported me a lot to become the youngest female pilot in a Saudi airline. I will always be pleased to have the chance to make a positive change."
The number of Saudi female pilots has grown recently. Three names stand out: Hanadi Zakaria Al-Hindi, the first female pilot to fly with a Saudi commercial pilot license; Rawia Al-Rifi the first to fly an Airbus A320 internationally as a civil aircraft from the UAE; and co-pilot Yasmin Al-Maimani, who was the first woman to co-pilot a commercial plane in the Kingdom.
Source: Arab News
https://www.arabnews.com/node/2086611/saudi-arabia
-----
Women TV Presenters Defy Taliban Order To Cover Faces On Air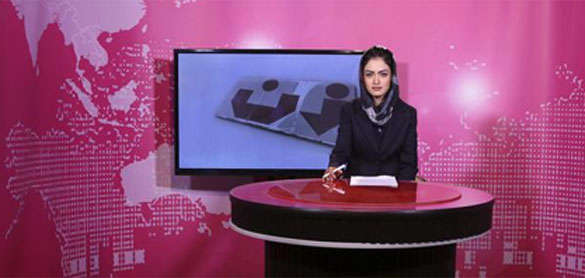 FILE - Basira Joya, 20, presenter of the news program sits during recording at the Zan TV station (women's TV) in Kabul, Afghanistan, May 30, 2017. Afghanistan's Taliban rulers ordered all female presenters on TV channels to cover their faces on air, the country's biggest media outlet said on May 19, 2022. | Photo Credit: AP
----
AFP
May 21, 2022
KABUL: Women presenters on Afghanistan's leading TV channels went on air Saturday without covering their faces, defying a Taliban order that they conceal their appearance to comply with the group's austere brand of Islam.
Since surging back to power last year the Taliban have imposed a slew of restrictions on civil society, many focused on reining in the rights of women and girls.
Earlier this month Afghanistan's supreme leader Hibatullah Akhundzada issued a diktat for women to cover up fully in public, including their faces, ideally with the traditional burqa.
The feared Ministry for Promotion of Virtue and Prevention of Vice ordered women TV presenters to follow suit by Saturday.
Previously they had only been required to wear a headscarf.
But broadcasters TOLOnews, Shamshad TV and 1TV all aired live programs Saturday with women presenters' faces visible.
"Our female colleagues are concerned that if they cover their faces, the next thing they will be told is to stop working," said Shamshad TV head of news Abid Ehsas.
"This is the reason they have not observed the order so far," he told AFP, adding the channel had requested further discussions with the Taliban on the issue.
Taliban orders such as this have caused many female journalists to leave Afghanistan since the hard-line Islamists stormed back to power, a woman presenter said.
"Their latest order has broken the hearts of women presenters and many now think they have no future in this country," she said, requesting not to be named.
"I'm thinking of leaving the country. Decrees like this will force many professionals to leave."
Mohammad Sadeq Akif MoHajjir, spokesman for the vice ministry, said the women presenters were violating the Taliban directive.
"If they don't comply we will talk to the managers and guardians of the presenters," he told AFP.
"Anyone who lives under a particular system and government has to obey the laws and orders of that system, so they must implement the order," he said.
The Taliban have demanded that women government employees be fired if they fail to follow the new dress code.
Men working in government also risk suspension if their wives or daughters fail to comply.
MoHajjir said media managers and the male guardians of defiant women presenters would also be liable for penalties if the order was not observed.
During two decades of US-led military intervention in Afghanistan, women and girls made marginal gains in the deeply patriarchal nation.
Soon after they took over, the Taliban promised a softer version of the harsh Islamist rule that characterized their first stint in power from 1996 to 2001.
Since the takeover, however, women have been banned from traveling alone and teenage girls barred from secondary schools.
In the 20 years after the Taliban were ousted from office in 2001, many women in the conservative countryside continued to wear a burqa.
But most Afghan women, including TV presenters, opted for the Islamic headscarf.
Television channels have already stopped showing dramas and soap operas featuring women, following orders from Taliban authorities.
Source: Arab News
https://www.arabnews.com/node/2086516/world
-----
Phone kiosks for female worshippers installed in Mecca Grand Mosque
May 22, 2022
Special phone stations for female worshipers have been provided inside the Grand Mosque in Mecca.
Saudi Arabia's General Presidency of the Grand Mosque and the Prophet's Mosque announced this, adding that the women-only phone kiosks aim to ease the performance of rituals inside the grand mosque and provide female worshippers answers to their inquiries.
Noura bint Hillel Al Dhuwaibi, Vice President for Scientific, Intellectual and Women's Guidance Affairs at the Grand Mosque, clarified that the service is available 24\7 and dedicated for women worshippers only to maintain their privacy and facilitate the performance of rituals inside the mosque. It is also provided in several languages by experts in Sharia.
According to recent statistics, more than 600 women are working in the General Presidency for the Affairs of the Grand Mosque and the Prophet's Mosque.
Source: Gulfnews
https://en.abna24.com/news//phone-kiosks-for-female-worshippers-installed-in-mecca-grand-mosque_1259599.html
-----
Muslim Women Canvass Support For Bola Tinubu's Presidential Ambition
By Opeyemi Babalola
22 May 2022
Muslim women under the aegis of Coalition of Muslim Women for Asiwaju (COMWA), yesterday, threw their weight behind the candidacy of the National leader of the All Progressives Congress (APC), Bola Tinubu, to emerge as the flag bearer of the party in the upcoming primary election.
At a press conference in Lagos, the group, representing Muslim women across all the political zones, is seeking support from party delegates to support the ambition of Tinubu.
The chairperson of the group, Rasheedah Adebari, said the former two-term Lagos State Governor, deserved the position he is seeking, saying he has "contributed in no small measure to building the nascent democracy we are savoring today.
"From the North to South, West to East, he carved a microcosm of Nigeria in the womb of Lagos's entire system of governance and extends dividends of democracy to all residents without any form of stratification.
"Combining true federal character with emulatory religiosity, Asiwaju Bola Ahmed Tinubu extols the virtues of religious tolerance in practical terms by bringing the finest, polished people of diverse religious backgrounds to the limelight of politics. He even married an ordained pastor, Mrs. Oluremi Tinubu," she added.
Adebari noted that among the presidents Nigeria had in the past, the coming of Tinubu would make it the first time the southwest region will be producing a Muslim president.
She, however, urged all patriotic APC delegates to vote Tinubu, "whose political trajectory is not just a living encyclopedia of reference for Nigeria of our dream, but indeed a working template, which has traversed its experimental enclave in Lagos to the drawing boards of both the Federal and state governments in driving the forces of giant developmental projects and programmes in various states of the nation."
In her remarks, the National Mobiliser and Legal Adviser COMWA, Mutiat Orolu-Balogun, stated that the women, especially the Muslims, will be taking active participation in the politics unlike before.
She added that the group has begun a voters' card sensitisation programme for women, as part of their contributions in ensuring that the best candidates emerge in the 2023 general elections.
Source: Guardian
https://guardian.ng/news/muslim-women-canvass-support-for-tinubus-presidential-ambition/
-----
Imran Khan owes apology not just to Maryam but to all women: Pak rights group
May 21, 2022
ISLAMABAD: The Human Rights Commission of Pakistan (HRCP) on Saturday came down heavily on former Pakistani Prime Minister Imran Khan after he made a sexist comment against Pakistan Muslim League-N Vice President Maryam Nawaz during his Multan rally which led to outrage in the country.
Severely criticising Imran, the rights group said Imran Khan's vile remarks about Maryam at the PTI's Multan rally have "plumbed the depths of misogyny."
"It is simply unacceptable that the political narrative should crumble into such glaring intolerance and sexism," the HRCP said in a tweet.
"Mr Khan is a national leader. He must learn to conduct national conversations with his political rivals. He owes an apology not just to Ms Sharif but to all women," the group added.
Earlier, while addressing the Multan rally, Imran Khan citing Maryam Nawaz's Sargodha rally said, "In that speech, she uttered my name with such passion that I would like to tell her, Maryam, please be careful, your husband may get upset because you were constantly repeating my name."
After his comment went viral, politicians, journalists and civil society members from around Pakistan criticized Khan for his "sexist and misogynist" statement.
Taking to Twitter, Pakistan Prime Minister Shehbaz Sharif, who also happens to be Nawaz's paternal uncle, expressed strong disapproval of Imran Khan's statement and said that the entire nation, especially women, should strongly condemn the "deplorable language used against the daughter of the nation Maryam Nawaz."
"Your crimes against the country and the nation cannot be hidden under your lowly humour. How could those -- who cannot respect the sanctity of Masjid Nabawi (PBUH) -- be expected to respect the honour of someone's mothers, sisters, and daughters?" Sharif tweeted.
"Imran is the first person in history to fall into this abyss of rudeness as the leader of a party. His party went out to make a nation but spoiled the morals of the people instead. To Allah, we belong and to Him, we shall return," he added.
Condemning the derogatory language used by the PTI Chairman, former President Asif Ali Zardari said "Those who have mothers and sisters in their homes do not use such language against other women."
Source: Times Of India
https://timesofindia.indiatimes.com/world/pakistan/imran-khan-owes-apology-not-just-to-maryam-but-to-all-women-pak-rights-group/articleshowprint/91707763.cms?val=3728
-----
URL: https://newageislam.com/islam-women-feminism/saudi-flight-female-crew/d/127061
New Age Islam, Islam Online, Islamic Website, African Muslim News, Arab World News, South Asia News, Indian Muslim News, World Muslim News, Women in Islam, Islamic Feminism, Arab Women, Women In Arab, Islamophobia in America, Muslim Women in West, Islam Women and Feminism