New Age Islam News Bureau
3 Jan 2014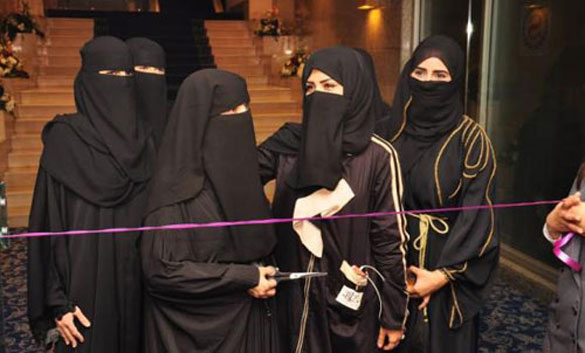 PIONEER: Bayan Mahmoud Al-Zahran, the first woman Saudi lawyer who was issued a license to practice law in the Kingdom, at the inauguration of her advisory law firm on Wednesday. (AN photo by Fouzia Khan)
----------
• Filipino Women, Miriam Coronel-Ferrer Leading the Peace Process In Mindanao
• "Liberal" NGOs' Blind Eye to Mideast Women's Rights
• Better Driver Infrastructure Needed For Sisters in Islam
• Saudi Women Must Be Given Equal Rights
• Derby Students' Fashion Show Raises £650 for Syria War Victims
• Pakistani Ladies Club pays tribute to Pakistan's founder
• Child Labor Is a Crime against Children
Compiled by New Age Islam News Bureau
URL: https://www.newageislam.com/islam,-women-and-feminism/new-age-islam-news-bureau/first-female-law-firm-opens-in-saudi-arabia/d/35125
--------------
First female law firm opens in Saudi Arabia
January 03, 2014
The country's first female law firm has opened its doors to protect women's rights in Saudi Arabia, two months after its founder along with three other female lawyers were granted licenses to practice law in the traditionally patriarchal kingdom.
Now Saudi women can seek help, advice and legal aid from Bayan Mahmoud Al Zahran, the first Saudi woman lawyer who launched the female law firm in Jeddah.
Zahran told Arab News that her law firm is ready to fight for the rights of Saudi women and relate women's cases to the court, a task which her male counterparts at times cannot understand or handle.
"I believe women lawyers can contribute a lot to the legal system. This law firm will make a difference in the history of court cases and female disputes in the Kingdom. I am very hopeful and thank everyone who supported me in taking this historical step," Zahran said.
The lawyer also stressed that she is eager to work on labor cases and business disputes involving women but will work with both genders.
"Our activity is not restricted to cases involving only women. Saudi Arabia's legal system treats men and women equally and a lawyer has the right to represent men and women," Zahran told Al Arabiya News Channel on Thursday.
The launch was attended by a number of Saudi officials and members from the NGO community, including Mazen Batterjee, vice president of Jeddah Chamber of Commerce.
Batterjee stressed the importance of Shariah law Saudi courts, adding that female attorneys should follow the restrictions of the court for hijab while presenting themselves before a judge.
Zahran's father, Sheikh Mahmoud Al-Zahran, praised his daughter's efforts.
"We are very proud of our daughter who stands firm for protection of women's rights. This will help all women who couldn't go and speak to male lawyers about their problems," he said.
Zahran hopes that her firm's example will lead to more female lawyers.
"This is a very positive step toward the Saudi court and justices as right now, we are four female lawyers who got the license, but I am hopeful that in future, the number will increase," she added.
Bayan Zahran, Jihan Qurban, Sarra Al Omari and Ameera Quqani became the first female legal representatives in Saudi Arabia in October, when the country issues licenses, allowing them to change their status from legal consultants to attorneys, thus lifting the ban imposed on female law graduates to practice.
The initial plan of the justice ministry was to allocate licenses to family status cases, but the final decision did not impose any limits on fields of law practice.
Conditions to obtain the license are the same for men and women and include a university degree in law and three years of training.
Women in the ultra-conservative Kingdom of Saudi Arabia usually maintain a traditional place inside the household. Many details in the lives of Saudi women are closely regulated by Sharia law derived from the Koran.
Every adult woman is required to have a close male relative as her 'guardian', who is authorized to make a number of decisions on a woman's behalf, including the right to travel, to start a business, and study at university. Saudi women are prohibited from driving, and are required to cover themselves in public, among other restrictions.
Last October, Saudi women embarked on unprecedented protest measure, by defying kingdom's de facto ban on women driving by getting behind the steering wheel.
As part of the October 26th Women's Driving Campaign, around 60 women got behind their vehicles, some brave enough have even posted their experience on YouTube.
The declaration on the website oct26driving.com has been signed by over 11,000 women.
"Physiological science and functional medicine [found that driving] automatically affects ovaries and rolls up the pelvis," Sheikh Saleh bin Saad al Luhaydan, judicial and psychological consultant to the Gulf Psychological Association, said in reaction to the issue.
He added that the women who drive give birth to children "with clinical disorders of varying degrees."
Many Saudis have expressed their anger in Twitter, mocking the Sheikh's "great scientific discoveries."
http://rt.com/news/saudi-women-lawyer-firm-107/
-----------
Filipino women, Miriam Coronel-Ferrer leading the peace process in Mindanao
03 January 2014
Manila (AsiaNews) - The future of Mindanao, a predominantly Muslim region in the southern Philippines, depends not only on economic conditions, but also on a greater role by women in the community, said Miriam Coronel-Ferrer, 54, first woman to head the team negotiating on behalf of the Filipino government with Muslim rebels from the Moro Islamic Liberation Front ( MILF).
Together with Teresita Deles, 65, Aquino's adviser on the peace process, Coronel-Ferrer is pushing for an expansion of the role of women in post-conflict Filipino society.
"We will see more women taking active roles, not just as wives or mothers or sisters of politicians but because they are leaders in their communities," said Coronel-Ferrer.
The appointment of a woman at the helm of the team negotiating with Muslim rebels was a gamble for the Aquino government.
In October 2012, the delegation led by Marvic Leonen, which included Miriam Coronel-Ferrer, signed the first draft of a framework agreement with the MILF in more than 40 years of conflict.
"In the beginning, it was a stumbling block but that has been overcome," Coronel-Ferrer said of being a female negotiator with the Muslim rebels. Now "it creates a different dynamic."
In December 2012, Leonen was appointed as judge at the nation's top court and Coronel-Ferrel became the head of the government's peace panel.
Highly diplomatic, Miriam Coronel-Ferrer's 12-member team includes nine women. One of them is Iona Jalijali, 39, who helped draft a bill to promote breast-feeding.
This forced the rebel side to include women as part of their negotiating team. Last August, Raissa Jajurie joined the MILF team. A human rights lawyer, Jajurie is also coordinator for the Moro Program of the Alternative Legal Assistance Center.
So far, the Filipino government and MILF have agreed to three of the four points needed for a final peace agreement that would stop a war that killed more than 100,000 people in four decades. As part of this process, on 8 December 2013, MILF accepted the proposal of law for local government election.
In the coming weeks, the delegation led by Ferrer will try to convince the rebels to sign two of the main points in the future agreement, namely disarming the rebels and approving judicial compensation for the victims of fighting.
However, the MILF is but one Islamic group involved in the fight that has caused bloodshed in Mindanao since 1972. Others include Abu Sayyaf, a terrorist group close to al-Qaeda created in the 1990s and the Bansamoro Islamic Freedom Fighters (BIFF), a group set up in 2011 by former MILF members bent on total independence of the region.
The success of the negotiations is a great opportunity for the predominantly Muslim region and for the entire country.
According to many economists, a peace agreement could increase the nation's gross domestic product by 0.3 percentage points.
The island is rich in natural resources, estimated at US$ 300 billion, including gold and oil.
After the signing of the agreement in October 2012, investment pledges jumped more than four times from a year earlier.
http://www.asianews.it/news-en/Filipino-women-leading-the-peace-process-in-Mindanao-29943.html
-----------
"Liberal" NGOs' Blind Eye to Mideast Women's Rights
January 03, 2014
Women's rights worsening in Mideast. Almost equally objectionable is the refusal of many Western organizations and activists, supposedly concerned to advance human rights, to recognize the bitter truth as a crucial problem and to demand real, systematic reform
If something goes without saying, it goes even better for being said. A valuable survey of the second-class condition of women in Arab countries appears in the NGO Monitor report that was issued in December, 2013.
It makes the important point that the so-called Arab Spring of 2011, beginning in Tunisia in December 2010, aroused expectations of advances towards democracy in the Middle East once the autocratic and authoritarian rulers had been deposed in Tunisia, Egypt, Yemen and Libya.
It was hoped that the mass demonstrations in those and other Arab countries would bring about major reform, especially adherence to human rights.
The bitter truth is that the Middle East is not, as Raymond Chandler said about his fictional Los Angeles, a very fragrant world. Part of the fetid odor emanates from the continuing discrimination against women and their resulting subordinate status in Arab and many Islamic countries.
These countries have refused to abide by the international calls on them to eliminate the inequality of women. Almost equally objectionable is the refusal of many Western organizations and activists supposedly concerned to advance human rights, to recognize the bitter truth as a crucial problem and to demand real, systematic reform.
Those human rights activists should scrutinize the objective analysis in the valuable series of United Nations Arab Human Developments Reports (AHDR), prepared by Arab scholars.
Since 2002 these studies have been affirming that undemocratic Arab regimes, with their tradition and tribalism, have combined to "curtail freedoms and fundamental rights." The studies show the countries in the Arab Middle East region as suffering from three particular shortcomings: freedom, empowerment of women, and knowledge.
More specifically, Arab women suffer from inequality with men and are vulnerable to discrimination both in law and in practice. The AHDRs indicate that nowhere in the Arab world do women enjoy equality with men.
Women experience discrimination and restrictions in most fields: lack of education; illiteracy (more than half of Arab women are illiterate); polygamy (in almost all Arab countries, including the region under the Palestinian Authority); divorce, child marriage or forced marriage (legally sanctioned in many countries starting at age eight in Yemen); severe control over dress; inheritance (women get about half that of men in a number of countries); legal testimony (again, worth half that of a man); and political activity.
The 2002 AHDR clearly states that if Arab countries want to develop they must strive for the complete empowerment of Arab women. The 2005 AHDR explains that one of the main reasons for inequality of women is that "the prevailing masculine culture and values see women as dependents of men."
Moreover, legal codes uphold this inequality by "claiming to be acting in defense of obedience or 'honor' of women."
Further objective amplification of the status of women is found in the Global Gender Gap index, issued by the World Economic Forum in October 2013. Of the 136 countries studied, the Arab states are at the bottom of the gap in the fields of education, political participation, economic opportunity, and health.
The lowest ranked country was Yemen, and close to the bottom were Syria, Saudi Arabia, Morocco, Iran, and Egypt.
According to the general conclusion of the 2010 Freedom House research, no Arab country can be regarded as wholly free. Women face systematic discrimination due to reported "deeply entrenched societal norms" and religious practices such as conservative interpretations of and judgments based on Islamic Sharia law.
These factors explain the discrimination in personal status laws and family codes that regulate marriage, divorce, child guardianship, and inheritance.
Instead of benefitting from an Arab Spring, women have seen their problems worsen as extreme Islamists have become more influential in a number of countries. No major improvement has taken place in the lives of women. Gross inequality still exists largely because of the impact of Sharia.
Women are subordinated to their fathers and husbands. In some countries women can only marry with the consent of their fathers or male relatives. They are forbidden to marry non-Muslim men.
Domestic violence against them is rarely punished in any real way. Arab legal codes, such as those in Iraq and the United Arab Emirates, allow men to use violence against women. Similarly, those guilty of rape are rarely punished. Female genital mutilation is common: 91 percent of women in Egypt have undergone such mutilation.
Honor killings, supposedly to defend "family honor", are prevalent in a number of countries, including the Palestinian Authority. The NGO Monitor Report and the country reports of the U.S. Department of State indicate the nature of some of those murders: beheadings, burning alive, forced self-immolation, torture, stoning to death for sexual or moral offences.
The role of women in public life is still limited or nonexistent. In some of the countries, women are segregated in public institutions, and their freedom of movement is greatly restricted not only within a country but also abroad because women may need permission of a guardian to obtain a passport.
All this is contrary to international declarations that call for recognition of men and women as equals. Covering the International Covenant on Civil and Political Rights (adopted in December 1966 and which entered into force in March 1976) Article 3, states that the parties "undertake to ensure the equal right of men and women to the enjoyment of all civil and political rights set forth in the Covenant." Article 23 prohibits discrimination concerning marriage, divorce, and child custody.
A similar statement was made in the International Covenant on Economic, Social, and Cultural Rights (ICESCR) that was also adopted in December 1966 and entered in force in January 1976. Article 2(2) says that the parties "undertake to ensure the equal right of men and women to the enjoyment of all economic, social, and cultural rights set forth in the Covenant."
The NGO Monitor Report discusses the issues concerning discrimination against women. It correctly blames Western human rights organizations, such as Amnesty and Human Rights Watch, for their lack of sustained advocacy on behalf of women's rights and for their refusal to give the question of women's rights the prominence it deserves.
Instead of concentrating on issues of freedom and equality for Arab women, these human rights organizations eagerly pounce on alleged abuses of democratic nations -- the Western countries and the State of Israel.
Human rights activists have painted themselves as concerned with inequality in the Arab countries by focusing on relatively minor issues and bestowing excessive praise when minor reforms are put in place.
But they have not tried to tackle the elephant in the room: the elimination of systematic discrimination against women. The time is long overdue for them to do so.
Michael Curtis, author of "Jews, Antisemitism, and the Middle East", is Distinguished Professor Emeritus in political science at Rutgers University. Curtis, the author of 30 books, is widely respected as an authority on the Middle East. This article was also submitted to The American Thinker, an American outlet we highly recommend. It is reproduced here with the author's permission
http://www.thecommentator.com/article/4548/_liberal_ngos_blind_eye_to_mideast_women_s_rights
--------------
Better driver infrastructure needed for sisters in Islam
January 03, 2014
There is always so much talk of women driving and needing to do so, and complaints about the lack of progress. However, many seem not to realize that this requires a good infrastructure.
The first thing is to establish a good basis for driving which requires the elimination of corruption including everyone with connections or wasta, who engages in eve teasing. Eve teasing must be made a criminal offense.
Second, traffic police (and all police) should be extremely well trained, bi-lingual and with a high school diploma at the minimum. This will instill more confidence in the police themselves and in how others see them. They must be well versed in the traffic laws and safety, able to provide first aid and trained in self defense for violence control. They should be required to attend a health club or there should be one at the police academy where they can engage in body building so that their physical appearance also suits their training. They must be updated on new laws as they are made, and able to enforce them.
It is indeed an important position to protect and maintain the welfare of society, and policemen and women deserve to be respected and our youth should taught in school that law enforcement jobs and personnel matter and that we need them.
Third, a female police force must also be established and trained. There are already women working as security guards in some places, so this is not a strange concept by any means.
Fourth, the media needs to explain the benefits for all of society of easier access to transportation leading up to the other half of society being able to finally transport themselves. Money will be saved by families, and there will be a reduction in the riyals leaving the country by the wire transfers of house drivers.
Doing away with expatriate drivers will also help the government by reducing the population which will relieve housing, road congestion and food supplies. This will even improve the health of women as they will be less obese as a result of being more active, which lessens diabetes, high blood pressure, and heart conditions.
Gradually with education, the mindset of heads of households will change and the majority of society will be in favor of women having access to their own transportation. Of course it is obvious that some will not want to use this right or option, and there is no need to fear that every woman will be on the streets driving her own car. The number of traffic accidents will probably decrease because it is proven by statistics and studies that women are more cautious drivers than men, so perhaps the etiquette on our streets will improve as men are shamed into driving more politely when they see their sisters in Islam over the age of 30 driving well and carefully.
http://www.saudigazette.com.sa/index.cfm?method=home.regcon&contentid=20140103191384
--------------
Saudi Women Must Be Given Equal Rights
January 03, 2014
Can any government department tell us how many cases there are of Adhl, male guardians preventing women under their custody from getting married? Can any department tell us how many inheritance cases of women are delayed because of their husbands, fathers or brothers? Can any government department tell us about the financial rights of women which have been frozen or usurped?
No one can give us an exact figure about any of these issues. I have been told painful stories by a number of lawyers and former judges about the various kinds of injustice women face, including the confiscation of their money and physical abuse. It is not at all true that our women have obtained all their rights. Women are victims of flagrant injustice due to issues of inheritance, Adhl and violence.
What can women do in such cases? Unfortunately, there are no easy solutions for them. The Ministry of Justice has not established a special department to protect women's rights so they are of no help. If women dare to go to the courts, they will have to wait for long years until their cases are settled. Women are being coerced by traditions and by their families. If they go to court to regain their financial rights from their husbands, fathers or brothers, society will crucify them for daring to do so. They will be asked what rights they want when they are already accommodated and supported by their family? The authorities and the family are like a sword pointed at the necks of women to keep them submissive and silent about their rights. It is as if society is openly asking women never to demand or complain.
The government should adopt a firm stand to preserve women's financial, moral and psychological rights. The government should not leave women alone to face their destiny without any support. Many women cannot get married because of the Adhl imposed on them by their male guardians. Many others are physically abused without anyone coming to their rescue. Many women are not able to obtain their inheritance because of the chauvinism of their guardians. These are the God-given rights of women, which should not be denied. These are legitimate rights, not temporary gains or gifts given to them by men.
The Ministries of Interior, Justice and Commerce should install toll free telephone lines to receive complaints from women about their rights. The officials on the other end of the line should carefully listen to women's complaints and provide them with justice. These officials should be lawyers, or men of law who should deal confidentially with the complaints. We have to admit that we have a real problem when it comes to women's rights. Women are citizens of this country; they must be given equal rights.
http://www.saudigazette.com.sa/index.cfm?method=home.regcon&contentid=20140103191382
--------------
Derby students' fashion show raises £650 for Syria war victims
By Derby Telegraph
January 03, 2014
FIVE sixth-formers from a Derby school have organised a charity fashion show and raised £650 for victims of the civil war in Syria.
Maymunah Parvez, Tayba Asif, Mahwish Rashid, Nafisa Ali and Arzoo Ahmed – students at Bemrose School in Uttoxeter Road – are to hand over a cheque to Oxfam and the Islamic Trust.
The students organised the event, showcasing their own Arabic, Asian and English-influenced costumes on the catwalk, and charged parents, pupils and friends £1 entry to the event.
Dhol drummers Team Raw performed free of charge on and Pak Foods, of Normanton Road, donated food and drink for the evening. More than 150 people attended.
Maymunah, 17, said: "We had seen the footage from Syria on television and knew we wanted to do something to help, so all five of us contributed £20 each to get the wheels in motion.
"We tried to market the event by putting up posters, inviting parents, setting up a social media campaign to raise awareness and we even went on the radio."
Deputy head teacher Linda Dawson said: "We are very proud of the girls for working so hard.
"The students were meticulous in their planning and it is testament to their hard work that they were able to raise money for such a worthy cause."
http://www.derbytelegraph.co.uk/Derby-students-fashion-raises-pound-650-Syria-war/story-20395683-detail/story.html#ixzz2qKPtSdIx
--------------
Pakistani Ladies Club pays tribute to Pakistan's founder
January 03, 2014
The Pakistani Ladies Club recently paid tribute to the nation's founder Quaid-e-Azam Mohammed Ali Jinnah on his birth anniversary at the Pakistan consul general's residence in Jeddah.
Rubila Jamil Rathore, assistant coordinator of the group, urged the Pakistani expatriate community to remember Jinnah's famous statement that all citizens should act on their convictions.
Rathore highlighted the role played by Jinnah to gain independence and said it was now the duty of every Pakistani to maintain what he had achieved with so much difficulty.
Nighat Nadeem, coordinator of the club, said that if every Pakistani heeded Jinnah's message, the country would make monumental progress in all spheres of development.
Shahida Jamil, a member of the club, said: "Quaid-e-Azam not only played a significant role in the history of the sub-continent but also changed the world's map with his two-nation theory." She called on Pakistanis to work hard and stay united for the progress of the nation.
The event began with a recital from the Holy Qur'an by Nadiya Azhar. Safiya Ishaq presented famous quotes from Jinnah by international dignitaries. Nilo Shahid, Sabiha Khan and Goldi Khurram presented historical facts on his life.
Bintul Hasan presented a poem focusing on his personality. Afshan Khokhar, chairperson of the club and wife of the Pakistani consul general, praised the club for their efforts.
http://www.arabnews.com/news/502211
-----------
Child Labor Is a Crime against Children
January 03, 2014
DAMMAM – Although it is against the law to employ children in any job that deprives them of their rights and the Ministry of Labor imposes a SR10, 000 fine on violators, some companies and individuals still take advantage of children. Those violators are not concerned about the negative impact work leaves on children.
Mahmoud Rashad, a psychologist, said children who are forced to work on streets suffer huge psychological damage over time. He cited the example of children who sell clothes, towels, toys and various stuff on the street.
Those children have to spend a great deal of their time on the street and sometimes one sees them sleeping on the sidewalk, he said.
"These physical chores take a huge toll on them. It makes them constantly fear of being robbed, raped, or assaulted. All this reflects negatively on their psychological state," Rashad said.
In fact, the psychological effect does not go away when the child grows older. On the contrary, it grows stronger and dictates much of his behavior. Such a child will grow up feeling indignant towards society. If he has been doing work that demands lots of efforts such as carrying heavy things around on a daily basis, the psychological damage will be more extreme.
Khalid Al-Fakhry, member of the National Society for Human Rights (NSHR) said children caught working will not be punished because they are minor and do not realize they have violated the law. However, employers who do not comply with the law will have their business licenses suspended in addition to imprisonment or fine, or both.
Al-Fakhry defined a child worker as an individual who has not turned 15.
http://www.saudigazette.com.sa/index.cfm?method=home.regcon&contentid=20140103191363
--------------
URL: https://www.newageislam.com/islam,-women-and-feminism/new-age-islam-news-bureau/first-female-law-firm-opens-in-saudi-arabia/d/35125