New Age Islam News Bureau
21 Nov 2019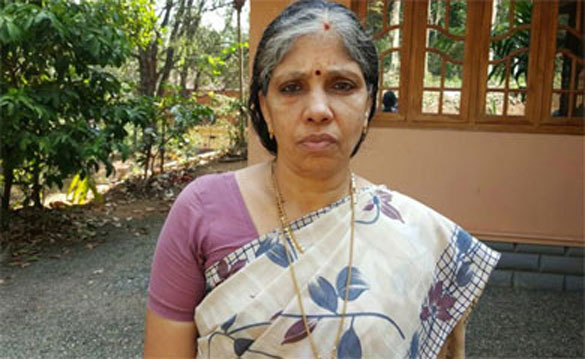 Arabic is a beautiful language, says Gopalika, possibly the first Brahmin teacher of the language in the country.
-----
• First Brahmin Woman to Teach Arabic in Kerala: Everyone Welcomed Me, the Students Loved Me A Lot
• Ilhan Omar Calls For Leniency for the Man Who Threatened To Shoot Her and Pleads Guilty
• Opposing the Obligatory Hijab: How Iranian Women are Shaking the Islamic Republic
• French Debate Extending Ban on Muslim Headscarf
• Cops Nab 10,000 Local, Foreign Women Involved In Prostitution In Malaysia
Compiled By New Age Islam News Bureau
URL: https://www.newageislam.com/islam-women-feminism/first-brahmin-woman-teach-arabic/d/120327
------
First Brahmin Woman to Teach Arabic in Kerala: Everyone Welcomed Me, the Students Loved Me A Lot
Tuesday, March 15, 2016
Arabic is a beautiful language, says Gopalika, possibly the first Brahmin teacher of the language in the country.
However, when she began to teach Arabic in 1987, there was an uproar. People said that a Brahmin person should not be teaching the language.
At the age of 17, Gopalika Antharjanam told her family that she wanted to learn Arabic. It wasn't a big deal. "I had this passion to learn different languages. In high school, I learned Sanskrit. Our village had an institution that taught Arabic and I was interested in the language."
Gopalika hails from Kunnamkulam village in Thrissur district; her family were traditionally priests of the Kottiyoor temple. "My village had people from all communities, people did not differentiate between religious communities. I had classmates from different religions. Everyone welcomed me (at the Arabic institute)," she says.
There were also some other Brahmin students at the institute, but she doesn't know if any of them took up the language as a teacher.
Gopalika may be the first Brahmin teacher of Arabic in Kerala, and has taught the language for over two-and-a-half decades. Initially, though, it was difficult.
The year 1987 was a tumultuous one. She got married to Narayanan Namboothiri of Panayoor Mana that year and moved to Malappuram district where she took up a job as an Arabic teacher. However, there was opposition to her appointment: The idea that a Brahmin woman was teaching Arabic, was something unheard of. She was fired, but she decided to fight it out.
She approached the Kerala High Court and it ruled in her favour in 1989. She then joined government service through the Kerala Public Service Commission in another Malappuram school. These events caused much public and political discussion in Kerala.
"The encouragement I got from my in-laws and my husband gave me the strength to fight it out. It was because of my husband that I was able to pursue my career," she said.
Then on, there were no hiccups in her career. "Everyone welcomed me, the students loved me a lot. I am happy and satisfied now, at the time of leaving my job," she said.
Gopalika is due to retire on March 31 as a teacher from Chemmaniyodu Government Lower Primary School, and even though she was unable to pursue higher studies in Arabic due to personal reasons, she has no regrets. "I am satisfied, happy and overwhelmed at this point," she says with a smile.
Last year, she was honoured by a Muslim group on World Arabic Day. She says that people's attitude towards Arabic had grown beyond religion and caste. "Now the situation has changed. Irrespective of caste and religion, people are learning Arabic because of its scope (for jobs) and it should be welcomed," she said. "Consider Arabic as a beautiful language rather than connecting it with a particular religion."
https://www.thenewsminute.com/article/sister-abhaya-died-due-injury-inflicted-head-forensic-expert-tells-cbi-court-112682
------
Ilhan Omar Calls For Leniency for the Man Who Threatened To Shoot Her and Pleads Guilty
November 21, 2019
Written by Ed Shanahan
It began with a hate-filled call to Rep. Ilhan Omar's Washington office in March, officials said.
"Do you work for the Muslim Brotherhood?" Patrick W. Carlineo Jr. asked a member of Omar's staff on that call, according to a criminal complaint. "Why are you working for her, she's a (expletive) terrorist. Somebody ought to put a bullet in her skull. Back in the day, our forefathers would have put a bullet in her (expletive)."
"I'll put a bullet in her (expletive) skull," the staff member also recalled Carlineo, 55, saying, according to the complaint.
On Monday, Carlineo, of Addison, New York, outside Buffalo, pleaded guilty to threatening to kill Omar, a Minnesota Democrat and one of the first Muslim women elected to Congress, and to possessing guns illegally.
Omar responded to Carlineo's guilty plea in Federal District Court in Buffalo by urging leniency when he is sentenced. In a letter she posted on Twitter on Tuesday, Omar addressed the judge who will sentence him, asking "for a system of compassion to be applied."
"Threatening assassination of a public official in our country is dangerous to both the individual and our republic," Omar wrote, describing the crimes that Carlineo admitted to as "grave" and adding that "threats of political violence and hate speech" were "not unique" to him.
"They are an increasing feature in our public sphere," Omar, a Somali refugee whose family received asylum in the United States when she was a teenager, added. "We will not defeat it with anger and exclusion. We will defeat it with compassion."
A member of her party's progressive wing, Omar — the first woman to wear a hijab on the House floor — has been denounced in some quarters, including by some Democrats, for embracing the boycott-Israel movement and criticizing supporters of the Jewish state.
She has also emerged as a frequent foil for President Donald Trump. She was among four female freshman lawmakers who Trump said in July should "go back" to the countries they came from.
In an interview with the FBI at his home about a week after he called Omar's office, Carlineo described himself as a patriot who loved Trump and hated "radical Muslims in our government," the criminal complaint says. He also told an FBI agent that he believed Omar supported Islamic militant groups, such as Hamas and the Muslim Brotherhood, and that her election to Congress was illegitimate.
In the interview, the complaint says, he acknowledged calling Omar's office and said that he knew why the FBI, which investigated the matter with the U.S. Capitol Police, was interested in talking to him.
Shown an email containing the text of the call, he initially denied that the words were his, but later "went on to say that he may have said something" similar, the complaint says. (He had left his name and contact information with Omar's staff, the complaint says.)
About a week later, authorities found a loaded .45-caliber handgun, three rifles, two shotguns and hundreds of rounds of ammunition at Carlineo's home, prosecutors said. Because of a 1998 felony conviction, he is prohibited from owning a firearm.
Carlineo is scheduled to be sentenced on Feb. 14. He faces up to 10 years in prison. He remains free until sentencing under conditions that include a curfew and a restriction against traveling outside western New York.
Barbara Burns, a spokeswoman for the U.S. Attorney's Office in Buffalo, declined to comment on Omar's sentencing request.
https://indianexpress.com/article/world/man-who-threatened-to-shoot-ilhan-omar-pleads-guilty-she-calls-for-leniency-6129831/
------
Opposing the Obligatory Hijab: How Iranian Women are Shaking the Islamic Republic
Kaveh Ghobadi
November 20th, 2019
The obligatory hijab is a politicisation of the female body that is central to the Islamic Republic of Iran's self-image. It remains strictly enforced despite waning popular support and the emergence of internationally-reported movements challenging the policy. Kaveh Ghobadi argues that, despite the regime's rhetoric of honouring and protecting women, the hijab policy is a manifestation of a devastating patriarchal culture. Were it to be abolished, wider political and societal change could follow.
The hijab has attracted a lot of attention in the Islamic public sphere. Since the creation of modern nation states in the Middle East and North Africa during the early decades of the 20th century, women have served as a marker for the political ideology of their countries. For example, Mustafa Kemal Atatürk in Turkey and the Pahlavi dynasty in Iran, among others, pursued modernization (Westernization) of their countries through forcing or encouraging women to remove their veils. In other words, the politics of modernization and the politics of dress became one and the same in these countries. In Iran, after the 1979 revolution, wearing the veil for women became obligatory under law to represent the values promulgated by the new Islamic regime. In effect, the female body was turned into a site where pre- and post-revolution governments in Iran enacted their modernization and Islamicization policies respectively. These all indicate the far-reaching significance of the hijab.
In this piece, I do not intend to make any comment on whether women should wear the veil or not, this is something for women themselves to decide. I am merely interested in women's resistance to the politics of coercive dress code and its implication for democracy in Iran.
The coercive dress code of governments before and after the revolution have been met by resistance on the part of Iranian women. However, over the past few years the emergence of movements such as "My Stealthy Freedom" and "the Girls of Revolution Street" have taken women's opposition to the compulsory hijab to new heights. The former is an online campaign founded by Masih Alijnejad where women post their photos and videos without scarves, and the latter refers to women who make flags out of their headscarves in public spaces in opposition to the compulsory dress code. Some, inside and outside Iran, might argue that a woman's right to bodily autonomy is not of paramount significance at a time when the country is bedevilled by economic hardship and suffocating political totalitarianism. The fact that the Iranian regime has deployed thousands of agents known as Gasht-e Ershad (Guidance Patrol) to implement its strict Islamic dress code shows that the hijab is one of the main pillars of the Islamic Republic. Furthermore, the country's compulsory hijab laws cannot be separated from the suppression of ethnic/national and religious minorities of Iran, its environmental disaster and deteriorating economy. In other words, when women are facing long jail sentences for removing their headscarves in public it does not come as a surprise that workers are sentenced to prison and flogging merely for demanding their delayed wages, and that environmental, religious, and political activists are persecuted for their peaceful activities.
The regime's enforcement of the hijab has received some support from wider Iranian society. However, support for the compulsory hijab has been waning since the revolution. The hijab has not granted women protection in public spaces, as the government claims. Providing women with a safe environment requires changes in a society's attitude towards women, their sexuality and agency, rather than covering them up in borgha or chador.
Growing up and living in Iran as a male until the age of 28, I witnessed how Iran's interpretation of Islam and its implementation in the legal system intersected with patriarchal values to subdue women. The mandatory hijab was the first step taken by the Iranian authorities to dispossess women of their bodies, shortly followed by other forms of discrimination.
The government has also massively invested in promoting an 'Islamic culture' through media and education. Embedded in this 'Islamic culture' is a patriarchal binary system in which women are allocated the inferior place. As such, coercive and discursive measures are adopted by the government to establish its Islamic gender regime. The establishment of political Islam in Iran has empowered the more conservative and religious stratum of society which in turn has had devastating impact on women's lives. Political Islam and Islamic culture both glorify the hijab as a symbol of modesty and chastity, portraying an idealized image of women as shy, subservient, and self-effacing.
Women's opposition to coercive hijab, thus, has far wider repercussions than merely securing their control over their bodies: it has shaken the regime and a patriarchal culture which are interdependent. If women in their millions take off their scarves and pour into the streets, the Islamic Republic will fall apart. Therefore, it does not come as a surprise that the Islamic Republic is fighting tooth and nail against unveiling and misveiling women who are targeting its most visible symbol, i.e., the hijab. The regime is cognizant that giving up on the mandatory hijab would be the beginning of an end to its four-decade of authoritarian rule.
Note: This piece gives the views of the author(s), and not the position of the LSE Religion and Global Society blog, nor of the London School of Economics.
https://blogs.lse.ac.uk/religionglobalsociety/2019/11/opposing-the-obligatory-hijab-how-iranian-women-are-shaking-the-islamic-republic/
------
French Debate Extending Ban On Muslim Headscarf
November 20, 2019
A parent wearing a headscarf on a school field trip has reignited debate. Some say the headscarf doesn't fit in France's secular society. Others say this conflates the veil with Islamist radicalism.
NOEL KING, HOST:
In France, there's a long-running debate over the Muslim headscarf. Some people say it doesn't fit in France's secular society. But other people say that kind of talk conflates the veil with the real problem of Islamist radicalism. The latest uproar started over a school field trip. Here's NPR's Eleanor Beardsley.
ELEANOR BEARDSLEY, BYLINE: The fifth-graders had just taken their seats inside the regional parliament of Burgundy in eastern France when Julien Odoul, a member of the far-right National Rally party, began to call for a woman in the audience to remove her veil.
(SOUNDBITE OF ARCHIVED RECORDING)
JULIEN ODOUL: (Speaking French).
BEARDSLEY: "Madame has the right to wear it at home, but not here in a democratic institution in this secular republic," he said. Odoul called the scarf a statement of political Islam and an insult to all the women trying to escape Islamist subjugation.
(SOUNDBITE OF ARCHIVED RECORDING)
ODOUL: (Speaking French).
UNIDENTIFIED PERSON: (Speaking French).
BEARDSLEY: Other members of the parliament were outraged by Odoul's actions, and the video of the uproar went viral. So did the picture of a little boy crying on his veiled mother's shoulder. Odoul's behavior has been unanimously condemned, but the underlying angst he expressed over the veil is shared by many French people. Education Minister Jean-Michel Blanquer said incidents like this should be handled differently in the future.
(SOUNDBITE OF ARCHIVED RECORDING)
JEAN-MICHEL BLANQUER: (Through interpreter) We should be able to have a civil conversation to tell the mother we prefer she not wear the veil.
BEARDSLEY: A reporter asked the minister why Muslim women should not wear their veils.
(SOUNDBITE OF ARCHIVED RECORDING)
BLANQUER: Because the veil is not acceptable in our society. It's not forbidden, but it's not something to encourage because of what it says about the feminine condition, which is not in conformity with our values.
BEARDSLEY: There's some tension in France after a radicalized Paris police employee stabbed and killed four of his colleagues last month. There are those who link the veil to extremism. Nadine Morano, a leading member of the mainstream conservative party, said tougher measures are needed.
(SOUNDBITE OF ARCHIVED RECORDING)
NADINE MORANO: (Speaking French).
BEARDSLEY: "I'm in favor of completely banning the veil in public," she said. "It's a tool of communication, and we have to disarm radical Islam." A bill banning mothers who accompany school outings from wearing the headscarf was just proposed in the Senate. Current law says teachers and students can't wear ostentatious religious symbols in public schools, but it says nothing about parents.
Yasser Louati is head of the Justice and Liberties for All Committee. He says the hysteria over the veil is due to the fact that many French people believe Muslim women are forced to wear it by male members of their family.
YASSER LOUATI: These women are stuck between two choices. They are either victims, or they are culprits daring to show their religious affiliation. France again is in a never-ending debate because it cannot accept the rising visibility of Muslims.
(SOUNDBITE OF ARCHIVED RECORDING)
UNIDENTIFIED PROTESTERS: (Singing in French).
BEARDSLEY: Last weekend, thousands of non-Muslims and Muslims like Samira Kader took to the streets of Paris to protest what they say is rising Islamophobia and the marginalization of women wearing the veil.
(SOUNDBITE OF ARCHIVED RECORDING)
SAMIRA KADER: (Through interpreter) When you wear a veil, you can't choose the job you want, and you can have trouble taking your kid to school. And at any moment, you have to be ready to be singled out.
BEARDSLEY: Secularism was enacted in France in 1905 to keep the powerful Catholic Church out of state affairs. But secularism now means more, says former Belgian senator Alain Destexhe.
ALAIN DESTEXHE: When you live in France, you have to adapt not only to French law but also to some extent to French customs. There is a feeling in France, but also Belgium, that more and more Muslim people are not really integrated in French society. So the problem is not only the scarf. The scarf is only the symbol.
BEARDSLEY: Destexhe says it's a symbol of those who push for separate swimming pool hours for men and women and protest the teaching of evolution in schools.
UNIDENTIFIED CHILD: (Speaking French).
BEARDSLEY: In the northern suburbs of Paris, Djamila Fliti is picking up her granddaughter at kindergarten. Dressed in jeans and a veil, Fliti says she's disgusted to see this debate still going on. Twenty years ago, she was told she couldn't go on her daughter's class trip because of her religious veil.
DJAMILA FLITI: (Through interpreter) Where is the republic? I'm French, but sometimes I don't feel integrated into this society simply because I wear a headscarf.
BEARDSLEY: Fliti says she fought her exclusion and won, and she accompanied her daughter's class trip that day to a Christmas market. Eleanor Beardsley, NPR News, Paris.
(SOUNDBITE OF MUSIC)
https://www.npr.org/2019/11/20/781157284/french-debate-extending-ban-on-muslim-headscarf?utm_medium=RSS&utm_campaign=news
------
Cops Nab 10,000 Local, Foreign Women Involved In Prostitution In Malaysia
November 21, 2019
KUALA LUMPUR: A total 10,002 local and foreign women were found to be involved in prostitution in seven states from January to October.
Bukit Aman CID director Huzir Mohamed said raids were conducted in Selangor, Kuala Lumpur, Perak, Penang, Johor, Sabah and Sarawak.
He said the women, who include Vietnamese, Chinese and Thai nationals, were believed to be working in guest relation offices and as prostitutes.
According to Huzir, 2,633 raids were conducted in the six states and federal territory during the period involving 1,686 bars, 802 karaoke centres and 145 night clubs.
"On online gambling, 7,591 individuals were detained through 3,422 raids nationwide in the same period," he told a media conference at Bukit Aman here yesterday.
He also said the police would review the inspection procedure on individuals entering stadiums after a flare was set off at the Malaysia-Indonesia match at the 2022 World Cup/2024 Asian Cup qualifier at the National Stadium in Bukit Jalil earlier this week.
Huzir said action would include referring the matter to the Football Association of Malaysia (FAM).
"The police have a representative in the FAM committee and this matter will be referred to the quarters involved," he said.
https://www.freemalaysiatoday.com/category/nation/2019/11/21/cops-nab-10000-local-foreign-women-involved-in-prostitution/
------
URL: https://www.newageislam.com/islam-women-feminism/first-brahmin-woman-teach-arabic/d/120327
New Age Islam, Islam Online, Islamic Website, African Muslim News, Arab World News, South Asia News, Indian Muslim News, World Muslim News, Women in Islam, Islamic Feminism, Arab Women, Women In Arab, Islamophobia in America, Muslim Women in West, Islam Women and Feminism