New Age Islam News Bureau
8 Apr 2014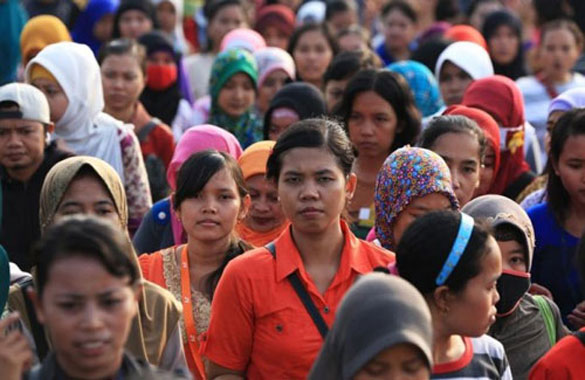 Women workers walk in front of their shoe factory as they return home in Tangerang, March 7, 2014. REUTERS/Beawiharta
---------
• In Riot-Scarred UP Town, Dalit Woman Married to a Muslim Seeks Unity Vote
• Mob Attacks over Issue of Muslim Women in Hijabs Dancing and Singing at Rallies
• Social Pressures Force Tunisia Women to Fake Virginity
• Tajiks Create 1st Group of Female De-Miners
• Gujarati Women Keeping Marriage At Bay
• Women And Girls Prime Casualties in War's Next Phase
• Court Arrests Woman Carrying Explosive in Istanbul
• Time Running out for Indonesia's Stalled Gender Equality Bill
• Indonesia's Elections Feature Plenty of Women, But Respect In Short Supply
• After Winning Greater Rights in Constitution, Egyptian Women Waiting To See Them Realized
Compiled by New Age Islam News Bureau
URL: https://newageislam.com/islam-women-feminism/fingerprinting-save-women-showing-faces/d/66460
------------
Fingerprinting To Save Women from Showing Faces in Saudi Courts
8 April 2014
JEDDAH — Courts all over the Kingdom are to use a fingerprinting system to identify women who visit them from next month.
Women will no longer need male relative or other people to identify them before the judges, reported Al-Watan newspaper on Monday.
Judicial sources said the Ministry of Interior's National Information Centre and the Ministry of Justice have finalized an electronic system to authenticate the fingerprints of women in courts.
They said the service will be used by courts and notaries public all over the country.
The sources said any judge who does not use this system would be questioned.
The system is part of Custodian of the Two Holy Mosques King Abdullah's project to reform the judicial system, they said.
The sources said the Interior Ministry had officially informed the Justice Ministry last week that the system was ready and could be used immediately by judges and notaries public to identify women.
They said the system would first be used by courts in Riyadh, Jeddah, Makkah and Dammam before it is gradually applied in other regions.
The sources said the Ministry of Justice has directed all the courts and notaries public to start using the new system from early next month.
A judge in the General Court in Jeddah, who spoke on condition of anonymity, said the system would save both judges and women the embarrassment.
"The women will no longer have to bring male relatives to the courts," he said.
He said a number of people had impersonated women when appearing before the judges.
He said: "It is difficult for the judge to verify the identity of women, especially if they are twins.
"Identifying women through their fingerprints will prevent women from impersonating other women."
Jassem Al-Attiyah, a lawyer and legal consultant, said women would no longer have to spend a long time at the courts just to get identified.
"The cases of many women were delayed because of the lack of male identifiers," he added.
http://www.saudigazette.com.sa/index.cfm?method=home.regcon&contentid=20140408201247
------------
In riot-scarred UP town, Dalit woman married to a Muslim seeks unity vote
8 April 2014
Much of western UP appears to have been impacted by the riots in Muzaffarnagar last year, and campaigning too has acquired communal overtones. But in one constituency of the region, a 29-year-old Dalit woman married to a Muslim is seeking votes in the name of Hindu-Muslim unity.
Running for the Lok Sabha for the first time, Anju alias Muskaan is the Rashtriya Lok Dal candidate from the reserved seat of Bulandshahr. A Jatav, Anju is married to Farman Ali, a businessman and member of the RLD.
The Ajit Singh-led RLD, which fielded eight Muslim candidates in the 2012 Assembly elections, has not nominated a single Muslim for the Lok Sabha polls, aware that the riots have strained ties of its core Jat supporters with Muslims.
Anju, who joined the RLD a little over two years ago and became the head of its Bulandshahr women's cell, says she is aware of caste equations working in her favour but underlines that her focus is not to reach out to only her own community or that of her husband to swing the votes. "Bulandshahr has 4 lakh Muslims, 3.50 lakh Jats and 2.50 lakh Dalits. I also hope to get the votes of (RLD ally) Congress supporters," she said.
"I hold public meetings in both Dalit and Muslim majority villages. Having entered into an inter-religion marriage, I cannot think of singling out communities for votes. I have met both Hindus and Muslims. Baaki toh Ishwar ke upar hai (the rest is up to god)."
Ali said they have been married nine years. "After college hours, she would wait for her father at my friend's shop. That's where I met her. We married in March 2005. We had to leave our homes because of opposition from our families. We went to Allahabad and got married in court. We lived in Baghpat for some time. It took our families nearly a year to accept us. There has been no problem ever since," he said.
They have an eight-year-old son and a three-year-old daughter. Anju says she knows the riots have given rise to communal tension but she has faced any hostility.
"Bulandshahr was earlier represented by Kalyan Singh but it has remained a backward area. There is no development, nothing has been done to address the problems of farmers," she said.
In the last Lok Sabha elections, SP's Kamlesh Valmiki took Bulandshahr with the backing of Kalyan Singh. The constituency has a significant presence of Lodhs and Kalyan Singh's return to the BJP is expected to boost the chances of its candidate Bhola Singh. The BSP has fielded Pradeep Jatav.
http://indianexpress.com/article/india/politics/in-riot-scarred-up-town-dalit-woman-married-to-a-muslim-seeks-unity-vote/
------------
Mob Attacks over Issue of Muslim Women in Hijabs Dancing and Singing at Rallies
8 April 2014
The ruling People's Party (PP) provincial chair for the Eastern Region Samson Msosa has sustained a deep cut in the head after angry mob hacked him with an iron steel following a physical confrontation between the politician and one of the suspected attackers over the issue of taking Muslim women in Hijab to sing or dance at political parties.
The incident happened when Msosa rushed to the offices of Islamic Information Bureau in the district to rescue Sheikh Ahmad Mwanyali who was manhandled by some Muslim clerics for leading a group of Muslim women who dance during the PP campaign rallies.
Full report at:
http://www.nyasatimes.com/2014/04/07/pp-governor-msosa-attacked-in-mangochi-over-dancing-muslim-women-issue/
------------
Social Pressures Force Tunisia Women to Fake Virginity
8 April 2014
TUNISIA: It happens every April ahead of the summer marriage season, says Tunisian gynaecologist Faouzi Hajri — desperate brides-to-be beg for surgery to make them "virgins" again for their wedding night.
Fearing rejection as "used" women in a conservative Muslim country where premarital sex is nevertheless common, Tunisian women are increasingly opting for the sort of surgery offered by Doctor Hajri.
But it doesn't stop them regretting the need to convince new husbands of their purity.
"A woman's honour shouldn't be determined by a few drops of blood," says Salima, a 32-year-old who admits she had the operation so that her "honour" was not in question on her wedding night.
It is easy for a woman to have her hymen surgically reconstructed in Tunisia.
The routine hospital operation takes around 30 minutes and costs from €400 to €700 (RM1,792 to RM3,136), with a less permanent version needing to be done within a week of the wedding, while the stitches hold.
"The number of women resorting to hymenoplasty or hymenorrhaphy (as the operations are known) has gone up a lot in recent years," says Moncef Kamel, a doctor in the southern island of Djerba.
The women he operates on — around 100 each year, aged between 18 and 45 — come with their faces hidden behind a scarf and dark glasses, "has a normal, active sex life", and generally hail from working-class backgrounds.
"It's a taboo subject, which explains why there's a lack of official statistics," says Doctor Hajri.
The Tunis-based gynaecologist says he also treats about 100 women annually, including from neighbouring Libya and Algeria.
Men want virgin brides
Since the 1950s, Tunisia has been considered the most progressive country in the Arab world in terms of women's rights, and politicians enshrined gender equality in the new constitution adopted in January.
Demographic changes have reinforced personal freedoms, with sex outside marriage increasingly common and more people opting to marry later.
But conservative attitudes persist, and for many Tunisian men marrying a virgin remains a priority, hence the rising demand for hymen restorations.
For Tarek Belhadj Mohamed, a sociologist, such male attitudes reflect the "hypocrisy" of Tunisian society, which he said refuses to recognise the change in behaviour of a large section of the population.
Research by psychoanalyst Nedra Ben Smail indicates that just five percent of Tunisian young women are not worried about losing their virginity before marriage, while more than 75 per cent of women appearing to be virgins on their wedding night have had the operation.
"The Tunisian way of life seems modern and open, but the reality is different: Our society and even our ruling elite is in theory tolerant on the question of virginity, but when it affects them personally, virginity is a primordial condition for marriage," said Belhadj Mohamed.
"Virginity certifies a woman's validity in our society where her purpose is essentially sexual and reproductive, while men have to 'train' so that they are sexually mature when they get married," he argued.
He called the hymen operation a form of "discrimination towards women".
Lying under pressure
Salima agrees, despite having consented to the operation herself, saying she was forced into it by "the hypocrisy of men and of our society".
The young woman decided one day that she would be honest with her boyfriend, whom she had not slept with, and told him she was not a virgin.
"But as soon as he knew, he refused to marry and did everything he could to get me into his bed. That's the way Tunisian men think. A woman who has had sex before marriage is just a slut and can't be a good mother!"
Another young woman, Sabra, believes unmarried women should have the right to a sex life just like the men, and that virginity is never a guarantee of fidelity.
But the 27-year-old also chose to lie and yield to social pressures, rather than run the risk of remaining single.
"If I had told my husband that I wasn't a virgin, he would never have agreed to marry me. And it's the same for many women in Tunisia."
— AFP
http://www.malaysiandigest.com/world/496284-social-pressures-force-tunisia-women-to-fake-virginity.html
------------
Tajiks create 1st group of female de-miners
8 April 2014
DUSHANBE – The Tajikistan Mine Action Centre recently formed its first all-female team of de-miners, Avesta.tj reported April 4, citing the centre. The Norwegian government provided financial support for selecting and training the team.
Officials will formally present the 10-woman team in Dushanbe April 12, a source at the centre told Avesta.tj.
Tajikistan has thousands of land mines left over from the 1992-1997 civil war.
http://centralasiaonline.com/en_GB/articles/caii/newsbriefs/2014/04/07/newsbrief-01
------------
Gujarati Women Keeping Marriage at Bay
8 April 2014
There was a time when marriage meant everything to a woman. But gone are the days when women used to get married in their early 20s, change their surname and happily settle with their husbands, suggests a research paper of Institute for Social and Economic Change (ISEC).
With the rise of education and rising level of urbanisation among women, the number of late marriages in Gujarat has gone up by 30 per cent in the recent few years, said the report.
Talking to DNA, Zakir Shaikh of Rishta Matrimonial said late marriage is mostly common among Hindu and Sikh community, but of late this phenomenon has caught up with the Muslim community as well.
"According to our observation — in the past five years — the number of late marriage has gone up by at least 20 per cent in the Muslim community."
Education has played a crucial role in giving rise to this trend, followed by culture in case of women belonging to the age group of 25 and above, stated the report.
"There is nothing wrong if somebody wants to tie the knot early. But, late marriages hold great advantages compared to an early marriage," opined Dr Pradip Vaghasiya, director of Gujarat Institute of Psychological Science and Research Center.
Today's women are more independent and marriage is no longer a security nest for them. "In 80 per cent of the cases where women marry late — in their late 20s — education has been cited as the main reason for the delay," said Shaikh.
In late marriage, both women and men get enough time to become more stable and mature emotionally and financially, which provides a better foundation to their relationship. "Due to higher level of maturity, number of divorce cases is very rare in late marriages," said Dr Vaghasiya.
On the flipside, it has some medical disadvantages as for many women, infertility becomes a major issue. "When a couple gets married in their 30-40s they often face problem having kids. Hormone production reduces after 30s, which naturally affect the fertility among women," said Sudhir Mehta, a city-based gynaecologist.
http://www.dnaindia.com/ahmedabad/report-gujarati-women-keeping-marriage-at-bay-1976063
------------
Women and girls prime casualties in war's next phase
8 April 2014
A CATASTROPHE looms when foreign troops leave Afghanistan at the end of this year, as the central government could sacrifice women and girls in future negotiations with the Taliban.
The Afghan government showed its readiness to shed women's rights in a new law that would have barred evidence from relatives and medical practitioners against defendants charged with violence or child abuse. As relatives are often the assailants or the only witnesses, the legislation appeared to shield aggressors. Perpetrators of honour killings could also escape prosecution. Moreover, omission of the definition of "relative" in the law raised the possibility of a wide net within extended families.
Apathy of donor countries to the proposed new law also served to boost the Islamist and patriarchal forces opposed to women's rights.
In response to an international outcry, President Hamid Karzai decided to revise the law before signing it into force. The fact that pressure was required to halt progress of the bill reflects the fragility of women's rights in Afghanistan, even in the presence of coalition forces.
Despite any future amendments, discriminatory remnants of the legislation could persist. In 2009, the government introduced the Shia Personal Status Law for the Shia minority. Due to local and international pressure, the law was revised, but the legislation still sanctioned under-age marriage for girls, forbade women from marrying without permission of their father or grandfather, and made a wife's maintenance contingent on sexual submission.
If the new bill is passed without meaningful changes, it will weaken the 2009 Elimination of Violence Against Women Law that criminalised rape, domestic violence, forced marriage and baad, the barter of girls to resolve disputes between families. Although EVAW was a presidential decree, not ratified by parliament and rarely applied, it stimulated reporting of gender violence cases.
During the past 13 years, attempts were made to invalidate EVAW and undermine Afghan women's rights. However, important gains were made, including shelters for victims of violence, and a quota of parliamentary seats for women. Dozens of female candidates ran in last Saturday's national election. More than three million girls have enrolled at school, and child mortality rates have dropped from one in four to one in 10.
There is a strong moral imperative to support Afghan women, who are trapped on the frontline of a war with the Taliban — Islamist extremists whose first targets are women. Abandonment of Afghanistan by the coalition would intensify subjugation of women and bolster the Taliban's ambition to regain control.
Sadly, many Western feminists are not moved to action by the predicament of their Afghan sisters, nor do they identify with the country's women reformers, who exemplify the most courageous suffragettes. Their indifference renders a great many Western feminists complicit in Afghanistan's gender violence and casts a permanent stain on the worldwide feminist movement.
Talks have begun between the Pakistani government and the Tehrik-e-Taliban Pakistan, or Pakistani Taliban. If they are any indication, discussions with the associated Afghan Taliban will be challenging. Abdul Aziz, one of the dialogue members for the TTP, said he would not stay on the committee until Pakistan negotiated within Islamic law. His action left the TTP team with only two members.
To disrupt the April 5 election, the Taliban has escalated violent attacks that include a strike on the headquarters of Afghanistan's election commission, and the murder of nine people, including children, in a hotel considered one of the safest places in Kabul.
Yet the UN and US leadership sideline Islamist extremism, an ideology that supports violence, misogyny and transnational radicalisation.
What can be done to protect Afghan women and girls against violence and discriminatory laws? First, their achievements should be recognised, to correct the misguided perception that advancing women's rights in Afghanistan is a hopeless pursuit.
Mobilising human rights organisations, women's NGOs, and individuals, including men, could build the critical mass required for effective political pressure, and provide a global network for vigilance.
At the same time, aid should be linked to human, particularly women's, rights.
http://www.theaustralian.com.au/news/world/women-and-girls-prime-casualties-in-wars-next-phase/story-e6frg6ux-1226877130303#
------------
Court arrests woman carrying explosive in Istanbul
April 8th, 2014
A woman allegedly captured with a remote control explosive in her bag in Istanbul's Kağıthane district was arrested by an Istanbul court on April 7.
B.E., 25, an alleged member of the outlawed Revolutionary People's Liberation Party/Front (DHKP/C), was captured by police near a police station in Kağıthane on April 5.
The police noticed a woman acting suspiciously near Sadabat Polis Station on April 5, but when they attempted to approach her, she fled and boarded a taxi. Police stopped the vehicle and captured the woman before allegedly discovering explosives and a remote-control device in her bag.
The DHKP/C has increased its activities in recent years, staging a suicide attack on the U.S. Embassy in Ankara on Feb. 1, 2013, along with a night-time rocket attack on ruling party buildings in Ankara later that year.
http://www.hurriyetdailynews.com/court-arrests-woman-carrying-explosive-in-istanbul.aspx?pageID=238&nID=64642&NewsCatID=509
----------
Time running out for Indonesia's stalled gender equality bill
8 April 2014
JAKARTA (Thomson Reuters Foundation) - As Indonesians head to the polls on Wednesday to elect a new parliament, women's rights activists fear time is running out to pass a bill aimed at ending gender discrimination before the current parliament's term ends in six months.
They are also concerned the bill might be toothless even if passed, due to amendments demanded by religious groups who say some of the provisions go against Islam and Indonesian culture.
The Gender Equality and Justice Bill, drafted in 2010, has been languishing in parliament since powerful Islamist groups objected to some of its provisions.
If it is not passed by September when a new parliament should convene, campaigners will have to start from scratch with a new bill, said Ratna Batara Munti director of the legal aid organisation Indonesia Women's Association for Justice (LBH-APIK).
"Islamists have their voices heard in the parliament through Islamic parties and there has been bargaining to include some religious aspects to the bill," she told Thomson Reuters Foundation in an interview.
"The bill could be passed into law if we can persuade the political parties and the incumbents that it would generate political capital and it would be their legacy. But I'm worried the negotiations with extremist Islamists mean the amendments to the bill would not be very good (for women)."
The proposed bill covers 12 areas including citizenship, education, employment, health and marriage. Provisions include equal rights for women and men to work in all sectors, equal pay for the same work, the right to determine the number and spacing of children, being able to choose husbands and wives without force, and fair treatment before the law.
A bone of contention for Islamist groups, however, is a clause that gives people free will when choosing a partner, saying it could lead to homosexual marriages, although a final draft of the bill adds the definition of a husband as a man and wife as a woman.
Opponents of the bill also say policies that encourage women to seek employment could lead to conflict within marriages.
"They do not agree with the idea of a liberal women because they see it as a Western concept, and that it's not based on local wisdom, that it's not based on Indonesian culture and that it contradicts Islam," Munti said.
BETTER EDUCATED AND SMARTER
Since emerging in 1998 from three decades of authoritarian rule under President Suharto, Indonesia, the world's most populous Muslim nation, has earned a reputation as a model of religious freedom.
With Muslims making up at least 80 percent of its 240 million population, however, any attempt to introduce laws or regulations seen as contrary to the teachings of Islam faces an uphill battle.
Islamic groups opposed to the bill include the Assembly of Indonesian Young Intellectuals and Scholars (MIUMI) whose representatives told Indonesian journalists in 2012 that as women become better educated and smarter "they could easily challenge their husbands and look for a divorce".
Local media also reported that senior politicians from the United Development Party (PPP), whose chairman is the Minister of Religious Affairs, recently said they are firmly opposed to the bill because it is not in accordance with Islamic law.
There is also fear that the concept of equal rights could be interpreted as permitting women to practise polygamy, or restrain the privilege that men currently have to take more than one wife, Fitri Bintang Timur, an Indonesian researcher with the Singapore-based S. Rajaratnam School of International Studies, told Thomson Reuters Foundation in an e-mail.
Islamic teaching allows a man to have up to four wives, but does not mention the possibility of a woman having multiple husbands.
"There is no easy way to create change toward equality and justice because those who gain privileges from the current system will not let go their benefits without a fight," Timur said.
The bill in fact regulates both women and men, stipulating that no one should obtain power dominance over another, she said. This ensures that if a time comes when women hold higher positions in the country, they would not be able to enact laws that subjugate men, Timur said.
Titi Sumbung, executive director of the Indonesian Center for Women in Politics, blames the lengthy debate on the bill on some parties politicising the issue and bringing religion "from private and personal affairs to public, politics and state affairs."
TOOTHLESS?
Proponents of the bill say it is needed because discrimination is widespread despite the country's constitution guaranteeing equality and Indonesia being one of the first Southeast Asian countries to sign up to the United Nations Convention on the Elimination of All Forms Discrimination against Women (CEDAW).
Activists point to the Marriage Act of 1974 - which provides that men are the heads of households and women are limited to domestic roles, allows polygamy, and sets the minimum age of marriage for girls at 16 - as an example of how patriarchal attitudes and stereotypes are still written in Indonesian law.
Violence against women is rising too - the National Commission on Violence Against Women said the number of cases handled by women's crisis centres increased four-fold in five years, from 25,522 cases in 2007 to 119,107 in 2011. A large proportion were cases of domestic violence.
The Commission also said there are now 342 local bylaws in the country that discriminate against women directly or indirectly.
"We have (signed) all the conventions and they all say women should not be discriminated against but we still have that. So I think (this bill is) long overdue - it's better late than never," Harkristuti Harkrisnowo, director general at the Ministry of Law and Human Rights, told Thomson Reuters Foundation.
However, with parliamentarians busy campaigning for the upcoming elections, they may not have time to debate the bill, she said.
"I still have my fingers crossed but I'm not too sure if it will be finished by the end of September," she said.
LBH-APIK's Munti was concerned that even if the bill is passed, it may be watered down from the original draft.
"We're worried that in the end, the Gender Equality and Justice Bill will become a political tool and even if we have (the bill) it contains no legal certainty and it will be ineffective," she said.
http://www.trust.org/item/20140407102159-sdf37/?source=hpeditorial
------------
Indonesia's Elections Feature Plenty of Women, but Respect in Short Supply
8 April 2014
The world's largest Muslim-majority nation has imposed a strict quota on women standing in this year's parliamentary elections, but critics say the plethora of celebrities and political scions show they are pawns manipulated to prop up the established elite
Indonesian elections wouldn't be complete without dangdut singers. Young women, usually attired in skimpy clothes, are a must at campaign rallies, warming up supporters with hip-shaking music and gyrating movements before party bigwigs deliver rousing political speeches.
Yet, as Indonesians prepare vote in national legislature elections Wednesday, the participation of dangdut singers has gone beyond a mere stage act.
To increase gender equality in politics, Indonesia has imposed a strict mandatory quota on women standing in this year's elections. Each political party has to field at least 30% female parliamentary candidates in to participate in an electoral district, or else it will be disqualified.
It is essentially a good rule. But much to the derision of many voters and the consternation of women activists, political parties choose to pick women little experience in politics or public service: wives, daughters or female relatives of established politicians, and famous celebrities — dangdut singers, swimsuit models and actresses. (On the latter, a phrase has even been coined: caleg cantik, or beautiful legislative candidates.)
"Is it an election or a beauty pageant?" asks website LivingIndonesia, whose "Sexiest Legislative Candidates" post, comparing the celebrities' pre- and postcandidacy photos, has gone viral. Feminist activist Gadis Arivia slams that "political parties prefer legislative candidates with big breasts to those with big brain capacity."
Among the dozens of celebrity candidates is dangdut singer cum B-movie actress Angel Lelga. The 30-year-old, who is running for office for an Islamic party, became the butt of jokes after giving a bumbling interview on a TV talk show in January.
Women with political pedigree are in high demand too. Late President Suharto's daughter Siti Hediati Hariyadi, popularly known as Titiek, is a leading MP candidate for Golkar Party, the strongman's once formidable political vehicle. (Her former husband Prabowo Subianto is presidential candidate of his own Gerindra Party.) Members of President Susilo Bambang Yudhoyono's extended family are running on his Democratic Party's ticket.
Tunggal Prawesti, a candidate for the Yogyakarta provincial legislature, blames the male-dominated parties for failing to attract and nurture female talent. "So the shortcut is to recruit celebrities," says Tunggal, who was among women's-rights activists who pushed for the quota system. "They have a function as purely vote getters."
Since Indonesia adopted the gender-quota law in 2003, and strengthened it five years later, the number of women elected to the 560-seat House of Representatives, or DPR, had increased, from 11% in 2004 to more than 18% in 2009.
But celebrities and political dynasts comprise the majority of women MPs. A quarter of the women elected to parliament in 2009 were popular figures, while some 42% were related to established power-families. "It was disappointing," says Gadis, who founded the feminist Women's Journal. "And I expect the trend to continue."
Heavyweight politicians may prefer to recruit little-experienced celebrities and family members because they can be steered easily. But this was not always the case. Former President Megawati Sukarnoputri, chairwoman of the Indonesian Democratic Party of Struggle (PDI-P), was first wooed to join the prior incarnation of her party, despite lacking experience, because her father was Indonesia's first President, Sukarno. And there are strong women hailing from the entertainment industry. Rieke Diah Pitaloka, of PDI-P, and Nurul Arifin, of Golkar Party, are both comic actresses turned legislators who have earned high respect in their new careers.
And to be fair, political parties also recruit male celebrities — Lelga's former husband, dangdut star Rhoma Irama, is the presidential candidate for another Islamic party — and there are also many politicians' sons, brother-in-laws and nephews appearing in nomination lists.
But it is the young, attractive female newcomers who invite most scrutiny, and sometimes sexist comments. That is not fair, Tunggal says. "The ones who decide on the candidacy are political parties, and they are the ones who should be blamed."
One stumbling block to attracting female candidates is a relatively low employment rate of Indonesian women. According to the World Bank, only 51% of women are employed in the workforce, compared with 78% of men. Moreover, women who harbor big political ambitions could face opposition at home. Indonesian media recently reported a politician divorcing his legislative-candidate wife because, he said, she had little time for their family.
Gadis acknowledges that while the gender-quota law "helps women, it is not enough." And they need to do more to push for real gender equality, she says. "We have male-dominated parties and patriarchal culture, and that closes access to many women. We need to shatter these if we want more capable women to participate in politics."
http://time.com/53191/indonesias-election-features-plenty-of-women-but-respect-in-short-supply/
------------
After winning greater rights in constitution, Egyptian women waiting to see them realized
Egypt women: Rights on paper, not yet on ground
Associated Press
8 April 2014
CAIRO (AP) - Women activists say they won a major step forward with Egypt's new constitution, which enshrined greater rights for women. But months after its passage, they're worrying whether those rights will be implemented or will turn out to be merely ink on paper.
The causes for concern are many. Men hold an overwhelming near-lock on decision-making in politics, and activists say they are doing little to bring about equality. Violence against women in public space has grown over the past three years of turmoil since the 2011 ouster of autocrat Hosni Mubarak. And some activists say the increasingly repressive political climate is stifling chances for democratic reforms that would bring women's rights.
An incident in March underlined how far activists say they still need to go to change public attitudes. After a female student at Cairo University came under mass sexual assault by male students, the university's president, Gaber Nassar, criticized her for the way she was dressed. A well-known TV presenter, Tamir Amin, went on a tirade on his show, saying the student was "dressed like a belly dancer." She was wearing black pants, a long-sleeved pink shirt and a head-scarf.
Amid an uproar on social media, both Nassar and Amin apologized for their comments. But Amin still went on to say women should wear "appropriate" clothing when they go out.
The following week, a law criminalizing sexual harassment was referred to the presidency for review, though the text has yet to be released.
There have been multiple mass sexual assaults on women during protests the past three years. In one notorious incident in 2011, security forces dragged a female protester to the ground, pulled up her top to reveal her blue bra and stomped on her chest. Other female protesters at the time were forced to undergo humiliating "virginity tests" when detained by the military.
Women have also been caught up in the violence since the military ousted Islamist President Mohammed Morsi last summer and security forces launched a heavy crackdown on his Muslim Brotherhood and other Islamists. Last weekend, a 22-year-old female journalist, Mayada Ashraf, with the newspaper Al-Dustour, was shot to death while she covered clashes between police and Morsi supporters in the Cairo district of Ein Shams. Police have arrested 20 protesters, accusing them of shooting her - but witnesses have raised questions whether it was actually security forces who killed her.
Around 50 other women were among hundreds killed during clashes since the violent dispersal of the pro-Morsi protest camps on Aug. 14, and around 240 are among the 16,000 people arrested in the crackdown on Morsi's followers, according to security officials. The officials spoke on condition of anonymity because they are not authorized to speak to journalists.
Violence is a "very intimidating weapon" against women participating in public life, said Dalia Abdel-Hameed, gender rights researcher with the Egyptian Initiative for Personal Rights, an independent rights group.
More broadly, the crackdown has fueled at atmosphere where criticism is not tolerated. Secular pro-democracy activists and prominent figures critical of the military-backed interim government have been jailed and are on trial for breaking laws barring unlicensed protests. In the media, critics of the government are muted, which has an impact on calls in general for democratic reform, including for women's rights.
"If there is no democratic climate, how would you benefit from these beautiful laws?" said Abdel-Hameed. "It will be the same as under Mubarak: you have a beautiful law but it's not implemented."
Women activists fought hard for gains in the constitution passed in a January referendum, which was a rewrite of a 2012 constitution largely drafted by Islamists during Morsi's one-year presidency.
The document explicitly enshrines equality between the sexes and women's rights to education, work and high political office. It criminalizes violence against women and discrimination on any basis, including gender. It allows women to confer nationality on their children and holds Egypt's government responsible for international obligations under treaties it has ratified, including the Convention to Eliminate all forms of Discrimination Against Women.
"It's not just more progressive than the 2012 constitution, it's more progressive than the 1971 constitution . from the gender perspective," said Salma el-Naqqash, a member of the Nazra Institute for Feminist Studies.
The provisions are already being tested.
Women have only been allowed to be judges since 2007, and the new constitution guarantees their right to hold high positions in the judiciary. Yet a 2010 court decision barred women judges from the State Council, a powerful judicial body that regulates disputes between individuals and the state and reviews legislation.
After several women were rejected for membership on the council, Mervat Tallawy, head of the state's National Council for Women, said that in January she wrote to the State Council demanding it take on women judges in light of the constitution.
The Council replied by saying her letter "violated appropriateness and manners" and it sought criminal action against the National Council for Women.
Speaking to a conference last month, Tallawy said the "the mentality of the decision-makers . in the current government and the future government as well" is the main obstacle to the carrying out the promises of the constitution.
She pointed to the low representation of women in government. Women, for example, held only two percent of the seats in the last parliament, the lowest in the Arab world. Past parliaments as well have usually seen single-digit percentages of women lawmakers.
"We are angry with the government, with legislators, with the parties, with all officials. We want 150 women in parliament," she said. "We're tired of the government and officials . we'll go to the street," she said.
El-Naqqash said there is a series of concrete steps she wants to see in the near future - the creation of a Commission on Discrimination with real judicial power, particularly to hold the state accountable, as called for under the constitution; more women judges; an electoral law that guarantees the presence of women in parliament and local council, through a party list system with alternating men and women on the list; and the nullification of the draconian protest law, which bars all political gatherings without prior police permission.
She also says gender issues should be mainstreamed across all government bodies. For example, the Interior Ministry should activate a unit specialized in fighting violence against women and "the health sector should take into account reproductive rights. Health clinics should provide contraception and treatment for STDs (sexually transmitted diseases)."
But, she adds, "women's issues are never a priority for anyone."
She noted that parts of the constitution may make enforcing the women's rights provisions harder. For example, the charter increases the power of the judiciary over its own affairs, protecting it from political interference but also isolating it from any criticism or reform.
"They are giving a lot of immunity to the judiciary to the point that it will make it very hard to realize these rights and freedoms," she said. "You cannot hold them accountable for enforcing these rights."
Copyright 2014 The Associated Press. All rights reserved. This material may not be published, broadcast, rewritten or redistributed.
http://www.startribune.com/world/254304801.html
------------
URL: https://newageislam.com/islam-women-feminism/fingerprinting-save-women-showing-faces/d/66460