New Age Islam News Bureau
27 Jul 2017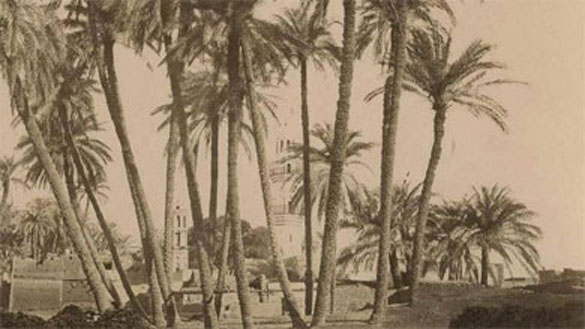 Minya Governorate, Sheikh Ebada village, 1870. (File photo: Supplied)
-----
• Muslim Feminist Plans to Open Liberal Mosque in Britain
• Police Arrest 20 Panchayat Members Who Ordered 'Revenge Rape' In Multan
• Denying Husbands Physical Relations Deemed 'Abuse' By Malaysian MP
• Central Women's University Awards Five College Students in Math Olympiad
• Tunisia Votes To 'End All Violence' Against Women
• Mark Latham Urges Muslims to 'Throw Away the Burqa' Like Islamic Miss World Australia Winner
• Iranian TV Host Who Promotes Islamic Dress Code Sparks Backlash for Drinking Beer without Hijab
Compiled by New Age Islam News Bureau
URL: https://www.newageislam.com/islam-women-feminism/find-where-maria-prophet-mohammeds/d/111987
--------
Find out Where Maria, Prophet Mohammed's Coptic Christian Wife, Was Born
26 July 2017
Some 400 kilometers south of the Egyptian capital of Cairo, there is the village called "Sheikh Ebada" near Mallawi center in Minya governorate.
The village inhabited by about 60 thousand people is the birthplace of Maria, the Coptic Christian wife of the Prophet Mohammed (PBUH). She was "gifted' to him during the 7th Hijri year by Al-Muqawqis, the ruler of Egypt back then.
Lady Maria is the daughter of Shamoun. She gave birth to Ibrahim, Prophet Mohammed's third son, who died as a young child.
The story of her marriage starts when Prophet Mohammed sent a messenger to the Egyptian ruler with Hattib bin Abi Belta'a, introducing and inviting him to Islam. Hattib delivered the words of the Prophet, and the response of Al-Muqawqis was as follows:
"To Mohammed bin Abddallah, From Al-Muqawqis the Greatest of the Copts, I read your message and I understood what you are calling for. I know of the last Prophet, and I thought that he would come out of the Levant. I honoured your messenger, and I'm sending you two gifts who are of great value to the Copts, along with clothing and a mule to ride, peace be upon you."
The gifts were two maidens, Maria bint Shamoun and her sister Serine, a thousand bag of gold and twenty dresses. When the gifts reached the Prophet, he chose Maria to be his wife, and granted her sister Serine to his poet Hassan ibn Thabit.
The village where Lady Maria was born; the village of "Sheikh Ebada" was named after the follower Ebada bin al-Samit, still has the remnants of the house where Lady Maria lived and a mosque named after her.
Faraj Abdul Aziz, director of the tourism promotion office in Touna al-Jabal area, told Al Arabiya, "The origin of the area is a village called Psa, which is an ancient Egyptian god. It was built on the city of Hibeno Ati named after the special physician of Ramses II, king of Egypt.
The village where Lady Maria was born and raised has Ancient Egyptian, Roman, Coptic and Islamic monuments.
He added that the village itself was also named "Antonio Polis" after it was founded by Emperor Hadrian who named it in commemoration of his father's memory, and it contains the remains of the Temple of Ramses II, the remains of Pharaonic tombs, a Roman theater and the gate of victory.
"In the times following the Pharaonic era, the village was called "Hufn', and in the Islamic era, the followers of the Prophet looked after the village, and Muawiya exempted it from the levies," he added.
He said, "according to many historical sources, after Amr ibn al-Aas took command of Egypt, the armies led by Ebada bin al- Samit arrived at the village, and when he was told it was the birth place of Lady Maria, wife of Prophet Mohammed, he decided to stay there.
He built a mosque close to Lady Maria's home, and it became the first mosque in Mlawi.
Ebada settled in that area and made it his residence, and thus the village was named after him "the village of Sheikh Ebada."
https://english.alarabiya.net/en/features/2017/07/26/Find-out-where-Maria-Prophet-Mohammed-s-Coptic-Christian-wife-was-born.html
--------
Muslim feminist plans to open liberal mosque in Britain
Harriet Sherwood
26 July 2017
A Muslim feminist who founded a liberal mosque in Berlin, triggering death threats and fatwas, is planning to open an inclusive place of worship in the UK, saying a revolution in Islam is under way.
Seyran Ateş, a Turkish-born lawyer and human rights campaigner, visited London this week to investigate potential sites for a liberal mosque open to men, women and LGBT Muslims on an equal basis, and people from all strands of Islam.
She hopes to establish such a mosque within a year, and says her aim is to create similar places of worship in every European capital.
"I'm not alone with this idea. It is a movement, it's a revolution," she told the Guardian. "I may be the face of the liberal mosque, but I alone am not the mosque. We have millions of supporters all over the world."
However, the opening of the Ibn Rushd-Goethe mosque, in a space rented from a Lutheran church in Berlin last month prompted a hostile reaction from conservative Muslims in Europe, Egypt and Turkey.
Ateş received death threats via social media and was told "you will die" during a street confrontation. Egypt's Dar al-Ifta al-Masriyyah, a state-run Islamic body, declared the mosque's principles incompatible with Islam. The legal department of Cairo's al-Azhar University issued a fatwa against liberal mosques.
Turkey's main Muslim authority, Diyanet, said the mosque was an experiment "aimed at nothing more than depraving and ruining religion".
Ateş, 54, who has had police protection since 2006, was forced to step up her personal security. The itinerary of her two-day trip to London was unpublicised, and she was accompanied by close-protection officers. Asked if she feared for her life, she said: "Yes, a little bit. I could be in danger. People recognise me."
Although the Berlin mosque was crowded on its opening day, numbers dwindled following the death threats. "It made people afraid to come," said Ateş. But, she added, 95% of emails she had received since the opening of the Berlin mosque were supportive.
"There are more and more people wanting to break the chains. In many countries you can find people who are practising what we're doing, but they are doing it under cover, privately," she said.
"Liberal and secular Muslims are squeezed out by radical Islam, so they decide to be silent. It's not so easy for liberal Muslims to be 'out'. It's like being homosexual. They are tarnished as the 'enemy of Islam'."
The Berlin mosque took eight years to establish, "but I think now things will go faster," said Ateş. She is planning to open a second liberal mosque in Freiburg by the end of the year, and is working closely with other progressive Muslims, including Ani Zonneveld, a female imam based in Los Angeles, Shirin Khankan, a Danish woman and imam who opened a female-led mosque in Copenhagen last year, Ludovic-Mohamed Zahed, an Algerian-born gay imam based in Marseille, and Elham Manea, an expert in sharia law based in Zurich.
Ateş said in the UK there was a particular need for liberal Islam because sharia courts were permitted to operate. "Sharia is a war against women's rights, nothing else," she said. "The UK has helped Islamists to bring women under Islamic sharia law and its patriarchal structures."
Ateş also takes a tough line on headscarves. When she opened the Berlin mosque, she said women wearing burqas or niqabs would not be admitted. She has since compromised: women must show their faces to her or other female leaders at the mosque but then will be given the option of replacing their head coverings. However, no woman wearing a niqab or burqa has as yet come to the mosque.
"There is no Islamic requirement [to cover one's head]. There is no theological argument even in the most conservative interpretation of the Qur'an," she said.
The hijab, niqab and burqa represented the sexualisation and subjugation of women, she added. "It's men saying, 'I cover her because she is my property.'
"In Germany more and more women are veiled. You see children of four or five wearing headscarves. Women in north Africa are fighting not to wear the hijab while western women are fighting to wear it. I'm on the side of women worldwide who don't want to be veiled."
The Berlin, Freiburg, London and other liberal mosques will be open to Muslims from all sections of Islam, such as Sunni, Shia, Alawi and Sufi.
Ateş is also gathering support for a European citizens' initiative on extremism, including Islamophobia and antisemitism. She needs a million signatures from at least seven EU member states to oblige the European commission to consider a request for legislation "to prevent the adverse consequences of extremism".
"We're confident of getting the signatures; it's a snowball," she said. The proposal was liberal, aimed at protecting all religions, and was pro-women's rights, she added.
She is hoping to gather 100,000 signatures from the UK. "You are still part of Europe, you still have responsibility. Even when you have your Brexit, you will still be part of Europe."
Ateş is supported in her efforts to found an inclusive mosque in the UK by several members of the House of Lords. David Pannick, a human rights lawyer and crossbench peer, said: "Seyran Ateş should have the support of all who believe in freedom of religion. It is sad that those who take advantage of freedom of religion for themselves are so reluctant to grant it to others."
The Labour peer Kamlesh Patel said he also supported Ateş's "push for inclusivity and the freedom of choice in worship".
https://www.theguardian.com/world/2017/jul/26/seyran-ates-muslim-feminist-liberal-mosque-london-britain
--------
Police arrest 20 Panchayat members who ordered 'revenge rape' in Multan
Imran Gabol
July 26, 2017
A search operation is underway to arrest the members of a panchayat (village council) who fled after ordering a man to rape a 17-year-old girl, police said on Wednesday.
According to SHO Malik Rashid, the search operation began after two cases were registered against the members of the council at a police station inside the Violence Against Women centre in Multan.
The council, comprising at least 40 men, was convened in Muzaffarabad's Rajpur area after a 12-year-old girl, F*, was raped by a man while cutting grass in a field on July 16, reads the First Information Report (FIR) filed at the police station.
On July 18, the panchayat ordered F's brother to rape 17-year-old N*, the sister of the accused. According to the police, N was dragged to the area where the panchayat was convened and was raped before the men and her parents.
After the incident, the parents of N filed an FIR on July 20, while a second FIR was filed on July 24 by F's family, who had initially wished to keep the matter quiet.
After the cases were registered, the police started investigations and arrested 20 of the council's members, including the head of the panchayat who gave the order. Search operations for the remaining men are underway.
https://www.dawn.com/news/1347764/police-arrest-20-panchayat-members-who-ordered-revenge-rape-in-multan
--------
Denying husbands physical relations deemed 'abuse' by Malaysian MP
26 July 2017
KUALA LUMPUR: A Malaysian lawmaker came under fire Wednesday for saying that women who deny their husbands sex were subjecting them to "psychological and emotional abuse."
Che Mohamad Zulkifly Jusoh, a Muslim MP from the ruling coalition, said during a parliamentary debate on domestic violence that husbands often suffer emotional attacks rather than physical abuse.
"Even though men are said to be physically stronger than women, there are cases where wives hurt or abuse their husbands in an extreme manner," said the lawmaker, a member of the United Malays National Organization.
"Usually, it involves wives cursing their husbands — this is emotional abuse. They insult their husbands and refuse his sexual needs.
"All these are types of psychological and emotional abuse."
Marina Mahathir, a prominent women's rights activist, said the lawmaker's view was "based on ignorance."
"Women have a right to say no to sex — this is an old notion that when you marry a woman you own her body," she told AFP. "It does not work that way. It is ridiculous to say men are abused if women say no to sex."
The 58-year-old lawmaker, from Terengganu state in Malaysia's Muslim heartland, also said that denying a Muslim man the chance to marry a second wife amounted to abuse.
It is legal for Muslim men in Malaysia to have many as four wives. But they must obtain permission from an Islamic, or shariah, court to marry more than one.
More than 60 percent of Malaysia's population of over 30 million are Muslim.
The MP made the comments Tuesday during a debate on amendments to domestic violence legislation.
It is not the first time a lawmaker has sparked controversy with comments about women — a member of Malaysia's ruling coalition said in April that girls as young as nine were "physically and spiritually" ready for marriage.
http://www.arabnews.com/node/1135386/offbeat
--------
Central Women's University awards five college students in Math Olympiad
July 27, 2017
Winners received a champions award, a runner-up award and three complimentary awards
Dhaka Central Women's University (CWU) awarded five college students on Wednesday for their extraordinary performance in mathematics.
The Women's Math Olympiad was attended by 40 girls representing eight colleges under Dhaka South City Corporation.
CWU's computer science and engineering department organised the event at its campus.
Winners received a champions award, a runner-up award and three complimentary awards.
Viqarunnisa Noon College student Subha Nawer Pushpita won after solving a total of 10 mathematical problems.
Mashit Mahazabin from Scholars School and College became the runner-up.
The other award winners are all Viqarunnisa Noon College students: Nowshin Yasmin, Tasfia Tabassum and Sadia Tabassum.
Bangladesh University of Engineering and Technology Prof Dr M Kaykobad presented the awards. The programme was inaugurated by Central Women's University's Vice-Chancellor Prof Dr Perween Hasan.
"This is amazing. Pushpita has solved 10 problems. I was hoping that the students could at least solve a few problems, but this is outstanding. I hope all the winners of the Olympiad are capable of attending international mathematics or science competitions," Dr Kaykobad said.
"The CWU Math Olympiad is a step forward towards the success of girls," he added.
Kazi Farms Group Managing Director Kazi Zahedul Hasan said: "To win the competition, you need courage as well as talent."
CWU's computer science and engineering department Assistant Professor Sher Sharmin Azmiri Khan told contestants to be prepared for the next Olympiad.
Students from Central Womens College, Dania University College, Kabi Nazrul Government College, Mirza Abbas Women's Degree College, Scholars School and College, Sher-e-Bangla Balika Mohaviddalaya, Udayan School and College, and Viqarunnisa Noon College took part in the Olympiad.
http://www.dhakatribune.com/bangladesh/education/2017/07/27/central-womens-university-awards-five-college-students-math-olympiad/
--------
Tunisia votes to 'end all violence' against women
27 July 2017
Tunisia's parliament on Wednesday passed a bill designed to "end all violence against women", strengthening protection and help for victims in a move welcomed by rights groups.
"It's a very moving moment and we are proud in Tunisia to have been able to gather around a historical project," said women's minister Naziha Laabidi.
The new law, which is expected to enter into force next year, recognises "physical, moral and sexual" violence, lawmaker Bochra Belhaj Hmida told AFP after the vote.
It will provide for judicial and psychological assistance for victims of domestic violence and removes a controversial article that allows men to escape punishment for rape if they marry their victim.
Tunisia is seen as a pioneer of women's rights in the Arab world but rights groups say women are still discriminated against, and around half say they have been subject to at least one form of violence in their lives.
https://english.alarabiya.net/en/News/north-africa/2017/07/27/Tunisia-votes-to-end-all-violence-against-women.html
--------
Mark Latham Urges Muslims to 'Throw Away the Burqa' Like Islamic Miss World Australia Winner
July 27, 2017
"THROW away the Burqa, throw away the Hijab, dress in a modern, Australian way."
Those were the words of media commentator Mark Latham, praising Islamic Miss World Australia Esma Voloder for integrating into our country.
It comes after the 25-year-old fired back at "hurtful" people who claimed the Muslim woman does not represent our nation this week.
Now Latham has weighed in on the debate by suggesting more Muslim women should follow in the footsteps of the beauty queen and not controversial former ABC presenter Yassmin Abdel-Magied.
Speaking on his online show, Mark Latham's Outsiders, Latham complimented Voloder on her lifestyle.
"Isn't it good to see a Muslim woman there not living her life according to the fundamentalist teachings of the Koran," he said on the program.
"She's actually providing a real good role model for other Islamic women in Australia.
"Throw away the burqa, throw away the hijab, dress in a modern, Australian way and she's a worthy Miss World Australia for that reason alone in sending that powerful message to other Islamic women to be part of our culture, to integrate as much as possible."
Voloder opened up to Confidential this week saying "life is too short for negativity" following the backlash.
"I forgive them ... I feel it comes from a lack of understanding," she said at the time.
"I am hoping to break down the barriers by just being me."
http://www.dailytelegraph.com.au/entertainment/sydney-confidential/mark-latham-urges-muslims-to-throw-away-the-burqa-like-islamic-miss-world-australia-winner/news-story/6763626f01b004b86e934344a85f81a2
--------
Iranian TV host who promotes Islamic dress code sparks backlash for drinking beer without hijab
July 27, 2017
An Iranian state television presenter has sparked outrage after footage emerged of her drinking beer without wearing a hijab while on holiday in Switzerland.
The consumption of alcohol in Islam is prohibited and alcohol has been banned in Iran since the establishment of Islamic Republic government in 1979.
Islamic dress codes are strictly enforced by 'morality police' in the country and women's hair and body must be covered in public. Wearing the hijab, a head covering worn in public by Muslim women, is compulsory.
Azadeh Namdari, who is also a presenter and actress, has actively endorsed wearing the hijab. Hard-line conservative Iranian newspaper Vatan-e Emruz published a photo of her in a full hijab in 2014 under the headline: "Thank God, I wear the veil".
The TV presenter has also been a keen proponent of the black chador which is a large piece of cloth that covers women from head to toe and leaves only the face exposed. It has been extolled by conservatives for offering women the best protection.
Ms Namdari said she was proud to be a chadori in the front-page interview with the paper – a saying used to refer to women who choose to wear the chador.
"You have to believe to be a chadori. [Otherwise] you'll be exposed ..." she said. "Thank God that I went on air, I was a chadori. I felt safe and I felt respected. All of these are blessings that the chador has brought me".
She added: "I apologise for saying that, but I'm more beautiful with this chador".
Ms Namdari has now been fiercely criticised and branded a hypocrite for being photographed holidaying without wearing a hijab and appearing to drink what looks like a beer. Critics on social media accused her of "hypocrisy" and "dual-behaviour".
Her name has been used as the Persian hashtag #Azadeh_Namdari, with the hashtag having been used over 11,000 times since the video emerged.
The backlash has prompted a torrent of memes of Ms Namdari, including an image of her with a bottle of Grey Goose vodka Photoshopped into her handbag. Another person has juxtaposed an image of the presenter in full hijab alongside two further photos of Namdari without a hijab and while drinking beer: "What she feeds us with versus what she feeds herself with!"
"The problem is not #Azadeh_Namdari or people like her. The problem is the ideology, culture and the system that forces individuals in society to have dual-behaviour for some reasons," read a tweet from an account attributed to the pro-government cleric Abolfazl Najafi-Tehrani.
The presenter has now sought to explain herself in a two-minute video posted on the Young Journalists' Club (YJC) news agency site under the headline: "Azadeh Namdari's reaction to the publication of scandalous photos in cyberspace".
Ms Namdari said she had been sitting alongside members of her family and "maharem" - close relatives who a woman is not required to wear a hijab among – in a park. She claimed her scarf had fallen abruptly and the clip was immediately recorded by a random person. She did not mention the bottles of beer in the video or seek to explain them.
But her explanation has prompted yet further criticism and people have branded her a "liar" and accused her of attempting to pull the wool over Iranian's eyes.
In Iran, women who do not wear a hijab or are seen to be wearing a 'bad hijab' by allowing some of their hair to show face punishments spanning from fines to imprisonment.
Nevertheless, there has been resistance to the enforced hijab over recent years, with some women shaving their hair and dressing as men. What's more, in a bid to show solidarity with their female counterparts last year men in the country appeared in photos wearing hijabs with their wife or female relative next to them with their hair uncovered.
http://www.independent.co.uk/news/world/middle-east/iran-tv-host-islamic-dress-code-azadeh-namdari-conservative-muslim-drinking-beer-no-hijab-a7860731.html
--------
URL: https://www.newageislam.com/islam-women-feminism/find-where-maria-prophet-mohammeds/d/111987
New Age Islam, Islam Online, Islamic Website, African Muslim News, Arab World News, South Asia News, Indian Muslim News, World Muslim News, Women in Islam, Islamic Feminism, Arab Women, Women In Arab, Islamophobia in America, Muslim Women in West, Islam Women and Feminism