New Age Islam News Bureau
10 Jul 2019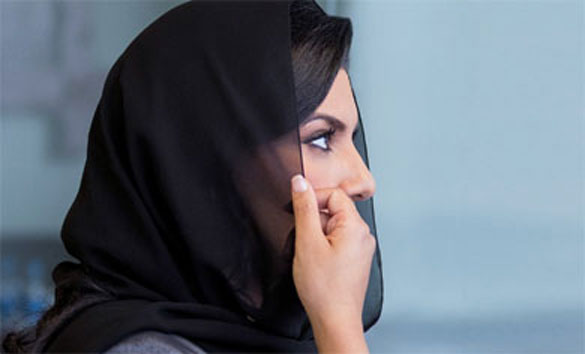 Princess Reema bint Bandar Al Saud says businesses operating in Saudi Arabia need to engage with local citizens more
------
• Indonesia's Aceh Says Women's Football 'Forbidden' Unless All-Female
• Bosnia: Turkish First Lady Opens Workshops for Disabled
• We Can Create A Utopia For Women By Designing Feminist Cities
• Taliban Assurance of 'Women's Rights' Has Big Caveat
• The Muslim Feminist Who Escaped Her Past in Saudi Arabia
• Turkey's Erdogan Pushes For Gender Segregation In Universities
Compiled by New Age Islam News Bureau
URL: https://www.newageislam.com/islam-women-feminism/financial-literacy-key-womens-liberty/d/119142
--------
Financial Literacy Is Key to Women's Liberty, Princess Reema Bint Bandar Says
July 10, 2019
DUBAI: Financial literacy and self-sufficiency can empower women in many ways, Saudi Ambassador to the US, Princess Reema bint Bandar said in a video campaign by the Rockefeller Foundation.
"Today more and more women are entering the workplace, but they still don't have the education to make the correct financial decisions for themselves," she explained.
The princess was appearing in video released on Tuesday, as part of the Rockefeller's "Solvable" campaign, involving experts and leaders from all around the world talk about a specific issue they are passionate about, and what they are doing to solve it.
She said that during her time in retail, many of her female employees would approach her about their financial issues, prompting her to realize that something had to be done "to give women access to the right tools and training" to overcome these problems.
"My goal is to educate women on financial literacy," the Saudi diplomat said, talking about Alf Khair, a social enterprise she founded in 2013 to "educate, train, and develop the skills" of Saudis.
At the organization, they teach women how to be self-sufficient through workshops and seminars.
"I truly believe that liberty for a woman comes from the ability to make the financial decisions for her life," she said.
Princess Reema is the Kingdom's first female ambassador, and had been the vice president of women's affairs at the General Sports Authority before her appointment. She graduated with a bachelor's degree in museum studies from George Washington University. http://www.arabnews.com/node/1523516/saudi-arabia
--------
Indonesia's Aceh Says Women's Football 'Forbidden' Unless All-Female
July 10, 2019
Less than a week after the women's world cup football final drew record crowds and global TV audiences, clerics in a hardline Islamist Indonesian province said attempts to revive the game in the country were "forbidden" unless men were excluded entirely.
"We are not against female soccer at all, however, if the facilities are not ready, female soccer is considered haram (forbidden)," Teungku Faisal Ali, vice-chairman of the Islamic clerical body in Aceh told AFP Tuesday.
Aceh, on the northern tip of Indonesia's Sumatra island, is the only province in the world's most populous Muslim nation to officially practice Islamic Sharia law.
Considered the 7th Century landing place for Islam on the archipelago, it was granted semi-autonomous status in 2001 after decades of rebellion against the moderate national government.
Indonesian sports authorities are attempting to revive the sport among women in the country by forming a national league, but the Ulema Council in Aceh called on the government to cancel the plan, citing the lack of facilities for female-only matches.
The council said it should only be allowed if the province had a special stadium where only women players, match officials and spectators were present, arguing it would otherwise trigger public anger.
"We demand the women's league be postponed so the players will not get a negative response from Aceh people," Teungku said.
Already in Aceh, some 30 enthusiastic women players have participated in a selection trial, and a team is due to be picked shortly to represent the province in the national league.
Organisers said the players had complied with sharia regulation including wearing long-sleeved shirts and head-covering hijabs.
"They dressed properly in Muslim attire and they played soccer normally, they did not violate sharia law," committee head Ishak Rizal told AFP.
He said some young female players had trained for two years and even participated in regional competitions where they had won a trophy.
Organisers were still trying to convince the clerics and the public that female soccer does not breach Islamic sharia law, Rizal said.
"However, we will accept whatever is decided by the local government. We will comply if they follow the ulemas' recommendation," he said.
Aceh is the only region in Indonesia with Islamic law and where public flogging is a common punishment for a range of offences, including selling alcohol, adultery, and gay sex.
Last month the ulema council issued a fatwa against a hugely popular but brutal online game PlayerUnknown's Battlegrounds (PUBG) over fears it incited real-world violence.
Indonesia, with a population of around 270 million people, is football mad and the top professional men's league attracts sell-out crowds of men and women.
On Sunday the United States beat the Netherlands 2-0 in France to win their fourth consecutive women's cup final.
In the US alone, more people watched the match on TV than watched the 2018 men's world cup final.
https://www.msn.com/en-us/news/world/indonesias-aceh-says-womens-football-forbidden-unless-all-female/ar-AAE4Sdc
--------
Bosnia: Turkish First Lady Opens Workshops for Disabled
Talha Öztürk
09.07.2019
Turkey's first lady on Tuesday attended the opening in Sarajevo, Bosnia of a renovated special education and training institution for individuals with physical and mental disabilities.
Emine Erdogan, in Bosnia's capital with President Recep Tayyip Erdogan for a two-day working visit, attended the opening ceremony of renovated workshops at the Mjedenica Special Education School.
Addressing the gathering, Erdogan expressed her pleasure to be in Sarajevo.
"The strong ties between us give us the need to share what we have. The experience-sharing program in special education is the product of this strong desire. I believe that we will enlarge this friendship with mutual benefits," said Erdogan.
The renovation project was carried out by Turkey's state-run development aid agency, the Turkish Cooperation and Coordination Agency (TIKA), together with Turkey's Education Ministry.
Erdogan added that TIKA provided the renovation and equipment for the classrooms with 16 workshops in eight special education schools in Bosnia and Herzegovina.
https://www.aa.com.tr/en/education/bosnia-turkish-first-lady-opens-workshops-for-disabled-/1527113
--------
We Can Create A Utopia For Women By Designing Feminist Cities
SARA AL-MULLA
July 08, 2019
Every once in a while, I stumble upon an exquisite book that opens a new chapter in my life, transforming it for the better. One such memorable book is "The Female Hero in American and British Literature" by Carol Pearson and Katherine Pope. The authors describe how a woman can embark on a heroic journey of self-discovery, beginning from the realization that there is more to life than the ascribed roles given to her by patriarchal society; accepting this "call to adventure" to seek the life she dreams of creating; facing the road of trials; and, eventually, arriving at a place where she becomes the master of her inner and outer worlds.
Every day, women accomplish amazing feats in their lives, almost heroic in nature, despite the various challenges they face. This thought left me wondering if we could deliberately design cities to be more feminist — a sort of utopia where women are given all the support they need to lead fulfilling lives. Gender equality matters not only because it is a basic human right, but also because it is a key driver of substantial economic and social gains. Research published by the World Bank Group in 2018 found that, were women to have the same lifetime earnings as men, global wealth would increase by $160 trillion, which is twice the current value of global gross domestic product. Despite this obvious potential, women only account for 38 percent of human capital wealth, leaving them and their children vulnerable to poverty. The relative lack of earnings for women is due to three main factors: Lower employment rates, fewer hours worked, and lower pay.
Therefore, in order to achieve meaningful progress in women's well-being, policymakers need to design feminist cities that offer all the services a woman needs at the various stages of her life in order to fully support her in realizing her potential. In particular, investment needs to be channeled into early childhood care and education, STEM (science, technology, engineering and mathematics) education, women's health care services, environments safe from violence, employment quotas, equal pay regulations, political representation, and a robust family policy that makes it possible for women to balance work and family commitments.
Many countries pride themselves on being feminist. The five Nordic countries — Iceland, Norway, Sweden, Finland, and Denmark — are stellar examples of gender parity, consistently outperforming the world, according to the Global Gender Gap Index. There are many fascinating practices to be gleaned from them. To begin with, investment in early childhood education is high, ensuring that every child is enrolled in preschool, free of charge. This, in turn, improves cognitive, emotional and behavioral skills in children, which will eventually propel them into pursuing tertiary education and participating in the labor market. Consequently, all of the Nordic countries have attained a 99 percent literacy rate for both genders, while labor force participation rates are relatively high and almost equal between women and men.
In terms of closing the gender pay gap, we can look to Iceland for a solution, as it is the most gender-equal country and has achieved 85 percent of its overall gender equality indicators. In 2018, Iceland became the first country in the world to pass legislation that forces employers to prove they are paying women and men equally for the same job; otherwise they face a daily fine and public shame. The government aims to close the gender pay gap by 2022.
Family policies in the Nordic countries enable parents to reconcile their family and work responsibilities, support a more gender-equal sharing of paid and unpaid work, and provide a fantastic care system for the child. Sweden was the first country to offer parental leave for both fathers and mothers. Paid parental leave is a generous 480 days and parents in Sweden also have the legal right to reduce their normal working hours by up to 25 percent until the child turns eight. As a result, the rate of working women is the highest in the EU: 78.3 percent. Sweden has also been ranked the best in the world for work-life balance, according to a recent HSBC survey. Furthermore, the Organization for Economic Co-operation and Development's (OECD) "How's Life?" survey found that only 1.1 percent of employees work very long hours — the second-lowest rate among OECD countries. Since January, Sweden has labeled itself as having the world's first "feminist government," further committing to a wide range of interventions that will improve women's lives.
The UAE government is also committed to the social progress and well-being of women. Its investment in gender equality spans the fields of education, social assistance, housing, socioeconomic empowerment, health care, politics, and safety. In 2018, the government clearly signaled its intention to close the gender gap by launching the "National Strategy for Empowerment of Emirati Women." Some key new initiatives include the increasing of female representation in the Federal National Council to 50 percent and supporting entrepreneurial women. In the field of health care, the government aims to provide specialized pre-natal and post-natal care support services for women and their children, nursing services for elderly women, family counselling, and mental health services spanning across a woman's life. Also, the Cabinet has approved the drafting of a Federal Law on Combating Domestic Violence.
Feminist cities need to be designed in a way that safeguards a woman's well-being across her different life stages. Communities that are more gender equal are happier and healthier. They also do well economically. Therefore, we can all agree that gender equality is not only good for women, but its benefits spill over to families, communities and economies.
Sara Al-Mulla is an Emirati civil servant with an interest in human development policy and children's literature.
http://www.arabnews.com/node/1522541
--------
Taliban assurance of 'women's rights' has big caveat
10.07.2019
An agreement by the Taliban to respect women's rights may seem like a breakthrough, but activists have questioned how the hard-line Islamists – notorious for stomping on freedoms – will interpret the careful wording.
A historic meeting between Afghan representatives and the Taliban concluded late on Monday with the long-time foes issuing a joint statement, including a reference to women's rights.
Participants at the Doha summit agreed that "assuring women rights in political, social, economic, educational, cultural affairs as per (and) within the Islamic framework of Islamic values", is vital for a durable peace.
The wording appears significant, as the Taliban are notorious for their longstanding subjugation of women that has included stonings, honour killings and a ban on education.
Observers have cautioned the pledge is open to broad interpretation, depending on who is defining the values of Islam.
"Our rights were completely respected in 'frames of Islamic values' under the (Taliban)," prominent women's rights activist Wazhma Frogh wrote sarcastically on Twitter. "What an achievement of the Doha meeting. Going back!"
Manizha Qurban, an Afghan Facebook user, said "a few ignorant people" should not be left to interpret Islamic values. Otherwise "they will become nightmares, especially for women. We should invite scholars from other Islamic countries to interpret the values for us," she wrote.
The joint statement came at the end of two days of talks between Afghan delegates, including a small group of women and senior Taliban officials who are separately negotiating with the U.S. for a peace deal.
Such a deal would end America's 18-year involvement in Afghanistan in return for various guarantees, but the U.S. insists the Taliban first hold comprehensive talks with Afghan stakeholders.
The Taliban have paid lip service to women's rights, but always include the caveat of defining these through Islam.
For instance, in areas of the country now under the Taliban – the insurgents essentially control or influence about half of Afghanistan – residents report modest changes in the militants' hard-line stance.
In some areas, the Taliban do now allow girls to attend primary school, but they are still segregated by gender and the Taliban control the curriculum.
Nonetheless, reports of floggings and the stoning of women, as well as so-called honour killings – where a girl is accused of bringing a home into disrepute – remain common.
"Please please don't let the Taliban interpret Islamic principles for women again. Islamic principles for them mean beating and imprisoning women," Facebook user Samira Samim wrote.
Heather Barr, the acting co-director of the Women's Rights Division at Human Rights Watch, said it appeared positive that the words "women's rights" appeared in the statement. "But this language about women's rights within the Islamic framework is classic Taliban rhetoric," she told journalists.
The Taliban "remain fundamentally opposed to gender equality. So the Afghan women at the negotiating table know that they're in for the fight of their life as they try to preserve the Afghan constitution's promise of gender equality," Barr said.
In May, Taliban spokesman Suhail Shaheen said "we do not have any problem with" women's rights based on Islamic values.
"We have a different culture and different values. Our values, Afghan values, are different from that of Western values," he told journalists.
The joint statement also included a pledge to decrease violence in some cases and to bring civilian casualties to "zero".
However, the two-page document made no promise of a ceasefire and Afghanistan's war rages on and reports of horrific civilian casualties pile up on a daily basis. (AFP)
https://en.qantara.de/content/taliban-assurance-of-womens-rights-has-big-caveat
--------
The Muslim feminist who escaped her past in Saudi Arabia
July 10 2019
When Zeba Talkhani was four she ran away from home, a little girl darting off into the streets of Jeddah in Saudi Arabia. The adventure wasn't what she expected. When a couple of sinister blokes trapped her in their flat, she realised she shouldn't be out without the protection of men. She was brave and escaped, but then worried about getting home. This I realise, when I meet her in a café in London, is pretty much the story of her life.
Talkhani is a literate, softly spoken, exceedingly polite 28-year-old who lives in London and has a demanding job in publishing. She recently married a lovely guy from Cheltenham, whom she met on a dating site. She and her British-Muslim husband try to broker…
https://www.thetimes.co.uk/article/the-muslim-feminist-who-escaped-her-past-in-saudi-arabia-kll3gcqwd
--------
Turkey's Erdogan pushes for gender segregation in universities
08.07.2019
Turkish President Recep Tayyip Erdogan made a controversial comment in a speech at the G20 summit in Osaka. The speech contained a passage praising the Japanese education system for segregating the sexes at certain universities. Erdogan said the 80 women's universities in Japan were "a very important thing," and that he could imagine introducing something similar in Turkey.
In Ankara, after returning from the summit, Erdogan again emphasized the advantages of an educational system that included gender segregation according to the Japanese model. He said that he could well imagine gender segregation at Turkish universities, too, and that he had asked the Turkish Council of Higher Education (YOK) to take the necessary steps to initiate it.
Read more: Turkey's government writes working women out of textbooks
Many sectors of the Turkish population, including women's rights activists and feminists, have been sharply critical of the Turkish president's ideas for reform. Many of them think it is quite inappropriate to take Japan, of all countries, as a model for education reform: Japan is regarded as far from exemplary on issues of gender equality. A 2018 report by the World Economic Forum looking at global inequality between the sexes ranked Japan 110th out of 149 countries — with Turkey 20 places further behind. Potrage from feminists, women's rights activists
Fatmagul Berktay, a political scientist and expert in women's rights, reminds us that the aim of gender-segregated universities of the 19th century was to give women greater access to education. This was also their purpose when they were founded in Japan. In this day and age however, Berktay comments, gender segregation is more an act of discrimination. The quality of the Turkish educational system has fallen drastically in recent years, she comments, which means that there are other, more pressing problems. "Our educational system is fundamentally broken," says Berktay. "We urgently need to improve our education. Talking about gender-segregated universities at this point in time is sheer nonsense."
Berktay points to the results of the ABIDE study that were published last week. The study examined the educational performance of Turkish schoolchildren, much as the PISA study does in other countries. It concluded that many Turkish schoolchildren perform extremely badly in math and Turkish.
Erdogan and the leadership of the AKP, his Islamic-conservative governing party, argue that gender segregation in educational institutions would improve female students' performance. Berktay says there's no logic to this reasoning. "If you look at the grades of girls at elementary school, you'll see that their school performance is better than ever — although they're being taught alongside boys."
Violation of the principle of secularism
Feminist academic Aksu Bora from Hacettepe University in Ankara describes the Turkish president's initiative as a "nostalgic fantasy": "In the 21st century, no woman, not even the conservatively inclined, wants to study at such a university," she said. Bora also thinks that there are bigger worries right now than gender segregation at universities. "It's absurd to be talking about women's universities, now of all times, when academics are being dismissed en masse," she said. This was a reference to the many teachers and professors in Turkey who have lost their jobs by emergency decree since the coup attempt in July 2016. Some have even been given prison sentences.
Many members of the opposition in Turkey dislike the president's increasingly religious politics and rhetoric. Erdogan is often accused of interfering in the educational system with the aim of instilling conservative-Islamic values more strongly in Turkey's younger generation. Women's rights activist Zelal Ayman also believes the Turkish president's initiatives are part of a long-term plan. "Women's universities are a move toward inoculating the population with more religiosity," she says. "But that would be a step in the wrong direction. We should press ahead with secularization instead. Women's universities will take us backwards, not forwards," she says.
Read more: Turkey: Babies behind bars
Secularism — the separation of state and religion — has been one of the fundamental principles of Turkey since the state was founded in 1923. Consequently, there has so far never been a university with gender separation. Kemal Mustafa Ataturk, the founder of modern Turkey, regarded the separation of state and religion as one of the "six pillars of the Turkish state." To this day, most people in Turkey are firm believers in the principle of secularism. Gender segregation in educational establishments is therefore seen very critically — after all, many Turks would view it as a violation of this principle. The principle of equality of the sexes is also established in law. An article in the "Basic Law of National Education," which was passed in 1973, simply says: "An education in which both sexes participate together is good."
https://www.dw.com/en/turkeys-erdogan-pushes-for-gender-segregation-in-universities/a-49508416
--------
URL: https://www.newageislam.com/islam-women-feminism/financial-literacy-key-womens-liberty/d/119142
New Age Islam, Islam Online, Islamic Website, African Muslim News, Arab World News, South Asia News, Indian Muslim News, World Muslim News, Women in Islam, Islamic Feminism, Arab Women, Women In Arab, Islamophobia in America, Muslim Women in West, Islam Women and Feminism