New Age Islam News Bureau
10 Jul 2017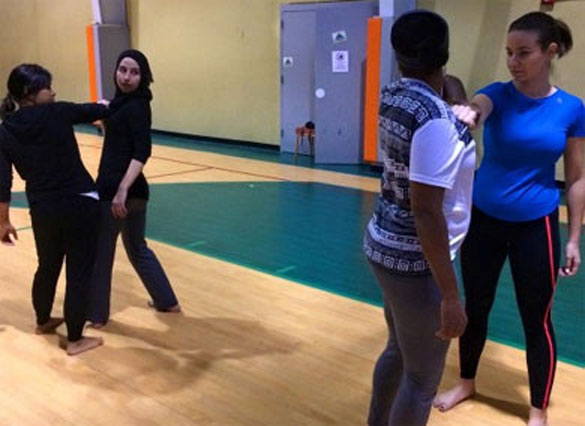 Zaineb Abdulla takes part in a self-defense class. (Courtesy of Zaineb Abdulla)
----
• Self-Defense Class Prepares Texas Muslim Women to Fight Back Against Hate
• Afghan Cycling Sisters Take Refuge in Home of 'Grand Boucle'
• Progress Linked to Women's Empowerment: Dr Umar Saif
• "Rate at Which Girls Are Spending Time on Social Network Is Worrisome" – Sultan of Sokoto
• Female Appointments to Key Positions Show KSA Commitment to Modernization, Says UAE's Lubna Qassim
• Muslim Women Wearing Hijabs Are Most At Risk of Islamophobic Attacks - And Only One In Four Australians Would Step In To Stop Racist Abuse
Compiled by New Age Islam News Bureau
URL: https://www.newageislam.com/islam-women-feminism/female-suicide-bombers-become-isil/d/111822
--------
Female Suicide Bombers Become ISIL's Last Weapon in Mosul
Jul 09, 2017
The source told the Arabic language al-Soumeriya news that the ISIL has released footages of its operations in al-Huwaijeh city in Southwestern Kirkuk, admitting that it uses female suicide bombers in its last bases in Mosul to prevent the Iraqi security forces' advance.
The source also said that the ISIL has named the couples who carry out suicide operations against the security forces as 'heavenly couples'.
Earlier this week, an Iraqi TV station captured the moment before a suspected female ISIL suicide bomber blew herself - and the baby - up near Iraqi troops.
She had apparently tried to detonate an explosives vest hidden under her hijab as she passed the soldiers, but it failed to go off until she had walked some distance away, a cameraman for al-Mawsleya TV said.
She was killed along with her child, while two soldiers and several civilians were injured.
The station had been filming the battle between Iraqi troops and the ISIL terrorists and did not realize what they had caught on camera until they reviewed their footage later.
http://en.farsnews.com/newstext.aspx?nn=13960418001399
--------
Self-Defense Class Prepares Texas Muslim Women to Fight Back Against Hate
July 9, 2017
For many Muslim women, walking home at night, riding the bus through the city and leaving a mosque after prayer are everyday activities. But for some, these actions have become dangerous — or even deadly.
On Saturday, July 15, the Texas Muslim Student Association will be partnering with several local mosques and organizations to host a free self defense class at UT for Muslim women. Texas MSA president Altamshali Hirani said the event is a response to a national increase in hate crimes against the religious group.
"We decided that self-defense classes are a need, especially because of all of the hate crimes that are happening with Muslims," Hirani said. "We thought because with the women, some of them embrace their religion by wearing the hijab (and) they are more likely to be targeted."
The workshop comes not long after the murder of Nabra Hassanen in June, which Hirani said scared members of Muslim communities across the country. According to The Washington Post, the Virgina teen was murdered after leaving a mosque with friends. However, her death is not being investigated as a hate crime.
"That was a very big shock; it scared a lot of individuals in my community," Hirani said. "We had heard about Muslims being targeted in terms of verbal violence, but to be physically attacked and murdered like that truly instilled a lot of fear in a lot of our Austin community members."
Sidrah Shah, UT alumna and attendee, said although she feels mostly safe on campus and around Austin, she feels vulnerable because she expresses her beliefs visually by wearing a hijab.
"In the news you see a lot about hate crimes committed against Muslims, especially Muslim women," Shah said. "It is a dangerous world out there, whether or not you are Muslim or a woman."
She said she also worries about her size and how that could affect her ability to defend herself in the face of an attack.
"I am not physically very large," Shah said. "I don't have the confidence to confront someone. Physical size isn't something that should deter you from standing up for yourself."
Mikal Abdullah, a personal defense trainer participating in the workshop, said this is something he hopes to address during the event, where he will be teaching strategies to prevent, confront and overcome potential attackers.
"I am concerned a lot of self-defense classes teach (these) conventional wisdom concepts that are not necessarily true or accurate, like 'step on his foot,'" Abdullah said. "I think it sets a lot of women and smaller people up for failure."
UT alumna Saadia Rashid will also be attending the event because, although she generally feels safe, she said she has personally witnessed hate incidents on or close to campus.
"Walking late at night sometimes we get a few stares here and there," Rashid said. "(One time,) I was walking out in West Campus, and a bunch of guys were yelling slurs and things like that."
Despite these incidents, Rashid said she has also witnessed local acceptance, like when the fraternity next to the mosque goes over for dinner. On one occasion when she and others were verbally harassed on a bus, she said locals stepped in to defend her.
"It was heartwarming to see a bunch of Austinites standing up for me and everybody else getting yelled at," Rashid said.
Hirani said Texas MSA has received multiple calls from local authorities, campus police and the Counseling and Mental Health Center to offer their services for both preventing and dealing with hate incidents.
"We are aware that this stuff can happen and might happen," Hirani said. "We hope it doesn't, but as members of our current society, we can't ever rule anything out."
http://dailytexanonline.com/2017/07/09/self-defense-class-prepares-muslim-women-to-fight-back-against-hate
--------
Afghan cycling sisters take refuge in home of 'Grand Boucle'
July 9, 2017
Guihenno (France): With discreet black scarves tucked beneath their helmets, Afghan refugees Zahra and Masomah Alizada hurtle down Brittany's rural and winding roads... the sisters back on their bikes training after the Ramadan recess.
Zahra, 19 and Masomah, 20 — known as the 'Little Queens of Kabul' — are members of the Afghan national women's cycling team.
They fled a daily life of insults, threats and attacks to pursue a passion for cycling inherited from their father.
Two months ago they settled as refugees in the home of the Tour de France with their parents and three brothers.
"In Afghanistan men think unsuitable for a woman to ride a bike, and the Taliban have banned us from sport," says Masomah in accomplished English. "It's very easy for men and women here to ride a bike."
The Alizada sisters and their teammates were brave enough to ride a bike in public in a country where few women dare experiment, in particular, when one belongs to the minority Shiite Hazara, a frequent target of kidnappings and attacks.
At the centre of it all are peltings with tomatoes and stones, submission to forced marriages and torrents of insults on social media.
"I have never given up on the bike, but I want to encourage girls to do it, and women's cycling is becoming commonplace in Afghanistan," says Masomah.
The sisters tried taekwondo, volleyball and basketball but finally chose cycling.
"On the bike, you have a sense of freedom," confides the younger woman.
"No one tells us what we can or cannot do, because you are a woman. It's extraordinary, you feel like a bird."
Their father has never given in to pressure. He even says he wanted "to be a good example for other parents" by "showing that men and women have the same rights".
Exiled in Iran during the Taliban regime, the Alizada family had over 20 asylum applications rejected.
Their French adventure is a curious sequence of life events, which led to the girls participating in a world championship qualifier in Albi, near Toulouse, last year.
It's also the story of an encounter with cycling enthusiasts the Communal family, whose empathy was stirred after Franco-German TV channel Arte's documentary about the sisters.
The Communals put them up in their rustic holiday home, and then created a foundation to raise funds.
In the village, solidarity spread.
Six retired teachers took turns to give French classes and the neighbours rallied round with gifts of local vegetables or simply placing a bouquet of roses on the window sill.
"It's a lot of responsibility for us," says the Communal's son Thierry.
"The goal is to mix bikes and studies, you have to enrol them in university, but you also have to integrate the parents," he explains.
In June an asylum application was filed for the entire family.
Confident in the potential of the 'Little Queens', the civil engineering professor admits to having been "pleasantly surprised" by their ability last year in Albi.
He intends to register them in a club so that they can train "two or three hours a day".
"Today no one can say what their real level is until they have enjoyed a full year of training," says Communal, explaining that in Afghanistan they only trained "once a week outside".
In the land of 'La Grande Boucle, (the Tour de France is known as the Big Loop)' Mosamah and Zahra yearn to follow a stage of the Tour but ultimately, they aim for a spot at the Olympic Games in Tokyo in 2020, and why not "a first medal for Afghan women's sport."
http://gulfnews.com/news/europe/france/afghan-cycling-sisters-take-refuge-in-home-of-grand-boucle-1.2055572
--------
Progress linked to women's empowerment: Dr Umar Saif
July 10, 2017
LAHORE - Being the 6th most populous country with more than 50% of the population comprised of women, there is a need to empower women to ensure accelerated progress in Pakistan, says Punjab Information Technology Board (PITB) Chairman and Adviser to Punjab Chief Minister Dr Umar Saif.
At the convention to mark the first anniversary of PITB's Herself project in collaboration with Facebook, Dr Umar Saif said that women were excelling and contributing to national economy, defence, education, law and order, science, financial institutions, industry and entrepreneurship by adopting smart technology in various spheres of life. Women of Pakistan are performing in lead positions with dedication at universities, banks, hospitals, stock exchanges, various industrial businesses, social services, armed forces, police, science and technology and leading multinational and national companies, he added.
The keynote speaker was Dr Shehla Javed, president of the WCCI Lahore. The event was held to support and celebrate the women of Pakistan and acknowledge their struggle and achievements.
Following the theme of "Steps towards a progressive nation", the day was packed with several thought-provoking sessions, exciting workshops along with other activities aimed at educating and motivating women to be an active participant in improving the quality of education as well as choosing from diverse career paths for women in Pakistan.
Some of the notable panelists were Nadia Naviwala, author of 'Pakistan's Education Crisis: The Real Story'; Fariha Ummar, manager of Women's Economic Empowerment and Women Leadership at UN Women Pakistan; Sadaf Zarrar, owner of SiddySays; Selina Rashid, CEO of LotusPR and Zainab Abbas.
http://nation.com.pk/lahore/10-Jul-2017/progress-linked-to-women-s-empowerment-dr-umar-saif
--------
"Rate at Which Girls Are Spending Time on Social Network Is Worrisome" – Sultan of Sokoto
July 9, 2017
The Sultan of Sokoto, Saad Abubakar, has expressed concern at a development where social media are diverting the attention of students in the country.
Mr. Abubakar expressed the feeling in Sokoto on Sunday at the closing ceremony of the 6th National Edition of the Quranic Recitation Competition.
The Sultan said: "There is a disturbing development where the attention of students is being diverted from their studies.
"This is through the use of various social media like Facebook, Twitter, Whatsapp, 2Go and Instagram, among others,'' he said
The traditional ruler urged youth, particularly girls, to stop spending too much time on social media at the expense of other engagements that would add more values to their life.
"The rate at which girls are spending time on social network is worrisome and this poses imminent danger to our society.
"Girls are the nerve centre of our moral and societal development and if they derail, the whole society will be in danger because they are our mothers and care givers."
Mr. Abubakar advised parents to ensure that their daughters spend more time on meaningful things, like reciting the Holy Qur'an.
"Doing so will make them better mothers and care givers''.
The monarch also urged Muslims to desist from doing things capable of tarnishing the image of their religion.
The Sultan, who congratulated the winners of the competition, donated N10,000 to each of the 89 participants, while the overall winner, Husna Nura from Katsina State, got N100,000.
The sultan further promised to host the 7th edition of the competition in 2018.
In his remarks, Governor Aminu Tambuwal said that the competition would encourage girls to memorise the whole sixty chapters of the Holy Qur'an.
The Secretary to the State Government, Bashir Garba, represented the governor at the occasion.
Mr. Tambuwal announced a gift of hajj seat to the overall winner of the competition in addition to N150, 000 and a deep freezer, among other gifts.
Other winners also went home with deep freezers and cash among other items.
NAN also reports that 22 states participated in the competition which was dedicated for non-Arabic Girls' Secondary Schools and it was hosted by Sokoto State Government.
http://www.premiumtimesng.com/news/top-news/236364-rate-girls-spending-time-social-network-worrisome-sultan.html
--------
Female appointments to key positions show KSA commitment to modernization, says UAE's Lubna Qassim
10 July 2017
Lubna Qassim is a standard-bearer for the new generation of Gulf Arab women who feel empowered and enabled to pursue a top-level career in business and government. But you approach the detail of female advancement with her at your peril.
When we were making arrangements for our meeting in Dubai, setting the terms of the agenda, she told me: "I'd rather be seen as an articulate woman on these subjects, rather than discuss 'being a woman.' I hope that makes sense!"
It did, and for most of our very pleasant interview — over lunch in the splendid Peruvian restaurant Coya in the Four Seasons Hotel in glitzy Jumeirah — I think I managed to observe the rules. We discussed a host of crucial subjects on which she, as chief legal counsel for one of the biggest banks in the region, Emirates NBD, is an expert.
Then I made a near-fatal error. "So, with your very busy career and professional responsibilities, how do you manage to look after your home and children?" I asked. She thought for a couple of seconds, then shot back with her own question: "Would you ask a man that question?" I felt immediately chastised and changed the subject.
She was right. I would never ask a male executive, in the middle of a business interview, about his childcare arrangements. As a self-motivated, highly professional executive with a track record at senior levels of UAE government and business, Qassim has perceptive insights on subjects far more important than nanny talk.
She comes from a traditional Emirati family, but her upbringing was far from traditional. She credits her father for the fact that she saw a good deal of the world at an early age, from boarding school and university in the UK, and an early career stint with the international legal firm Clifford Chance in London and Dubai.
All this rounded off an upbringing that included time in Singapore and Switzerland. "I learned at an early age about different cultures and how they work," she said. She speaks five languages — Arabic, English, Farsi, French and Hindi — and is working on Mandarin.
She feels a respect for, and an affinity with, women in Saudi Arabia. "The Saudi women I know are very talented and sophisticated. Many have been educated in the West and sometimes don't want to go home after that. Dubai benefits from that. Dubai is a bridge between Saudi Arabia and the West for many of them," she said.
The transformation taking place in the Kingdom is on her mind, culturally and professionally. Emirates NBD is in the process of opening three new offices in Saudi Arabia to catch the wave of transformation there.
"We're all very excited about the Kingdom's Vision 2030. It shows bold and pragmatic leadership, and an openness to embrace the new wave of change in the region. I know some people have questioned whether they can actually achieve it, but I see no reason why they shouldn't. It will need sensible collaboration with the right partners, regionally and internationally.
"The challenges will come from the old school, the clerics and so on who resist change. But do the Saudis have the talent and resources to achieve it? Of course they do," she insists, pointing to recent appointments of women to senior levels in the Saudi banking and financial sector.
But she recognizes that the Dubai model might not be entirely appropriate for the Kingdom. "I don't think Saudi Arabia should just try to imitate Dubai; it's a different country with different traditions. But some of the same conditions are present for both. Dubai had the great advantage of a strong, entrepreneurial leader who was open to ideas, in the shape of Sheikh Mohammed bin Rashid Al-Maktoum. He was inspiring and courageous in what he did for Dubai. (Saudi Crown Prince) Mohammed bin Salman has the same qualities, but he'll need a strong team and the right governance," she said.
"As a woman in the UAE, I'm extremely lucky because we have a leadership that believes in women. It's a top-down approach that's visionary with regard to women. But it can't just be top-down; there's also a bottom-up approach in which we have an infrastructure where women feel safe and secure."
Government has the responsibility to ensure safety and security, but it must be reinforced by good governance, which she has made her speciality and her passion.
When she finished in private law practice in 2007, she joined the Dubai Economic Council, a government advisory body, as executive director for legal and regulatory affairs. "I'd always anticipated working for the government in some capacity or in the legal landscape of the UAE, but I was thrown in at the deep end really, and I had to adapt very quickly." she said.
This was at the tail end of the boom years ahead of the global financial crisis, but already she could see that the UAE needed legislation to cope with the impending crash. "There was a call then for a distinctive bankruptcy strategy. About a third of the executive team said 'just don't go there, we don't need it, we're too good for that, it's tainted with failure.' Then came the crisis, and it became apparent very quickly that it was necessary. Institutional investors needed the reassurance and the confidence," she said.
After a stint as a consultant to the World Bank and more studying at Georgetown University in Washington DC, her skills were again in demand in the UAE. "The economics minister of the UAE, Sultan Al-Mansouri, called me and said 'come on board.' I replied: 'Are you sure you want me? I'm a disrupter.' He said 'come on board anyway,' so I joined the ministry. By the end of 2010, the new company law had been talked about for 20 years and was already in draft. We got it approved in a year. The guiding principle was: What's best for the UAE? The old laws had to be changed and we needed modern economic laws," she said.
Chalking up new laws is one aspect of good governance, but Qassim believes it goes much wider than that. "What's the right governance? It's not just about ticking boxes. It's not just a cosmetic thing. It's not like a bright red lipstick you put on to make you look good. Good governance is far more essential.
"Look what happens when you don't have it. The global crash of 2009 happened because of poor governance, and we're still learning from that. We're learning that short-sightedness, greed and the urge to meet financial targets aren't good things for any of us. It's not just a regional issue but a global one. Governance is like an eco-system; it's about the way you conduct your basic decision-making."
So what constitutes good governance? "The basic elements of good governance are the business culture of the organization, its policy regarding diversity, and its succession. These are key. Is the region getting it right? I think the UAE can lead the field in this. We're one of the fastest-growing international trading hubs in the world, and we can be a leader in governance techniques too. The West brought in lots of regulations after the crash, but I think a lot of that was box-ticking. It's very important that good governance and regulation is ingrained into business life."
Sometimes she had to fight against ingrained orthodoxy, but the challenge did not deter her. "I've always had a resilient attitude and I bounce back from opposition, no matter how hard the wind blows against me. I'm proud that in three years we put through new laws on companies, small businesses, bankruptcy, arbitration and foreign investment," she said.
In 2014, the focus changed again. Emirates NBD, the biggest bank in the UAE by assets, was under new executive direction and undergoing a change of philosophy. "I was the first woman on the executive leadership team, and saw diversity as one of my main goals. Now there's an equal number of men and women on my team, and it's very diverse in nationality. I'm attracted to anything that disrupts and restructures," she said.
Restructuring the bank's secretariat and legal department was her mission, and she went about it with determination, cutting the departmental headcount by 60 percent. "One of my mottos has been 'adapt, adopt or sink.' Emirates NBD had its group offices overlooking Dubai Creek, so we could see the potential for sinking very clearly," she recalled.
Away from the world of finance, two other connected issues are on her mind. The first is an extension of her fascination with governance, but updated for the next generation. "The cyber and digital sector, with artificial intelligence and robotics, is moving so fast on a global level but it needs to be better regulated. This has to be done on an international level, and I think the UAE and the Middle East can be at the forefront of it," she said.
The second priority is the place of youth in the region, where unemployment for young people is an issue for policymakers as the role of the public sector comes under economic pressure. "I worry about the youth. We were lucky and privileged, but now there are greater challenges. That means Emirati parents have to be active partners in their children's upbringing. You can't leave that to our expat friends," she said, pointing out that the UAE has a 22-year-old female minister for youth affairs, Shamma Al-Mazrui.
We seem to have come full-circle in our conversation at Coya. Qassim does not want to discuss childcare, but she is adamant about the importance of responsible parenthood. "My father said his best investment was in the education of his four daughters. He was an individual who worked hard all his life, but he always said 'physical wealth was never secure, it could vanish, but education would always be there'."
http://www.arabnews.com/node/1126956/business-economy
--------
Muslim Women Wearing Hijabs Are Most At Risk of Islamophobic Attacks - And Only One In Four Australians Would Step In To Stop Racist Abuse
10 July 2017
Women wearing hijabs are most vulnerable to public Islamophobic attacks in Australia, while only one in four bystanders speak out on behalf of victims.
These are the findings of a first-of-its kind report compiled by a number of universities alongside the Islamic Sciences and Research Academy of Australia and the Diversity Council Australia.
The study also found a rise in Islamophobic incidents in the aftermath of Islamic terrorist attacks, ABC News reports.
The report, Islamophobia in Australia, used 243 reported incidents involving physical, verbal and online attacks between September 2014 and December 2015 and found that over two-thirds of attacks where gender was recorded, they were female.
Of those women attacked, 79.6 per cent were wearing a hijab.
Worryingly, intervention from onlookers is rare, with just one in four people speaking out on behalf of victims, despite about half of attacks taking place in public places, including shopping centres and train stations.
Linda Briskman, Margaret Whitlam Chair of Social Work at Western Sydney University, made significant contributions to the study and revealed to Daily Mail Australia the alarming nature of the findings.
'The findings from the data collected by the Islamophobia Register reveal a disturbing number of reports from women', she said.
Professor Briskman also added that perpetrators, nearly three-quarters of which were male, are targeting women as they see them as an easy target.
'Women are particularly vulnerable in pubic places, especially those wearing head covering,' she revealed.
'We found that they are more vulnerable when pregnant or accompanied by children, and they're not seen as being likely to speak back or attack.'
There was also a spike in incidents following media coverage as incidents tripled following the reports of the Federal Government's 2014 plan to ban full face-coverings in the public gallery in parliament.
One particular incident saw Sydney mother Gada Omar verbally threatened by a group of men while sitting with friends while out shopping in the Sydney suburb of Rouse Hill.
All of a sudden we hear a guy say, "Have you seen how many effing Muslims there are?"' she revealed.
'We looked up and there were five guys standing over us, they were probably in their early 20s. They said to us, "Do you know what a crow bar looks like?"'
Ms Omar revealed after the incident, her 13-year-old son now fears going out in public.
'He gets scared where he feels there might be gangs and they might target us because I'm a Muslim.'
Such fear has led to over two-thirds of Muslims failing to report attacks as Professor Briskman suggested despite the disturbing nature of the findings, it doesn't reveal the full extent of the problem.
'We believe that there is under-reporting as many people who are targets of Islamophobia are reluctant to report events.'
She also suggested the study will expose the deep-rooted issue and in turn provoke a change to the way the nation approaches the problem.
'The purpose of collecting data is not to tell authorities what to do but it is hoped that by drawing attention to the extent of the problem that action will be taken to tackle Islamophobia in Australia.'
http://www.dailymail.co.uk/news/article-4680408/Women-wearing-hijabs-risk-Islamophobic-attacks.html
--------
URL: https://www.newageislam.com/islam-women-feminism/female-suicide-bombers-become-isil/d/111822
New Age Islam, Islam Online, Islamic Website, African Muslim News, Arab World News, South Asia News, Indian Muslim News, World Muslim News, Women in Islam, Islamic Feminism, Arab Women, Women In Arab, Islamophobia in America, Muslim Women in West, Islam Women and Feminism