New Age Islam News Bureau
7 Jan 2015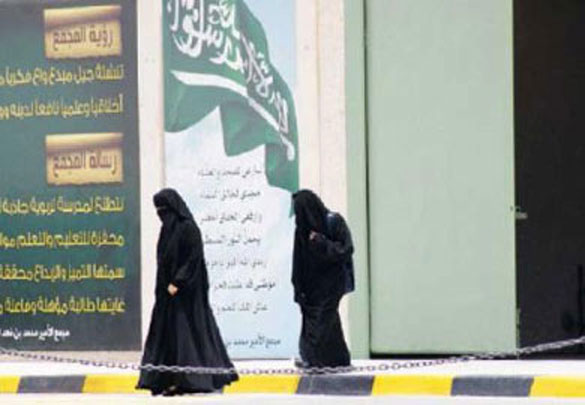 Girl students arrive to attend a seminar organized by the Ministry of Education in Dammam. — Courtesy photo
-----------
• Eastern Province Counters Girl Bullies with Strategy Workshops
• 643 Tanzanian Girls Return Home After Fleeing Genital Cutting
• Indian National Rubeena Held in Maldives for Four And A Half Years without Charge
• How Qudsia's Loss Has Affected Afghan Women
• Saudi Businesswomen Question Ban on Fitness Centres, Beauty Clinics
• Saudi Wheels Paves the Way for Women Roller Skaters
• Pakistani Fiza Farhan in Forbes List of Young Social Entrepreneurs
• Another Sexual Harassment Case at Karachi University Reported
• Ex-Wife Jemima Wishes Imran Best in 'New Phase of Life'
• A Visionary Campaign for Saudi Schoolchildren
Compiled by New Age Islam News Bureau
URL: https://www.newageislam.com/islam,-women-and-feminism/new-age-islam-news-bureau/female-suicide-bomber-targets-turkish-police-station/d/100899
----------
Female Suicide Bomber Targets Turkish Police Station
07 Jan, 2015
A female suicide bomber was killed when she detonated her charge at a police station in Istanbul on Tuesday, in an attack that also killed one police officer and wounded another, Turkish authorities said.
The woman went into the police station in Istanbul's historic Sultanahmet district and told the police in English she had lost her wallet before setting off her charge, governor Vasip Sahin said on Turkish television, reported AFP.
Turkish Prime Minister Ahmet Davutoglu said it was not immediately clear whether the bomber had links to any particular group but that he had ordered "the most comprehensive investigation."
"The authorities are investigating whether there is a link to any group ... We have given instructions for the most comprehensive investigations," Davutoglu told reporters in a brief statement in the capital Ankara.
It was the second attack on police in a week in Istanbul. On Thursday, police subdued a man after he threw grenades and fired a weapon at officers near the prime minister's offices.
The leftist Revolutionary People's Liberation Party-Front, or DHKP-C, said it carried out the Thursday attack. DHKP-C, which seeks a socialist state, is considered as a terrorist organization by Turkey, the U.S. and the European Union.
Suicide attacks have been rare in Turkey since the government opened peace talks in 2012 with the Kurdistan Workers' Party, or PKK, to end a 30-year insurgency. The DHKP-C has carried out sporadic attacks, including a suicide bombing on the U.S. embassy in 2013 that killed a security guard. The group was more active in the 1970s.
Sahin said that police are still trying to identify the woman who died in Tuesday's attack.
http://english.alarabiya.net/en/News/middle-east/2015/01/06/Bomb-attack-on-police-station-in-Istanbul-TV-stations-.html
-----------
Eastern Province counters girl bullies with strategy workshops
07 Jan, 2015
DAMMAM — The Dammam Ministry of Education organized a series of workshops to address bullying in Eastern Province schools for girls and devise preventative strategies, Al-Hayat reported.
The ministry's workshop titled, "How to Protect Yourself from Bullies", aimed to tackle the issue, understand its causes, devise counter strategies and stop it from turning into a widely spread phenomenon.
The office has also organized another workshop titled, "Toward a Safe and Supportive Education", to introduce the issue to parents and educators and train them on how to deal with it.
The head of the ministry branch's guidance program Nadia Al-Suhaimi said dealing with student problems is a necessity and bullying is a widely spread phenomenon that must be addressed by experts through preventive programs and counselling.
She said: "Bullying is intended abuse and harassment by the bully directed toward their victims, whether they are weaker physically or emotionally.
"Physical bullying is when the bully hits, punches, kicks or harms victims physically in anyway.
"Emotional bullying is when the bully insults and mocks his victims.
"With the spread of social media and technology, children can now bully via text or email."
The workshop had four sessions and the first was titled "Who's Responsible?" given by education supervisor Nadia Al-Ghamdi.
This session covered the psychological reasons behind bullying.
The second session was given by Hind Al-Harby, a 30-year-old student counsellor at a high school.
According to Al-Harby, educating students, parents, educators, and all parties concerned was an essential step in tackling the issue and solving it.
"Bullying is originally a Western phenomenon but it seeped into our society through the Western media and secular influences," said Al-Harby.
Al-Harby added that international statistics reveal that America has the highest rate of bullying worldwide.
High school students would be absent from school on a weekly basis because they are afraid of bullies, she claimed.
Nadia Al-Sattami, another high school counsellor, also gave a session on communication skills in a school environment.
The session focused on the role of parents in teaching their children how to interact with their peers.
The session also focused on raising awareness of the issue and strengthening family ties.
http://www.saudigazette.com.sa/index.cfm?method=home.regcon&contentid=20150107229739
-----------
643 Tanzanian Girls Return Home After Fleeing Genital Cutting
07 Jan, 2015
Tarime — SOME 643 girls, who escaped Female Genital Mutilation (FGM) in the district and gathered at one rescue centre here, are today expected to leave camp.
Police Commander for Tarime Special Police Zone, Mr Benedict Mambosasa, has ordered parents to immediately stop 'cutting' their girls and failure to adhere to the directive would attract punitive action.
Minister for Labour and Employment, Ms Gaudensia Kabaka is expected to be the guest of honour during the occasion that is scheduled to be witnessed by many antigender- based violence (GBV) activists.
The girls, majority of them hailing from Tarime villages, have camped at Termination of Female Genital Mutilation (FGM) Masanga Centre for more than two months.
Several hundreds of girls have been mutilated in the district during the latest FGM season that was widely conducted in five clans of Kurya tribe in November and December last year.
But, those who sought shelter at TFGM Masanga Centre managed to escape the outdated harmful culture, which exposes girls to severe pain and at times excessive breeding.
The 634 girls camped at the centre with support of several organizations, including the Children's Dignity Forum (CDF) , a non- governmental organization which donated 40 million shillings to support the initiative, according to the Organization's Executive Director, Mr Koshuma Mtengeti.
CDF has of recent years helped to enhance the campaign against FGM, child marriages and teenage pregnancies in Tarime and the neighbouring districts of Mara Region. The organization (CDF) enjoys the support of the United Nations Population Fund(UNFPA), a major funder of anti-FGM programmes here.
The Director of TFGM Masanga Centre, Sr Germaine Baibika, confirmed yesterday that the girls will start leaving the centre today shortly after the ceremony.
"Minister for Labour and Employment will be the guest of honour and some parents have started arriving ready to pick their children. What is important is protection of the girls after leaving the centre.
I will be disappointed to hear that any one of the girls has been forcibly cut," Sr Germaine said. The centre has since 2008 been providing alternative womanhood-education, thus saving many girls from being mutilated each year.
The centre operates under Musoma Diocese of Roman Catholic Church. Commander Mambosasa warned that anybody who will be found forcing the girls to be mutilated will be arrested and prosecuted.
"I have already been informed that there are threats coming from some people who want to cut the girls by force after leaving the centre.
I have instructed my subordinates to make a follow-up and take action. Anybody who will be found doing so will be arrested and taken to court," Mambosasa told the 'Daily News' when reached for comment.
FGM is illegal in Tanzania, according to law. Many organizations including the Tanzania Media Women's Association (TAMWA) are concerned with ongoing FGM cases in Mara Region despite what is seen as global efforts being made to stop the practice in the area.
http://allafrica.com/stories/201501050530.html
-----------
Indian National Rubeena Held in Maldives for Four And A Half Years without Charge
07 Jan, 2015
Indian national Rubeena Buruhanudeen has been held in Dhoonidhoo detention centre for four and a half years on charges of murdering her ten-month-old child.
The 30-year-old is also facing charges related to attempted suicide – a criminal offence in the Maldives – but has been awaiting sentencing since late August 2010, explained a source close to the case.
Minivan News has been told that Rubeena confessed to the killing before having received any legal assistance, and has since said she was heavily medicated at the time of her child's death, with only a vague recollection of events.
"She is very distressed and depressed," explained the source. "When the prospect of receiving the death penalty was raised with her, she said she would prefer it to her current situation."
"Four years waiting for a trial is unacceptable," they continued, noting that the case had been passed to the Human Rights Commission of Maldives.
Rubeena's legal team has requested a new hearing before sentencing in order to make the case for diminished responsibility.
Her case has been raised in the Indian media this week, with the New Indian Express reporting that the issue had been brought to the attention of Kerala's Chief Minister Oommen Chandy.
Last month Chandy pledged to offer assistance in the case of Indian teacher K.K. Jayachandran who was imprisoned for 8 months on child abuse charges before being released on December 25.
Events
Minivan News' source confirmed details published in the Indian media, explaining that Rubeena was married to Hassan Jabir, from Thaa Kinbidhoo – 16 years her senior – in 2008.
The case has also sparked debate in India over the practice of poor girls from Kerala being sold off to foreign nationals in return for money, with Rubeena's mother telling the Express that Jabir had paid off the family's debts.
After moving to the Maldives with her husband – who is a clerk in the local court, the marriage became troubled, with Rubeena reported to have been living in a disused tea-shop with her child by 2010.
Rubeena has alleged that she was having trouble obtaining money to feed her child when she attempted suicide by consuming a large volume of drugs, later being informed of her child's death by staff at the island's health centre.
After being held in Dhoonidhoo detention centre since June 2010, Rubeena was taken to Malé to appear in court in May, 2013, only to discover upon arrival that she was being taken to the Family Court for the conclusion of divorce proceedings.
Her case was brought to the attention of Maldivian NGO Voice of Women after a chance encounter between Rubeena and political activists detained in Dhoonidhoo following unrest surrounding the transfer of presidential power in February 2012.
Her case has since been taken up on a pro bono basis by local law firm Hisaan, Riffath & Co, with Fareesha Abdulla O'Shea now representing Rubeena.
Case
Minivan News' source has explained that the Criminal Court has heard from neither the husband nor the doctor who examined the child's body, with a request to see the latter delaying a scheduled hearing last month.
The court is said to have been receptive to requests for an additional hearing in the case, though officials from the court and the Prosecutor General's Office were unable to provide details at the time of publication.
Kerala minister Chandy is reported to have met with Rubeena's parents, as well as making assurances that steps will be taken to ensure prospective job-seekers to the Maldives were aware of the legal complications they may face.
"The cases of people getting trapped in fake cases often do not reach the mainstream due to the restrictions on the media and the hindrance before other Indian associations in contacting the victims in prisons," read the article in the Express.
The paper reported that it was the release of Jayachandran that brought Rubeena's case to the public's attention, with the 51-year-old teacher explaining the difficulties he had in accessing support while incarcerated in the Maldives.
"Even the Indian Club officials in the Maldives were not able to contact me, though they tried through different sources," Jayachandran told the Express.
"The only agency that can contact them is the Indian Embassy. But they are often indifferent to the unfortunate inmates. Once I was even asked, why do you people choose to work in the Maldives," he said.
Officials from the Indian High Commission have confirmed that they are aware of Rubeena's case.
Minivan's source explained that extradition to India would be considered once Rubeena is sentenced.
The Extradition Act was ratified by President Abdulla Yameen yesterday (December 5), with 15 Sri Lankan prisoners being sent home today (December 6)
http://minivannews.com/crime-2/indian-national-rubeena-held-for-four-and-a-half-years-without-charge-91987
-----------
How Qudsia's Loss Has Affected Afghan Women
07 Jan, 2015
Bewildered Afghan families thwart their daughters from education after suicide attacks
The suicide attack that claimed Qudsia's life last year, has had a devastating impact on Afghan families who had a daughter the same age as her. Many families portrait her blood folded pictures and her black clothes as their own daughters, because on a normal day many female students in Afghanistan would wear almost the same clothes as she had on.
Qudsia, was neither the deliberate target of the suicide attack on November 16 2014, nor she lived in a Taliban stronghold province. She lived in Kabul one of the cities with the most national and international security forces in the country. She was on her way to read Quran in a local mosque when the attack happened.
Her father has described her as an ambitious girl having boundless attentiveness to her education. "She had hoped to reach a position, to become an arm (supporter) of her father, to serve her family and country" Said HumayoonQudsia's father to reporters. This was a hope doomed by the attack along with her other dreams, ambitions and visions.
On Sunday Nov. 16th2014, a failed suicide attack on ShukriaBarekzai a female Afghan MP, killed three civilian by-passers, including Qudsia. Qudsia was an Afghan University student in capital Kabul, who became the focus of media those days. The images showing her dead body laying around the street and the weeping and cries of her family, after they received her body in a coffin, was broadcasted on local channels and surfaced on social media for days.
Because of attacks like the one that killed Qudsia, other Afghan women have been forced to bring enormous changes in their lives. This has had a devastating affect on their lives, and on their dreams for a better life for women in Afghanistan.
KhubanDostis a 19-year-old student of Afghanistan Technical and Vocational Institute. She is a young girl from a well-educated Afghan family, where her father and two siblings hold MA degrees from India, US and Japan. Unfortunately, she could not continue the trend and had to halt her higher education right after the incident that claimed Qudsia's life. The main reason for this decision is said to be the suicide-attack that claimed Qudsia's life.
Khuban would need to take a minibus from home to her institute that passes through crowded parts of Kabul and at one point only approximately two kilometres away from where Qudsia was killed. The roads between Khuban's institute and where Qudsia was killed split at the main square, where Kabul Traffic Police Department is situated. Her commute route includes several government offices and home of Afghanistan's Chief Executive Dr. Abdullah Abdullah, who survived a suicide attack during his election campaigns running for presidency in June this year.
She was at her institute at the time of the attack, but she found out about the incident on the Internet later that afternoon and her family on the local broadcasting TV channels later that night. She says "From the beginning of the year there were suicide attacks and my family was insisting that I should stop, but when Qudsia was killed they did not allow me anymore. They said if a girl dies she should die at home with dignity, not on the street".
In early years of US liberation of Afghanistan from Taliban, later referred to as US invasion of the country by some media outlets, Afghan families focused the most on education. I remember visiting school after school, packed with students; some in open, some under tents and others in PRT's (NATO led Provincial Reconstruction Teams) newly built schools.
I later witnessed some of these schools empty and burned in different provinces. It was in 2006 that I visited the first burned schoolstraveling with a Los Angeles Times team in Ghazni, Helmand and Mazar-e-Sharif. The students told us stories of Taliban shooting their teachers, throwing grenades at their schools and some watching their schools burn to the ground. Later stories such as these became common in Afghan and international media.
19 years old Fahima Mohammadi is another indirect victim of the suicide attack on DarulAman road that claimed Qudsia's life. Her family is constantly pressuring her to quit her educating, fearing she might be a target of another suicide attack. Despite her families strong insistence mainly her brothers, Fahima says she will not quit her education.
"There were lots of attacks before this, but when my family saw this they said don't go, one that the attack was near our Institute and second, the victim was a girl" Says Fahima. She also added, "I told them, I will continue, if death comes it will come even in our house". She further added, "my family was very interested in the beginning when I joined the institute, but when the suicide attack happened they insisted that
After almost every suicide attack Afghan families, who can sense a relation or attachment to the incident, pressure their children to quit their schools. This is a security measure taken in desperation and fear, overlooking children's future and career, but only concerned with their lives. Kabul has witnessed 10 attacks in last two weeks, including the attack on British Embassy's vehicle that killed a British diplomat and four others on Friday, making it the deadliest capital in the region.
Suicide attacks have devastating consequences for Afghans. Almost every attack directly or indirectly damages the normal trends of life and gravely hurts education. The suicide attack during a volleyball match in Eastern Paktika province of Afghanistan on Nov. 23 claimed the lives of more than 50 people and has injured dozens of others, including children.
Insurgency, suicide attacks, military operations and roadside bombs in Afghanistan have severely affected education in the country. Schools are constantly, but on irregular basis attacked by both sides. The direct effects of these incidents are of significant notice in areas outside big cities. However, the indirect effects are often not as obvious and often lack numerical data, but they are also of significant impact that is mostly overlooked. Unfortunately, the severe impacts of these incidents are now intuited in big and fairly secure cities.
According to UN Secretary-General's report to the UN Security Council issued on 15 May 2014, parties involved in the war intentionally and unintentionally attack schools, including students, teachers and education officials. The report accounts for 73 incidents of where schools were attacked, 539 schools were closed and 115,000 students were affected only in 2013.
The report also mentions killing of children and teachers, abduction, threats and destruction of infrastructure. Both the Afghan government and international community have condemned such acts and UNAMA has particularly raised high concerns over the increase of deliberate attacks on students and teachers by anti-government forces.
FawziaKoofi, another female Afghan MP and Chairperson of Women, Civil Society and Human Rights Commission has posted a picture of an injured boyfrom the deadly Paktika incident on her official twitter page saying: "children the victims of insurgency by enemies of people school students injured in attack in volleyball match Paktika, Afghanistan". This is another clear indication of the severe effects that suicide attacks have on education in war-torn Afghanistan.
Afghanistan is a conservative society, where education for girls was completely banned for years during the Taliban period. After the US invasion of Afghanistan in 2002, education for girls has been one of the biggest achievements of US backed Afghan government. According to USAID, "Since 2002, the American people have provided the Afghan people with more than $17 billion dollars in development assistance", this includes education sector as well.
Qudsia could not live to fulfil her education dreams and Khuban quit studying to survive, but Fahima is taking both the risk and stress to learn. Amongst these all, there is one thing clear that acquiring education for children and youth in Afghanistan is highly risky and is said to be the only tool that can save the country. However, it is important to ask: how long can the youth like Fahima hold their grounds? And how many more like Qudsia will not be able to make it? And who is to save Khuban?
https://www.khaama.com/how-qudsias-loss-has-affected-afghan-women-9201
-----------
Saudi Businesswomen Question Ban on Fitness Centres, Beauty Clinics
07 Jan, 2015
AL-KHARJ, Riyadh — The Ministry of Interior has issued a ban on women from running spas, beauty centres and women's sports facilities. Reacting to the ban, businesswomen in the industry demanded authorities reconsider, Al-Hayat daily reported.
The businesswomen said the ban has caused them great losses and put them under a great deal of stress. They questioned why they were granted licenses and permit to run their businesses only for the ban to be announced shortly after.
Elham Al-Sabki, a beauty centre owner, said all of her efforts to gain permission from the municipality, Ministry of Health and the General Presidency of Youth Welfare have been wasted.
"We are desperate to regain our license from any authority. The General Presidency of Youth Welfare has sponsored male fitness businesses but it refuses to sponsor female ones as it claims it is not within their field of interest. We need a female department in the presidency in order to have our voices heard," said Al-Sabki.
"Fitness and beauty is more important to women than men. So how can we expect a woman to be beautiful with an attractive body if we don't provide the resources for her to work out? Moreover, the bureaucratic red tape involved in getting a license was exhausting and cost me more than SR300, 000. They should have given us an alternative," she added.
Al-Sabki said in the past, businesswomen would apply to the Ministry of Health to get a license to run a physical therapy clinic and once granted, they would use the license to open a spa. However, the regulations have become stricter and this is no longer an option.
Lina Hijawi, also a beauty centre owner, said she had to stop her plan to install a Moroccan bath after the decision to ban beauty centres was announced.
"Installing the bath cost me SR35, 000 and some municipalities are applying the ban while others aren't. I had to close my spa and beauty centre while women in nearby provinces are still running their clinics," said Hijawi. She added that banning an entire an industry is not a pragmatic move.
"If the reason for the ban is some inappropriate videos posted in these beauty centres, then banning is not the solution. The municipality should have regulated and set definite rules for running beauty centres," she said.
The committee of women businesses at the Riyadh Chamber of Commerce and Industry said it was extremely disappointed by the municipalities' double standards and questioned why men were not subjected to a similar ban. The head of the committee, Jawaher Al-Aql, clarified that the Ministry of Interior is the authority that issued the ban.
"We will penalize the centers that violated the morals of this society but we cannot close down all of the shops. This will force women to enter a black market just to operate, making it a bigger problem to deal with than the current one," said Al-Aql.
http://www.saudigazette.com.sa/index.cfm?method=home.regcon&contentid=20150105229479
-----------
Saudi Wheels Paves the Way for Women Roller Skaters
07 Jan, 2015
JEDDAH — Saudi Wheels is a girls' roller skating team with members between the ages of 17 and 24. The team is demanding attention and support from the concerned authorities, Al-Madinah newspaper reported.
Kholoud Anani, a member and trainer in Saudi Wheels, said members got to know each other through social media websites.
"We were looking for a place to skate in and we asked if anyone has recommendations and would like to join. It is very difficult for us to find a place to skate in because gyms and fitness centers do not offer a place for roller skating. Public places are not suitable because we get harassed by those who don't understand what we are doing," said Anani.
Anani called on the General Presidency for Youth Welfare to take the sport seriously and support the girls in their desire to roller skate.
"Our society only cares about soccer. Roller skating was introduced in the West during the 1970s, but it quickly spread to the Arab world. Roller skating is not just a fun sport. You can burn 450 calories in 30 minutes by skating. It strengthens the lower body and enhances stamina and agility," said Anani.
She said the local market is catching up with the demands of roller skaters but equipment is quite expensive.
"A professional pair of roller skates can cost between SR1, 500 and SR2, 500. These type of roller skates last about four years. We wish if the concerned authorities would give us the support we need and consider roller skating a real sport. We are willing to train and supervise anyone who wants to join but we need support," said Anani.
http://www.saudigazette.com.sa/index.cfm?method=home.regcon&contentid=20150105229488
-----------
Pakistani Fiza Farhan in Forbes List of Young Social Entrepreneurs
07 Jan, 2015
Distinguished US magazine Forbes has included 28-year-old Fiza Farhan, co-founder of the Buksh Foundation, in its list of 30 under 30 social entrepreneurs for 2015.
Buksh Foundation, operating in Pakistan since 2009, is a microfinance institution that brings clean energy projects to poor and rural areas of the country.
The foundation has trained 135 women as energy entrepreneurs and brought solar-powered lights to 6,750 households across the country.
Read: A bright future?
The foundation's business and clean energy loans have been extended to some 12,000 entrepreneurs.
Buksh Foundation CEO and Director of Buksh Energy Fiza Farhan was also nominated as the "Future Energy Leader" at the World Energy Council in September last year.
Bukh Foundation and Buksh Energy are part of the Buksh group which was established in 1950's with a departmental store chain and has now reached the third generation and branched out into lifestyle brands.
Fiza is the 4th woman from Pakistan who has been included in the Forbes list of young game changers, movers and makers.
Last year, Forbes had named another Pakistani, the 24-year-old Shiza Shahid in its list of 30 under 30 social entrepreneurs.
Shiza Shahid is the co-founder of the Malala Fund. She helped oversee Malala Yousufzai's medical care in London after she was shot in the head by Taliban gunmen.
http://www.dawn.com/news/1155470/pakistani-fiza-farhan-in-forbes-list-of-young-social-entrepreneurs
-----------
Another Sexual Harassment Case at Karachi University Reported
07 Jan, 2015
KARACHI: Another case of sexual harassment has been reported at Karachi University (KU) and an inquiry has been initiated into it, it emerged on Tuesday.
This case, sources said, pertained to the social work department for which an inquiry committee had been set up to investigate the complaints made by several students. The inquiry report would be submitted to the vice chancellor within 10 days, they added.
The sources said another case of 'inappropriate behaviour' had been reported against a male teacher (of the Urdu department) who took classes at the mass communication department. The complaint was filed by a girl student in writing to the chairman of the mass communication department.
"We have received such a complaint and it has been forwarded to the chairman of the Urdu department," chairman of the mass communication department Prof Tahir Masood confirmed to Dawn.
According to Prof Masood, cases of inappropriate behaviour and alleged sexual harassment on the part of teachers were gradually increasing and it was time to effectively address the issue.
Know more: Fired over sexual harassment: PUASA resents teacher's reinstatement by governor
He recommended setting up of a cell to take up cases of sexual harassment on the campus on an urgent basis.
"It is important that such a cell comprises faculty members whose integrity is beyond doubt and free of any political influence. Only then, impartial investigations and decisions could be made," he said.
Speaking to Dawn, students expressed concern over sexual harassment cases and said such cases often went unreported. They also supported the establishment of a cell that could take up such cases.
"Few girls have the courage to report a complaint especially that involves charges of sexual harassment and that, too, against a teacher. Imagine if that cry for help goes unheard and unattended, how grave the consequences could be for the complainant?" said a university student.
She also expressed concern over the way the university administration handled a sexual harassment case last year.
"The teacher was reinstated at the Urdu department last November after a gap of two years. We want to ask if the teacher was innocent why the university took two years to establish his innocence and if he was guilty why was he reinstated?" she said.
In the same case, according to sources, the KU administration had instituted two inquiries: the first inquiry found the teacher guilty and recommended punishment for him. But for some unknown reasons, another inquiry was initiated that absolved the teacher of the charges.
The inquiry report was presented at the KU syndicate meeting last November and the teacher was reinstated, sources said.
Fearing that the teacher's reinstatement could embarrass girl students, some faculty members of the Urdu department wanted restricting his teaching activities and suggested to the university administration that since the teacher had impaired eyesight, he should not be allowed to take attendance and check examination papers. The administration did not give any positive response to the proposal.
During the two-year-long investigations, the accused teacher remained on leave and got his salary.
When contacted, KU registrar Moazzam Ali Khan said an investigation was under way against a teacher on charges of sexual harassment, though he denied that cases of sexual harassment were increasing on the campus.
"The committee is investigating the charges of sexual harassment. I don't know how much time it will take to complete the process," he said in reply to a question.
On the Urdu department case, he said the teacher had been reinstated with the syndicate's approval after he was found innocent by an inquiry committee.
On the cell for sexual harassment cases, he said such a body headed by Prof Shamsuddin, adviser to the vice chancellor, had been set up but he was not sure about its present status.
http://www.dawn.com/news/1155339/another-sexual-harassment-case-at-ku-reported
-----------
Ex-Wife Jemima Wishes Imran Best in 'New Phase Of Life'
07 Jan, 2015
LONDON: Imran Khan's ex-wife Jemima Khan on Tuesday congratulated via Twitter the PTI leader on, "this new phase of his life," alluding to his reported marriage to broadcast journalist Reham Khan.
Imran Khan and Jemima had tied the knot in 1995 and stayed together for nine years, during which they had two sons together.
The marriage was described as 'tough', ending in a divorce after nine years in June 2004 as Jemima was allegedly unable to adapt to Pakistani culture.
Earlier today, the former cricketer hinted that an official announcement is in the offing.
Speculations about Imran Khan's alleged marriage to Reham Khan have been widely reported in recent days.
Reham Khan is a British Pakistani journalist who started her career in the BBC as a weather forecaster. Later she worked for the network as a broadcast journalist.
She joined Pakistani news channel News One in 2013 and is currently working as an anchor at DawnNews.
http://www.dawn.com/news/1155299/ex-wife-jemima-wishes-imran-best-in-new-phase-of-life
------------
A Visionary Campaign for Saudi Schoolchildren
07 Jan, 2015
JEDDAH — Ebsar Foundation will launch a campaign this month to detect early vision problems in school boys and girls.
Prince Khaled Al-Faisal, education minister, has approved the three-phase campaign, which will kick off on Jan. 22 and continue for two years. The campaign aims to train male and female teachers in spotting vision problems among preschoolers and elementary students. Programs and workshops will be offered to teachers to help them achieve the campaign's goal. National Childhood Commission (NCC) Secretary General Dr. Wafa Al-Salih said the campaign is important for children. It also provides teachers with sufficient knowledge about the methods to detect vision problems.
"Our commission complies with the requirements of the Convention on the Rights of the Child which stipulates that the best healthcare and educational services should be provided to children," Al-Salih said.
Early detection of vision problems is the key to enjoying good vision in the later stages of life, Al-Salih said.
In its campaign, the foundation will use modern technology to detect problems such as farsightedness, colour blindness, retinopathy in a matter of six minutes.
http://www.saudigazette.com.sa/index.cfm?method=home.regcon&contentid=20150107229766
-----------
URL: https://www.newageislam.com/islam,-women-and-feminism/new-age-islam-news-bureau/female-suicide-bomber-targets-turkish-police-station/d/100899