New Age Islam News Bureau
17 February 2021
• We Had To Run For Our Lives — Women Fleeing Tigray
• GACA: Saudi Local Airlines Hired 23 Saudi Women Flight Attendants
• 10 Years after Divorce: Lebanese Tania Saleh To Launch New Album Exploring The Condition Of Women
• Pakistani Hindu Girl Abducted By Cop, Forced To Convert
• Pakistani Court Orders Return of Abducted Christian Girl, Farah Shaheen, from Dar ul Aman
• Gaza Law Barring Women from Travel without Male Consent to Be Revised
• In Secret Videos, Dubai Princess Says Held Hostage in Barricaded Villa, Fears For Her Life
• Number of Women in Saudi Judicial Sector Reaches 1,814
• Manchester City to help female footballers in UAE
Compiled by New Age Islam News Bureau
URL: https://www.newageislam.com/islam-women-feminism/female-student-activists-imprisoned-attending/d/124329
--------
Female student Activists Imprisoned for Attending Protests, Refusing 'Virginity Test' in Tehran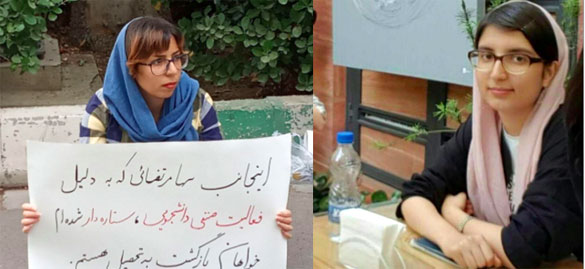 Two imprisoned student activists continue to be persecuted for peacefully protesting unjust policies and practices in Iran, including so-called "virginity tests."
------
FEBRUARY 11, 2021
Two imprisoned student activists continue to be persecuted for peacefully protesting unjust policies and practices in Iran, including so-called "virginity tests."
Charged with "assembly and collusion against national security" for peacefully participating in protests, Saha Mortezaei must now serve six years in prison after her sentence was upheld by Branch 54 of the Appeals Court in Tehran.
"For a while, the security agents had been warning Saha about her sit-in protests [starting in October 2019] against being denied enrollment in the University of Tehran's doctorate program in political science and international relations," a source with detailed knowledge of her case told the Center for Human Rights in Iran (CHRI) on February 10, 2021.
Speaking on condition of anonymity for fear of reprisals for speaking publicly, the source added, "When her protests continued into the November 2019 mass demonstrations and riots flared up at the University of Tehran, Saha was arrested on the night of November 17, 2019, at her student dormitory."
The student activist was put on trial for the trumped-up charge of acting against national security for attending protests.
A former secretary of the University Trade Unions' Council of Iran (UTUCI) at the University of Tehran, Mortezaei was held in Evin Prison's Ward 2-A, which is under the control of the Islamic Revolutionary Guard Corps' (IRGC) Intelligence Organization, and later transferred to Gharchak Prison in Varamin, south of the capital.
After going on a hunger strike for 22 days, she was released on bail set at 500 million tomans ($118,603 USD), on January 22, 2020.
Previously, in September 2018, Branch 26 of the Revolutionary Court in Tehran had sentenced Mortezaei to six years in prison and banned her from political activities for two years for peacefully taking part in anti-government protests in December 2017. On appeal, the sentence was reduced to one year in prison.
In the latest case, Mortezaei was put on trial with two other student activists—Kamyar Zoghi and Marjan Eshaghi—at Branch 15 of the Revolutionary Court presided over by the notorious hardline Judge Abolqasem Salavati on November 9, 2020.
All three were charged with "assembly and collusion against national security" but Zoghi and Eshaghi were issued a lighter sentence of one-year in prison.
"Saha Mortezaei received a harsher sentence because she had prior conviction and arrests… in connection with protests in 2017 and 2020 and she had been disciplined and banned by the university and because she protested for a long time," the source with knowledge about her case told CHRI.
Meanwhile, a source in Iran confirmed that another imprisoned student activist, Parisa Rafiei, has been charged for complaining about a so-called "virginity test" and sentenced to 15 months in prison—after a judge initially acquitted her.
In a global call to eliminate violence against women and girls, the UN Human Rights Office, UN Women, and the World Health Organization called in October 2018 for an end to virginity tests, described as a "medically unnecessary, and often times painful, humiliating and traumatic practice."
In their statement, the UN agencies also explained that the practice has "no scientific or clinical basis" and that "there is no examination that can prove a girl or woman has had sex."
"The charge against Rafiei was rejected in the preliminary trial but then the IRGC's Sarallah Headquarters pressured Branch 36 of the Appeals Court to continue prosecuting Rafiei, and the court subsequently sentenced her to 15 months in prison," the source with knowledge of the case told CHRI on condition of anonymity for security reasons.
Since June 2020, Rafiei has been serving a seven-year sentence for the charges of "assembly and collusion against national security," "propaganda against the state" and "disrupting public order." She will be eligible for release after serving five years.
The new 15-month sentence is punishment for a letter Rafiei wrote in May 2019 revealing details of how she was pressured to take a "virginity test" while in state custody.
"In a totally unlawful action during my detention, my interrogator with the approval of the case investigator sent me to the medical examiner's office on Behesht St. for a virginity test but I stood firm and despite threats and lots of pressure, they did not succeed," she wrote.
"I insisted on lodging a complaint against this illegal request [of a virginity test] several times but the authorities refused and kept it quiet," she added.
https://iranhumanrights.org/2021/02/female-activists-imprisoned-for-attending-protests-refusing-virginity-test/
--------
We Had To Run For Our Lives — Women Fleeing Tigray

WFP/Leni Kinzli
Tens of thousands of Ethiopians have been displaced by the ongoing conflict in the Tigray region.
-----
February 16, 2021
GENEVA — Pregnant women are amongst the tens of thousands of people in need of assistance in the Tigray region of Ethiopia, where fighting between the government and regional forces of the Tigray People's Liberation Front (TPLF) have been ongoing since November 2020. Hiwot (name changed) is one of them.
"When you think about your future, you never plan to be uprooted from the comfort of your home and find fragile safety in a tent," said 24-year-old Hiwot, from Ethiopia's embattled Tigray Region.
Yet this is exactly where she found herself in early December, while she was seven months pregnant. Fighting intensified around her neighborhood, forcing her and her husband to flee.
"As fighting came close to our house, my safety and that of my baby became my utmost priority. We had no choice but to run for our lives," she told the UN Population Fund (UNFPA).
Hiwot's journey was long and dangerous: "We had to travel from Shire in the Tigray Region to Dabat in Amhara Region. It took us three full travel days to reach our destination. We were first on foot, but then, I became so tired that we took the risk and hitchhiked."
Throughout, her main concern was safeguarding her pregnancy: "I was afraid that I'd fall sick, there would be no one to help me on the way, and I would lose my baby."
Leaving everything behind
Before the conflict in Tigray erupted in November, things were looking good for Hiwot and her family. She made an income as a chef, something she greatly enjoyed. And about eight months ago, she found out that she was pregnant with her first child.
"My husband and I were thrilled. We were finally going to have a baby, and we were going to pamper him or her. We started planning for the child's future." Those plans have been abandoned.
"I had to leave everything behind — my belongings, my jewelry, and my livelihood that gave me some independence and strength: my cooking set. I only managed to bring with me two dresses and some underwear, as well as the little money we had kept at home," she said.
Three days of walking and hitchhiking brought them to Dabat, in Gondar, where aid groups have established a site for internally displaced people . There are currently 630 households, around 1,870 individuals, staying in the Dabat displacement site. Of them, 490 are estimated to be women and girls of reproductive age.
Support after trauma
Displacement and uncertainty have already taken a serious toll on Hiwot. "We are desperate now," she said. "Both my husband and I are unemployed and have become reliant on others. We are not sure what we will do when the baby arrives next month."
Where to give birth and under what conditions are major concerns. She is not alone in this. There are an estimated 36 pregnant women in the Dabat displacement site, all in need of reproductive health care as well as other support, including psychosocial services.
UNFPA is working to urgently provide this care. In close collaboration with the Gondar City Administration Health Office, UNFPA is hiring midwives for the health centers serving the women and girls at the Dabat site. UNFPA is also distributing reproductive health kits to birth attendants, which will ensure midwives on-call have the supplies needed for safe deliveries.
Women who are six months or further along in their pregnancies will also receive clean delivery kits, which contain emergency supplies—including a sterile sheet, gloves and razor—to help them deliver whether at the displacement site or in the health center.
UNFPA will also establish a women's safe space and a child-friendly space where women and children can seek mental health and psychosocial support and receive important information. These services are critical for those, like Hiwot, struggling to come to terms with their new reality.
"I have nightmares," she told UNFPA, tearing up, "about how will I keep the baby alive with no income and living in such difficult conditions."— UN News
https://saudigazette.com.sa/article/603571/World/Africa/We-had-to-run-for-our-lives-mdash-women-fleeing-Tigray
--------
GACA: Saudi local airlines hired 23 Saudi women flight attendants
February 11, 2021
RIYADH — Ibrahim Al-Rusaa, spokesman of the General Authority of Civil Aviation (GACA), said that a total of 23 Saudi women were employed as flight attendants by a number of local airline companies until the end of December 2020.
"This is part of GACA's target of creating jobs for a larger number of Saudis and that is in integration with the private sector to create more jobs in the future," he said.
Al-Rusaa said the launch of the new initiative to localize jobs in the air transport sector will create 10,000 jobs for Saudis.
A few weeks ago, GACA had unveiled plans to Saudize 28 professions in the air transport sector over the coming three years.
"The initiative, which will further strengthen the aviation sector with local workforce, is one of the goals of the Kingdom's Vision 2030," the spokesman said while describing the initiative as the fruit of cooperation with the Ministry of Human Resources and Social Development to localize 28 professions including that of cabin crew.
The professions include pilot, flight attendant, air traffic controller, supervisor, flight yard coordinator, ground handling services, handling of cargo, luggage and passengers, flight catering and other professions related to the air transport sector.
GACA has directed all airlines, maintenance and operation contractors and service providers working at all airports to start implementing the initiative.
Earlier, in December 2020 Saudi Arabian Airlines announced the hiring of 50 Saudi women as flight attendants.
It stated that that 50 airhostess positions were earmarked for female citizens in the first phase to work at Jeddah and Riyadh stations.
They will take up job after undergoing training for two months. The national carrier also celebrated the occasion of achieving 100 percent Saudization in the position of co-pilot in the airline.
https://saudigazette.com.sa/article/603436
--------
10 Years After Divorce: Lebanese Tania Saleh to launch new album exploring the condition of women
17 Feb 2021
Lebanese artist and songwriter Tania Saleh is gearing up to the launch of her new album 10 A.D. (10 Years After Divorce) on 26 February.
The songs from the album will be available across online stores and aired at NRJ Egypt radio station. Saleh will also hold concerts promoting the album in Cairo and Alexandria throughout the month of April. The details of the concerts are yet to be released.
Saleh's album, 10 A.D., "celebrates and explores the condition of women from different angles, particularly the reality divorced women must deal with in a country such as Lebanon," reads the press release.
The lyrics written by the singer tackle many issues experienced by divorced women finding themselves in specific social contexts, such as "the one's right to decide over one's body, midlife crisis, vanity, hyper consumerism, social pressures, addiction to the virtual world, and the injustice of the patriarchal Middle East."
Commenting on the new album, Saleh says "I live in a world where inspiration abounds, but there is no state support for culture. I have written many songs about the conditions we live in at Lebanon, in this divide between a nostalgic idea of a country we have heard about in songs, but which we have never owned, and our unquenchable thirst for the economic welfare and cultural openness we see in other countries. The result is that over time, we are losing our sense of belonging to a country we can call our own."
Saleh clarifies that 10 A.D. is embedded in the Indie Arabic music style, where the Mediterranean melodies are arranged for Arabic traditional instruments and classical string quartet, "all this wrapped in an electronic landscape somewhere between rock and trip-hop."
In 10 A.D., Saleh worked on music production together with Oivind Kristiansen. In the album, she is joined by a string quartet from Oslo, alongside Kristiansen on piano and programming.
The album also includes contributions from Egyptian musicians playing oud, trumpet, guitar, kanoun, drums, double bass, and Arabic percussion, especially in parts of the recording that were done in Saleh's Cairo studio. The mixing has been done by Martin Abrahamsen at Rainbow studio.
10 A.D. is Saleh's third cooperation with Kirkelig Kulturverksted, a Norwegian company and record label. The album's release was supported by the Norwegian Ministry of Foreign Affairs.
Well-known to Middle Eastern and North African audiences, Saleh began her musical vocation in 1990, writing songs that "mirror the reality of the Lebanese/Arab social and political turmoil," reads the biography section on her website.
Since then, Saleh has "experimented with various musical genres, which has resulted in a fresh and original mix of Lebanese tarab, mawwal, and dabke flavoured with folk, alternative rock, bossa nova, and jazz."
Saleh has a long CV of collaborations with international and regional artists, among the most notable names being Ziad Rahbani, Toufic Farroukh, Charbel Rouhana, Ibrahim Maalouf, RZA, Nile Rodgers, and Charlotte Caffey.
Her repertoire comprises of several studio albums: Tania Saleh (2002); Wehde (2011); Live at DRM (2012); Shwayit Souwar (A Few Images, 2014), which she dedicated to Arab women; and Tania Saleh - Intersection (2017), in addition to a few compilation albums and collaborations with many musicians in their albums.
http://english.ahram.org.eg/NewsContent/5/33/404180/Arts--Culture/Music/-Years-After-Divorce-Lebanese-Tania-Saleh-to-launc.aspx
--------
Pakistani Hindu Girl Abducted By Cop, Forced To Convert
Feb 17, 2021
AMRITSAR: A policeman of Pakistan's Sindh province is reported to have abducted a minor Hindu girl and converted her to Islam before marrying her.
Intelligence sources here have said that Neena Kumari, daughter of Ramesh Lal of Halani Darbar in Sindh's Naushahro Feroze district, was abducted by policeman Ghulam Maroof Qadri, who was deployed at a picket for the security of the area's minority residents. A Hindu leader of Sindh, who didn't wish to give his name, told TOI on Tuesday: "Neena went missing about five days ago. When she failed to return from school, the family searched for her and came to know about the kidnapping."
The All-Pakistan Hindu Panchayat (APHP) says that cop Qadri converted Neena to Islam at a local 'dargah' on February 11 and renamed her Maria before marrying her in Karachi, 400 kilometres from her home. The marriage was made public on Tuesday.
The marriage certificate uploaded on the social media carries only the cop's date of birth and mentions Neena's age as19, while her family claims that she's a minor. A Hindu leader of Sindh said: "We can't even trust the policemen deployed to protect us or ask our government for a picket near our temple after this incident. It's another case in a series of abductions and forced conversions of Hindu minor girls of late, and this happened after the signing of a private agreement between the Hindus and Islamic clerics of Pakistan. The clerics who signed the deal are Pir Mohammad Ayub Jan Sarhandi of Samaro, Mian Abdul Haq 'Mian Mitthu' of Bharchundi Shareef Dargah, and Maulana Naoman Naeem of Jamia Binoria in Karachi, known for the forcible conversion of Hindu and Sikh girls. Pakistan Hindu Council patron-in-chief Ramesh Kumar Vankwani signed the document for his side. The agreement calls for taking consent of the minority girls and their parents before their conversion.
https://timesofindia.indiatimes.com/city/amritsar/pakistani-hindu-girl-abducted-by-cop-forced-to-convert/articleshow/81031508.cms
--------
Pakistani Court Orders Return of Abducted Christian Girl, Farah Shaheen, from Dar ul Aman
Kamran Chaudhry
February 17, 2021
A Pakistani court has ordered the release of a teenage Christian girl who was abducted, forcibly converted to Islam, married to a 45-year-old Muslim man and later moved to a government-run shelter home.
Faisalabad Session Court on Feb. 16 also allowed Farah Shaheen, 13, to rejoin her family.
"She wants to live with her father. Since the marriage between Farah Shaheen and Khizar Hayat has not been registered and Nikah [marriage contract] has not been verified by the Union Council concerned, she cannot be kept in Dar ul Aman [shelter house] for an indefinite period," said Judge Rana Masood Akhtar.
"The petitioner, father of Mst. Farah Shaheen, also has given an undertaking that he and his family members shall properly take care of Mst. Farah Shaheen and that they will not allow anybody else to cause any harm to her life and liberty."
Farah's parents had been struggling for her recovery since last June and had complained to police about the kidnapping of their daughter by three Muslims from their house in the Ahmedabad area of Faisalabad in Punjab province.
They claimed Hayat forcibly converted her to Islam and married her. She was forced to work all day clearing dung in a cattle pen in the yard of her captor's home.
In December, police in Faisalabad rescued Farah, who was then only 12. Since then, Farah has been living in a shelter house. Last month police dropped an investigation into Hayat, claiming that Farah married him of her own free will.
Bishop Iftikhar Indrias of the Apostles of Gospel Ministries International, who provided legal aid to Farah's family, is demanding the arrest of Hayat.
"We thank all Christians for raising their voice against the insult and injustice. We shall make this success a reference to stop forced conversions of our daughters. It is our responsibility as their parents and protectors to ensure their security and support such victims of violence upon their return back home," he told UCA News.
According to the Lahore-based Centre for Social Justice, 162 cases of questionable conversions of minority girls were reported in Pakistan's media between 2013 and November 2020.
Bahawalpur district of Punjab province topped the list of forced conversions with 21 reported cases last year, followed by Karachi and Lahore. Around 52 percent of forced conversions occurred in Punjab province.
https://www.ucanews.com/news/pakistani-court-orders-return-of-abducted-christian-girl/91449
--------
Gaza law barring women from travel without male consent to be revised
17 February ,2021
Gaza's top Islamic judge agreed on Tuesday to revise a recent court ruling that bars women from travel without permission from a male guardian such as a husband or father.
The restriction, imposed on Sunday by the Higher Sharia Council in Islamist Hamas-run Gaza, had drawn criticism from rights groups which said it violated Palestinian laws against gender-based descrimination.
Protests also erupted outside the office of the council's Hamas-appointed chairman, Hassan Jojo, who had signed the edict into law.
Speaking to reporters on Tuesday, Jojo said: "We have agreed to redraft this ruling." He did not say if the language banning female travel without a male guardian's approval would be removed.
Hamas leaders have repeatedly denied any intention to impose Islamic law on the Gaza Strip's 2 million residents.
The Independent Commission for Human Rights (ICHR), a Palestinian rights group with offices in Gaza and the West Bank, said Sunday's ruling "violates women's dignity and rights and places them at an inferior level" in society.
ICHR also noted Palestinian laws bar discrimination "on the basis of race, gender, color, religion, political opinion or disability".
Reham Owda, a Palestinian political analyst and womens' rights expert, said the ruling might have aimed at stemming a recent increase in Gaza women seeking work outside the small coastal territory, where employment is 49 percent.
"The government in Gaza wanted to limit (travel) and restrict the movement of women who are ambitious from leaving in search of study or jobs, and escape the Israeli blockade," Owda said.
Israeli and Egypt maintain restrictions on the Mediterranean enclave, citing security concerns arising from Hamas rule.
https://english.alarabiya.net/News/middle-east/2021/02/17/Gaza-law-barring-women-from-travel-without-male-consent-to-be-revised
--------
In secret videos, Dubai princess says held hostage in barricaded villa, fears for her life
17 February 2021
The daughter of the ruler of Dubai and premier of the United Arab Emirates (UAE), who tried once to flee her home country but was forcibly returned, has secretly recorded a series of videos, saying she is being held against her will at a barricaded villa.
"I am a hostage and this villa has been converted into a jail," 35-year-old Sheikha Latifa bint Mohammed al-Maktoum, one of the daughters of Sheikh Mohammed bin Rashid Al Maktoum, said in one of the videos broadcast by the BBC's Panorama news program on Tuesday.
She added, "All the windows are barred shut, I can't open any window."
The UAE princess said she was making the video in the bathroom of the villa, which is the only room she could lock herself into.
Appearing alert and speaking calmly, Latifa said there were police officers stationed outside and inside the villa. "I just want to be free," she noted.
It was not clear when or where the video was recorded.
The Free Latifa campaign, which has lobbied for her release, said it had managed to smuggle a phone to the UAE princess, helping her record videos from the villa over several months.
David Haigh, one of the campaign's co-founders and her lawyer, called for Latifa's immediate release and an end to "a horrendous period of parental and human rights abuse that has significantly damaged the reputation of the UAE."
UN to grill UAE about Princess Latifa's case
Reacting to the revelations, the Office of the UN High Commissioner for Human Rights suggested that it will raise the detention of Princess Latifa with Emirati officials, after the videos prompted global calls for the world body to investigate the matter.
A spokesman said the UN Working Group on Arbitrary Detention could launch an investigation once Princess Latifa's videos are analyzed, the BBC reported.
Princess Latifa drew international attention in 2018, when she announced in a video that she was fleeing the UAE because of mistreatment and restrictions imposed by her family.
However, a source close to the Dubai government said on April 17 that year that the runaway princess "was brought back" to the Persian Gulf state.
Human Rights Watch (HRW) cited a witness as saying that authorities in the UAE had "intercepted Sheikha Latifa on March 4, 2018, as she tried to flee by sea to a third country, and returned her to the UAE."
In the footage shared with the BBC, Princess Latifa recounted how commandos took her back to detention as she was fleeing by boat.
She said she tried to fight back by "kicking and fighting" and biting a commando's arm. The princess was, however, drugged and carried on to a private jet back home.
On December 24, 2018, the UAE's Foreign Ministry published three low-resolution photos dated December 15, showing Latifa alongside the former UN high commissioner for human rights and Irish president Mary Robinson.
"Photographs taken during the afternoon they spent together have been shared, with their consent. During her visit to Dubai, Mary Robinson was reassured that Her Highness Sheikha Latifa is receiving the necessary care and support she requires," the ministry said at the time.
The move came after rights groups called on authorities in the UAE to disclose Latifa's whereabouts and condition.
Last March, a London High Court judge said he accepted as proved a series of allegations made by the Dubai ruler's former wife, Princess Haya, in a legal battle, including that the sheikh had ordered the abduction of Sheikha Latifa.
https://www.presstv.com/Detail/2021/02/17/645448/Dubai-princess-says-she-fears-for-her-life-as-held-hostage-in-barricaded-villa
--------
Number of women in Saudi judicial sector reaches 1,814
February 17, 2021
RIYADH: The number of female employees working in different judicial sectors in Saudi Arabia has reached 1,814 during 2020, said Noura Al-Ghunaim.
The director of the Women's Department at the Justice Ministry said the number of licensed female lawyers increased by 66 percent in 2020 as compared to 2019. The number of female lawyers has increased to 1,029 from 618, Al-Ghunaim said.
She said the female employees in different judicial sectors work as legal and social researchers, administrative assistants, program developers and notaries and in these positions they served more than 30,500 people during 2020.
The surge in the number of female employees in the sector is a result of the establishment of a women's department at the ministry.
The creation of the department is part of several initiatives the ministry is taking to empower women and encourage them to join the sector and contribute to the growth of the Kingdom.
The ministry said that the Justice Training Center recently offered training courses to lawyers to help them obtain a license. The courses were attended by 4,070 lawyers out of which 1,680 were women.
As part of the government's Vision 2030 goal to raise women's participation in the workforce, new job opportunities have become increasingly available to females.
https://www.arabnews.com/node/1810746/saudi-arabia
--------
Manchester City to help female footballers in UAE
February 15, 2021
As part of the 2021 campaign, Manchester City will be hosting a series of free online workshops focused on women's football
Following the success of #SameGoals since its inception in 2018 – with over 4,000 girls around the world having taken part so far - Manchester City announced the return of the initiative for its fourth consecutive year.
Aiming to inspire the next generation of female footballers, #SameGoals pledges to deliver a special limited-edition football provided by Puma to every girl who shares a video showing them scoring – or saving – a goal to grow her passion and help her focus on achieving her dreams, a press release said.
To receive their free ball, girls need to post a video on Twitter, Instagram orTikTokthat shows them scoring – or saving – a goal using #SameGoals.
Alternatively, participants can upload their video at www.mancity.com/samegoals.
In addition to the social media movement at the event's core, previous years have seen City Football Schools host special coaching clinics for young girls across the UAE as part of the campaign.
As part of the 2021 campaign, Manchester City will be hosting a series of free online workshops focused on women's football.
With limited capacity, the workshops are aimed at anyone interested in the football industry or grassroots game on a first-come, first-served basis as City continue their pledge and commitment to keep growing the game.
Attendees will be required to register in advance to attend the workshops, with registration opening on Monday, February 15.
Speaking ahead of her participation in the initiative, Manchester City and Scotland midfielder, Caroline Weir, said: "I'm really looking forward to being involvedin the initiativeand the workshops – it's been really exciting to see #SameGoals grow year-on-year so far.
"The players who held the football clinics last year were blown away by the response and although this year we won't be able to do things in person as usual, it's so important to continue the growthof #SameGoals,however, we can in these unprecedented times.
"I've been in the position of those young girls wanting to play football and the #SameGoals campaign really does enforce just how much Manchester City cares about growing the women's game, right from grassroots level."
https://www.khaleejtimes.com/sport/local/manchester-city-to-help-female-footballers-in-uae
--------
URL: https://www.newageislam.com/islam-women-feminism/female-student-activists-imprisoned-attending/d/124329
New Age Islam, Islam Online, Islamic Website, African Muslim News, Arab World News, South Asia News, Indian Muslim News, World Muslim News, Women in Islam, Islamic Feminism, Arab Women, Women In Arab, Islamophobia in America, Muslim Women in West, Islam Women and Feminism