New Age Islam News Bureau
28 Jun 2018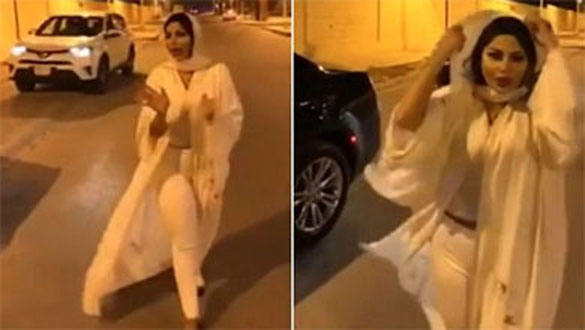 Fleeing the country: Shereen Al-Rifaie has reportedly fled Saudi Arabia after an investigation was launched into the clothes she is seen wearing in this clip
-----
• Swiss Government Rejects Proposed Burqa Ban
• The Netherlands Just Passed a Law Banning Face Veils in Public Buildings
• Shariah Awareness: AIMPLB to Rope In Women Members
• Women among Several Afghan Air Force Pilots Graduated In Czech Republic
• More Than 2,000 Women to Contest Election In Pakistan For First Time
• Saudi Woman Activist Held in Widening Crackdown
• Saudi Woman Releases Hijazi Rap Song on Women Driving
• Women Driving 'To Create 500,000 Jobs in 10 Years'
• Would-Be Islamic State Female Suicide Bombers Recruited On Social Media Show No Remorse
• Car Insurance Companies Offer New Services To Women Clients
• Saudi women engineers beat 40 countries to win global contest
• I Want To Prove Saudi Women Can Excel In Any Field: Careem's First Female Captain
• More Women Set To Take Seats in Turkey's Parliament
Compiled by New Age Islam News Bureau
URL: https://www.newageislam.com/islam-women-feminism/female-saudi-tv-presenter-flees/d/115670
--------
Female Saudi TV presenter flees kingdom over 'indecent dress' probe
Jun 27, 2018
A female Saudi TV presenter has fled the deeply conservative kingdom, shortly after authorities announced the launch of an investigation into what is said to be her dress code violations.
Shereen al-Rifaie, who was reporting on the lifting of the ban on women's driving, was accused of dressing inappropriately.
She is said to have fled Saudi Arabia after receiving a notification referring her for the probe over her dress code violation. However, the Saudi Information Ministry and General Commission for Audiovisual Media (GCAM) regulatory authority said disciplinary measures would be taken against the TV presenter, even in her absence.
A video recording posted on social media websites showed the presenter wearing an open white abaya, showing her clothes, which was considered by the GCAM a violation of regulations.
Rifaie currently works for the Al-Aan TV station from the United Arab Emirates. She first worked at MBC Children and Al-Raya channels, before joining the public Al-Ekhbariya TV channel in 2006.
Saudi detains prominent women's rights activist
Separately, Saudi Arabia detained prominent women's rights advocate Hatoon al-Fassi, widening a crackdown that has ensnared more than a dozen activists.
The detention was confirmed by sources in touch with people close to Fassi, who said they were scared of speaking out.
Fassi was last active online on Thursday. She was planning to take journalists in her car on Sunday as other women did to celebrate the much-hyped end of the world's last ban on female drivers, long seen as an emblem of women's repression in the conservative country.
In recent weeks, Saudi authorities have been engaged in a massive crackdown on dissent against some of the very activists who previously campaigned against the ban, including Loujain al-Hathloul, Eman al-Nafjan, and Aziza al-Yousef as well as male activists Ibrahim al-Modaimeegh, Mohammad al-Rabea and Abdulaziz al-Meshaal.
Saudi Arabia's public prosecutor said earlier this month that a total of 17 people had been arrested. Authorities said more suspects were being looked for.
The authorities accused them of suspicious contacts with "foreign entities".
Local Saudi media labeled them traitors.
Several have remained in detention "after sufficient evidence was made available and for their confessions of charges attributed to them".
International human rights groups have long urged the kingdom to improve its treatment of human rights advocates and end the death penalty.
The United Nations has accused Riyadh of misusing its anti-terror law to crush peaceful dissent, denying freedom of expression, imprisoning critics and allegedly subjecting some of them to torture.
http://www.presstv.com/Detail/2018/06/27/566289/Saudi-female-presenter
--------
Swiss government rejects proposed burqa ban
June 27, 2018
The Swiss government opposed on Wednesday a grassroots campaign for a nationwide ban on facial coverings in public that will prompt a binding referendum, the latest twist in a Europe-wide crackdown on burqas championed by anti-Muslim activists.
The Swiss cabinet said individual cantons should decide on the matter, which nevertheless will go to a nationwide vote under Switzerland's system of direct democracy after activists last year gathered enough public support.
Measures against the wearing of veils have already been taken in Belgium, France, Denmark and Spain, among others, with the Netherlands passing its own ban this week.
The Swiss government suggested instead adopting laws that would prevent people from covering their faces when dealing with officials and punish anyone who forced women to conceal their faces with up to three years in jail.
"The government is aware that facial coverings can lead to problems. With its proposals it suggests targeted and specific legal measures in areas in which it has authority," the cabinet said after a meeting.
"The initiative would make it impossible to take into account the individual cantons' differing sensitivities, in particular removing their ability to determine for themselves how they wish to treat tourists from Arab states who wear facial coverings," it added.
The face veil ban will come to a binding referendum after activists last year collected the more than 100,000 signatures required to put the proposal to a national vote.
The group, called "Yes to a Mask Ban", includes some leaders who also spearheaded the 2009 Swiss ban on constructing new minarets.
Full-face coverings such as niqabs and burqas are a polarising issue across Europe, with some arguing that they symbolise discrimination against women and should be outlawed. The clothing has already been banned in France.
"Facial coverings are a symbol of radical Islam that have nothing to do with religious freedom but are rather an expression of the oppression of women," Anian Liebrand, a Swiss campaign leader, said when presenting the collected signatures.
"In Switzerland, we show our faces when we talk to each other."
Others contend that bans unnecessarily intrude on religious freedom.
Two-thirds of Switzerland's 8.5 million residents identify as Christians. But its Muslim population has risen to 5 percent, largely because of immigrants from former Yugoslavia.
One Swiss canton, Italian-speaking Ticino, already has a similar ban, while two others have rejected it.
The Switzerland-wide initiative foresees parliament deciding on penalties. Although the measure would also forbid protesters from concealing their faces during demonstrations, the main focus has been on burqas.
The Swiss debate follows measures in other European countries to restrict facial coverings.
The Dutch upper House of parliament on Tuesday passed a law banning the wearing of face-covering veils in public buildings, such as schools, government offices and hospitals.
France's ban was upheld in 2014 by the European Court of Human Rights. Germany's parliament last year backed a ban on full-face veils for civil servants, judges and soldiers, while Austria and Bulgaria have also banned facial coverings.
https://nation.com.pk/27-Jun-2018/swiss-government-rejects-proposed-burqa-ban
--------
The Netherlands Just Passed a Law Banning Face Veils in Public Buildings
Jun 26, 2018
Muslim women in the Netherlands will be banned from wearing face-covering veils in common public spaces, like schools, hospitals, or on public transportation, the Dutch government has decided.
On Tuesday, the Dutch upper house of Parliament officially criminalized the act of wearing the burqa — which covers the entire face and body — and the niqab — which covers the face. It's a move that will mainly affect Muslim women living in the country, though the ban does not apply to the hijab.
Any person who violates the ban, which includes wearing ski masks and full-face helmets, will be subject to a fine of 405 euros, or about $472.
Far-right Dutch politician Geert Wilders advocated strongly for the new law. And Dutch Sen. Marjolein Faber-Van de Klashorst called Tuesday "a historical day, because this is the first step to de-Islamize the Netherlands."
But others had more critical comments.
"It is completely disproportionate, and the only effect will be that many of these women will stay at home even more," Sen. Ruard Ganzevoort said following the ruling.
"This is actually virtually a complete ban because the only spaces that are still available for women (who wear face-covering clothing) are the street and the private sector," Annelies Moors, professor of Anthropology and Sociology at the University of Amsterdam, told Al Jazeera.
The debate surrounding face-covering veils has surfaced in many countries around the world, with different sides portraying the ban as an attack on religious freedom or a necessity to enforce national security.
This isn't the first time a country has passed a law that regulates what Muslim women wear
Several other countries have enacted bans or attempted to criminalize full-face veils.
Last month, Denmark's parliament passed a law banning Muslim women from wearing burqas and niqabs in public buildings, starting in August. And in 2011, France was the first country to officially ban niqabs in public spaces.
But restrictions against face-covering garments are also in place in countries like Belgium, Austria, and regions in Switzerland. The Canadian province of Quebec instituted a law that prohibits people from receiving public services or working for the government if their faces are covered. And German Chancellor Angela Merkel has also considered enacting a similar ban.
Critics of the veils argue that the ban makes public spaces safer and encourages foreigners to assimilate into the country's culture.
But supporters of religious freedom argue that the act of wearing the burqa or niqab should be a right guaranteed to women. They also argue that the bans are instituted as a discriminatory act against Muslims.
After the Denmark ban was enacted last month, Amnesty International's Europe Director Gauri van Gulik called it a discriminatory violation of women's rights. "All women should be free to dress as they please and to wear clothing that expresses their identity or beliefs," she said
https://www.vox.com/world/2018/6/26/17507086/muslim-women-dutch-netherlands-face-veils
--------
Shariah Awareness: AIMPLB to Rope In Women Members
Jun 28, 2018
Buoyed over the fervour with which its women's wing led an effective countrywide campaign on instant Triple Talaq (divorce) issue, the All India Muslim Personal Law Board is mulling a proposal to give its women members a larger role to play in creating awareness about 'Shariah' (Muslim law).
The executive committee of the apex religious body of Muslims would meet at Darul ul-Uloom Nadwatul Ulema in Lucknow on July 15 to chalk out a way forward on how to spread awareness about Shariah laws with the help of its women members and social media.
Realising the significance, not to mention the reach of the social media, the religious body is of the view that the propaganda against Muslims laws should be countered on the same media.
Board may also constitute a special panel for the purpose.
"The Board is very happy over the way its women members played an active role and lead a countrywide protest demonstration over the passing of TT Bill in Parliament," said Maulana Khalid Rashid Farangi Mahli, a member of the board's executive council.
He said the campaign not only created awareness but also helped in removing misconceptions among both Muslims and non-Muslims that instant triple divorce was one of the most deplorable practise and should be shunned by the community.
"Women members of the Board would be holding a meeting of their own in Hyderabad on June 30 and July 1 to discuss the rights of women in Islam and how they can educate and spread awareness on this among the community. They would place these suggestions and any other demand they may have before the EC meeting on July 15," said the cleric.
This would be AIMPLB's first meeting in Nadwa after showing the door to one of its prominent member and Nadwa cleric Maulana Salman Nadwi in February this year, for holding parleys with Art of Living Founder Sri Sri Ravishankar for an out-of-court settlement of the Ram Janam Bhoomi-Babri Masjid dispute in Ayodhya.
The Board would review the progress of the court case on Ayodhya dispute and plan future course of strategy to counter the misinformation campaign being led by vested interests for a mutually acceptable out of court solution of the dispute.
https://www.hindustantimes.com/lucknow/shariah-awareness-aimplb-to-rope-in-women-members/story-86y8SXO0bieMkZgyKP2kBK.html
--------
Women among Several Afghan Air Force Pilots Graduated In Czech Republic
Jun 28 2018
A group of Afghan Air Force fixed-wing pilots graduated in Czech Republic after completing a 15-month training program.
The NATO-led Resolute Support Mission in a statement said "The newest Afghan Air Force fixed-wing pilots, including two women, graduated today from a 15-month training program in the Czech Republic."
According to Resolute Support Mission "The pilots received ground, flight & English training. They now bring those skills to the battlefield."
The Resolute Support Mission had earlier said the Afghan Air Force (AAF) will graduate its newest group of 24 pilots of fixed wing aircraft, including two female pilots, at a graduation ceremony at the Lom Praha Flight Training Center (CLV) in Pardubice, Czech Republic, June 27.
According a Resolute Support Mission report published on 23rd June, the ceremony will recognize the proficiency reached throughout the 15-month training during which students received ground and flight training as well as English training. These graduates are now qualified to operate three different kinds of fixed-wing Cessna (150, 172, 208).
The report further added that they will further develop their skills through additional training in Afghanistan.
Currently the Afghan Air Force has one female pilot, but thanks to the efforts carried out by the Afghan Ministry of Defense more women have been encouraged to pursue a career in the Afghan National Defense and Security Forces, including the Air Force.
Female students went through the same coursework and were held to the same standards as their male counterparts, and were able to meet and, in some areas, exceed their training goals, according to Resolute Support Mission report.
This comes as efforts are underway by the Afghan government and the international allies of Afghanistan to boost the capabilities of the Afghan national defense and security forces, specifically the Afghan Air Force.
The coalition forces officials in Afghanistan had earlier said that the size of the Afghan Air Force will be tripled over the next five years with the addition of new equipment and aircraft.
https://www.khaama.com/women-among-several-afghan-air-force-pilots-graduated-in-czech-republic-05450/
--------
More Than 2,000 Women to Contest Election In Pakistan For First Time
June 28, 2018
ISLAMABAD: Hamida Shahid is seeking election for a provincial assembly seat in a remote and conservative area of Khyber Pakhtunkhwa (KP) province against two male candidates and is hopeful of winning the seat.
"I am getting an excellent response not only from female voters but also male voters of the area," Shahid, who is contesting election from Upper Dir, told Arab News on the telephone.
Until recently women in the Upper Dir area were not allowed to vote, let alone contest elections for a provincial or national assembly seat.
"All political parties in the area have decided unanimously that women voters will not be barred from casting their votes," she said, "I am also trying to create awareness among women voters about the importance of their ballot on election day."
Shahid, who is a fashion designer and businesswoman, said that she will work for the provision of education and health facilities in the area if elected to the assembly.
"Hundreds of our women die during pregnancy each year due to lack of health facilities and thousands of our children are out of school. This needs to be changed and I will try my best to change it," she said.
She said that about 50 percent of men in her constituency had so far assured her of their vote and that more would announce their support in the coming days. "They (male voters) are supporting me as their daughter, sister and mother and I think this is a healthy sign for our democracy," she said.
Shahid says that a large number of men are also campaigning for her in the hilly areas of the constituency. "This will help change the perception in the society so that both men and women are seen as equal and that women can equally contribute to the betterment of the society," she said.
According to the Election Commission of Pakistan (ECP), 152 women candidates have filed their nomination papers in Balochistan — as well as 350 from Khyber Pakhtunkhwa province, 403 from Sindh province and 1,100 from Punjab province — to contest the election to be held on July 25.
Political analysts said that the increasing participation of women in the electoral process was a healthy sign for democracy in the country. They, however, linked the number of women candidates to the Elections Act's provision that makes it mandatory for political parties to allocate at least five percent of their tickets to women candidates.
"A political party ... while making the selection of candidates on general seats shall ensure at least five percent representation of women candidates," the Elections Act 2017 states.
Rasul Bukhsh Rais, a political analyst, said that the Elections Act had helped to create space for women candidates to contest elections and credit was due to the previous parliament for passing this historic law.
"Women have been contesting direct election in Pakistan in the past too but they used to come from elite and well-established families only," he told Arab News.
Rais said that the Elections Act had allowed political parties to allocate tickets to women from the working class too, especially in remote and conservative areas that were previously contested and ruled by landlords only.
He said that though participation of women in politics is an old tradition in Pakistan, this time more women were challenging male candidates in the constituencies.
"This is a new trend in our politics and also reflects the positive transformation of our society," he said.
There are a total of 342 seats in the National Assembly and 272 of them are filled by direct elections. In addition, the Pakistani constitution reserves 10 seats for religious minorities and 60 seats for women, to be filled by proportional representation among parliamentary parties.
Likewise, a total of 128 seats are reserved for women in the provincial assemblies, including 66 in Punjab, 29 in Sindh, 22 in Khyber Pakhtunkhwa and 11 in Balochistan.
Besides these reserved seats, women candidates are also seeking to get elected to the National Assembly and provincial assemblies through direct elections.
Sughran Lashari, another woman candidate from Jacobabad district in Sindh province, said that she had been conducting her campaign for a provincial assembly seat and was "receiving good response from the female voters."
She said that it was not easy to convince the male voters of her constituency to give her their ballot because the "majority of them are not educated but I am trying my best to persuade them for their vote."
Lashari said that many women candidates contested direct elections in the interior of Sindh but the majority of them come from well-settled families. "I come from a humble background and am quite optimistic to make a mark in this election," she told Arab News.
Farzana Bari, a political analyst and academic, said that political parties had awarded tickets to the majority of female candidates from losing constituencies to merely fulfil the legal requirement, but "this too will help increase acceptability of women's political role in society."
She said that mainstream political parties had failed to address women's issues and it was now the responsibility of women candidates from all parties to not only raise their voice for marginalized segments of society but to try to address their genuine grievances.
"Women form almost half of the population of Pakistan and their active participation in politics is bound to bring positive and healthy changes in the society and our democratic setup," Bari said.
http://www.arabnews.com/node/1329256/world
--------
Saudi Woman Activist Held in Widening Crackdown
June 28, 2018
DUBAI - Saudi Arabia has arrested a prominent women's rights activist, campaigners said Wednesday, in a widening crackdown even as the kingdom celebrates the end of a decades-long ban on female motorists.
Hatoon al-Fassi's detention was reported by multiple activists including London-based Saudi rights group ALQST, following a wave of arrests of women campaigners who long challenged the driving ban.
"Confirmed news on more arrests amongst Saudi female activists.. professor @HatoonALFASSI is under arrest. She actively participated in #Women2Drive campaigns," tweeted exiled Saudi activist Manal al-Sharif.
Fassi's family was not immediately reachable for comment and Saudi authorities did not respond to requests for comment.
Fassi, a professor at Riyadh's King Saud University who long campaigned for the right to drive, last appeared active on Twitter on Thursday.
Fassi had been planning to drive on Sunday, when women celebrated taking the wheel for the first time in decades as the kingdom overturned the world's only ban on female motorists.
"It is as if I have been recognised as an equal citizen," Fassi was quoted as saying last week by Arab News, a Saudi daily, after she received a driving licence.
"I'm planning to drive with my husband and children around Riyadh. Celebrating will be the first aim, then I will see where I need to go on that day."
The much-trumpeted driving reform is part of Crown Prince Mohammed bin Salman's plan to modernise the conservative kingdom.
But it has been dented by the jailing of female activists who long opposed the ban.
Authorities have said nine of 17 arrested people remain behind bars, accused of undermining security and aiding enemies of the state.
The detainees include 28-year-old Loujain al-Hathloul - also held in 2014 for more than 70 days for attempting to drive from neighbouring United Arab Emirates to Saudi Arabia - and Aziza al-Yousef, a retired professor at Riyadh's King Saud University.
State-backed newspapers have published front-page pictures of some of the activists with the word "traitor" stamped across them in red.
Human Rights Watch last week said the kingdom has arrested two more female activists and many others have been barred from travelling outside the kingdom, in what it denounced as an "unrelenting crackdown".
Even some of the crown prince's ardent supporters have labelled the crackdown a "mistake".
It has been seen as a calculated move both to placate clerics incensed by his modernisation drive and also to send a clear signal to activists that the prince alone is the arbiter of change.
https://nation.com.pk/28-Jun-2018/saudi-woman-activist-held-in-widening-crackdown
--------
Saudi Woman Releases Hijazi Rap Song on Women Driving
June 28, 2018
Manama: A Saudi young woman has composed a rap song "We Are Driving" to celebrate the lifting of the ban on women driving in the kingdom.
In her Hijazi rap song, in reference to the western part of Saudi Arabia, Leesa celebrated the glory of the historic 10/10 date.
The date refers the tenth day of the tenth month of the lunar-based Islamic calendar, Shawwal, and corresponds to June 24 when the ban was lifted.
"Don't forget that today is the tenth day and this means no need for taxis. I am not kidding, today I can serve (drive) myself," she sang.
Leesa also offered safety advice to women driving on busy roads, stressing the importance of buckling up.Saudi and Gulf women on Sunday celebrated with the right of women to drive in the kingdom.
The decision was announced in a royal decree in September but several months were alotted to prepare the logistics for the event, including setting up driving schools and finding experienced women driving instructors.
Saudi Arabia also enacted a strict anti-harassment law to ensure the full safety of women drivers on roads.
https://gulfnews.com/news/gulf/saudi-arabia/saudi-woman-releases-hijazi-rap-song-on-women-driving-1.2243556
--------
Women Driving 'To Create 500,000 Jobs in 10 Years'
June 28, 2018
JEDDAH — Saudi businesswomen expect that the lifting of the ban on women driving would create more job opportunities for women as the move will facilitate their employment and will reflect positively on their social life.
Abeer Al-Baluchi said economic projections show that the driving decision will create 500,000 job opportunities in the next 10 years. "Official figures state that Saudi women participation in the labor market does not exceed 22 percent. The Kingdom's Vision 2030 seeks to increase this to 30 percent by 2030," Baluchi said.
"The general rate of unemployment is 12 percent and the unemployment of women is 33 percent. The government had to restructure the economic and social status of the country to enable more women to join the workforce," said Baluchi.
The driving freedom, she said, will solve the transportation problem that faces particularly women from middle-income families. The Saudi government has decided to restructure the economic and social situation in order to enhance women's participation in the labor market.
Sharifa Eman Al-Ghalib, another businesswoman, said every Saudi woman now lives a historic moment that has been long awaited. She noted that many Saudi women used to drive outside the country, but their dream of driving in the country has come true during the reign of Custodian of the Two Holy Mosques King Salman and Crown Prince Muhammad Bin Salman.
"The driving decision has come along with other women empowerment decisions that are going to transform the life of women in the Kingdom," she said, adding that now women are going to be major participants in the development of the national economy.
"No one expected the Saudi woman to break so many grounds. The Saudi woman is now able to drive a private car, a truck or even a motorcycle. She can now even work as a taxi driver and have an income," said Al-Ghalib.
Sana Bukhari, an engineer, said the historic decision will reflect positively on car sales and maintenance sectors. "Driving will remove the obstacles that face women employment," she said.
"A lot of working women have been depending on drivers and taxis or even male members of their families to drive them to work. But now the excuse of not having a driver is no longer a valid one. Women will also be able to save money as hiring foreign driver can take up to SR3,000 a month from her monthly salary," said Bukhari.
The move is also expected to drop companies spending on the transport of female staff.
Hiba Mudhish, a media person, called on the public to stop mocking women drivers on social media. "Unfortunately some people are opposing the decision and they do not respect the benefits of the decision to the country," she said.
According to Mudhish, women driving will reduce the recruitment of drivers, protect children who will be dropped by mothers, reduce accidents and crimes. "In addition, it will allow women to work," she said.
http://saudigazette.com.sa/article/537770/SAUDI-ARABIA/Women-driving-to-create-500000-jobs-in-10-years
--------
Would-Be Islamic State Female Suicide Bombers Recruited On Social Media Show No Remorse
By Farid M Ibrahim
June 28, 2018
Two young brides who were set to become the first female suicide bombers in Indonesia did not show any remorse about what they were preparing to do, an Australian-based filmmaker says.
Noor Huda Ismail's new documentary The Bride (Pengantin) explores how former Indonesian migrant workers, Dian Yulia Novi and Ika Puspitasari, became radicalised.
Mr Ismail, also the founder of the Institute for International Peace Building in Indonesia, and his colleague, Rizka, the documentary's narrator, met the two convicted female terrorists in prison, where they revealed how they were influenced by Islamic jihadists online and persuaded to marry the men.
Mr Ismail said both Dian and Ika had not yet showed remorse for what had happened, adding that individuals who were arrested and jailed did not necessary "deradicalise, they just disengage".
Dian, 29, was living in Taiwan when she learned about Jihad and the Islamic State (IS) group on social media.
"Those individuals who travel to completely different countries … need to adjust, and sometimes during the period of adjustment they do not cope well, so they tend to move into completely different outlets," Mr Ismail told the ABC's The World program.
"Social media has been a place for them to get meaning and understanding of the world around them."
Dian and her husband, Nur Solihin, communicated through Facebook and then via an encrypted social media platform, Telegram.
Dian married Solihin in October 2016 even though they never met face-to-face, and she did not even inform her family about their marriage.
Two months later, in December, Dian was arrested after police uncovered her plan to blow herself up outside Jakarta's Presidential Palace during the changing of the guard.
Police linked the attackers to the Syria-based Indonesian extremist group Bahrun Naim, who had been trying to inspire an attack in Indonesia for more than a year.
Dian was sentenced to seven-and-a-half years in jail by a Jakarta court last year, in what has become a growing trend of women involved in terrorist plots.
Mr Ismail said the women that become radicalised were normally isolated from their community, had good internet access and turned to social media to learn something or connect with others.
He said "radical groups, like ISIS, they specifically target them" in online communities.
"In the past … when people were getting radicalised in violent terrorism it was taking so long, maybe six years."
Just a few days after Dian's arrest, Ika was also arrested for allegedly plotting a suicide bombing in Bali on New Year's Eve.
The Hong Kong housemaid married an Indonesian IS supporter named Zaenal Akbar, and was sentenced to four years in prison.
Nava Nuraniyah, an analyst at Jakarta-based Institute for Policy Analysis of Conflict (IPAC), told the ABC that Ika initially wanted to become a better person by learning about Islam online.
"In the process a highly-spirited Ika was exploited by her husband to contribute financially to IS," Ms Nuraniyah said.
However, when Ika's visa expired and she ran out money, she offered herself to become a suicide bomber, Ms Nuraniyah said.
In its July 2017 report, IPAC noted that a tiny cell of some 50 extremist domestic workers has developed within the 153,000-strong Indonesian community in Hong Kong.
"They were exposed to hardline Islamic teleology such as Takfiri," Ms Nuraniyah said.
The ideology used an Armageddon narrative and lured people by propagating how Muslims were supposed to join the newly declared caliphate of IS, she said.
Ms Nuraniyah said coming from a Muslim-majority country, Indonesian migrant workers suddenly became a minority in their new environment.
Mr Ismail said he hoped communities could use the film to build awareness around the issues for female migrant workers.
http://www.abc.net.au/news/2018-06-28/would-be-islamic-state-suicide-bombers-show-no-remorse/9906790
--------
Car Insurance Companies Offer New Services To Women Clients
June 28, 2018
RIYADH – Insurance companies have emphasized that they would not differentiate between men and women in determining vehicle insurance premiums.
Adel Al-Eissa, spokesman of insurance companies, said: "We'll deal with women like men with regard to traffic accidents and all technical aspects related to car insurance."
He said the same policy would be applied on comprehensive and third party insurance. "Companies can provide additional services to women clients like special assistance," he added.
Al-Eissa said insurance companies were trying to woo the largest number of female clients following the introduction of women driving in the Kingdom, either by giving them good discounts or providing additional services.
"Most companies have established women's sections to extend services to female clients," he said while speaking to Al-Hayat Arabic daily.
Insurance expert Luay Abdu said companies are not given full freedom to fix premiums like before as the Saudi Arabian Monetary Authority (SAMA), which is the Kingdom's insurance regulator, has resorted to electronic devices to set a suitable premium pricing.
"There is no difference in pricing premiums for vehicles owned by women compared to those owned by men," Abdu told Al-Hayat. He expected a remarkable increase in comprehensive and third party insurance sales in the coming months.
"Sales will increase by 5 percent in the first year, 10 percent in the second year and 15 to 20 percent in third year," Abdu said. "Some insurance companies have already appointed women employees to deal with female drivers and accident cases involving them," he pointed out.
Economist Dr. Abdullah Al-Maghlouth said he expected a 15 percent increase in third party insurance following the introduction of women driving. "The demand for car insurance will rise by 70 percent in coming months," he added.
Dr. Salim Baujaja, economics professor at Taif University, said Saudis spend SR25 billion annually on foreign family drivers. "Saudis spend part of their revenue on salaries and air tickets of expat drivers and I believe the lifting of ban on women driving would reduce this expenditure," he said.
He said the decision to lift the ban would increase car sales by 20 to 25 percent. "It will also have a positive impact on a number of related economic sectors such as car workshops, accessories and insurance," he added.
Baujaja said the move would reduce unemployment rate among women as it removes one of the major obstacles before women workers.
http://saudigazette.com.sa/article/537766/SAUDI-ARABIA/Car-insurance-companies-offer-new-services-to-women-clients
--------
Saudi women engineers beat 40 countries to win global contest
June 28, 2018
JEDDAH — Three Saudi women engineers won the first place in an international competition held in Panama.
Malak Al-Mousli, Rawan Baik and Lina Hussain, industrial engineering students from King Abdulaziz University, competed against 23,000 participants from 40 different countries. The annual competition is organized by an international company.
The competition challenges the participants to develop a strategy for a high profile trademark with a budget of $1 billion. The participants need to display skills in marketing, business management, human resources, strategy development and budgeting.
The competition had three phases. The first phase was held in the Kingdom between national universities. The second phase was in India with the participation of teams from Egypt, Bahrain, Saudi Arabia and India. The winning team was the Kingdom. In the final phase Canada, Mexico, France and the Kingdom competed.
The three engineers said they were proud and happy to represent the Kingdom and to prove to the world that there are women engineers in the Kingdom. They said they were proud to change the stereotype of the Middle Eastern woman.
http://saudigazette.com.sa/article/537765/SAUDI-ARABIA/Saudi-women-engineers-beat-40-countries-to-win-global-contest
--------
I Want To Prove Saudi Women Can Excel In Any Field: Careem's First Female Captain
June 28, 2018
JEDDAH — The first female captain in Careem ride hailing service has a degree in health quality assurance.
Amal Farahat owns her own quality assurance consultancy company and yet finds the time to work as a Careem driver to prove to the world that the Saudi woman is able to work in any field and excel.
"Being a woman, many of the women passengers will feel safer with me because I know what are the things that bother them about male drivers. I was warned by the Careem's trainer about the harassment drivers could face. I found great support at the company itself. There is a protocol to follow if the passenger does anything inappropriate," said Farahat.
On the other hand, the first woman captain to work for Uber is Ekhlas Al-Baluchi. She completed her first ride on Tuesday.
She said she applied for the position the moment the company announced it was welcoming women drivers in April.
The company said they accept any applicants who are over 20 years old with a valid driver's license and insurance on their car.
http://saudigazette.com.sa/article/537767/SAUDI-ARABIA/I-want-to-prove-Saudi-women-can-excel-in-any-field-Careems-first-female-captain
--------
More women set to take seats in Turkey's parliament
28.06.2018
ANKARA
Women's representation in Turkey's parliament has hit a new high.
In the wake of the landmark June 24 elections, a total of 103 women will take seats in the 600-seat parliament, according to unofficial results.
This makes for a rate of women's representation of 17.1 percent, up from 14.7 percent in the last parliament.
The People's Democratic Party (HDP) takes the lead in women representation, making up 25 of the HDP's 67 lawmakers.
Next comes the ruling Justice and Development (AK) Party with 53 women among its 295 lawmakers.
Then comes the main opposition CHP, which has 18 deputies among its 147 lawmakers.
The Nationalist Movement Party (MHP) has five women among its 49 lawmakers.
Parliament's new Good (IYI) Party has three women among 43 lawmakers.
According to official results of Sunday's elections, the Justice and Development (AK) Party won 295 seats in the 600-member Grand National Assembly.
The CHP came in second, claiming 146 seats, while the Peoples' Democratic Party (HDP) secured 67 seats, the Nationalist Movement Party (MHP) 49 seats, and the IYI Party 43 seats.
https://www.aa.com.tr/en/politics/more-women-set-to-take-seats-in-turkeys-parliament/1189697
--------
URL: https://www.newageislam.com/islam-women-feminism/female-saudi-tv-presenter-flees/d/115670
New Age Islam, Islam Online, Islamic Website, African Muslim News, Arab World News, South Asia News, Indian Muslim News, World Muslim News, Women in Islam, Islamic Feminism, Arab Women, Women In Arab, Islamophobia in America, Muslim Women in West, Islam Women and Feminism