New Age Islam News Bureau
12 Jun 2013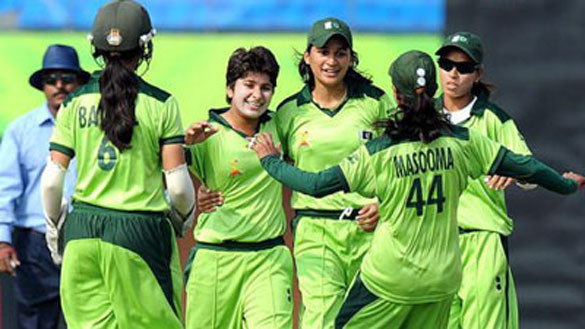 Photo: It is alleged that sexual harassment is a major impediment in bringing the best players to the forefront of cricket
---------
• India's 'Virtual Widows' Suffer As Husbands Seek Work in the Gulf
• Among 19, a woman 'who helped Pak spy'
• The Hefazati Future for Bangladeshi Women
• CRPF Unveils First Squad of Women Commandos
• Sexual Harasser to Stand Trial for Cairo Bridge Attack
• Sudanese Aid Nurse Killed In Darfur Crossfire
• Iranian Women 'Learning about Their Rights and Fighting Back'
• Islamist Turkey PM Wants to Outlaw Belly Dancing Girls
• Child Domestic Workers Increasing In Bangladesh
• Time to Take Ugandan Fashion Seriously
• Girl-Centred Advocacy to Protect 600 Million Girls from Violence: Women Deliver Conference
Compiled by New Age Islam News Bureau
URL: https://newageislam.com/islam-women-feminism/female-pakistani-cricketers-sexual-harassment/d/12025
--------------
Female Pakistani Cricketers in Sexual Harassment Row
By M Ilyas Khan
12 June 2013
The Pakistan Cricket Board (PCB) is investigating allegations of sexual harassment levelled by women members of a regional cricket club, officials say.
The Multan Cricket Club (MCC) officials deny the charge, accusing the women of "questionable behaviour" and breach of discipline.
Officials say a three-member PCB team is holding a hearing in Multan city and will submit its findings on Wednesday.
It is not clear if PCB will make the findings public right away.
Rights activists say sexual harassment of women in sports is rampant but rarely reported.
'Friends'
Four woman cricketers associated with the MCC levelled the accusations in a TV talk show on Friday.
They said the club chairman and a team selector demanded sexual favours in return for putting girls on the regional teams or recommending them for the national team.
The chairman of MCC, Maulvi Sultan Alam, and selector Mohammad Javed, both of whom participated in the show, denied the allegations.
One of the girls, Seema Javed, said Mr Alam, 70, once came to her and said, "Please ask Kiran [another girl] to give me a kiss and I'll let her play the Under-19 tournament".
She said only those girls who agreed to be "friends" with the top managers were promoted at the MCC.
"When I joined the MCC some years ago, a senior player, Nadia Hussain, warned me to beware of the club officials. She said they'll first promise to send you to the national squad, and will then take you to the bedroom," she said.
But Mohammad Javed levelled counter-accusations against the girls, calling their behaviour into question.
He produced police records to show that Seema Javed had been involved in the brief disappearance of another girl some time back. As a result, she was banned from the club, he said.
He admitted, though, that she was allowed to play once the missing girl resurfaced.
He also accused Kiran Irshad of smuggling alcohol into a girls' college in Multan where she had organised a sports event. Her entry into the college is still banned, he said.
Alcohol is considered un-Islamic, and is prohibited in Pakistan.
PCB official Shakil Khan told the BBC that the allegations were part of internal politics between two groups of woman players at the MCC.
"Both the groups have been called to the hearing by the inquiry committee and will present their respective positions," he said.
PCB officials say the girls had violated discipline by going public with the allegations instead of filing a complaint with them.
A Multan-based correspondent who covers sports for Pakistan's largest Urdu language daily, Jang, told the BBC there was some truth on both sides.
"Sexual harassment is widespread in women's sports here, and is a major impediment in bringing the best players to the fore," Mohammad Nadeem Qaisar said.
"One side-effect of this is that second-rated players who are willing to offer sexual favours often get into influential positions."
http://www.bbc.co.uk/news/world-asia-22862866
--------------
India's 'Virtual Widows' Suffer As Husbands Seek Work in the Gulf
12 June 2013
Many young Muslim brides in India's southern state of Kerala are left behind by their husbands who go to the Gulf in search of jobs, causing a lot of worry in the community. BBC Hindi's Salman Ravi reports from Karumbil village in Kerala.
In this non-descript village along the Malabar coast of the Arabian Sea, a group of women clap their hands and sing traditional folk songs in celebration around a teenage bride.
But once the celebrations are over, the new bride will join the ranks of many other teenage brides here who are condemned to lead a lonely life.
Most of the men in this Muslim-dominated region work in the Middle East and the most eligible groom is the one who has a job in one of the Gulf countries.
According to government estimates, almost 50% of men living in the Malabar region are working either in the United Arab Emirates or other Arab countries.
There are few job opportunities in Kerala and some estimates suggest unemployment in the state is three times the national average, which forces many young men to look to the Middle East for a livelihood.
'Virtual widows'
However, this trend is fast taking its toll on the mental health of the young brides who are forced to live the lives of "virtual widows".
"Their conjugal life is short since the groom comes to get married during his vacation and has to report back for work within 15 to 20 days. Once he goes back, he doesn't come back for a couple of years after which he returns home usually for just a month," says Sujatha, a senior government official in Mallappuram district.
She says in this region, it is normal for a girl to be married off at the age of 15 - even though the legal age for marriage for a girl is 18 - as many parents feel that after that "they will not be able to find a groom for her".
But a prolonged separation from the husband, coupled with the fact that the teenage brides become mothers at an early age, has now become a major cause of concern for the community and the state government.
Sajida (not her real name), a teenager from Nilambur, was married seven years ago and is now taking care of a six-year-old son as a single parent. She became pregnant within 15 days of her wedding after which her husband left to work in Kuwait.
Ayesha, an 18-year-old from Kottakkal, was married two years ago.
The cash and gold her parents gave as her dowry were used by her husband to find a job in the Gulf but "there has been no word from my husband since he left", she tells me.
Her father Abdhul Kareem says Ayesha has been in a state of depression ever since.
'Gulf syndrome'
With a rising number of young women in such marriages suffering from depression, the government has appointed health professionals at the district and village levels to counsel them.
Ramlath, a counsellor at a government hospital, sees nearly 10 patients every day.
"These girls are not prepared to live this life of separation and, therefore, they are suffering mentally and physically," she says.
The "gulf syndrome" - as it is called in the region - is also leading to marital discords, resulting in more family break-ups.
Says Shamsudheen K, a lawyer who is dealing with many divorce cases: "Times are changing and the old custom of getting girls married off at an early age is not working out. The girls don't want to live like widows."
Many of the girls also end up having affairs which lead to separations, he says.
The Jamat-e-Islami Hind, a right-wing political organisation, has been working within the Muslim community for several years on this issue and has been counselling families to discourage such marriages.
Group member Nasiruddeen Alungal says the only "positive side" of such marriages is that a girl learns to manage her life at an early age.
"Usually it is the male who is the one making all the decisions in the family. But girls who do not have their husbands living with them take the reins and are proving to be good managers."
Mr Alungal says his organisation is trying to convince people that they can earn a living staying in India and don't have to travel to the Gulf to find work.
"Our men are exploited a lot in the Gulf. As soon as a man lands there for a job, his passport is taken away by his employers and he cannot return home when he wants to."
Mr Alungal says that in an effort to save money, the men work every day without a break and travel less so they can send more money back home to their families.
http://www.bbc.co.uk/news/world-asia-india-21365161
--------------
Among 19, a woman 'who helped Pak spy'
Manish Sahu
Jun 12 2013
Lucknow : Among the 19 cases whose withdrawal was stayed by the Allahabad High Court last week is the case of a woman who faces charges of waging war against the state for knowingly helping an alleged Pakistani spy who was arrested by UP's Anti-Terror squad from Kanpur's Bithoor area in May 2009.
The police alleges that Sitara Begum had sheltered Waqas Ahmed, of Lahore, in her house in Kanpur's Kalyanpur area. Later, Waqas married her daughter Shabana.
A native of Khanpur town in Auraiya district, Sitara Begum is lodged in Kanpur jail. The police has booked her under Sections 115 (abetment of offence punishable with death or imprisonment for life), 121 (waging, or attempting to wage, or abetting waging of war against the Government of India) and 123 (concealing with intent to facilitate design to wage war) of the IPC.
Sitara (50) was caught by the ATS from Mainpuri in August 2010. The police recovered two cellphones from her which, they said, she had used to remain in contact with people in Pakistan. The police found one of the two SIM cards was purchased on a fake address.
The prosecution said the police produced Sitara's call detail record in court to establish its claim that she was in contact with people in Pakistan. The chargesheet against Sitara has been filed and trial has begun.
The police claimed that Waqas was a Pakistani spy who had been collecting and passing information about Indian military installations to the Inter-Services Intelligence (ISI) since 2005. Documents like prohibited maps of military sites, military codes and a diary containing names and addresses of people living in different Indian and Pakistani cities were recovered from his possession, they added.
During questioning, Waqas told the police that he stayed at Sitara's rented house at Kalyanpur. The police raided the house and found a driving licence and a voter-ID card of Waqas.
The prosecution said it came to light during investigation that Sitara knew about the activities of Waqas. "The voter-ID card of Waqas, which was recovered from the house of Sitara, was made on a fake name Ibrahim Khan. The card carried the address of Sitara's residence", said an official.
During questioning, Sitara said she came in contact with Waqas in 2006 when she went to Farukhabad to attend a wedding. Waqas had come there along with one of her relatives. Later, he remained in regular contact with her family. He visited Kanpur several times and also helped the family in financial matters, the prosecution said.
From 2008, Waqas started staying with them on the pretext of starting a business. Sitara's lawyer Shakeel Ahmed Bundel said Waqas later married Sitara's daughter.
The police said Waqas was recruited by one Farookh, an ISI official, in Lahore in 2004. After training, he was reportedly sent to India through Wagah border with a Pakistani passport on April 16, 2005. Waqas said he had come to India on the pretext of watching a India-Pakistan cricket match, the police added.
http://www.indianexpress.com/news/among-19-a-woman-who-helped-pak-spy/1128007/
----------
The Hefazati Future for Bangladeshi Women
Esam Sohail
12 June 2013
Religious fanatics and their apologists are scared of the female of the species
The lot of women in Bangladesh is not particularly enviable. Compared to their men folk, they still work harder and longer for less, suffer social prejudice, pressure, and ostracism based on little more than superstition and silly traditions.
They also take the brunt of economic and political upheavals that beset the country with regular frequency on one pretext or another.
To make matters worse, there exists a seemingly growing chorus of people who are upset that women have it too good in Bangladesh.
Except, of course, these malcontents couch it in terms of making life better for Bangladeshi women by "elevating" them to the level of their sisters in the theocracies and pseudo-theocracies that exist in the western reaches of South Asia and points beyond, in that direction.
The more I have examined the campaign of Hefazat-e-Islam and its fellow travellers, the more it is clear that religious fanatics and their varied apologists are simply scared of the female of the species.
It is of little wonder then, that in one of the earthly paradises idolised by these regressive elements, fourteen year old girls can be termed CIA spies and almost killed because they campaign for female literacy while their mothers and grandmothers are denied the right to vote by the proud agreement of all major political parties, including the supposedly "secular" ones.
In this same land of the pristine and the pure, noble judges of the highest religious tribunal decide that a 2006 law protecting women from rape is un-Islamic and, therefore, unconstitutional.
Not to be outdone, their parliamentary brethren across the Durand Line decide that a proposed law preventing "marriage" of 10-year-old girls is a Zionist conspiracy against their faith.
Moving further west, in the land that once boasted of the transcendental Sheikh Saadi and Hafiz Shirazi, the saving grace is that a father cannot sell off his daughter until she is at least 15 years of age; but once she is sold off to the highest bidder – er, I mean suitor – the poor girl's freedom is ensured by laws that prohibit her from getting a job, a passport, or an education without the signed approval of her husband who is, legally, quite free to beat her when she misbehaves.
Well, at least this woman from Saadi's land should be thankful that, technically, with her husband's approval she can go to a university to get a law degree and drive a car because such wicked freedoms for women are considered the work of the Devil in the desert kingdom across the Gulf from the land of Saadi and Hafiz.
No, sir, the honour of women is best protected by covering them up in black tents and letting them die in building fires rather than have male firefighters rescue them.
And there you have it. That is the vision that the Hefazat types have for women. It is to enhance the dignity of women, protect them from abuse, elevate their stature and so on and so forth, according to the radicals' smooth talking apologists.
Methinks, it is far more simple: these men are scared to death of women because the sight of a woman's hair or her face is powerful enough to make their vaunted Imaan become shaky. But, as a free speech advocate, I respect their rights to their opinion. I just wish they had more integrity: if you really like the kind of paradise found in the Hindukush Mountains and the deserts of the Hejaz, why not migrate there and live happily in this life and the next?
Leave us to our imperfect but secular, man-made Constitution which proudly proclaims that sovereignty belongs to the people of Bangladesh … men and women, equally.
http://www.dhakatribune.com/op-ed/2013/jun/12/hefazati-future-bangladeshi-women
--------------
CRPF unveils first squad of women commandos
Tanushree Roy Chowdhury, TNN | Jun 12, 2013
GURGAON: The Central Reserve Police Force (CRPF) on Tuesday introduced its first 30-member all-women commando squad. The paramilitary women commando team includes two officers and has undergone a tough regimen of training at Jodhpur Police Academy in Rajasthan.
"They have been trained in various aspects like hostage crisis, rescuing citizens endangered in terrorist attacks, providing proximate security to visiting female dignitaries, counter-terrorist operations, resolving high-risk situations, resolving situations involving vital installations, situations involving high-risk suicidal attacks and providing additional security at special events," a CRPF official said.
CRPF director general Pranay Sahay said the Mahila battalions of the force were the most manifest form of women's empowerment and had been able to present an example before the country with their courage, dedication and loyalty. "CRPF women are deployed all over the country in operational and conflict zones and have also been coordinating religious yatras like the Amarnath Yatra," said Sahay.
The group of 30 bravehearts has also achieved the tag of being the world's first all-women paramilitary pipe band. It made its first public performance on Tuesday at the Kadarpur Group Centre of CRPF. The band, which got its ceremonial colours April last year, was led by the Major of Pipes sub-inspector Darshana Kumari. The band plans may soon be included in the Gunnies Book of Records for being first such band.
The women's band will not only play martial and ceremonial tunes but also boost the morale of troops at United Nations (UN) mandated duty locations. So far, the CRPF has had a men's pipe band for almost 25 years.
"We are as well trained as our male counterparts. It doesn't matter whether a bullet is fired by a man or a woman as long as hits the target," said Jaskiran Kaur, assistant commander, Mahila commando team.
"We don't want to make clones of our male counterparts. Women commandos will have the added benefit of soft skills which are missing in men," said Nitu Bhattacharya, DIG.
The women commandos also displayed their skills in demonstration firing skills, slithering from chopper, physical agility, tactics (room intervention) and unarmed combat.
http://timesofindia.indiatimes.com/india/CRPF-unveils-first-squad-of-women-commandos/articleshow/20549393.cms
--------------
Sexual harasser to stand trial for Cairo bridge attack
11 Jun 2013
A man will stand trial next week for allegedly attacking a woman in Cairo after she told him to stop making sexual comments and gestures towards her, Aswat Masriya reported.
Sexual harassment is a serious problem in Egypt but perpetrators are rarely tried.
Lyla El-Gueretly, 30, said she was walking on 6 October Bridge in April when a bus passenger started catcalling her.
When she ignored him, he started making obscene gestures, which only stopped when she said, "Shame on your beard."
Devout Muslims often grow their beards pursuant to the teachings of the Prophet Mohamed.
"He then started shouting and calling me names," El-Gueretly said, before adding that she confronted him when he jumped off the bus and physically attacked her.
Full report at:
http://english.ahram.org.eg/NewsContent/1/64/73737/Egypt/Politics-/Sexual-harasser-to-stand-trial-for-Cairo-bridge-at.aspx
--------------
Sudanese Aid Nurse Killed In Darfur Crossfire
11 Jun 2013
A Sudanese nurse working for an international aid agency in Sudan's troubled Darfur region has been shot dead during a gun battle inside a camp for displaced people, humanitarian workers said on Tuesday.
It is the first known death of an aid worker in Sudan since a Sudanese driver for the United Nations World Food Programme was killed during an attack in war-torn South Kordofan state last August.
Ali al-Zatari, the United Nations chief in Sudan, said the killing occurred on Sunday in North Camp, in Central Darfur's Nertiti town.
He strongly condemned the "senseless crime".
"The killing of this aid worker, and the injury of several other civilians, occurred because an exchange of fire took place in a camp for people displaced by fighting in Darfur. The civilian and humanitarian nature of these camps must be respected."
Full report at:
http://english.ahram.org.eg/NewsContent/2/8/73765/World/Region/Aid-nurse-killed-in-Darfur-crossfire-humanitarians.aspx
--------------
Iranian women 'learning about their rights and fighting back'
12 June 2013
On any given Friday, groups of young women across Iran can be seen jumping from rooftops, scaling the graffitied walls of apartment blocks, and catapulting themselves over stairways. They are not being chased by riot police, but merely practising their parkour moves, especially the ground roll, tricky to execute while wearing a headscarf.
Parkour's popularity among young women in Iran is soaring, despite the bulkier clothing and head coverings Islamic dress codes require them to wear. The outdoor sport, a fast-paced hybrid of gymnastics and martial arts, seems designed to get you out of a fix quickly, which perhaps explains its appeal to young Iranians, whose social lives in the strict Islamic republic often require considerable agility.
Full report at:
http://beta.dawn.com/news/1017558/iranian-women-learning-about-their-rights-and-fighting-back
--------------
Islamist Turkey PM Wants to Outlaw Belly Dancing Girls
By Otto Mann
12 June 2013
ANKARA - Turkey - Turkey's Authoritarian Islamist PM has promised to remove any form of belly dancing semi-naked women from Turkish television.
Since Erdogan's Islamist party has been in power, the country has reverted from its secular nature and now resembles Iran.
"We are now living under a Totalitarian Islamic Dictatorship with women going around with head scarves and any dissent to the state or Islam being punished severely. The founder of modern Turkey modernised the country to look West and break the restrictive shackles of religion, but now this Erdogan guy is taking us back to the fucking dark ages. The way forward is not in slavery, but free thought, free speech and most of all freedom to dress how we please," an unarmed Turkish woman said before being tear gassed in the face by some thugs in uniform.
Full report at:
http://www.dailysquib.co.uk/world/4049-islamist-turkey-pm-wants-to-outlaw-belly-dancing-girls.html
--------------
Child domestic workers increasing in Bangladesh
12 June 2013
Marium comes from a poor family of six brothers and sisters, with an unemployed father. When she was 11, a cousin convinced her to leave her home in Rangpur to work as a housemaid in Dhaka.
"We never had enough. My parents were bitter towards me, as I am a girl. So, I decided to come to Dhaka," said Marium, now aged 14. "My first employers assured me that I would be a part of their family. But that was not the case. Even their nine-year-old child slapped me," she added.
Full report at:
http://www.dhakatribune.com/labour/2013/jun/12/child-domestic-workers-increasing-bangladesh
--------------
Time to Take Ugandan Fashion Seriously
BY KALUNGI KABUYE, 11 JUNE 2013
Two weeks ago what was advertised as one of the biggest fashion shows to happen in Kampala was held in a warehouse in Industrial Area. Bold Kampala, a "fashion shop' with offices in Kisementi, planned to mark its first anniversary with a mega show featuring 11 designers.
Bold sells clothes, so it made sense to organise a show involving the designers of the clothes and accessories they sell. Bright idea, and this should happen more often, I told myself when a friend in Tunisia suggested I check it out.
For far too long fashion shows in Uganda have been taken as entertainment, where people go to listen to music, watch pretty girls sashay down the catwalk, hang out with friends, and generally have a good time.
Full report at:
http://allafrica.com/stories/201306120107.html?viewall=1
--------------
Girl-Centred Advocacy to Protect 600 Million Girls from Violence: Women Deliver Conference
Denise Raquel Dunning
11 June 2013
At the end of May, 4,500 political leaders and practitioners from 149 countries convened in Malaysia at the Women Deliver conference, which highlighted adolescent girls as the key to advancing the post-2015 development agenda.
Policymakers attending Women Deliver stressed the need to invest in girl-centred advocacy to improve girls' lives and achieve global development goals: "Girls need to be at the centre of the global development agenda. We need both stronger laws to protect girls, and greater political commitment to effective implementation," said the Canadian MP Rathika Sitsabaiesan.
Full report at:
http://www.guardian.co.uk/global-development-professionals-network/2013/jun/11/girl-centred-advocacy-adolescent-girls
--------------
URL: https://newageislam.com/islam-women-feminism/female-pakistani-cricketers-sexual-harassment/d/12025